Ladies, are you looking for a little something to transform you into a modern age Glam Goddess? But don't know what to do with your black mane? Hair highlights are the answer. Read on, get inspired and flaunt your Black hair with highlights all day everyday!
"Invest in your hair; it is the crown you never take off!"
Coloring your hair can put you in a state of paranoia because one wrong splash of highlight and there is no turning back. However, be it adding depth or solely perking up your hair color without diving into a full-on dye job, highlights are the perfect solution for switching up your look. No hair woes here!
Got black hair and don't know what to do with them? Well black hair with highlights are beautiful and atop our Hot List!
Sit back and relax! Read on, find inspiration in these dark hair color ideas  and make hair highlights your Bae!
What Color Highlights For Black Hair Looks Good? Best Of Highlights For Black Hair!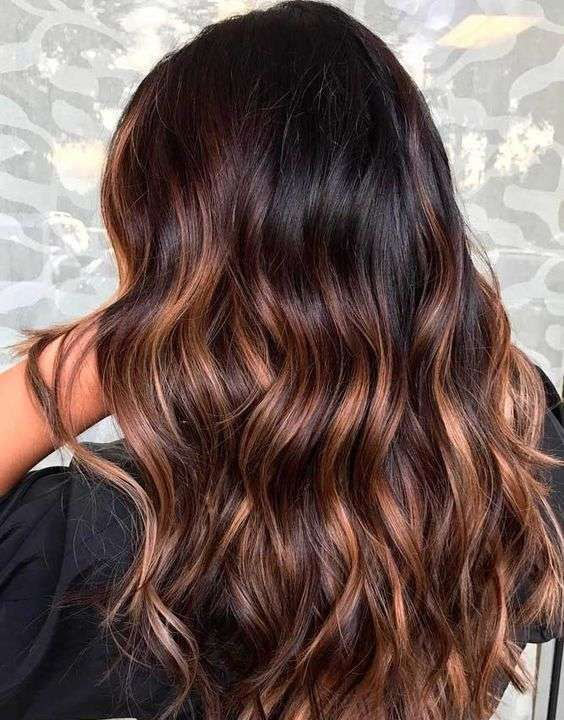 Are you bored of your mundane black locks? It's time for a makeover!
There's a lot you can do with your mane but if you ask us Black hair with highlights is what we think is the answer to all your hair problems. Gurll, the choices are endless!
Some of our favourites are –  red, blue or green highlights on black hair for a quirky & bold look and classic brown highlights for an ever beautiful polished look.
But with a little bit of Vitamin C a.k.a Confidence you could slay whatever color you like!
Keep scrolling for more hair inspo!
1.Make Black Hair With Red Highlights Your Power Statement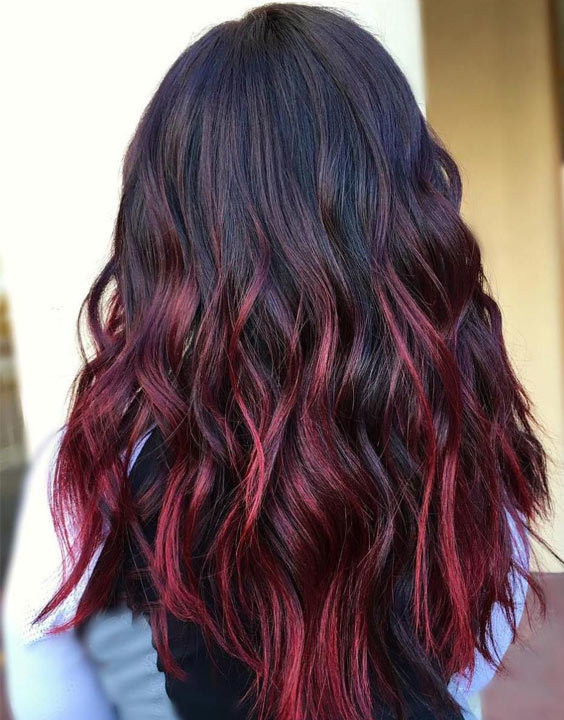 Blondes are noticed but redheads are never forgotten!
Black hair with red highlights  although a non-conventional option is one that's most popular and low maintenance.
When it comes to red highlights on black hair, a balayage to subtly brush on vibrant hints of color is what you should be aiming for. If you have fair skin, bright oranges and deep auburns are for you. While coppers, dark reds and blue-reds fall beautifully on warmer skin tones.
This black and red mix is always a winner, without a doubt!
2.Reign Your Workplace With Blonde Highlights On Black Hair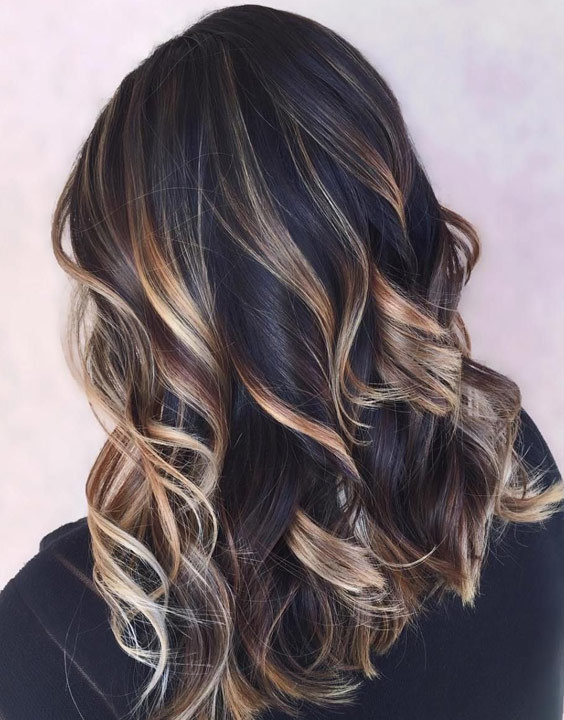 Definitely not the perfect pick for full highlights, but blonde highlights on black hair as ombre, balayage, hair streaks or color melt will work just fine. Blonde hair is certainly not a very easy pick.
One must keep in mind their skin tone before finalizing upon the kind of blonde to use as highlights on black hair, it's one of the most risque choices.
Sarah J Parker's delish caramel blonde highlights circa 'Sex and the City' era is what you need!
3.Keep It Natural With Brown Highlights On Black Hair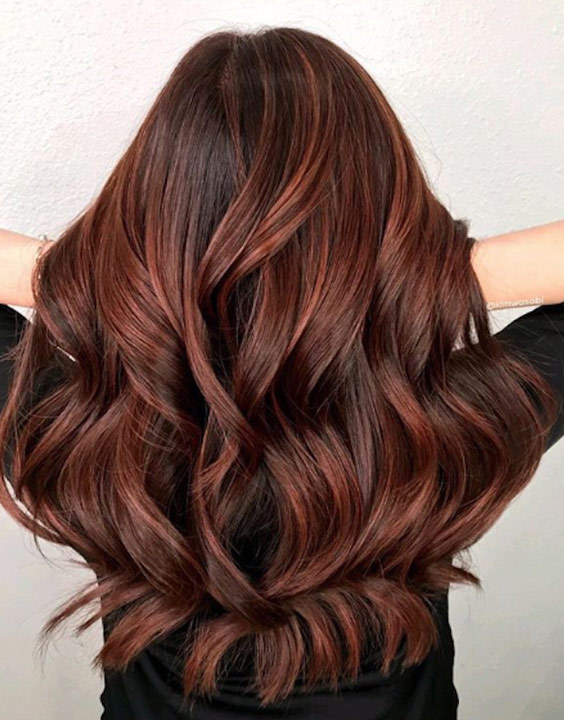 Brown highlights on black hair has been at the forefront from season to season and why not? It's classy and hot!
From soft caramels to fiery red-browns you can jump anywhere between dark and light with brown highlights.
It is the easiest to carry and it comes naturally to all skin tones. However with the variety available at hand, it's imperative you choose a shade that won't fade your natural glow!
A. Dip-Dye With Light Brown Highlights On Black Hair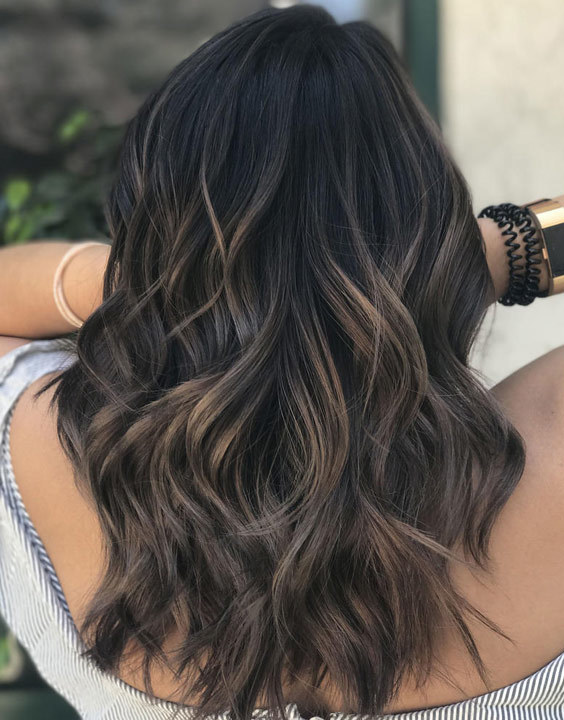 A mix of light and dark this one is irresistible!
Light brown highlights on black hair will give you the edgy look, setting you apart from everyone else. You are sure to make head turns.
The best technique to make the most out of this highlight is balayage. This highlight would reflect the best out of a duskier tone, albeit ensure you opt for balanced highlights with this one as it can flush you out, if overdone.
B. Spread Warmth With Dark Brown Highlights On Black Hair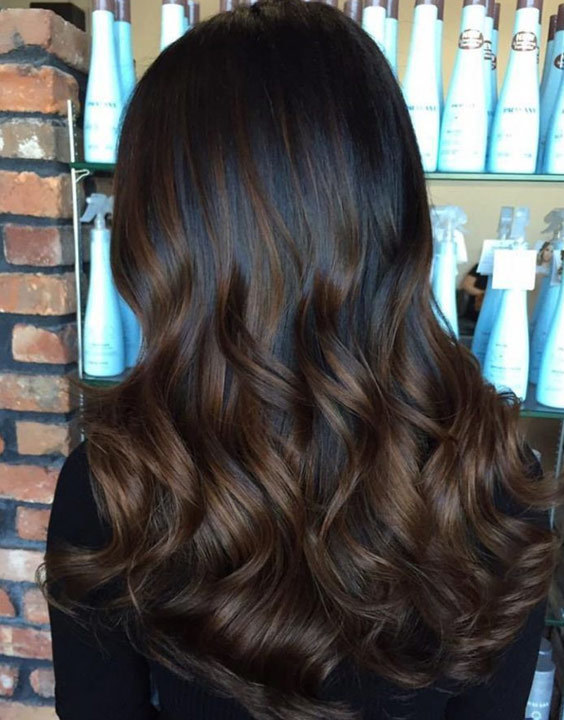 Not in your face but definitely in your head!
Dark brown highlights on black hair are effortlessly beautiful, simple yet unforgettable. Somebody who wants to keep it low and natural should choose dark brown highlights over everything else!
These highlights make the hair look super glossy and rich always, almost like you've stepped out of a salon – Fresh!
Next time you are thinking about dark hair color ideas which are subtle yet total game changers, you know browns are the MVP.
4.Black Hair With Green Highlights- Make 'Youth' Your Constant!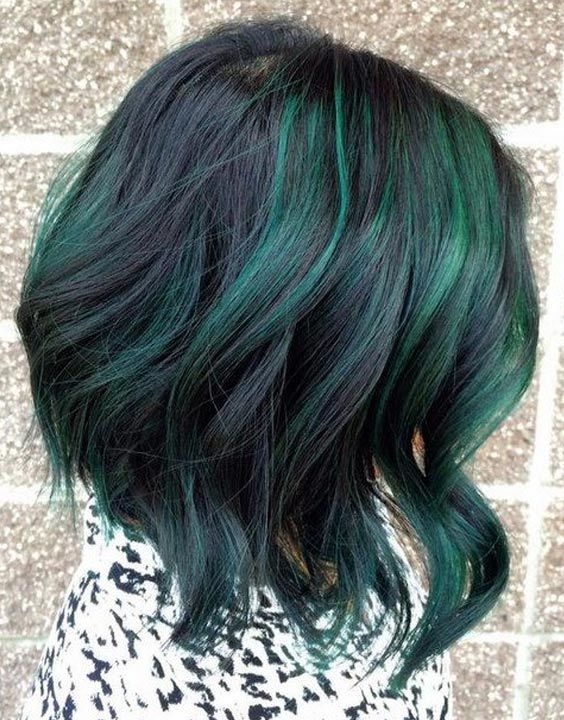 Remember getting a shade card while sitting on a salon chair, your eyes wandering lanes of blues and greens yet settling for safer browns? Been there, done that! (Shout out to fellow anime fans!)
Although Black hair with green highlights is a bold choice and not for everybody, it's totally worth it!Opt for dark green, emerald or forest green as these won't pinch one in the eye but certainly take a few years off your age.
So next time your at the salon, Go Green! Psst.. greens also compliment dusky skin tone like no other color.
5.Go Big Or Go Home-Black Hair With Blue Highlights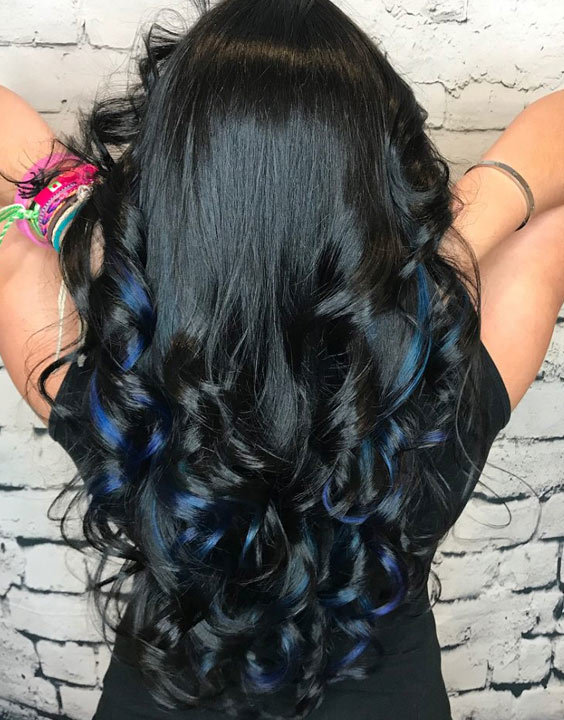 Black hair with blue highlights is not easy! It'll change your look, big time!
However reaching this isn't very difficult if you pick the right shade of blue for your skin tone & hair texture.
Midnight blue highlights on an extended neat bob or ice-blue highlights on wavy hair are recipes for no disappointment, effortlessly chic looks.
These bold blue highlights will certainly knock all blues out of your life!
Balayage On Black Hair- Trending On #1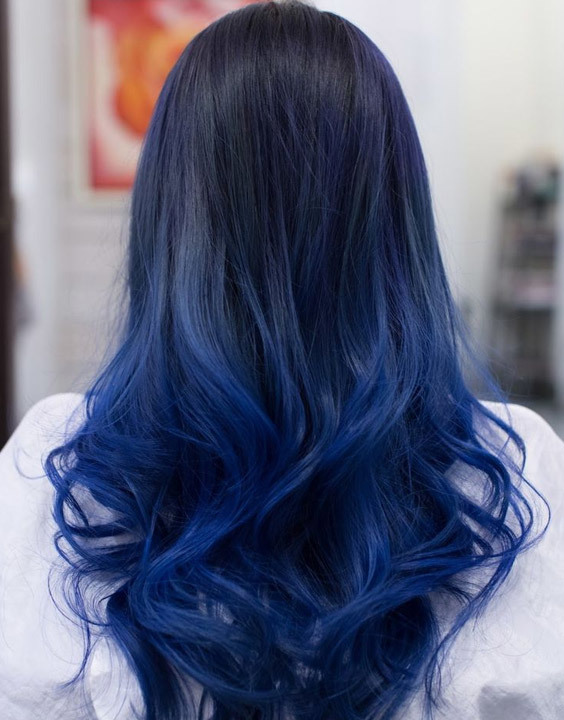 Balayage on black hair sits as beautifully as nothing else! It's no wonder, it's trending crazy.
You'll find different colour combinations – nothing from brown to red, silver and rainbow has been left untouched.
When thinking balayage, something unusual like blue balayage  should be the one for you because if you're going to spend big bucks on your hair choose a colour that makes a difference! Blue balayage has become a popular choice and rightly so!
Let out your inner mermaid with blue as balayage black hair!
"Now that you have a good number of  dark hair color ideas and know exactly what you gotta do, Do not ever again be saddened over your dark locks!" Let hair highlights rescue you!
Colouring is fun and although  hair damage is part and parcel of this colourful journey it's nothing a good hair care routine can't  handle!
P.S-  "Black hair is beautiful but black hair with highlights is even more!"
Image credits: The copyrights of the images used in this post belong to their respective owners. The credits where known are specified under the image - if you're the owner of an image and want it removed, please contact us.