Want a makeover? Highlights are an easy way to go glam! Brown hair with highlights are what you should be thinking, talking and flaunting right now!
A relaxing trip to the salon, a good hair day and a fabulous mane can change lives, boost confidence and help acquire a positive outlook  – and we absolutely live for those picture-perfect moments!
However, if you often find yourself on the flip side, having to frequently deal with frizzy bad hair mornings and are constantly wondering about how you could remedy this unruliness – scroll up for some amazing dark hair color ideas that will take your hair from limp and heavy to glossy and gorgeous in one go.
To The Rescue – Highlights On Brown Hair Reign!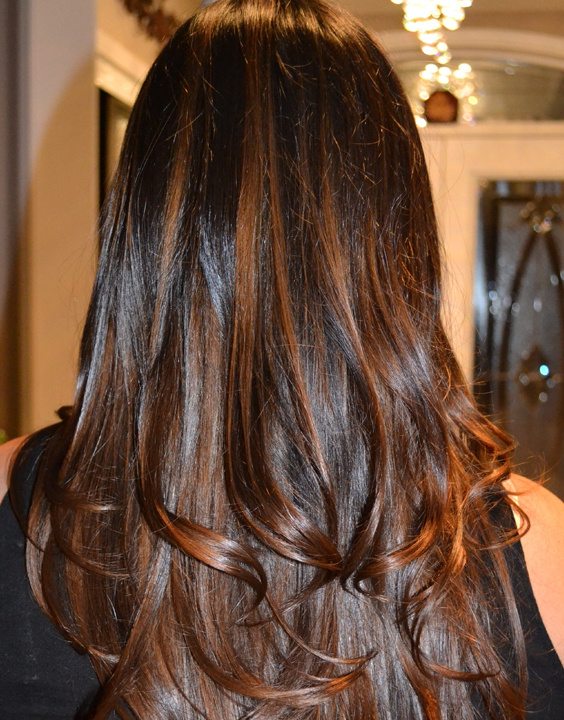 Fabulous and healthy looking, brown hair with highlights is one versatile and gorgeous trend that blends beautifully and suits all kinds of skin tones.
Whatever your personal style may be – Bold, colorful, natural, tone-on-tone or funky – we have you covered with these versatile highlights for dark hair beauties.
Let us embark on a journey to explore these highlights on brown hair trends for the benefit of our hair care, beauty and peace of mind – read on!
Cruising In Dark Hair With Caramel Highlights !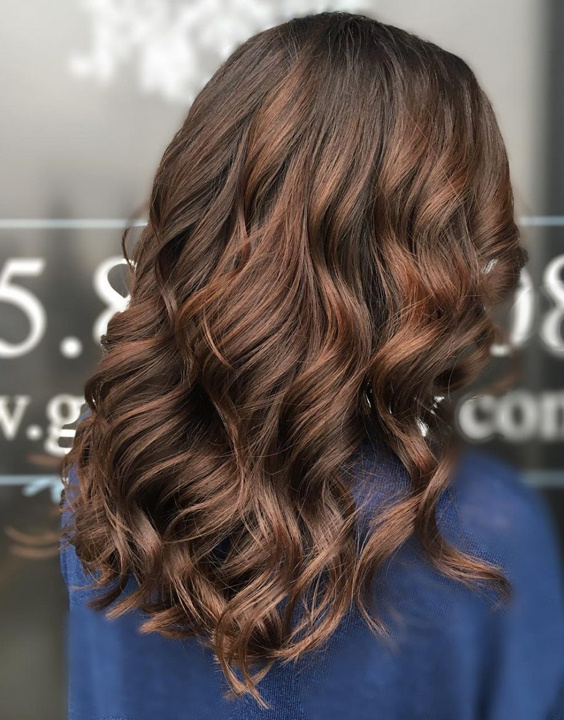 Channel your inner Kareena Kapoor circa early 2000s for a glossy, caramelly vibe!
Caramel highlights are one of the most sophisticated dark hair color ideas to take inspiration from.
Versatile and retro-chic, these tone-on-tone brown hair highlights will give your hair a lush and glowing look, regardless of your hair length or style – we love this one!
Styling tip: In the professional arena, give yourself a slick, urban edge in dark hair with caramel highlights and a long bob haircut.
Devilishly Cool In Reddish Highlights For Dark Hair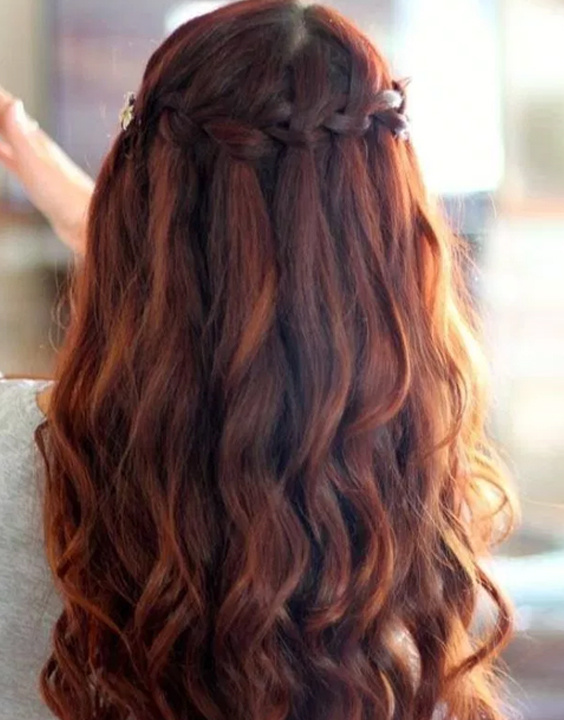 Rarely do hair highlights for dark hair emphasize the 'too-cool-for-school' goth vibes like reddish highlights.
Stunning with a plush look, this brown hair with highlights option suits long and layered hair like a dream.
Go for a deep burgundy shade or a scarlet tone – reddish highlights for dark hair have a very wide range of hues to suit every devilish mood!
Styling tip – Go for an ombre placement to give these reddish hair highlight ideas an added flair.
Pretty Pink Highlight In Brown Hair For A Boss Barbie!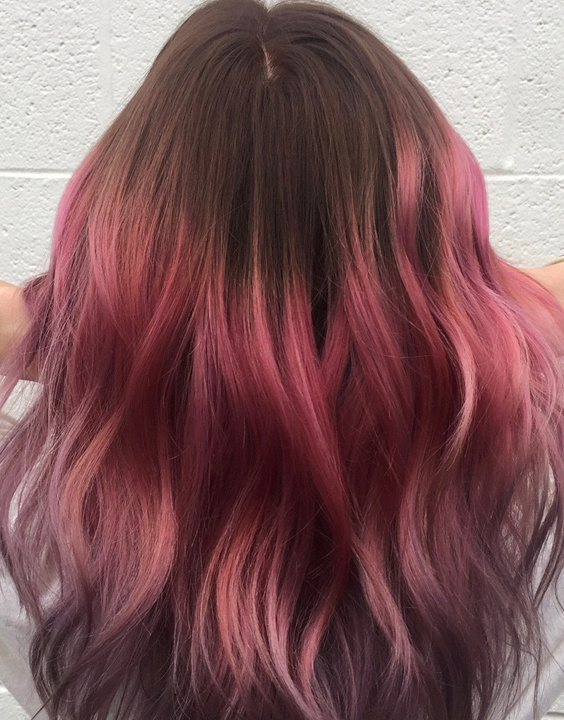 Ah, Pink! How would we ever embody the strength of our femininity without this iconic hue?
While bold and brighter shades of pink look stunning on different hair colors, pastel shades of pink highlights for dark hair will have you living your strawberry dreams!
Light pink highlights are subtle, but also manage to make a statement in the best way possible.
Soft curls and beachy waves will add to this look and give you all the millennial feels – just make sure to have a curling tong at your disposal.
Styling tip: Accessorize your pink highlight in brown hair with delicate rose-gold hair bands and hair-pins for an ultra-feminine look.
Sparkling In Rose Gold Highlights On Dark Hair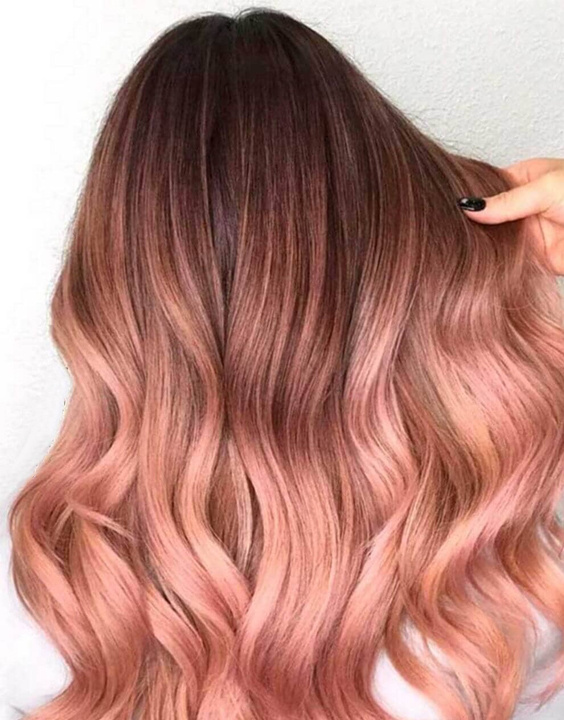 Trendy and with just the right amount of whimsy – this is the ultimate fairy tale option for dark hair with lighter highlights – we simply adore this popular style!
Rose gold is one color that has literally taken over the world since 2010 and is still going strong today, for an excellent reason.
Stylish, feminine, delicate, subdued – this shade of gold can transform any look – hair, fashion, tech or otherwise!
Softer than a pastel pink, but glossy with a touch of sparkle – rose gold highlights on dark hair can charm you endlessly.
Styling tip – Blend this trend with a touch of caramel highlights to get inspired with dark hair color ideas
Opulent In Copper Highlights On Brown Hair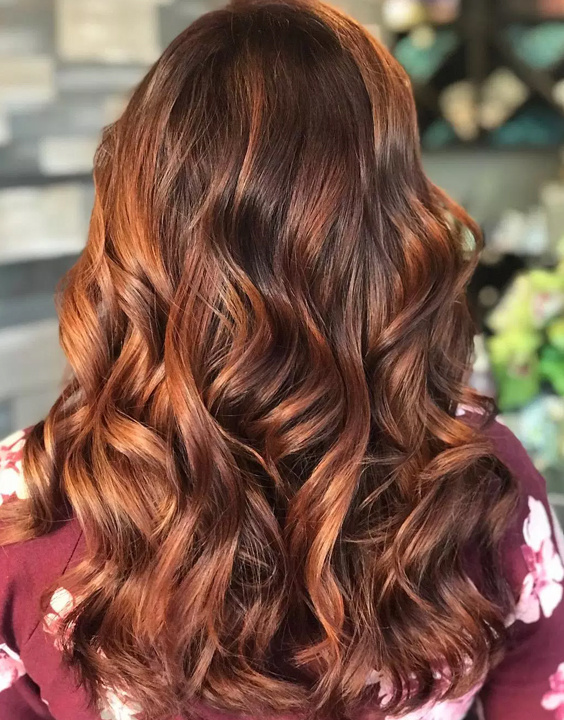 Meet the glossier sister of reddish highlights – copper highlights on brown hair for the win!
Not one for beachy waves or a laid-back vibe, this one is for the ladies who keep their hair either straight or curly and love taking the extra effort that goes into the styling!
Elegant and defined, try lighter copper highlights on dark hair for a bold yet chic style and look extra put-together at all times.
An oldie but a goodie!
Styling tip: Copper is an excellent hue for brown hair with highlights, just remember to condition your hair thoroughly and use a good hair mask once a week for that reflective gloss.
Daring With Blue Highlights In Brown Hair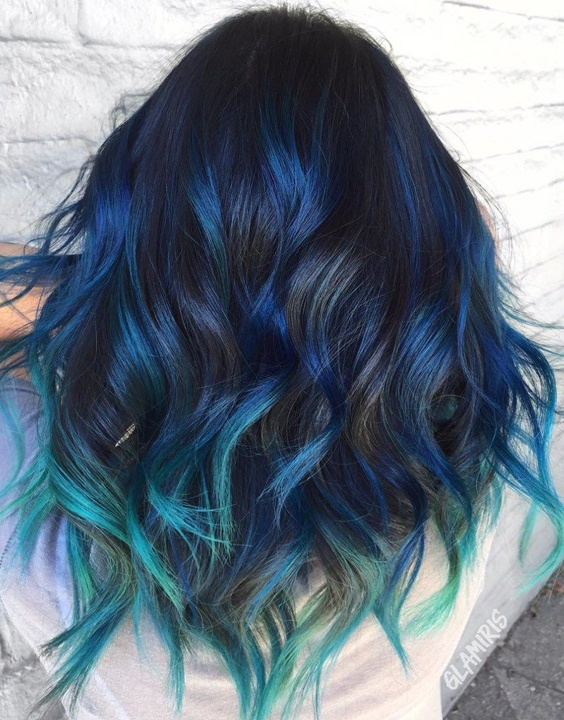 Fair warning – this is a hair highlights for brown hair option that is not meant for the faint hearted – tread carefully!
Blue highlights in brown hair is an extravagantly funky look that speaks volumes and expresses a vibrant persona.
Go for royal blue or navy hued highlights if you have long and voluminous hair or opt for minimalistic highlights in sky or icy blue for short and shoulder length hair styles.
Styling tip: Go for the kill by pairing your blue highlights in brown hair with a pair of holographic sunglasses to intensify the colors.
Delicate In Natural Highlights For Dark Brown Hair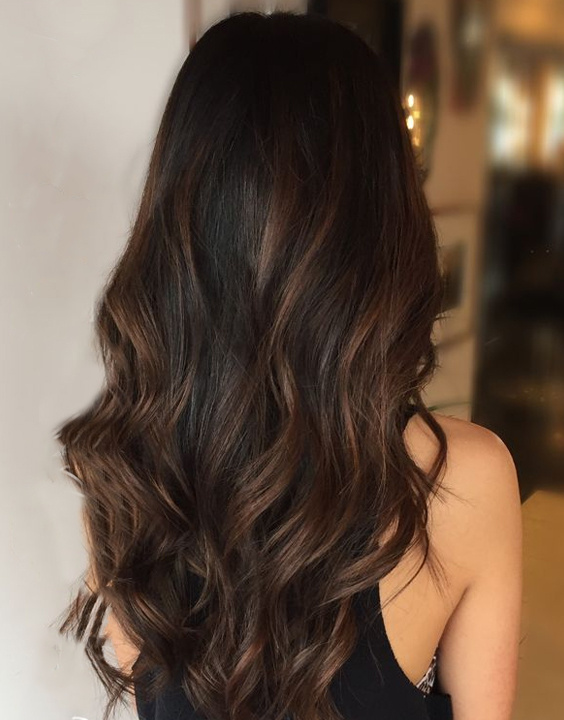 Go 'au naturale' in subtle and stylish natural highlights for dark brown hair!
This is the go-to trend for those who want to make a subtle change and add a touch of dimension to their hairstyle without going overboard.
The perfect solution for everyday hair maintenance, natural highlights are minimal and tailor made to compliment your natural hair tone and give you an airbrushed look!
Styling tip: Strategically place your highlights in a peek-a-boo placement to give your hair a 'your hair but better' feel.
Luxurious in Honey Highlights On Dark Hair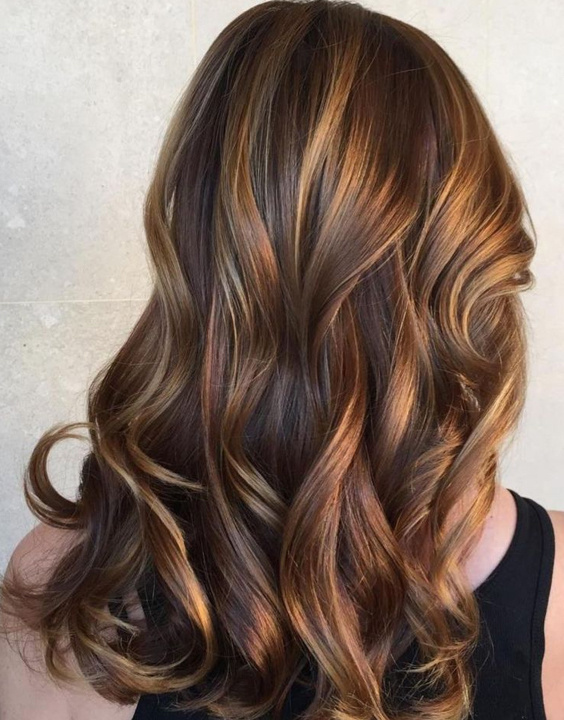 Curl your hair in cascading waves and exude tropical charm in this beautiful option for hair highlights ideas as you bask in the sun!
Perfect glam for vacays and long trips, honey highlights on dark hair will make you feel like your best self, living it up!
Go full throttle with this trend and get dense highlights to give your hair a glossy honey look!
Styling tip: Team up your honey highlighted hair waves with lovely resort-wear outfits as you watch the sunset over the ocean – add a flattering straw hat for a good measure!
Retro-vibes With Golden Highlights On Dark Hair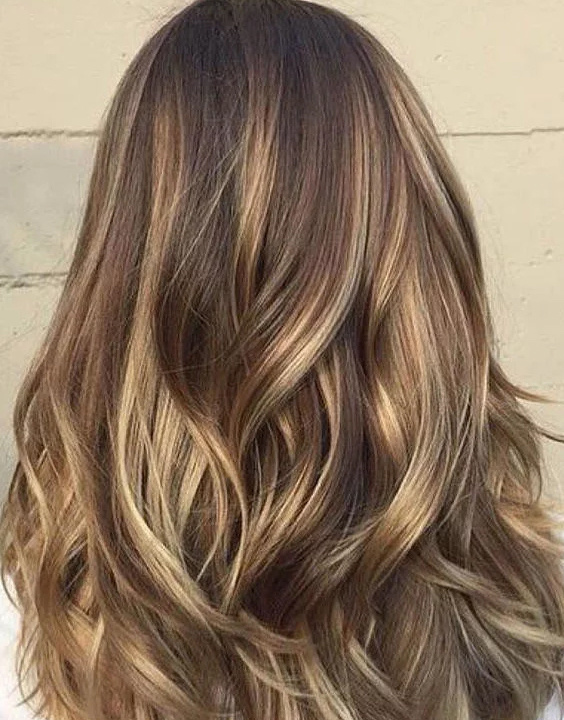 Now hold on – let's not get too ahead of ourselves – this is not an easy trend to carry off!
Long hair lengths with gold highlights tends to work with a very minimalistic and subdued approach.
Short hairstyles are ideal for this trend – giving bobs, pixies, long shagged cuts a funky and unique look.
Placed strategically and done well, golden highlights on dark hair can give you a beautiful and statement lioness mane!
Styling tip: Tie your golden highlighted hair up in scarves and bandanas for a pop of color!
To The Future – The Balayage Brown Hair Way!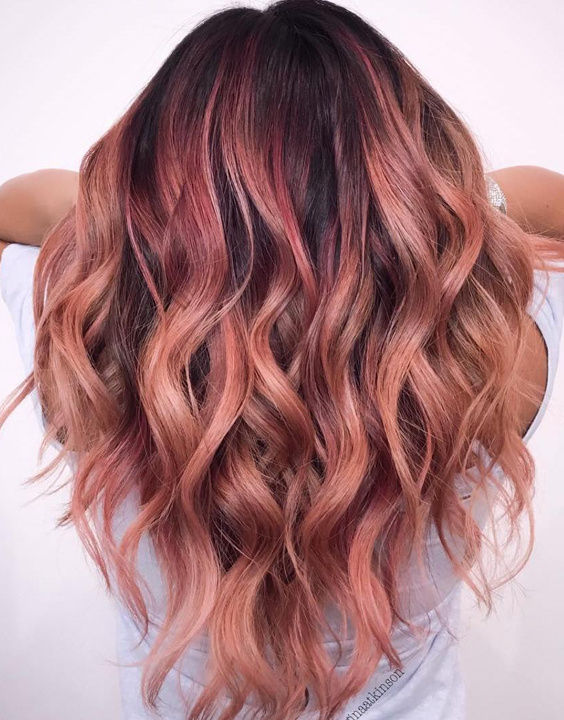 'Balayage' is a French word that means 'to sweep or paint'.
This artistic style of highlighting is very popular with celebrities and is currently the top trend in the hair styling industry.
The technique of balayage highlights dark hair in a beautiful and seamless gradation from darker shade at the top to lighter at the bottom. Unlike ombre or regular highlights, balayage brown hair gives a soft, natural texture and is devoid of those stark and passé streaks.
This style highlights the best parts and angles of your hair to give it a glossy and mesmerizing sun-kissed look.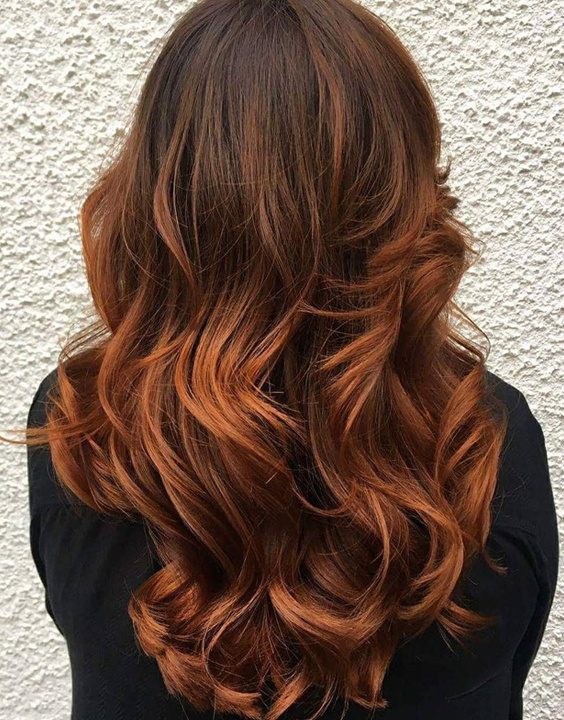 Perfect for tonal shades – caramel, honey, deep reddish, golden, copper or platinum balayage on dark hair oozes with a sunny, smooth and fashion forward charm.
Stylistically done, balayage highlights dark hair in a very personalized manner, to suit your personal style, hair and preferences.It is a much faster and long-lasting freehand technique that does not require any foil or long waits in the hair salon for multiple appointments.
It is definitely the hottest hair trend and is guaranteed to make you look like a goddess in whichever hair style or length you choose to sport!
Styling tip: Try copper balayage on dark hair if you want a seamless and light look that is also full of spunk and shine!
Well, what are you waiting for? Go on and paint the town your favourite color and show off your favourite hair style in the highlights of your choice!
Make your pick with careful consideration and carry these dark hair color ideas with your good hair day confidence – Shine on!
Image credits: The copyrights of the images used in this post belong to their respective owners. The credits where known are specified under the image - if you're the owner of an image and want it removed, please contact us.