We're looking at body tattoo design as the ultimate fashion accessory! You don't have to worry about putting on or taking off, and is always bound to give you an edge. Any guesses? We're talking about the hip and happening body tattoos for women!
With everyone gushing about tattoos and transforming their style statement, this article is pretty well-timed, don't ya think?
Body tattoo design has gone from being a sign of a rebel to being a true blue style statement!
You know what they say, if you've got it, flaunt it!
Tattoos for women are usually personal, and come with a strong internal message for most people. Small, meaningful body art is a beautiful, delicate adornment that goes with almost any look. If you're comfortable, you can also get a little brazen with your outfit. On the other hand, large, colourful artwork comes with the unannounced message that your outfit probably needs to be toned down.
This quick guide on donning the right outfits for your body tattoo design will definitely put you on top of your style game!
Neck Tattoos Paired With Off-Shoulder Tops And Dresses- Here's a great necklace!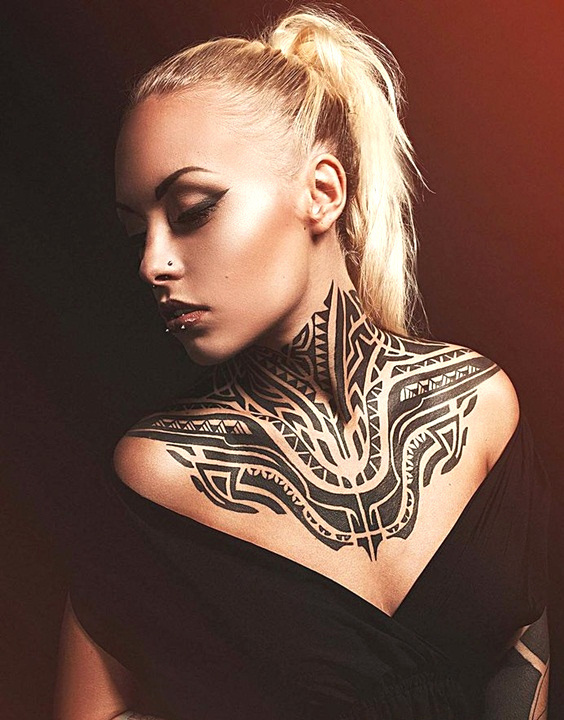 Open back tops, dresses and gowns add a touch of feminine elegance to your look, balancing out your tattoo.
Try tube tops and off-shoulder tops to flaunt your neck tattoos.
Avoid halter tops that wrap around your neck, high backed tops and cowl necks that will completely hide your tattoo from view.
Super Style Tip– Hairstyles have a lot to do with neck tattoos, especially ones that are right on the nape. Try side swept hair, braids, high ponytails and messy buns to draw attention to your slender neck and of course, your intimate body art.
Try Chest Tattoos For Women With Plunging Tops Or Dresses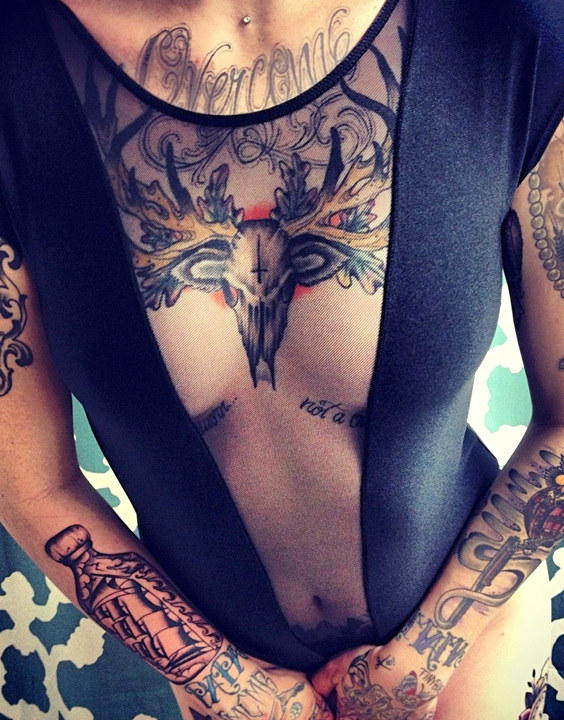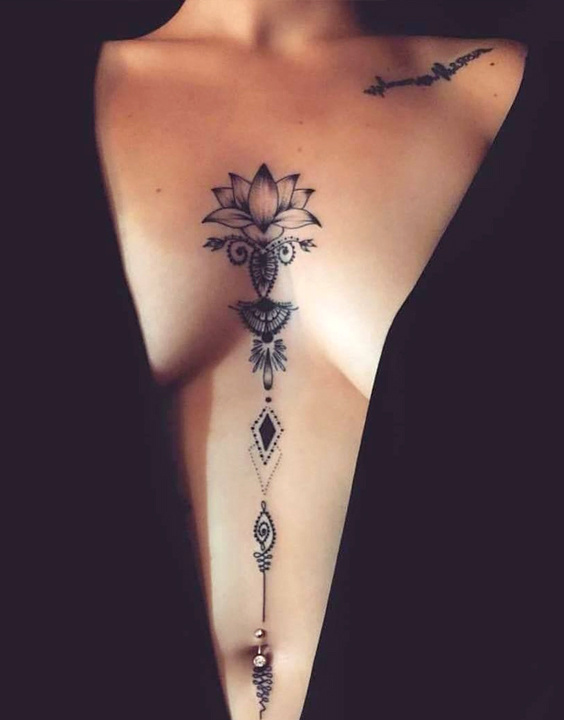 Experiment with plunging necklines and flaunt your favorite tattoo design.
A lower neckline would make your tattoo peek through and would like a sexy adronment.
Super Style Tip: Flaunting chest tattoos for women takes a little more caution and a little less inhibition. They're rare, but one-of-a-kind, and easiest to pull off if you're comfortable in your own skin.
Shoulder Tattoos Look Pretty Rad With A Cute Camisole!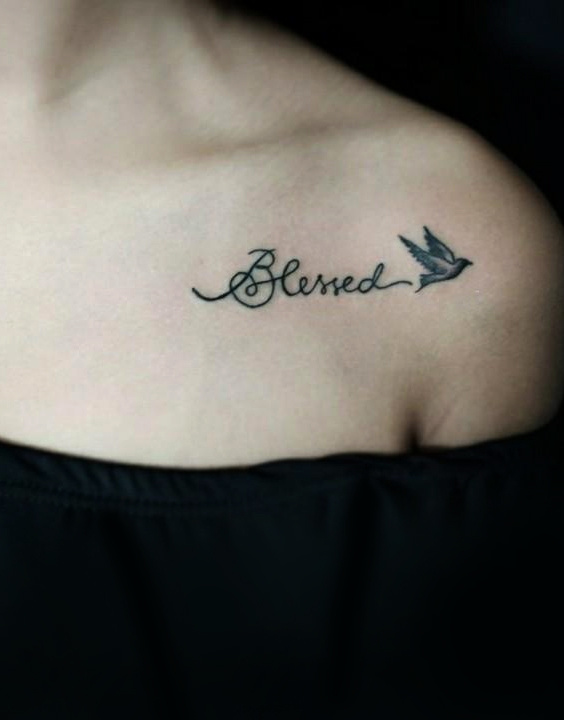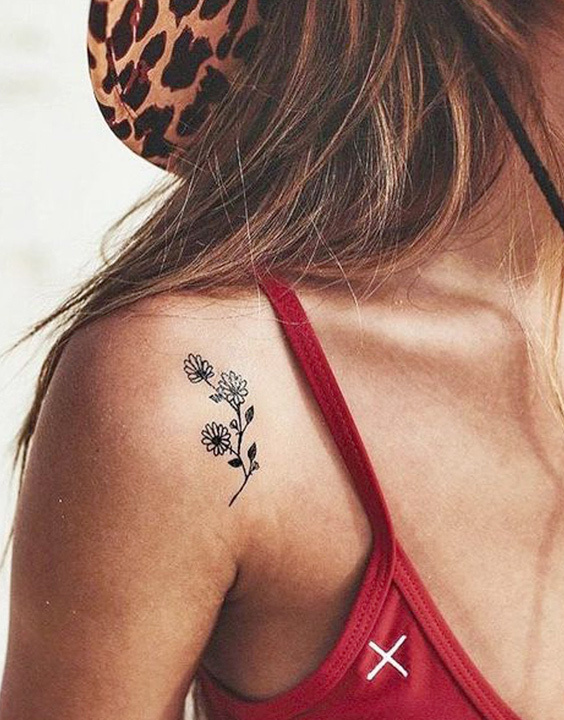 Shoulder tattoos are the real deal; the opportunities to show them off are endless! The easiest way? Sleeveless tops or a strappy camisole!
A delicate fern or flower tattoo or a minimal bird with light typography could make this tattoo a great match for your camisole.
3. Unless your shoulder tattoo starts right from your neck, you don't need to worry about colour contrasts and matches.
Super Style Tip: In cold weather, don an open knit cardigan and short sleeved sweaters that wrap you up while putting your tattoo out in the open.
Yes! Arm Tattoos For Women Look Killer With Casual And Formal Tops!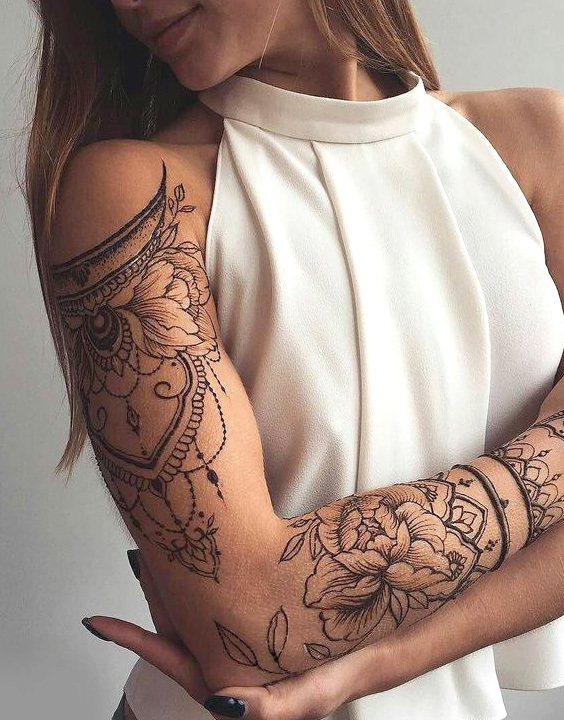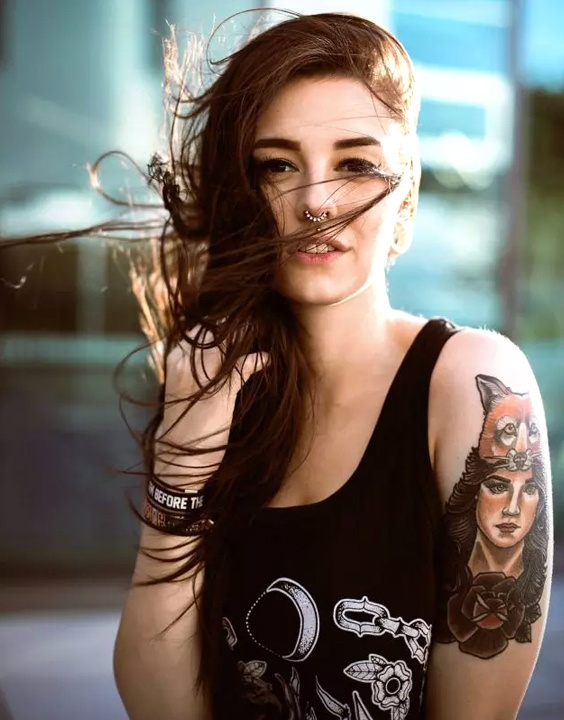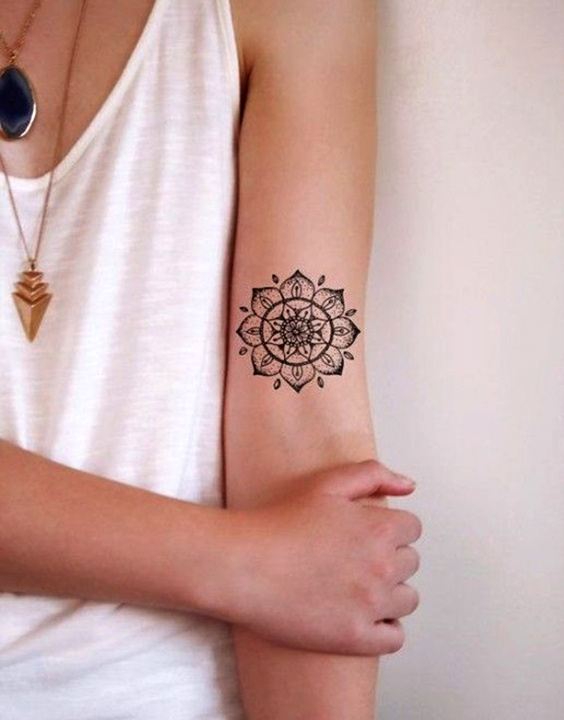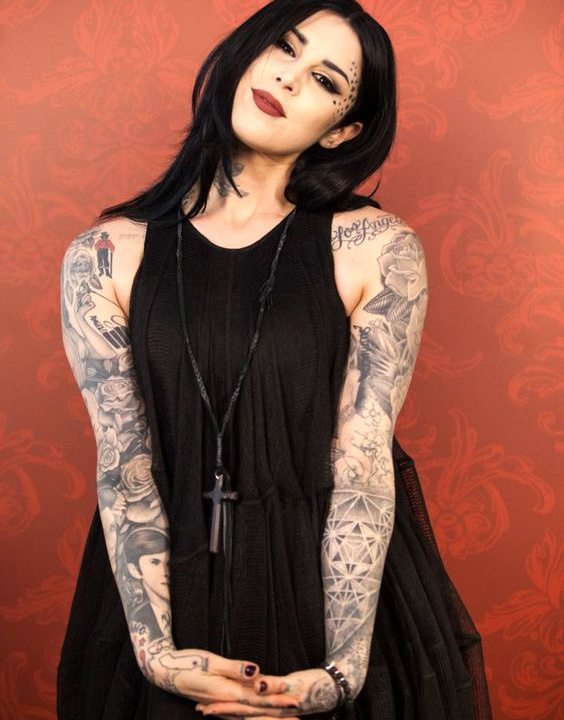 When it comes to arm tattoos for women, the body tattoo design options are endless. Tattoos for women come in all shapes and sizes, especially with arm tattoos.
Flaunting it is as easy as pie; just wear a sleeveless or half-sleeved top depending on which part of the sleeve tattoo you want to show, and let the art do all the talking.
If you have a coloured tattoo, it's best to tone down the hues of your outfit.
Halter tops, rock-inspired tees can be a great pick to flaunt these designs!
Try portrait designs for these tattoos! Any face that inspires you might work! Put forward a bold front.
Super Style Tip : You should opt for strong-looking graphics for these tattoos as your arms are the best canvas to convey strong statements!
Strong female celebrity figures like Miley Cyrus, Ruby Rose and tattoo artist Kat Von D confidently carry heavy sleeve tattoo designs, and who's to say you can't too.
Forearm Tattoos For Women- Finally Something For The Winters!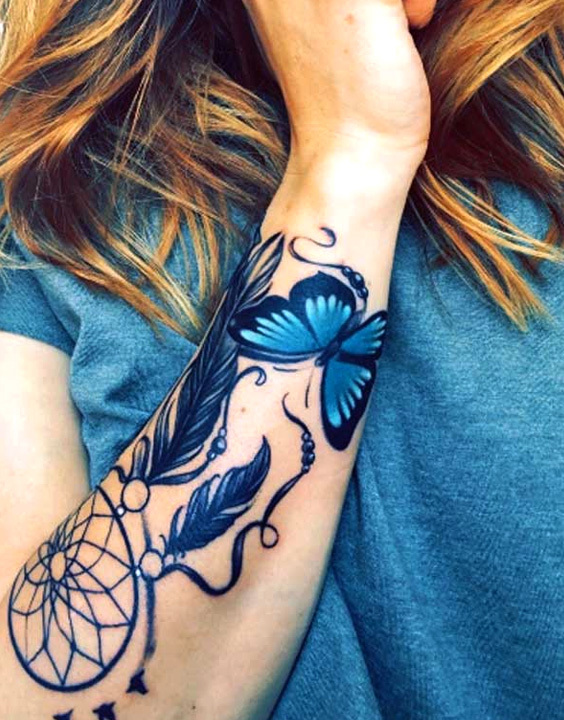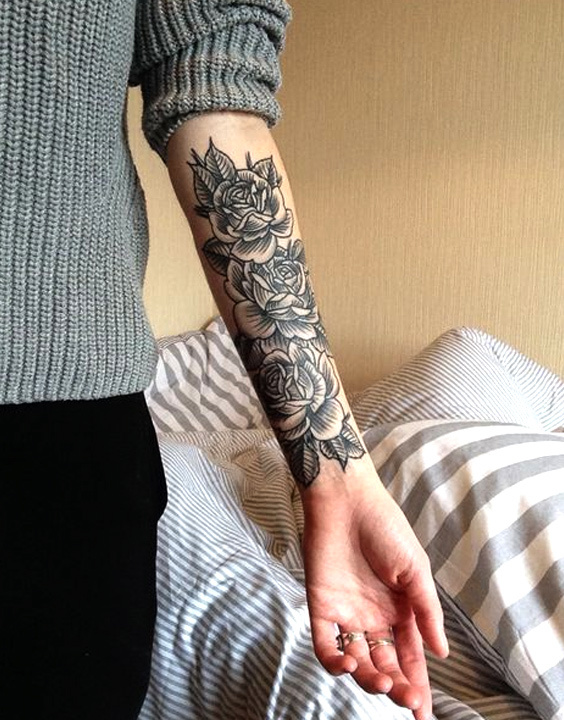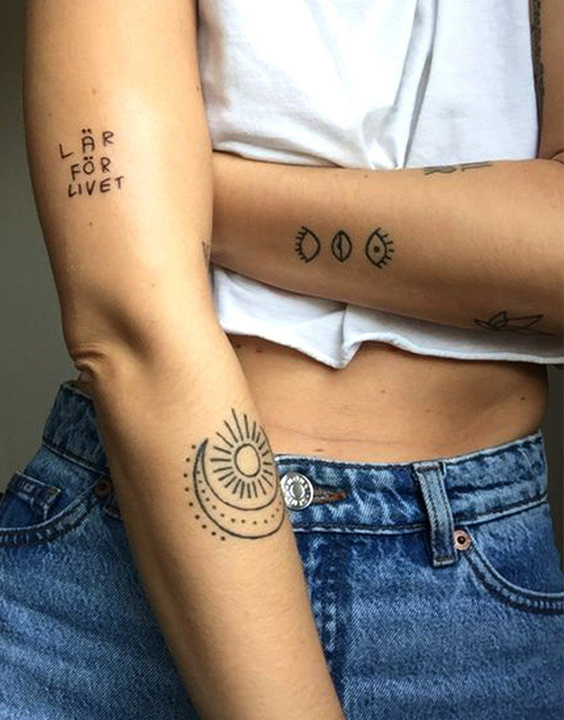 Unlike the full-coverage sleeve tattoo designs, forearm tattoos for women give you a chance to wear chunky sweaters, which you could just pull up, and your tattoo would peek through.
An  inner forearm tattoos are always facing inward, so it's much less of a consideration when you're picking your outfit.
Try chimes, feathers, colors for this wonderful tattoo design! Minimal signs, symbols and letters would work too!
Super Style Tip: If you are in the mood to show them off, try out some funky bicep cuffs and wrist bracelets to go with short sleeved tops, sleeveless tops or even a cropped top could add attitude to your attire!
Hand Tattoos For Women That You Can Accessorize To Your Advantage!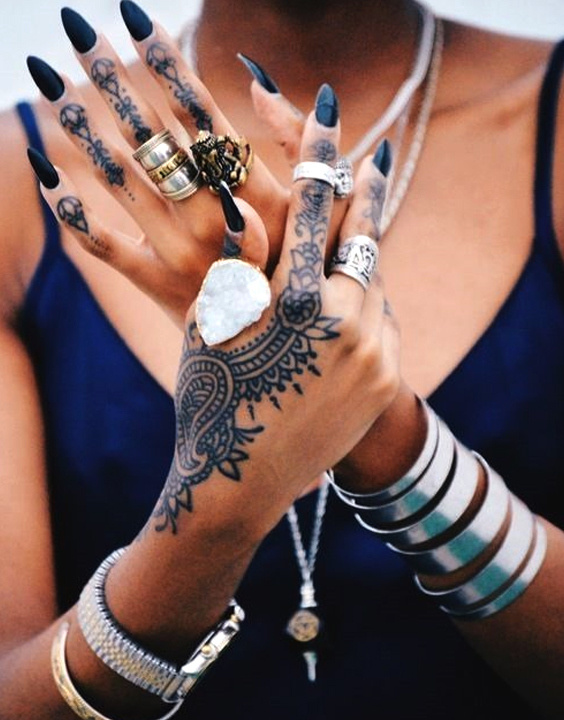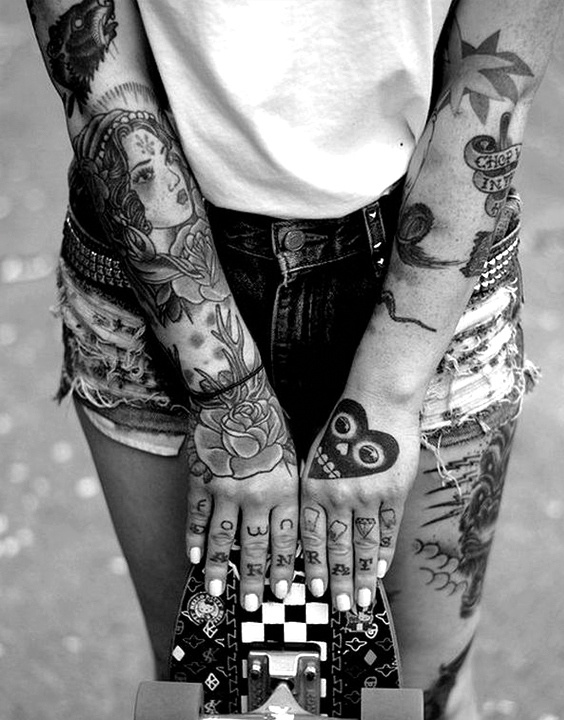 Hand tattoos for women are more like the permanent version of the henna tattoos, and definitely a big commitment.
Hand tattoos are meant to be the focal adornment, but there's nothing wrong with wearing a few thin rings and wrist bands just to enhance the art.
For finger tattoos for women, wear a bright pop of nail polish to turn up the volume.
Hand tattoos can be pretty elaborate too. Arm downwards, you could consider dense artwork. Probably, geometric designs, creepers and attractive portraits as design inspiration.
Super Style Tip– Choose your rings wisely! Chunky silver rings, bracelets or even gold-plated trinkets can add some bling to your look.
Your hand tattoo could have intricate detailing on the sides of the hand, rather than making the design too dense. A mehndi-inspired design would look beautiful when amped with silver bands and light trinkets.
Wrist Tattoos For Women With Lace Tops And Cardigans- Love That Delicate Feeling!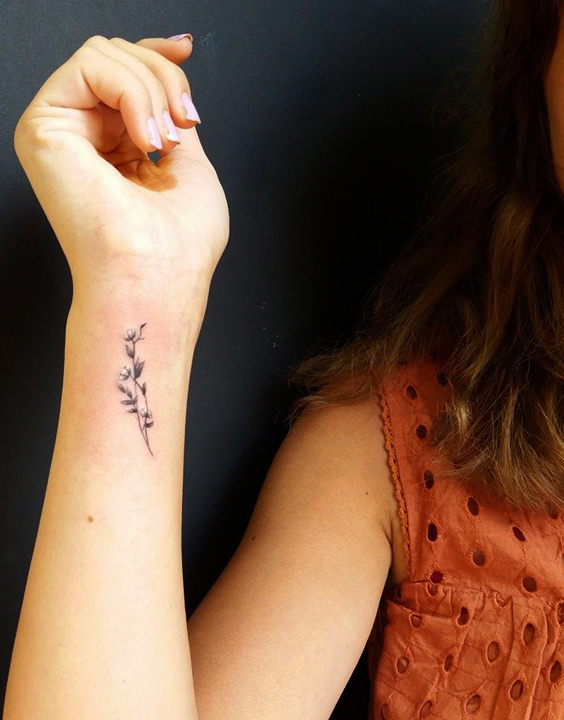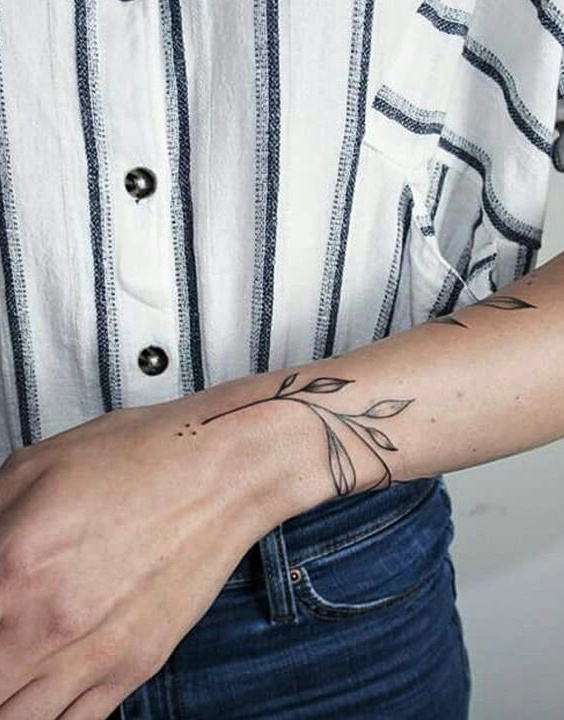 Long-sleeved tops are a no-no, but any other outfit is a resounding yes!
You can keep the wrist bare if you want your artwork to be the focus, Otherwise, spruce it up with a chunky watch or delicate bracelets, finger rings or some elegant ring bracelets that are currently all the rage.
The latter is also a good idea when it comes to pairing wrist tattoos for women with traditional Indian outfits.
The thumb rule here is to accessorise, and accessorise well! You can keep the wrist bare if you want your artwork to be in focus.
You could wear an oversized cardigan with loose sleeves, so that we catch a glimpse of that delicate wrist.
Super Style Tip:
Choose delicate designs for your wrist.  A lone symbol or design would be perfect. These teeny-tiny designs look great with lace tops too. Add a glam watch to seal the deal!
Back Tattoos For Women For A Strong Statement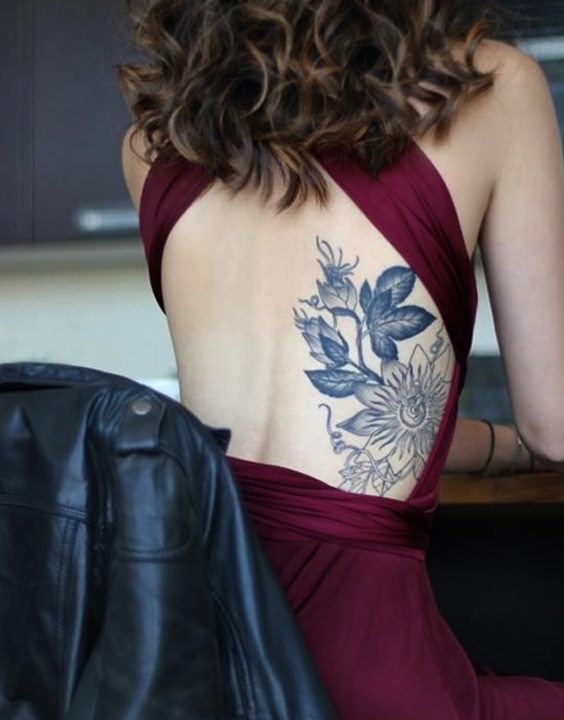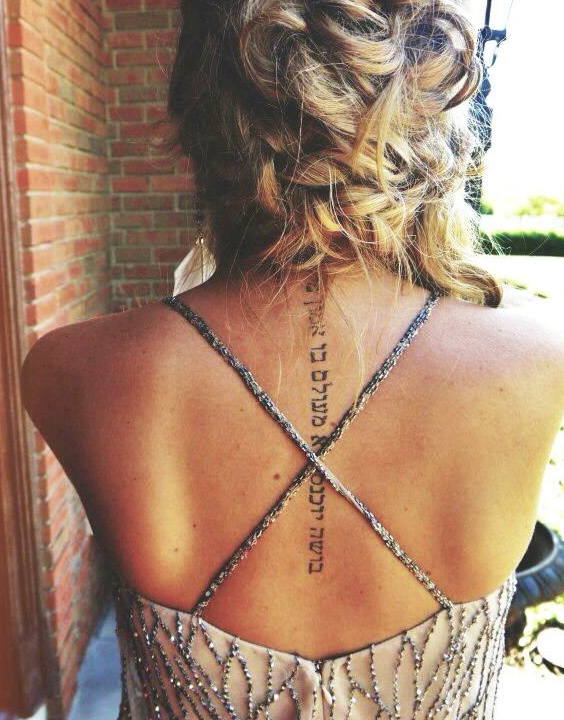 The back is one of the most common places where women get tattoos, since there are so many ways to sport them.
Think criss cross backs, backless dresses, sheer panels, cut outs backs, halter necks, you name it! Just like the flourishing designs of back tattoos for women, you can experiment with your look too.
Detailed floral designs could look wonderful if you choose a dress that show off your back a great deal!
Try script-inspired tattoos for this particular one! Maybe one that runs down your spine? Sounds risque? Try it out!
Super Style Tip:  Try not overcrowding your back. Whatever you etch on your back should be balanced with whatever you're wearing.
Rib Tattoos Matched With Open-Sided Tops Are So Much Fun!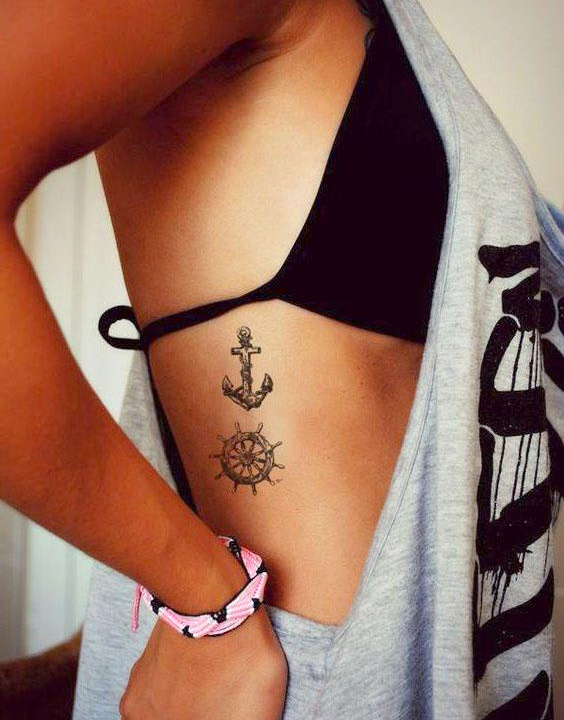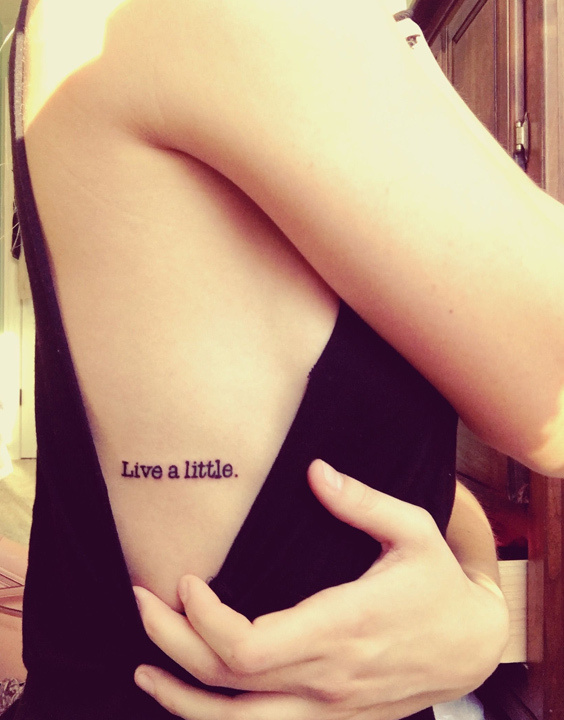 Ribs are a private place to get inked, but you can just as easily show off your tat if you want to.
For a no-holds-barred look, you can wear a sports bra, bikini top or crop top with a pair of leggings,shorts  or baggy pants, and keep the option open for a jacket.
Similarly, side plunge dresses, cut out dresses and strategically placed mesh panels are ideal for rib tattoos for girls.
Super Style Tip: Try typography-inspired tattoos for this particular design. A motivational quote would be just as fine!
Whatever you're wearing shouldn't be heavily layered. Let your tattoo shine!
Waist Tattoos With A Super-Cool Crop Top- Curious Already?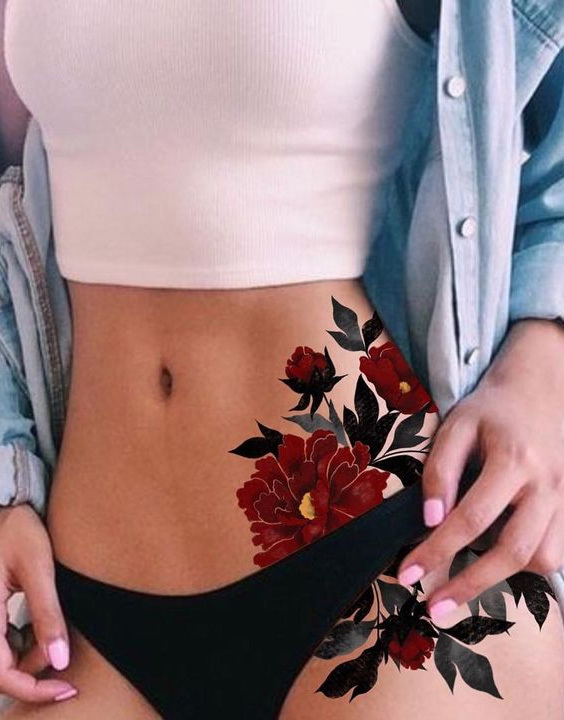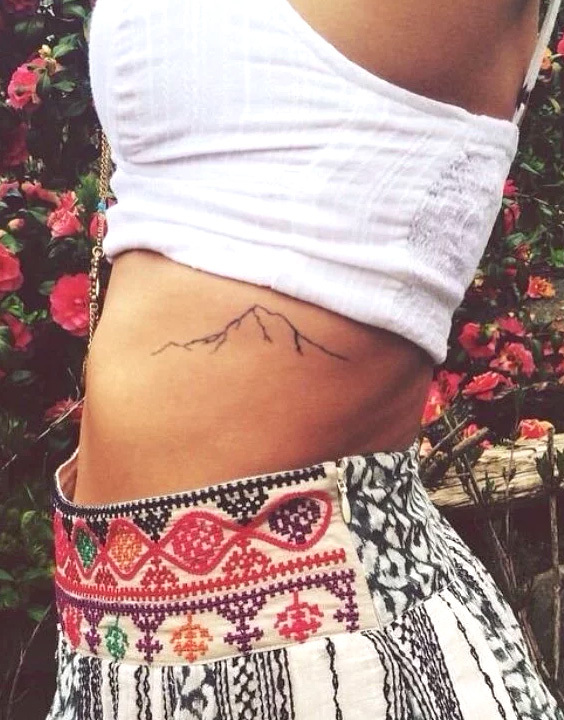 Waist and hip tattoos will probably never go out of style, especially since they're in such an intimate area.
Crop tops with waist tattoos are the best way to highlight your tattoo design without overpowering or understating your overall attire.
Low strung pants and short tops also work brilliantly to showcase lower waist tattoos.
Super Style Tip– A pop of color wouldn't hurt for this one. Think of bold florals or statement-inspired tattoo designs for this one. If you prefer a lighter design, you must consider simple etching across the waist.
Show Off Leg Tattoos For Women With Short Skirts!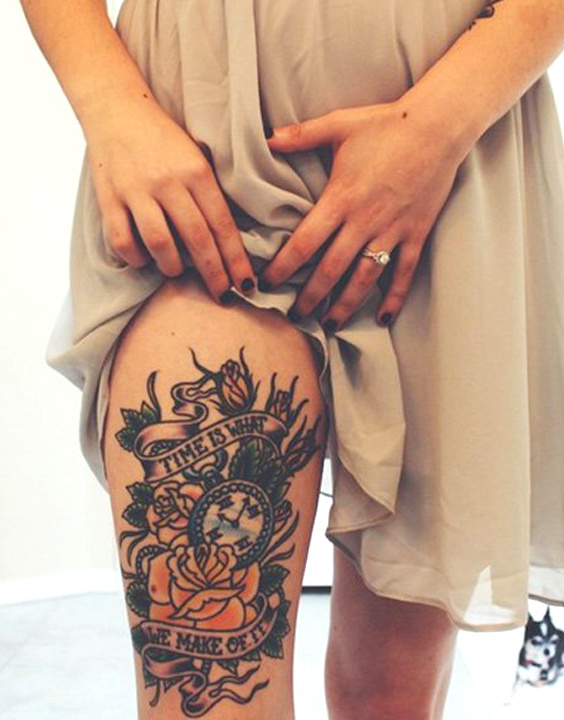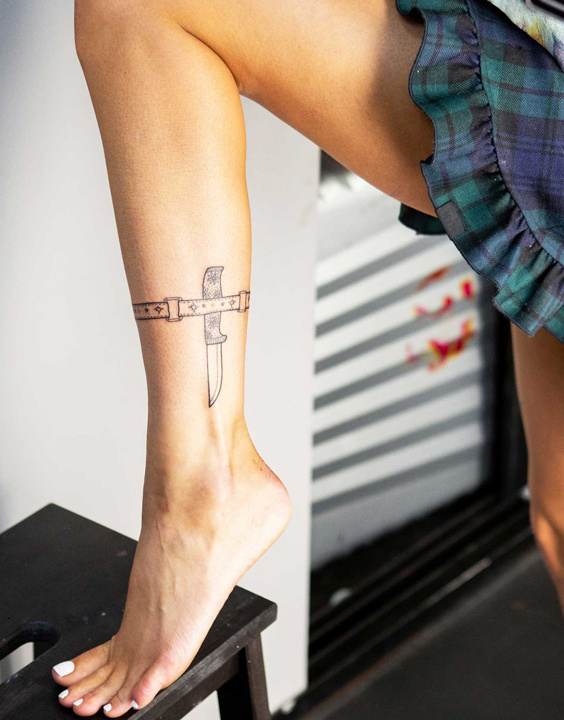 Leg tattoos for women can be graceful, elegant and extremely chic. In fact, the longer the legs, the cooler the scope of the tattoo!
2. Hip and thigh tattoos tend to be partially covered unless you're at the beach, but the lower you go, the more room you have to flaunt it.
3. Try short flared skirts or boxy skirts to add a dimension of bold to your legs!
Super Style Tip: Experiment with sassy illustrations and graphics. Legs speak a lot for a woman's confidence after all!
Ankle Tattoos Can Add That Cute Quotient To Your Outfit!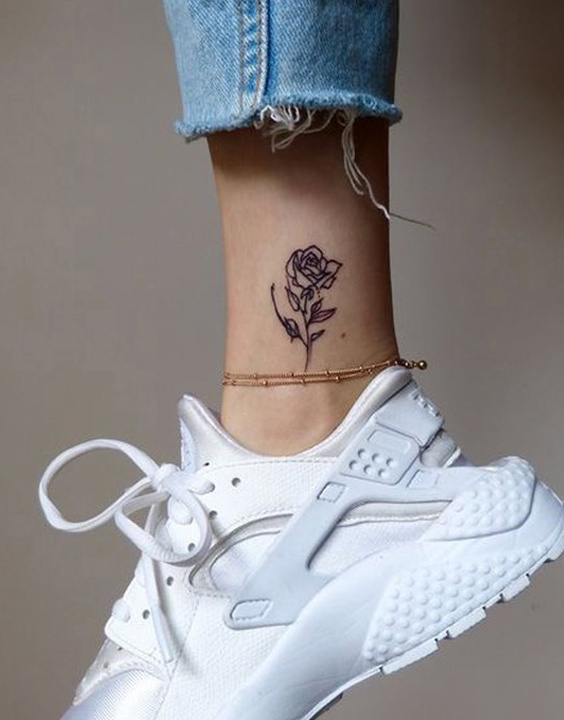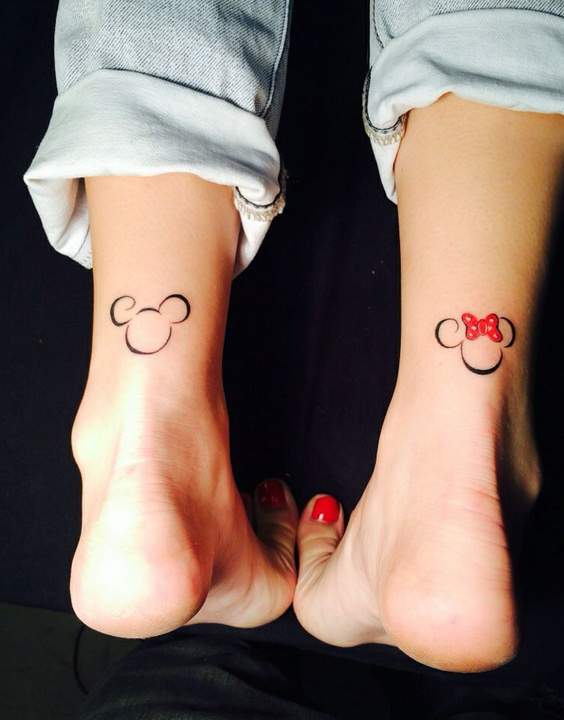 There's a certain elegance that comes into play with ankle tattoos, especially ones that curve down the length of the foot.
High heeled shoes, is the way to go if you want to show off your cute tattoo designs!
Clean white sneakers and a delicate anklet around it will create an eye-catching look.
Super Style Tip:
This is first body tattoo design wherein, small motifs would look so cool! A tiny minnie mouse or mickey mouse is a small design suggestion that you might like to try on.
Foot Tattoos For Women With Footwear That Matches!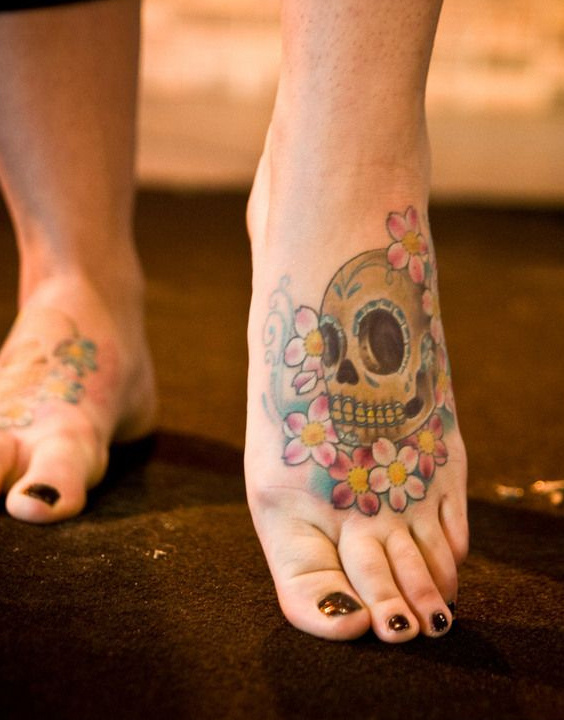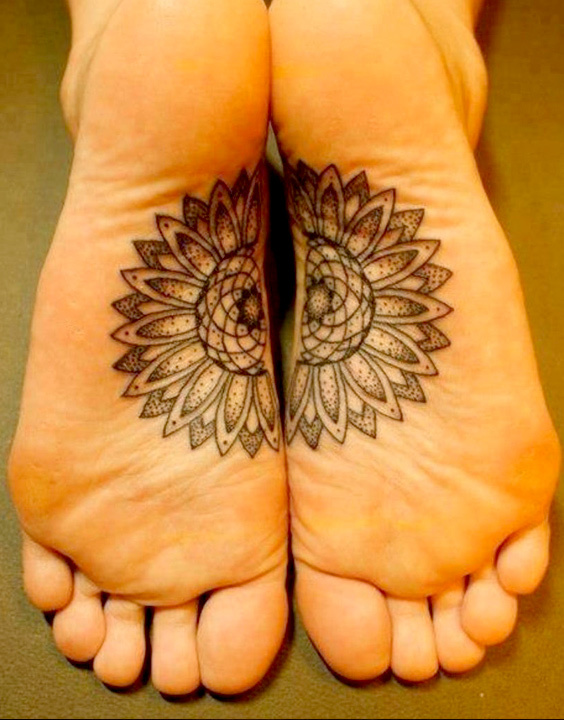 More often than not, foot tattoos may be covered, but given the chance, they deserve a night about town!
It's the small foot tattoos that you may have trouble displaying, but the medium and large sized ones give you a chance to play with your footwear.
Except closed shoes, you can opt for almost any kind – high heels, strappy sandals or flat ballerinas.
Super Style Tip: There's no doubt about it, simple tattoo designs on the body can stand out all by themselves, but everybody needs a little help sometimes. Embrace your art, meld it perfectly with your sense of style, and you'll find that you don't need to do much more!
Image credits: The copyrights of the images used in this post belong to their respective owners. The credits where known are specified under the image - if you're the owner of an image and want it removed, please contact us.