A nath is probably the most underrated piece of indian jewellery but it's always a total stunner. Have a look at this countdown of popular bridal nath styles that are LOVE!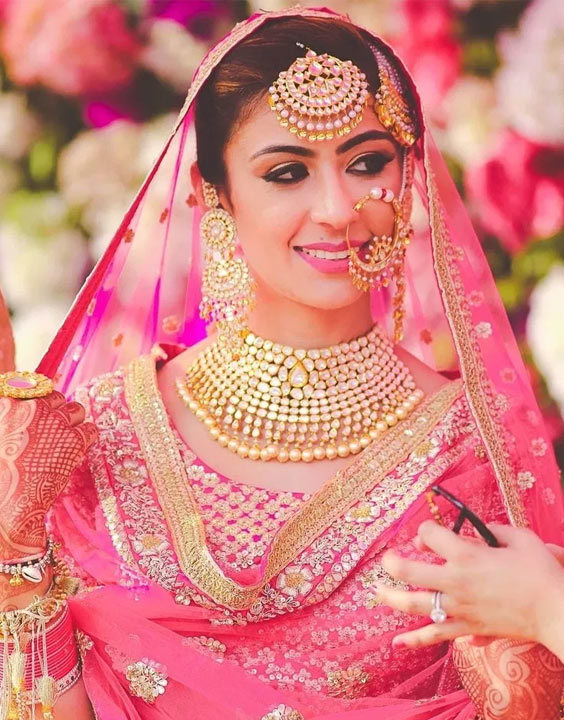 The perfect adornment and finishing touch to a bride's make-up and trousseau, a bridal nath can either complete a traditional look or can aid in elevating a contemporary – fusion bridal style!
We present you with 5 gorgeous traditional nathni design varieties that will bring your wedding attire to a full circle and have you looking striking and prolific on your special day.
Read on – and don't underestimate the power of the bridal nath!
5 Types Of Nath Design For Bride – To – Be!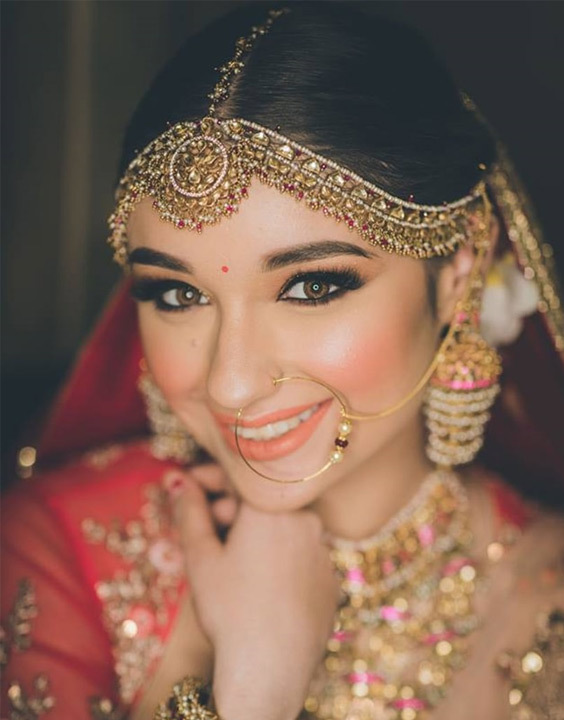 It can be harrowing to choose the best of the latest nath design styles, especially if you're new to playing around with ethinic jewellery. Worry not – we'll help you find the most eventful nath design for bride and her maids.
Let us explore traditional nath and contemporary nathni design varieties from all four corners of India for some serious style-inspo!
South Indian Nose Ring – A Traditional Stunner!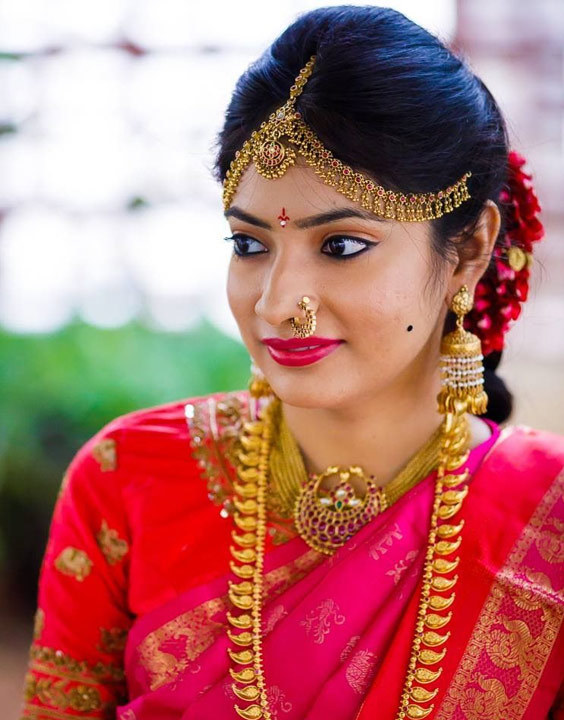 Striking when worn traditionally, the 'Mukhutti' or south indian nath, is every southern bride's go-to!
Usually made in gold and decorated with rubies or emeralds, this is a traditional nose ring that is often worn without the chain to compliment the bride's golden jewellery and silky attire.
Sometimes, a bride will go for a gold nose-stud instead of a round nath or a traditional bridal nose ring for maximum impact and flair. All that glitters is gold – indeed!
Marathi Nose Ring Will Cash-ew Taking a Second Look!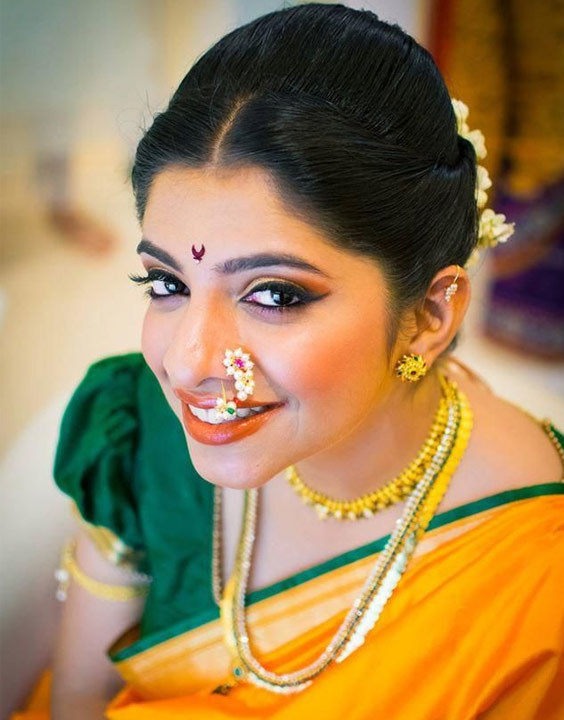 One of the most popular and wide-spread varieties in the country, maharashtrian nose ring designs are often sported in movies and celebrity weddings alike.
Maharashtrian nath designs for bridal beauty are not only entrenched in popular culture, but the 'tanmani' elements in the cashew or paisley shaped nose ring bring out the natural beauty of the bride and compliment her crescent moon bindi.
Multicoloured gems, pearls and white-gold varieties are revered by brides in the west!
Bengali Nose Ring –  A Sultry Captivator!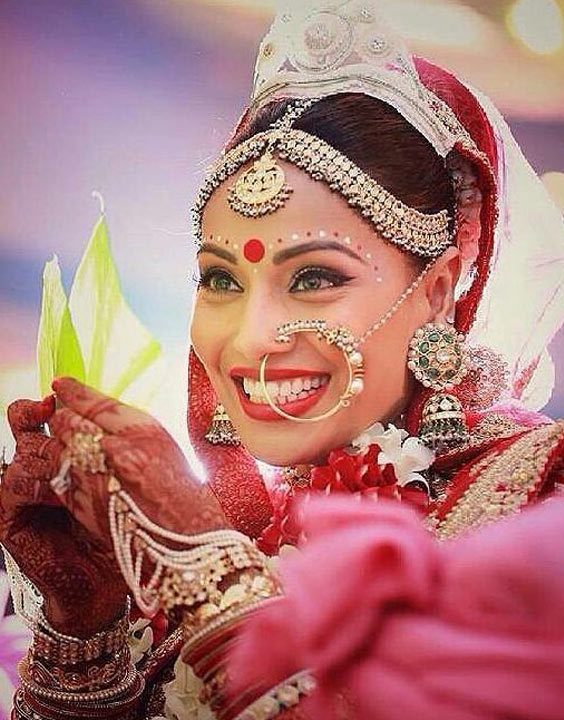 If you are looking for a gorgeous, yet simple option to compliment a subtle bridal attire – look no further!
Made in gold with a light smattering of pearls with an elegant chain or 'latkan', the bengali nose ring brings together a wedding trousseau like no other.
Bringing together the white and gold themes of Bengali weddings and complimenting the red elements of the bridal makeup and outfit, this is a bridal nose ring for those who like to stay true to their roots.
Don't Take Too 'Laung'! Get It On With A Punjabi Wedding Nose Ring!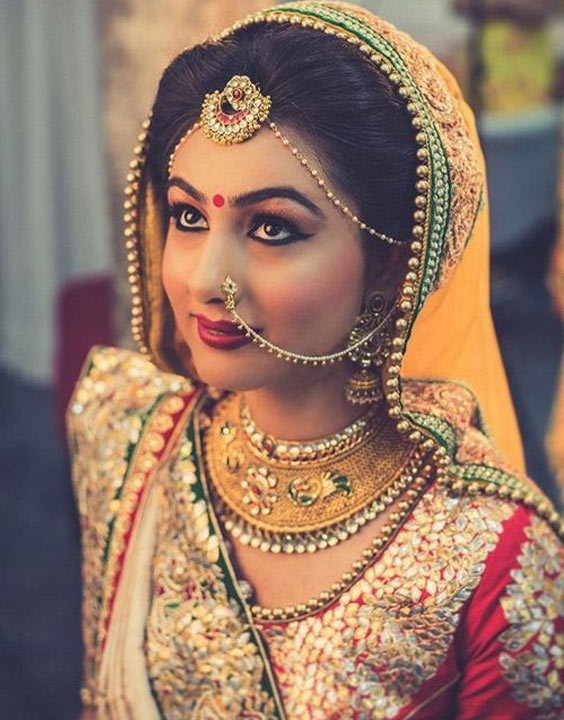 Traditional to Punjab, the 'Laung' is a nose stud that is clove shaped, with a precious gem seated and embedded in its folds.
A popular nose adornment in Northern India, a laung has been mentioned in countless songs, movies and literature from this region since time immemorial.
Not as flashy as its counterparts, a laung is the type of wedding nose ring that will give its wearer a subtle and alluring mystique.
Elegance is a state of the mind, they say!
Glorious Contemporary Nath Designs For Bridal In Gold !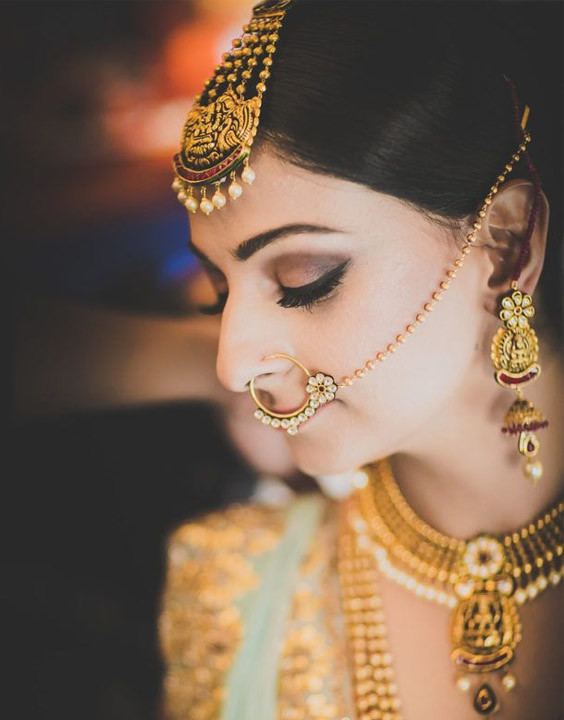 Beautiful, enchanting and fascinating – contemporary gold naths come in stunning varieties!
While traditional bridal nose ring designs compliment the beauty of Indian bridal fashion and makeup, contemporary nath designs for bridal in gold elevate the trousseau and give it an edge like no other.
A bridal nath is one of the most exciting and alluring additions to your bridal look – completely transforming the face and giving it an instant lift!
Image credits: The copyrights of the images used in this post belong to their respective owners. The credits where known are specified under the image - if you're the owner of an image and want it removed, please contact us.