Chikankari embroidery is a heritage art technique that boasts of desi as well as western patrons. If you don't already own a chikankari outfit then you're missing out! Read on and fall in love with chikankari embroidery designs.
Delicate, romantic, dreamy and subtle – chikankari embroidery designs are undoubtedly a delight.
Originating from Lucknow, India and having its roots in the Mughal era, chikankari embroidery is not simply an embroidery technique – rather, it is an ancient art form. The very first references of chikankari embroidery designs as 'flowered muslins' date back to 3rd Century BC.
Chikankari technique is unique and stand-alone amongst all the traditional embroideries.
While modern chikankari has been mixed and consolidated with other traditional techniques the core of chikan work stays true to its roots even to this day.
Read on for more fun facts and styling tips on this fabulous embroidery technique!
The Spectacular Lore Of Chikankari Embroidery Motifs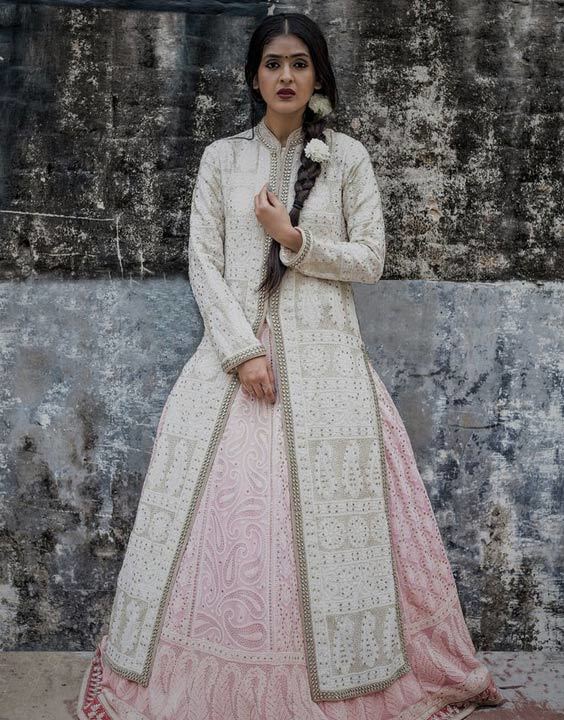 Like all Mughal-origin artforms, chikankari motifs are based in nature. Bountiful flowers, leaves, paisley patterns are most common with this style of embroidery work and lucknow chikankari art-work.
While there are many different types of chikankari embroidery – like 'hool' (eyelet stitch), Jaali work and Banarasi styles – The most popularly loved is the 'Bakhiya' or shadow work.
Shadow work – which involves using the back-stitch, chain stitch and the running stitch to embroider white-on-white motifs from the back-side of a translucent fabric creating a shadow effect – is immensely prevalent in today's lucknow chikankari and modern-day chikankari inspired fashion.
Chikankari embroidery stitches are not only soul-pleasingly beautiful but also manage to weave more than just beauty into folds – woven in there is also history, tradition and cultural evolution!
Popular  Chikankari Pieces Loved By Fashionistas!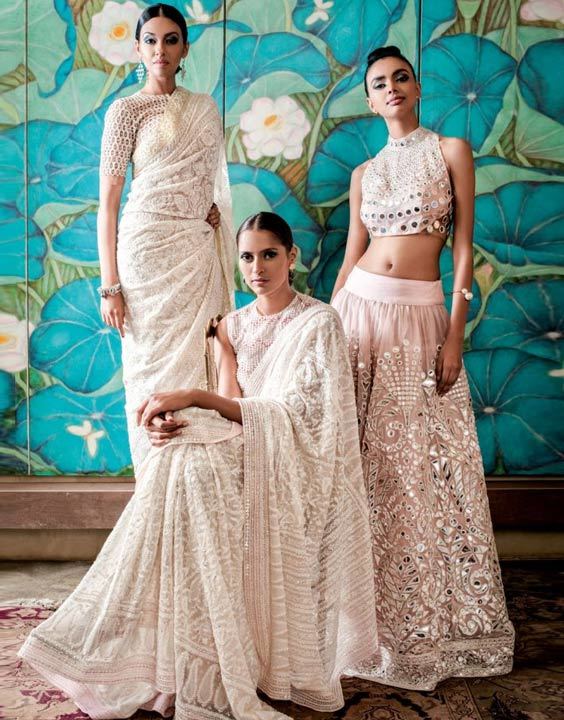 Read on for some amazing style-inspo!
Light And Breezy Chikankari Dupatta!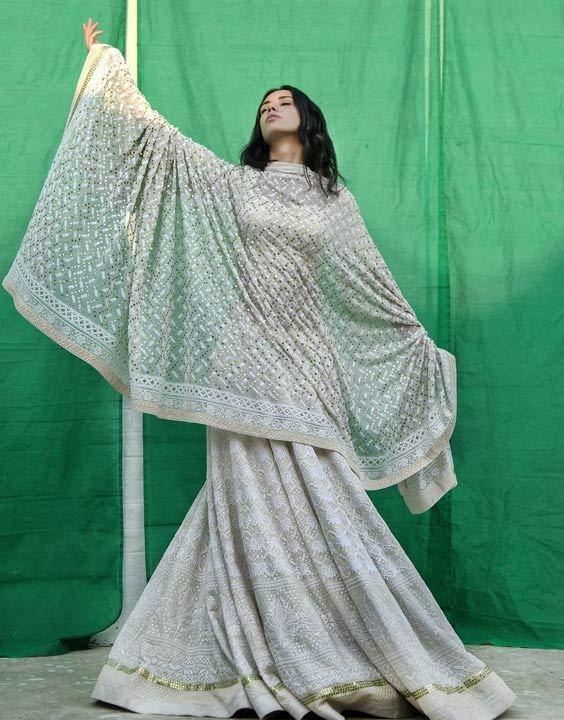 Beautiful, tonal and traditionally in light pastels and white, a chikankari dupatta can add a subtle, yet magnificent flair to any kurta combo!
This is a style often worn during morning ceremonies at weddings or festive seasons and is enchanting and endearing at the same time.
Styling tip – Keep it casual by pairing your beau chikan embroidery dupatta with a plain solid coloured kurta and palazzo outfit for that cool desi-girl vibe! Or go all out in co-ords.
Traffic- Stopping Chikankari Suits!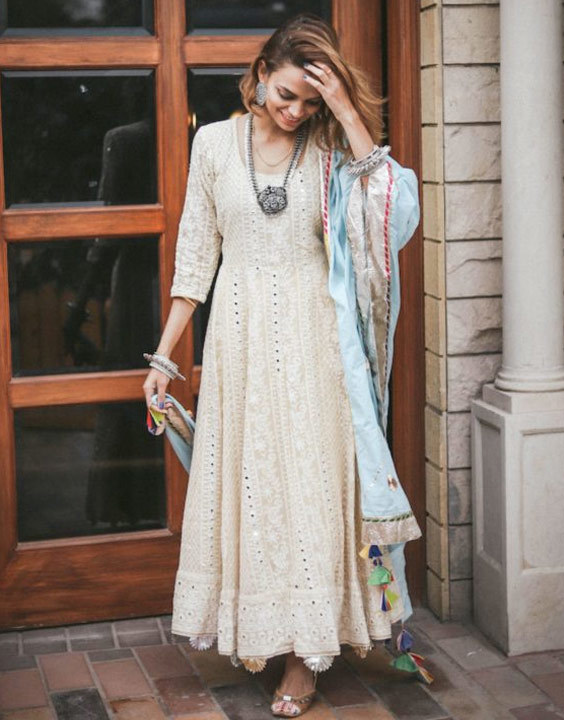 Most commonly worn and loved in the suit-set format, chikankari is used in kurta-sets in many versatile ways!
Dress It Up In Designer Chikankari Suits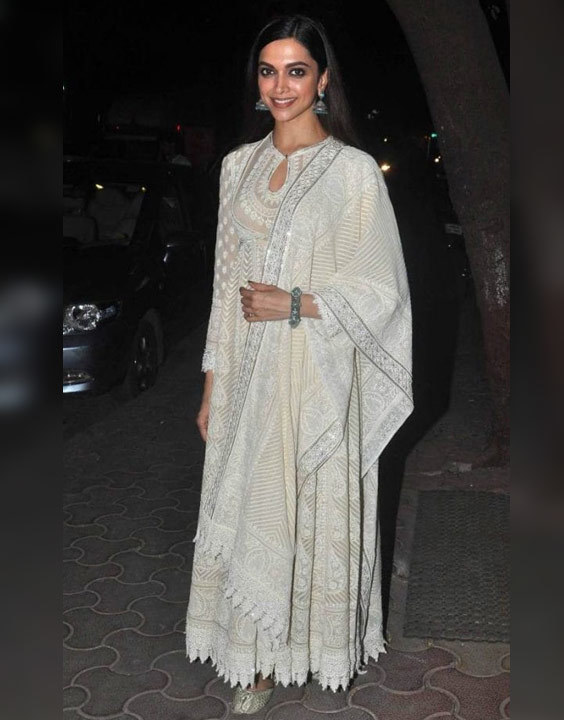 Ah, the charm of a well-tailored, beautifully embroidered and subtly designed chikankari dress or suit-set cannot be underestimated!
Indian fashion designers have found many ways to adapt this technique into their collections, keeping this art-form alive in modern times while also adding their own zest to its traditional techniques.
Styling tip – Opt for a designer chikankari anarkali in a jewel toned colour for an updated look!
Dance The Night Away In Party Wear Chikankari Suits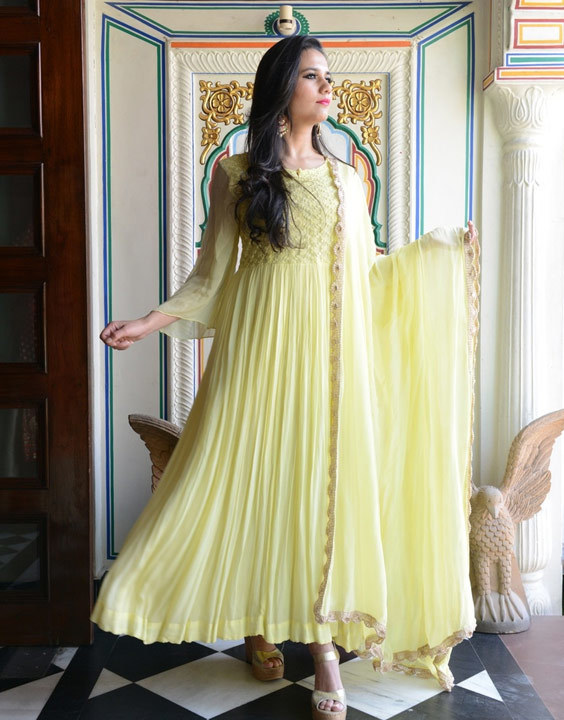 A Diwali, Durga Pooja and wedding party favourite – chikankari anarkali and kurta-set styles are much loved by festive party-goers!
Embellished with added sequins, bling, Swarovski crystals and gota-work along-side the textural and tonal chikan embroidery; these suits and kurtas are a great desi party-wear option if you are jaded and bored with the usual western dresses for night-outs.
Styling tip – Get yourself a chikan suit in net or a mesh fabric for fairy-like appeal!
The Ultimate Summer Staple- Chikan Kurti!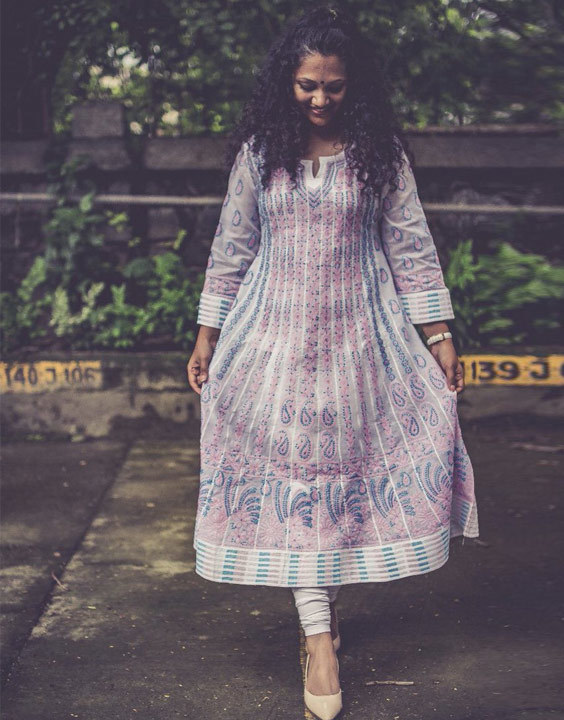 A chikankari kurta may be an ideal match on party nights and festive days – but to stay trendy, desi and cool for the summer, we highly recommend the shorter and more casual kurti version!
Pretty & Poised In A Lucknowi Kurti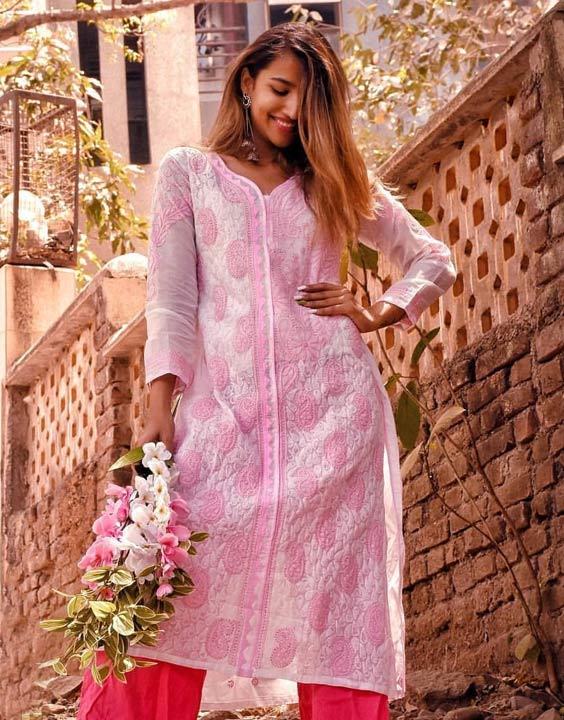 A tonal white chikankari kurta with white or pink embroidery in classic lucknowi style is an absolute essential for every desi-girl's wardrobe!
Wear a lucknowi kurta style in lovely summer appropriate colours for maximum impact!
These kurtis look fabulous on women from all walks of life – college-going younglings to older matriarchs who have seen many monsoons and know how to live life like a boss!
Styling tip – Wear a lovely white chikan kurti with flared sleeves and pair it up with your fave blue jeans for a trendy fusion appeal! Long jhumkas won't hurt.
Chic Chikankari Saree!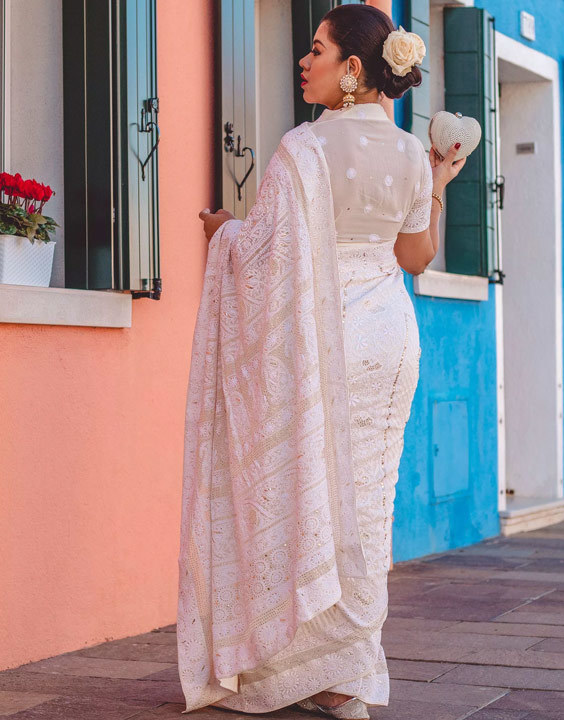 An embodiment of grace and femininity, when embellished with chikankari – the saree is a total winner!
The appeal of chikankari embroidery sarees lie in their lightweight and subtle characteristics.
Unlike most embroideries, Chikan work is light and soft – making it a practical, comfortable and gorgeous alternative to prints or solids.
Styling tip – Go for the kill with a chiffon chikankari sari for an unusual look!
Legally Beautiful Chikankari Lehenga!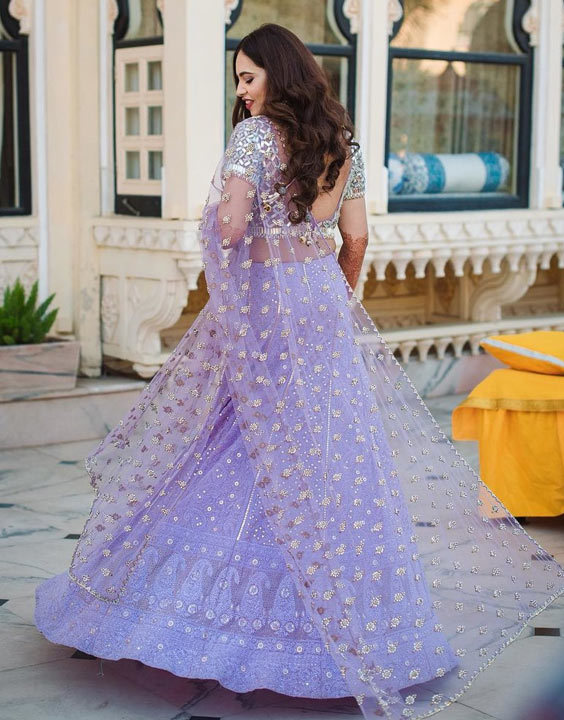 Ditch the heavy zardozi and bulky phulkaris this summer wedding season for a subtle, light-weight and stunning chikankari lehenga!
Play with soft hues like mint, beige or lavender, subtle shimmer in the form of gota or mukaish and ensure that you have an equally stunning dupatta – perhaps in embroidered net – to complete this look.
Styling tip – Let your maine sway as smooth as waves for unrivalled feminine grace.
India's deeply-traditional & world famous troupe of craftsmanship is highly revered on the grandest runways.
Never forgetting where it came from, let's always honour & find joy in the effort that goes into these heirloom pieces entrenched in cultural history – lest they disappear.
So show some love and get yourself a fabulous chikankari outfit to rock your next bash or just get slaying your daily life in chikan kari.
Until next time – stay fabulous as always!
Image credits: The copyrights of the images used in this post belong to their respective owners. The credits where known are specified under the image - if you're the owner of an image and want it removed, please contact us.