You can never go wrong with a choker necklace! Indian style choker necklaces have been a staple at bridal parties and traditional events since forever & why not? Beautifully crafted and bedazzled with colorful gems they're perfect with ethnic outfits!
Versatile, striking and a harkening to 90s nostalgia – a choker necklace is the type of fashion accessory that has the potential to upgrade the simplest of traditional outfits!
So, lets slap on the bling and take a ride though the types of Indian style choker necklaces that will have you living in your decked-out glory! Wear it to traditional events, parties or cocktail evenings with friends!
Flaunt It All In A Gilded Gold Choker Necklace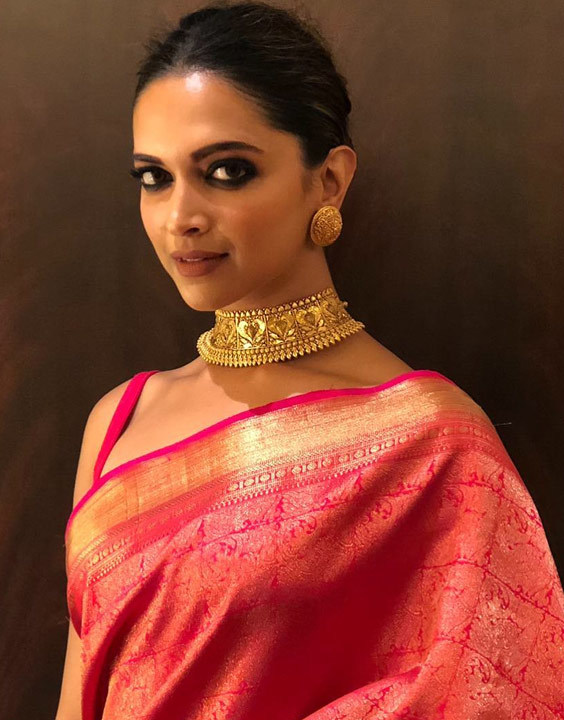 This choker style looks opulent when encrusted with jewels and highlighted with diamonds. A stunning option for weddings, the right gold choker necklace designs make any lehenga set look regal and striking.
Get your glow-up with a wedding choker necklace in gilt gold!
Styling tip – Pair your gold choker necklace with a monochromatic kurta-set in solid neutral colours like cream, beige or black for your next Diwali party or Mehndi ceremony!
Pretty Posh Wearing A Pearl Choker Necklace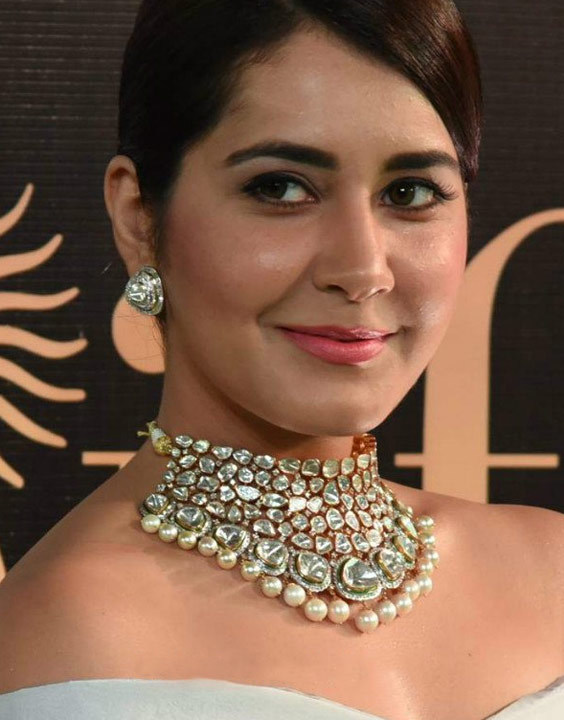 Subtle and ultra-feminine, a pearl choker necklace is a stunning upgrade for a traditional outfit!
Fairy-like when paired with diamonds, A  choker necklace traditional style is all the rage at desi soirees and high-flying functions.
Best when paired with pastel-hued kurtas, lehengas and sarees – pearl chokers have an undeniable appeal!
Styling tip – Wear a gold pearl choker necklace to jazz up an unconventionally hued bridal ensemble and stand out in the best way possible!
Shine Bright In A Glittering Diamond Choker Necklace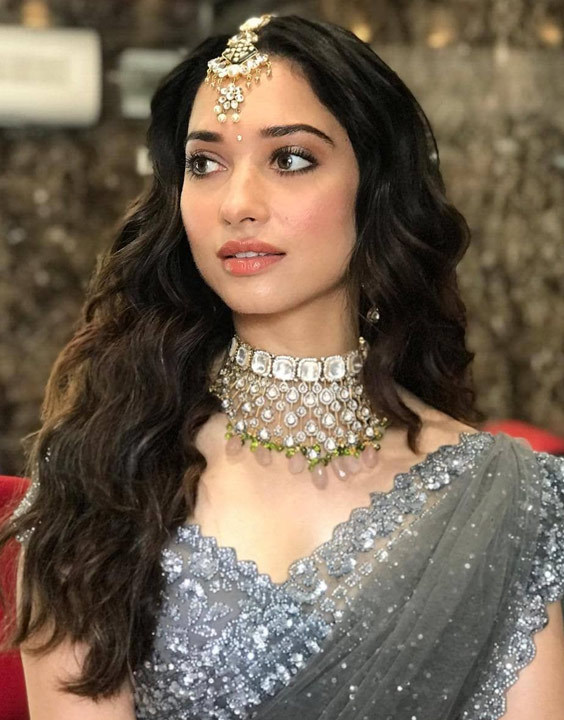 Flaunt some serious star-power in this style of choker necklace traditional extravaganza! A diamond choker necklace is a gorgeous option to pair with your velvet dupattas, dreamy chiffon sarees and heavy silk lehengas.
Oozing magnificence and luxury, this version of Indian style choker necklaces will have every head turning your way as you strut about in swan-necked magnificence!
Styling tip – Go for a stunning white on white look for some tonal glitter – add a heavy diamond choker to a cream ensemble as a straight-up power move!
Save Your Coins Fashionably With A Cz Choker Necklace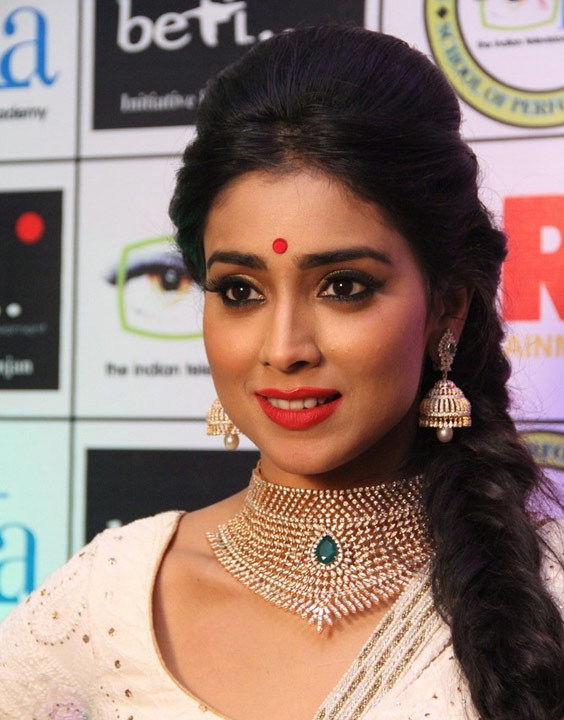 Reading about diamond choker necklace you probably whined to yourself – "Yeah right! Like everybody can afford one?". If you did, woman we got ya covered too! The cz choker necklace will come to your aid!
CZ (Cubic Zirconia) or more commonly referred to as 'American diamonds' in desi colloquialism; is a great way to flaunt a choker that looks as good as diamonds without sweating the stocks or breaking the bank.
Affordable, available in vast varieties and easy to maintain, get your Indian style choker necklaces in cubic zircon and pair them with your desi outfits for an upgraded look.
Styling tip – Ditch convention by pairing a cz choker with co-ordinated blazer + saree or blazer + lehenga combos to jazz up your look for the next Diwali or Durga Puja function!
Stun The Crowd In A Sparkling Silver Choker Necklace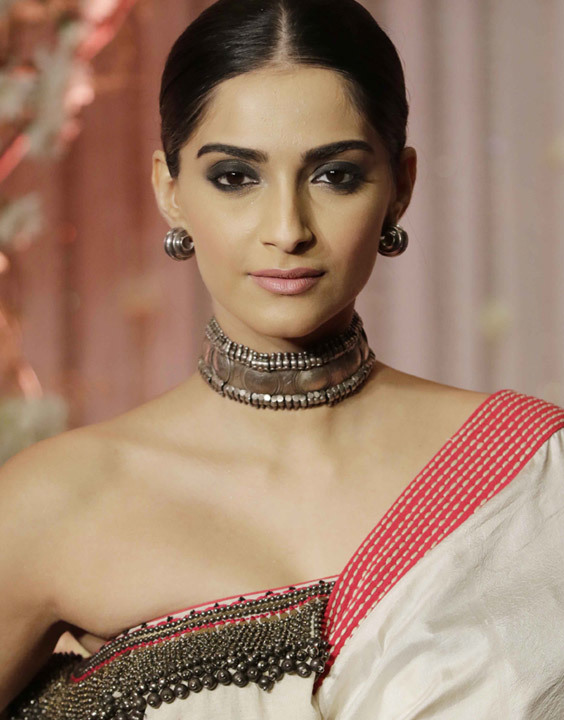 Wraithlike and delicate, a silver choker necklace is a popular fave!
If gold seems too flashy for you, this is an understated yet arresting substitute that will have you looking spectacular at your next desi event. Opt for a silver choker with encrusted jewels or a solid,chunky silver choker and team it up with a black or jewel-toned sari for maximum impact.
Styling tip – Go full blaze metallic and wear the rest of your accessories in silver as well for a bolder appeal!
Kundan Choker Necklace – A National Favorite!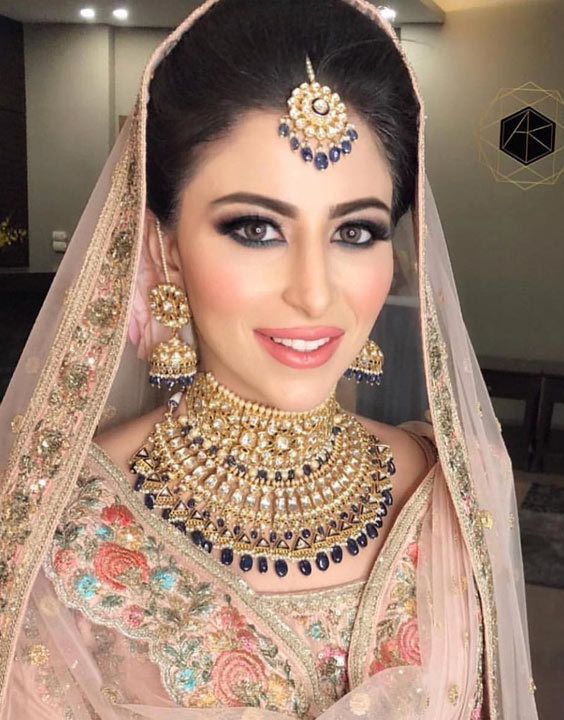 A kundan choker necklace is a designer and celebrity fave for upgrading desi ensembles.
A popular bridal choker necklace option, this piece has the potential to look equally gorgeous when paired with simpler Indian outfits.
Styling tip – Wear a kundan stone choker necklace with a saree and throw on a pearl or gota embroidered dupatta for added volume and bling the next time you attend a big fat desi wedding!
Keep It Strikingly Simple In A Black Choker Necklace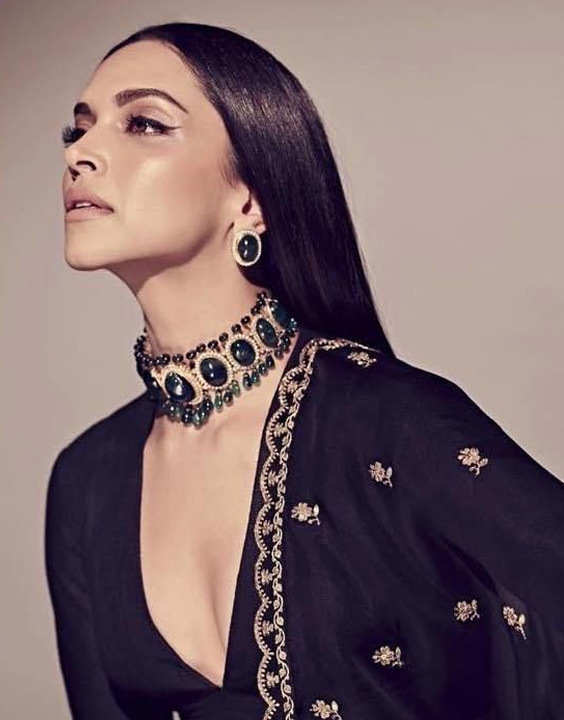 Look sultry and smouldering in your jewel-toned kurtas and sharara sets as you don a black choker necklace to compliment your ensemble.
Go for a stunning gold-black combo with a gold choker that is encrusted with big glittering black stones, or channel a desi-goth vibe with a simple choker necklace band that also includes a tie-up around the neck for added flair.
Styling tip – Take it a step further and pair your black band choker with a slate grey or nude coloured kurta set for a contrasting colour-blocked affair!
Channel Some Desi Bohemia In A Silk Thread Choker Necklace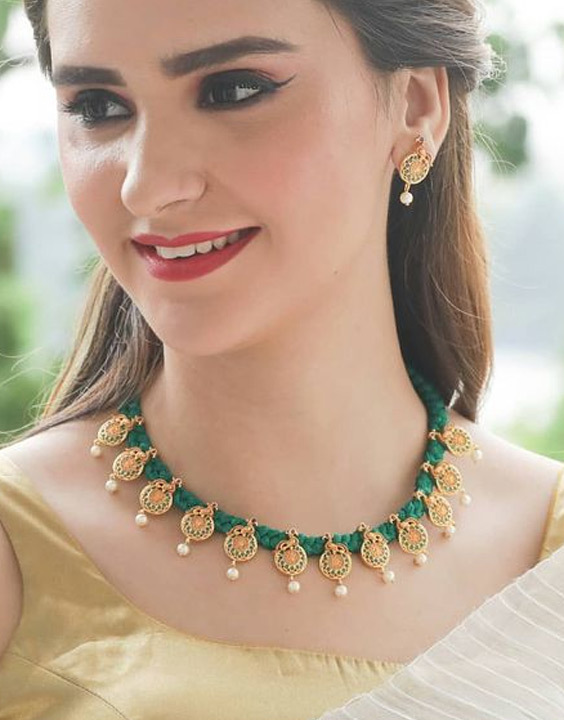 Go boho-chic and bright with a silk thread choker necklace! Made with silk floss thread and available in stunning bright colours, this style is a festive must-have!
We desi girls love our pop colours and this choker style is ideal for Indian or indo-fusion outfits!
Styling tip – Take a more casual approach and wear a multi-coloured silk thread choker as you go out with friends for some partying and pandal-hopping this Durga Puja!
There you go peeps – a few of your favourite ways to team Indian outfits with traditional choker necklace designs!
#desichic to the max!
Image credits: The copyrights of the images used in this post belong to their respective owners. The credits where known are specified under the image - if you're the owner of an image and want it removed, please contact us.