In India Bangles are a staple and why not? Traditional Indian Bangles are a fine example of art, culture and skills coming together! Check out these 7 types of bangles from around Indian and pick your favourite, NOW!
Women and jewellery go together like a cup of piping hot chai on a rainy day or maybe even Romeo and Juliet.
Traditional bangles have been a part of Indian heritage since the very beginning, even though the forms have become more refined and modernized in today's day and time.
Read this piece on Indian bangles that we've put together for you and experience a taste of great craftsmanship and creativity moulded with each other.
Play Around With Beautiful Motifs On Rajasthani Bangles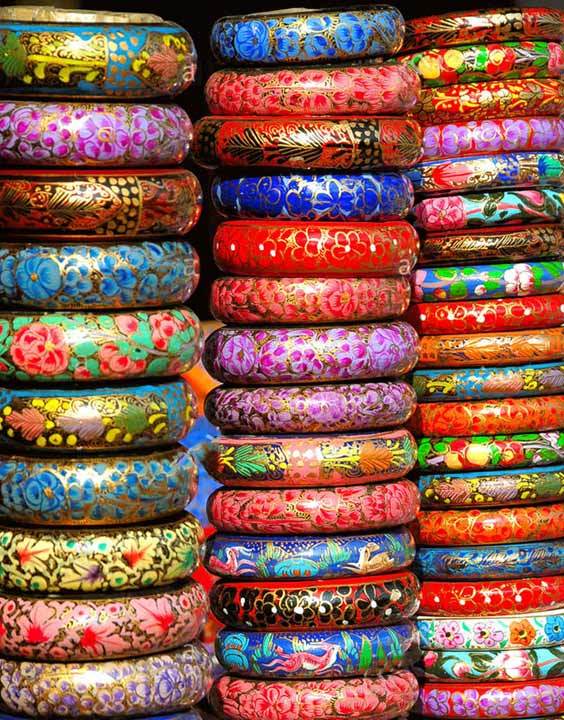 Usually stacked with traditional motifs, Rajasthani bangles are as Indian as it gets.
These Marwadi style bangles come paired with 'Kadas' that have cultural illustrations in vibrant colours. The most common colours for these Indian bangles are red, off white and golden.
Traditionally marwadi women are seen wearing stacks of bangles that cover more than half of their arm's length, a more modern version of wearing these includes just wearing the Kada in both hands.
Kundan Bangles Are A Mark Of Finesse!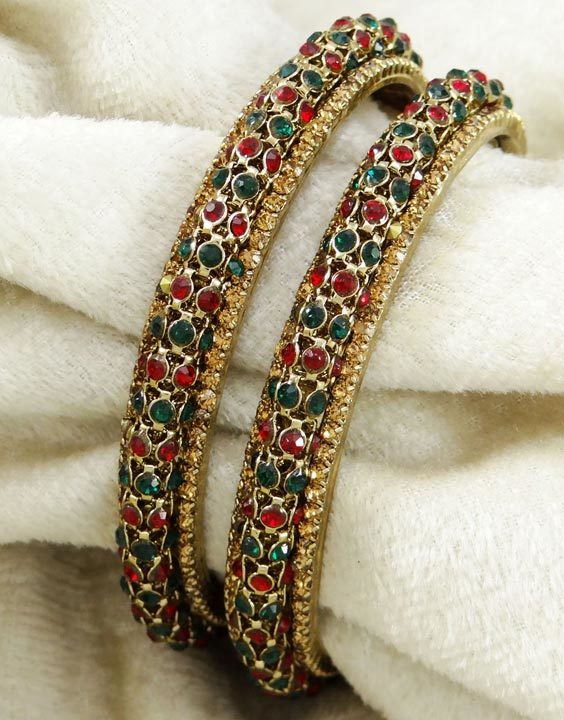 Kundan Bangles are an example of fine craftsmanship and beautiful jewellery designing. These bangles come in different varieties ranging from simple monotone gold bands with steel gray diamonds to thick gold kadas with beautiful red and green diamonds.
Colorful kundan bangles are a more popular choice across the Gujarat-Rajasthan belt.
Add Bling To Your Outfit With Hyderabad Bangles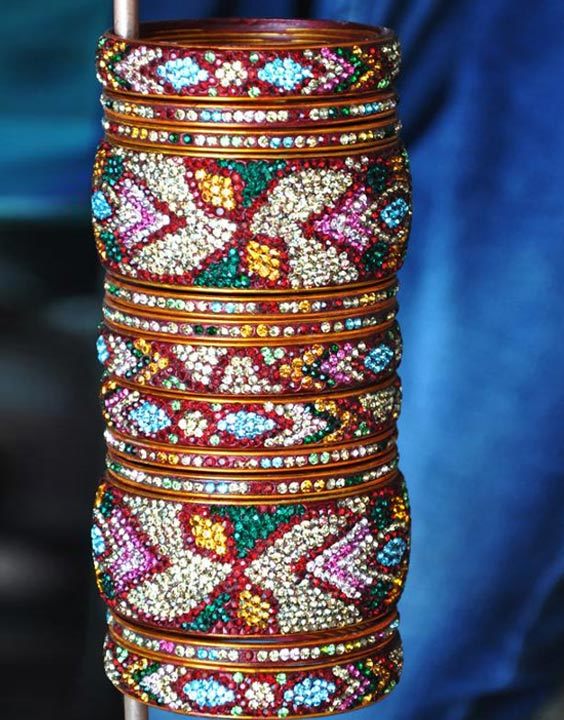 If you're looking to catch everyone's eye, quite literally, then these colourful bangles should be your top pick.
Nature inspired designs illustrated with geometric patterns & colours that shine and shimmer with every movement; this is the essence of Hyderabad bangles. Floral patterns and white pearls are trademarks of this style.
If you're all about glimmer & shimmer, then these bangles will make the perfect pair with your contrasting outfit!
Punjabi Bangles – A Reflection Of True Punjabi Heart!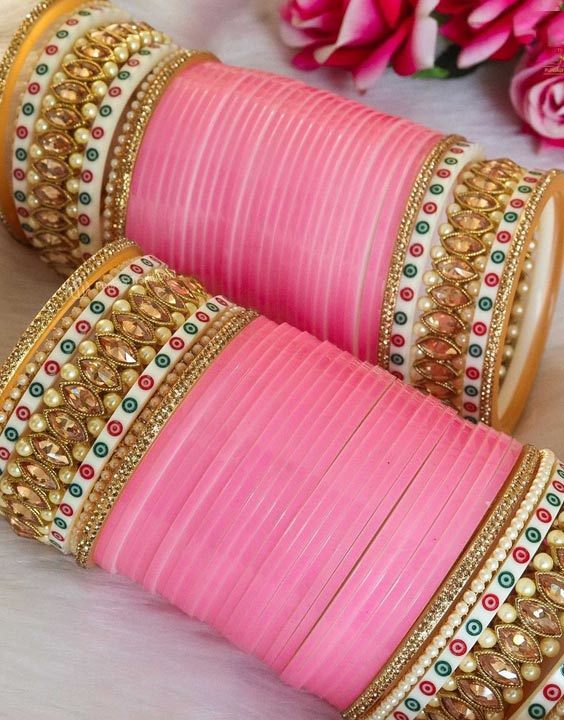 For everyone who has ever been to a Punjabi wedding, they know how grand of an experience it is.
Punjabis have a zeal for life and this is reflected in their elaborate and rich Bridal 'chooras/chudas' and 'Kaliras' which are a huge significance of their culture. Kaliras are umbrella shaped hangings that are tied to the Punjabi bangles or choora, signifying eternal love and happiness for the couple. Almost every bride is seen sporting these on her wedding day.
While you cannot incorporate Kaliras in your everyday life, you can always don on the basic red bangles and white choora, or latkan bangles along with a salwar kameez for the next wedding you're attending.
Rajputi Bangles – Fierce, Grand & Royal!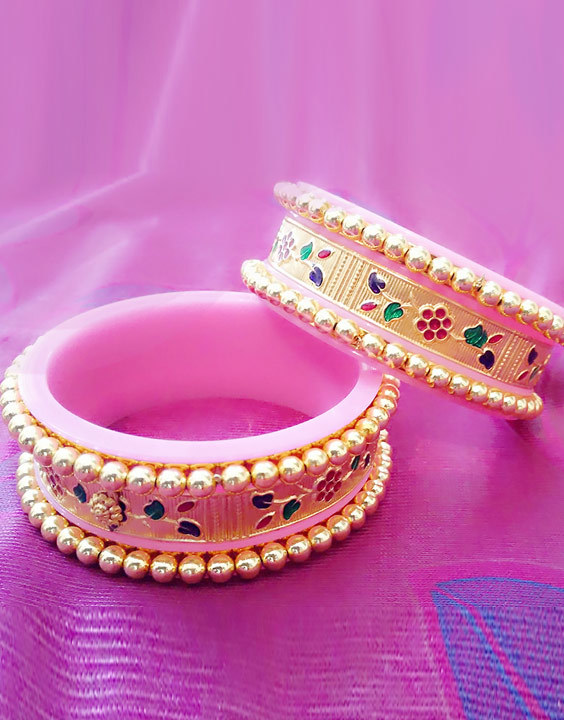 The word Rajput literally means 'royal' and hence, Rajputi bangles are other rajputi jewellery have a rich,traditional and detailed make.
This also includes the 'haathphool' which is a bangle-bracelet with a chain and ring attached to it and goes all the way across the back of the hand to the ring finger. There is also the ivory chooda embossed with gold that is essential for every woman to wear for a few days right after their wedding.
One can easily find modern versions of Rajputi bangles design or 'haathphool' and pair it up with a dressy long skirt and top outfit.
Jaipur Bangles – A Glimpse Of Marwar!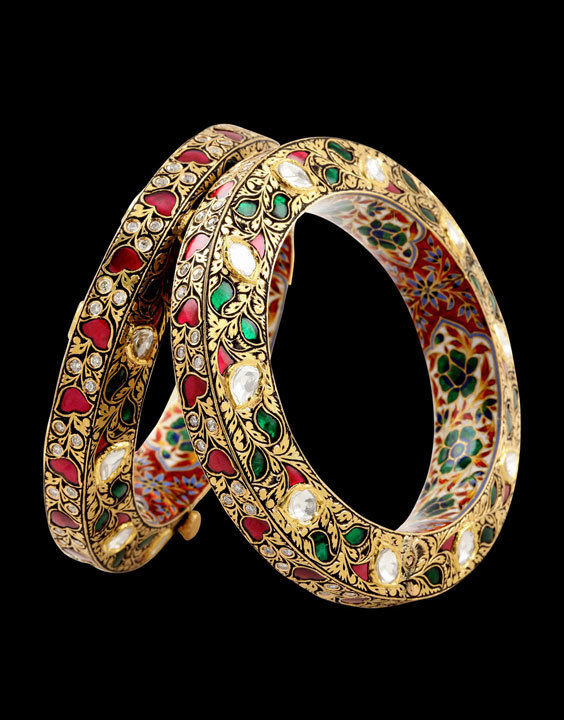 Another rendition of Rajasthani bangles are the Jaipur bangles that come in floral as well as geometric patterns.
One can see a variety in colours and sizes that are widely available in local markets of Jaipur.
These are a more traditional version of basic lakh bangles. They can be paired with your long kurti-dresses and can be worn to cultural events to bring about an interesting element to your outfits.
Get Your Hands On & In The Extremely Versatile Lakh Bangles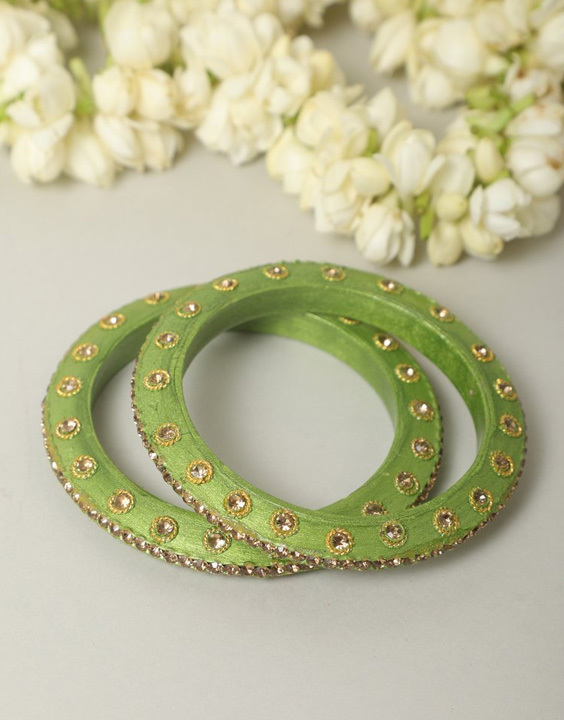 Extremely popular among women in Rajasthan are lakh bangles made from lac.
They are highly sought after, especially by tourists visiting Jaipur as the pink city is home to the best lac bangles at reasonable rates.
Lac hand bangles are made in various designs, most popular being the ones with mirror work. The shine and antique nature of the design makes it a favourite among many. Lac bangles are highly versatile and can be worn with a lot of ethnic wear outfits as well as with denims and kurtis.
Bengali Bangles – The Equivalent Of A 'Mangalsutra' For Married Women.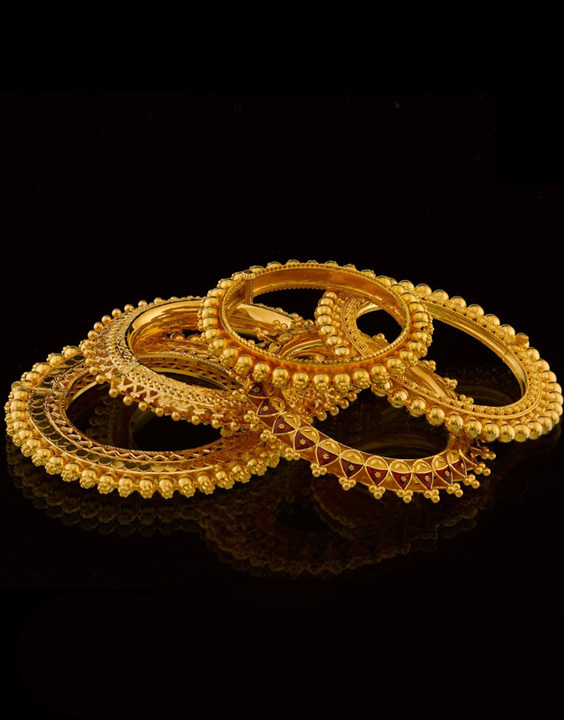 Bangles are a huge part of Bengali culture and one can never see a married Bengali woman without at least one bangle in her hand.
There is a bangle for every stage of a Bengali woman's life. There are two main types of Bengali bangles though, namely Saankha-Pola and Bauti. Both of these hold equal importance in a married woman's life.
Bengali Loha Bangles Designs For The Beautiful Bangla Missus!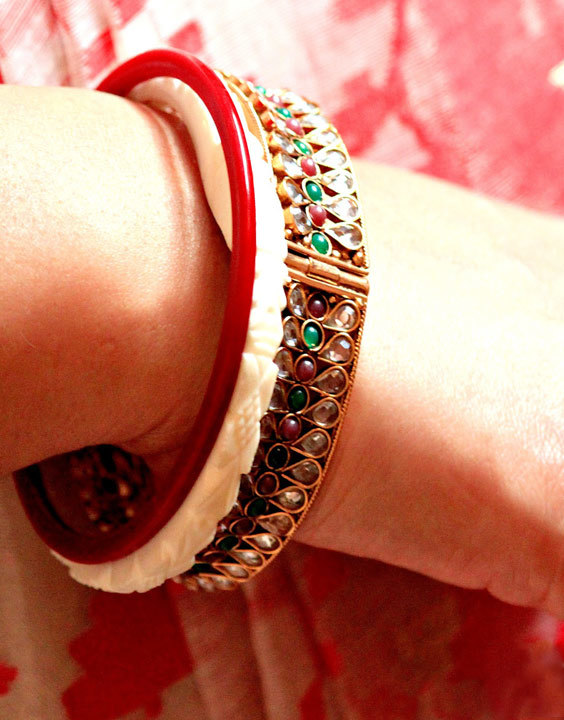 Loha bangles, also called as loha bandha are a mixture of gold and 'loha' that is adorned by married women.
Bengali loha bangles designs are usually open ended and are intricately designed for women who don't like wearing pure gold bangles.
The detailing on these bangles is suitable even for daily wear and so is the shape. Bengali women can wear these with western outfits as well as Indian wear.
A Married Woman's Pride – Pola Bangles.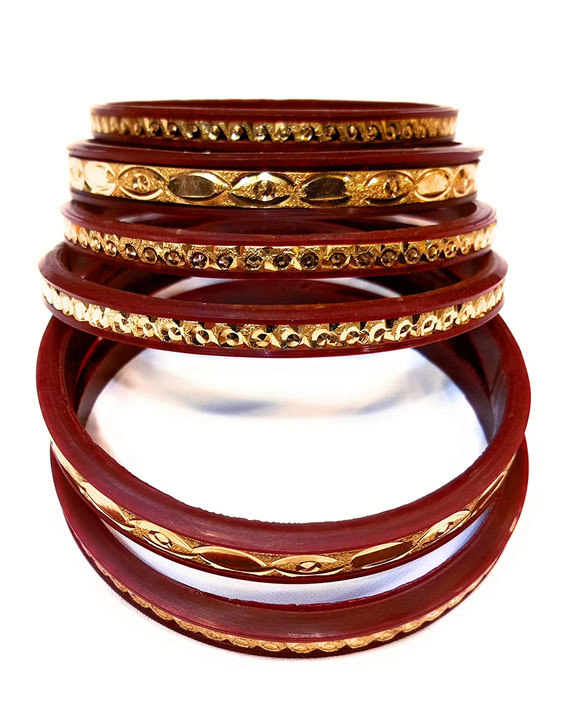 Pola bangles, also called as Saankha-Pola are a combination of white and red bangles compulsorily worn by married women in the Bengali culture.
Saankha are white bangles made with conch-shells and Pola are made with red corals. These signify that a woman is married and are supposed to be worn throughout her married life.
Generally paired with a white and red saree in Bengali style, they are also worn with multiple other outfits as they are an essential part of her ensemble.
Kerala Bangles For All Gold Lovers!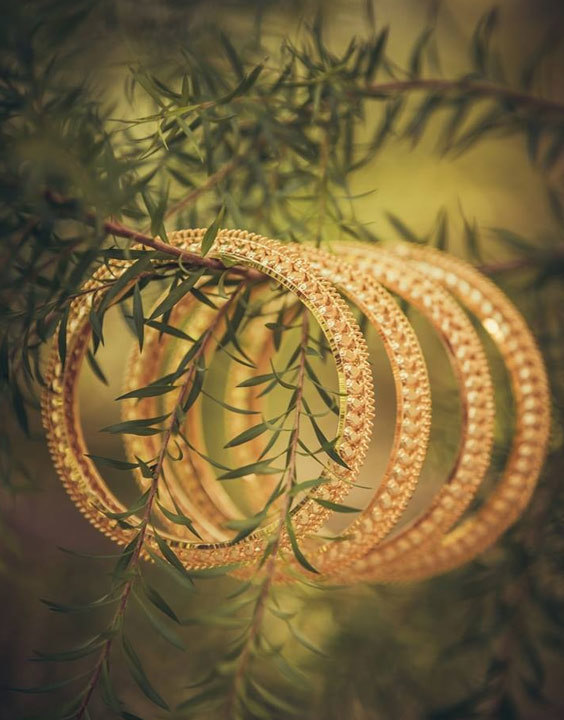 It isn't an unknown fact that people in the south adore gold and consider it to be the only metal worth showing off.
This is why Kerala bangles are made out of pure gold and the designs are definitely ones to watch out for. These bangles jewellery have the most intricate and elaborate designs ever and they are suitable for the modern as well as the orthodox woman.
Palakka Bangle – Vibrant Taste Of Tradition!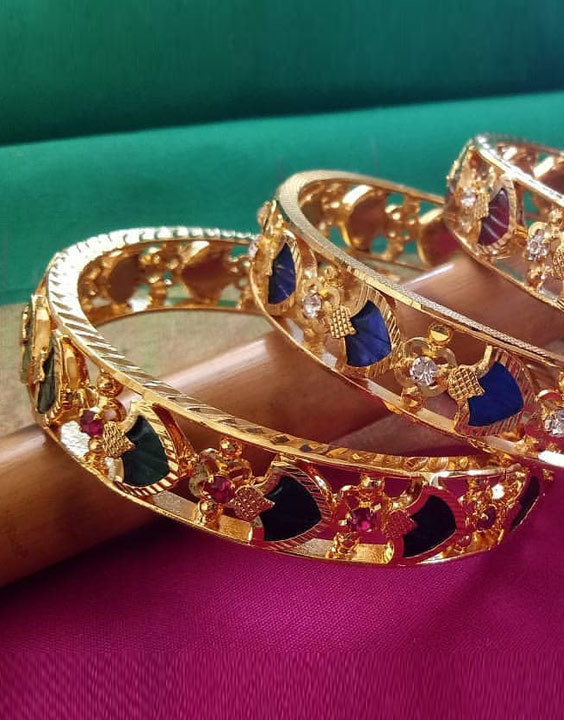 Palakka bangle is a normal gold bangle with traditionally green palakka stones and sometimes blue and red stones as an adornment. These bangles are largely worn in Malabar, Kerala.
The designs are mostly nature inspired but one can see the shape of different leaves being repeated on numerous styles.
The one thing that stays constant throughout all these traditional bangles, is the cultural value they hold that never ceases to impress.
If there was a weighing scale that measured old Indian bangles with the new, lighter designs, the scales would always tip towards ones with rich and timeless Indian roots, that's a given!
Image credits: The copyrights of the images used in this post belong to their respective owners. The credits where known are specified under the image - if you're the owner of an image and want it removed, please contact us.