Deepika Padukone in saree looks absolutely ravishing! She gives us fashion lessons on how to flaunt all that you've got in the wondrous saree! Read up and I'm sure you'll love our compilation of Deepika Padukone saree looks.
She's certainly someone who can lighten up a room with her winning smile. Her wedding is just around the corner too! We couldn't be more excited to run a piece on the stunning, Deepika Padukone.
Apart from being a model, actor, and an influencer, Deepika Padukone has given us some food for fashion inspiration! Of all separates that she has modeled, Deepika Padukone in saree has really stunned us in the past with her elegant choices!
Learn to drape the saree gracefully by the Goddess of Charisma herself! It doesn't end at that! You'll soon see that there are different, creative methods of using the saree as your next fashion weapon! Her choice of fabric in saree is usually crepe or chiffon, because these can be draped close to the body, to flatter her silhouette.
Here's a compilation of fashion tips coming in directly from DP! You wouldn't want to miss this feature on Deepika Padukone saree statements. So, keep reading!
1.Deepika Padukone in Black Saree- Black Beauty!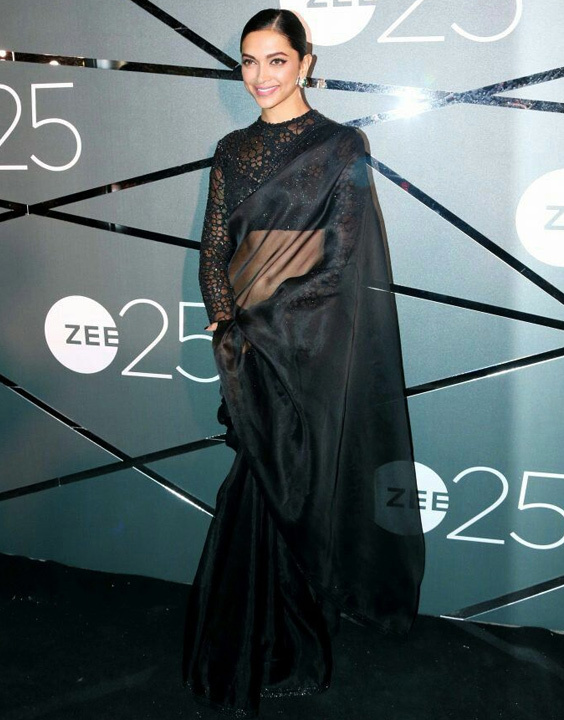 A black, diaphanous saree matched with a lacy, full-sleeve blouse can be a fresh pick for those late-night cocktail parties you love to be a part of. Keep your hair tied away from your face, wear one of those statement earrings, and let the saree drape enhance your curves! DP shows us the way!
2. Deepika Padukone in white saree in nach baliye- Shaking a leg in style!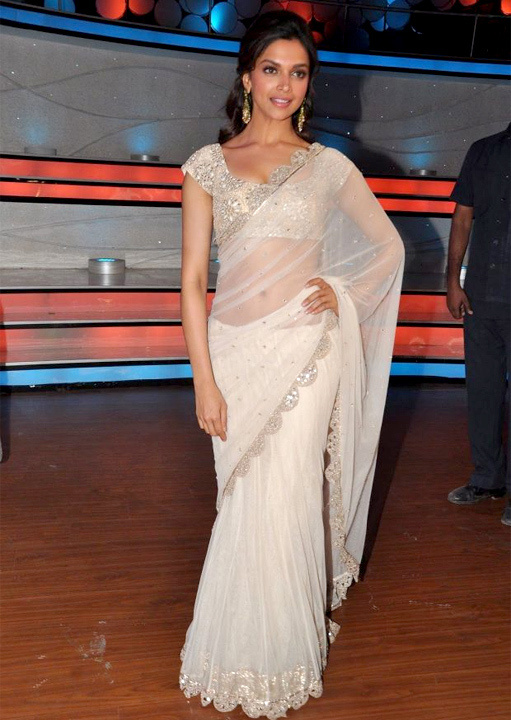 Pure-white is for angels and fashionistas both! Deepika's attire for the reality dance show Nach Baliye was stunning! The sequinned blouse was with a white saree finished with lace edgings was an elegant choice! You can re-create this magical look too for a puja or any other outdoor events in the day.
3. Deepika Padukone White Saree Look- Simple Elegance!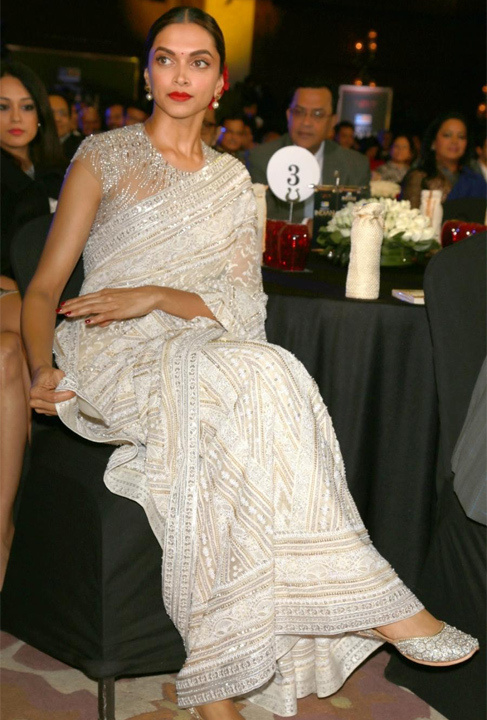 Speaking of pure white sarees, this particular look is as magical! Channeling her love for the sequinned blouse, DP goes ahead with an embroidered blouse with a detailed saree. Just like DP, you could try hair adornments as simple but stylish add-ons!  A simple hair accessory or even a flower can turn around your look for the better!
4. Deepika Padukone Green Saree Attire- Pretty in Pastels!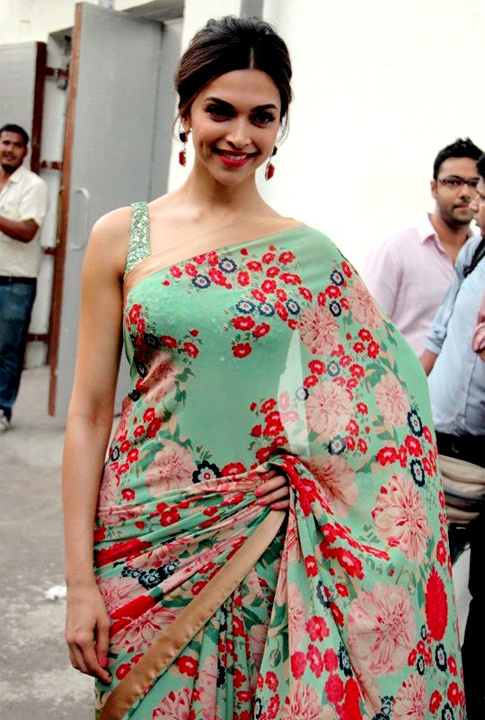 Pastel colors are very soothing… Well, Deepika Padukone certainly seems to think so! Her pastel-green, floral saree leans towards a vintage vibe, and yet comes off as a fresh ensemble. Attempt the popular 'bump' hairstyle for this particular look. Here's a saree look that'll make you feel as fresh as a daisy!
5. Deepika Padukone in red saree- When Silk Speaks…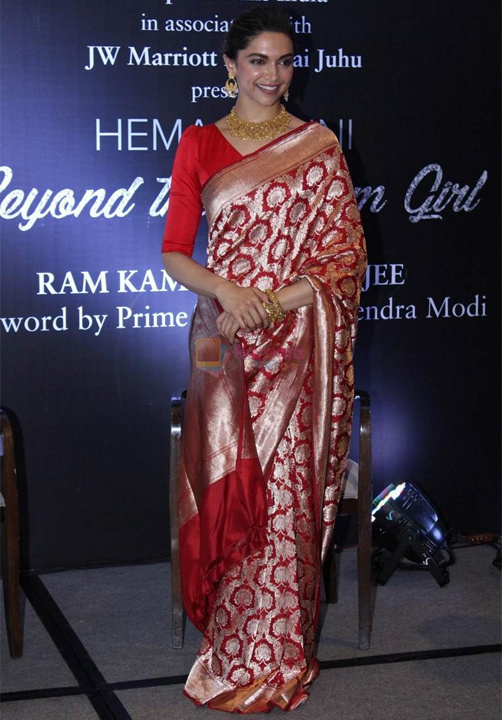 In probably her most elegant saree look, Deepika Padukone in silk saree positively casts a spell on you! While the silk saree can glitter and make you shine at any event, you must know how to work the drape! Take direct lessons from no other than Deepika herself! Her chunky neck piece and pallu drape have been carefully styled to give her an expensive touch-up!
6. Deepika Padukone Chennai Express saree- Traditional yet classy!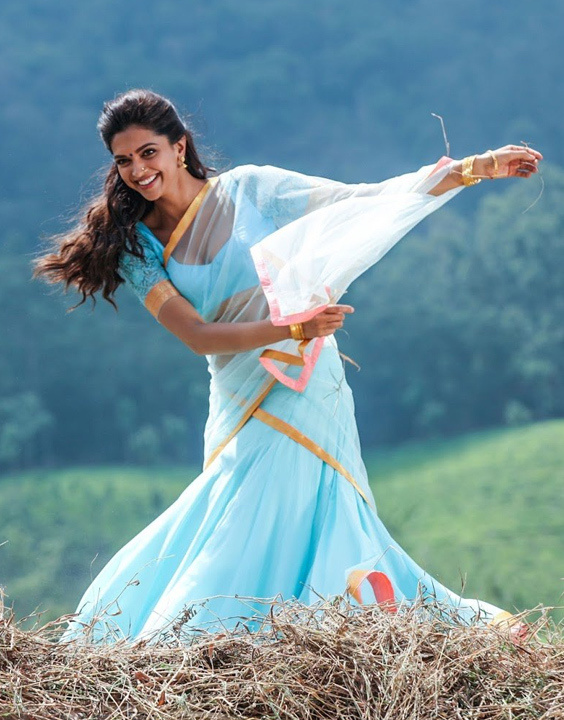 Chennai Express was a mad ride! Anyone who's seen the film can vouch for that! However, Deepika Padukone had us glued to the screen because she looked utterly gorgeous in her South-Indian avatar!
Seen the image above with Deepika Padukone in blue saree? You'd have to agree that even in simple cotton sarees, she looked desirable and gave more power to those of us who don't want to overdo stuff!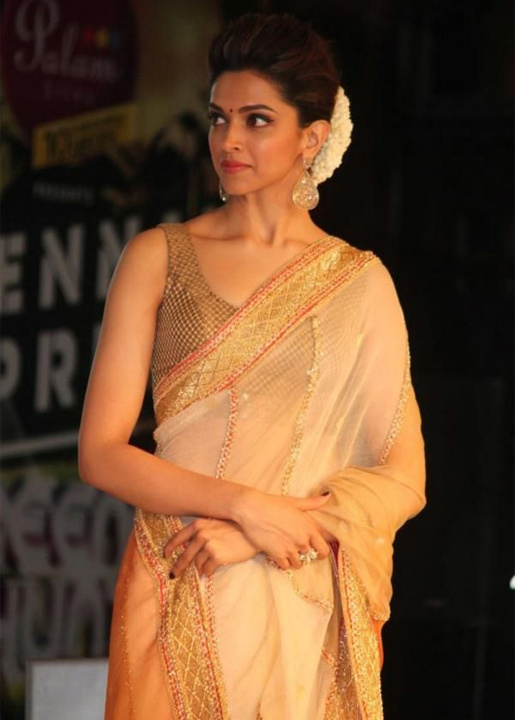 DP's off-screen presence is as powerful. For Chennai Express promotions, Deepika went all-out to do justice to her role. The off-white and gold combination made her, and the hairdo was crowned with a lovely gajra. Flowers can add life to your saree look, just btw!
7. Deepika Padukone in blue saree in Yeh Jawaani Hai Deewani- Sassy or Badtameez?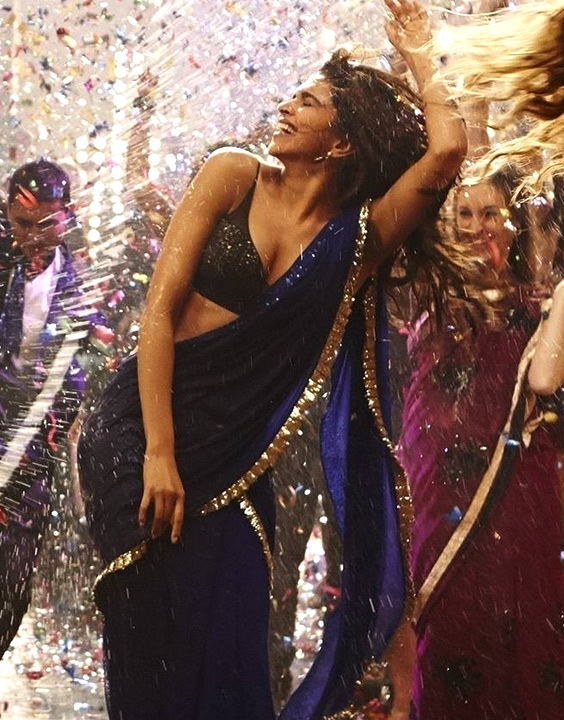 Yeh Jawaani hai Deewani brings is pure nostalgia! It's a film that makes you dream of the perfect romance. But, apart from this, Deepika's bold transformation is what we need to pay attention too! As 'Naina' blossoms, we see her make the most stylish fashion choices!
Remember the Deepika Padukone badtameez dil saree? Such a sexy pick for a cocktail party! The golden edgings to the pallu were a cool add-on! Deepika Padukone in royal blue saree will transport you directly to the dance floor! You've got a great party-wear inspiration right here, girlies!
8. Deepika Padukone in Sabyasachi saree- Pure love for designer wear!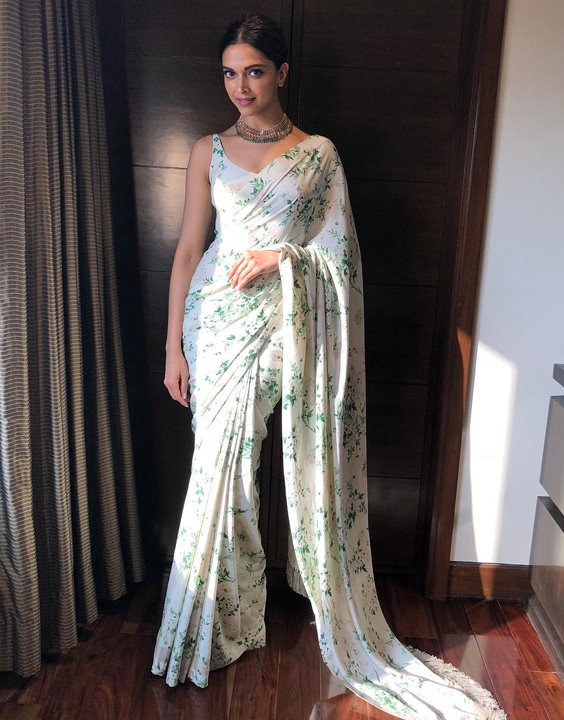 Our love for Sabyasachi and his bridal creations is kinda undying! Deepika Padukone in this dreamy, Sabyasachi creation puts her elegant foot forward again. This pick isn't as elaborate as Sabyasachi's popular bridal works, of course, but nonetheless is a show-stopper!
Work around the floral saree, and create some of the best daywear looks!
Deepika Padukone saree blouse designs- A match for every gorgeous saree!
(A) Bikini Blouse- Short but hot!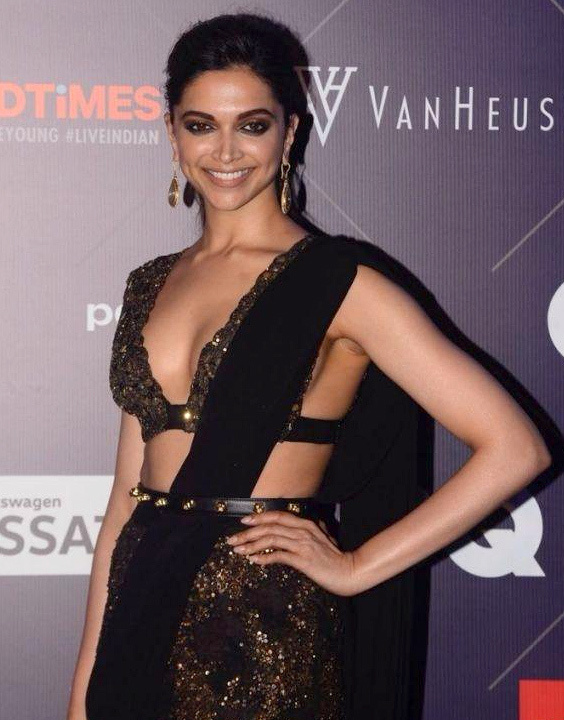 DP can be deliciously daring! Deepika Padukone bikini saree looks are evidence she's one of the very few actors to own this style! The bikini blouse is a tough one to pull off, but she does it with absolute panache! She proves that the bikini can totally complement the saree.
(B) Backless Blouse- Picture perfect!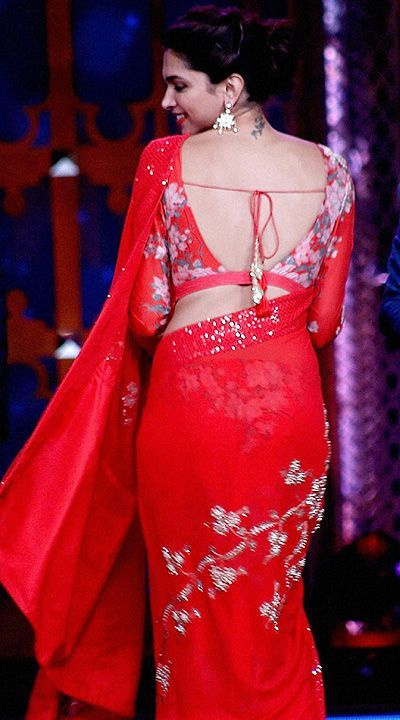 Deepika Padukone backless saree style is not so easy to pull off! But, DP makes it look so effortless!
If you're not comfortable going completely backless, you could opt for those nice doris to enhance your blouse design.
(C)  Round-neck blouses- Lil' Regal!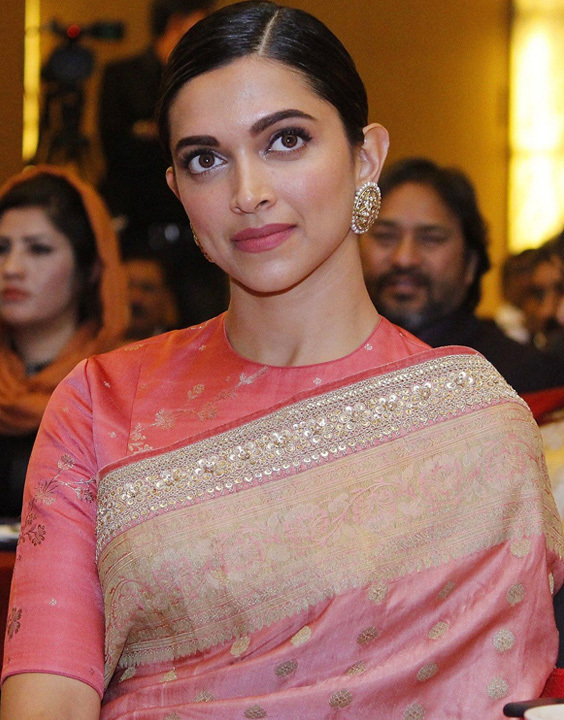 Heard of round neck tees, but round neck blouses? Oh yes, this is a thing! Looks pretty regal if you're thinking how to work around it. This Deepika Padukone saree blouse is conservative and chic, but would nonetheless serve as your go-to blouse for an official lunch or dinner. The blouse can feature minimal zari work and to embellish this saree, reach out for a dressy pair of studs.
(D) Floral blouse- Flower power!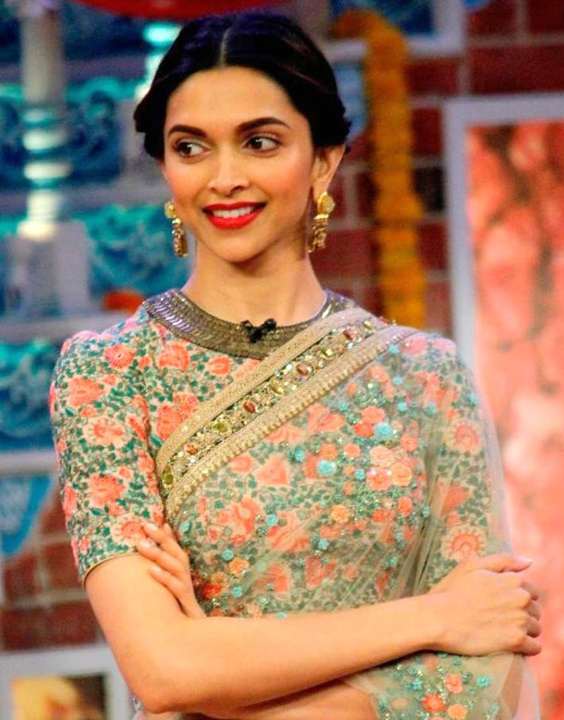 Deepika channels her love for flowers once again through this densely patterned, floral blouse. At Least, if you look at Deepika Padukone saree images, you'll see a smattering of flowers on her favorite sarees. Flowers aren't frivolous, trust us! à la Deepika Padukone, florals can look absolutely magical if you know to style florals gracefully!
Deepika Padukone Hairstyle in Saree- Striving for Perfection!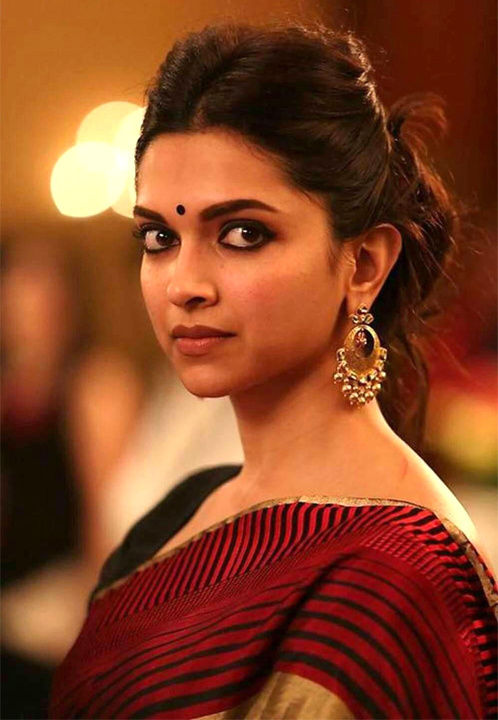 A hairdo that seems to be close to DP's heart is the puff! Her love for the puff influences her fashion choices, and is pretty recurrent when she's modeling the saree. Off-late, she's been opting for a slicker hairstyle, where her hair is smoothened either to the side or the middle-parting is apparent.
What is pretty evident though, she likes to keep her overall appearance as clean as possible. She's not someone who'd dig a messy mop of hair! No loose bangs! Everything has got to be neatly fixed up!  
End Note:
We sure you love Deepika Padukone in saree, but to read this compilation would give you serious shopping urges! Are we right or are we right? What're you waiting for? Flaunt your sarees.
Image credits: The copyrights of the images used in this post belong to their respective owners. The credits where known are specified under the image - if you're the owner of an image and want it removed, please contact us.