As women, don't we all just love experimenting with various hairstyles? From curling to straightening and everything in between, we treat our mane like a temple! Constant maintenance is mandatory, and so is giving in to a plethora of looks. For us, types of braids top the list. They're time-consuming, yes, but oh so worth it! Besides, we also find them to be just a tad bit therapeutic, all because they demand some level of attention. 
Braids are a trending hairstyle in every season, so if you're going to give them a try, you don't have to wait for a certain month to come around. Practice makes perfect, and we're going to make sure your hands are full (quite literally) with our list below.
What are the most popular braids?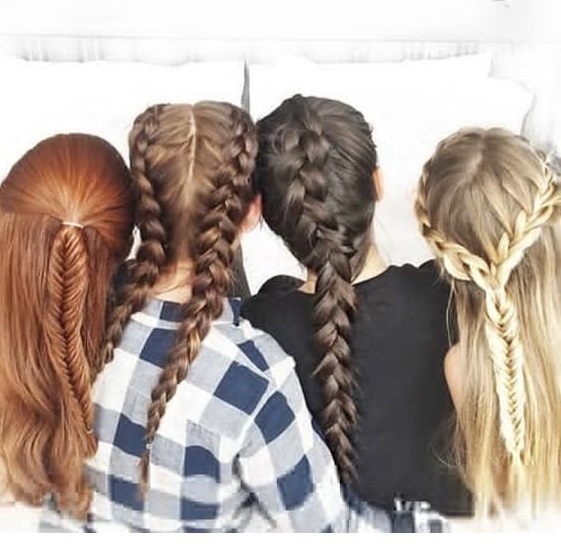 There is no right or wrong answer for this, as where you live decides the different types of braids girls around you seem to like. Where the humidity may be high, looser braids are peoples' best friends as compared to other dry areas where they can appear to be much tighter. 
The simple three-strand braid is among the most popular ones in India and can be seen on school girls as well as grown-ups just the same. The ease of it all is what makes it so loved by everyone, and they look quite put together, which makes them suitable for academic dress codes too. 
Next in line is the fishtail braid which looks stunning when done right! There are a lot of tutorials on YouTube and Instagram for you to get this one correctly, and we'd be lying if we said that a lot of us didn't know how to do it already. For the ones who don't, it's definitely worth checking out and suits most hair types and are great types of braids for long hair too. 
What braids last the longest?
Generally speaking, the types of braids that tend to be tighter last much longer than their looser counterparts. Case in point, box braids! You can wear them with tiny little hair clips and be rest assured that they won't move out of their assigned place till you're ready to unwind them. If you want them to last even longer, then micro box braids are the answer. 
These types of hair braids last for as long as three months! Surprised? Well, you shouldn't be. They require very intricate work from an expert hair stylist and take forever to finish. The three-strand braid tends to last much less because the hair in each section is more. 
What is the easiest type of braid?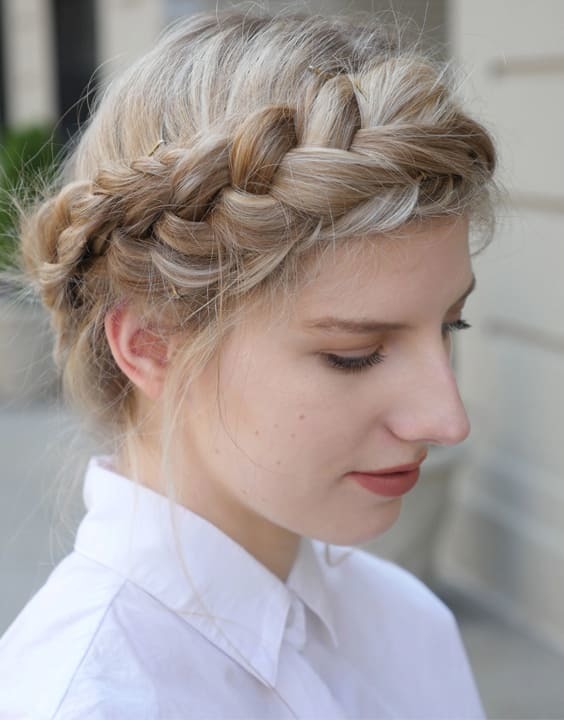 Apart from the three plait braid, the crown braid is quite easy to achieve and is also super versatile. It can be sported to dates, dinners, formal events and even on a daily basis without anyone batting a lid. It can also be done in under 10 minutes, so that's great news for all of us who're feeling lazy, right? Crown braids for women are a popular choice among a lot of young and older generations. 
Depending on the kind of statement you want to make, you can choose whether you'd like yours to be sleek or have a little bit of frizz. It is also a great hairstyle for saree. Rest assured, both look equally stunning.
What are the different braid styles?
From micro braids to cool and chunky ones, there's a braid style for everyone. It doesn't have to be trending for you to give it a shot; if you feel like it's going to make your hair happy, all you need to do is get down to work. Below, we're going to be covering a lot of types of braids from the easier ones to the more tedious styles, so if you like something, be sure to bookmark it and do it yourself later! First though, let's go over the apparatus.
Things you need for braiding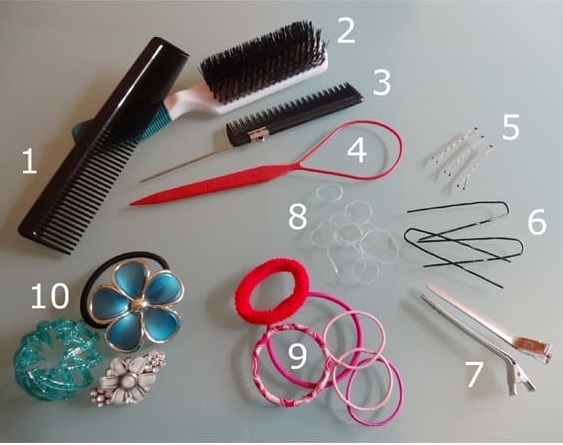 Check off all or most of the items on this list, keeping in mind your hair type and texture, to make sure that your braids are nothing less than perfect. If you find that you don't own some of these, you can always check them out on any online shopping app. 
Hairbrush – To even out all strands.

Detangling Comb – To perfectly remove all small and bigger knots & prevent clumping.

Tail Comb – To part hair effectively. 

Hair Spray – To hold the strands in place.

Leave-In Cream – To nourish & moisturize.

Hair Gel – To define. 

Rubber Bands/Elastic Bands – To secure the braids.

Bobby Pins – To also secure the braids & certain sections. 

Section Clips – To isolate. 

Hair accessories for girls. – To jazz up the look. 
TYPES OF BRAIDS HAIRSTYLES-
1) Fishtail Braid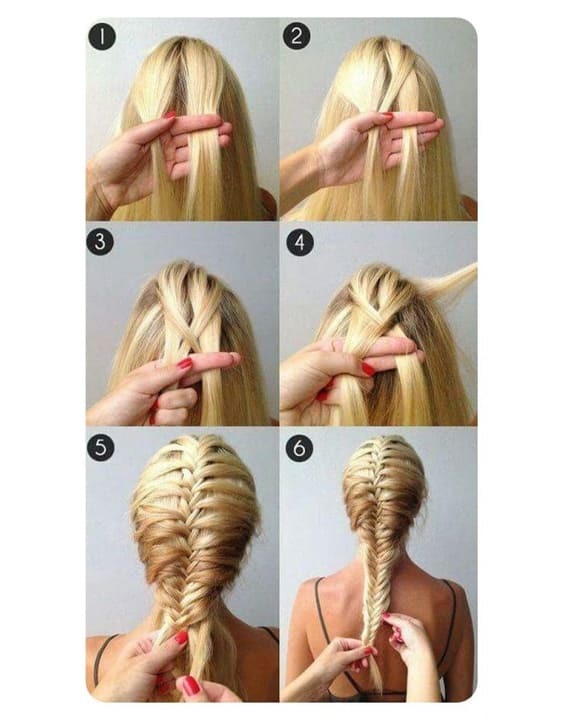 How to Make Fishtail Braid: Learn Here
Touted as the boho-favourite braid, this one is one that we love at any given time. Fishtail braids are great for a lot of occasions including meetings from home, date nights, weddings and parties too. You can even do them on your off-days, even if the agenda is just to relax and kickback. They can prove to be somewhat time-consuming if you're aiming for the more intricately woven versions, but it's all worth it in the end. These types of braids look best when your hair volume is dense, since they are meant to keep tapering as we reach the tips. 
Pro tip: A fishtail braid starts at the crown and mostly, goes right till the last 1 inch or so of your hair. For more casual settings, you can choose to weave them loosely but for formal occasions or dressier events, it's best to keep them tight in order to look put-together. A more feminine alternative to the simple three-strand types of braids hairstyles, you're sure to fall in love with the fishtail braid instantly! 
2) Box Braids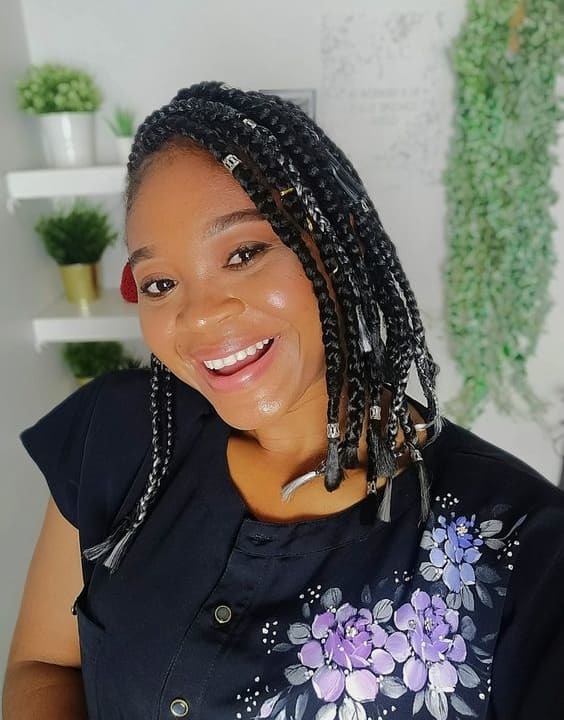 How to Make Box Braid: Learn Here
Got Afro-textured hair and wondering how to style them AND keep it for days on end? Say hello to box braids, which may be time-consuming but once done, they're super low maintenance. The fact that they are one of the most iconic hairstyles of all time may be just the push you need to give them a go. 
A lot of women turn to extensions to be able to achieve box braids and longer locks, but that doesn't mean they don't just look just as fabulous on shorter hair lengths. You may be wondering how to do them since they seem so difficult at first glance, but luckily, there are a lot of online tutorials these days which make the job very easy. All you need is some time on your hands and videos of women who have mastered the technique. In no time, you will be mastering these types of braids too! 
Pro tip: To take things up a notch, weave tiny hair clips of various colors into the strands and watch how your entire look gets transformed for the better! People even prefer to embellish with shells and beads, but that's only if you want to get really adventurous instead of sticking to the ordinary. Bear in mind that box braids for girl are slightly tough to unwind without breakage, especially if you keep them for weeks, so don't put anything in your hair that can prove to be temporarily damaging. 
3) Lemonade Braids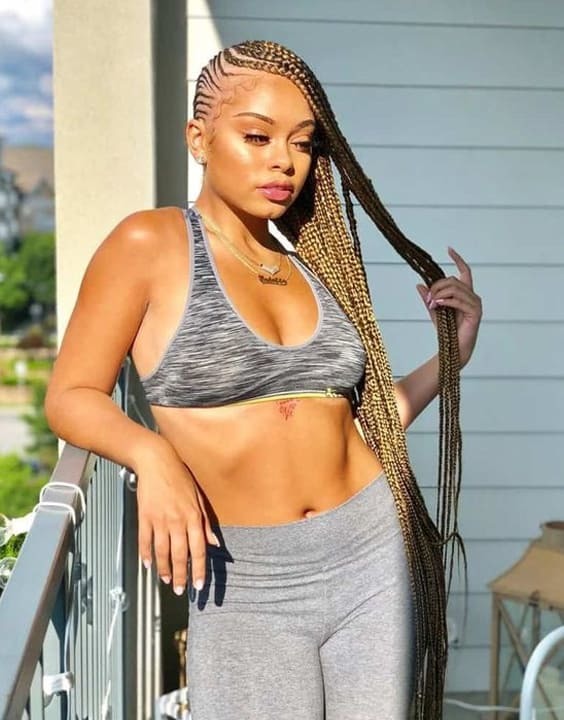 How to Make Lemonades Braid: Learn Here
There's nobody who hasn't seen Beyonce's iconic Lemonade music video and didn't go gaga over her braids! The intricate cornrows stole our hearts the minute we laid eyes on them. If the queen herself approves, then there's no doubt about the fact that they're going to look kickass! Beauty can sometimes NOT come easy and this applies to lemonade braids too, which will take a lot of time and skill. It involves neat and closely woven cornrows, going from the left to right direction. Once you've got the hang of the technique, there's a lot you can do with it. 
Pro tip: Zigzags or other patterns can be incorporated into lemonade braid hairstyles for women. We love accessorised versions of these and they instantly jazz up your look! Besides, what are braids without tons of fun? You can also sport these for special occasions, as they come off bold and intriguing! 
4) Fulani Braids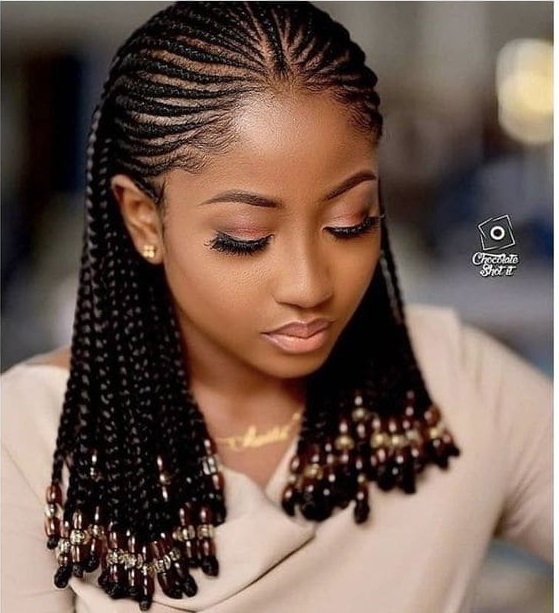 How to Make Fulani Braid: Learn Here
Some of the best braids you will ever come across are tribal braids! Fulani types of braids are considered to be the signature hairstyle among Fula women in South Africa. They look absolutely beautiful and are a combination of both medium and thin plaits which are generally made at the side of the head. There is a single braid that sits right at the centre parting and goes all across the crown. Women usually wear rings or beads or shells in the centre braid. Hair cuffs too are an option you would love to explore. 
Pro tip: Just like all other hairstyles for girls, braids like these too can be combined with other ones. You can mix them with box braids or stick to cornrows, or you can leave a part of your hair open. Experimenting is key, so just roll with whatever feels right and comes naturally. 
5) Waterfall Braids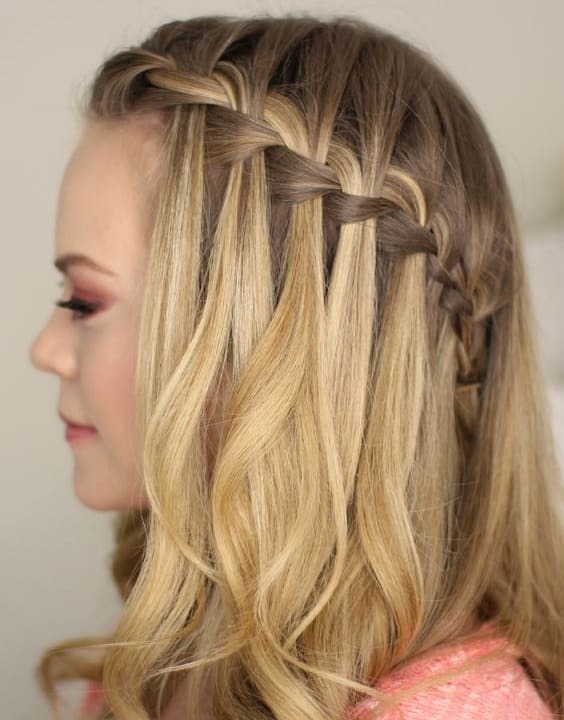 How to Make Waterfall Braid: Learn Here
We all want a real-life fairytale right? Complete with the billowing skirts and women dresses, the breeze in your hair, and of course, prince charming. While we may not be able to convert reel to reality, who says we can't dress the part? Waterfall braids are super princess-y and will draw you in instantly! From the likes of Cinderella to Belle from Beauty & The Beast, this is one hairstyle that they all must have tried at least once. Waterfall braids are among the dreamiest types of braids for long hair and you would most definitely agree! 
Essentially, it's a half-French braid where only a certain part of the hair is braided and the rest just cascades down in beautiful waves! 
Pro tip: Dyed hair looks exceptionally stunning when done in these types of braids, specifically ombre. It's equal parts feminine and versatile, which makes it the perfect choice for all occasions. If you ask us, we'd love to flaunt it for dates and brunches!
6) Snake Braid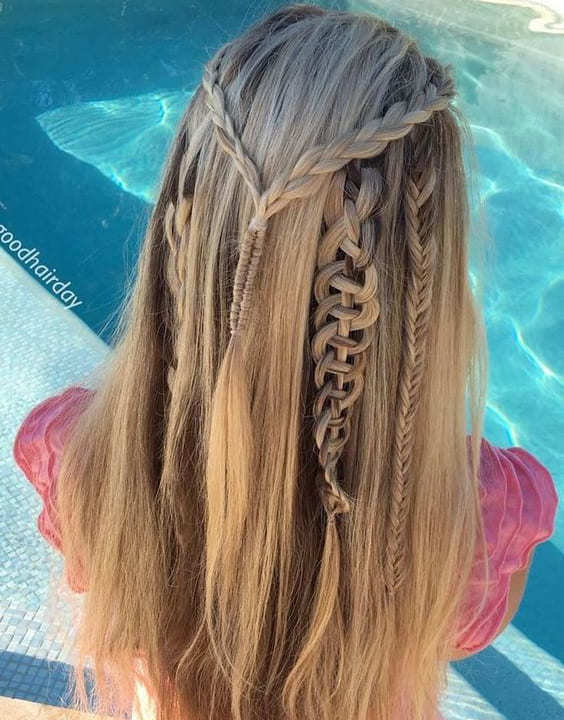 How to Make Snake Braid: Learn Here
Last but not the least, we have the snake braids, which are just as easy as the three-strand braids with a uniqueness factor! It also has a boho influence, as most people prefer to make one on both sides of their head and then tie them together into a ponytail, leaving the rest of hair open. The half-up, half-down nature of this braid is what we love the most! It presents us with the opportunity to wear it whenever, wherever. From music festivals to house parties, flea markets to lunch outings, it's an acceptable and rather attractive hairstyle for everything! 
Pro tip: You can also mix and match your snake braid with micro plaits and chunky ones to give it a standout appeal. For more things to add to your braids, a session of online shopping in India will land you the best accompaniments. 
All types of braids promise endless fun and quirkiness, so the best way to go about them is to decide what works for your own personality and preferences. At the end of your braid exploration, you'll definitely have a go-to!
Image credits: The copyrights of the images used in this post belong to their respective owners. The credits where known are specified under the image - if you're the owner of an image and want it removed, please contact us.