Welcome to the fabulous world of hair accessories! With the ability to transform any look in a subtle yet striking way, hair accessories for girls are an important part of fashion styling. Whether you have medium-length hair, long hair, or short hair, there is something exciting available out there for you! 
What hair accessories are trending?
The hair accessories currently taking on the fashion world by storm are:
Oversized accessories –

The oversized fashion wave has reached even hair accessories! Bigger is better.

Printed accessories –

With a plethora of hair accessories for girls made in materials like acetate entering the market, printed styles have gained popularity.

Subtle sparkle –

Instead of all-out glam and metal power; a subtle gleam, sprinkles of glitter, and shine are more appreciated in the hair accessories department.

Pearl Embellishments –

Pearls are making a huge comeback but in hair accessories trends! A youthful way to incorporate this feminine style, many cottage-core aesthetic lovers are wearing these hair accessories for girls with a gusto!

Textured fabrics –

Fashionistas around the globe are falling in love with hair accessories that feature a textured weave or fabric giving this fashion accent a brand new dimension.

Lettered accessories –

We all want to say something about ourselves with the way we dress these days. What better way to do that than with literal words bedazzled onto our hair?
How do you style hair with accessories?
A lot of how you style your hair with accessories depends on your hairstyle. The accessory you pick has to be compatible with your hair-do. Longer, stringy hair accessories for girls are better for longer hair that's braided, styled or twisted in an updo. Hair Bands, small clips and pins work beautifully with a bob. Figure what works for you and go for it!
How do you style short hair with accessories?
Many different kinds of hair accessories can work for short hair. Small bobby clips, miniature scrunchies, knotted headbands, elastic headbands, printed headscarves, oversized headbands and u-pins are some examples. Based on how short your hair is, some of these hair accessories for girls may or may not work for you. The good news is that there are no hard and fast rules! You can always get creative when it comes to your hair styling.
What are the must-have hair accessories for girls in 2021? 
Some must-haves for this season are oversized headbands, enormous scrunchies in see-through fabrics, hair clips and barrettes that feature a bedazzled word. If you would like to learn more about how to style these with extra options, read on!
MUST HAVE HAIR ACCESSORIES FOR GIRLS-
Let's dive into 18 amazing must-have hair accessories for girls and how to style them!
1) The Oversized Headband: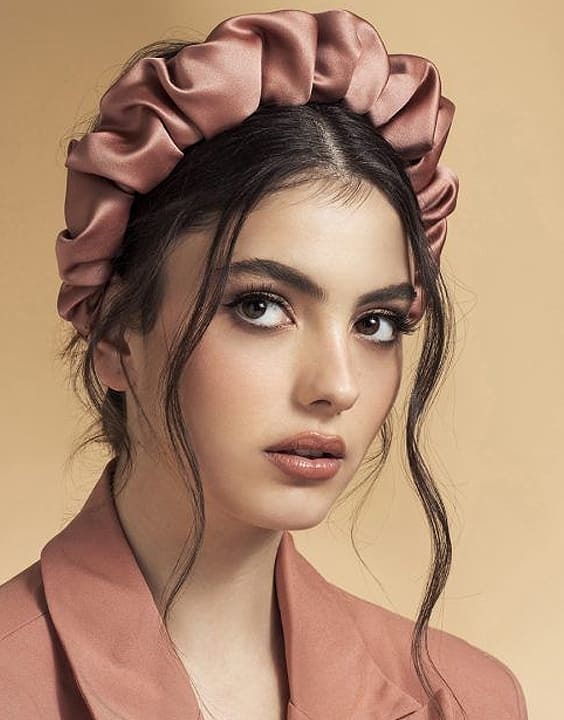 The oversized headband is an absolute banger! This chic hair accessory comes in a variety of formats, but its most defining aspect is that it is larger than life. Automatically the star of any outfit, this headband will completely transform your face!
Styling Tip: Pair this up with an oversized blazer suit and forego any jewellery to make this hair accessory pop!
2) The Geometric Pin: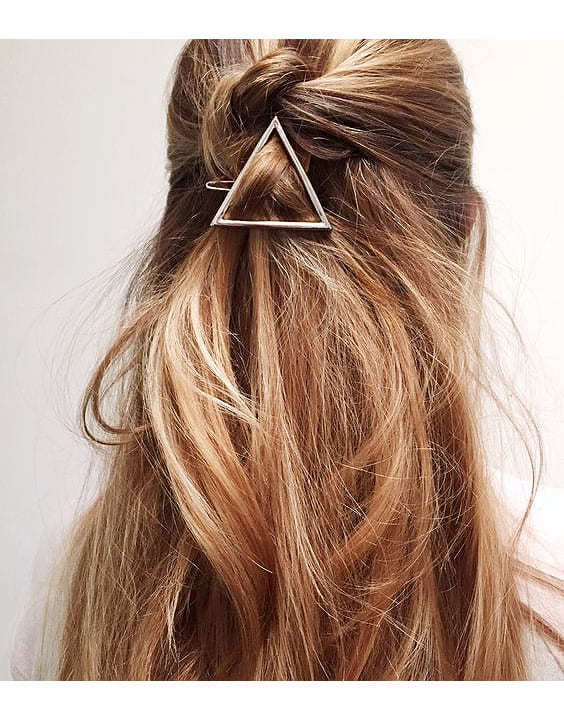 A clip in a geometric shape is a great way to add some structure and sharpness to your messy updo or your beachy waves! Modern, sleek and striking, these types of hair accessories for girls make a style statement with quiet confidence. Don this one for college or at work for a fun addition to an otherwise simple look!
Styling Tip: This style is made for pairing with plaid prints. Wear a simple white shirt with a plaid skirt or pants to give yourself that cool back-to-school vibe.
3) The Tinsel Hair: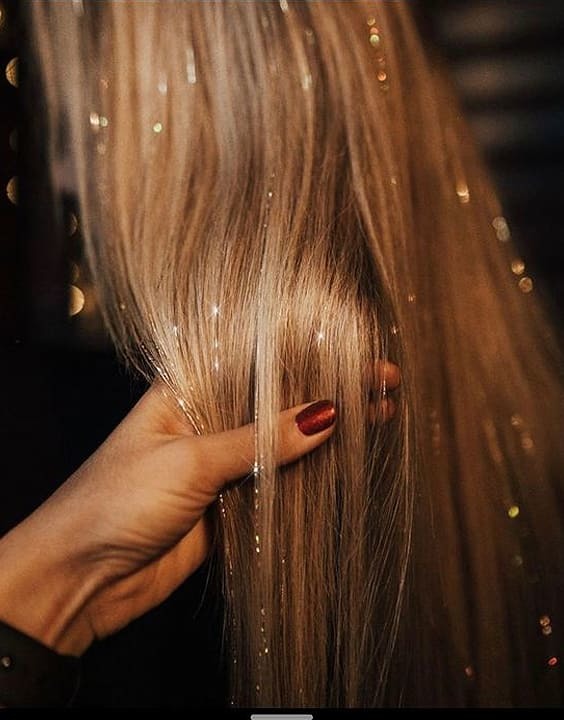 This is a type of hair accessory that's meant for festive occasions – especially Christmas! Popularly termed 'Tinsel hair' these sparkling hair extensions are sparsely added to natural hair to give it a pretty, sparkling glow. Who could stop themselves from being jolly with such brilliance!
Styling Tip: Let your hair do the shining! Do not pair these types of hair accessories for girls with sequins or glitter clothing. Rather, opt for a slinky satin slip women dress in your favorite jewel tone hue to exude a soft glam vibe!
4) The Knotted Headband: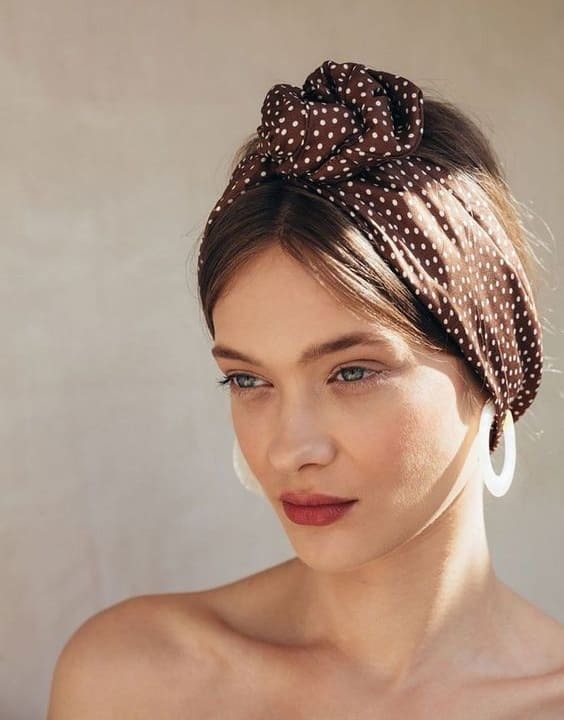 Get your girl-next-door look with this stylish hairband! Defined by a top-knot that gives this hair accessory an undeniable '50s retro vibe, this style is to die for! If you are a fan of a french capsule wardrobe, add this accessory to your minimalist closet in a versatile color or print. It is sure to give your face a classic look and pair beautifully with your regular clothing.
Styling Tip: Wear this band with a simple knit dress or a cashmere sweater and pleated skirt to amp up that trendy retro appeal!
5) The Netted Beret: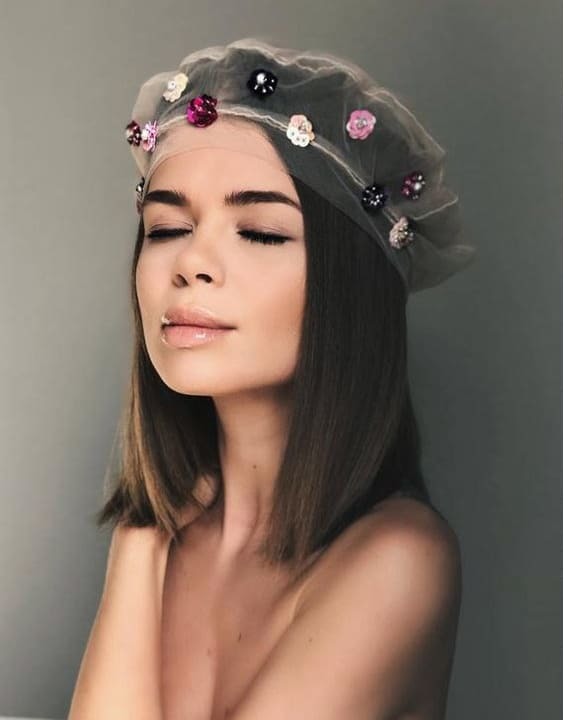 A beret is famous for its je ne se quais, but when crafted in a butterfly net fabric with whimsical embellishment, it turns into quite the statement accessory! These are definitely types of hair accessories for girls who love to experiment with their style. Go bold or go home in a sophisticated manner with this stylish accessory!
Styling Tip: Take a cue from Carrie Bradshaw from SATC and pair this accessory with a poofy netted skirt with a pastel-hued tank tucked in. Croissant, anyone?
6) The Pearl Pin: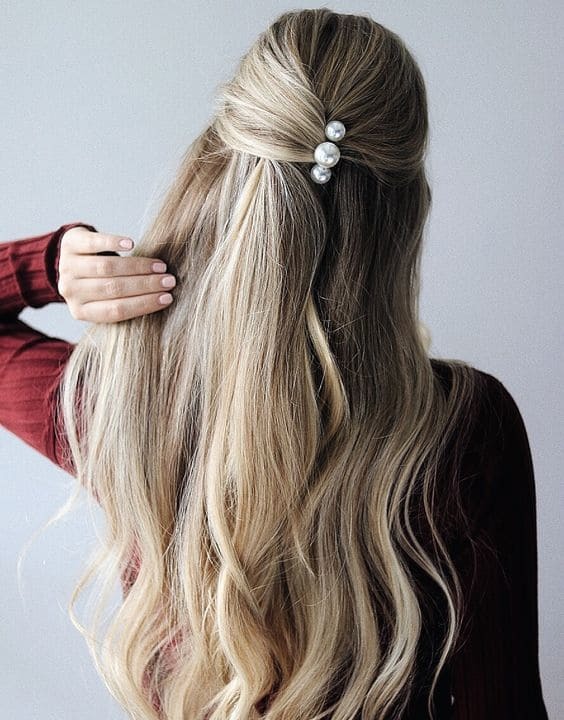 Pearls in hair are for the woman of the moment. An aesthetic loved by cottage-core nerds and dark-academia aficionados alike, pearls are now meant to be in your hair in the form of a dainty band or pin instead of around your neck. Exciting, nes pa?
Styling Tip: Go the collegiate route with this style and wear a cosy cardigan or a simple kurta-pajama with this hair accessory.
7) The Crochet Headscarf: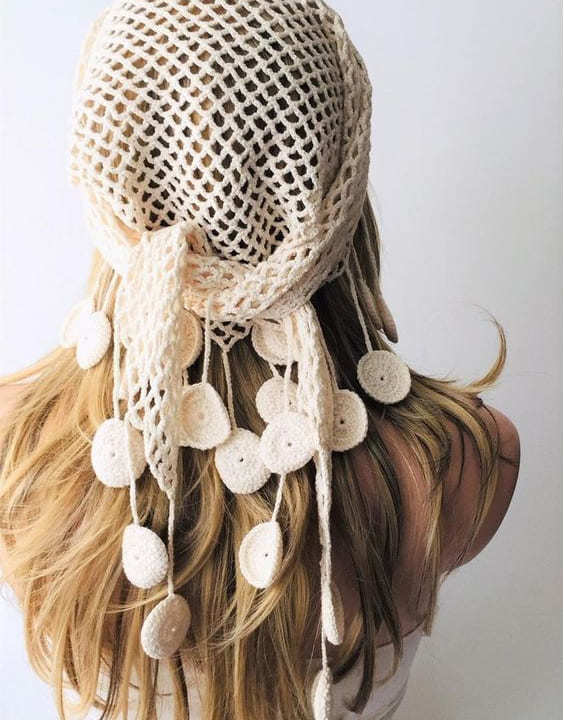 Want to look like the coolest girl in town? We've got just the thing for you. One of the most striking and statement-making hair accessories for girls, the crochet knitted headscarf, takes the cake! Flaunt your unique and artsy sensibilities in this stunning headgear. Give your beachy waves, straight hair or voluminous curls and stylish twist with this one.
Styling Tip: A staycation-inspired maxi slip dress that's knotted at the bottom, or a beachy tie-n-dye t-shirt dress is a great option to wear with this cooler-than-thou hair accessory.
8) The Studded Hair: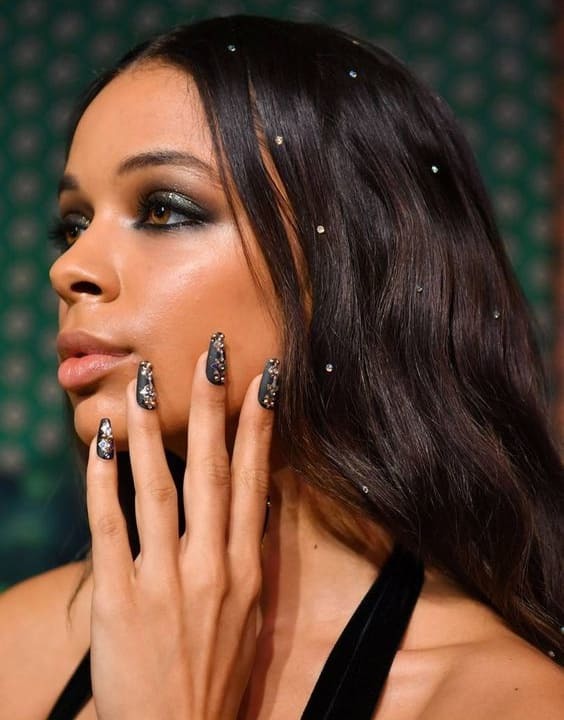 Give your hair an instant makeover with this stunner hair accessory! Studded extensions scattered in your hair will have you looking like you've just stepped out of a classy and trendy music video. With Y2K fashion making a huge comeback, these types of hair accessories for women are gaining more and more popularity with each season. 
Styling Tip: Pair these types of hair accessories for girls with your crop-tops and wide-legged trousers to make a serious early aughts style statement. 
9) The Multicolor Beanie: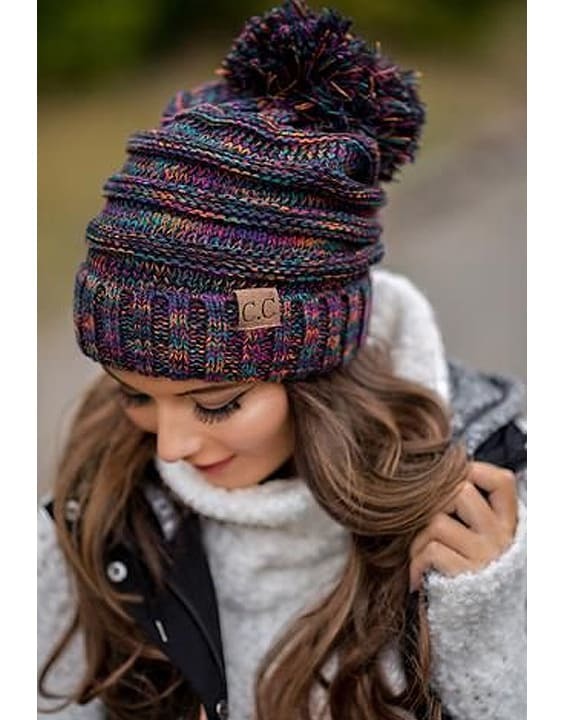 Want to add a hipster vibe to your outfit? This hair accessory is perfect for you! Beanies come in many shapes and forms, but a multicolored knit beanie is the most on-trend variant as of now. Give your casual looks an upgrade by donning this low-key yet stylish hair accessory!
Styling Tip: Your athleisure, sweats, joggers and hoodies are the perfect companions for this youthful hair accessory. Browse through the best online shopping in India and pick your casuals of choice for this cool-beans look!
10) The Oversized Scrunchie:
Comfortable, accessible and surprisingly glam – if there was ever a hair accessory trend that's fit for everyone, oversized scrunchies is it! Fabulous when used to tie hair up in a bun or a ponytail, these hair accessories for girls are perfect for the summertime. Get one in a translucent fabric like organza to kick the glam quotient up a notch!
Styling Tip: Wear this style with your summer dresses, casual t-shirt and denim combos or even your ethnic kurtas and sarees. This versatile hair accessory works with almost anything.
11) The Netted Veil: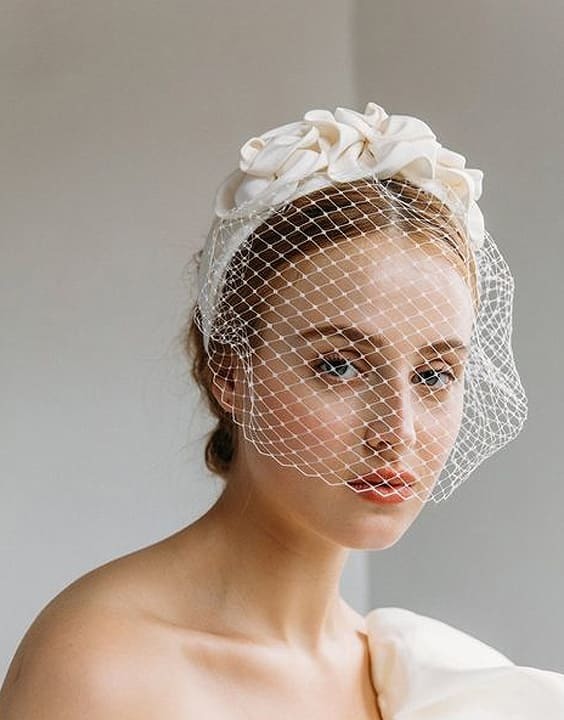 Brides-to-be, pay attention! If you are in the market for designer hair accessories for a special occasion, look no further. A classic netted veil band is all you need to give your reception or ceremonial look an old-world vintage charm. Wearing ethnic wear for your event? No worries, these work great as fusion-wear too!
Styling Tip: For maximum vintage appeal, pair these with taffeta gowns or organza lehenga sets. The soft sophistication of this combination is sure to make heads turn!
12) The Butterfly Clip Cluster: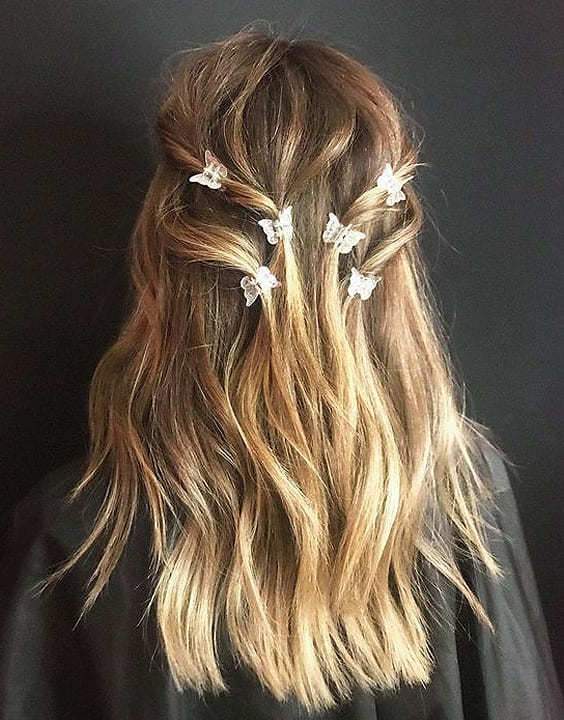 Here's an ultra-pretty casual hair accessory to accompany you on your light-hearted summer escapades! Tiny butterfly clips, especially in a transparent or pastel color, clustered in your hairstyle look like an ethereal summer dream! Style your hair into gentle waves to give this look a soft summery spotlight. 
Styling Tip: Summer dresses are the natural combo with these hair accessories for girls, but they pair up just as beautifully with simple shorts and t-shirt outfits.
13) The Animal-Print Clips: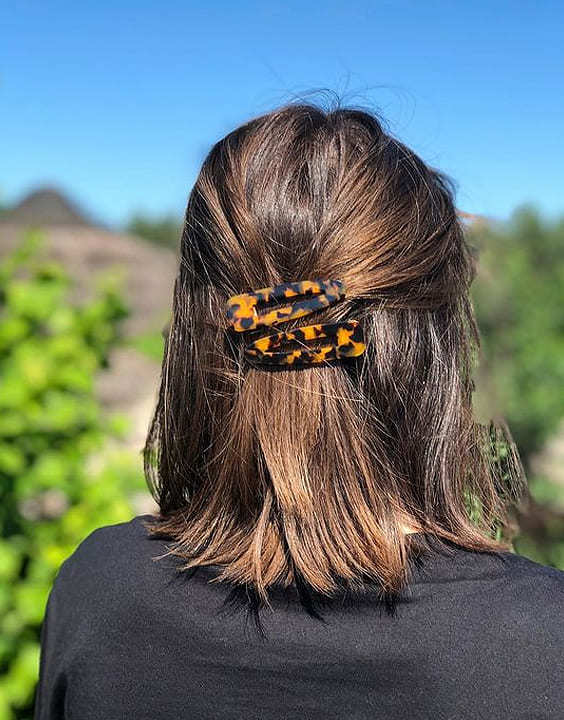 With a wide variety of acetate hair clips available in the market, printed hair accessories have become some of the most popular styles. However, our personal favorite is the animal printed trend! Usually consisting of a two-tone color palette that resembles the fur pattern of an animal, these are a trendy and fun way to add pizzazz to your everyday looks.
Styling Tip: Get back-to-school chic by pairing your simple denims and casual outfits with this cute hair accessory. If you have short hair, this style will work with your hair extremely well.
14) The Maang-Tikka: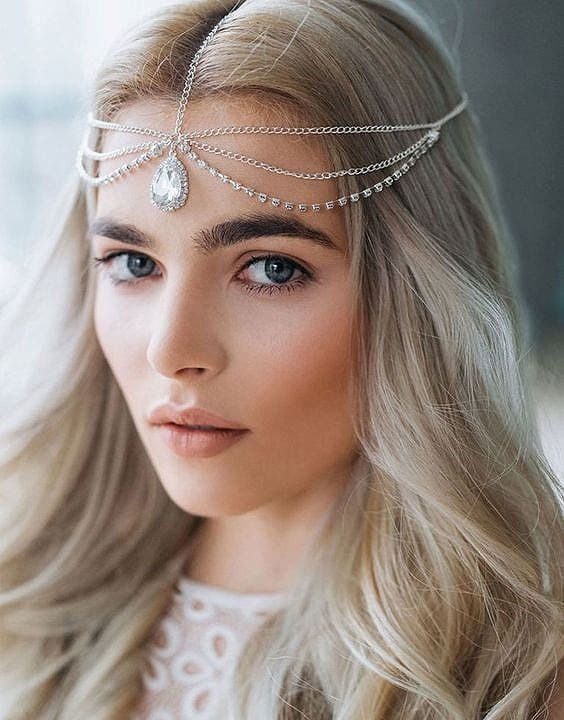 Want a hair accessory fit for a hairstyle for saree looks? This is the one for you! Originating from India, these are stylish desi hair accessories for girls. Not for the faint-hearted, they are also accessories fit for queens. The maang tikka will elevate your Indian wear for sure, but it can also pair up just as well with your fusion and western looks with the right styling.
Styling Tip: Wear a modern maang-tikka with a long flowy dress and wavy open hair. Add a few bangles, and voila! You have a head-to-toe Coachella-inspired look!
15) The Satin-Silk Headscarf: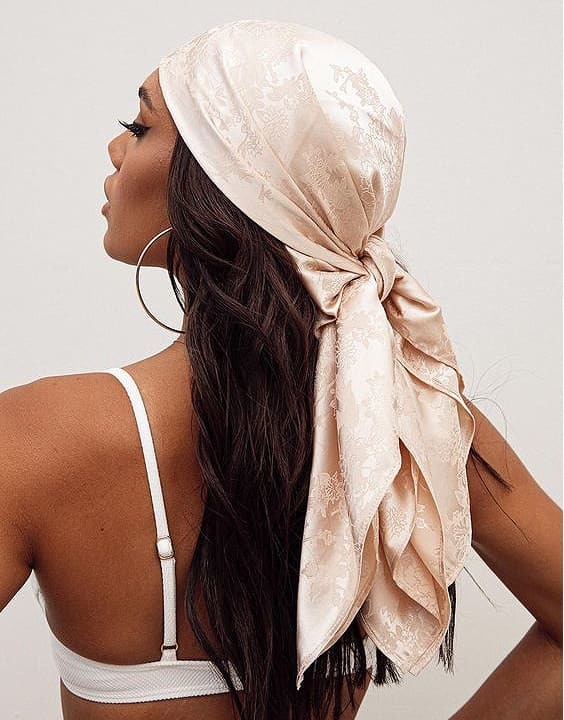 Simple, stylish and on-trend, the head scarf tie is uniquely Gen-Z material! Heavily inspired by Insta culture, these cool head scarves come in a wide variety of prints, textures and weaves. Just look for one that matches your outfit and gives your look an instant uplift!
Styling Tip: These stylish hair accessories for teenage girls work beautifully with absolutely any kind of look. For a feminine vibe, pair them up with a slip dress. For a cool vibe, pair them up with your athleisure. You can't go wrong with this one!
16) The Worded Barrette: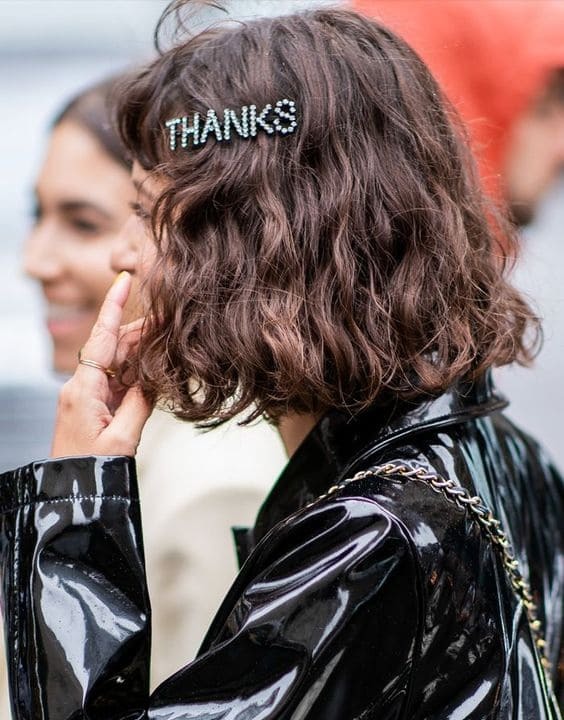 Looking for stylish hair accessories that make a very literal statement? Look no further! Barrettes with a bedazzled word tell the world exactly what's on your mind when it comes to fashion. These sassy hair accessories for girls are just what you need to add some quirk and fun to your outfits.
Styling Tip: Pair these up with your PVC or leather separates for a not-so-seriously chic appeal!
17) The Pastel Hair Clip: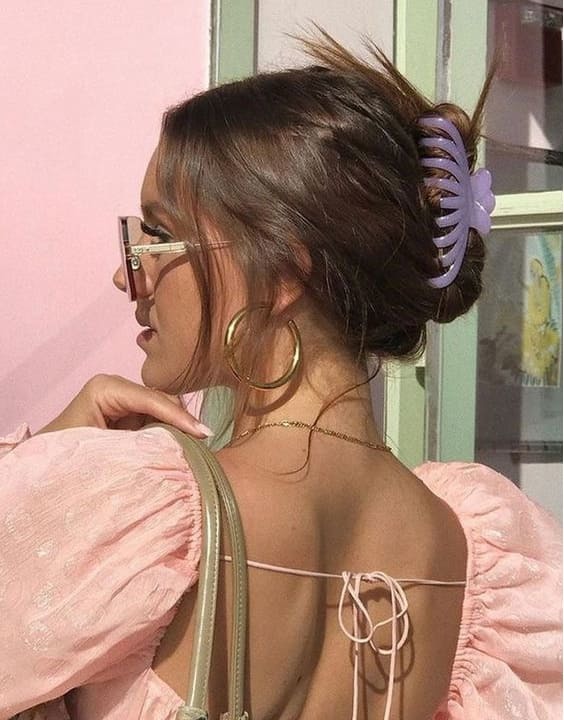 Want a low-key and chic hair accessory for your everyday outfits? Go for big hair clips in a pastel colour to add a dash of colour to your look! Vibrant and casual when worn with a bun hairstyle, these are perfect for easy summers and busy work days.
Styling Tip: Wear these chic hair accessories for girls with hoop earrings and a pair of stunning tinted sunnies for summertime freshness!
18) The Floral Arrangement: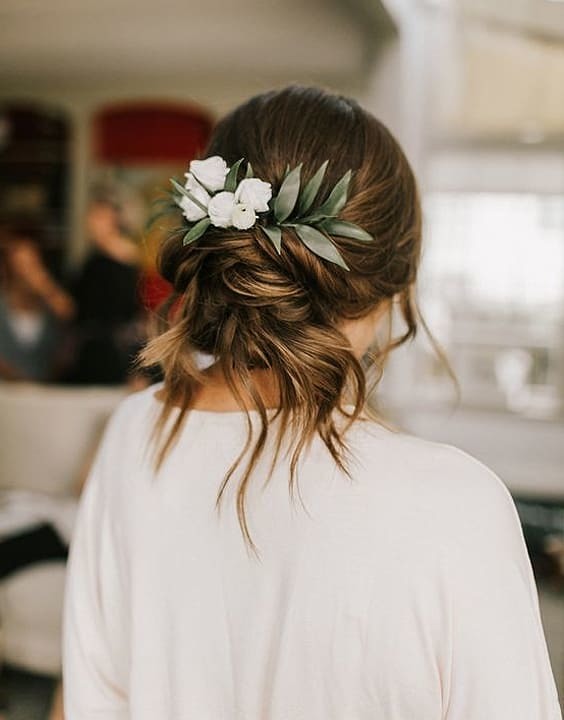 A stunning option for bridal and other special occasions, floral arrangements are the ultimate natural hair accessory! Equally beautiful with a juda hairstyle and a messy bun, this is one of our absolute fave hair accessories.
Styling Tip: Floral arrangements are perfectly ethereal with a simple organza or georgette sari in fresh hues and light tones.
Like what you see? Which of these hair accessories for girls are you up for trying this season? Get onto your fave shopping app and get ready to transform the way you style your hair!
Image credits: The copyrights of the images used in this post belong to their respective owners. The credits where known are specified under the image - if you're the owner of an image and want it removed, please contact us.