Saree is an expression of the cultures and traditions that mark our country. The elegance of a saree is unmatched and that is why all of us love this special attire.
A timeless ethnic piece of clothing, different types of Sarees can be found across the length and breadth of the Country. The standard nine yards of drape can be modeled and styled variedly depending on the different types of sarees in India.
Our rich culture has given us many dialects, foods, and even types of Sarees! We will take you on a tour of the country, one Saree at a time!
Ranging from materials used, draping style, and the story infused between the folds of the saree, let's find out different types of Sarees and saree names that will send you hunting down your mom's closet and trying out different styles.
Learn how to wear saree with us as we learn about the significance of different types of Saree and the names of sarees in India. The next wedding you attend is going to be a style-packed event as you flaunt your new sense of our cultural pieces of clothing.
Different Types of Sarees in India
1. Kanjeevaram Saree from Tamil Nadu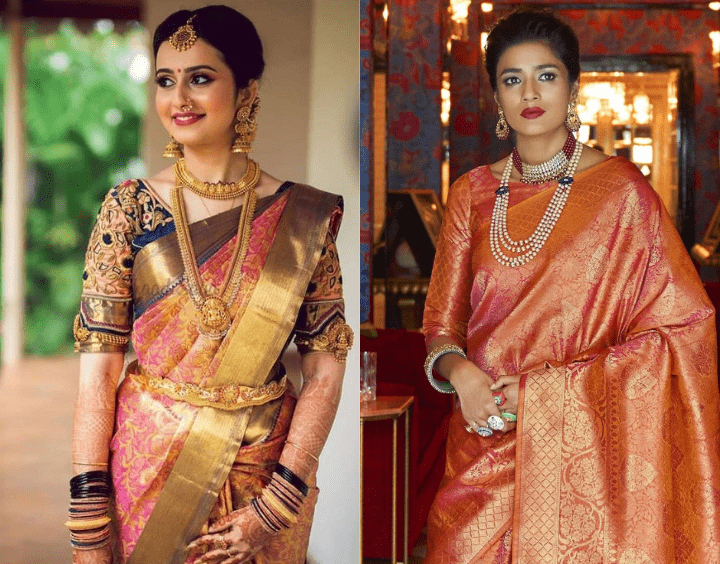 Vivacious colors, royal borders, and the rich silk give Kanjeevaram Saree an ornate aura.
Hailing from Tamil Nadu, Kanjeevaram are traditional bridal sarees that have been adopted all over the country for special occasions. Weaved from pure mulberry silk thread, the sarees have an inherent elegance and grace to them. The sarees have a signature gold tint to embellish their look.
Kanjeevaram also fashions religious motifs inspired by the temples and mythological tales. The pallu of a Kanjeevaram saree is usually a contrast color adding more flavor to the texture of the drape.
Style tip: Many Bollywood actresses in saree have adorned the loved Kanjeevaram for red carpet events. The saree is usually coupled with gold jewelry to compliment the regal look of Kanjeevaram.
2. Nauvari Saree from Maharashtra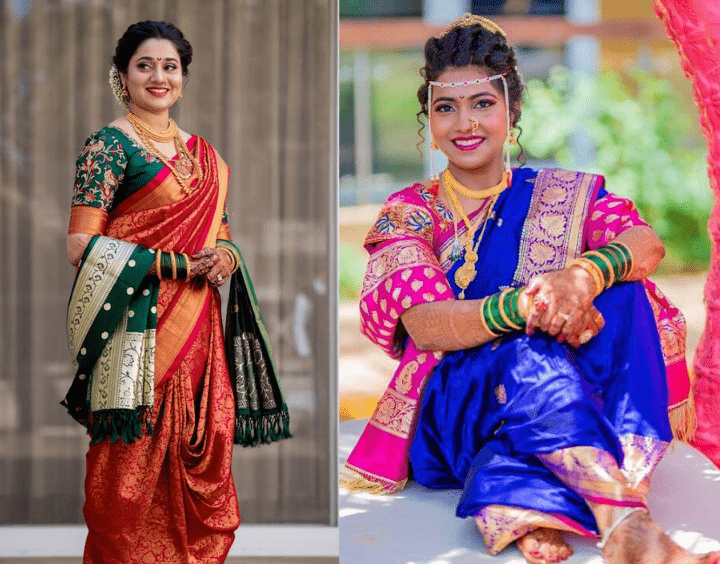 Originating from the west coast, the Nauvari is one of the traditional Indian saree. This saree names originates from the length of the saree which is nine yards long.
Nauvari has a very unique style of being draped called the "kashta" style wherein the border of the saree is tucked in at the back.
The Nauvari Saree is a symbol of valor as the draping style originated from Maratha women warriors wearing the saree in a dhoti style enabling them to ride horses and fight with ease of movement.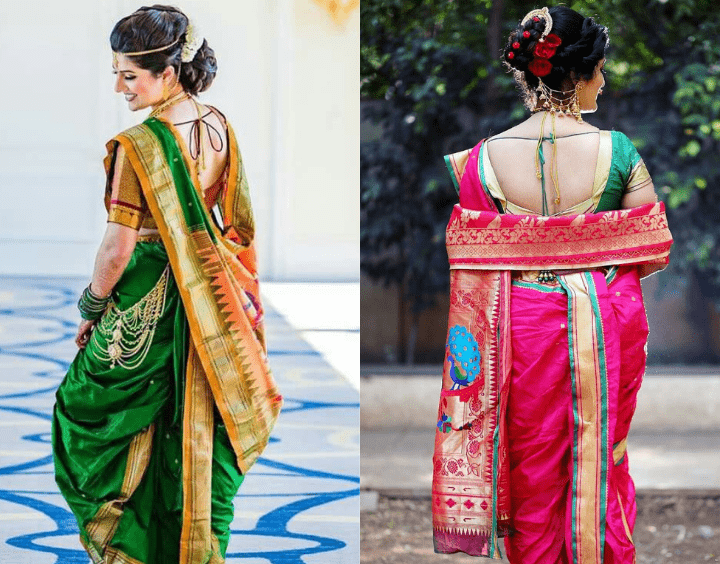 Over time, Nauvari sarees are styled for festivities like marriages. Brides look absolutely stunning in a vibrant Nauvari saree and a shawl, called Shela, draped across their arms. One of the different types of sarees of India, Nauvari can be spotted from a distance owing to its distinct style.
Style tip: The saree is usually fashioned with traditional gold jewelry and a nath, adding a definite charm to the saree. The hairstyle for this saree is usually a top bun embellished with gajra or flowers.
3. Bandhani Saree from Gujarat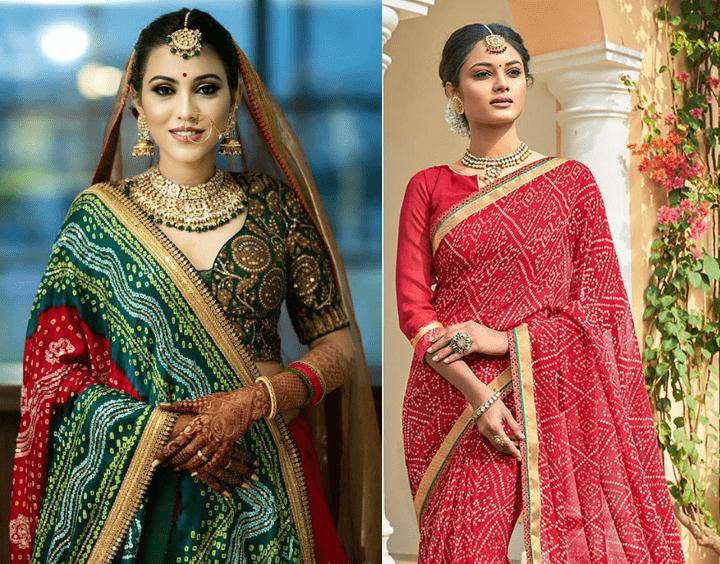 Gujarat gives us the famous tie and dye Bandhani printed saree.
Bandhani Sarees come in different colors and patterns but the same age-old belief – it brings good fortune and future for a bride.
The process of producing a Bandhani Saree is an intricate one with dying done by hand. Bandhanis are a delicious ethnic saree type that evoke grand images of Gujarati and Rajasthani culture.
A very delicate material, Bandhani sarees are stored with a lot of care and preserved over time.
Style tip: Bandhani Sarees can be worn with oxidized silver jewelry to jazz up the look. Add a potli bag for extra glam.
4. Tant Saree from West Bengal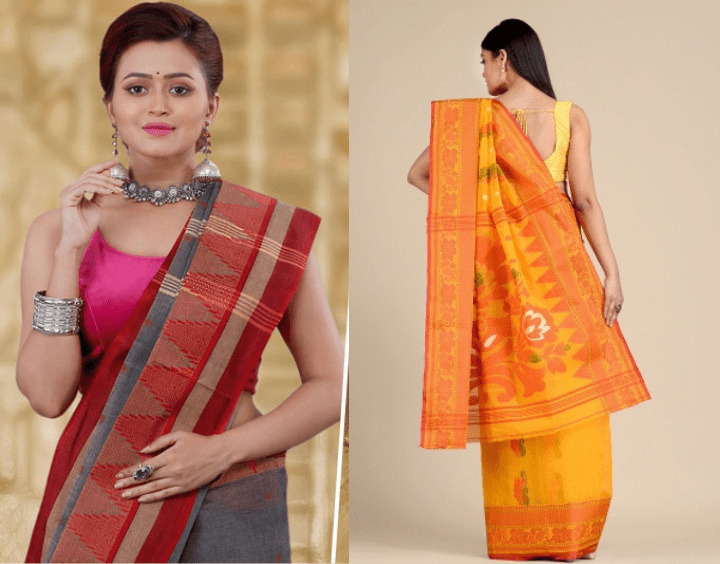 From all the different types of sarees in India, the Tant saree is very distinguishable. This red and white saree from Bengal is elegance personified.
The saree is a staple in every Bengali women's wardrobe. Tant is woven from a very breathable material making it wearable in humid weather.
This traditional Indian saree had zari work with the pallu being heavily designed but in modern days, hand-printed Tant sarees are much in vogue.
The Bengali saree looks is a favorite during Durga Pujo, Diwali, and other festive occasions.
Style tip: You can wear a Tant Saree with a high bun or loose curls for the perfect festive look. Elevate your look with heavy accessories.
5. Banarsi Saree from Varanasi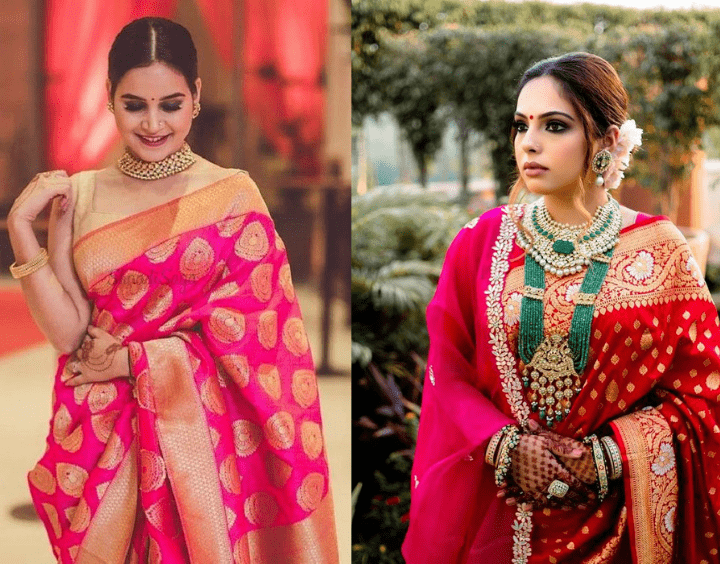 Amongst the different types of sarees of different states, the Banarsi saree is one of the most popular ones. All the way from Varanasi, these silk sarees are renowned for their patterns and motifs.
Originally, the Banarsi saree was crafted only for royalty woven with real threads of gold and silver. In the contemporary times, many variations of the Banarsi make up for some of the best sarees in India, but its elegance is still not lost.
Many Bollywood actresses have worn Banarasi Sarees on significant occasions owing to the finesse with which it is crafted.
Style tip: Kundan jewelry looks ethereal with these sarees with the hairstyle for this saree being a high bun tucked with a couple of roses.
6. Chikankari Saree from Lucknow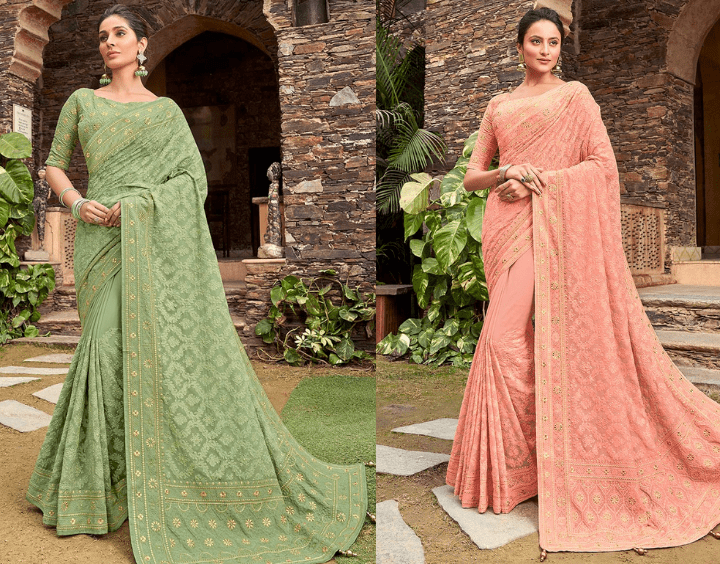 From the Nawabi city of Lucknow comes the fabric stitched with sophistication – Chikankari.
The simple thing would be to say that Chikankari sarees are gorgeous but the intricate designs are so much more. With heavy embroidery on soothing colors, these sarees can be worn on any day, time and occasion. Trust and elegant Chikankari to grab all eyes.
Imbued in the Chikankari work are the motifs that are reminiscent of Persian handicraft.
Style tip: A timeless piece of fashion, Chikankari sarees can be styled with straight hairstyles and minimal jhumkas.
7. Bomkai Saree from Odisha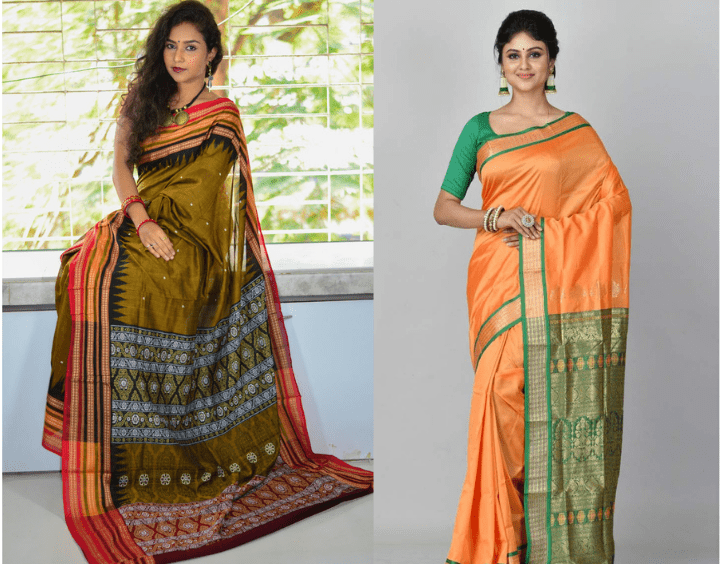 From Odisha comes a different type of Saree – the name of sarees in India are hand-loomed Bomkai. This saree appears to be modern in look and feel but the patterns are deeply rooted in the culture of the state.
The Bomkai Saree can be woven in cotton which is used for daily wear but the silk Bomkai Sarees are rich and festive. The Saree carries inspiration from the hidden past, displaying magnificent mythological motifs.
The Bomkai saree also uses a lot of contrast colors like yellows with greens for a distinct texture. Made with a lucrative technique, the saree is the epitome of grace.
Style Tip: Wear it to work or casual events. Add some silver or golden jhumkas for a complete look.
8. Chanderi Saree from Madhya Pradesh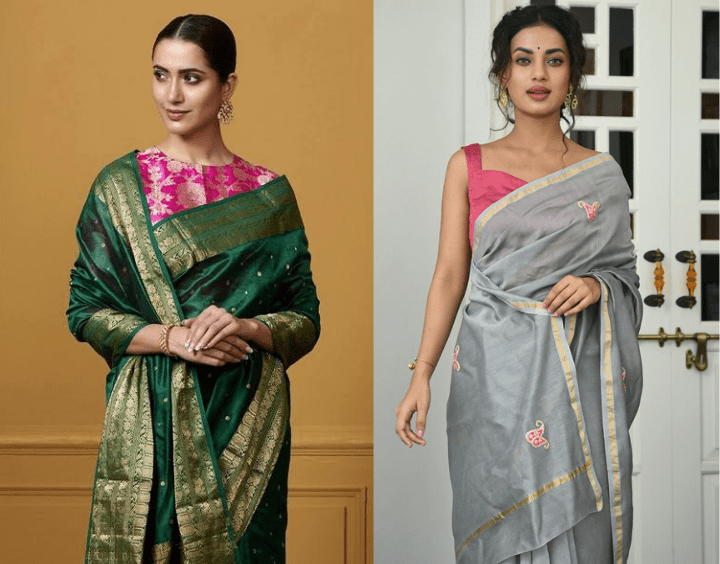 The pristine shine of this Saree from Madhya Pradesh is exquisite.
The silk and zari are woven with cotton making the fabric light as air. The luxurious feel of the saree makes it apt for festivities and celebrations.
There are different types of wearing saree and in all of them, the luster of Chanderi never gets dim. This handloom weave is a scrumptious texture and this drape would look spotlight-stealing at any wedding function.
Style tip: The Chanderi Saree can be fashioned with a slick back hairdo and Kundan jewelry.
9. Kasavu Saree from Kerala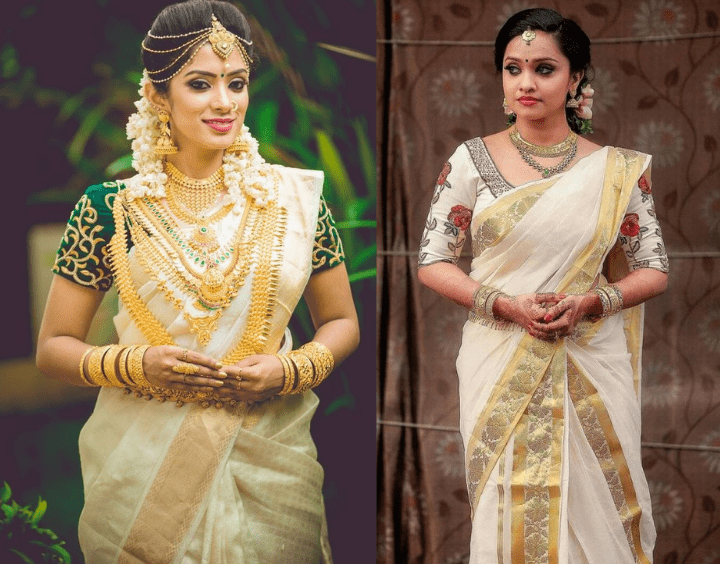 From the Southern Tip of the country, Kerala comes a radiant and refined Indian Traditional Saree – the Kasavu.
Kasavu was originally a dhoti, blouse, and a stole that was draped across it but has modernized to the latest fancy saree. The white saree fashioning golden borders sometimes threaded with real gold is absolutely stunning.
The minimalistic design gives the saree a very modish look and is popularly worn during the festival of Onam in Kerala.
Style tip: Add some gold jewellery and gajra while heading to a wedding.
10. Muga Saree from Assam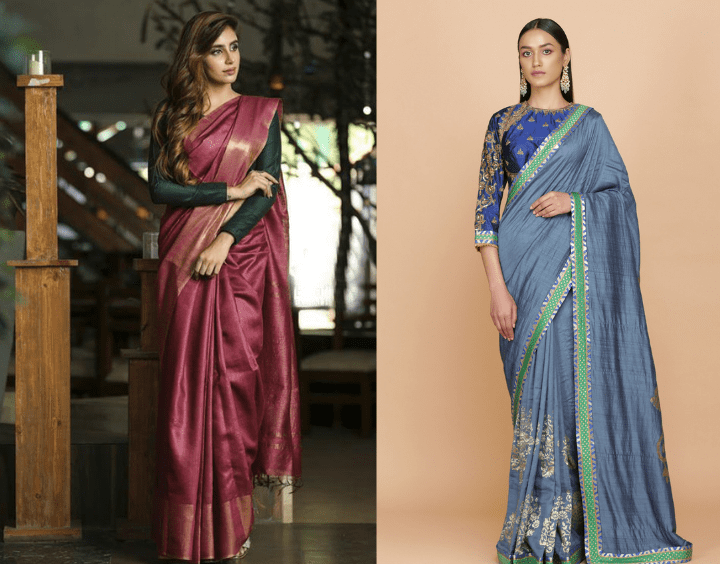 Produced only in Assam, the Muga silk sarees are unique and beautiful.
With a glossy sheen and durable silk, the different types of saree available in the market are incredibly versatile. With a natural goldish tint, the saree is a spectacle. This coveted saree is a go-to attire for weddings and other auspicious occasions. One of the costliest silks, Muga's shine improves with every wash making it timeless.
With the pure zari work, the sarees are embellished even more. The golden classic Muga saree will make you the showstopper at the next festive occasion.
Style tip: Deck up your look by adding chunky accessories.
11. Phulkari Saree From Punjab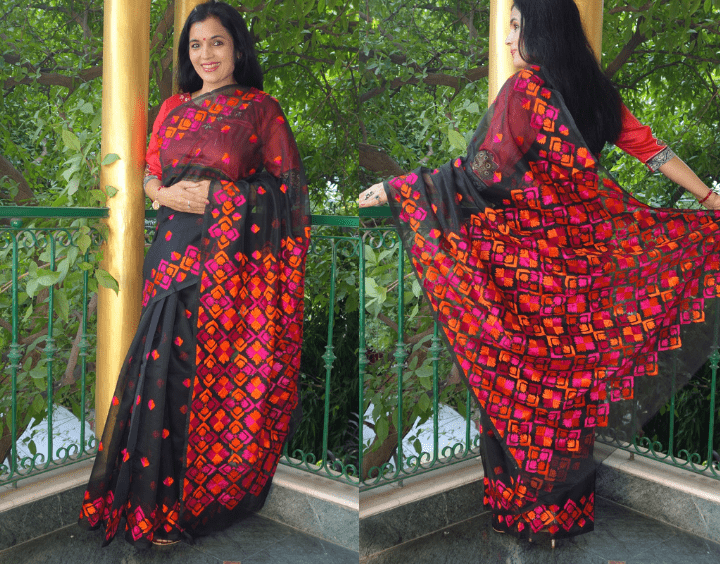 Phulkari is the folk embroidery of Punjab resulting in beautiful patterns. Phulkari sarees come in florals, motifs, and even geometrical shapes.
The extensive detailing of the Phulkari saree is crafted through darn stitches on the coarse side of the cotton. Phulkari designs are extremely attractive owing to the vibrant colored cloth that is used.
Different types of Sarees fall under the broader Phulkari spectrum based on their production.
Style tip: The embroidered yards of cloth look delightful in the daylight and can be styled with gotta or gold jewelry.
12. Pochampally Saree from Telangana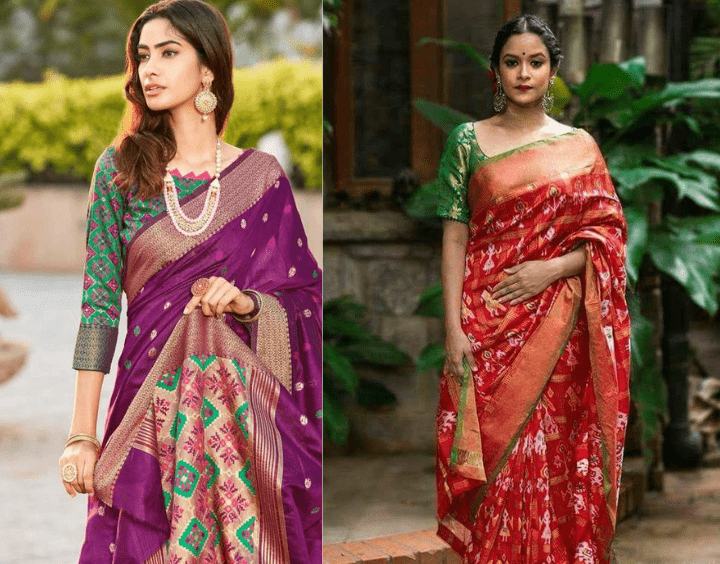 Hailing from Telangana, the Pochampally Sarees are designed with nuanced motifs and geometric patterns.
These sarees are made with the special Ikat style of dyeing used to get the effect of distinct "Chowra" patterns which look like waves of diffused squares and diamonds. Weaved with either cotton or silk, these sarees are very artistic in nature.
Pochampally sarees have never ceased to be relevant, always evolving with the trend. With multicolored patterns and interesting motifs, this saree will definitely be a rockstar at any event.
Style tip: Elevate your look with gold jewellery and tie up your hair in a sleek bun.
Looking at all these patterns and styles we have figured out one thing, the saree names in India may differ but their feel is tethered to our all-encompassing culture.
From Bollywood actresses in chiffon sarees to the nosy neighborhood aunty bringing a "rishta" to your house, our relationship with sarees is never-ending. To continue with our heritage of draping this nine-yard cloth, we need to know about the many different types of sarees in India.
How To Wear A Saree – A Quick Manual.
We already took a tour from North to South and East to West, and the next step is learning how to wear a saree *video calls mom ASAP*.
Don't worry we will give you some awesome and useful hacks for different ways of draping a saree for festival season, your private fashion show, or just because you felt like it.
Read our tips & tricks for a flawless saree look.
Before buying the saree be careful to read the materials used and how they will react to the weather you are going to wear the saree in.
Follow Indian influencers on Instagram and keep up with the latest fancy saree trends. Stitched sarees and other saree hacks will have your back.
Remodel your mom's old saree with statement belts and jewelry.
Use brocade blouses to make your saree feel royal and glamorous.
Always carry extra safety pins when wearing a saree, they'll help you keep your attire in place and you can comfortably enjoy your event.
Sarees with a heavy border need pins to hold the pleats securely.
Don't just tuck it in but firmly pin it in place.
Drape your saree over pants for hassle-free movement. The outfit will be a wonderful blend of chic and ethnic making it looks extremely classy.
While attending festivities during winters, style your classic stary with a jacket or a coat to make it comfy and warm.
Just be yourself and your saree will follow.
Have fun rocking a saree at your next event.
Bring a touch of your culture and mix it up with your own individual style. Go get different types of sarees in India hunting now and thank us later!
Image credits: The copyrights of the images used in this post belong to their respective owners. The credits where known are specified under the image - if you're the owner of an image and want it removed, please contact us.