Read about the different styling ideas for modern kurti designs which will answer your questions about what types of kurtis you could flaunt in the heat. A comprehensive guide on trending modern kurti desings that helps you decide the best suited kurti for you this summer.
It's 50 degrees outside, you feel like you're standing at the backside of a cooler and your clothes are stuck to your body. That's the definition of Indian summer. Hot and humid don't even begin to describe it. Thankfully for us, the Indian women figured out the best way to beat the heat – wearing kurtis. Kurtis keep you covered (because who wants to wear clothes when it's that hot outside?!) and they let your clothes breathe – and what more do we need in summers? There are many different types of kurti, which can suit all shapes and sizes, so it's time to beat the Indian heat, Indian kurti style with Style Quotient. 
So, what is the Kurta and Kurti difference?
If you go to a shop and ask for a kurta, the shopkeeper will bring out a pile of knee length or calf lengths kurtas. And if you ask for a kurti, he will bring out a pile of hip length kurtis. So essentially, the difference between kurtas and kurtis is nothing more than the length of the garment. Traditionally, kurtas are worn with churridaars or pajamas – both for men and women. Kurtis on the hand other can be worn with pajamas, palazzos and even jeans or pants. However, with evolving fashion, there isn't much of a difference between kurti and kurta when it comes to pairing it with the right bottoms. So now that we have understood the kurta kurti difference, let us take a look at the most trending kurtis of the season.
The different Kurti Styles and choosing a trending style
Kurtis can be floral, printed, long, short, sleeveless, with sleeves, button downed… you get the point? If you go on an online shopping website and type in 'kurti', you will get confused with the different style kurtis available! And if you choose the filter option, you won't know what filter to pick given the types of kurtis and their various categorizations. Then you'll do the smart thing and sort the list on the basis of 'newest first', and we're here to tell you all about the new kurti styles – just to reduce the confusion a little. We're covering the latest and modern kurti designs so that your shopping experience, be it online or in a store, leaves you feeling happy and in style.
Long Kurta Style works best for every body type!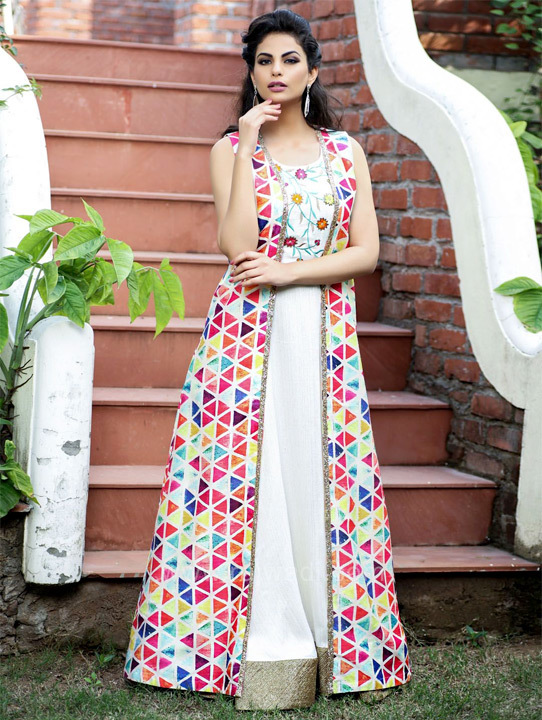 The long kurta style includes those types of kurti which are ankle length or longer. This style can be broken down into two categories – long and straight, long and flowy. The long straight kurta designs are more commonly known as the Pakistani suit style – it is a long straight kurta which is ankle length, paired with wide legged or straight palazzos. This simple kurta design is suitable for every body type because it gives a slimming effect by making your body look elongated. The flowy or anarkali style kurta is again ankle length or ground length and it is usually paired with churridaars. Both these styles are perfect as summer casuals, because they're easy and airy. You could opt for some modern kurti designs – Jaipuri patterns for kurtas, colour block kurtas and the evergreen floral printed kurtas. This long kurta style looks great for work, meetings and important dinners since it gives off a formal vibe – a well dressed formal vibe, that too. And it's better than wearing casual shirts or pants in the scorching heat!
Styling Cotton Frock Style Kurtis
The cotton frock style kurtis, as the name suggests, are frock cut kurtis to give you a cute girly look. Usually, frock style kurtis are paired with churridaars, but recently they've been doing the round of the runway paired with palazzos – and they look stellar! These types of kurti styles are great for a casual day out, especially in the summer heat, because they're open and airy. The latest frock style kurtis are solid bold coloured kurtis paired with the same colour palazzos. Even fully printed cotton frock style kurtis with tassels or pom-poms at the edging are very trending now days. This frock cut design has been spotted on many celebrities like Sonam Kapoor and Kareena Kapoor Khan – hence validating our point.
The versatility of Long Shirt Style Kurtis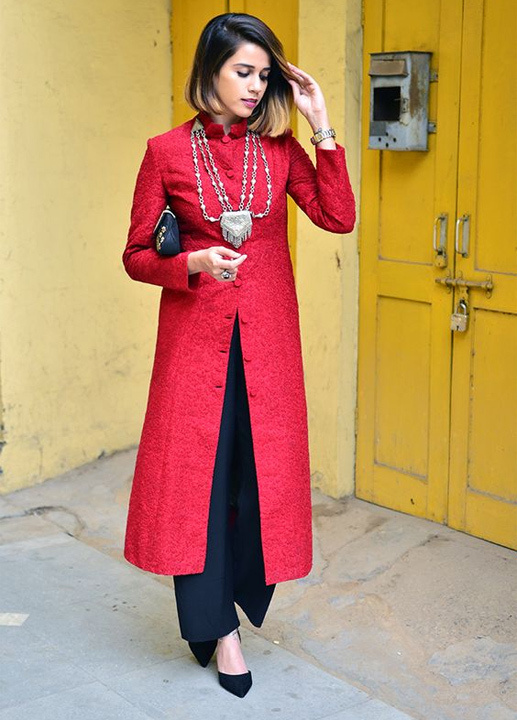 The shirt style kurti is basically a kurti which looks like a shirt since it is buttoned down from top to bottom. It is a very simple look which can be dressed up by styling it the right way – which is why it made it to our list of modern kurti designs. The combination of solid colour straight pants with long shirt style kurtis always looks elegant and classy. This could be worn as it is for a casual day look, or be dressed up with a statement necklace to go out. The long striped shirt kurti also looks very smart when paired with skinny jeans. The convenience of the shirt style kurti designs is that these designs can be played around with – they can be paired with almost anything, from pajamas to ripped jeans, to create a look for any occasion.
Styling Western Style Kurtis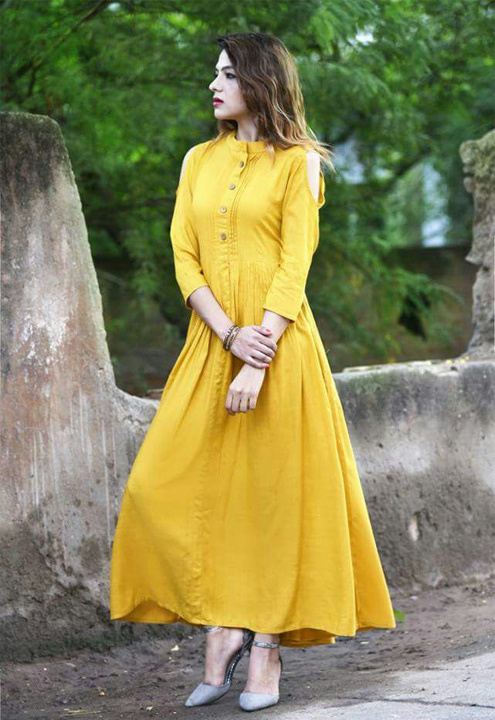 The western kurtis collection is nothing more than western designs on Indian kurtis, which include the cut out arms, off shoulder styles and high rise slits. Western style kurtis when paired with cigar pants or skinny jeans create a good blend of indo-western, which is a great look when you're trying to dress sharp. Our favourite look is when western kurties are paired with dhoti pants – uber chic! Western kurtis are the epitome of modern kurti designs, when paired smartly.
If you're smart enough to choose kurtis for summer, you're smart enough to put together the perfect outfit. While buying your next set of kurtis, keep in mind that you're buying 100% cotton because that is what your body needs in summer. A quick tip: buy black and white cotton palazzos because they go with pretty much every kurti style and design. That way you won't need to worry about matching your outfit every single day. Let's beat the heat, kurti style.
Image credits: The copyrights of the images used in this post belong to their respective owners. The credits where known are specified under the image - if you're the owner of an image and want it removed, please contact us.