When paired with a pair of jeans, blazers serve as the best add-on to your formal and casual ensembles. Blazers with jeans for men can be the hottest combinations of the season, and we tell you exactly how to style men's blazers with jeans.
How many times, have you thought of getting a new look or updating your wardrobe to try something new? At some point, we all get a little tired of wearing those same old clichéd jeans with T-shirt outfits, which fails to make a fresh statement in the crowd. A very simple and affordable solution to get a wardrobe upgrade is by pairing jeans with blazer. Yes, as simple as it sounds. You will realize how a trendy blazer can give a completely different look when matched with your everyday simple jeans. Just pick up your usual pair of jeans and add a formal touch with a blazer!! Simple Right?? Jeans are the safest option when in confusion, but pairing a bright coloured blazer with jeans will go a long way if you're one of those who wants to dress to impress. You need to decide if casual is what you're looking for or formal is your way of approach. Read on to understand the seemingly simple, yet as confusing a question – "how to wear a blazer with jeans?"
Ways To Style Blazers With Jeans For Men
Jeans and Blazer combination are a pair made in heaven. You can never go wrong with comfortable jeans and blazer outfits based on your personality and color choices. Mens blazer with jeans can either be paired traditionally or can be transformed into a chill party outfit. Stylish blazers for men with jeans serve as an all-purpose wardrobe.
All being said let us look at some popular yet simple jeans with blazer looks for men that will help you decode the dilemma of how to wear a blazer with jeans or more appropriately how to match the right blazers for men on jeans to get that perfect look you desire –
Casual Blazers With Jeans For Men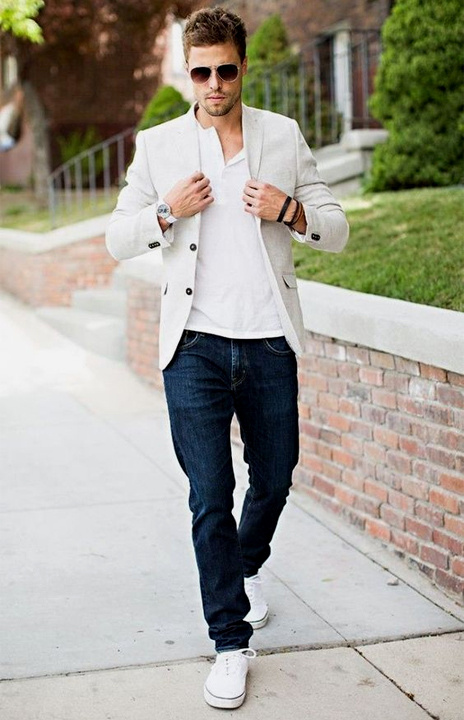 Casual look in blazers for men with jeans is the new party look for millennials who like wearing comfortable yet sharp looking outfits. You can choose to give a less serious look to blazers by pairing the mens casual blazer with jeans instead of your usual pants or trousers.  Casual blazers are usually lesser-structured looking blazers or usually come with slightly printed design and so on. For friendly gatherings or the traveler look, you can replace formal pant shirts combinations with fun quirky t-shirts, jeans and casual accessories like sneakers or scarfs. You will be overwhelmed with the scope of styling a casual blazer with jeans outfit can have and we're positive that it can be your go-to look for all social or semi-formal meetings.
The Blue Blazer With Jeans
Blue blazer combinations with jeans are the all-time favorite look among fashion enthusiasts. Among all the shades of blue, men's royal blue blazer with jeans combination can be witnessed usually at semi-formal family gatherings, weddings or parties.
Men's Blue Blazers have a variety of designs and patterns amongst themselves. Casual, asymmetrical look or formal traditional look both can be paired up perfectly with contrasting shades of denim.
The Dark Blue Blazer With Jeans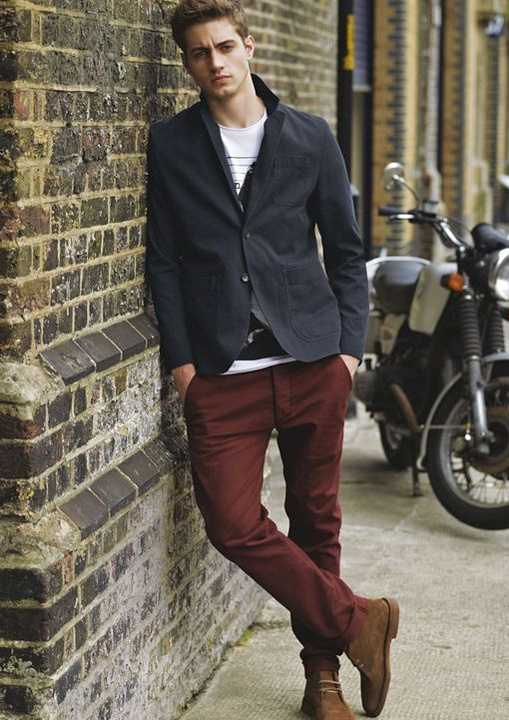 Ideally, dark blue blazers go well with almost any kind of bottoms. Blue-on-blue is what seems to be the safest bet, but if you're looking to add a little more oomph to your outfit, you can try white or black denim. Dark blue blazer goes with any conventional color including pea-green, wine-red and traditional brown. This outfit can be trusted to make lasting impressions and there is always scope to experiment with this look.
The Light Blue Blazer With Jeans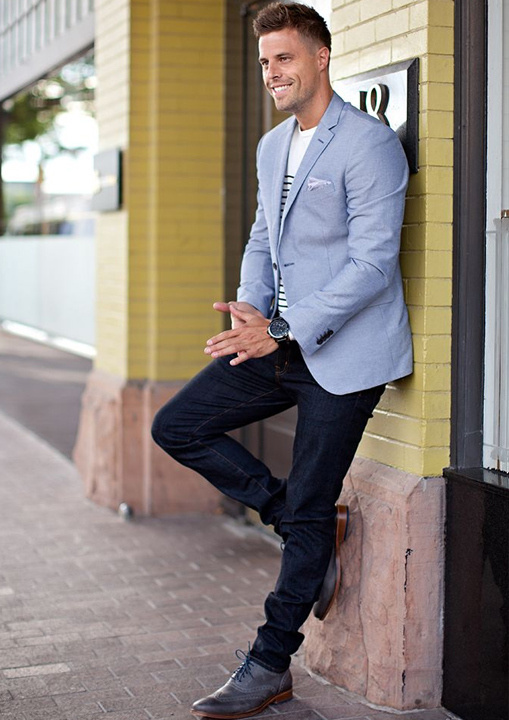 While selecting mens blazer with jeans for the light blue shade, consider the occasion and place where you are wearing it. For example, in case of a semi-formal event in open area during the day, you can choose a decent looking lighter shade of denim to go with the light blue blazer to give the illusion of a pantsuit in bright sunlight. On the contrary, in a more informal gathering, darker shade of ripped jeans with a light blue blazer will be suit you better.
Navy Blue Blazer With Jeans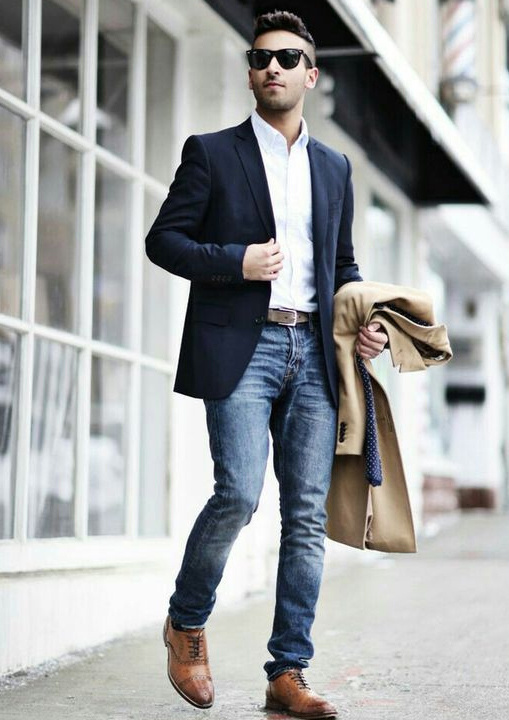 A notch below the inky blue, navy blue is one of the richest shades of blue. It offers you the chance to dabble in coloured denims and footwear, while also keeping your look grounded and subtle. Navy blue colored blazer for men is the safest option out there, if you ever find yourself in doubt. You can always match it up with a darker shade of denim.
Style Men's Black Blazer with Jeans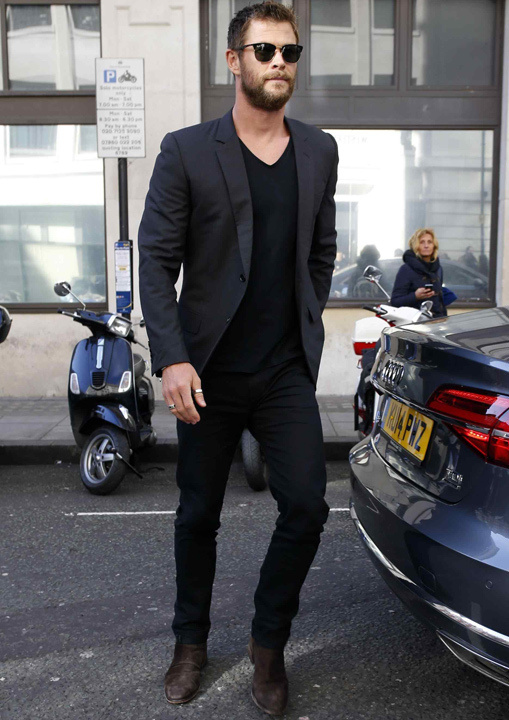 With blue being an obvious choice to go with denims, you might be wondering how to pair the black blazer with jeans combinations. The easiest way to pair jeans with a blazer is to select the old and trusted look of a dapper black blazer. Black blazer combinations is good for any occasion from weekdays to Friday night parties. On the plus side, it allows you to keep your shopping budget in check as this look can be repeated several times with different shirts and t-shirts of your own choice. Selecting appropriate shirt combination however may require certain finesse. For example, black turtleneck offers a casual and appealing look when clubbed with denim. At work, whites or lighter shades can better endorse your black blazer and jeans look. Pairing black blazers with black jeans can never go wrong.
The Grey Blazer With Jeans Look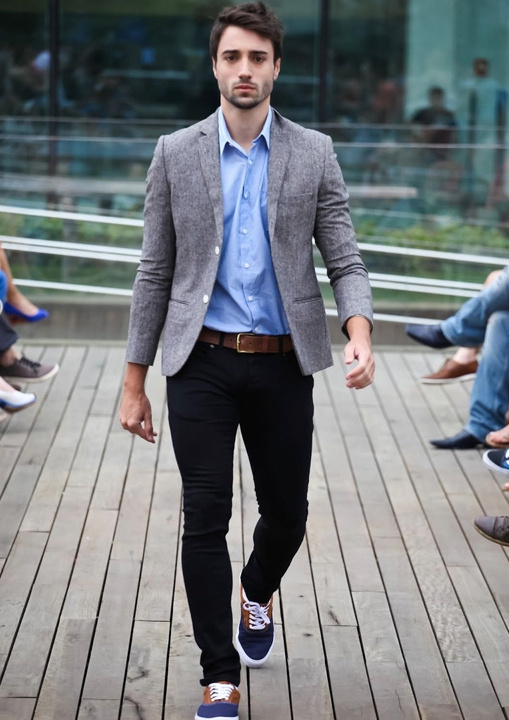 Grey does not always have to be a serious look. Match your grey blazers with rich and vibrant colors to add to its resourcefulness. Bright colors accessories with grey blazer such as hats, ties, scarfs will always enhance the looks in a simple but effective manner.
Dark Grey Blazer With Jeans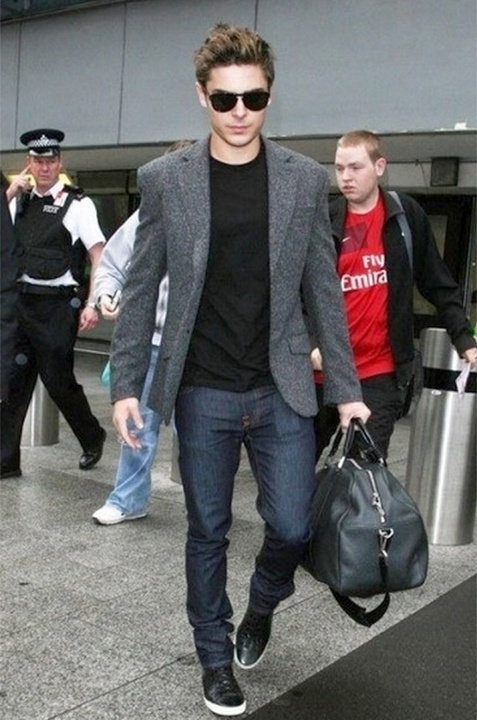 There is nothing that can ruin a seemingly perfect look of white or blue shirt paired with a grey blazer. The darker shade of grey is also a versatile option if you're someone who needs to attend events round the clock. Any shade of denim will compliment a dark grey blazer. This combination is extremely popular at celebrity events too and can always be paired with rich shades of ties to have that classy look on the go. Casual sneakers can always add extra comfort to this already chill attire.
The Brown Blazer With Jeans Look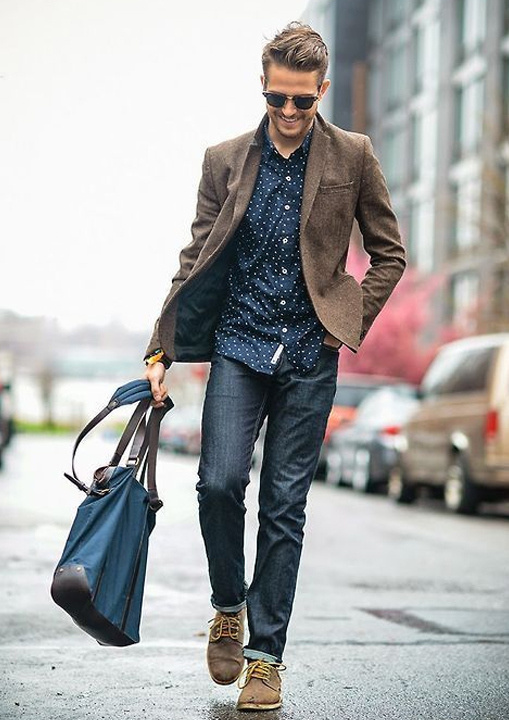 Brown blazer for men with jeans is yet another fine example of the jeans and blazer combination. You can master the brown shade blazer with jeans combination by teaming it up with neutral shades including beige or even khakhi. Brown blazers often go well with shades that can reflect warmer vibes. For starters, you can always try with lighter shades of denim and beige t-shirt.
Pick The Perfect Shoes To Wear With Men's Blazer with Jeans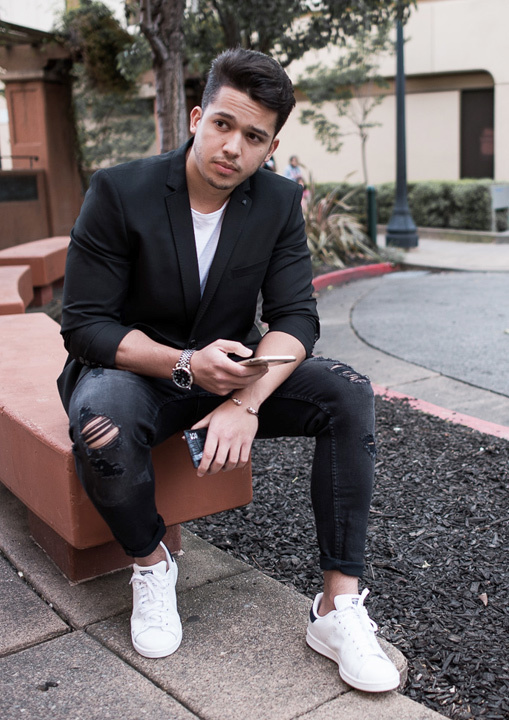 We hope you are now even more intrigued in trying out our suggestions for real, if you haven't already in your minds. Selecting a complete outfit including blazers for men with jeans with shoes is effortless, as there are plenty available options with rare chances of it going wrong. Balancing the blazer for men with jeans and shoes is the easiest way to get an all-embracing ensemble in your closet.
If you don't want to go through the hassle of looking for different options of shoes, then you can blindly trust a nice pair of leather sandals or boots that complement it. Black blazers for men and jeans with shoes is an outfit that hardly goes wrong and so is the blazer with jeans and sneakers combo that is a forever classic.
Acing the blazer with jeans and shoes combo takes least efforts and you always have the freedom to experiment with various combinations according to your own comfort zone. In a nutshell, complementary and vibrant colors always enhance the overall jeans and blazer outfit.  We're sure that this timeless attire will have your back all year, on any given occasion. All that's left now, is for you to 'blazer up' and ace the dapper yet chill look like never before.
Image credits: The copyrights of the images used in this post belong to their respective owners. The credits where known are specified under the image - if you're the owner of an image and want it removed, please contact us.