I started acting at 16, when I was enrolled at Mithibai Junior College. When I expressed an interest in acting, my mom, who's also an actor, said, "why not try doing an acting workshop?" So I did a spell at Nadira Babbar's theatre workshop. Pretty soon I started acting in TV commercials, and since then — I'm 21 now — I've done lots of ads. I've made videos with Filter Copy, I've made short films for children in the 9th and 10th standard with EduMedia. This year, I acted in a short film that won the Best Short Film Award in the International Film Festival of India. I also won the Best Actress Award for it. And I'm also making my feature debut early next year with an Excel feature film.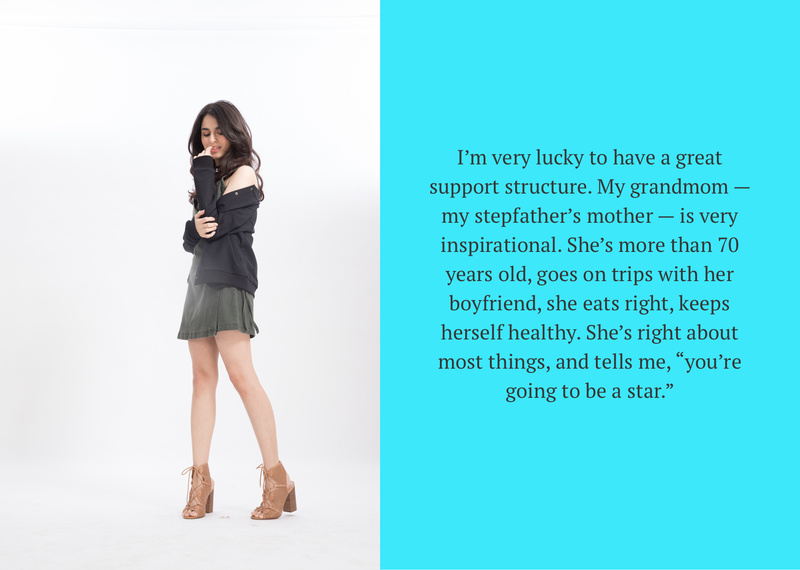 I don't think I've ever had to struggle professionally because I'm a girl. The struggle is more day-to-day with the normal things. The reason I think I haven't had to struggle as much is because I have a very supportive family. My mom, my grandmom, my aunt, they're all from the industry, and they're all very supportive. For a while, my mom would come with me for all my auditions. The first time she sent me on my own, I came running back home; I was so nervous. But my mom told me, "it'll only make you better, having this experience." My struggle now is more professional. I don't want to be mediocre. I want to do good work. Besides, until now I used to live with my family, and even though I've paid for myself for three years, I've never had to worry about bills, rent, etc. So there's that also.
But overall, I'm very lucky to have a great support structure. My grandmom — my stepfather's mother — is very inspirational. She's more than 70 years old, goes on trips with her boyfriend, she eats right, keeps herself healthy. She's right about most things, and tells me, "you're going to be a star." My aunt too — my stepfather's sister — knows everything about me. I've never had to hide anything at home. I tell her everything — breakups, alcohol, all that jazz. I tell my mom most things, too, but you know how it is with mothers.
She's my friends' best friend, though and has always given me the freedom to choose, like when I skipped my 12th standard boards because of this amazing opportunity with a Pakistani studio. They were shooting in Bangkok and they wanted me to come, and were willing to pay for me and my mom. I asked her if I could do it, and she laid down my options and let me choose. I had never been abroad before and it seemed like a great opportunity, so I chose to go. And I haven't had to look back since.
Image credits: The copyrights of the images used in this post belong to their respective owners. The credits where known are specified under the image - if you're the owner of an image and want it removed, please contact us.