I joined Obataimu as an intern, and within 3 years, I became the Head of Production. I got to work with tailors on the grassroot level and was doing very well. But it started becoming difficult for me to balance work with my passion for theatre. I acted in my first play a while ago, but because of my work, I wouldn't be able get to rehearsals on time. However, I plan on doing theatre and stand-up now. My first ever standup is set next month in Kohima, my home-town.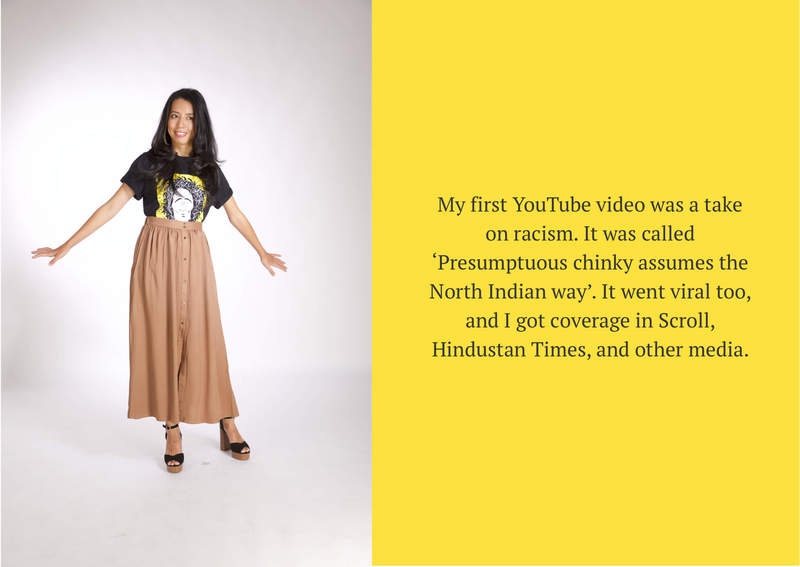 Two years ago, I made a very short and funny video with my cousin. My cousin shared it with friends back home, and it started going viral. My friends were sharing it with me saying that they found this video online. After the success of that video, my cousin suggested I make more. So I set up my Facebook page, and people back home started to learn more about me.
My first YouTube video was a take on racism. It was called 'Presumptuous chinky assumes the North Indian way'. It went viral too, and I got coverage in Scroll, Hindustan Times, and other media. But that video was just one of the things I did. My videos are about a bunch of other things, mostly random.
When I made that first YouTube video, many people were like, "why are you complaining so much?" See, xenophobia always exists, with people thinking others will take their jobs, or take away their land. Look at America now, where so many people like that have been emboldened. So yes, you do struggle a little as a minority. But I'd say it's not that bad.
Image credits: The copyrights of the images used in this post belong to their respective owners. The credits where known are specified under the image - if you're the owner of an image and want it removed, please contact us.