When I was 18 I won a pageant that happens in a Defence Officers Institute. Soon after work started coming to me because the photographer had put my pictures up on some website. You know how it works — one small thing leads to another and you start to make money on a daily basis. It's very exciting to get ready, wear interesting clothes, and do fashion shoots. This way the ball started rolling, and I joined Elite. While with Elite, the Fashion Week happened.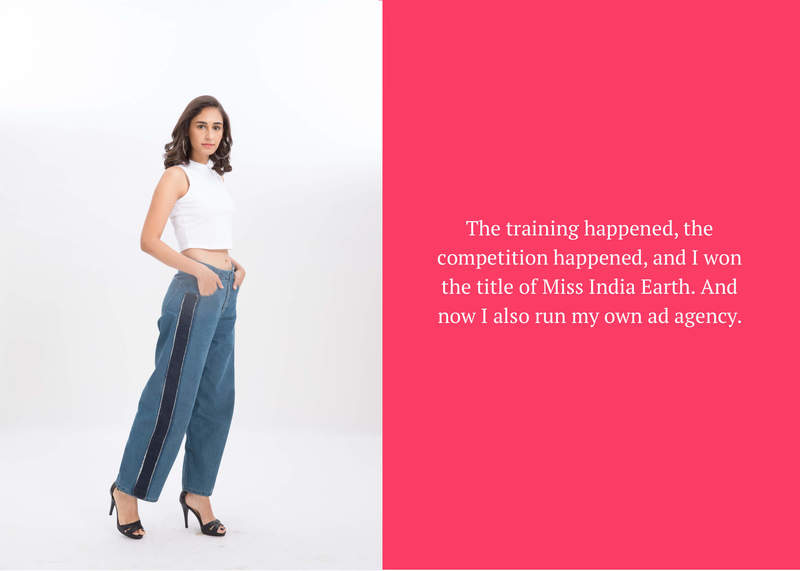 I was planning to go get myself a job in an ad agency, and gradually climb the ladder to being a Creative Director. But once the modelling started working I thought that if I'm giving myself a push, and not settling for a job, I might as well do it properly. So I filled the form. The training happened, the competition happened, and I won the title of Miss India Earth. And now I run my own ad agency.
It's always difficult to pull work in when you start your own company. There's so much competition in the market, and then there are bigger agencies. It's difficult to make your mark in the ad industry. But once you've made a mark, it's better. When I go for client meetings and pitches, I never go as a model. I go as a businessperson, and me being a model has no bearing.
Image credits: The copyrights of the images used in this post belong to their respective owners. The credits where known are specified under the image - if you're the owner of an image and want it removed, please contact us.