Read about the different ways of dupatta draping styles for salwar kameez for a chic traditional outfit. Also, styling ideas for lehenga-dupatta draping styles. These ideas could help you to rock an ethnic look.
Dupattas have been a closet favourite since times immemorial. Your grandmother had it, so did your mother and so do you! Trends have changed, fashion styles have modified but dupattas have stayed and it's no surprise why. Pairing a dupatta with any outfit gives it a twist, either a bout of colour, an extra style or just the edge to make you stand out. Gone are the days when dupatta was considered a traditional clothing item, rather it has made its way into the modern wardrobe. It's the contemporary piece of clothing that goes with anything and everything, but if you're still stuck on the old-school ways of wearing a dupatta, we at Bewakoof will alter your imagination. So stop wondering about dupatta draping styles for salwar kameez or about lehenga dupatta draping styles, because we will get to the solutions for those as well:
There was a trend in the recent past where women began wearing their traditional suits sans a dupatta but realising this fashion blunder, dupatta made a comeback in a way that more and more women started experimenting with dupatta draping styles for salwar kameez, anarkali and punjabi suits. There might have been times during weddings and ceremonies when you have wanted to wear a lehenga but ditched the thought due to the dupatta becoming an obstacle while dancing. That will never be a doubt if you ace the apt lehenga dupatta draping styles which will help you enjoy and dance at the function carefree.
Understanding Dupatta Draping Styles for Salwar Kameez
Indian dresses are known to only enhance one's beauty, and what's better than experimenting with those dupatta drapes right? Along with drapes, you could also experiment with the dupattas and if you are wondering about the different styles of wearing dupatta on salwar, worry not.
Styling a White Suit with Colourful Dupatta: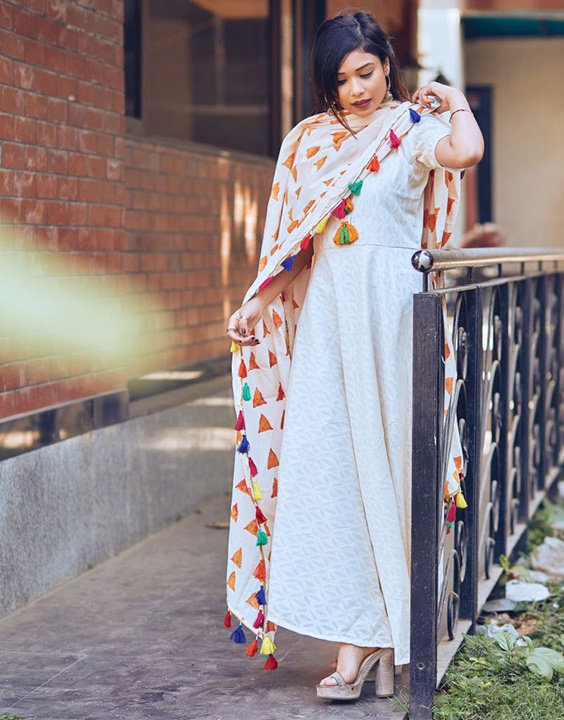 A white suit can make you look serene, but do you really want to look like a plain Jane? Why not bring it up a notch, only by adding one accessory to complete an all-white look by wearing a dupatta. Combining a white suit with a colourful dupatta like a chanderi silk dupatta can make it stand out and some jhumkas to go with this ensemble with juttis, it can complete off as a ceremony look or even as indian formal wear to work. If you understand different dupatta styles on salwar kameez, you can easily transition this look to suit whichever occasion you want. This ensemble will make you look simple yet fun and beautiful, effortlessly.
Styling a Plain Suit with Heavy Dupatta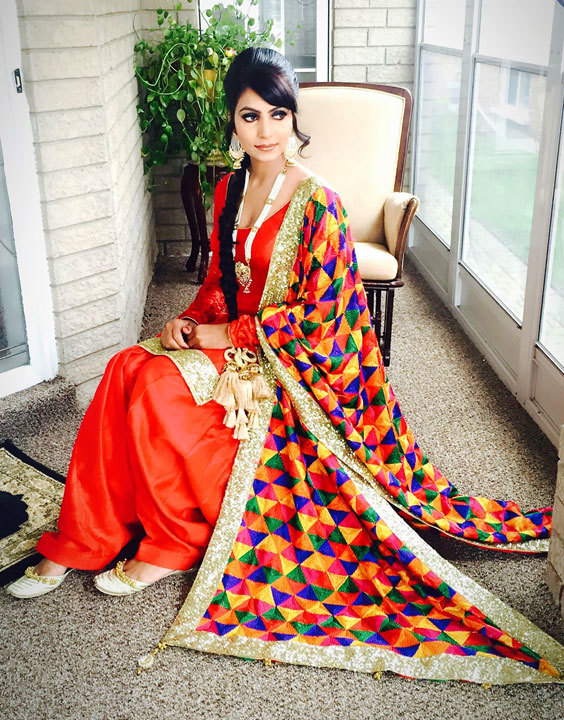 If you think a white suit is too low key blank for you, then go for a splash of colour on your salwar kameez. You need not ponder much on how to wear heavy dupatta on suit if you plan to look all decked up, because a heavy-work dupatta can up the game for you. Pair your plain salwar kameez with heavy dupatta that has embroidered work like a Phulkari dupatta that talks fashion out loud for itself. A black or yellow suit with highly intricate work makes every girl look unique.
Styling a Plain Suit with a Printed Dupatta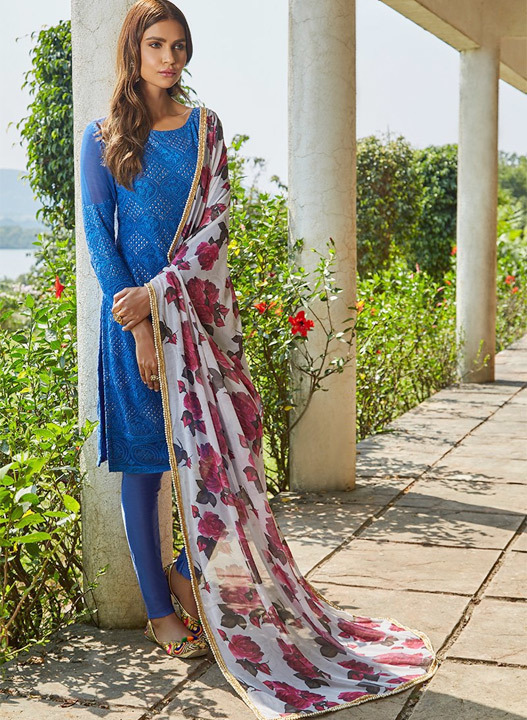 Now that you are not in a lot of confusion about how to wear dupatta with salwar kameez, our last tip is to work a pair a plain salwar kameez with a printed dupatta. Wearing kalamkari printed dupattas that describe a part of our mythological culture or ikat prints work really well to go for a traditional function, whereas, you can easily twist that to a more festive wear by wearing something much heavier like Zari which is timeless. Similar to heavy dupattas, styling plain suit with printed dupatta is also just as easy.
Style Guide for Lehenga: Dupatta Draping Styles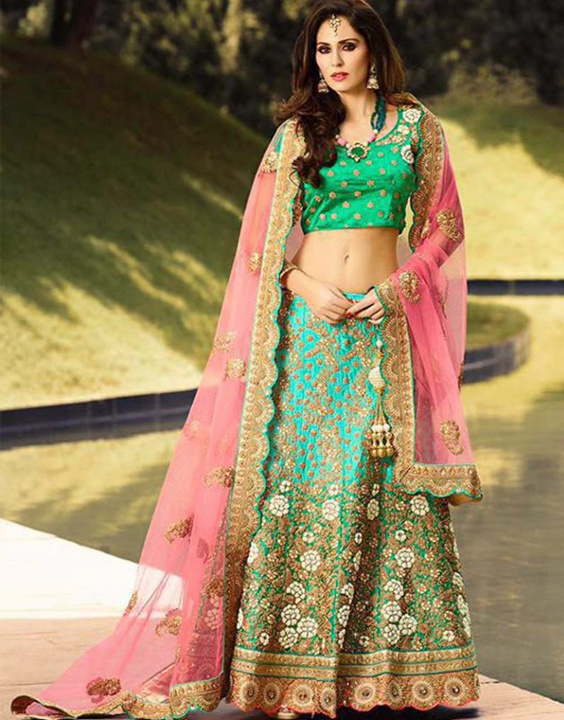 Who wants to ditch an occasion to wear a lehenga, but what's the fun in the conventional styling? There have been so many times that you have often wondered how to wear dupatta with lehenga but your efforts might have gone futile adjusting that pallu, so here are few steps to get the right drape to rock the lehenga look like your fav Bollywood celeb.
How to wear Dupatta for Lehenga?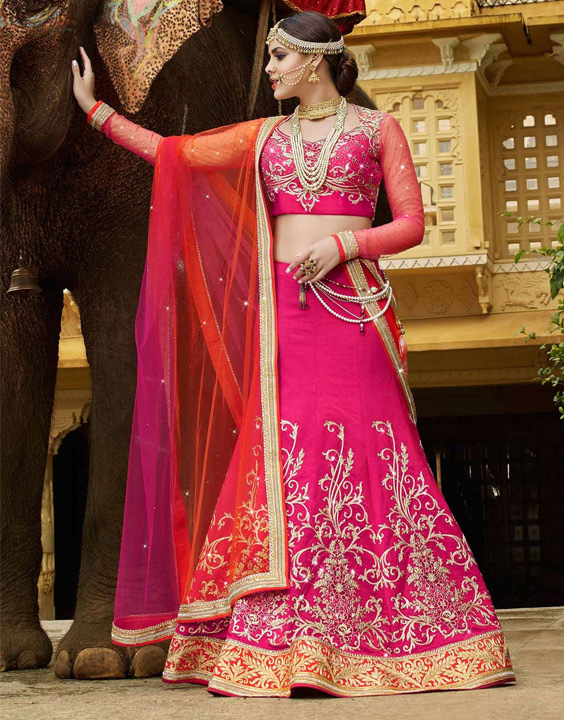 If wearing a lehenga is your inhibition because of a particular reason, use the dupatta in your favour to hide those flaws. Whether it is an extra tummy that is bothering you or you're too shy to show off skin, a dupatta can help you overcome these fears just in the draping styles. Like sporting a full sleeve or cold shoulder to suit your body type and arm muscle is a smart decision to make, similarly wearing the dupatta in a particular way can help you not only look stylish but hide the tummy fat.
Various Dupatta Style for Lehenga- Go Glam!
A drape around

The drape-around pallu was first in fashion, courtesy Rani Mukherjee in Shava Shava and it soon became a part of the fashion scene. If you are wondering how to take dupatta on lehenga fashionably, this is the simplest way to do it.

Elbow style

The elbow style is also not the quite standard kind, it is actually a bit non-conformist and modern yet keeps the look very traditional.

One shoulder-one arm

This draping style works best for a plain lehenga with heavy dupatta as you can wrap the dupatta around an arm and take it over the shoulder, leaving the rest as it is or taking it into your other hand.
How to wear Dupatta for College?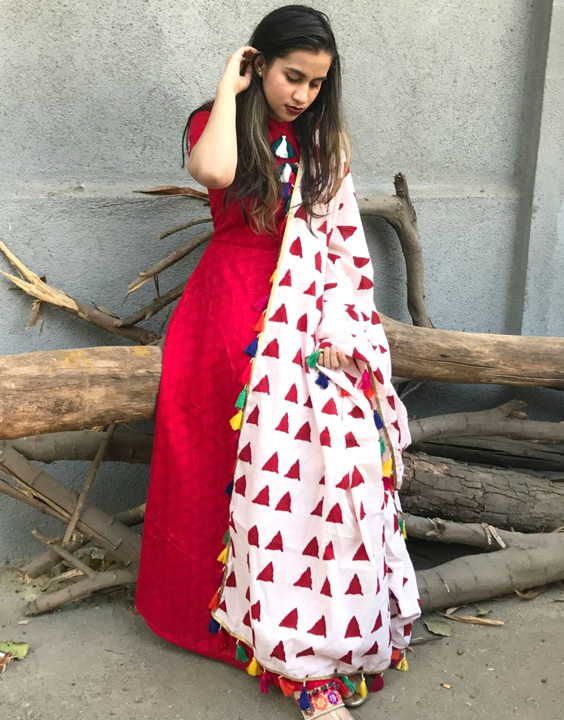 While we already know different dupatta draping styles for salwar kameez and lehenga, if you're a college girl and are wondering how to take a dupatta on a daily basis for more regular wear. You can either try the plain suits with heavy dupatta style or another way is to drape the dupatta in a saree style over jeans a blouse top. Draping a printed dupatta on different types of dresses like a midi dress or a denim shirt dress can also look extremely stylish and can work as college wear. You can use printed ikat dupattas as headwear which can play the part of looking funky and (t)rad. Make that dupatta your best accessory, ladies and don't limit dupatta styles with suits!
Image credits: The copyrights of the images used in this post belong to their respective owners. The credits where known are specified under the image - if you're the owner of an image and want it removed, please contact us.