Read about the different types of shrugs and outfit ideas for a trendy ensemble. Learn about shrug styles and types of shrugs to wear with different apparels and increase your Style Quotient. Check out the stylish outfits you can make with these styling ideas.
A shrug is a women's jacket or a cover up that can be worn additionally over an outfit. Shrugs come in various lengths and styles. There are different types of shrugs like long shrug designs and short shrugs, sleeveless shrugs, ones with sleeves and those with stylish sleeves, the styles are countless. One thing that we're sure of is that these shrugs are absolutely perfect for winters, summers, formal occasions, casual outings and more. These shrugs also are total thumbs up in terms of the style quotient.
Types of shrugs trending this season
Now, as we've already mentioned, . One may get confused while choosing the perfect one to flaunt this summer. Well, don't worry; we're here to give you advice on the best shrug design to choose. So this summer is all about layering, hence different types of shrugs are playing a major role to keep you in style. When it comes to fabrics, try to choose fabrics that are breathable and light. Don't go for knitted fabrics or heavier ones. Though velvet is trending majorly this season, please don't go for velvet fabric! For this scorching heat, sleeveless shrugs might be your best bet! Also, when it comes to prints and colors opt for florals, solid colors mostly pastels and vibrant colors for days and you can choose darker colors for night outs. Apart from florals, you can try opting for minimal graphic prints, typography shrug style, and tropical prints. The above mentioned are very much in trend these days so do buy them if you see them or wear them if you have them in your wardrobe already. And if you want to know how to wear shrugs with elegance and style, let's get reading:
Long Shrugs with jeans combination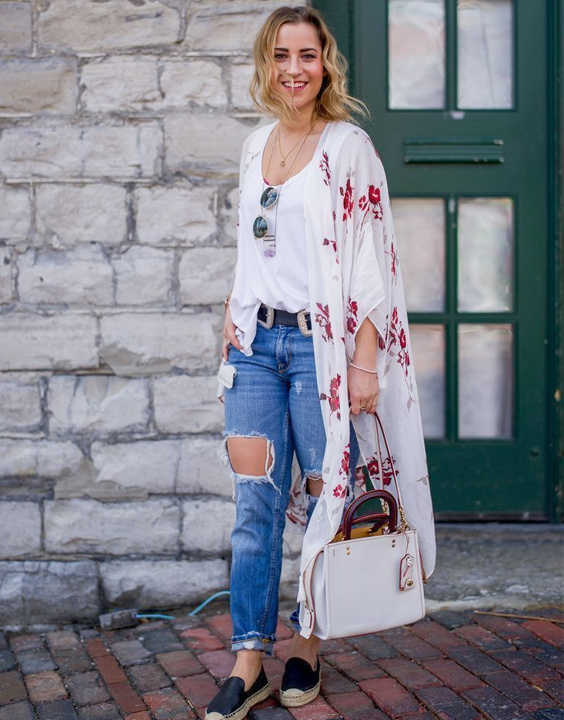 Long shrug designs are anything that comes goes beyond your waist, they're long and can come till your knees, ankles or hips. These long shrug outfits look amazing for a music festival or for a casual day out for a breezy vibe.
Long shrugs with jeans or shorts could work  if you want to go for a breezy, chic outfit for a day out or anything.
Styling ideas for long shrugs with jeans:
They go well with tank tops, spaghetti tops when paired with jeans. Now, how to wear a shrug with jeans? If you like to dress up in a feminine way, try pairing these with a pair of skinny jeans or a ripped straight fit jeans. If you like to achieve a rough and a casual look, try opting for a boyfriend jeans or a distressed boyfriend or a mom jeans. These shrug styles give you a perfect laid-back and a casual look. These can be your go-to piece from the wardrobe whenever you're in a hurry or on a lazy day when you don't wish to dress up too much. You can style a long shrug with your favourite white sneakers, flats or even heels. There is no hard and fast rule as to what you should pair with your shrugs in terms of shoes.
How to wear shrugs: Cropped Shrugs with dresses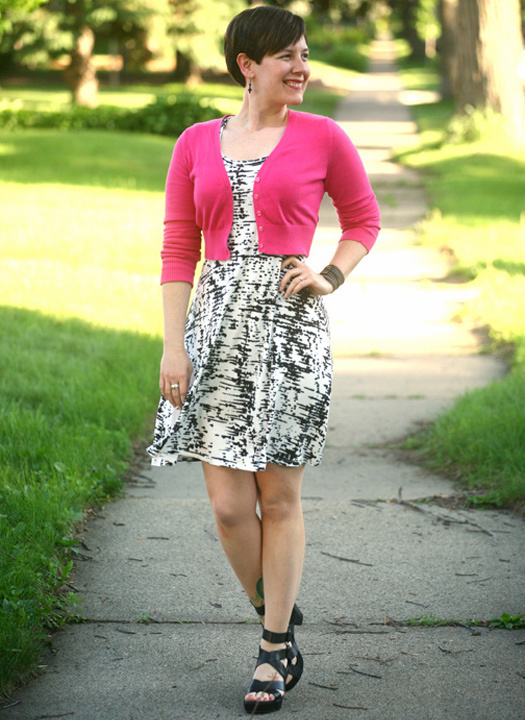 A cropped shrug design is a mini version of a shrug. They are short, cute and very stylish. These shrugs often have a length till above the waist or even smaller.
Styling cropped shrug with a dress:
Styling a cropped shrug is very simple, basic and easy. It's also very chic and a stylish way to add glamour and fun to your summer dresses. If you're wearing a printed dress, or a shrug for summer dresses full of colors, choose a solid colored shrug. If you're opting for a printed shrug with dress, then try opting for a solid coloured dress. Not to mention, if you're the one who's ready to experiment with their looks, go for print clashing. Print clashing is one of the major trends that are ruling this season on the runway and everywhere else. Also, you can wear your cropped shrug with a skater dress, a straight dress or maxi dress. Cropped shrugs style are one of the best ways to flaunt the best parts of the body.
Fringed Shrugs with jeans: tops with shrugs combination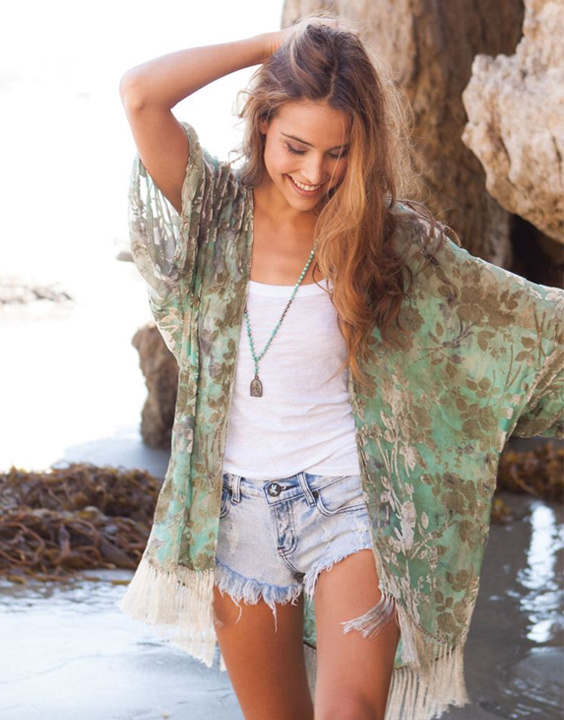 When you're understanding how to wear shrug, a fringed shrug might work for you. It's a shrug that has numerous threads loosely hanging from its edges or from anywhere else. Fringed shrugs are very stylish and give you a total retro look! Among long shrug designs, fringed shrugs offer a lot of variety.
You can even style a fringed shrug with a graphic T-shirt, we have introduced a customized T-shirt collection, where we print your own design on our high-quality T-shirt. Click on the below image and get your own tshirt.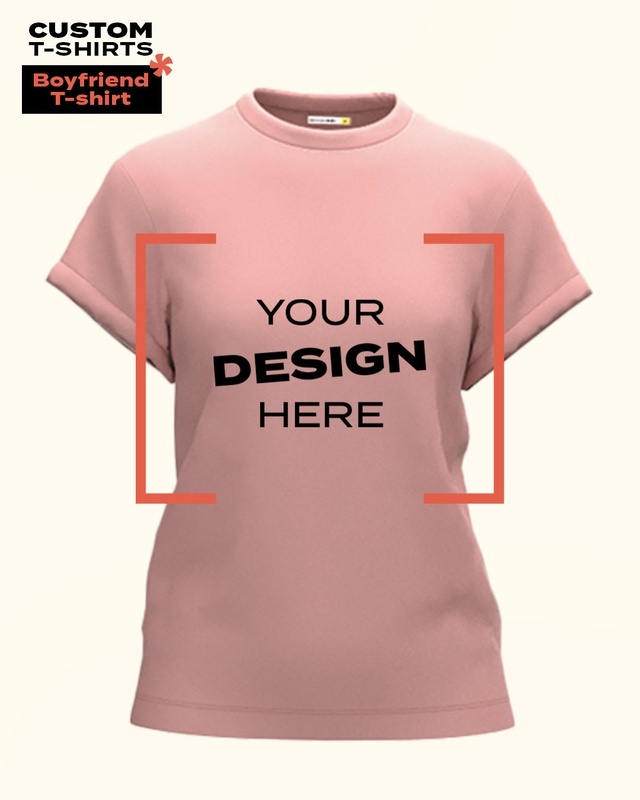 Styling tips for various tops with shrugs:
While looking into long shrugs designs, it's important to note that  fringed shrug styles are sizzling this summer, they can be a bit tricky to carry off. They do not really go well with all the tops and t-shirts that you might have. Fringed shrugs give you a very retro and a boho look. In terms of bottoms, you need to know how to wear a shrug with jeans and shorts. When it comes to top with shrugs and tees, you can pair them up with basic t-shirts or basic and minimal tops and blouses. Don't go overboard with loud colors and loud prints. Since the fringes on the shrugs are already screaming for the right kind of attention, opting for loud colors and styles in terms of tops can make you look too much! So keep it simple.
Lacy shrugs- Delicate shrug designs to look out for!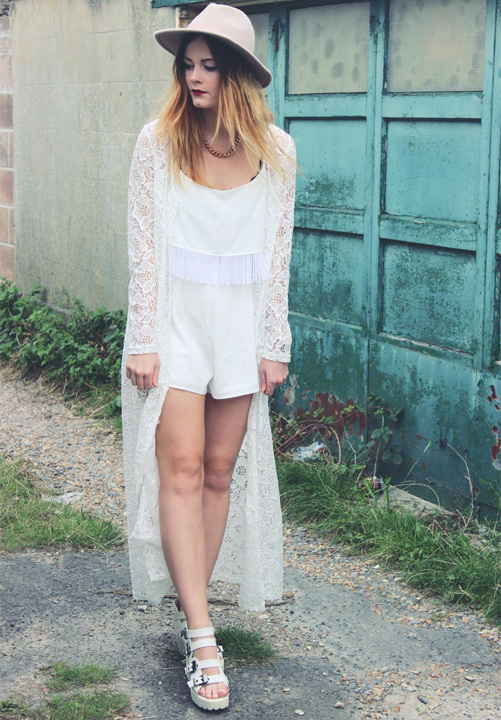 Lacy shrugs are those types of shrugs which are made up of beautiful yarns weaved into a fabric. It is weaved into various styles. Florals, leafy patterns are some of the styles that they have. These lacy shrugs look really magical over a tank top and shorts attire. Tops with shrugs are clearly a winning option, especially when the shrug has been made from delicate lace.
Styling ideas for one piece dress with shrug:
One piece dress with shrugs blend very well with each other. These beautiful shrugs for summer dresses can be a hit with jumpsuits too. To give full justice to you lovely delicate shrug, you can team it up with a solid colored jumpsuit, with a wide leg. Flared jumpsuits, short jumpsuits, and straight fit jumpsuits go very well with these shrug styles. Also, you can choose for a strappy outfit as it will enhance your appearance and flaunt your neck and your shoulders. One more thing to keep in mind is to never go ahead with too many prints in one shrug and a very loud color.
Floral Shrugs- Perfect shrugs for summer dresses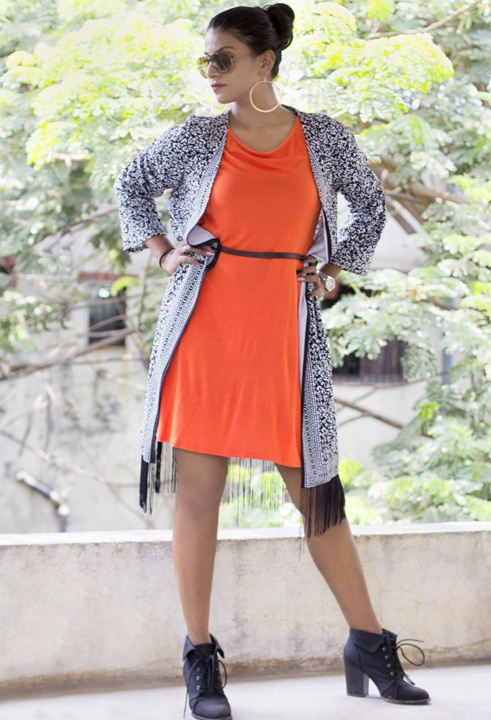 Floral shrugs are a summer-perfect piece that you can add to your wardrobe to look fresh, and trendy. Among shrug designs, floral shrugs are probably the most vibrant. An all-over floral print would certainly compliment a solid colored tee or tank top. Pick a vibrant shrug when you're trying to rock the top with shrug combo.
Ideas for styling floral shrugs for sleeveless dresses:
Shrug with the dress can give you an ultra-stylish look. Wearing a shrug over a summer dress not only transforms the look of the dress but also gives your look an added glam. Teaming a shrug with a dress can be carried forward from a day look to a night look. A shrug with a summer dress looks totally effortless and helps increase your Style Quotient. You can team your long shrugs for sleeveless dresses, cropped shrugs, lacy shrugs and almost any type of shrug styles. Also, florals plus dresses is a very cute style when putting together.
Know any other shrug style that you can rock this summer with chic shrugs from Style Quotient? Do let us know. Also do let us know which style you liked the most.
Image credits: The copyrights of the images used in this post belong to their respective owners. The credits where known are specified under the image - if you're the owner of an image and want it removed, please contact us.