Cinderella is proof that when you give the girl the right pair of shoes, there's no stopping her from creating magic! We don't believe in just one right pair though – we believe in many. A single look at our shoe closet and you'll know what we're talking about. We're not even the only ones; most women are crazy about shoes and rightly so!
Your shoes are an integral part of your #OOTD, but we're sure that we don't need to reinstate this. What we really need to do though, is point you in the right direction if you're considering buying some new kicks! Make it an experience that is both pleasant and fashion-forward; we have some ideas on how you should be going about it.
How To Choose The Right Pair Of Shoes For You!
Matches may be made in heaven, but your 'sole mate' is made here on earth. Allow us to aid you in finding the perfect match for your feet – because trust us, we all need tips & tricks when it comes to choosing 'the one', more among the trending shoes for women! Below are some of our top suggestions for buying shoes. Treat them not as guidelines, but checklist items that need to be ticked off before you go ahead and make a purchase. Here's ensuring that the 'order placed' notification turns out to be worth it!
ALWAYS refer to the size chart.
A lot of women online shopping websites will intimate you before you choose a size, telling you if you should go a size up or a size down. This is great, but sometimes, there just isn't an intimation especially if you've never shopped from the brand before. For better or for worse, size charts will prove to be your best friends. Don't forget to look at them thoroughly before proceeding to the checkout button, as they will not lie to you. It's also important to bear in mind that different types of shoes can have different ways of fitting you, so the numbers will only aid you further in making the correct choice. On the contrary, if you're at a store, ask the fashion consultant there to measure up your feet for you.
Give them a 'test walk'.
Just like you test drive the car you're planning to buy, you also need to know if your shoes do their job properly. Sizing isn't the only factor that comes into play in terms of footwear, but how they feel when you walk in them is a dead giveaway of what you're getting into – quite literally. Slip into the pair you love and then casually stroll in it for a good 5-minute span. Wiggle your toes around, clench and unclench your arch a bit, and generally observe how it feels to your feet. After all, it's best not to settle for anything less than 'happy'!
Keep the occasion, venue and season in mind.
Dress codes are often meant to be broken, but not in the footwear department. If a huge part of your job comprises a lot of heavy-lifting responsibilities whether outdoors or indoors, we're not saying that heels are a no-go, but we're just stating that you'd be better off with platforms or blocks to add the extra length. Additionally, seasons are a deciding force too. You can't opt for leather or closed-toe shoes in the monsoon, and you definitely can't wear silicon in the summers. While these rules are always a given, most of us tend to let them go if we see something we really like. What we should be doing is making our footwear game strong, and not just making the racks look prettier.
Do a quality check.
A lot of our decisions are based on a mere 'yes' or 'no', and shopping sure feels like one of them, right? Well, only partially. Shoes are the one thing that you cannot get through the day without (obviously), so god forbid if you were to have the dreaded heel-break or snapped-strap in the middle of your commute. It's not just inconvenient but also time-consuming to get it fixed or replaced, so we'd all be better off keeping a constant check on not just new but old shoes too, just in case.
As always, now that we've covered the technical bits, it's time to uncover and know more about the trending shoes for women right now! Read on to know the ones you should watch out for and definitely add to your collection.
1) Country Chic: Cowboy Boots
Let your inner country girl come out and play in a pair of nicely-made cowboy boots! We love all that they have to offer, and how they strike the perfect balance between easygoing and ever-stylish! This western number is very much among trending footwear right now, but we don't think it needs trend charts to be relevant.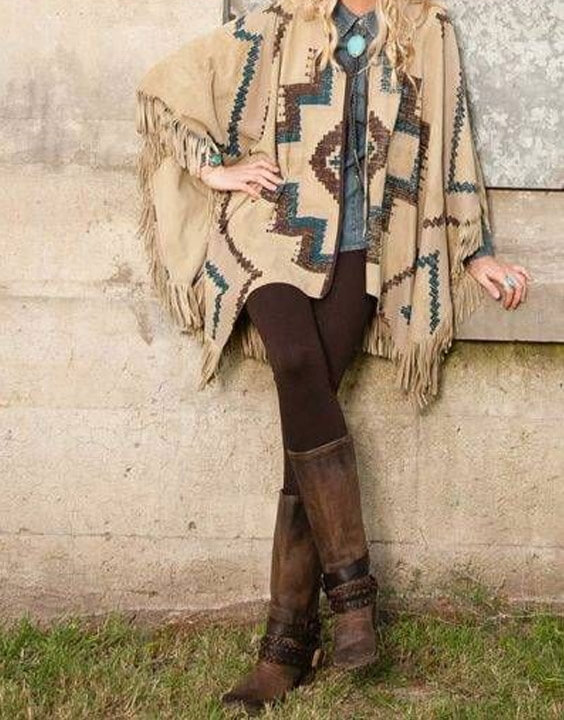 Style Tips
Go the boho way with a fringed throw over a shirt and a pair of leggings. Finish with washed out cowboy boots and don't forget to braid your hair lightly.
Make it boho again, but this time – the urban kind, with a swing dress, a pair of cowboy boots, and a crossbody bag.
To get a little (or a lot) more into the whole 'country' vibe, nothing better than a cowboy hat to go with the boots. Add distressed denims, a plain tee and a casual jacket to the mix.
2) An Alternate Route: Kitten Heels
Sometimes, or most times, stilettos tend to feel like a LOT, and you can already feel your feet crying out in pain even before stepping into them. But, sneakers seem too casual and you don't want to be THAT laidback either. This is when you can turn to kitten heels, a trending footwear choice, and count on them to keep you classy and comfy all at once!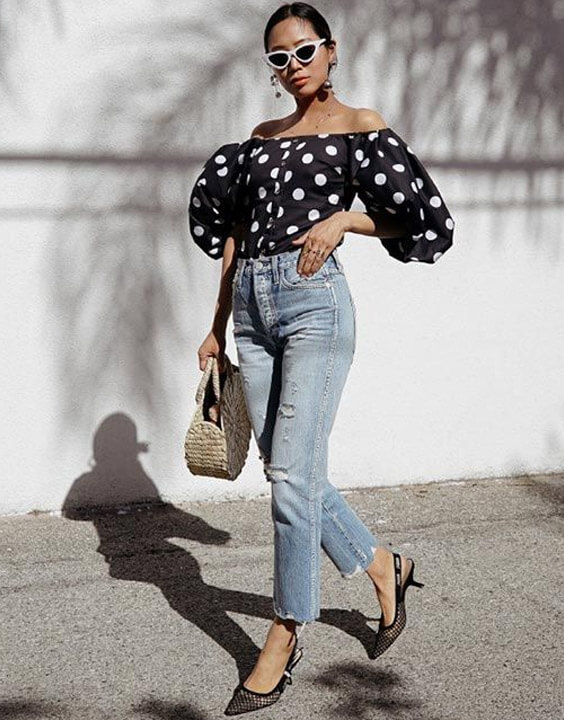 Style Tips
For a relaxed yet work-friendly look, don a pair of kitten heels, straight fit pants and a comfortable blouse.
Heading out for a quick chat over coffee? Nothing like an elegant top, a pair of jeans and kitten heels to make heads turn!
Did we mention that kitten heels are also great for grocery runs? Just pair them with a tee and jeans and you'll be ready to go! Don't forget your shopper's bag though.
3) Smart & Stylish: Sneakers
Our number one pick when it comes to dressing, sneakers a hit no matter the season! They aren't just trendy, but also super functional which makes them an obvious winner among men and women both. We can't help but reach for our comfiest pairs over and over again, and thanks to athleisure – we don't really have to stop. While white sneakers are all the rage, we're talking about these wardrobe must-haves as a whole. Colour, shape, material – none of that matters as long as they feel like you're walking on a cloud.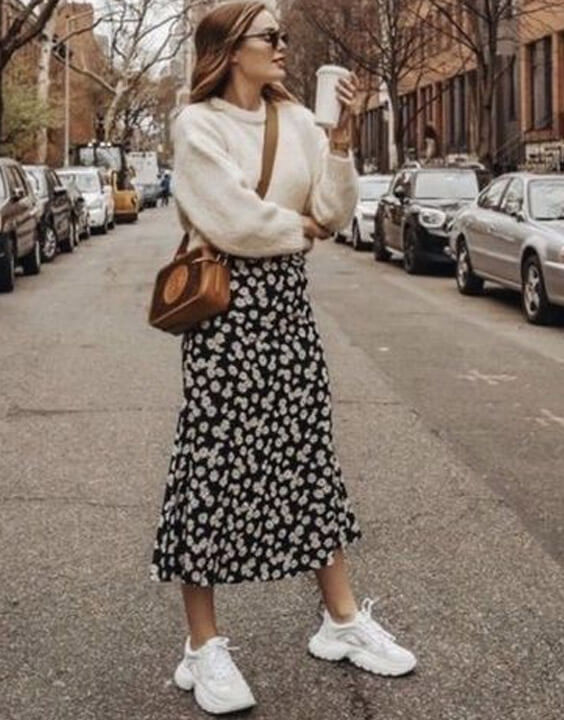 Style Tips:
Sneakers in neutral hues have been trending now, and they're best paired with earthy tones like olive green, white & black.
On the breezier days, slip into a soft sweater and a midi skirt, with chunky sneakers to add the perfect finishing touch.
To ace your on-duty look, pair a suit with sneakers! No, it doesn't defy the dress code even in the slightest of ways.
Don't  miss to check out our best white sneakers for women
4) Easy & Effortless: Sliders
A staple in the 'street' scene and also a hit on the runways, sliders have not only placed themselves as the 'it' shoes in the market, but also made their way into every genre of fashion. While there is still some controversy surrounding them, we stand firmly by their side due to two reasons – they are extremely no-fuss and are one step above flip flops because here, the strap won't randomly snap.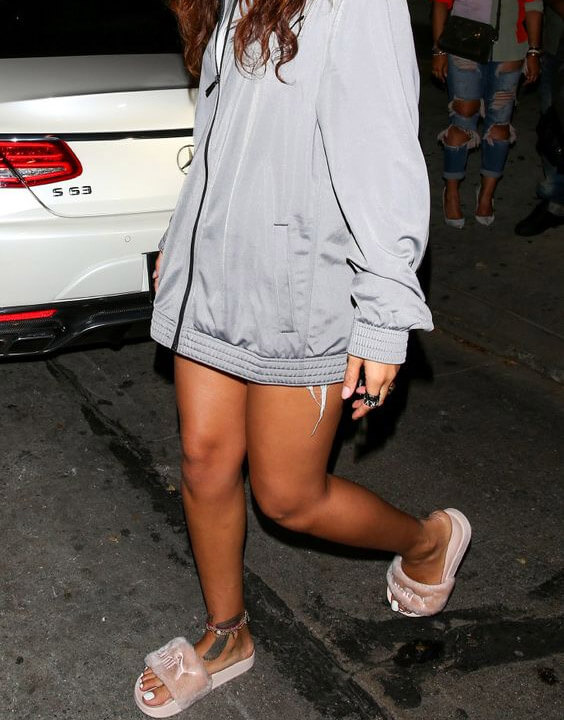 Style Tips
Undoubtedly, sliders make a great addition for your vacay wardrobe. Paired with a hat and printed overalls, they're the ultimate off-duty favorites.
You can also sport them for a lunch date with the girls by pairing them up with elegant cycling shorts, a cropped sweatshirt and a sling bag.
If you want to take the all-over street-style route, then don a bomber jacket slash dress, with a pair of slides to keep you company.
5) Everyday Stunners: Thong Sandals
The whole flip-flop game has started to become a little stale now, so this is your cue to ditch them for something better. We're talking about those T-shaped flats with a buckle at the side as well as a heel strap, that you keep hidden away in your shoe closet for weekend getaways or holidays spent by the beach. Take them out, because it's time for them to see the light of day. They're not just meant for the off-days, but they very much fit into your on-duty days too.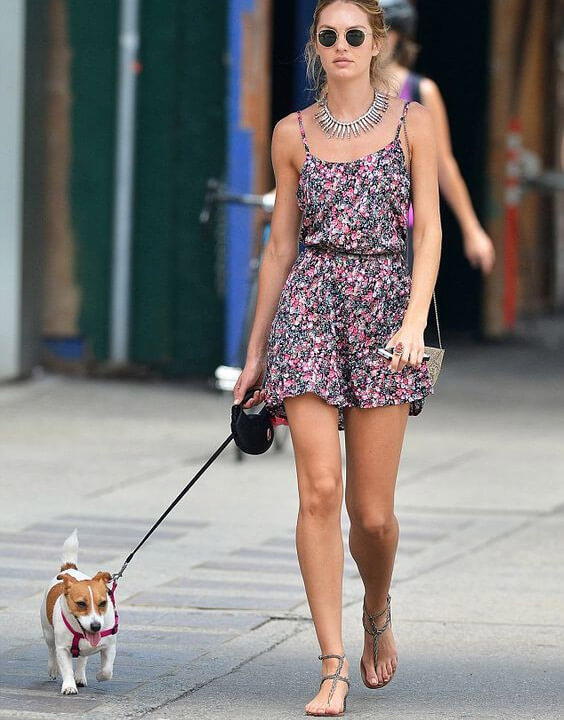 Style Tips
If a casual stroll or a hangout is on your agenda today, then slip into your best denim shorts and a shirt to go with. Then, let the thong sandals take your look to a whole new level.
You can even wear thong sandals to brunch if you pair them right! We think a denim jacket, a statement and pop necklace, relaxed trousers and a cute hairdo will do you A LOT of good.
If you do choose to make them a part of your holiday #OOTDs, might we suggest a relaxed playsuit to look absolutely on-point as you walk around the new city?
6) Androgynous Favourites: Loafers
Known to strike a pleasing balance between comfort and style, loafers are now a top pick when it comes to workwear – yes, among women too. It's a given that with years of flaunting heels, women would finally want something that keeps their feet happy and not just their feed. This is why loafers are a breakthrough for womens' fashion – they give off that 'sleek' appeal while not piercing into your heels every second. If you haven't tried them out already, well, what are you waiting for?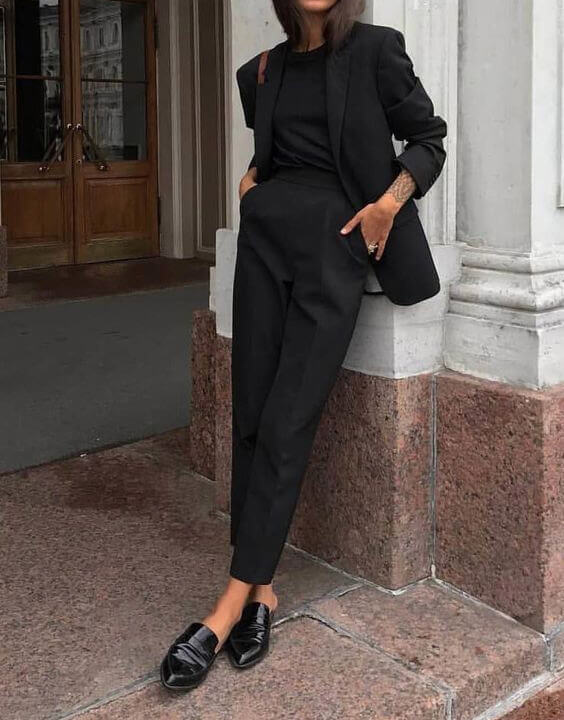 Style Tips
Make the perfect transition from work to weekend in a turtleneck top, checkered, slim-fit trousers and a pair of black loafers.
To further perfect your androgyny game, look no further than dress pants, a well-tailored coat, loafers and a unisex but statement-making bag.
If a day full of menial tasks lies ahead of you, give into a no-fuss #OOTD with printed loafers, a jumper and denims.
7) Feminine & Fabulous: Lace Up Shoes
One of the most trending footwear no matter the time of the year, lace up shoes may seem fussy (and they can be) but they'll never stop making a statement! They derive inspiration from the medieval ways of dressing, but their oh-so-modern makeover is what one should watch out for! You can tie them up in a simple style above your heels, or choose to get creative; there are absolutely no rules.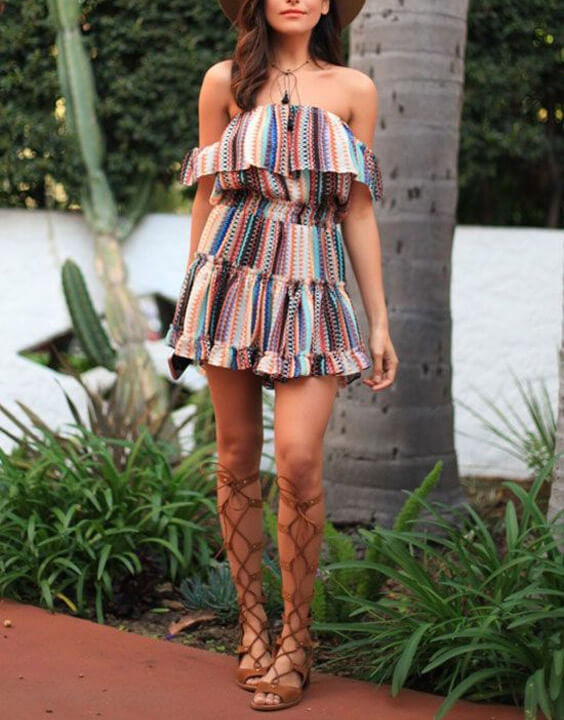 Style Tips
Channel your inner French-girl look in a cute yet edgy leather jacket, frilled skirt, tie-up ballerinas and a bold lip.
Boho seems to be a look that every girl is in love with right now (we included), so make the most of it by slipping into a tiered, off-shoulder dress in cutesy colors, a pair of tie-up gladiators and an oversized hat!
Choose to go a little retro with a fitted polka dot skirt, tie-up espadrilles with wedge heels, a cute top and chunky but tiny hoop earrings.
Now, we hope you've got all you need to step out in style – so don't forget to add a little 'spring' to it.
Image credits: The copyrights of the images used in this post belong to their respective owners. The credits where known are specified under the image - if you're the owner of an image and want it removed, please contact us.