Huge fan of those pretty pakistani kurtis with different cuts? One up your traditional wear game by acing the designer pakistani kurtis.  Read on to know more!
South Asian clothing is full of different traditional drapes and silhouettes. A few of these traditional dresses keep evolving with changing times. Kurti is one such crucial part of South Asian clothing style that has been adapted by different trends. The versatility of kurtis is what makes it a wardrobe essential. No matter how many kurtis you own, it is never enough.
There are kurtis available in various styles, designs and sizes suitable to different target audience as per their need. Basically, a kurti is the go-to option for anybody who wants to opt for style and comfort simultaneously. Over all these years, kurti has undergone various design evolutions and adapted the forms given by the designers. Whilst letting them express their forte best through the designs, it never lost its elegance and charm in the transit. Some of the major fashionable kurti goals come from across the border.
Yes! There is no doubt that Pakistani designers are globally appreciated to bring the best of both glamour and sophistication through their kurti designs. Be it dazzling wedding collection or breezy lawn collection, Pakistani designer kurtis with different cuts are wardrobe must-haves. Plush fabrics, pastel shades, intricate embroidered patterns and tricky silhouettes are the major highlight of designer Pakistani kurtis. It is important that you learn more in detail about these stunning Pakistani designer kurtis with different cuts before you plan to buy some.
6 Pakistani designer kurtis with different cuts are trending this season!
Long A-line Kutis:

Source – Pinterest

Long Pakistani kurtis are in trend. A-line silhouette is a classic style that has always been a go-to style be it a work wear or college fest. The straight hem and long structure will make you look taller. Also, Pakistani long kurtis with the fitted structure at top with gradually widening structure makes it a favorite choice for rectangular and pear-shaped body types.  The crisp silhouette makes it look sleek and elegant. Long A-line Pakistani kurtis go best with churidars and palazzos.

Front Slit Kurtis:

Source – Pinterest

Pakistani long kurtis with a front slit entered the ethnic wear section along with the new trends and evolution of Pakistani long kurti designs. The cut at the front of the kurti not only lends it a stylish appeal but also adds to its comfort factor. It is best known for the formal wear use purpose. It looks clean and classic with churidars. To create a dramatic look, you can opt for a complementing pair of palazzos. Kurtis with a front slit are the most popular among Pakistani long kurtis online.

Overlay Styled Kurtis:

Source – Pinterest

Overlay is a pattern which has multiple layers. Designer Pakistani kurtis with overlay pattern are usually designed having one base layer of opaque fabric either plain or printed layered with a sheer fabric. The sheer fabric layers are intricately decorated with embellished and embroidered patterns which are trending. Most of these sheer fabric layers are flowy and are crafted out of fabrics like chiffon and net. Pair these with linen pants or ankle length leggings for a comfortable ensemble. For a trendy party look pair these kurtis with culottes.

High-low Kurtis:

Source – Pinterest

The latest Pakistani designer kurtis are the latest face of trendy kurtis. The high-low pattern has front hemline shorter than the back. It comes in various lengths to suite your comfort. For a party function pair it with your favorite pair of denims whereas for a formal ensemble pair it with a complementing churidar or leggings. To create a breezy look high – low Pakistani kurtis with palazzo are a great combination. A lot of designer long kurtis Pakistani style are seen with high-low pattern making the most of the trend.

Tailed Kurtis:

Source – Mruga

Tailed kurtis sport tapering ends on both the sides of the kurtis. Pakistani long kurti pattern of this style are usually seen sporting intricate embroidered pattern around neckline and long sleeves. This pattern looks elegant and youthful. For a fancy appearance, pair it with churidar or denims. Tailed kurtis are gaining lot of importance among the long kurtis Pakistani style.

Baggy Kurtis

Source – Square Space

The current favorite of fashion lovers scrolling through Pakistani designer kurtis images, baggy kurtis are the spade of trends. Baggy pattern and thigh-length style makes the look taller and sleek. Not to forget the pattern of a perfect blend of comfort and elegance. Pair it with ankle length leggings for a glamorous look. For a quirky fashionable look pair it with denims.
How to style Pakistani long kurtis?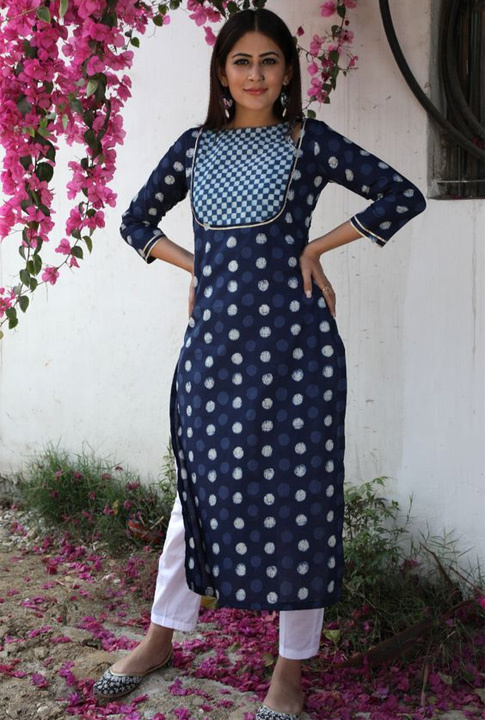 There is no doubt that designer Pakistani kurtis have changed the definition of kurtis on a global platform. This can be proved by the designer Pakistani kurtis online. The sharp cuts and dainty details added by the designer to these edgy Pakistani designer kurtis make them the highlighting feature of the ensemble. Designer Pakistani kurtis are usually observed with patterns inspired by nature like trees, flowers, birds etc. Although, a lot of designers have been now experimenting with abstract art and geometrical patterns for the Pakistani long kurti design.
It is important to understand the look and feel of the kurti and style it properly to get the best result. There are various ways to style different Pakistani designer kurtis with different cuts. Speaking about the most common design long kurtis Pakistani style, is one of the most important part of any wardrobe and can be styled in several ways. To create a traditional look, pair the Pakistani long kurti with embroidered details with a pair of palazzo pants in complementing shade. Pakistani long kurtis with palazzo is a classic combo. For a contemporary ethnic look you can opt for long Pakistani kurtis sporting digital print all over with an ankle length churidar. For all those trend conscious fashionistas, team-up your designer long kurtis Pakistani style, with your favorite pair of denims. A rugged or distressed pair of denims can add a dash of funky fashion statement to the ensemble. Complete the look with oversized jhumkas and kohled eyes.     
Pakistani long Kurtis with Palazzo pants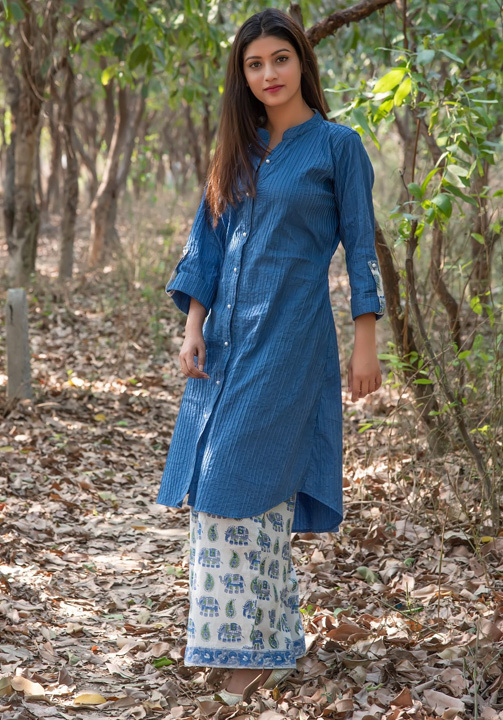 There are various ways to style Pakistani kurtis with palazzo. The traditional way to style Pakistani designer kurtis is to pair it with straight fit pants or palazzos. The cylindrical shaped palazzos also known as Pakistani pants are widely used to style designer Pakistani kurtis. Palazzo pants come in both narrow as well as wide flared patterns. Most of the Pakistani designer kurtis with different cuts go well with palazzo pants. A long kurti Pakistani style with palazzos is the most versatile and evergreen combination.
We all love new trends and when the trends are evolved out of traditional styles we love them even more. Pakistani designer kurtis with different cuts and long kurtis design Pakistani style are a new face of traditional kurtis and represent today's women rightly. We hope this blog helps you show your fashionable style with the right choice of kurti.
Image credits: The copyrights of the images used in this post belong to their respective owners. The credits where known are specified under the image - if you're the owner of an image and want it removed, please contact us.