'Tis the season of celebration and Karwa chauth is just around the corner. Want to know how to look beautiful on karwa chauth? "Read on for some handy tips and show your beauty to the world".  If this is your first karwa chauth, you shouldn't miss this!
Karwa chauth can get overwhelming for many. "Patience and nerves will be tested!" we're just kidding, or are we?
You don't have to worry about looking your best though, let us help you choose the perfect dress for karva chauth this year.
Karwa Chauth Special Style Tips- What To Wear On First Karwa Chauth
If you're wondering what to wear and how to look beautiful on karva chauth then let's get one thing straight, the right dress is a freeway to a great look and karwa chauth is the perfect occasion to go a little OTTP with your outfits. Follow this guide to nail your first karwa chauth in style!
1.Start The Day, Dressed Your Best In An Anarkali Suit For Sargi!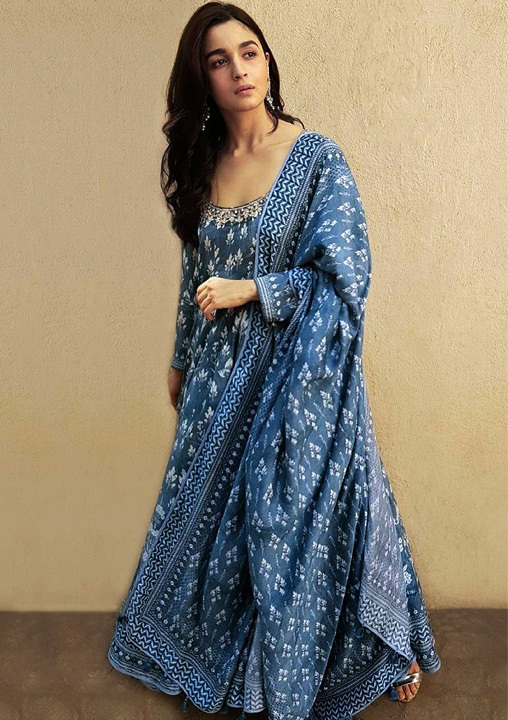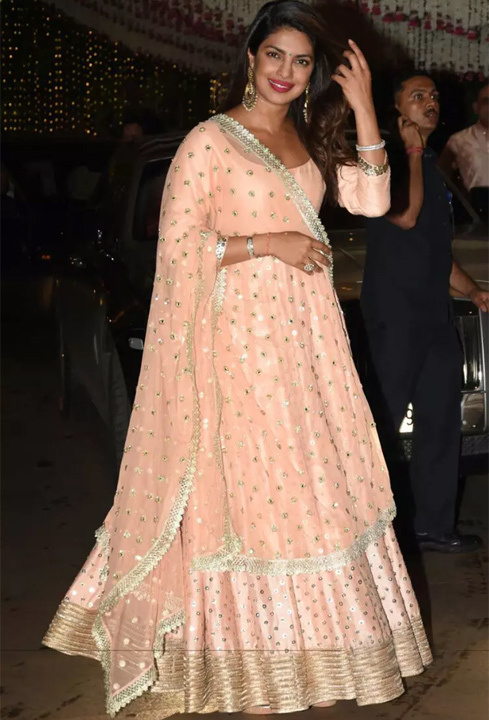 It's your first karwa chauth and you're probably wondering what is sargi in karva chauth?Sargi is the pre-dawn meal consisting of sweet and salty delicacies usually cooked by the mother-in-law for the daughter-in-law to prepare her for the long fast.
If your 'Saasu Mom' is a generous lady then some other cool gifts might come your way too. Perhaps special karva chauth dresses to wear for the rest of the day.
It's a very special moment when the mom-in-law presents the sargi to her new daughter thus wearing something special is a requirement.
Choosing simple, printed anarkali suits in subtle colours like beige, cream, gray, light pink or blue would be perfect for the occasion and practical for the "long day".
2. Slay At Baya Ceremony In A Jacket Lehenga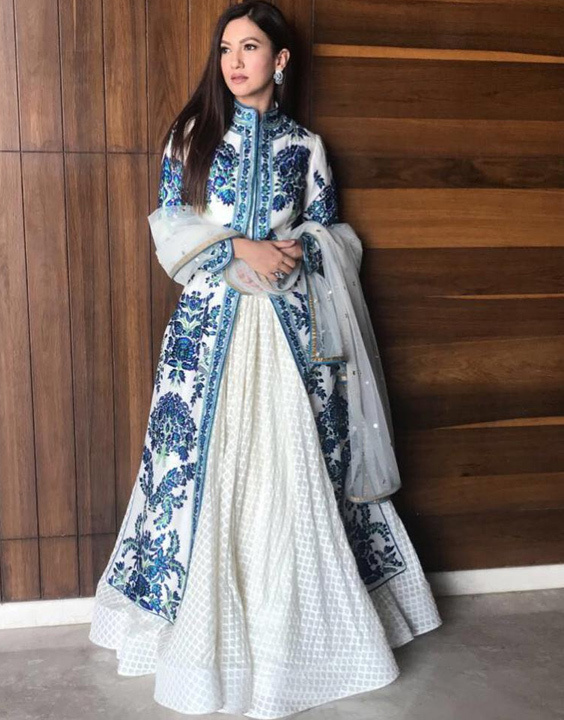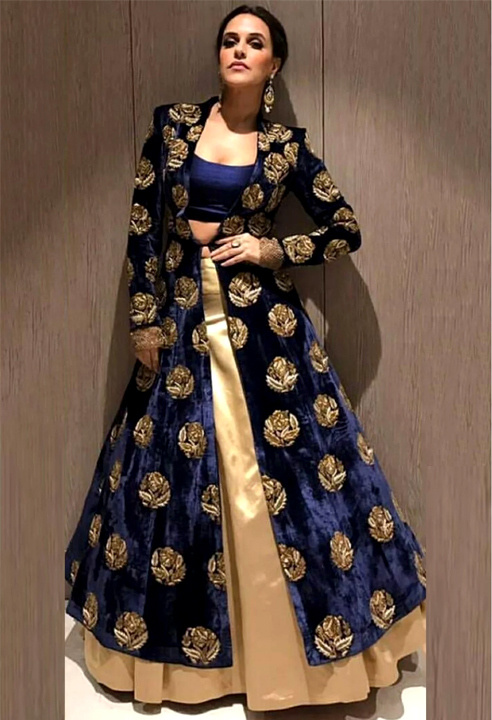 The Mom-in-law gets her share of gifts too. It'll probably be a family gathering when your mother gives the Baya (sweet and savoury mathris, nuts, utensils and other gifts) to your in law. You know such occasions call for a dress change!
A fusion outfit like a jacket lehenga could be your karwa chauth special dress at this point in the day. Avoid red because it's still not time for the show stopper! You can play with dark and light colours, embroideries and prints.
3.  Karwa Chauth Special Sarees – A Killer Duo To Choose From For The Main Pooja!
Save the best for the last. It's time to remind your husband how lucky he is to have you, so don't shy away from flaunting what you've got!
Bring Out The Big Guns With A Classic  Red Saree For Karva Chauth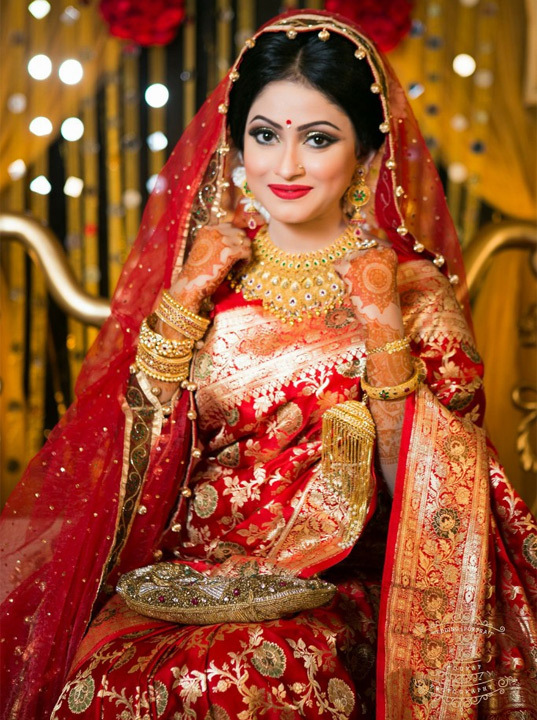 "Whatever said and done, You know you're going to be in the spotlight and a star needs to dress like a star."
What better way to shine than in a classic Red karva chauth saree. A red saree can knock all the other karwa chauth dresses out of the way and how!  This masterpiece has no comparison and thus makes for the perfect showstopper. A simple red silk saree with golden or silver work is all you need.
This is the time to go all out because you don't want the karwa chauth thali to overshadow you, right?
Relive The Bridal Dreams In A Beautiful Lehenga Saree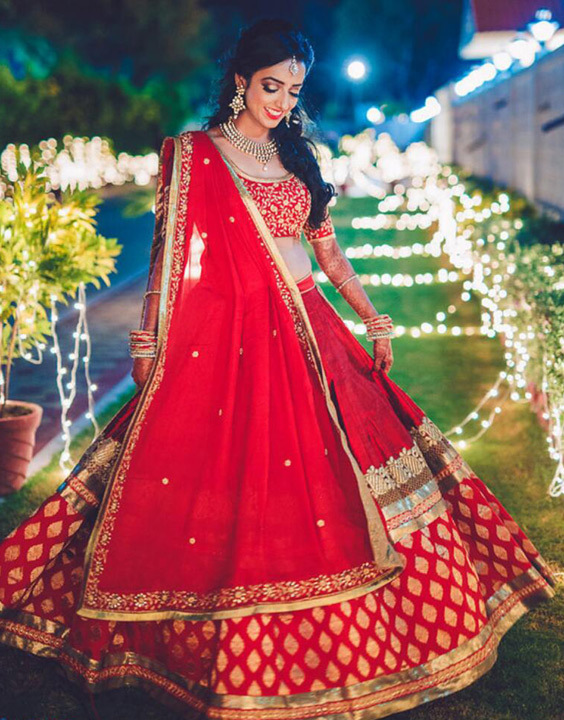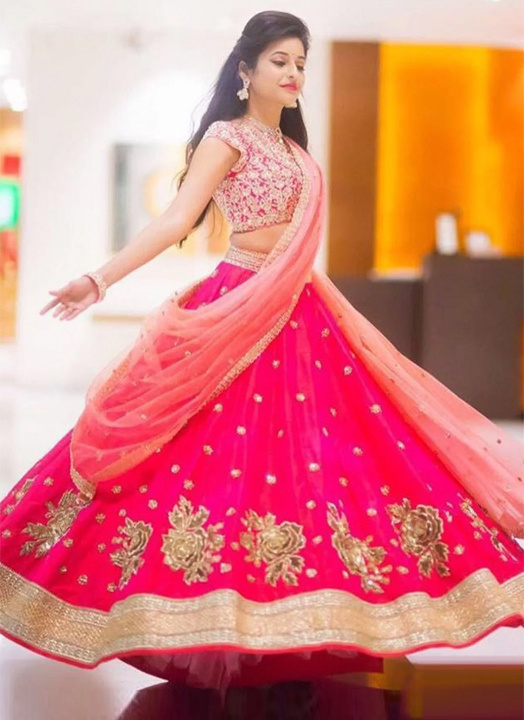 If the classic red saree is a little too simple for your taste then we recommend a lehenga saree to be your choice of karwa chauth saree especially if you dig the dramatic look.
We leave it up to you to choose what colour you'd want to wear, red for the traditional look, pink for a pretty party or perhaps a combination?
Personally we believe red is the colour for karwa chauth pooja!
If you're not into sarees and don't have the time to drape one, then maybe a modern saree with a readymade drape and pallu can be your saviour for the night.
We think these style tips would take you a long way and help you choose the best dress for karwa chauth.  Whatever you decide to wear just wear it with confidence.
Jaw-Dropping Karva Chauth Special Makeup For The Final Masterstroke!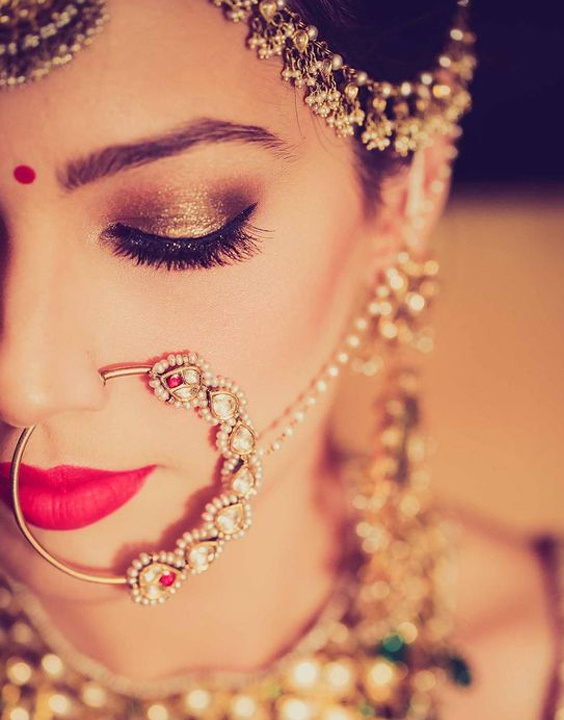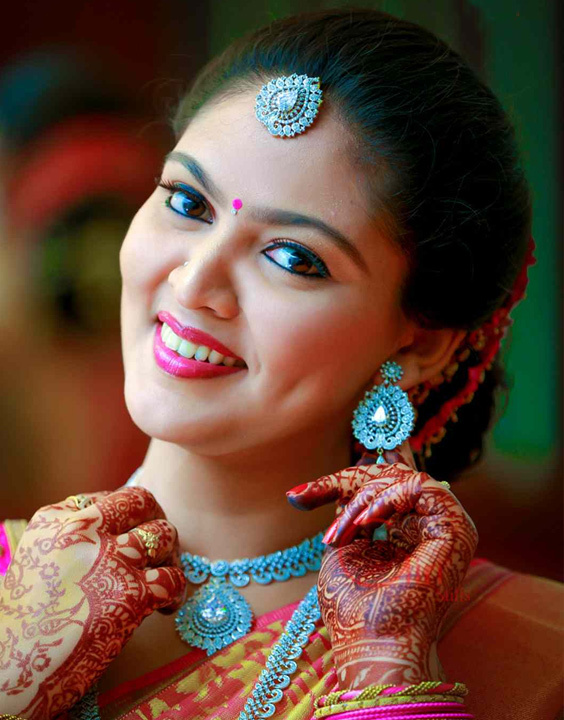 1.The Early Bird- Pre Dawn Look
You can choose a clean and fresh look and keep the make up simple with kohl lined eyes and pink lips. A dewy makeup for a fresh look or a no make up look will be just as good.
2. The mid-day look
If the baya is taking place in the day and you're dress is heavily detailed then a nude or dewy makeup is what you should be thinking of.
For a nighter, eyeshadow in dark shades of green,blue, purple and golds paired with warm lips would make for a great look.
3. The Night Look
Don't shy away from shimmery eye shadow or smokey eyes and bright lips, this night calls for everything special, a karva chauth special makeup too.
We think we've given you all the necessary intel to establish a head turning look. So stop wondering how to look beautiful on karva chauth and just get into action!
Remember COMFORT + STYLE is the right way!
Are you ready to rule karwa chauth 2018 in style?
Image credits: The copyrights of the images used in this post belong to their respective owners. The credits where known are specified under the image - if you're the owner of an image and want it removed, please contact us.