The richness of Indian culture is applaud-worthy. It has been able to withstand the test of time and continues to redefine itself decade after decade. The traditions, the customs, the way celebrations happen, everything has a longstanding history attached, embraced by every generation.
Since the wedding season is going on full-fledgedly, we thought about delving deeper into one such tradition, or ornament, which adorns the hands of hundreds of brides rather dramatically every year. Bridal Kalire design options may change, adhering to different trends, but their purpose remains the same. If you're wondering what it is, then keep reading on as we explore it further! 
History of Kaleeras
Just like everything else in Indian culture, the origin of Kaleeras too comes with a rather interesting story and one we can all relate to. These now-ornaments were not exactly the same in the olden days and were actually halved coconuts tied to the bride's hand so as to keep her hunger at bay, allowing her to munch on them whenever she felt hungry before the ceremonies. 
Since marriages happened at the groom's place earlier, the bride had to travel a long way to reach it, and also couldn't afford multiple resting points so this Kalire design was considered to be the next best thing.
Later on, they started getting made with materials like shells and beads, and now, there is no limit to how they can be designed! Kaleere drop ceremony is to Punjabi women what the flower throw is to western-origin brides. Both of them are significant and extremely important, aside from the fun they stir up. 
Eatables like makhanas and beetles were also included in the traditional and former versions of the kalira, but all that has changed now. In its place, you can see stunning metallic embellishments or shells crafted especially for kaleeras, but with either gold or silver accompaniments. 
There is a vast variety of Kalire design options available to brides. After the ceremonies are over, the bride and groom head to the temple where one kaleera is offered at a temple to seek blessings, and the other is taken to her new home to safekeep forever!
Why do brides wear kalire?
If you're of Punjabi origin, North Indian origin, or know a friend who is, then bridal kalire is no stranger to you! But if you always find yourself scratching your head in amazement as well as confusion when you see the long, often golden ornaments hanging on brides' wrists on the wedding day, then allow us to explain. They're not just symbolic items but are actually pretty fun. 
Ranging from light strings to heavy embellishments, these are an important part of the wedding celebrations and are meant to mark a blessed marriage. 
The bride's sisters and best friend, more commonly referred to as 'bridesmaids' now, tie these kaliras on her wrist. The ritual is considered extremely auspicious and the ornaments often hang from the bride's 'chooda', which is a set of red bangles that only to-be-wedded and newly married women wear. 
Who brings brides kalire?
The Kalire design is chosen and bought by the sisters and friends of the bride, and the bride can't buy them herself. If you're among the chosen bridesmaids, your duty entails this too. You have to choose something that you know your soul sister would like for sure, and also make it a point to pick the trendiest one in the market. 
In some households, even the bride's Mama, as in her mother's brother, is entrusted with the responsibility to bring them. The blingier, the better, but again, the bride's outfit also has to align with these sparkly ornaments. Tie them to her chooda or get ones with a 'kada' so that she can then just slip them on! 
Since the actual kaleera ceremony involves rustling and dropping, it would be nice to get heavy ones with more baubles to make it all the more exciting! 
What happens in Kalire ceremony?
Kaleere for bride is a symbol of prosperity, love and happiness as she steps into a new life, with the man of her dreams! But for bridesmaids, it is considered a telltale sign of who's going down next. How? Well, after the vows are exchanged and the pheras are taken, the bride shakes her hands and the umbrella shaped ornaments are aimed at the single bridesmaids who are ready to catch the falling strings or baubles! It is said that whoever's head it falls on, is next in line to get married. Sweet, isn't it? The entire ritual proves to be a giggly affair and also a bonding experience for the girls!
What is Kaleera drop ceremony?
Picking kalire design may be where the bridesmaids' responsibilities for this particular ceremony may be over, but they're in for a lot of fun as the real action happens later! Kaleera drop ceremony is not just an important part of the wedding but also among the ones that are most awaited. The bridesmaids assemble in a line and sit down, while the bride goes from one to the other shaking her kaleeras over their head. As this happens, every woman who desires to be wedded prays that the baubles fall on her! Now, we don't know if this tradition turns to reality later, but if it increases the odds, then we're all in. 
Trending Bridal Kalire Designs
We know that the wedding wardrobes are all about being true to one's real self and need to be aligned with the bride's personality, but it's always good to be in the know-how about current trends if you're planning on tying the knot soon! Here are the ones we absolutely love. 
1) Floral Kaleere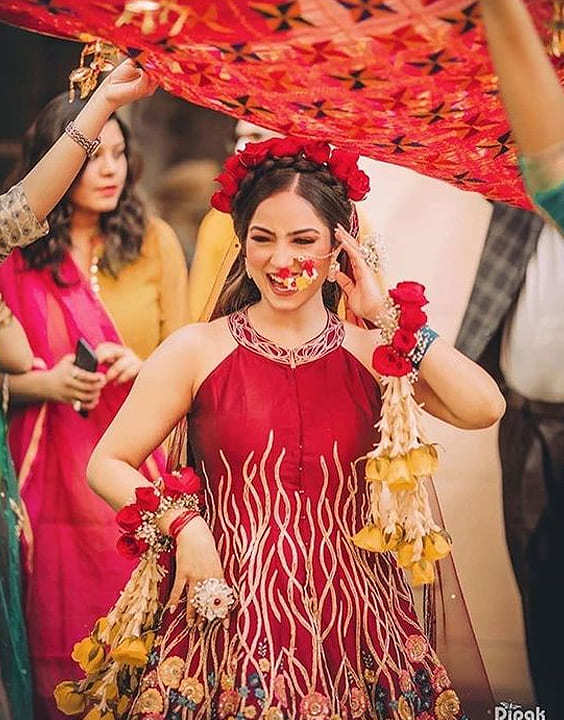 Whether it's a summer wedding, a monsoon wedding or a winter wedding, flowers are never a bad idea! But, they look exceptionally stunning during the warm weather, and that's why a lot of brides will have either full garlands of flowers on their hands, designed as kaliras, or a mix of metals and flowers to strike the perfect balance! 
The flower varieties can be endless and it gives you the chance to also match other jewellery with this, along with bridal hairstyles. If you feel like you don't just want to wear kaleeras for the big day but also before that, then a floral kalire design will prove to be a great idea!
2) Shell Kalire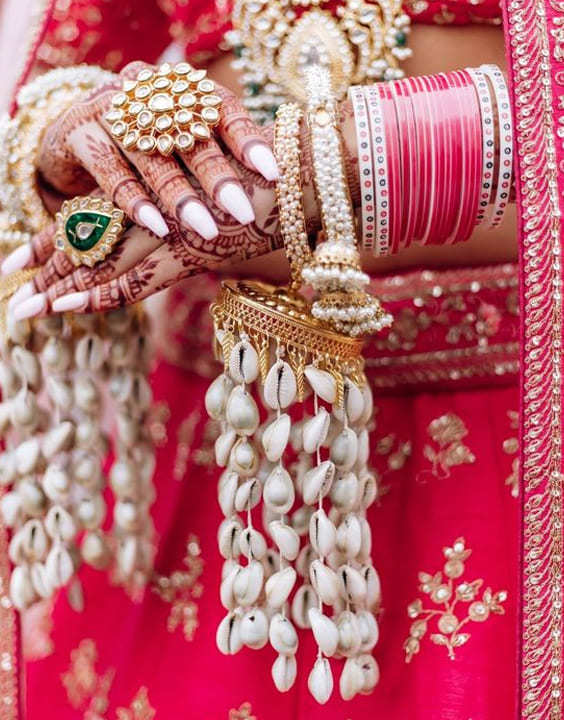 Got a wedding by the stunning seaside? For beach weddings, is there anything more perfect than shell kaleeras? We think not, but that is if, of course, you're into shells as embellishments. The beautiful off-white ornaments can be custom made to entertain any of your color preferences, or even accommodate extra shells if that's what's on your mind for your kalire design. 
When it's finally time to shake those kaleeras, the sounds the shells will make will definitely remind you of a summer getaway, and isn't that a relaxing memory in the middle of the festivities?
3) Pearl Kalire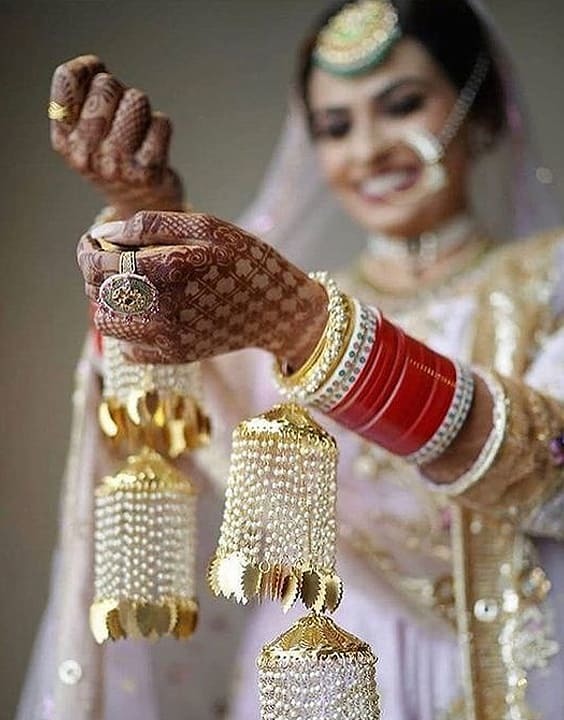 Women and pearls – a combination that ensures class, sophistication and a finer taste in life! Sure, these ones can be on the more expensive side, but hey, if pearls are what you want then pearls are what you should get! These are far more elaborate than their counterparts and are considered to be extremely opulent especially when mixed with metals like gold or silver. 
This kaleere for bride is quite famous among those who wish to take the traditional route with their jewellery and the pearls can be of all sizes, no bar there.  
4) Personalised Kalire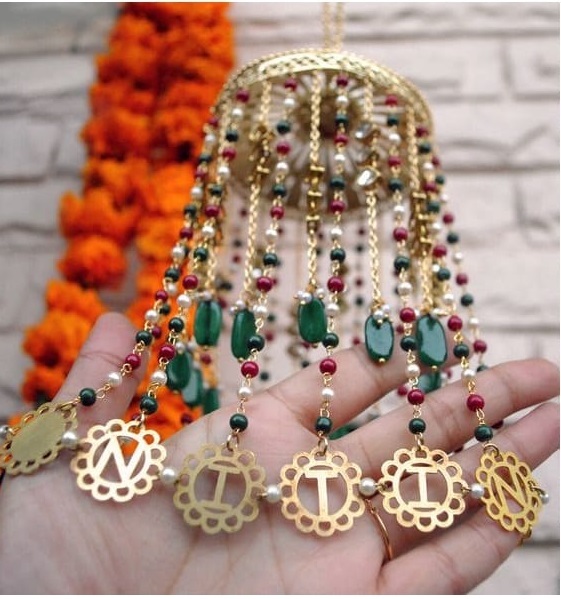 Your relationship is unique so why shouldn't your kaleere be? Wedding kaleere designs can be customised as per one's preference, and the best part is that they're not gonna break the bank either, as long as the customisations are not elaborate. 
You can do anything from getting your names studded on the kaleeras or getting custom charms made. You can also get a mix of elements added. The choice is yours, and you just have to find a designer who would put your imagination to reality perfectly! 
5) Tiered Kalire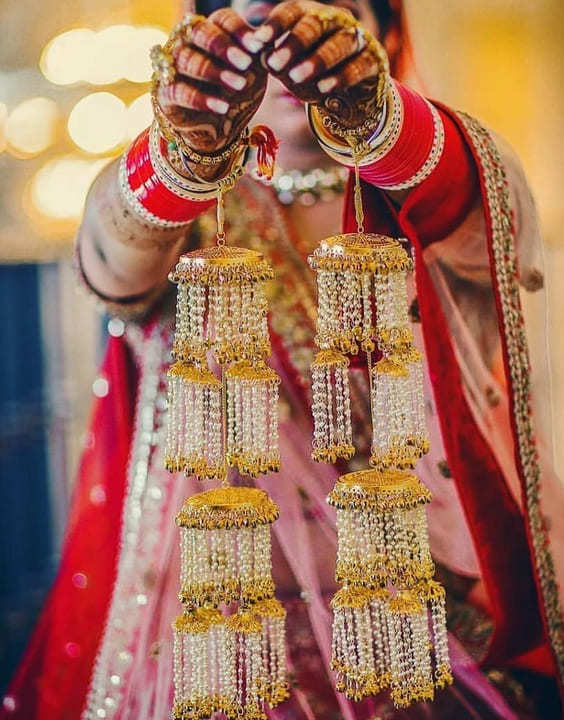 These are probably the most elaborate new kalire designs and also one of the most sought-after! Tiered kalire, just like the name suggests, have multiple shell-like structures in tiers, string together with golden or silver chains. Yes, they're heavy and aren't everyone's cup of tea, but be rest assured that they're absolutely trendsetting and will prove to be unforgettable. 
Generally, brides prefer to keep the number of charms or embellishments lesser on this one and go for versions with a kada so that the grip is much better. 
But you can securely attach it to your chooda and you'll be good! These can also be kundan kalire, because they are a much more cultural approach to the ornament. Some may even be bejewelled, or have dramatic charms on them. 
6) Nature-Inspired Charms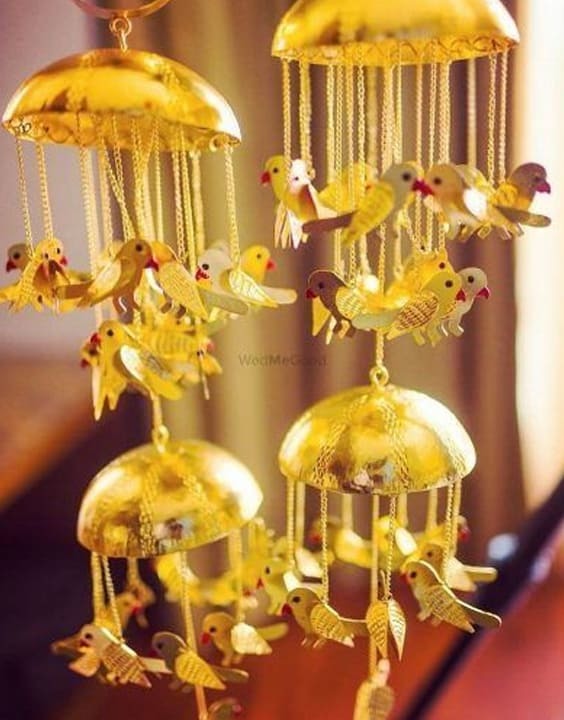 These days, charms in animal or bird patterns are a common part of kalire design. Women who love nature and everything it entails are generally the ones picking these kaleeras, and they are an absolute hit. The most popular ones are elephants, parrots, etc.
Premium designs like peacocks are also a hit at big fat Indian weddings. The bride's kaleeras can also match new mehandi design so when pictures are taken up close, they look ten times more stunning and artsy. A good way to ensure this would be to finalise your mehendi in advance and then have your bridesmaids buy you kaleeras that match it. 
7) Mini Kalire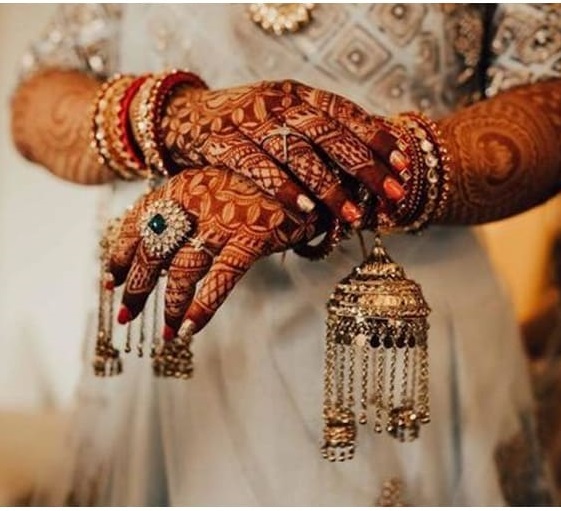 Millennial brides are a lot different from what brides before them were. They're more individualistic, challenge norms and make sure that they get what they desire, even if it means slightly defying the set standards. This is where mini kalire comes in, and one can easily find them on a website meant for bridal online shopping in India if not at a physical store. They're not as dramatic and elaborate but definitely serve purpose. Another great part about them is that when it comes to being fuss-free, they top the charts! 
We think mini kalire would work especially well for intimate weddings too, since the grand nature of the celebrations has now turned to nuptials held in the living room. With fewer bridesmaids, you don't have to opt for the heaviest kaliras you can get your hands on!
8) Tasselled Kalire Design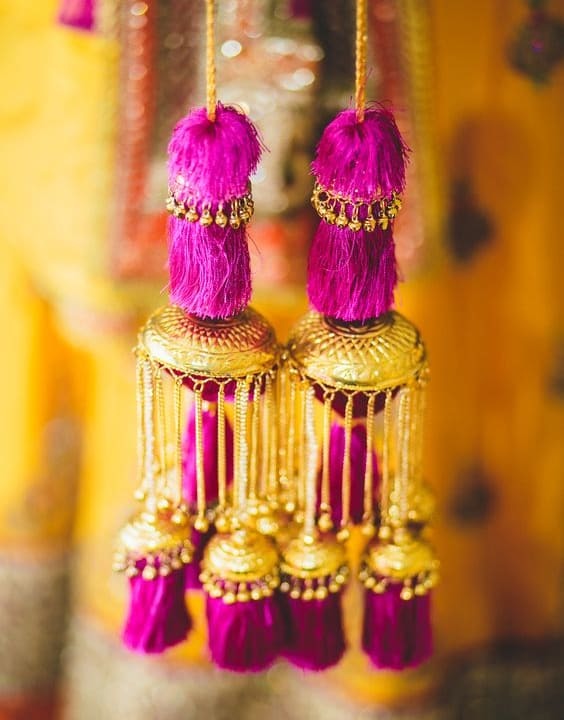 Embrace your inner bohemian with tasseled kaleeras made to dazzle! Made in vibrant colors that either match your outfit or add the perfect contrast, you just can't go wrong with these. Weddings are supposed to be fun and tasseled kaliras are all that and more! They bring in a playful element that other kaliras don't, and that's why they're a great choice for brides who have a bubbly personality.
Make yours or your soul sister's kaleera game strong by choosing the best kalire design and buying the best ones from a premium online shopping app! 
Image credits: The copyrights of the images used in this post belong to their respective owners. The credits where known are specified under the image - if you're the owner of an image and want it removed, please contact us.