We are on the cusp of the first wedding season of the year, and it's time for in-depth deep-dives on wedding attires and looks! Our vibrant and diverse country has a ton of bridal looks and styles that are indigenous to every region. Each comes with its own style, beauty, history, traditional quirks and brand of flamboyance. Today, we are taking a look at everything you need to know about Bengali brides, their traditional attire, bridal makeup and how to nail the stunning Bengali bride look!
Read on for some FAQs on Bengali bridal style, and style tips for Bengali makeup, attire and traditional elements for brides! 
What do Bengali brides wear?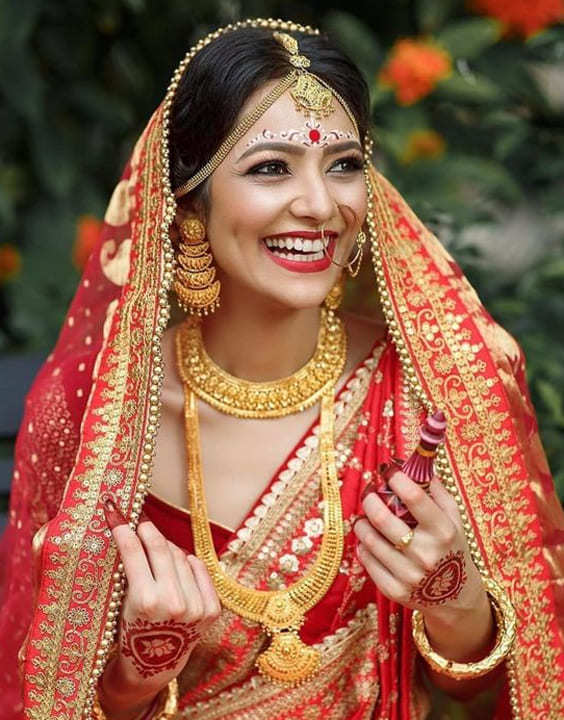 Bengali brides stand out for their ultra-traditional looks and charming detailing that has stayed true throughout the years. Radiating stunning Indian bridal vibes at their biyer shaaj (wedding), Bengali brides have a very particular look that is unique to their cultural identity. When you see pictures of their bridal look, you can identify them as a Bengali bride instantly thanks to certain distinctive elements. 
The Bengali bride look is defined by bright red attire – preferably in a banarasi weave or a traditional embroidered surface design. This striking red look is further accented with a white headgear called 'Mukhut or 'Topor', Shankha-Pola on the wrists and intricately designed gold jewellery.
What kinds of accessories do Bengali brides wear?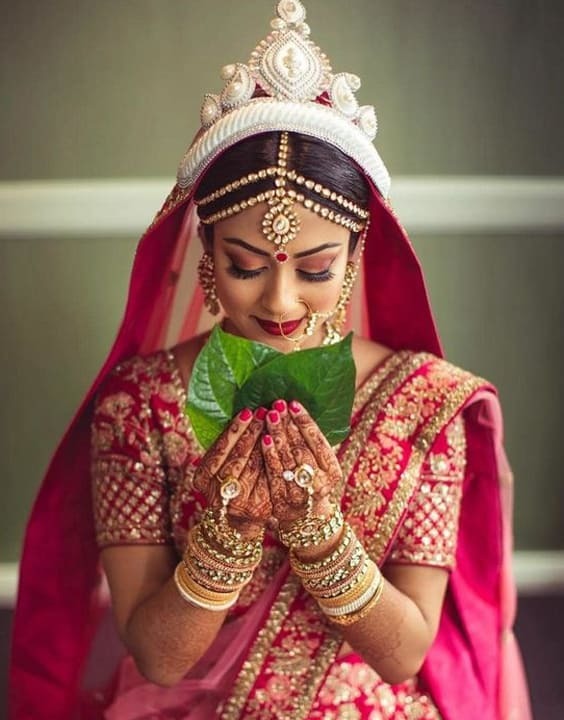 Bengali brides are well known for flaunting a host of accessories with their signature red wedding attire. Encompassing a number of individual elements which all have their own significance and history, a traditional Bengali bride look is accented by heavy and intricate accessory elements. Scroll on for a head-to-toe breakdown of accessories worn by a bride to nail the Bengali bride look.
Topor is the pure white crown worn by Bengali brides to complete their traditional look. Signifying new beginnings and auspicious moments, this accessory is truly the crowning glory of all Bengali brides. Also sometimes known as the 'mukut', this headgear is made of white cork or shola in Bengali, which adds a subtle flamboyance, delicate elegance and panache to the bridal look. Traditionally, a Bengali bride appears for her wedding ceremony crowned in the Topor and at times also wears a translucent veil over this headgear.
Shonar Mukhut – The Bridal Tiara
A more delicate and less conspicuous version of the Topor, the Shonar Mukut is a tiara made of gold. This detail of the Bengali bride look can add a sophisticated and regal touch to the overall bridal outfit. Also a wearable option for post-ceremonials, this gleaming detail adds a traditional panache to the Bengali bride's nuptials!
Tikli and Matha Patti – The Forehead Adornments
A Tikli and Matha Patti are traditional jewellery items that are quintessential to the Bengali bride. These perfectly complement the traditional Bengali Chandan bindi and elevate even simple Bengali bridal makeup looks. The Tikli not only keeps the veil in place, but it also frames the facial features in a flattering and elegant way. These can be worn in layers or as a single statement piece. 
Nolok- The Intricate Nath
A significant and signature part of the Bengali bride look, a Nolok or a Nath exudes traditional elegance like no other. A large, usually curved nose-ring, a Nolok conventionally goes all the way upto the year as an attachment. This piece of jewellery transforms the face and completes every Bengali bridal makeup style.
Kaan Bala, Kaan pasha & Jhumko – The Ear Jewellery
Ear adornments are an indispensable part of every bridal look in India – and Bengali bridal style is no exception! A Kaan Bala- is a statement Bengali earring which is shaped like the curvature of the ear. Kaan Pasha is a large gold stud featuring traditional motifs and detailed embossing. Finally, the Jhumko, also referred to as the Jhumka in the North, is a crowd fave. Its bold, dangling appeal is well-loved by brides across the cultural diversity of India!
Pola Shankha, Ioha – The Marital Bangles
The Pola and Shankha are auspicious wedding bangles without which the wedding ceremonies cannot begin. An essential element of the Bengali bride look, these bangles are red and white in color and are usually worn on the left hand (non-dominant hand) of the Bengali bride. Another set of bangles, called the Ioha, which are made of iron, are also worn and considered to be auspicious.
Together, these bangles make for a very traditional and quintessential Bengali look. The Pola and Shankla symbolise health, wealth and prosperity for the Bride during her new beginning and the Ioha signifies blessings for the bride and groom and well-wishes for the strength of their union. 
Chur & Bala – The Classic Bangles
Bangles are abundant when it comes to any Bengali bride look! A Bengali bride's version of statement bangles is something every traditional bride in India can get inspired by for its simple beauty and grace. Chur is a thick and broad gold single-piece bangle that has been passed down from mother to daughter over the generations. The antique and intricate embossing on chur bangles is striking and heritage. Bala or Kada are thick cuff-like bangles that are usually worn in pairs.
Ratanchur – The Traditional Hand Trinket
Also referred to as a Haath Phool, a Ratanchur is a hand and ring chain that further embellishes a Bengali bride's hands. A Ratanchur traditionally features a large round pendant at the centre and three to four chains that branch out into attachments to rings and other bangles. This elegant addition takes the Bengali bride look to the next level and gives it that high-fashion, heavily embellished flair.
Chic – The Elegant Choker
Chic is a broad bridal gold choker and is a Bengali bridal must-have. The width of a Chic usually varies between 1 to 1.5 inches and it's worn just above the collar bone. The intricate motives engraved on the surface and the heritage appeal of this item makes it a statement piece in any Bengali bride look.
Saath Noli Haar- The Layered Necklace
Saat Noli Haar is a traditional layered neckpiece that is a heritage family heirloom in many Bengali families. Mothers and mothers-in-law pass this statement accessory from one generation to the next. Saat Noli Haar means 'seven layers' as this gold necklace features seven layers of chains. The five-layered version is called Paanch Noli Haar. 
Nupur – The Signature Anklet 
A Nupur is a traditional anklet used to deck up henna colored feet for a classic Bengali bride look. Made of silver with Kundan stones set into the chain, this iconic foot accessory completes the head-to-toe bridal look in an elegant and signature way.
What are the different kinds of Bengali bridal bindi designs?
Bengali brides are famous the world over for the decorous bindi designs they sport as a part of their wedding look. Drawn on the forehead in kumkum & Chandan (sandalwood) paste, these are an undeniable signature when it comes to a Bengali bride. The intricate patterns exude delicate sophistication and symbolize peace and tranquillity in matrimony. Read on for 3 striking Bengali bridal Chandan art and kumkum bindi design ideas that are sure to elevate any Bengali bride look.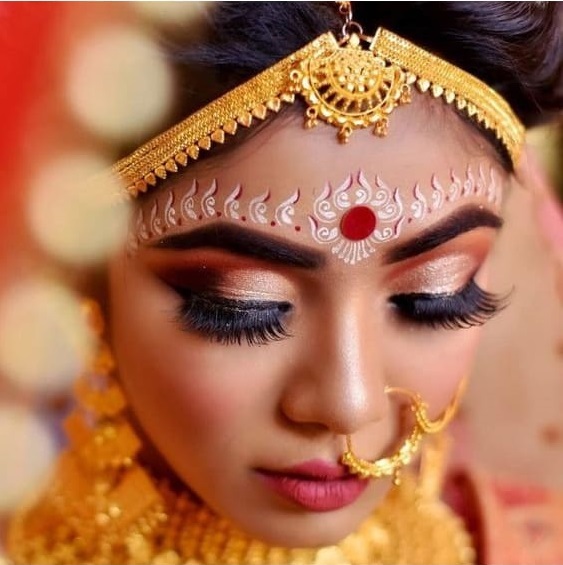 Flamboyant, traditional and stand-out, the wavy patterns of these kinds of Bengali Chandan and kumkum bindi designs are absolutely stunning. A good match with heavy eye makeup and the full pile-on of gold jewellery, this is a striking look that makes for an unforgettable nuptial experience.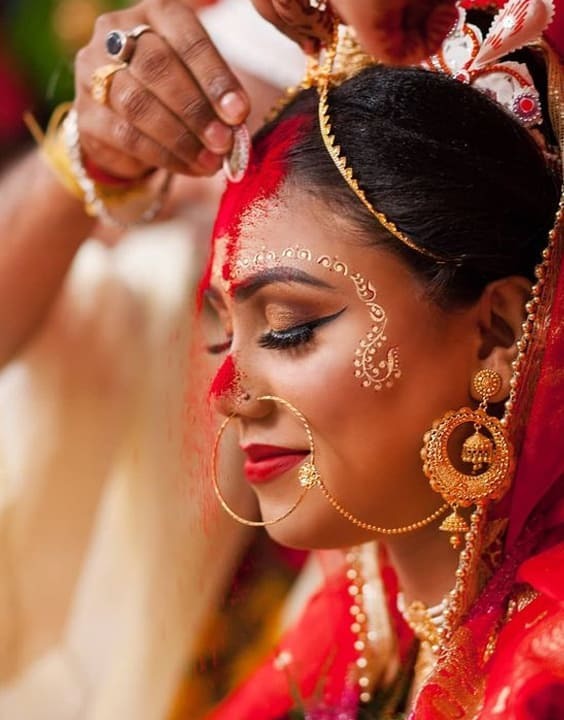 Another traditional type of Chandan and kumkum bridal bindi is the cheek-swirl design. This style is popular and heavily inspired by new Mehandi design motifs that make the rounds every wedding season. These typically feature a henna-like design that drops from the forehead to the cheek and swirls in a vine-like motif. This is a striking option for old-school brides as well as new-age ones!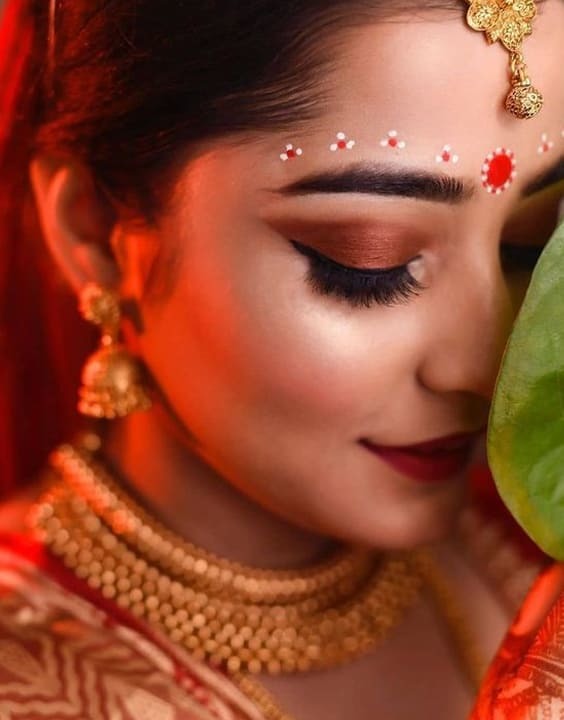 This stylish and minimal bindi design perfectly complements the traditional Bengali makeup look for brides. Simple to execute and stunning visually, this is the perfect choice for the modern woman who wants to keep her Bengali bride look low-key yet traditional.
Why do Bengali brides wear Mukut?
The Topor or Mukut is a quintessential element of the Bengali bridal trousseau. This crown that Bengali brides don for their wedding ceremony is considered to be a good-luck charm. It symbolises good luck, prosperity and balance in the bride's future matrimonial life.
Mythologically, it is believed that Lord Shiva wanted a special headgear for his own wedding ceremony, and he tasked Lord Vishvakarma with the responsibility of crafting this auspicious item. Vishvakarma failed to make this in softwood, as he was adept at working with hard materials.
Thus, he summoned a dexterous young man named Malakar to make the statement headgear using Sholapith. Due to this mythological reference, the Mukut or the Topor is considered a vital element of Bengali weddings and Malakars are traditionally tasked with crafting them.
Can a Bengali bride wear a lehenga?
The Bengali bride look is composed of many elements, but none is as noticeable and iconic as the bride's traditional sindoor red and gold banarasi saree look. A Bengali bride traditionally dons a red & gold banarasi drape as her sartorial wedding choice.
However, that does not mean that a Bengali bride has to stick to the absolutely traditional Bengali saree look. She can upgrade her look with a red lehenga in a banarasi brocade as well. Here are 3 stylish lehengas a Bengali bride can upgrade to:
The Vermillion Embellishment: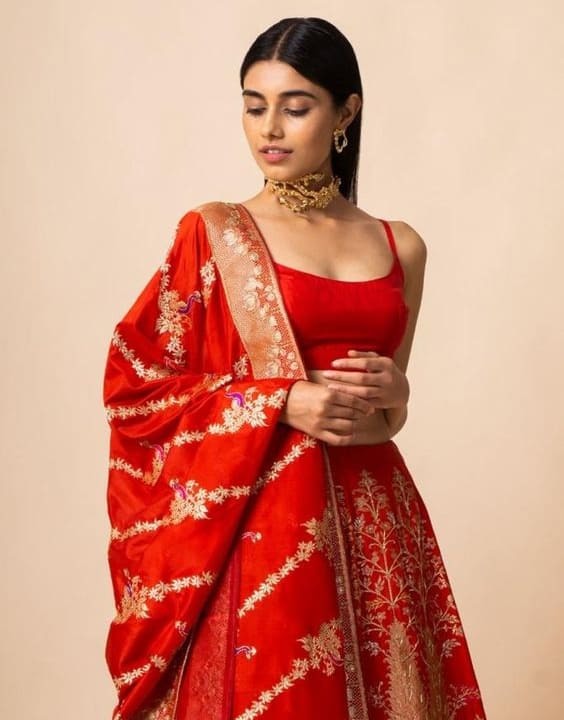 Go for a modern embroidered and embellished gold-red bridal lehenga, but add the traditional touch to your wedding attire with a stylish red brocade dupatta. Style this up with the Bengali choker, modern studs and upgrade your Bengali bride look to the modern age while keeping in touch with your roots.
Intricate Brocade Skirt Sophistication: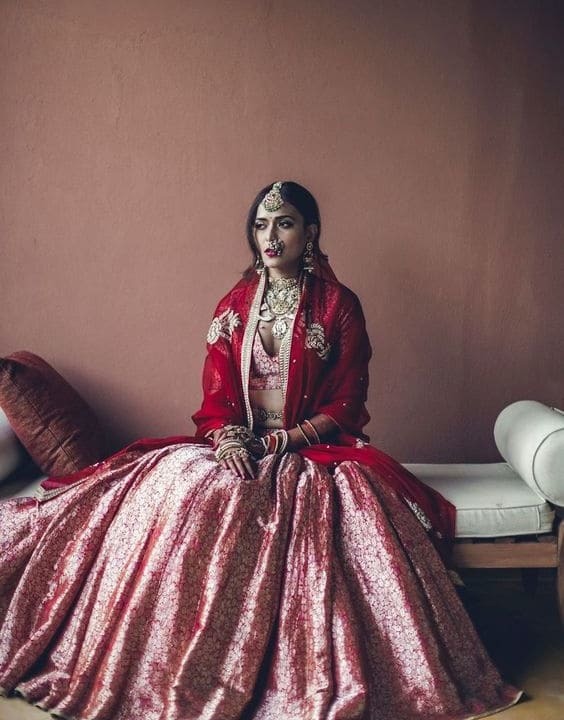 Your lehenga skirt can be a very intricately modified banarasi brocade with a matching blouse to carry the Bengali bridal look. Take this look to the next level by going for an almost-red fuschia shade and classic jadau jewellery.
Off-White & Red Hued Elegance: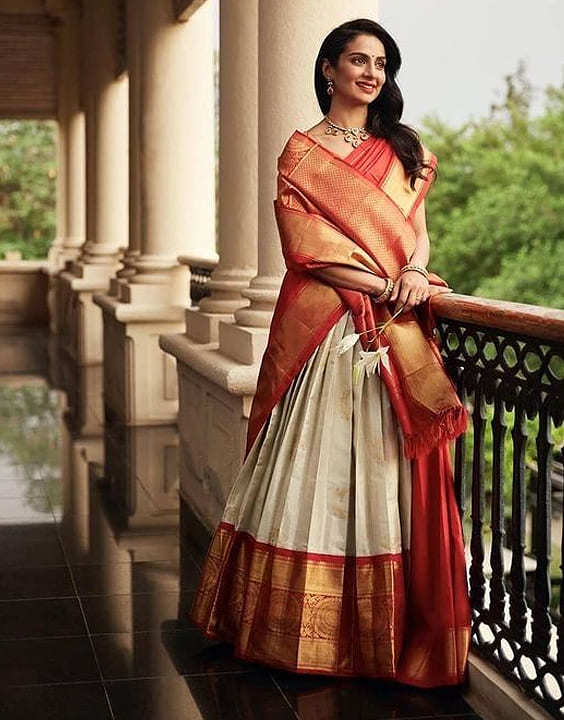 Offwhite and vermillion red are classic colours that bring a traditional appeal to any bridal look – even a Bengali bride look! You can even style this look with women's kurtis, and go for a more low-key Bengali wedding for the lockdown era. 
What kind of make-up and hairstyle is worn by Bengali brides for the best Bengali bride look?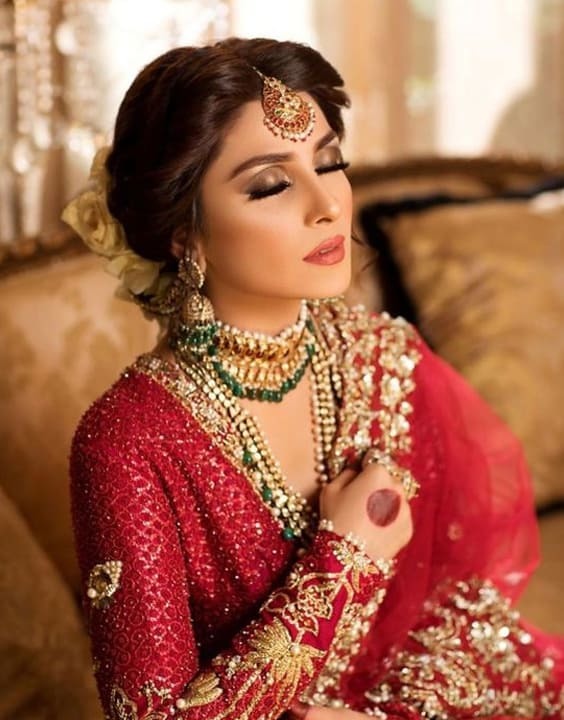 A centre-parted up-do to hold the classic headgear and jewellery, is a significant part of Bengali bridal hairstyle. The makeup usually features a bold red lip, bronzy and glittery eyes as well as long eyelashes. The Bengali bridal hair and makeup style are just as stand out as the rest of the Bengali bride look.
We hope you liked our lowdown of Bengali bride look, attire and jewellery. Striking and stunning, a Bengali bride can be spotted a mile away like the superstar she is! Which traditional Indian bride's style would you like us to do a deep-dive on next?
Image credits: The copyrights of the images used in this post belong to their respective owners. The credits where known are specified under the image - if you're the owner of an image and want it removed, please contact us.