The latest phulkari dupatta trends are already quite the rage! Punjabi suits with phulkari dupatta make a great team and the traditional Phulkari dupatta is available in many iridescent colors! Read on to know more..
The Phulkari is very dear to the state of Punjab. It one of Punjab's cherished traditions. You'll inevitably find phulkari designs at the heart of Punjabi craftsmanship.
Exquisite stitching and intricate embroideries make up the essence of Phulkari. Regional handicrafts have survived for generations and for good reason! If you see the intricate embroidery work on a Punjabi phulkari dupatta, you'll be in love. That's how magical a phulkari dupatta looks! A phulkari dupatta and salwar combination looks sublime as well!
A Phulkari dupatta can reinvent your entire look and add a splash of vibrancy to your overall attire. A phulkari dupatta suit is looks even better! Suits with Phulkari dupatta could be plain or detailed with embroidery; it really depends on how you wish to mix and match with your favourite Phulkari dupatta designs.  Multi-colored embroidery stitches on jute, khadi, or georgette fabric make this folk art from Punjab distinctive. Even designers are looking at new ways to reinvent the Phulkari art form.
Don't believe us? You need to see to believe! Read below to know more about the latest Phulkari Dupatta trends that will make make you fall for Punjabi embroidery-
1. Phulkari Dupatta with plain suits- flower power!
The phulkari embroidery looks most effective when styled over a plain suit. A plain suit with phulkari dupatta can bring out the richness and vibrancy of the dupatta. You could choose a well-fitted suit design done in cotton or cotton silk and choose an elaborate phulkari kurta to go with it.
2. Punjabi Suits With Phulkari Dupatta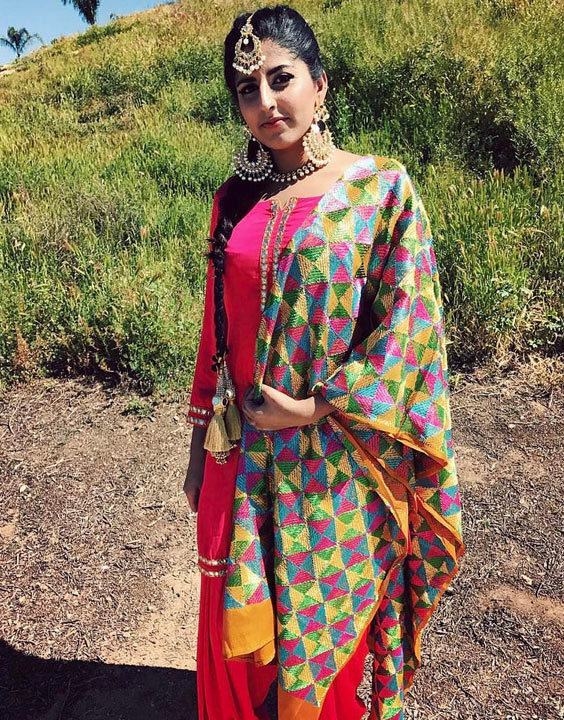 Traditional punjabi suits can consist of a kurta and patiala salwar. Punjabi suits with phulkari dupatta are extremely popular among the indian traditional wear for women. You could choose a striking punjabi suit in pink, and style a densely embroidered punjabi phulkari dupatta over your pick. You'll look stunning when you throw in a pair of traditional jhumkis or kundan jewelry.
3. Traditional Phulkari Dupatta Colors
Colour is the most integral element in a Phulkari dupatta. If you check phulkari dupatta images, the traditional phulkari dupatta would use only four colours of coarse cotton as a base – red, white, blue and black.
Today, however, you can find the latest phulkari dupatta trends bursting in a mind boggling array of colours to cater to the taste of the women who wear it as a fashion accessory. More than the colour of the fabric, it is the colour of the threads that are used in the detailing that give phulkari its distinct character. Yellow, white, green, red and orange were the thread colours that were traditionally used. As with the fabrics, the thread colours also underwent a major revamp to include more colours as a result of which one has a plethora of choices to play with while doing phulkari embroidery.
Red phulkari dupatta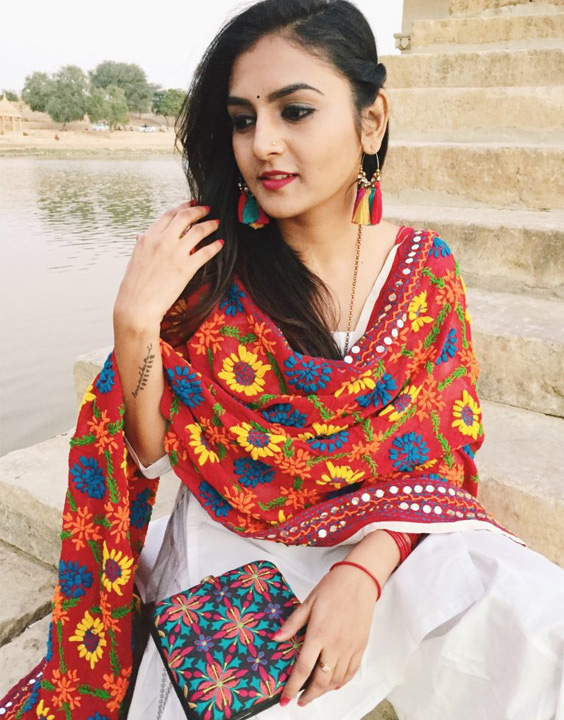 A solid coloured plain suit with phulkari dupatta always does the trick. A plain white salwar and kurta would be a perfect match with the red phulkari dupatta. This combination is the most popular and elegant of the lot. Avoid a printed kurta as it would overshadow the phulkari dupatta which contains of pretty intricate designs. For a bright and colorful ensemble you can also pair the red phulkari dupatta with a yellow kurta and patiala.
Black phulkari dupatta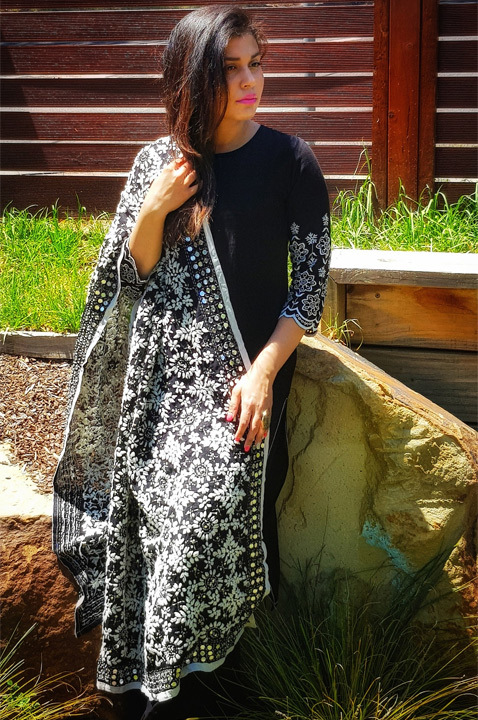 Earlier, a black phulkari dupatta was worn at home on a daily basis so that they don't show stains easily. However, in today's time phulkari dupattas have become a style statement. As per the latest phulkari dupatta trends, a black phulkari dupatta with golden embroidery shouts richness and can be paired with a plain black salwar suit or a white one. There are a variety of black phulkari dupattas to choose from and can be matched with plain salwar suits like yellow and red.
Yellow Phulkari Dupatta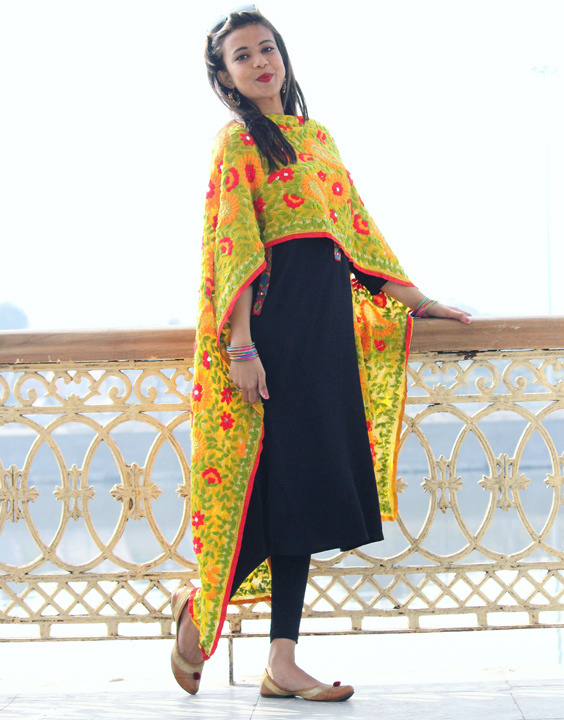 A yellow phulkari dupatta is a must have. It is so bright and colorful yet so elegant. For an exquisite ensemble, blue suits with phulkari dupattas having a yellow base are a perfect fit. Since yellow is already a bright color do not experiment much with the color of the salwar suit. To complete the look you can wear a yellow pair of juttis same as the punjabi phulkari dupatta. Or, colorful juttis could be a great option as well!
White Phulkari Dupatta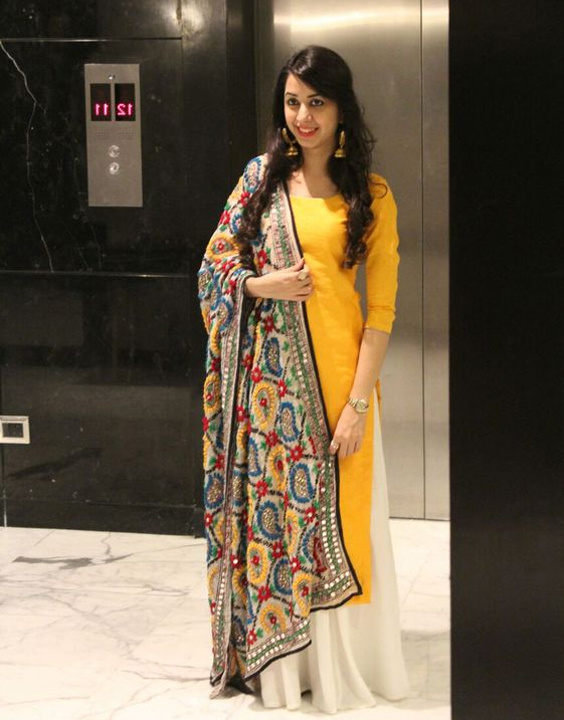 An ideal phulkari dupatta with plain suits is the white phulkari dupatta. Since it goes well with any solid colored salwar suit, a white phulkari dupatta is a must have in the wardrobe. However, the most classic combination is the white suit with phulkari dupatta. Another option is the white phulkari dupatta with a yellow kurta and white palazzos.
Pink Phulkari Dupatta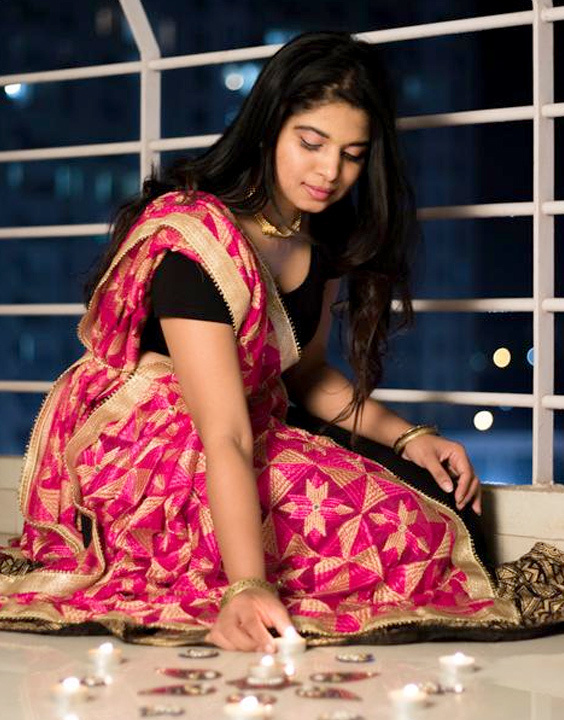 The pink phulkari dupatta is the most dainty and beautiful among the latest phulkari dupatta trends. Black, blue and white are three best combinations of solid colored suits for the pink phulkari dupatta. Wearing any other bright colored suit would overshadow pink phulkari dupatta's beauty.
4. Phulkari Dupatta Designs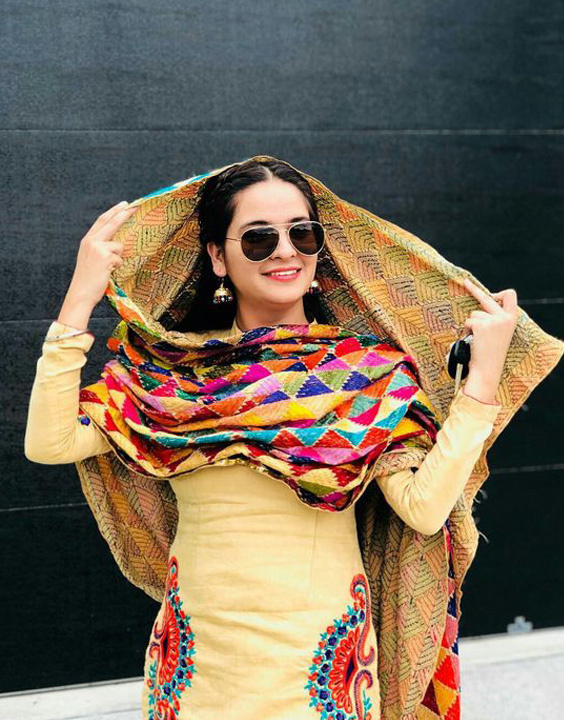 The rich Phulkari design can be incorporated in various styles of Indian wear. Phulkari embroidery designs can be extremely rich and intense, depending on how densely the stitches appear on the fabric. These colorful stitches can be seen on the border of the dupatta or can be spread out out evenly in the dupatta in a balanced way.
Otherwise for more elaborate events like weddings or formal occasions, the phulkari dupatta can be more intricate and detailed. At times, the dense stitches can be supported with mirror work which reflects the beauty of the traditional embroidery.
Image credits: The copyrights of the images used in this post belong to their respective owners. The credits where known are specified under the image - if you're the owner of an image and want it removed, please contact us.