There's been a whirlwind change in the word of saree over the years. Today the blouse is as important as the saree & women are really loving the latest saree blouse patterns. Read & learn more about popular blouse material types & find your favourite colour blouse!
The perfect companion for the country's most popular drape and a versatile playground for stylists and designers alike – the impact of a well styled saree blouse is not to be underestimated.
Read on for a comprehensive low-down of the latest saree blouse patterns and get some seriously fab inspirations for your sari outfits this season!
Stylish Blouse Material Types Tailored To Keep You On Trend
Scroll through our list of different types of blouse materials for some tips on how to style your sari into a chic and complete look!
Cotton Blouse Design – A pretty and Organic Choice!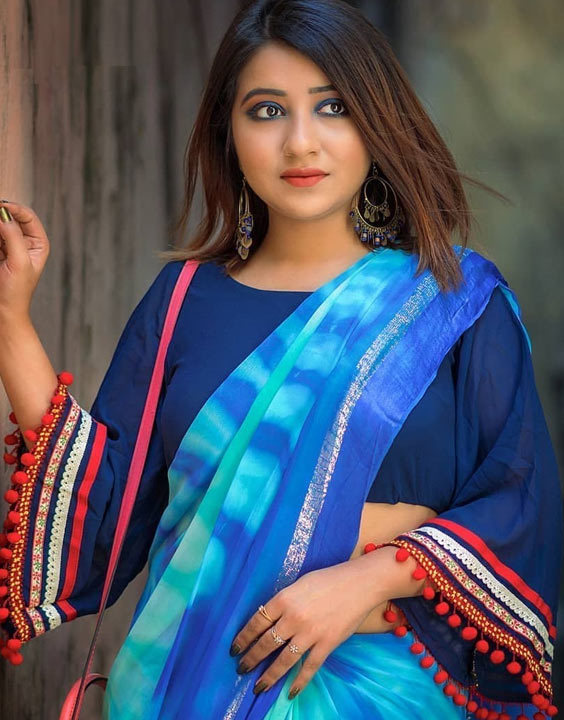 Feel light, pretty and natural in a well-tailored cotton saree blouse design!
A great option for colour-blocking and ideal for those long and sultry summer afternoons, a cotton blouse is versatile and comfortable. It's also a great medium for expressing art through quirky prints.
The latest saree blouse designs in cotton are heavily inspired by western blouses.
Styling tip – Go monochromatic for your saree look, but contrast a silk-material saree with a cotton fabric blouse for a cool juxtaposition of matte on shine.
Glamourous And Opulent In A Velvet Blouse Design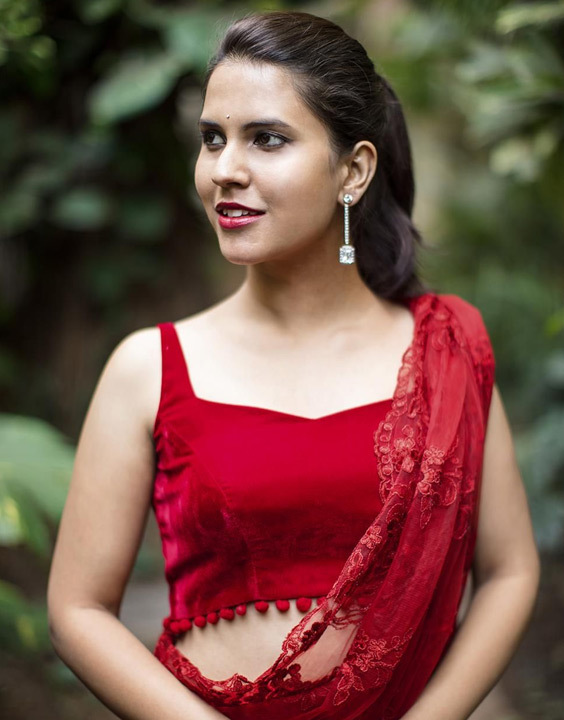 Rich, beautiful and perfect for winters, velvet fabric is a stunning option for a saree look!
Opt for a stunning velvet blouse design in combinations of jewel toned colours and striking zardozi or gota embroidery for some added flair.
Styling tip – Wear a long-sleeved velvet blouse in black with a handloom saree in a dark shade for some winter wedding magic!
Netted Blouse Design – Totally Trendy!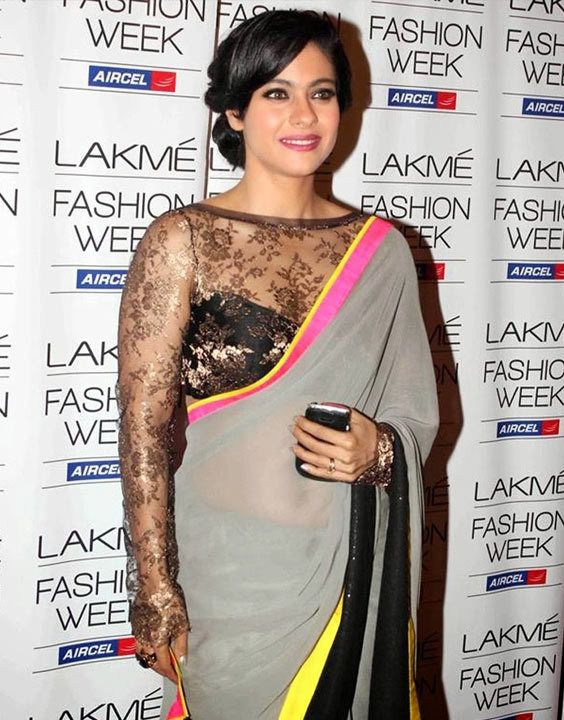 A net saree blouse design is very on-trend in desi couture and bridal fashion!
Delicate floral machine embroideries, knotted handwork and sequins not only look stunning on a net blouse but add a touch of delicate luxury to a saree outfit.
Backed up by lining in silk-blends or rayon to keep up with the texture of net and add shine, net blouses are certainly faves this bridal season!
Styling tip – Pair a net blouse in a pastel shade and tonal embroidery with a net or chiffon saree in a contrasting pastel colour.
Classic Beauty In A Silk Blouse!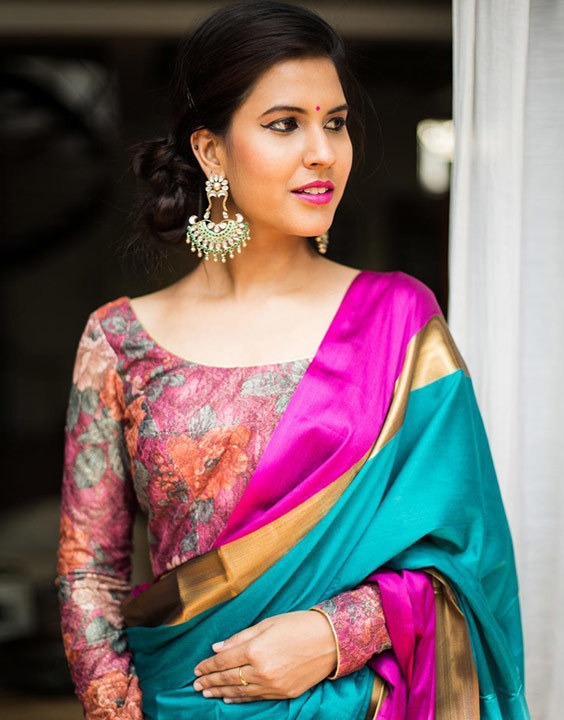 Silk sarees and silk blouse designs are timeless and have been Indian wedding staples for generations!
Available in embroideries, bright solid colours and hand-woven patterns, silk blouses look great in a plethora of traditional and contemporary patterns.
Styling tip – Go for bright and bold brocade silks for a striking and bridal-ready look!
Popular colour blouse options to elevate your desi fashion quotient
Read on for some colour options for blouse designs that guarantee an amazing palette inspo for your saree looks this season!
Glow Like A Goddess In A Golden Blouse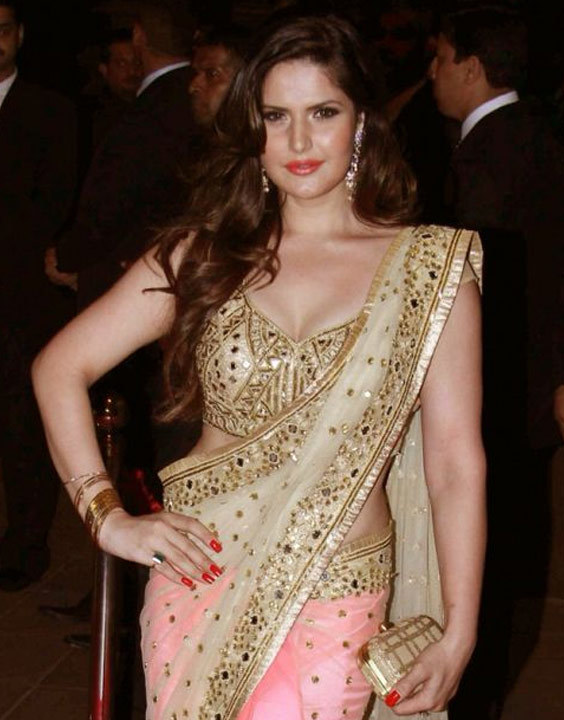 A golden blouse design is a remarkably adaptable option!
Gold pairs very well with most other colours and the metallic glimmer and glow add to the glamour of any ensemble.
Styling tip – Pair a heavy embroidered metallic gold blouse with a light chiffon or georgette sari in black or nude colours. Add a statement pair of earrings or a neckpiece and channel those royal-chic vibes!
Yellow Blouse – All About The Sun-kissed Bliss!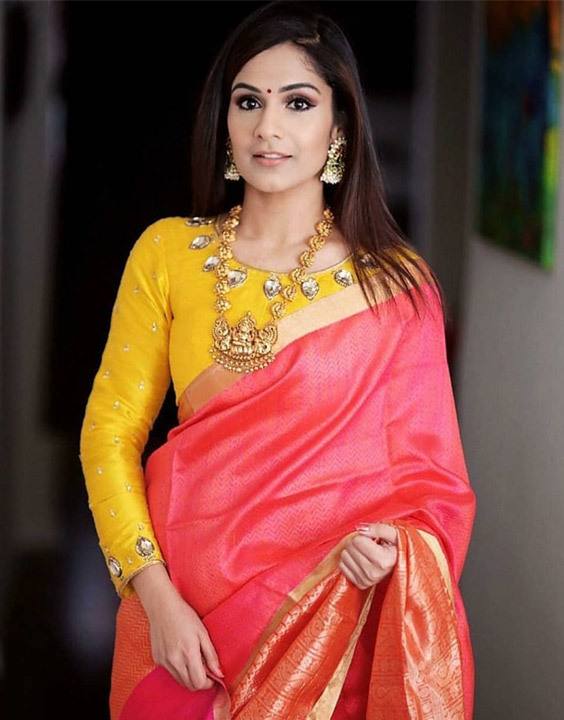 Perfect for summers or for flaunting that desi-quotient on your vacay days, yellow blouse is a fresh and jolly option!
A great colour for prints and for tonal embroideries, yellow blouses also look striking in a sleeveless pattern.
Styling tip – Pair your yellow blouse with a fresh white saree to add an extra dose of summer!
Chic & Well Put Together In A Blue Blouse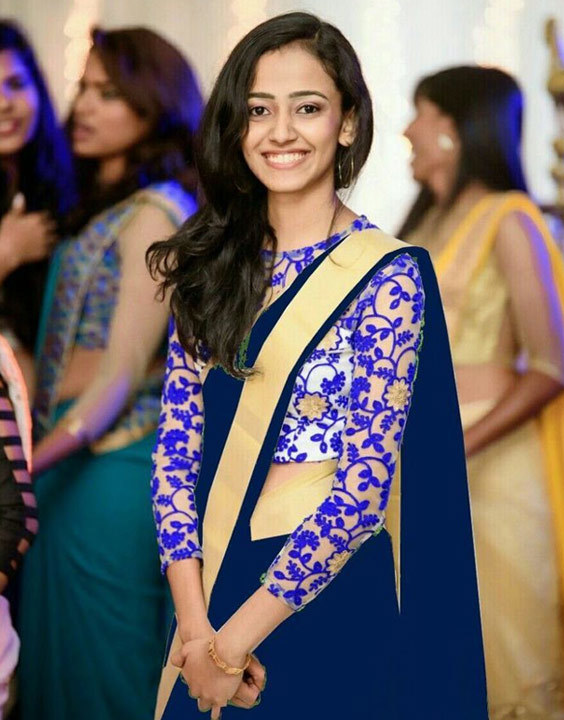 Indian women have been in a love affair with blue blouse designs since ages!
Whether you opt for a raw-silk blouse in navy blue hues or a delicate chanderi blouse in pastel china blues or a striking surf blue, this is an option that is guaranteed to suit everyone's tastes.
Bring on the blues!
Styling tip – Blue is ideal for monochromatic colour blocking – wear a blouse in a darker hue and pair it up with a saree in lighter shades of blue for a gentle, yet impactful effect.
Orange Blouse Designs – A Royal Choice!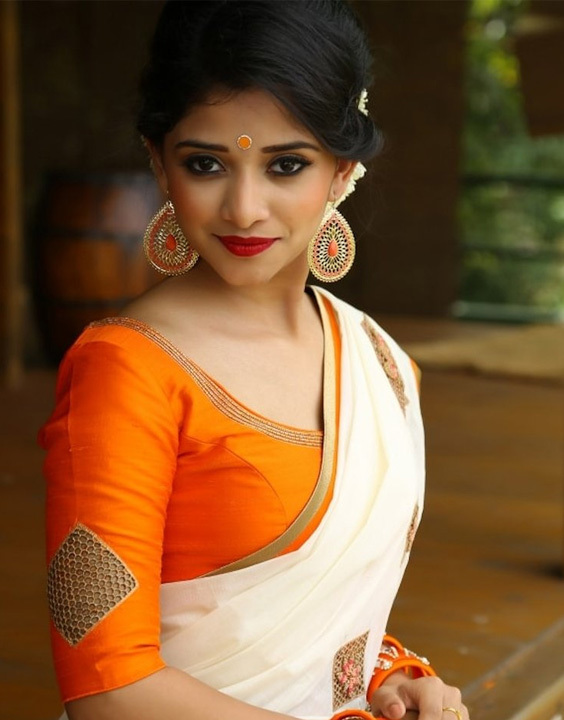 Orange isn't the colour of royalty for nothing!
This bright colour looks even more opulent in luxurious fabrics like banarasi silk and velvet – we certainly live for it!
An orange blouse design in a long sleeved and high-neck pattern looks prolific and striking as the colour also helps radiate an air of authority.
Styling tip – Wear a high neck orange blouse made in velvet with gold embroidered details for your next winter festivity!
Pretty As A Peach in a Pink Blouse!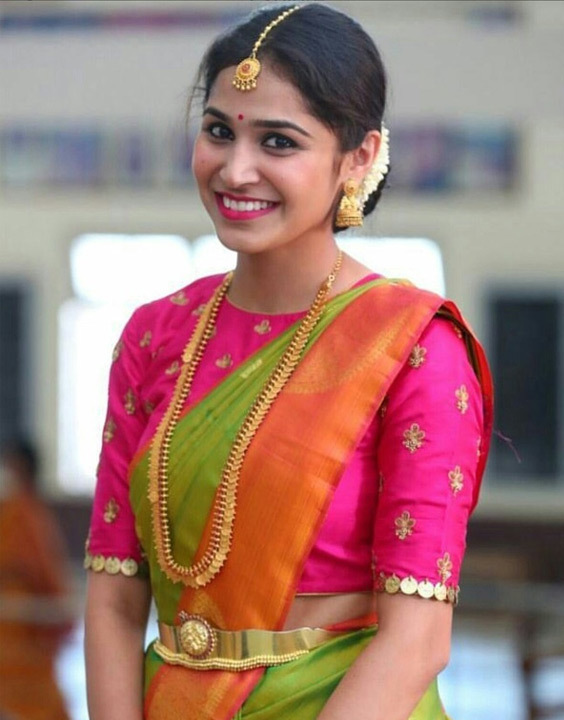 No matter the season, pink blouse designs have stood the test of time in terms of popularity.
Stunning in all sorts of patterns, prints, shades and surface techniques, pink blouses are a staple and a rage in desi fashion.
This is a blouse colour that is bound to add an extra feel of femininity and subtlety to your saree looks!
Styling tip – Opt for a pink blouse in a delicate print and a v-shaped or sweetheart neckline pattern to look chic and current!
Black Blouse Design For The Sultry Bombshell!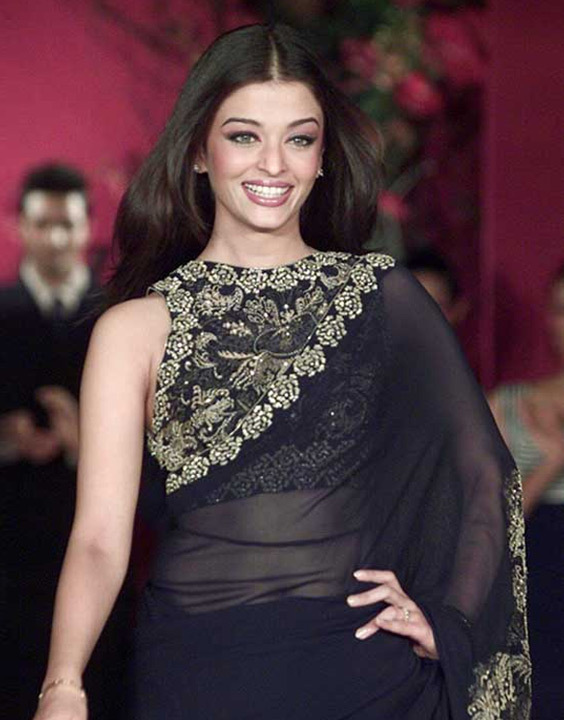 Black is everyone's favourite colour – whether they want to admit it or not! Stylish, timeless and sultry, a black blouse is the way to go when aiming for a stunning effect.
A black blouse looks chic in any fabric and any style – it also pairs up magnificently with wintry slate pastels, jewel tones and neutral hues. A black blouse and saree combination is super HOT!
Styling tip – A black net blouse in tonal embroidery paired up with a white or blush saree is the way to go for all those who love to step out of the box just a little bit!
Radiate Passion In A Red Blouse Design!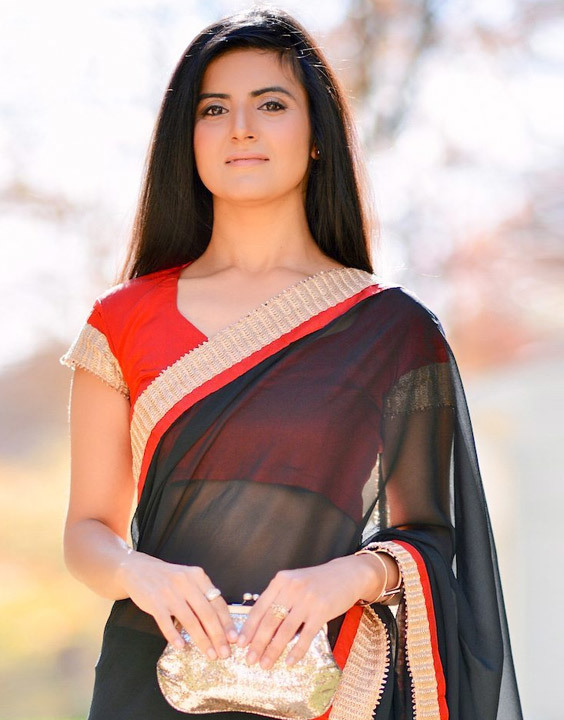 Especially stunning in raw silk, a red blouse design is the bridal option to die for!
A fave with bridal designers and couturiers, channel your inner goddess to pull off this daring colour!
Wear a red blouse with contrasting embroideries and pair it up with foil printed or digital printed sarees or pair a solid red blouse with a fringed red saree to look uber-stylish in all aspects.
Beauty, passion, love – red represents them all!
Styling tip – Pair your red blouse with a saree in another hue and slap on some striking red lipstick to coordinate your saree looks!
Green Blouse Design For A Traditional Beauty!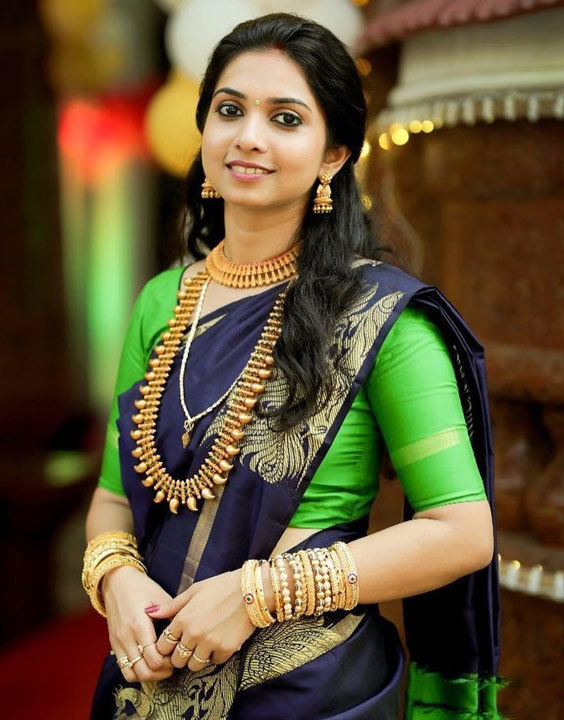 A cultural symbol for peace and prosperity, green is a traditional and beautiful colour to adorn.
Maybe a lovely bottle green silk blouse is more up your alley or maybe you would like to step it up in a stark green blouse design – whatever your choice may be, get ready to look insta-perfect.
Great for an outdoors event or a lovely cruise party, a green blouse is a fab option for all the colour-blocking fanatics!
Styling tip – Go green or go home with a single-hued, head to toe green look for your next Christmas or New year's celebration!
Well, there you go – We sure hope we have given you some super current and fabulous ideas on how you can style the latest saree blouse patterns! Also hoping you've found your fave colour blouse now.
Turn the heat up and get going with all the saree-draping this season as desi-fashion stuns us and rules across the board!
Image credits: The copyrights of the images used in this post belong to their respective owners. The credits where known are specified under the image - if you're the owner of an image and want it removed, please contact us.