T-shirts to men are what diamonds are to women. If women dream of flaunting the finest and shiniest rocks, it's hardly even an exaggeration to say often a man would be caught dreaming of the perfect T-shirt that feels like home but makes him look like he's out to play!
The key to finding 'the one' is in the details! Let us be your guide in recognizing a good Tee when you see one.
Taking The Best Pick
A few things you need to remember before you checkout!
Does It Fit Like A Hug?
If you answered that with a 'Yes', you may not be on the right track.
It's time to burst some long-living myths! Contrary to popular belief, a body hugging, snug fit T-shirt is not necessarily a good choice. While a lot depends on what look you're going for, undeniably a lot also depends on the shape of you and the shape of the T-shirt and if they're not made for each other – it just doesn't work.
If chilling with the boys, riding around town is what's on your mind – it's best to go for casual T-shirts. The beauty of casual T-shirts lies in their comfortable, relaxed and airy fit. There's an effortless charm about oversized, loose T-shirts that is always a winner. Nothing feels or looks better than what comfortable does.
A comfortable you is a confident you!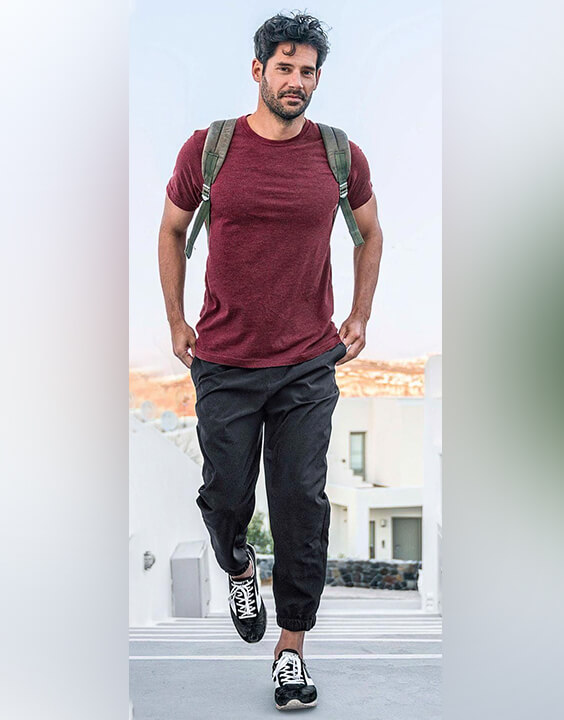 No doubt there's a whole wave of oversized fashion taking social media influencers by storm at the moment.
Next time you find yourself wanting to shop T-shirts online, you should look for one that swears by a regular or relaxed fit.
Advice to the wise: Don't ever deprive your wardrobe of a black and white T-shirt. Monochrome never goes out of style.
When Is Slim Fit Right?
Save the slim fit for stylish t-shirts for men like Henley T-shirts, Full Sleeves and V-necks. These elevated casuals have a chic flair that's largely a result of their sleek fit.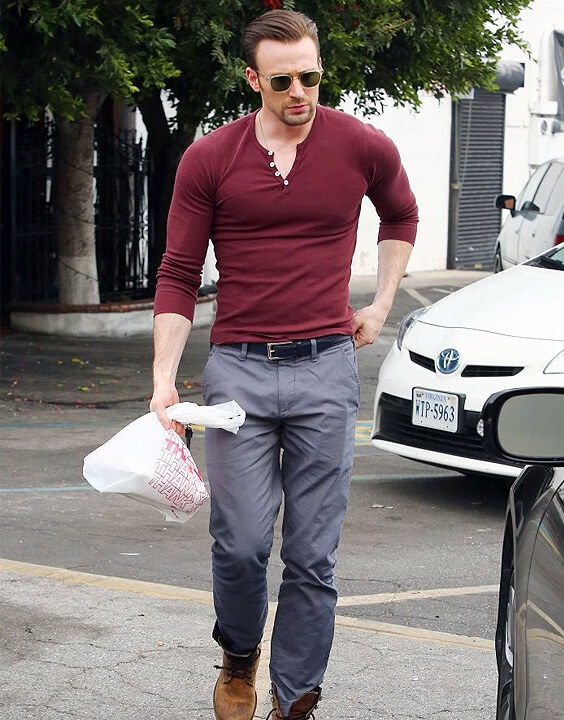 You will never see any of your favorite B-town boys sporting ill-fitting V-necks or Henleys. Online shopping can be difficult but taking inspiration from celebrities is not a bad idea, after all what you see on them is a product of high-name stylists' minds.
A pro-tip to remember – men's V-neck T-shirts are best when half sleeved and round neck full sleeves t-shirts are always a better choice than any other long sleeved Tee – especially in the tropics.
The key is equal balance of the neck and sleeve length. We told you – it's all in the details!
Pick Your Color Wisely
With so many e-shops and a large variety of styles at your disposal, choosing the right Tee can be a little difficult. If you're the kind of buyer who's motivated by color more than size and price, it's imperative you know what colors work for you best.
We're all for experimenting until you find what suits you. However, it's important to realize that some colors are a big NO and won't ever work in the face of fashion.
Besides factors like your skin undertone, the season, the occasion should be considered before you commit to a T-shirt.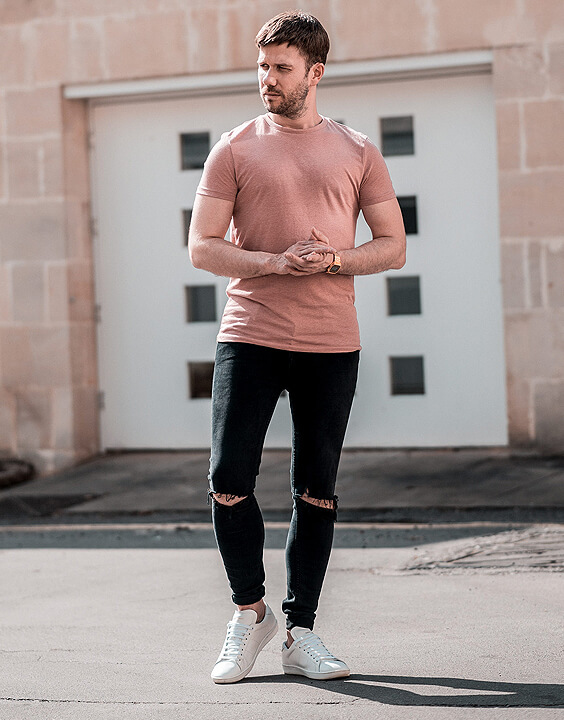 Having said that, we don't want you to just play safe and stick to black, blue and gray. A little pink never hurt nobody!
Want to make a statement? Maybe next time, drop jaws in Neon. 😉
Fabric's Just As Important As Fit
The right fabric will make or break your outfit.
Inexpensive, synthetic fabrics although budget friendly can cost you how your personal style is perceived. Besides they may trigger allergic reactions and itchiness. When compared with natural fabric like Cotton – synthetic fabrics are not as breathable, airy, sturdy, water & sweat absorbent and comfortable.
When synthetic fabrics might work for shorter wear time, they get uncomfortable, itchy and often sticky and stinky if worn for more than a couple hours. For the hot and humid Indian weather, they might be a poor choice.
Cotton T-shirts promise a cool feel and cozy fit, they're soft on the skin and don't look flimsy. Definitely a wiser choice!
Get Playful With Prints
Prints are all the new rage now. From pizzas and fries to cute animals, we've seen art turn into fashion in many ways so far and this trend is not going anywhere soon. Prints have become the new form of expression for many of us.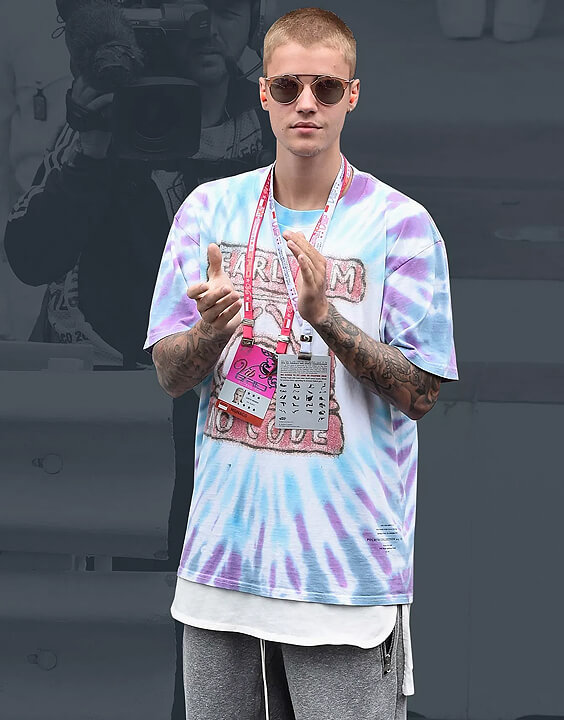 If the 90s were the age of Tattoos then the 2000s are surely the age of prints. Printed T-shirts have become the new medium of speech. With so many slogan T-shirts and quirky prints to choose from, always pick one that best translates your thoughts and matches your style. Printed T-shirts are the new guns of Revolt! Use them wisely.
Prints if worn just for the sake of wearing, won't do your personal style justice and you'll just tire out of the trend faster than you'd expect.
Having trouble saying something? Let your T-shirt do the talking for you!
Although these tips may seem daunting at first, trust us they're 100% legit and many celebrity stylists, fashion connoisseurs, influencers & bloggers and even celebrity icons swear by them.
They are the fundamentals of buying fashion- offline and online.
Now that you know how to find the perfect T-shirts, let us prep you up on how to perfectly style them for a game changing style.
5 Ways Of Styling A T-shirt
T-shirts on the surface may seem like the easiest piece of clothing to style but are they really?
If your idea of an outfit is just a pair of denims and T-shirt then let's get you acquainted with 6 easy ways of styling a casual Tee.
The secret to an effortlessly cool style is accessorizing!
Layer It Up

Layering is an easy way of taking a casual outfit from 1 to 10. For times when changing on the go, bouncing between chilling with friends and date night with your girl seems difficult, a simple black bomber jacket will take you all the way!
Rather than taking all the attention away from the casual coolness of your T-shirt, the jacket just simply amplifies the look without becoming a distraction.
The best part – you might just have your movie moment when your lady gets chilly. Not only it'll enhance your style but might earn you extra points for being a charming date. 😉
 

A Wrap Anyone?

No, we don't mean a burrito, we meant a good old scarf!

Don't ever underestimate the power of a simple scarf. Simply wrapping one around your neck can take your whole outfit from oh! to ooh la la!

Channel a hot and sophisticated culturist vibe next time you find yourself wanting to wear a T-shirt yet again!

Remember not to over do it. The beauty of this look is in its simplicity.

Best to wear a scarf with either a V-neck t-shirt or a woolen full sleeve t-shirt. Avoid Henleys, faux necks and turtlenecks. Too much fabric around the neck is not very appealing, neither does it look good nor does it feel good.

(As embarrassing as it is, it's tried and tested :p).
 

Flannel Your Inner Cowboy!

Did you see what we just did? Pretty cool no! Puns apart.
A flannel shirt is definitely a wardrobe must-have. If you don't have a flannel shirt, you are missing out on a lot!

For a rugged-raw and effortlessly cool look just wear a flannel shirt over your casual Tee. Do not button up!

This one is a hot-favorite with the ladies too!

So if you want to charm your way into a girl's good books maybe show up on your date at the park in a simple, grounded but hot look like this one. Girls dig stability you know, and this look is a good balance of messy and intellectual.
 

Shirt Down Under

A trend believed to be started by the prim and posh of the Ivy Leagues, this product of the campus life is a popular look adored by many men and women.

All you need is a light, crisp, cotton button down white Shirt and a casual crew neck Tee – printed or plain, your call!

Make sure that your shirt is a few inches longer than your T-shirt, from the waist and arms. Wear your T-shirt over a freshly ironed shirt, so that the shirt's collar falls out of the T-shirt collar and the T-shirt sits well above the shirt, keeping it intact in place.

A body fitting T-shirt is recommended for this look.
 

Time To Suit Up

Who knew, your weekend staple could make for an equally good glam OOTN too. All you need is – a high quality, perfectly fitting, sleek White T-shirt and a suit in dark color.

The contrasting block colors and the perfectly fitting T-shirt and suit combination makes for an expensive, dapper look without the discomfort that comes with wearing a shirt.

This is quite a popular choice of outfit at high profile parties and celebrity events. You can totally replicate it for half the price, just get the fit right.
 

T-shirt Tucker Look

We call this one a T-shirt Tucker Look – this is literally what it sounds like. Although not a popular choice of clothing to be tucked into your trousers, you have to trust us on this one. Nothing looks better than a good T-shirt tucked into a wide legged trouser.

However, you need to be a little extra careful while planning this one – your T-shirt has to be a little above the quality of a regular casual T-shirt, for you may not get the desired chic finish that we are trying to achieve otherwise. Full sleeve and half sleeve T-shirts, especially turtlenecks work awesome for this.

A perfect balance of casual and formal – this look is made for men on the go, who can hardly find the time to change but have many places to be.
This is just the tip of the iceberg, there are infinite ways you can style your T-shirt. Although popularly believed to be a piece that belongs in your weekend wardrobe, a T-shirt is one of the most versatile pieces of clothing you could think of. With some time and effort invested in finding and experimenting with ways of styling, you will soon be rocking your T-shirt like nobody else you know.
We hope this has been a good read for you and you learned a thing or two. Now you know how to buy the best T-shirt and how to style it too but do you know where to look? There are many sites to be online shopping in India right now but we trust you to pick only the best.
Whenever you find yourself stuck in a fashion conundrum and need tips like these, you know you can count on us. From fashion to fun and anything that falls in between, we promise to bring you only the best. Hope you enjoyed this read.
See you next time!
Image credits: The copyrights of the images used in this post belong to their respective owners. The credits where known are specified under the image - if you're the owner of an image and want it removed, please contact us.