Learn about the different stylish outfit ideas for different waistcoat styles. A comprehensive guide on wearing the right apparels with waistcoats. Read along for fashion tips on pairing outfits with apparels according to colors and patterns. This is your guide on formal or semi formal wear with waistcoats combinations for men's style.
Tuxedos are sharp and can make you look suave but they can turn out to be a little #OTT for something semi-formal or if you want to wear formal but not look like you've a boardroom meeting to sit through the whole day. But in today's time, waistcoat combination for men have become a rescue apparel for tight situations! Not only formal, but waistcoats could be the idle apparel to wear for an event, occasion, work and even transition it into a party look. Don't believe us? Keep reading and you'll soon get a hang of what we are talking about.
But first, remember that waistcoats were originally styled with an idea to be worn under a coat or a tuxedo but this clothing has come out of its traditional styling and now you could try different waistcoat styles. Instead of being just another layer to your clothing, it can become a personal style statement by adding your touch to the entire look. Here are some ways for you to try out waistcoat styles for different outfits:
Waistcoats have come to become a versatile clothing item in men's wardrobe as it can be paired with different clothing to complete a look. It is easy to incorporate a waistcoat, irrespective of the occasion that you're styling yourself for. From patterns, motifs, buttons and pockets, waistcoats for men is that must-have clothing item in their wardrobe because you can pair them with different apparels:
Waistcoat Styles for different outfits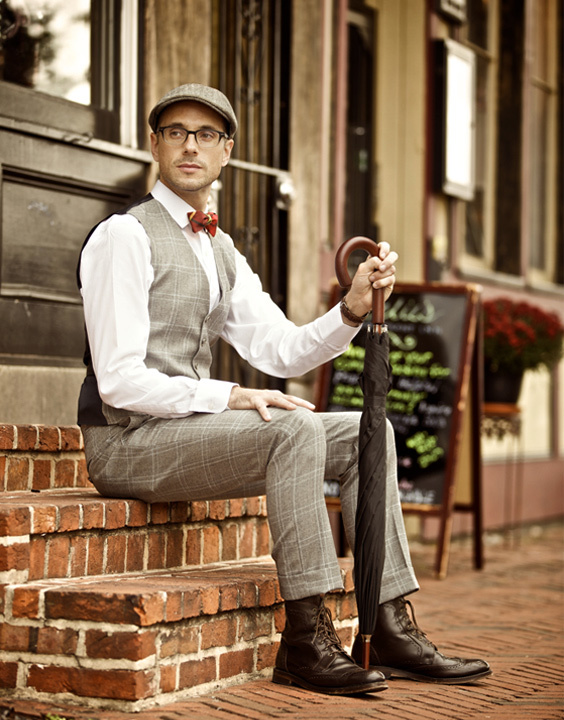 Waistcoats have now become an integral part of men's closets and making outfits with them is a fashion win. You can pair waistcoats with apparels according to the type of event you're heading to. So, it could be for casual wear or formal wear. To figure that out, we're here to help you to figure out making different outfits with waistcoats and prepare an ensemble that only wins and makes heads turn.
Learn to style Waistcoat and Jeans with Tie for men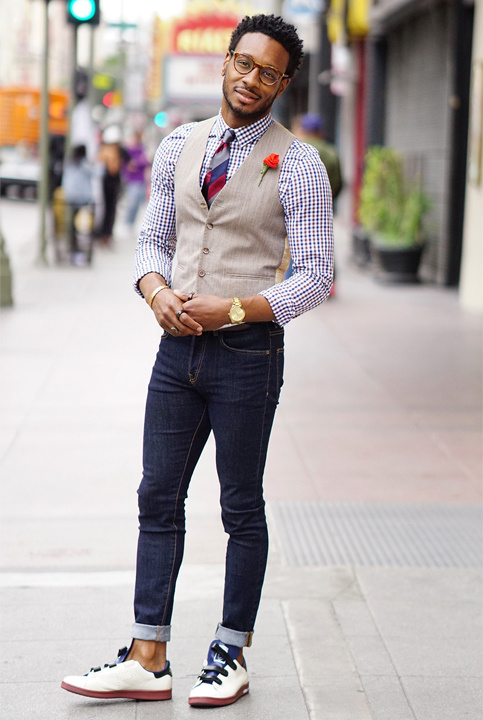 If you have a casual workday which requires you to look semi-formal, the best option at your disposal for trying waistcoat styles would be to pair it with a shirt and your favorite jeans. You can add a plain tie to hold it uptight for the office and easily transition the look into a smart party look for the night by ditching that tie. Especially a woolen waistcoat and jeans with tie for men adds sophistication to any casual attire. Finish off this look with formal shoes and you're good to go!
Even a buttoned up shirt paired with a horseshoe cutout-waistcoat with jeans and casual shoes or espadrilles can be a great option for college presentations or for students pursuing MBA. More of a street-style waistcoat combination for mens would include more usage of blues, blacks and greys in the shirt, waistcoat and jeans in a way that they complement each other with a backpack and casual shoes.
Waistcoat Styles for occasions- making a Suit-Waistcoat outfit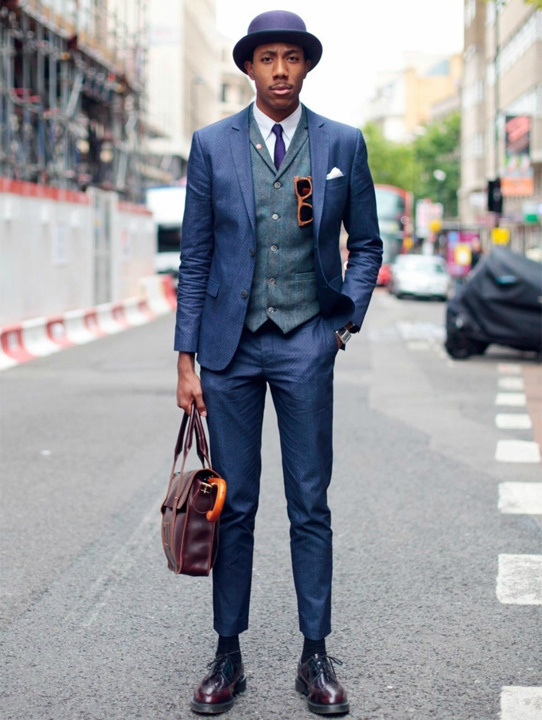 Suits are an integral apparel code during weddings and therefore, it has become a norm to sport waistcoat men wedding. Men either prefer wearing a kurta and pyjama which is Indian formals or might wear a blazer with waistcoat if they prefer wearing western formals. Often three-piece suit with waistcoats are an obvious choice but to give it a distinct look, play with contrast colours with the shoes and the accessories. You can also wear a bow with a suit waistcoat rather than going with the traditional tie-suit waistcoat styles.
Experimenting waistcoat combination for mens with denim jackets and check shirts instead of wool or silk suits is a good choice, especially for casual events like music festivals or a day out with friends.
So, don't be too stressed about how to wear a waistcoat, as styling it with different outfits is the key, so are playing with colours. Dressing up in the usual black theme can be monotonous, instead you can easily play with blues and a mix of monochrome to notch up your outfit higher. It is all about making the perfect waistcoat combinations with colour coordination and we at Bewakoof, can help you with a few tricks to help you ace this skill!
Coordinating colours with Waistcoat Combinations for men's ensembles
Colors really matter in your closet. When it comes to formal wear, mixing and matching colors works best to make different outfits. Different waistcoats of different colors provide distinct charms and hene you need to understand how to style waistcoats according to color and more. Here are a few common waistcoats that you will find and a few tips to style them.
Try Blue Waistcoat Combination with the colours you love!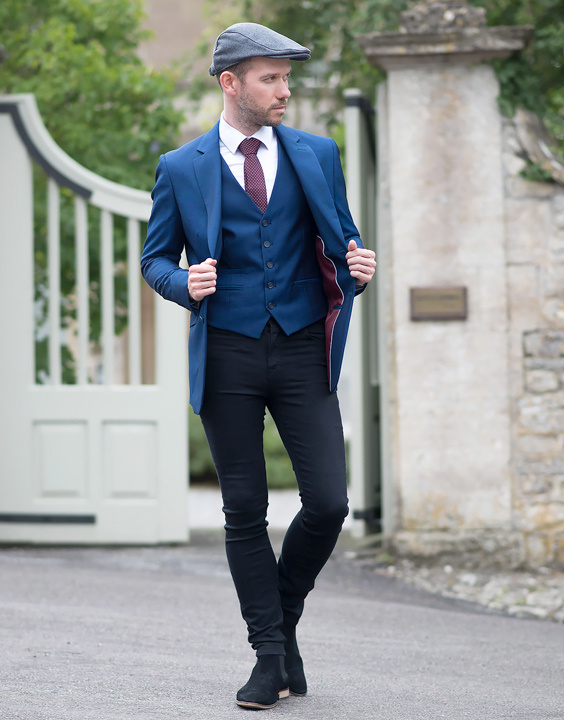 The latest fashion scene has diverted its attention from the old-school black and white tuxedo combination and now the blue waistcoat combination is doing its rounds in the fashion circuit. Have you tried this combination yet? Blue is a colour that matches Indian skin tones well, and men look dapper in any shade of blue. Just style it off with a contrast colour for shoes and pocket handkerchief, and you will stand out from the crowd. Pairing a black waistcoat with a blue shirt, can also make you look charming as these colours in a waistcoat combination will never go wrong. Royal blue waistcoat combination with red pocket squares and tie is a hit among men paired with solid brown formal shoes.
Black Waistcoat Combinations for men's wardrobe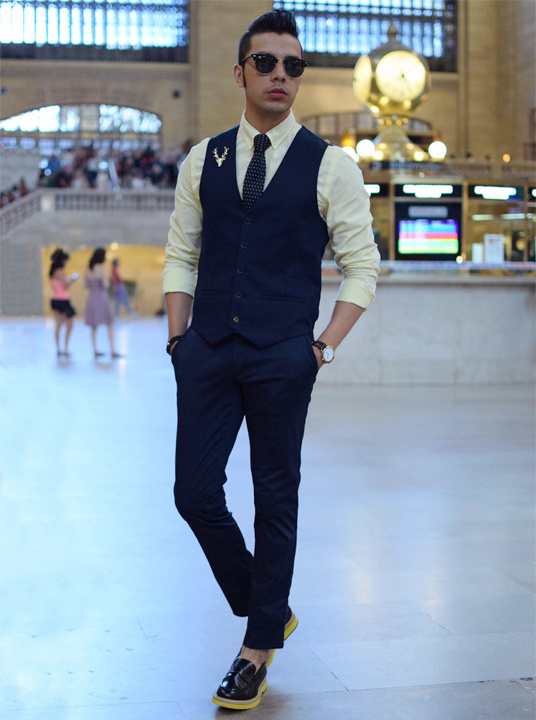 Black waistcoats never go out of fashion, instead they only revolutionise the fashion trends. Waistcoat combination for mens in black also range with blue, white and many other newer shades which makes the black look contemporary, instead of making it look dull or boring. So never fret over a classic waistcoat style, especially designer waistcoats for men can be more of a classic vogue than just being modern. Wearing a black woolen waistcoat over a light coloured shirt and trousers and a tie just can make it an engagement worthy ensemble.
The trick lies in those waistcoat styles and trying out various waistcoat combinations to make it a part of your regular closet. Every layer of clothing can make you look different, but the secret lies in the technique of how to wear waistcoat, more than answering whether to wear it or not. There are some garments which can only up the style quotient, and waistcoats are one such item. So don't shy away and rather put it to its best use for regular purposes. At the end of all of it, personalisation is the key to styling waistcoats for men. You can not only try out some western looks but also create Indian looks by turning the waistcoat into a jacket. The length, colour, pattern, buttons and pockets can be altered to suit the man and it will only add charm, glamour and charishma to the whole look without having to put in a lot of extra effort.
Image credits: The copyrights of the images used in this post belong to their respective owners. The credits where known are specified under the image - if you're the owner of an image and want it removed, please contact us.