Discover various ways to don white t shirt style for men with our ultimate guide. Lots of casual outfit ideas to choose from for your next fashion crisis.
The temperatures are rising and the heat is already getting unbearable, that's why we are here to ask you if you have stocked up on those light colored clothes, especially whites? White T-shirt is a classic way to go around the fashion circuit, whatever be the season, however summers are urging you to take them out of your closet already. It is not only fashion-reliable but also a timeless piece for men, predominantly for those who do not like to over think their ensemble every day. While the white t-shirt trend with blue jeans is a combination that can be the go-to style for men, we thought of disclosing some more easy ways on how to style a white t-shirt style effortlessly, so keep reading guys!
White t-shirt style tricks – Your guide to styling that classic white tee 'round the clock!
A white t shirt may sound really easy to style, but is actually quite tricky while creating an entire ensemble. There are various factors that play a role while you're trying to put together a white t-shirt style look. Details are the key to a good white t-shirt outfit. There's a lot of room to play around with a plain white tee, so you have several options to explore. Read on to find out how to style that basic white tee that's always stuck at the back of your closet as the T-shirts go back in history a long way!
White shoes style with bomber jacket.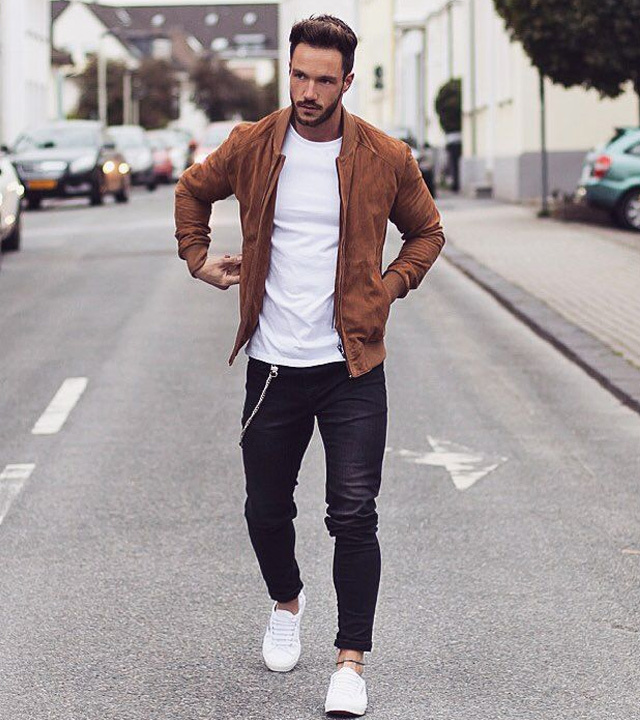 The crew detailing, as basic it gets, it is also a timeless fashion style which can hardly ever go wrong. While it can give a man, a laid back style but pairing it with a bomber jacket and denims is a good choice if you want to go clubbing or on a day out on cooler days. It's a casual attire to sport for Chill-Saturdays in office as well, guys. You can transition this look the way you want as it is a multi-occasion wear and we can swear by it!
Chinos with loafers and casual blazer outfit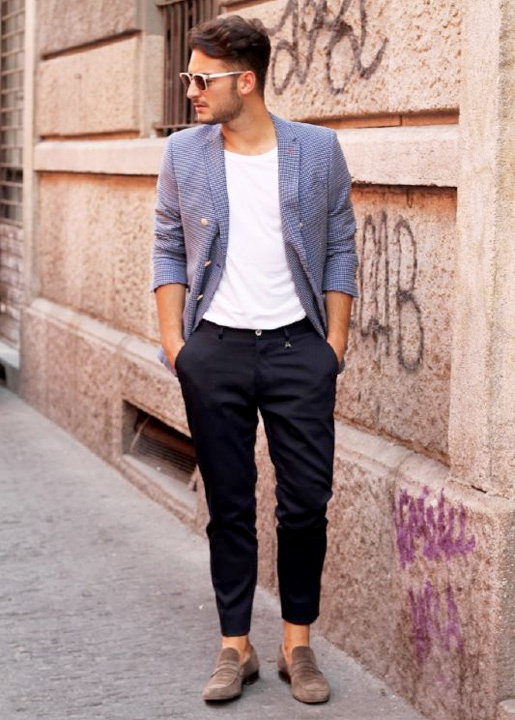 For the quintessential young man who has to dress up more formally than strutting around in denims, you can pair your white V-neck t-shirt with a dapper black or blue blazer and pair it with a dark coloured chino pants. Don't round it off to make it seem like you're headed to a boardroom meeting by wearing your formal shoes, instead slide into your comfortable pair of loafers to complete this look for your Formal Fridays, men. If the weather is too hot, pick a linen blazer instead of the usual one; it is contemporary yet conventional.
Black jeans outfit men with trainer shoes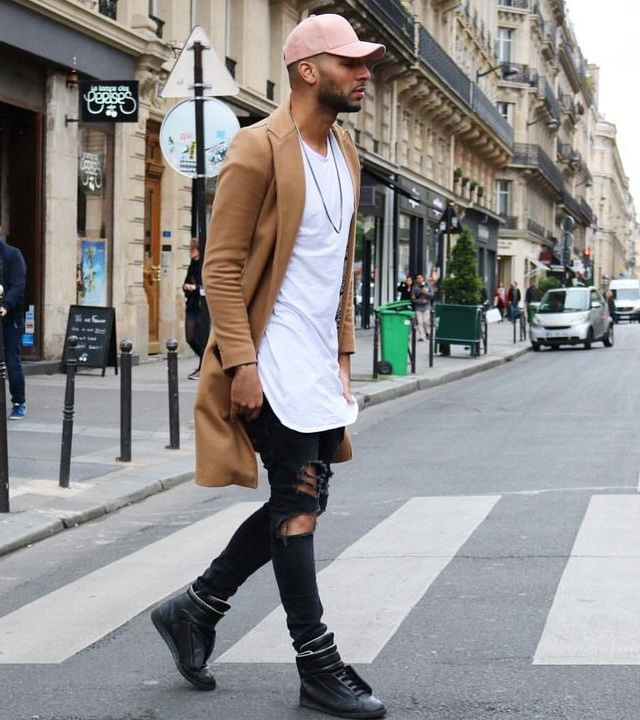 The typical round neck white t-shirt style has found its twist in longline t-shirt trend which gives the man a casual and easy-breezy style. If you want to hang out with your pals or head out for drinks at night, just pair the A-line t-shirt with black ripped jeans and you're ready for some shots! Keep the whole look as casual as it can get, and bring your favourite pair of trainers out for the occasion. If the weather is cold, you can always carry your black leather jacket slung on your shoulders to keep you warm whenever you need it.
Sneakers outfit with full sleeved white t-shirt and scarf style
Walking around the town to run some errands or just spending some quality time helping your girlfriend shop, dress it down but still make a statement in a classic full-sleeves white t-shirt style and pair it with denims. Top it all off with a knotted scarf to suit your style and comfort. Pair this look with sneakers or kicks in red or blue that can be a colour-block if you're sporting a monochrome outfit. This can be you go-to look for the cooler season as it will keep you warm and stylish. Heads up: Keep the scarf and kicks in the same or contrast colour!
Ripped jeans outfit with scoop-neck t-shirt and mens boots style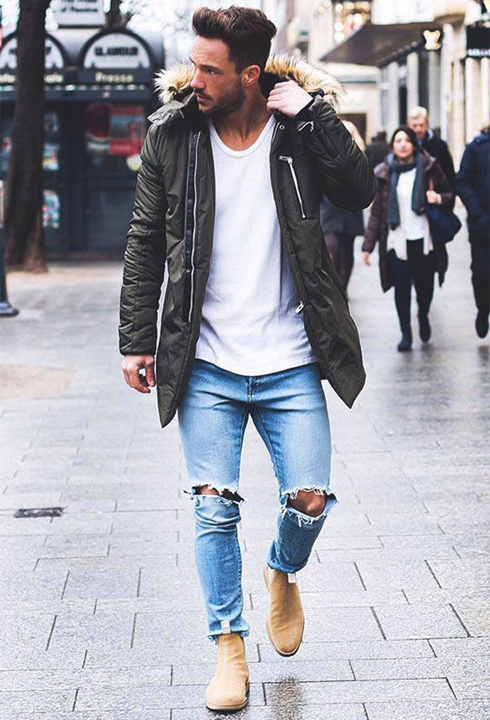 Want to dress apt for this season and be comfortable in your own skin? This is a tip you would want to treasure, boys without having to give up on those ripped denims of yours. Follow the scoop neck t-shirt trend. Pair your tattered jeans with a deep scoop-neck white t-shirt. Your bare shoulders need not be hidden if you're out for a casual occasion. Complete your ripped jeans outfit with ankle boots that give your look an edge.
T-shirt and shorts with flip flops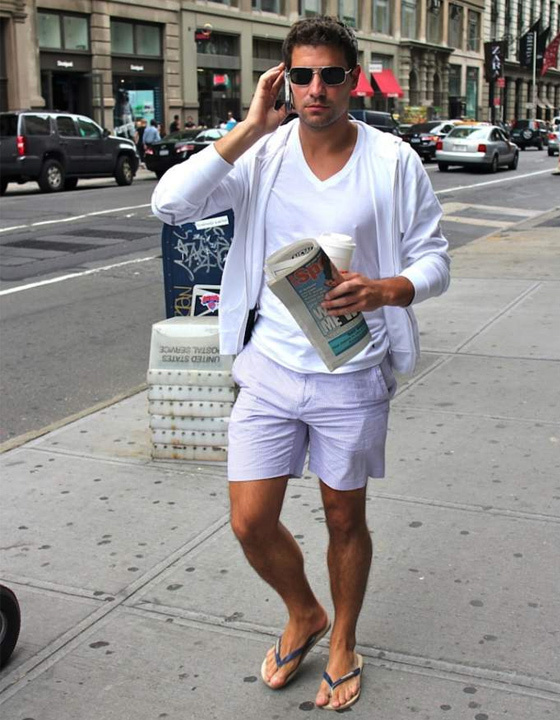 The absolute way to look relaxed yet presentable for a casual day out or a summer outing is to sport shorts which is the easy and comfortable way out. But, don't make it look too homely, rather combine a pair of dark coloured shorts with a plain white t-shirt and flip flops. This is an appropriate leisure wear that you cannot go wrong about, and is easy-going the way you will love it! This white t-shirt style needs to be topped off with your favorite pair of sunglasses and you're ready to hit the road.
We at Bewakoof provide a custom T-shirt collection, where we can print your personal favorite design on our high-quality T-shirt. don't miss to check our collection.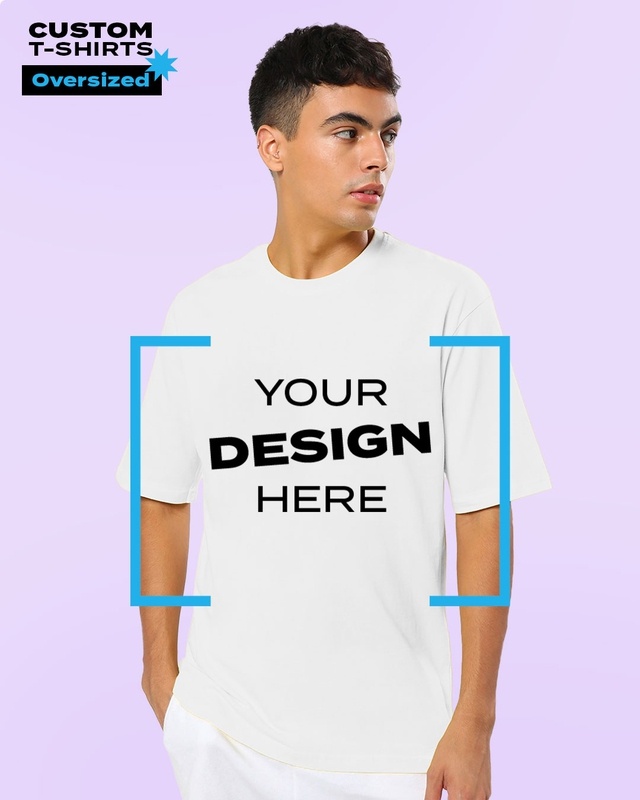 V-neck or round neck plain white t-shirt with trouser style and formal shoes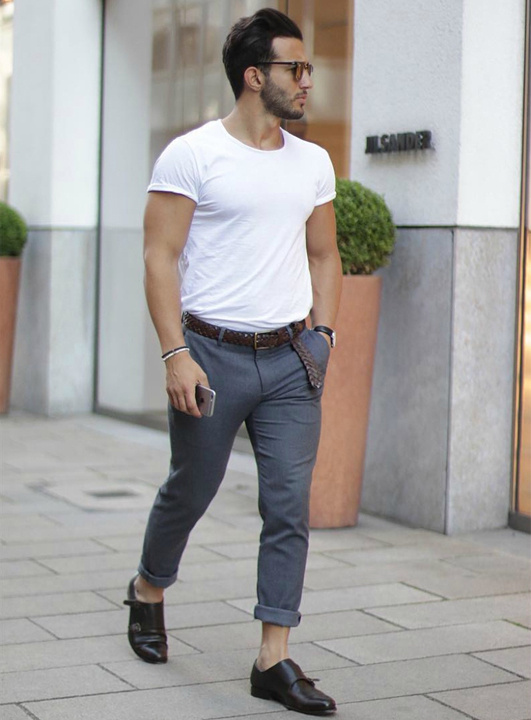 This one is yet for those who are looking for more recommendations on wearing their white t-shirt to work than just casual outings. Well, did you ever realize that the white t-shirt style can look great even when used for layering? Try layering a knit wear on a plain white round neck t-shirt during the cold season and it will not only keep you warm but make you look smart! For the heat, layer your white t-shirt with a shirt, keep the buttons open and complete this look with formal black shoes and trousers.
Pick the right t shirt style with these basic rules.
While these were some tips on how to style your plain white t-shirt men, there are some more regular tips for you to know!
 Ensure that you pick the right fit of your plain white t-shirt while purchasing one, given that you already know having one is an essential in every man's wardrobe.
 According to the body type, choose the kind of white t-shirt that will suit you. Your body type will determine which neck will suit you better, so pick the t-shirt collar style carefully! But a classic crew-neck T-shirt is a must have.
Wash your whites separate, especially your white t-shirts because they are timeless and you will never reach a point where you've to ditch them, unless of course they are worn out by use.
Henceforth, bring that plain white t-shirt style out of your wardrobe more often because it can be worn anywhere, to any occasion. Do not contemplate much about styling this humble piece, because this guide should cover you up. Men, Bewakoof's proposition for the plain white t-shirt is simple- KISS it; we mean keep it simple silly!
Image credits: The copyrights of the images used in this post belong to their respective owners. The credits where known are specified under the image - if you're the owner of an image and want it removed, please contact us.