Revamp your dressing style with these types of prints for beginners. Summer fashion is incomplete without prints in your wardrobe.
Mixing prints fashion trend has recently become extremely popular. It really gives a new vision to dressing-up. Some people think that combining different types of prints on fabric is very complicated but in fact, it is not. At least unless one knows several key rules and useful tips. Summer is definitely one of the best times to try out bright florals, geometric and tiger prints of blouses, tops, Trendy T-shirts, skirts, and trousers. Winters and autumns are ideal for layering clothes with darker geometrical, subtle and military prints.
Rules to follow in print on print dressing style
If you are eager to explore and mix prints, there are some useful and trendy tips.
Basic and neutral fashion colors.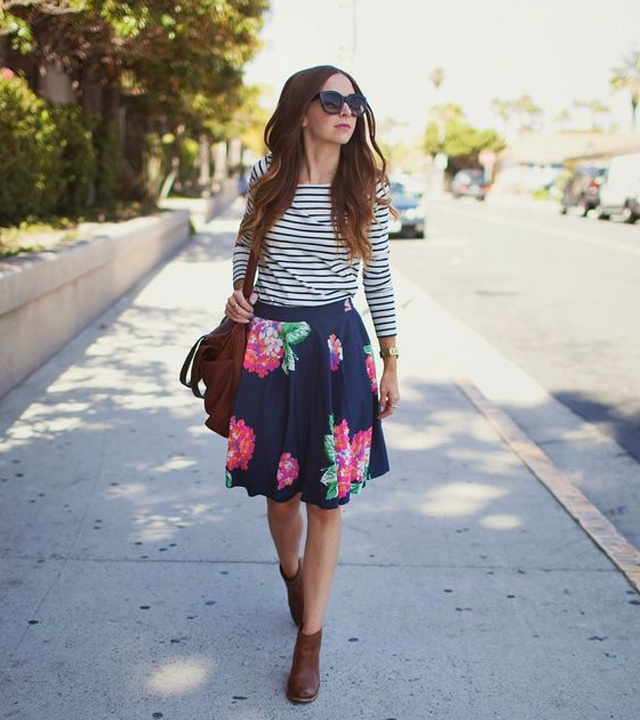 It means that you can replace your solid color shirt or blouse with a piece having soft print on it. So, slowly you will be ready to try our really "complicated cases" of print on print. There are also few so-called neutrals which can go with almost everything: they are stripes and leopard prints.Try your best to combine neighboring colors. They help to bring the look together. It is also a good idea to combine same prints but in different shades or tones.
Don't forget about the basic colors (mostly black, blue, beige and white) which can be teamed up with different prints. What does it mean? Well, black striped pants can be combined with a black jacket with a geometrical print. That is quite easy, isn't it?
Dressing sense tips for when you want to mismatch print sizes.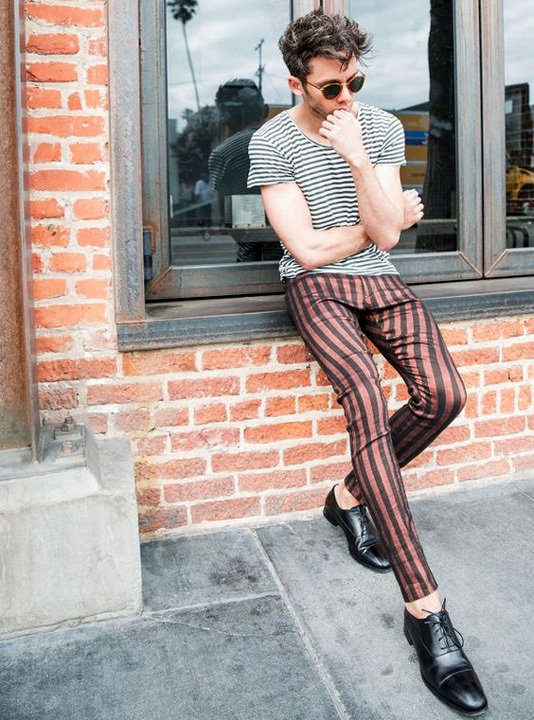 Same print but in different sizes. This actually means that thin stripes will look gorgeous with thick ones! It is really good if you are able to match at least one of the colors of different prints. Remember that graphic prints almost always match each other. You can also play with florals while matching your outfits; just go with bigger, more prominent ones! There is nothing wrong with combining prints from various categories, but make sure you don't go over 2 prints at a time! That's just messy, and messy isn't what we're aiming for.
Get inspired from current fashion trends.
The best way to match colors and prints like a pro is to practice as much as possible. It is really worth checking out fashion blogs and magazines where you can always grab some fresh ideas. However, sometimes good print matches happen by accident, so don't hesitate to try out even crazier combinations. It's always great to get a second opinion from your absolute BFF though, if you're feeling confused or unsure about how you've styled your prints.
Fashion tips to get started with prints.
Stripes styling tips
This pattern is definitely one of the most popular and versatile as it equally suits both men and women. After appearing centuries years ago, stripes have never left the runway and fashion industry. They became extremely popular again in the 20th century. Sometimes in the Western world, they are associated with something negative like prisoners, clowns or criminals. Nowadays, there are hundreds of color combinations of this pattern. Stripes can be thick, thin, small, big, straight, curved, short, and long. This pattern is worn by men and women as it is so called basic print which goes very well with almost everything.
Animal print styling tips
Leopard and tiger print dresses are still very popular and can be found in any fashion collection of each and every season. The history of this pattern goes back to the times of kings and queens when wearing such a pattern was a symbol of high status and enormous wealth. You will be surprised but it hasn't changed much since those times. Even now, wearing a tiger or zebra print means mostly showing off. It is interesting that US rock and pop singers were fond of this print in the 1960's and then again in the 1980's.
This pattern is not limited only to tigers and leopards. There are also zebras, giraffes, cheetah, hyenas, and even monkeys! Of course, modern animal print doesn't mean that you should wear a skin of an animal. It is just a beautiful imitation of the fur of certain animals. The pattern looks really well if it is made of "natural" colors. Some fashion experts recommend wearing only one piece of clothes with such a print at a time. Beginners trying to mix prints may face difficulties in combining animal pattern with other types of prints. However, this trendy and unique print is absolutely worth trying if you want to be in the limelight.
Floral pattern styling tips
There are a lot of types of fabric prints in shopping malls, but this pattern is really very special and universal. Of course, it is a famous and beloved floral pattern. It is awesome, beautiful and versatile, and it comes in various colors. Nowadays, it is impossible to say how this print was created. Most of the experts believe that it came into the fashion industry from Asia where flowers play an important role in the culture. Ancient fabrics from Japan, China and India were full of floral patterns. In the West, this print appeared in the 15th century because of numerous traders and merchants. It is amazing, but Europe started producing own textile with the print only in the 18th century.
These days floral types of prints have definitely become iconic, trendy and versatile. They can go well with other prints. Every year, designers include trendy floral print tunics, shirts, jackets and skirts into their latest collections. For beginners, it may look hard to mix this print with others, but in fact, it is not if you follow easy rules. Checks don't team up well with a floral pattern unless the print has both of them. At the same time floral looks well if combined with any solid color, and stripes as they are subtler, neutral and versatile.
Military pattern styling tips
Military camouflage appeared the way everyone knows it now only in the middle 20th century. In the 1960's fashion industry got hold of it and it is still going very strong. Some people call it "khaki". In some way, it reminds of animal print but with few changes. There are several color and pattern variations of this print that is used by both men and women nowadays. Green and brown khaki dresses and skirts are very popular among women. Of course, military print pants, army print jeans, and jackets have become all-time classics. Khaki teams up well with neighboring solid colors, geometric and subtle patterns. However, it's impossible to call a military print very versatile and universal.
Geometric print styling tips
So-called geometric print consists of various types of zigzags, stripes, squares, checks, circles, diamonds, and triangles. In the 20th century, this print changed numerous times. A few years ago, every runway in the world was full of psychedelic geometric patterns. This print looks gorgeous when combined with the neighboring tones or other geometric patterns of similar colors. It is better to combine it with solid shades if you doubt how to wear geometric prints with florals or khaki. However, if you manage to discover a fascinating combination of geometric prints, you will definitely stand out of the crowd. This print may look simple, but in fact, it is really awesome, overpowering and classy.
Modern fashion industry offers various creative designs. Prints keep changing every year, but they will never leave the runway. Ethnic, tribal, floral, military, subtle, geometric, watercolor, polka dot, and abstract patterns have already become trendy and classy. If you want to look stylish and smart, you'd better keep an eye on the latest print trends. All in all, combining complicated prints is certainly an art you'll now be able to master.
Image credits: The copyrights of the images used in this post belong to their respective owners. The credits where known are specified under the image - if you're the owner of an image and want it removed, please contact us.