Discover the kind of outfits for curvy body shape that you should wear without giving in to stereotypes. You can wear these with confidence and we assure these style tips are on-point.
Do you ever wonder which style to wear according to your body type? It is difficult to follow the rules set by selected few and still find the right apparel for your body figure. Knowing your body type is a good thing indeed, but trying to make it a stereotype isn't.So all the pear body-shaped, apple body-shaped and also the full-sized hourglass body-shaped ladies, stop getting used to embarrassing yourself and start embracing yourself. Facing fashion hurdles while trying to look glamorous everyday like the Gossip Girls is a part of every girl's life. But what makes it achievable is your killer attitude and unique style quotient.You may think your personal style is only able to communicate your characteristics. Well, many a times, you do not realize but your personal style acts as an inspiration for others facing similar issues. Your eminent confidence and infectious energy to fight against the odds to put across your own version of fashion are worth an inspirations for many.
Plus size fashion tips for all women.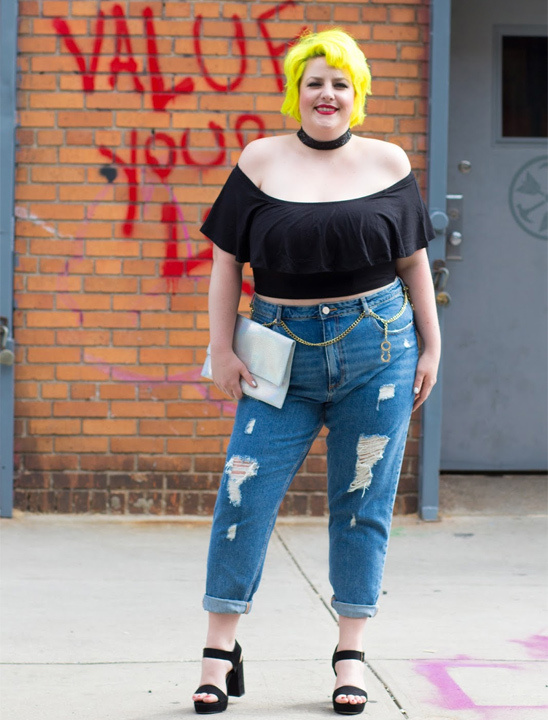 The one simple trick to ace the power dressing for plus size figure is wear anything and everything you feel comfortable in.One doesn't need to follow the fashion do's and don'ts rules as set by others. You will come across various blogs and videos suggesting 'what can make you look slimmer'. Remember fashion is a way to express yourself and not slim yourself down to meet others' expectations. Your fuller curves are meant to be flaunted like in beautiful Rubens paintings and not to be covered in shrouds forced by a part of society. Try every particular apparel that catches your attention without fearing about the 'what to be worn by plus size norms'. The more you explore with styles the more will you find your creative self.
Why size zero shouldn't be the ideal shape of body.
As per the major fashion editorials and critics, fashion is exclusive to size zero to two women, let us remind you that the definition of beauty is not limited to the shape of your body. Moreover one does not need to suffice the set of guidelines set by a part of society to wear what one has to. Your body is an important part of your appearance and the only way to glorify it is by accepting it the way it is. Once you become comfortable with your own size, style becomes an effortless language to express your uniqueness. And what better way is to appreciate your fuller curves than by flaunting them?Also with a list full of plus-sized ladies making headlines for their fashion statements like Amy Schummer, Adele, Meghan Trainor and Christina Hendricks, they have changed the way to look at plus size fashion.
Outfits for curvy body shape – Wear these with confidence!
Here is a list of trends that are usually blacklisted in the fashion do's for plus size styles but are to be worn to embrace goddess of curves you are.
Crop top outfit for pear shaped body.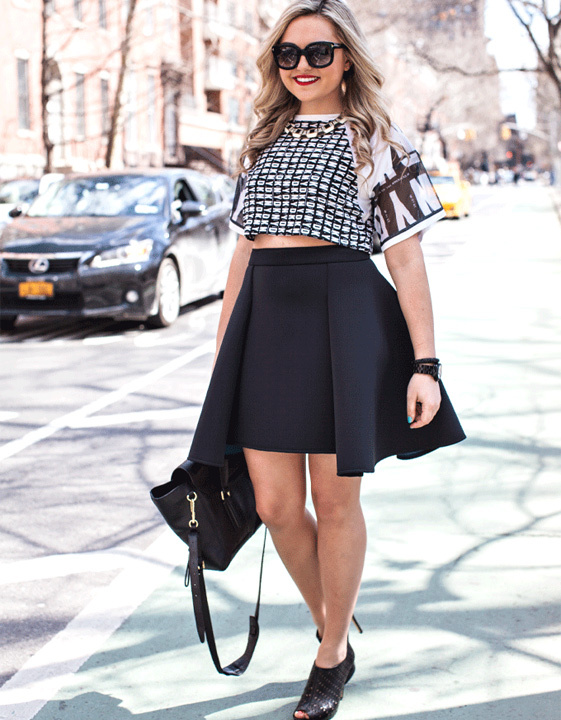 Got a belly? Then show off! Crop tops don't come with a specification to show off abs or flat belly then why should you stop from flaunting your voluminous curves? Don't be reluctant to let those love handles stun others. Especially those pear body-shaped ladies who have been asked to follow numerous ways to layer with piles of clothes, cover under shrouds and squeeze in oversized belts. Breakthrough the conventional misconceptions and make way for the trendy crop tops. Besides the factor that your love handles need to be flaunted, crop tops come in all kinds of trendy patterns, with alluring prints and emanate zesty spirit.  
Slip dresses for apple body type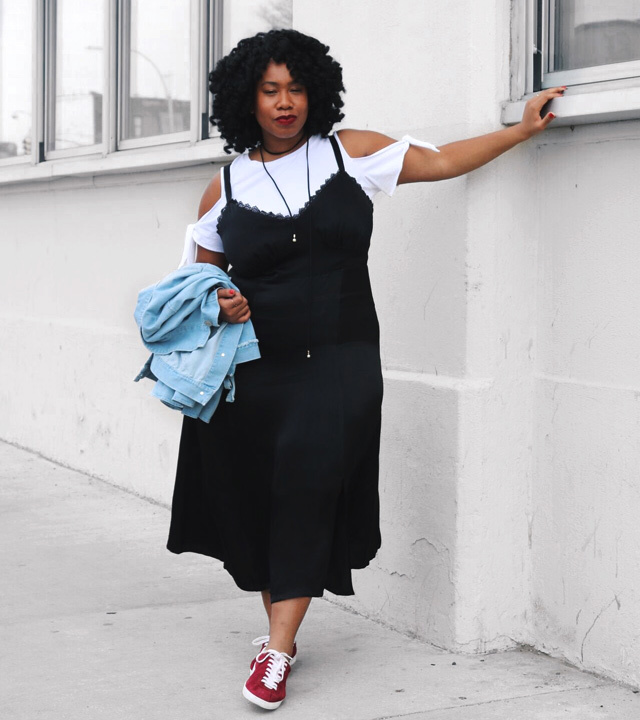 Slip dresses are the latest addition the sensuous fashion apparel list. Your grandiose curves deserve to be adorned in an enticing slip dress. Especially those apple body-shaped ladies who have are expected to cover their bedazzling curves under shrouds, a slip dress is a perfect way to shun all those misconceptions and dazzle your way with fashionable appearance. The steep necklines, enticing straps and feminine pattern flowing gently on your body silhouette. For a romanticized night,the event goes for a neutral or subtle toned slip dress. If you are planning for a day outing like a Sunday brunch or lunch date, opt for a slip dress with tropical print to keep a balance of sass and freshness. Also, the comfort quotient of a slip dress makes it a must-have in your wardrobe.
Pencil skirt outfit for hourglass body shape: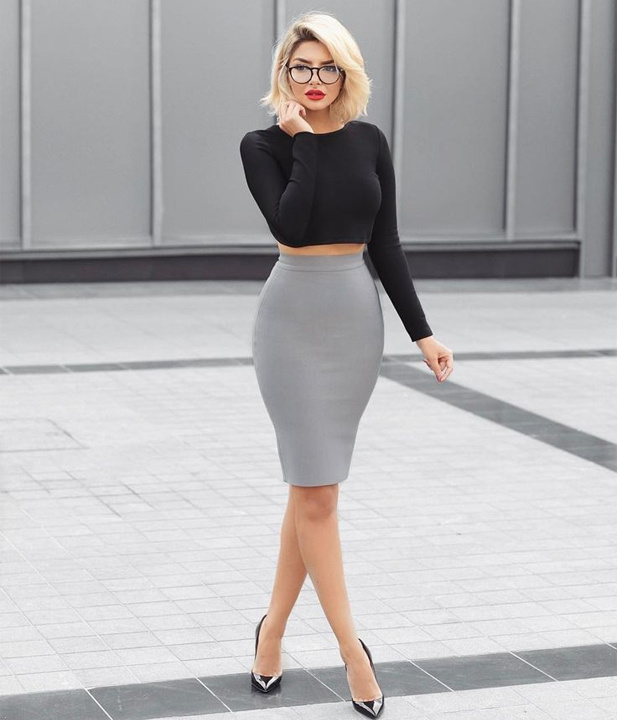 They call it thunder thighs, we say they are wonder thighs. With curves like those, why would one want to keep them a mystery? Flaunt them with figure-hugging pencil skirts. Also, to all the hip heavy women, stop covering yourself in flared palazzos. Do not fall into the trap where they tell you pencil skirtdress is not for your chubby body type. Your curves are your assets and they are sure of something not to be shied away from. Be it a party night or an important office meeting, a sleek and sassy pencil skirt outfitsnever fails to impress you with its glamour. For a chic formal ensemble, opt for formal pencil skirt outfits complemented with a matching coat. If you are looking out for a style to kill them with sass at a party, a leather pencil skirt is your answer. If you are a fan of romanticized dressing style go for a lace pencil skirt. Pencil skirts look best when paired with boots and complement well with the confident vibes.
Shorts outfit for pear shaped women: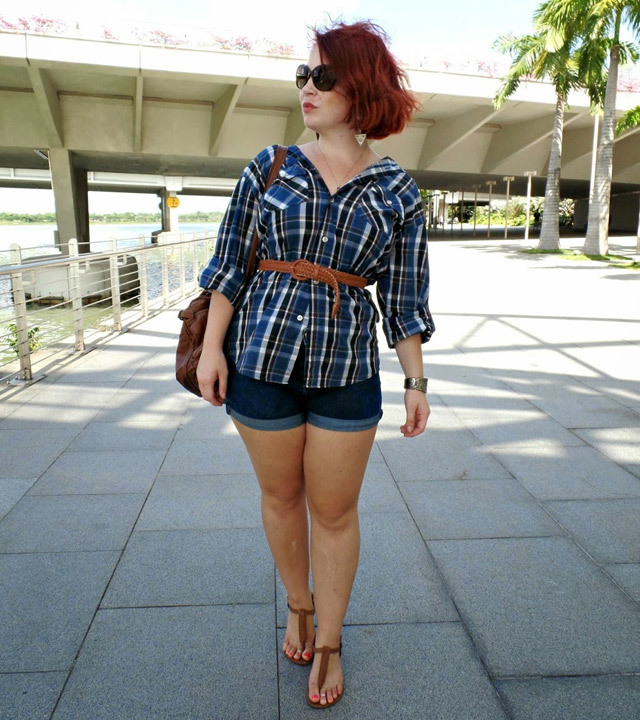 Want to be summer ready? Want to be a retro beach babe? Go for sassy shorts without any second thoughts. Shun everyone who tells you how to dress to look slim and avoid wearing shorts for that. Put a full stop to covering and hiding your curves and flaunt them. For a casual trendy look go with a pair of denim shorts. For a chic gym look go for a sporty pair of shorts. If you are planning to go for a zesty beach appearance opt for a peppy pair of shorts with Aztec prints.
Bodycon dress style hourglass body shape :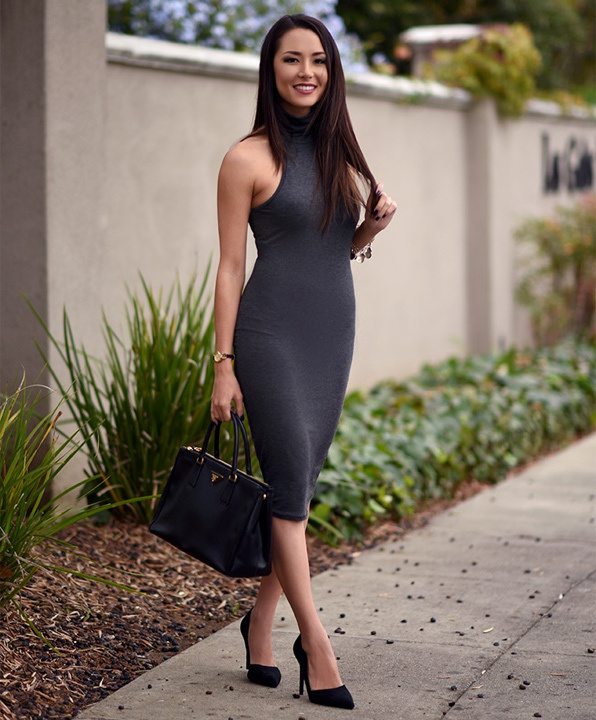 To all the people trying to stop you from wearingsexy dresses saying they are for slim body shape. Be it a pear body-shaped, apple body-shaped or a fuller hourglass body type, the sassy bodycon dresses are made to flatter your Rubenesque curves. Pair it with an alluring pair of stilettos to complete your chic look. The lacy patterned bodycon dresses are perfect to match your sass and add a dash of glamour to your appearance. There are a variety of bodycon dresses available in stores from printed ones to the single tones and embellished ones to the daintily laced ones. But a bodycon dress is your answer to leave your every style critic smitten by your beauty of confidence.
So this was a list of apparels that you have been fearing away to try out pertaining to your different body shapes. No matter what they say your size is your asset and not a flaw, so let not anyone stop you from flaunting it. And if anyone tries to do, shut them up with your eclectic style quotient.
Image credits: The copyrights of the images used in this post belong to their respective owners. The credits where known are specified under the image - if you're the owner of an image and want it removed, please contact us.