Trot the country and raid wardrobes but you won't find one that has never served as home to a desi salwar suit! With such popularity it's obvious, trends keep changing. Have you been keeping up? Here's a curation of  all the trendy & latest salwar suit design that you would totes love!
With summer fast approaching, we can all unanimously agree that a salwar suit is the most comfortable, breezy and breathable thing to wear in this scorching heat.
It doesn't matter if you're into western wear, salwar suits or indo-western; you can always find a salwar suit design that matches your personal style!
Here's a list of all the latest types of salwar suit that you need to have in your wardrobe.
1.Punjabi Salwar Suit – Desi Magic!
After the Golden Temple, Punjab is most famously known for the Patiala salwar suit. This type of salwar suit is evergreen; a Patiala salwar that was in fashion in 2009 will still be just as fashionable in 2019! This Punjabi salwar suit is usually worn with short or medium kurtis to attain that overall hip yet traditional look.
Style tip: Considering that florals are very in, you can opt for floral Patiala salwars instead of basic ones.
2. Banarasi Salwar Suit – Celebs Love This!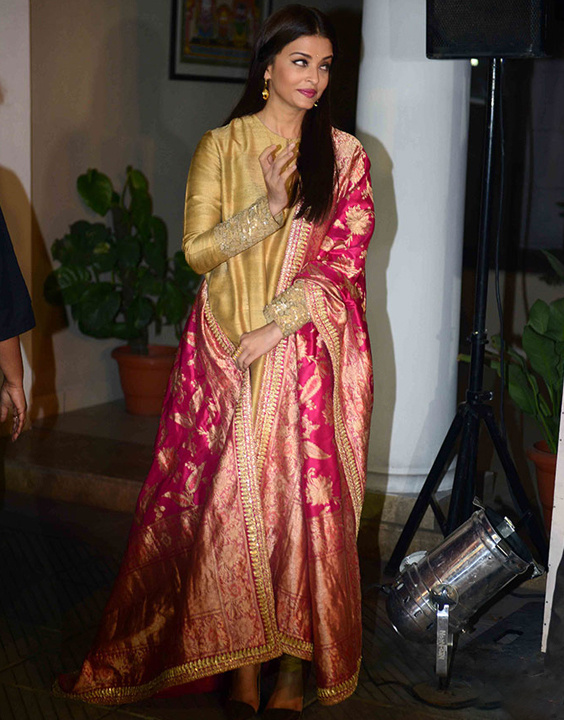 Any banarasi outfit is always a classic. Whether you wear a banarasi saree for a wedding or a banarasi salwar suit to work, you will always look elegant and sophisticated! In our opinion, you can never go wrong with a banarasi outfit, and there is no such thing as a bad banarasi suit.
Style tip: Banarasi suits look best when the dupatta is banarasi and the overall suit is a solid colour.
3. Pakistani Salwar Suit – A Beauty Right Off The Runway!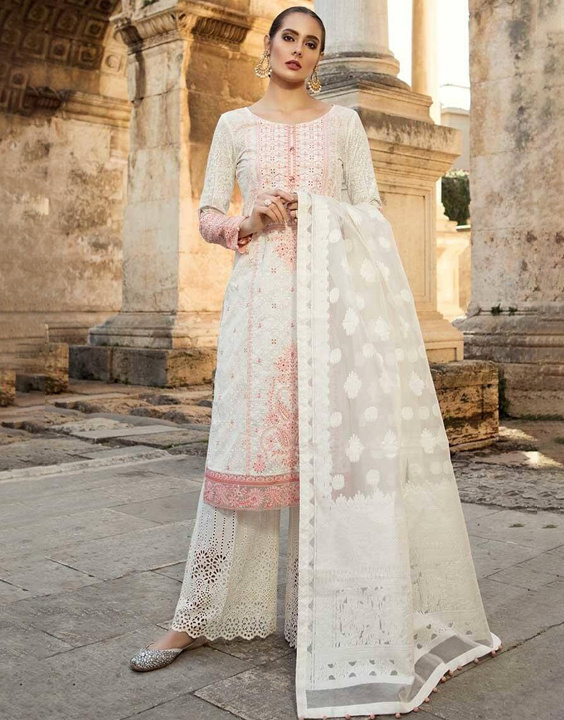 The Pakistani suit has taken over the wedding fashion world by storm! The grace and elegance of a Pakistani salwar suit combined with its intricate work and bold style is what makes this suit so perfect. And, the best thing about the Pakistani suit is that it looks flattering on every body type.
Style tip: Always wear a Pakistani suit with heels! Pakistani suits make you look slimmer and taller, and heels help boost that effect.
4. Channeling Umrao Jaan's Grace In An Anarkali Suit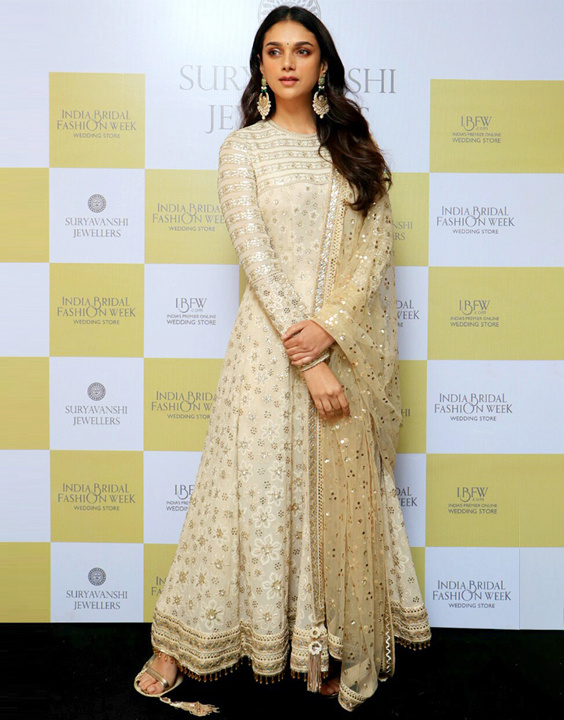 There is not one woman who has ever said that an anarkali does not suit her! This long salwar suit always gives off a very chic and formal vibe. So, if you're ever confused about what to wear for a formal or semi-formal occasion, you know what to pick. When in doubt, always pick the anarkali salwar suit!
Style tip: Pastel shades are a no brainer. Pastels are totally trending in 2019, which means anarkali salwar suit in pastel colors is  always a good idea.
5. Dhoti Salwar Suit For Every Bubbly Babe!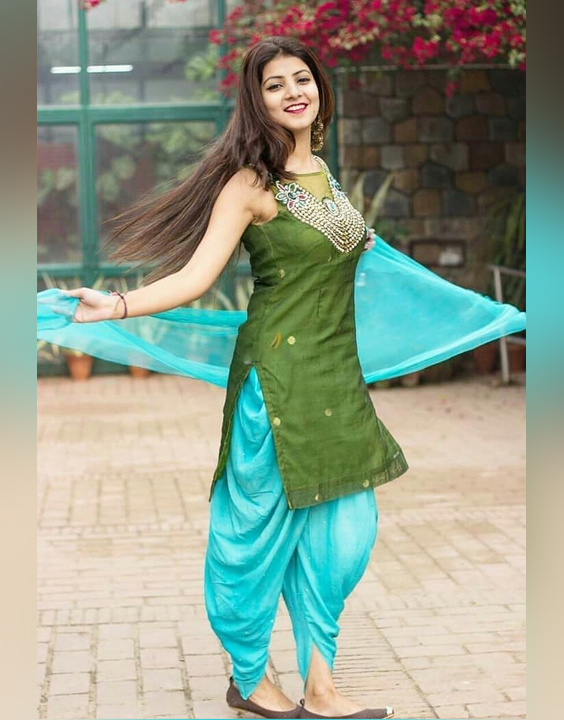 This suit style is definitely our top summer recommendation. A dhoti salwar suit is so easy breezy yet so chic and stylish. This one is especially great for those days when it's scorching hot outside and you cannot imagine wearing something that will cling to your body.
Style tip: Pair your dhoti salwar with a peplum kurti for a very cute and girly look.
6. Cotton Salwar Suits – Cut The Heat In Style!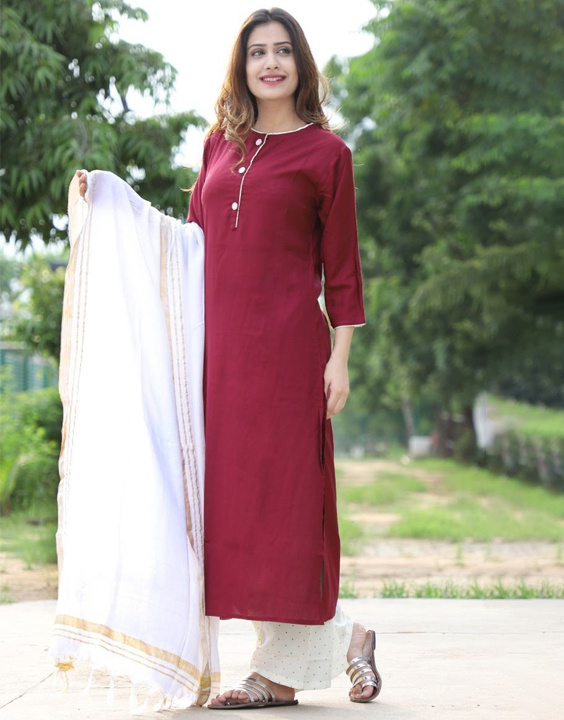 A cotton suit is the best thing that you can wear in summer. Not only does it look very pleasant and summery, but also it's a classic. The most trending cotton salwar suit design right now is a knee length or ankle length kurti paired with cotton palazzo style salwar or straight cotton pants.
Style tip:  A plain salwar suit paired with a beautiful floral or hand painted dupatta always looks elegant and evergreen.  
7. Salwar Suit With Jacket – Best Of Both Worlds!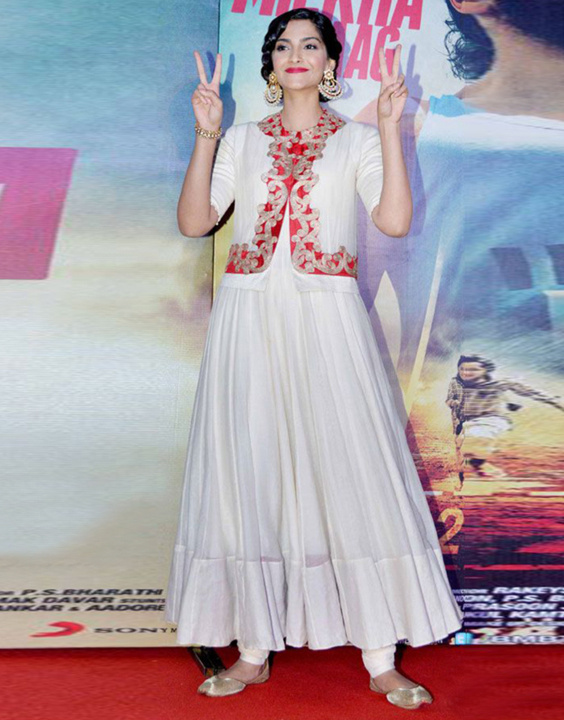 When you want to up your salwar suit game, just add a jacket. We think jacket type salwar suits are the perfect balance between chic casuals and smart formals. Plus, a jacket can help you cover up some body parts that you are conscious of.
Style tip: A solid salwar suit paired with a floor length jacket is the best outfit when you're going for a minimalistic yet chic vibe – be it for a formal function or a casual day out.
8. Pant Style Salwar Suits- These Rule The Runway Ramp!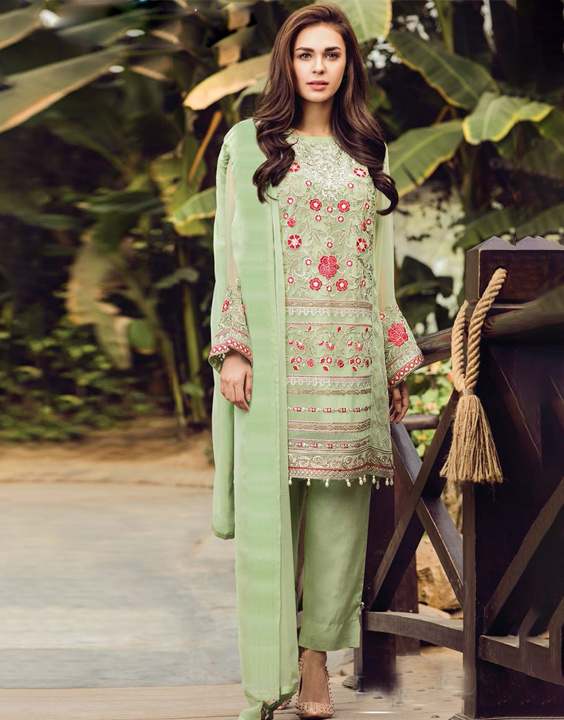 Taking a leaf from the book of western fashion, Indian designers have moved towards pant style salwar. And it's clearly a crowd favourite because pant style salwar suits are very popular nowadays! If you want to create an illusion of a slimmer lower body, then the pant style salwar is the way to go.
Style tip: Ditch the dupatta. For a really sophisticated indo-western look, pair your pant style salwar with a straight kurti.
Salwar Suits For Wedding- Glitz, Glam & Absolute Drama!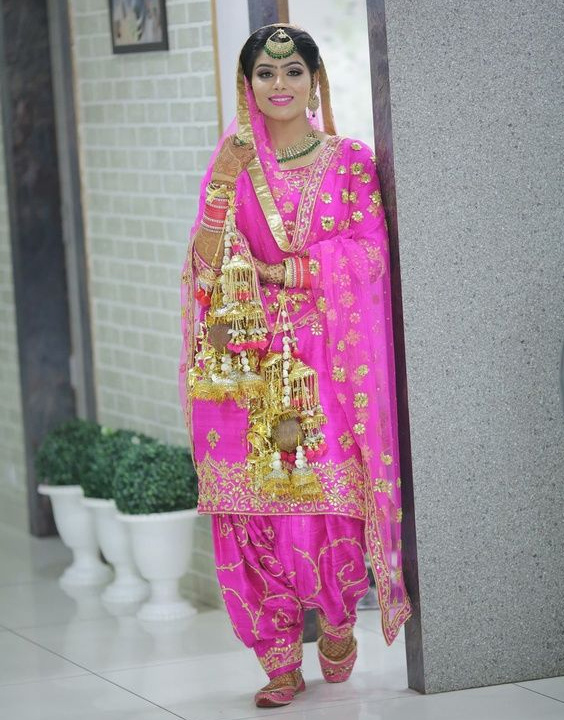 Every bride wears a lehenga at her wedding, but how many brides actually wear salwar suits for wedding? Think about it! If you're a to-be bride and you're looking for wedding outfits, take inspiration from Punjabi brides and consider slaying in a salwar suit on your big day!
Even a heavy salwar suit is anyday more comfortable than a lehenga thus the perfect option for the pheras.
Style tip: An all gold bridal salwar suit paired with a pink or red dupatta will make for a really unique yet traditional outfit.
Glam Up Any Glittering Event With Salwar Suits For Wedding Party
All you need to look good at a wedding is a fancy suit salwar! Be it for the main wedding function or just a wedding party at home, you can always wear a beautiful salwar suit and dress it up with jewellery. According to us, the most evergreen party wear salwar suit is an anarkali – so when in doubt, choose the anarkali.
Style tip: Opt for a single colour suit this wedding season. Nowadays, shades of grey and dull gold are very trending.
So, there you have it, all the latest trends in salwar suits in 2019! Just stick to these trending designs, then you could wear a designer suit or a suit that you designed yourself and we know you'll rock it!  
After all, you can never go wrong with a beautiful Indian salwar suit.
Image credits: The copyrights of the images used in this post belong to their respective owners. The credits where known are specified under the image - if you're the owner of an image and want it removed, please contact us.