Ladies Bangles are an easy way of amping up your Indian wear. Explore this beautiful world of different types of bangles and find the perfect bangles to flaunt at the next event!
Ladies bangles have been around for generations, going from simple metal bands to multiple styles that are quite literally impossible to list in one go.
These wrist clinchers have trekked their way through history and found a comfortable spot in the modern Indian wardrobe, making bangles the ultimate women's accessory!
The latest bangles are all about upping your style quotient in a subtle way, with numerous options in different materials, colours, shapes and sizes for almost every occasion. So why wait, go find the types of bangles that suits you best!
Gold Bangles – Flaunt Your Bling!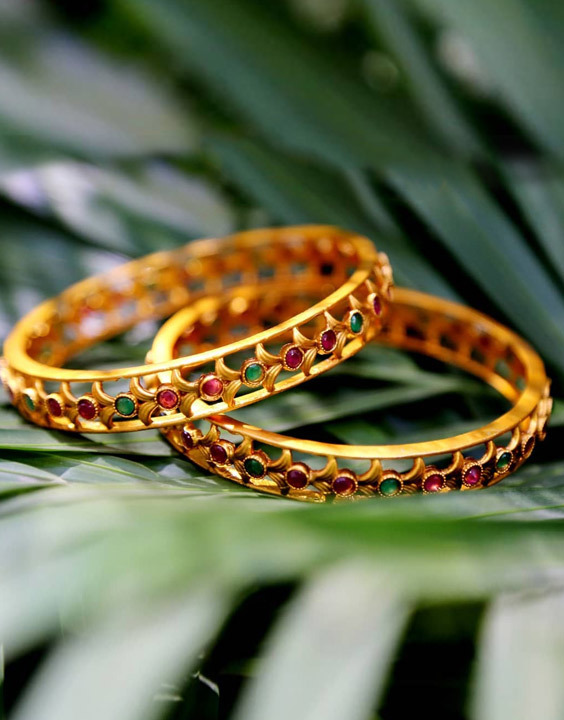 There's no fashion crisis that a few gold swathed bangles can't salvage. From thin bangles to thick kadas, these bangles are the ultimate style accessory for all outfits, whether traditional or Western.
Often said to work wonders for all skin tones, a gold bangles design is certainly going to give a quirky edge to your look.
How to wear: Most often seen worn at weddings, these can be paired with traditional Indian outfits in rich colours like red, green and purple. Don't bother too much about the colours though – gold wedding bangles go with everything!
Brighten Up Your Day With Gold Plated Bangles!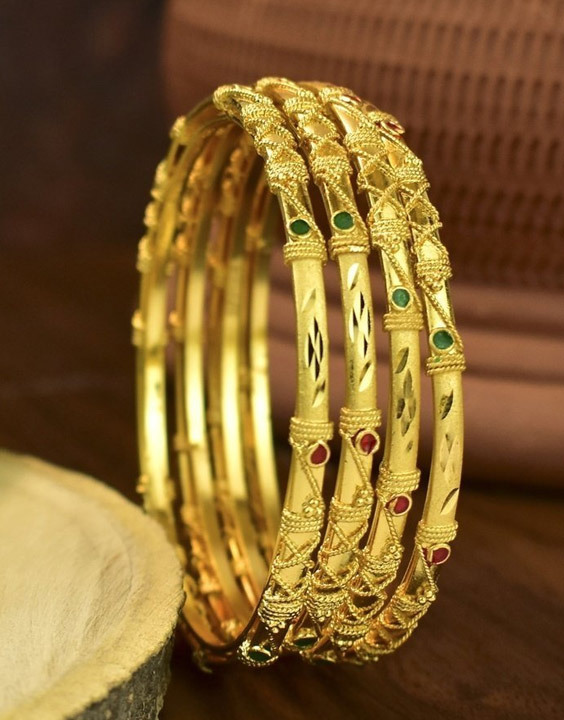 Perfect for your day-to-day outfits, gold plated bangles are a slightly darker version of the yellow-gold jewellery.
A little less overpowering, these accessories can be worn by themselves, or stacked up with chain bracelets and chunky kadas. Any way you go, these ladies bangles are bound to work for you.
How to wear: Wear these with an elegant sari to work, or with a simple Indian suit for a mehendi ceremony.
Thread Bangles – Epitome of Feminine Beauty!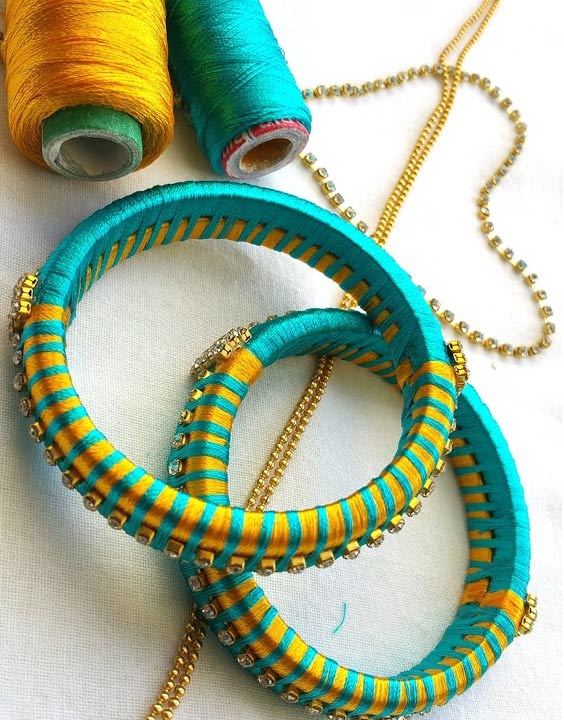 Beautiful handmade thread bangles have a delicate femininity that is so characteristic of Indian women!
A range of bright colours is the norm, with intricate work in shiny thread and sequins. Playfulness is the key here, as is being a little experimental with your look. The best part – you don't have to do much with your look, since they easily inject some friskiness in your outfit!
How to wear: Go for a chic look by pairing them with a full length Indian gown for a sangeet party. Keep the colour in your outfit to a minimum if you're going for multi-hued fancy bangles.
Silk Bangles To Color You Good!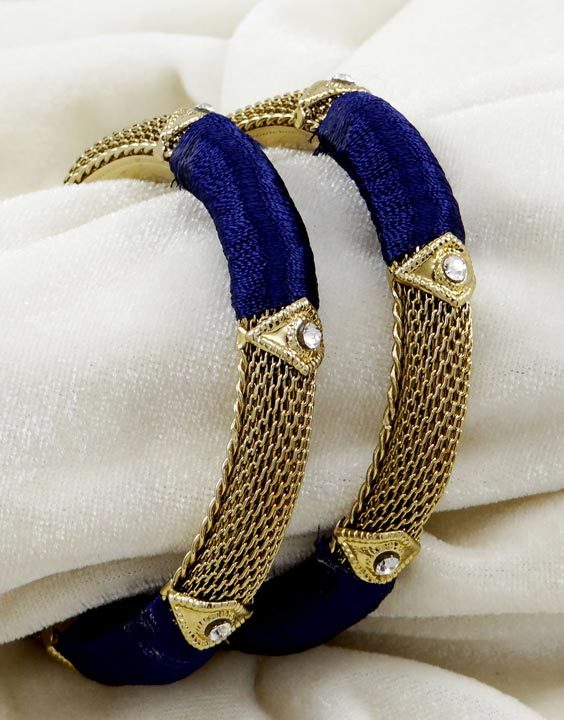 Silk as a fabric is so rich and luscious, that it can literally transform everything from sarees to bangles look like they belong in a royal wardrobe.
Silk thread bangles designs can perfectly support light and heavy embellishments, in traditional as well as contemporary colours.
How to wear: Celebrating your milestone wedding anniversary? Couple embellished bracelets with a modern sari or Indian-inspired gown.
Staying Classy With Diamond Bangles!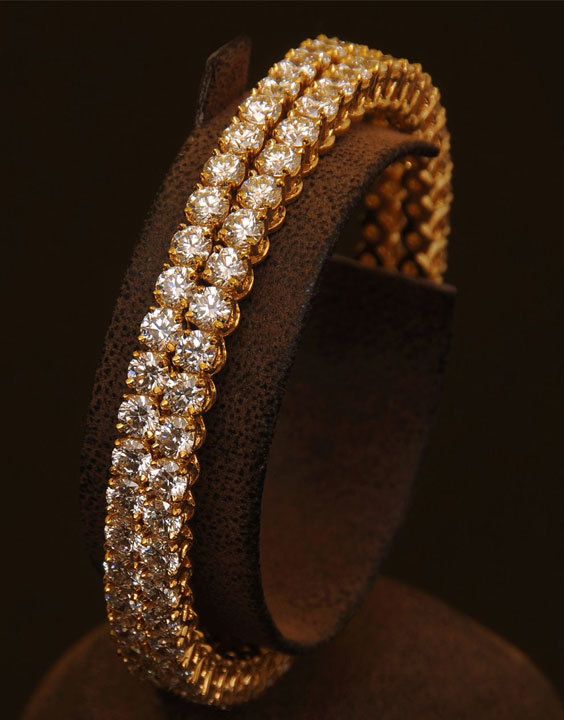 Ladies, there really is no limit to what you can do with diamonds. After all, they are a woman's best friend!
With diamond bangles design, you don't need to do much; the accessory will do all the talking. The ultimate accessory for the woman of today, these bangles look best in simple, thin designs with gold or silver as the base.
How to wear: A dash of sparkle works wonders at parties. Wear your blingy bracelet with a fitted black dress or a long gown.
Silver Bangles- Slay It Like A Boho Queen!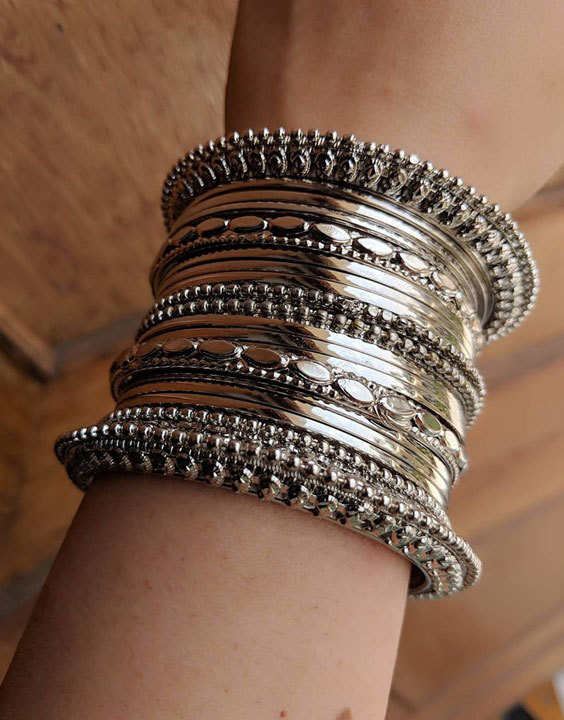 We have to admit, we're a little partial to the charming silver bangles. And why not? They're delicate, elegant and oh-so-trendy, and did we mention stunning?
Chunky cuffs, thin handcrafted clinchers or simple bangles encrusted with gems; the designs in silver bangles for women are timeless.
How to wear: Western outfits work well with these, especially dark colours like black, navy blue and maroon. Don them for a casual night out with friends or family.
Oxidised Bangles – Always In Vogue!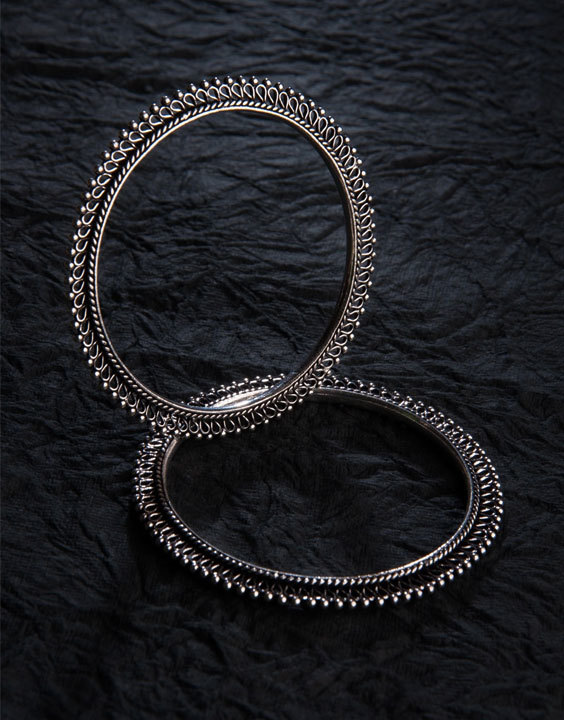 When it comes to oxidised jewellery, the range of styles in new bangles design is unending.
A favourite among women who love to wear chunky jewellery as statement pieces to their look, oxidised bangles have a distinct black silver tinge. It works for all budgets and almost all outfits – no wonder it's been a hit for years now!
How to wear: The most timeless pairing for these bangles is with heavy ghagra cholis during Navratri. But for an edgy contrast, where it to work with jeans and a black vest.
Channel Old Bollywood Charm With Glass Bangles !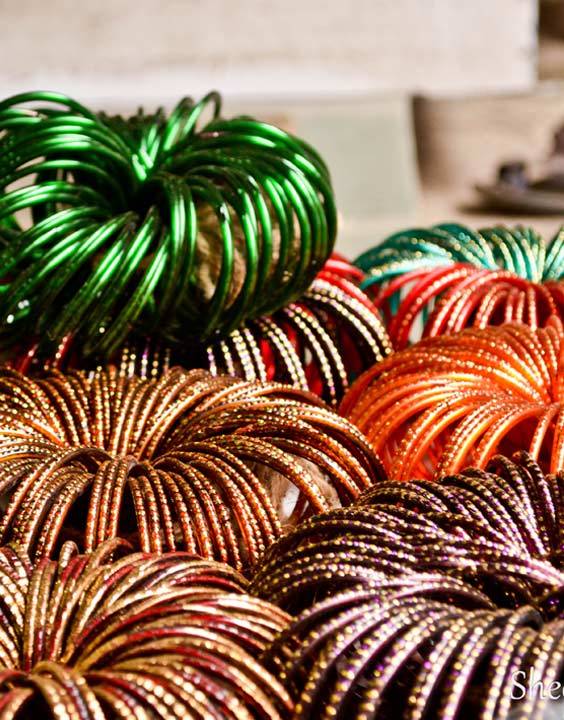 Just the thought of glass bangles takes us to the narrow streets and jewellery markets of India, where these delicate accessories are stacked up in colourful bundles in eye-catching designs.
They look best when they're worn in organised sets, interspersed with other types of bangles like thicker kadas or threaded wristlets.
How to wear: Usually a staple for new brides, these are a great touch for family festivities like Gudi Padwa and house pujas.
Shine Bright, Wear Metal Bangles!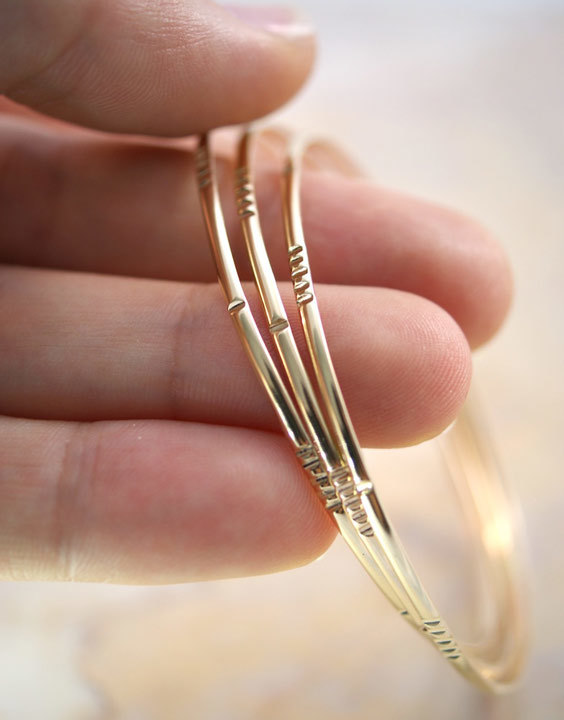 Mouldable, malleable metals, when put into latest bangles design, can last a long time. They fit wonderfully into casual outfits as simple, fuss-free adornments.
Unlike gold, silver and platinum bangles, metal bangles are made from cheaper alloys that are low-maintenance and a great ethnic addition.
How to wear: Since they come in so many designs, wear a bunch of them together with a simple kurta churidar for lunch at a friend's house.
Make A Statement With Stone Bangles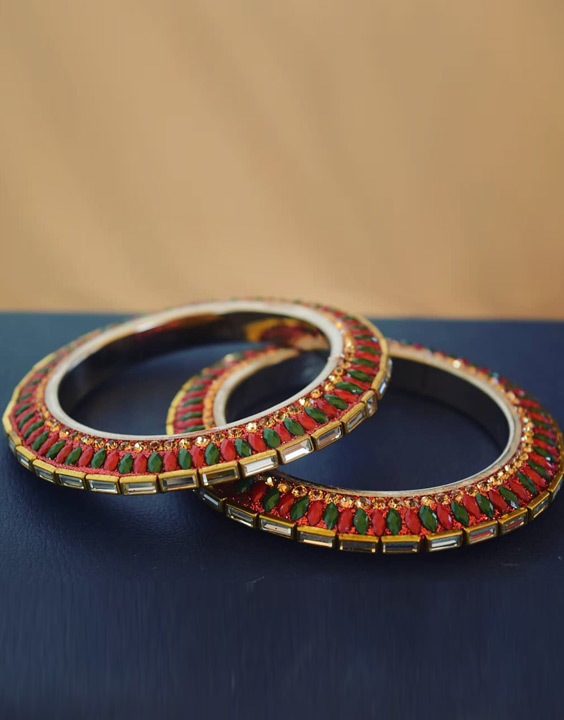 Set against a metal base in gold, silver or non-precious metal, colourful stones add a dash of oomph to bangles.
You can easily turn to stone bangles when you don't want to wear too many items of jewellery but still want a heavy look.
How to wear: Indian wedding functions like receptions and cocktails are flexible when it comes to outfits, so these work with almost any kind of traditional clothing.
Ruby bangles- Redefining Royalty!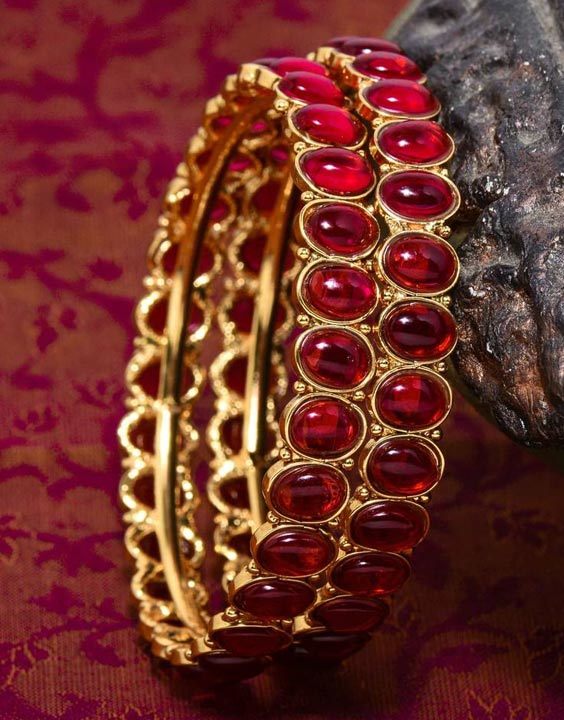 You've probably heard the term 'ruby red'. The blushing colour is characteristic of rubies, and gives an unparalleled richness to ornaments.
Gold bangles studded with rubies are the mark of tasteful style. Ruby bangles come in numerous designs, with the most high-priced ones designed in combination with gold, diamonds and other precious gems.
Where to wear: Inject some more colour into your Diwali with ruby studded bangles paired with a heavy Indian salwar kurta or sari.
Keep Things Neutral With White Stone Bangles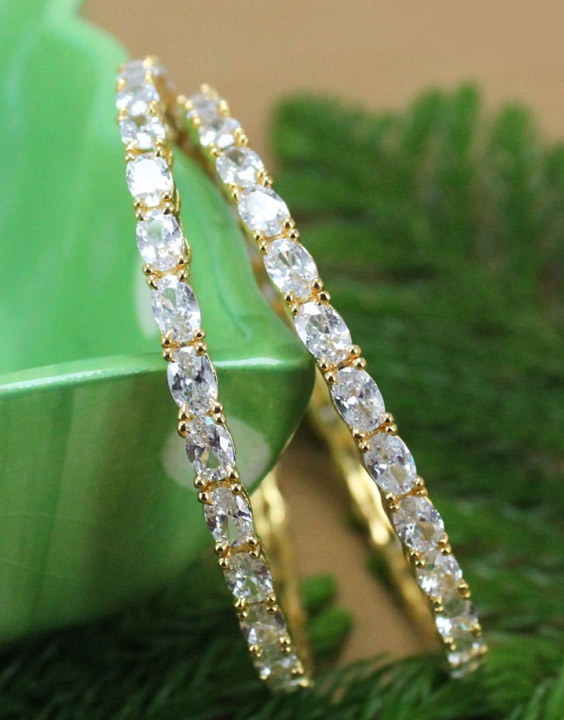 Much like diamonds but comparatively inexpensive, white stone bangles are sparkling stone creations paired with gold and silver in soft, feminine patterns.
Usually seen in thin bangles with minimal designs, white stones keep things neutral yet luxurious, with the signature white colour being the standout.
How to wear: Looking for a chunky set of bangles to go with your beach look? Try these latest bangles design in white stone with your swimsuit and sarong for a breath of fresh air!
Picture Perfect Pearl Bangles!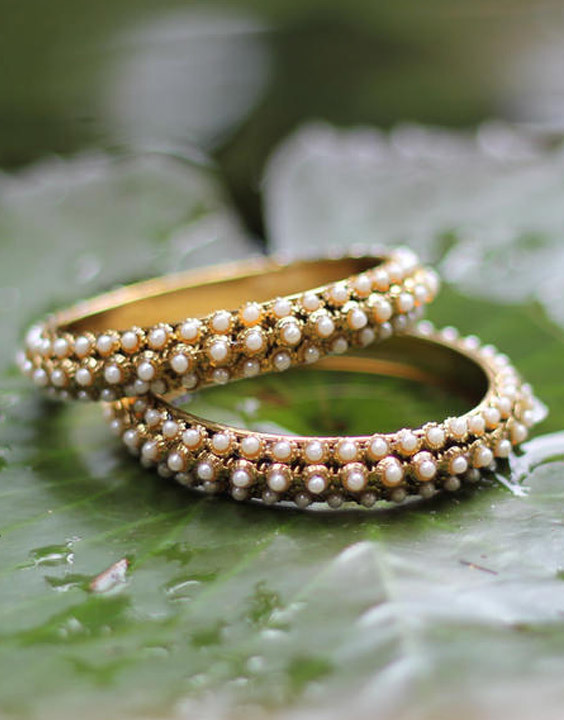 The most graceful way to create a sophisticated look is by sliding on a set of pearl bangles on your wrist.
Whether you go for a simple strand of these smooth gems or a big cuff that embraces your wrist, the pearl bangles do the perfect job of bringing in elegance and class.
How to wear: If your holiday outfits need some sprucing up, but you want to travel light, a few pearl adorned bangles will do the job.
Go Traditional With Kundan Bangles!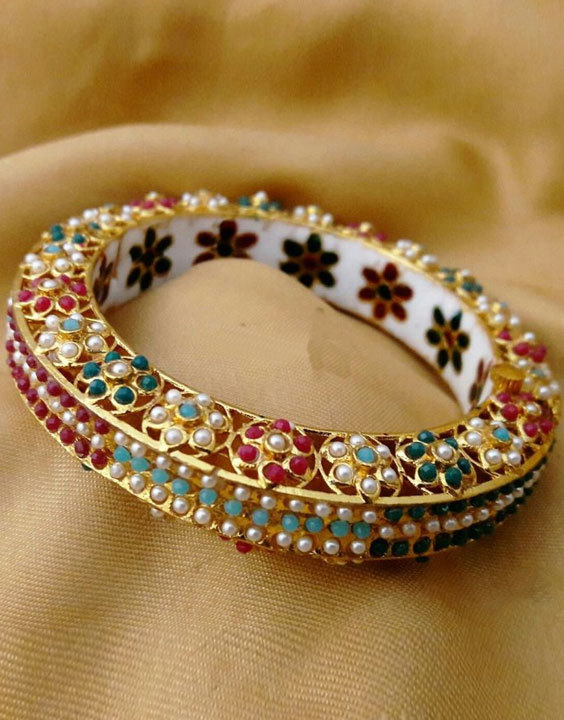 bangles are perfect for traditional Indian occasions where you need the right jewellery to go with your outfits.
Kundan lends a soft, ethnic touch that's hard to match with any other piece of jewellery. In fact, these types of bangles perfect by themselves when you're not in the mood to don too much jewellery. They're also easy to pair with kundan earrings and a stunning choker.
How to wear: Wear kundan earrings, a stunning choker and a bangle in a similar style for a close friend's wedding festivities.
Can Never Go Wrong With Platinum Bangles!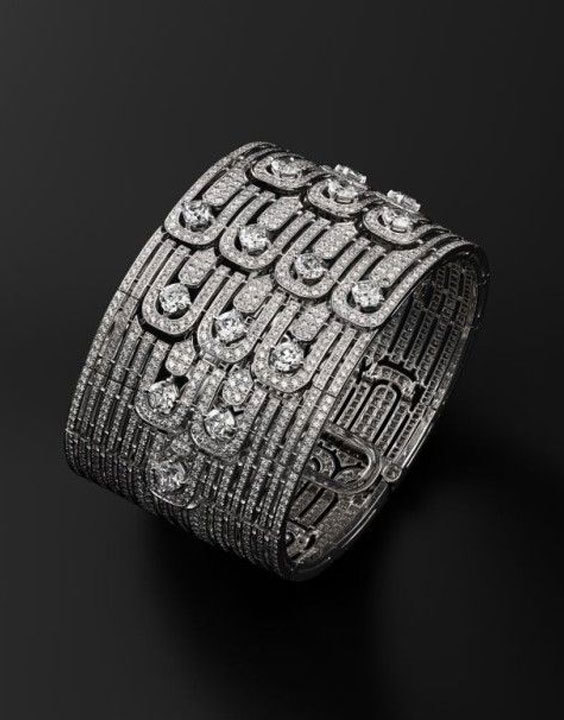 Platinum bangles are renowned for their thin, elegant designs. The precious metal is often the element of choice for women who love the understated look.
The best part? Platinum pairs well with gold, diamonds and gems, which makes wearing it quite a party in itself!
How to wear: Have a dinner date with your partner at a fancy restaurant? Put on a shiny platinum wrist piece to make it a memorable one.
Prettier Than Pretty – Moti Bangles!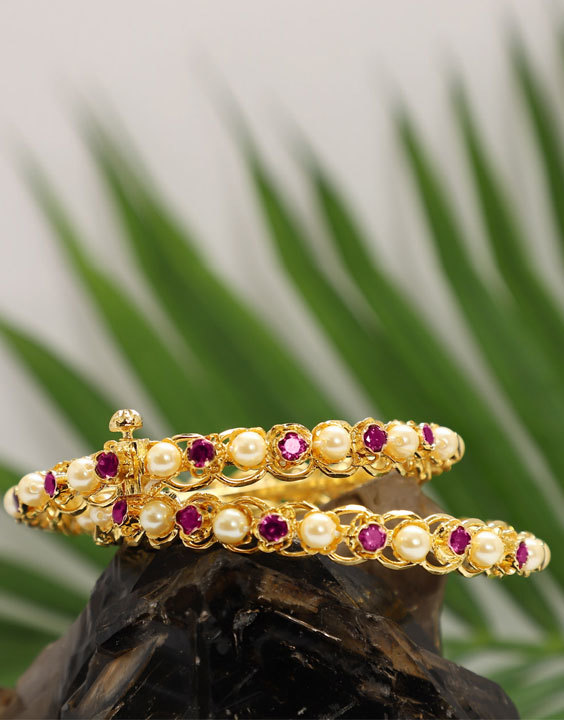 Unlike the large precious pearls, motis have a slight traditional touch to them.
Moti bangles come in a variety of styles and colours, usually in ethnic Indian designs. The motis are laid in intricate patterns in combination with brilliant gems and stones.
How to wear: Family gatherings and festivities like a housewarming, birthday celebration or even a simple puja calls for simple Indian outfits with delicate bangles dotted with motis.
Embracing Earthy Tones With Wooden Bangles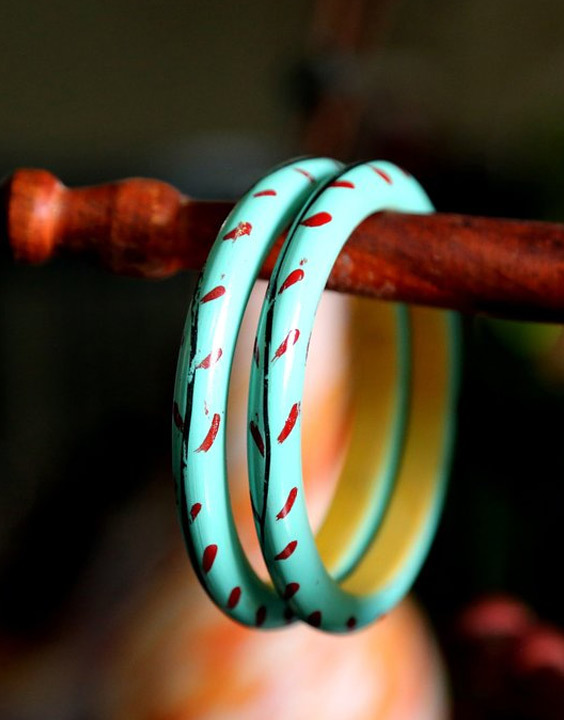 A polished piece of carved dark wood has been a staple Indian design for generations. With wooden bangles, you don't have to stick to conventions, in fact, it's a must to break free of them!
Carvings are quite popular, as are different shapes, polishes and thicknesses of bangles.
How to wear: A lazy Sunday brunch calls for a casual, fun outfit. Put on your best summery dress, a pair of embellished flats, a set of carved wood bangles and you're good to go!
Casual Cool Copper Bangles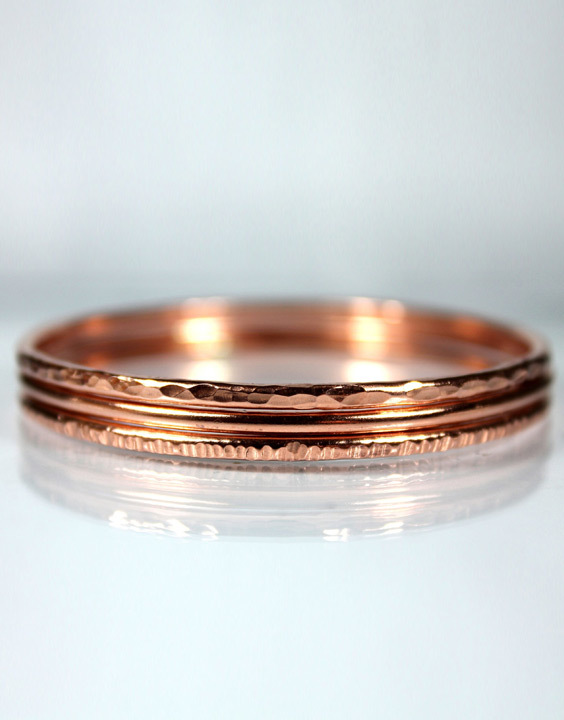 The colour of copper bangles is what draws most people to them, but what many don't know is the health benefits attached to them.
Pure copper is enriched with iron and zinc, which when absorbed by the skin, has therapeutic properties. They are usually quite thin, so you can easily wear multiple bangles of the same kind, or mix and match with metal or oxidised bangles for a quirky look.
How to wear: The pink tint of copper works with ethnic dresses in vibrant patterns, embroideries, block prints in luxurious fabrics. Wear them to formal work meetings or casual parties.
Make Some Noise With Ghungroo Bangles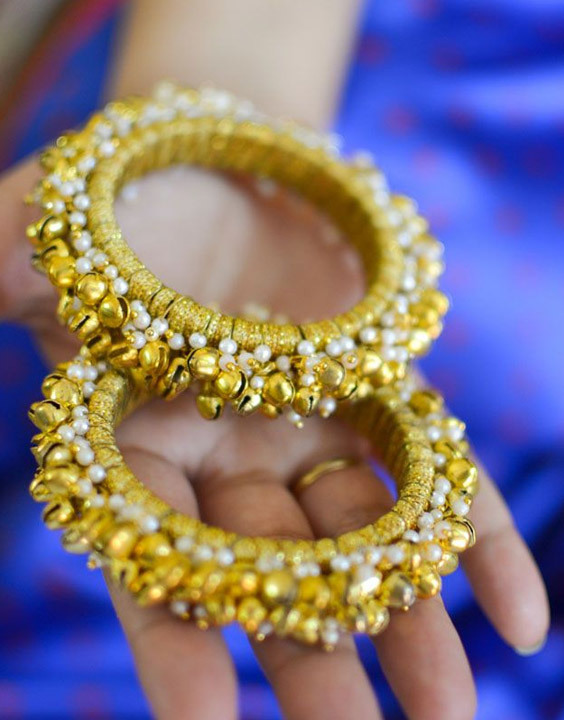 There's no sound more soothing than the tinkling of ghungroo bangles around your wrist.
The ghungroos come in different sizes in gold and silver, and you can make your choice depending on how much noise you want your entrance to make!
How to wear: Ideally, ghungroos are a great fit for fun events like a sangeet, but they can even work for more religious ceremonies like Mata ki Chowki, Ganpati celebrations or even Holika Dahan.
Age knows no bar when it comes to bangles for women. The accessory is simple enough to be styled according to your preference and personality, and the best part is, you never have to worry about going overboard!
Beautifully complementary to both casual and formal outfits, the humble bangle is not just an accessory anymore, it's a statement piece!
Image credits: The copyrights of the images used in this post belong to their respective owners. The credits where known are specified under the image - if you're the owner of an image and want it removed, please contact us.