Sneakers are easily one of the best trends this decade. These versatile kicks can easily amp up your fashion. Read this listicle of 8 types of sneakers that are absolutely  dope and learn how to wear sneakers for a wicked style while you're at it!
From making a dominant appearance on every relevant social-media influencer's page to being burnt in order to make a political statement – Sneakers have taken-on a new cult-like symbolism in the 21st century.
"Well suited for a physically active and comfortable life, this is a type of footwear that comes with a flexible sole for a swagger-driven soul!"
In the spirit of all that is current, let us take on a comprehensive list of types of sneakers and how to style them into menswear-chic!
3 Types Of Sneakers To Kick Off A Fashionable & Trendy Summer With!
To know how to wear sneakers with urban and on-trend looks, we must first go through the three most relevant types!
Plimsoll Sneakers For The Casually Sexy Man!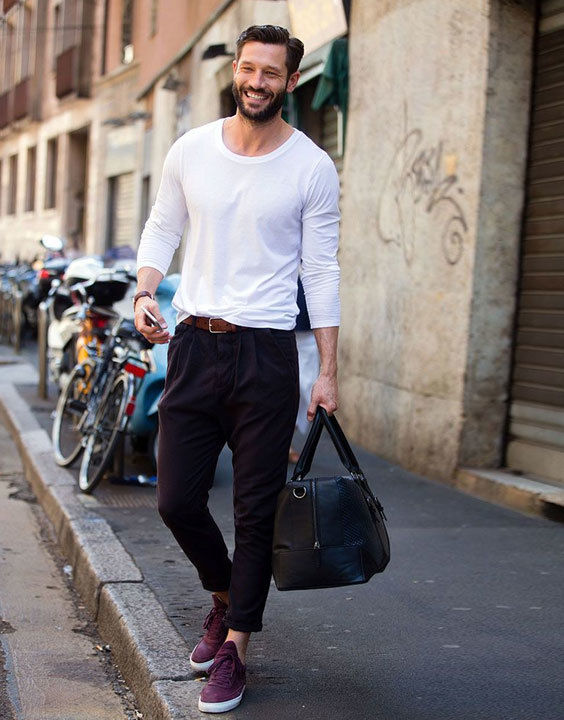 Dating back to mid-1800s and typically resembling tennis shoes, Plimsoll sneakers have quite the fashion history! These are here to stay.
Traditionally worn for leisure and comfort in daily life, Plimsoll varieties come in tie-ups, are made from canvas or linen fabric and are generally cheaper than other types.
Styling tip – Ditch the classic white plimsoll sneaker for a black, navy or plum pair to look casually suave! Wear with black pants and a white t-shirt for the ultimate classy man look.
2. Trot Confidently & Comfortably In Slip-on sneakers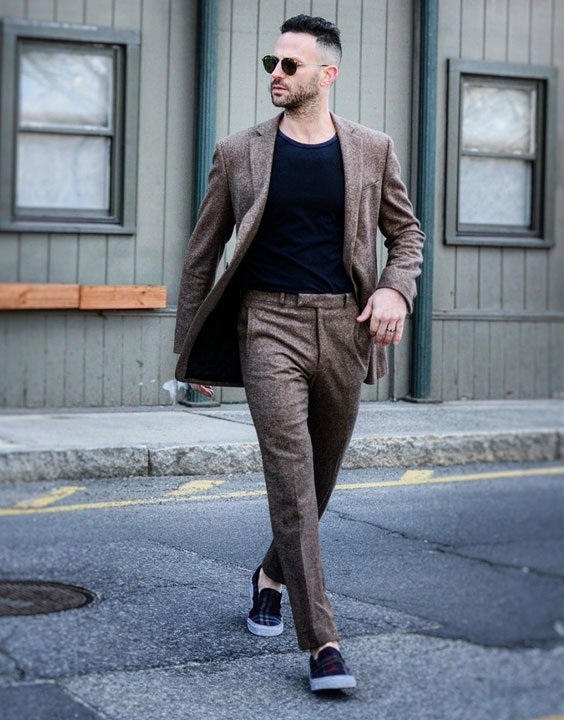 Closest shoe that gives the same kind of comfort and utility that slippers provide, it is paramount to understand how to wear slip on sneakers.
A slip on sneakers outfit should be cool, relaxed and trendy!
Go for more colourful varieties and experiment with them daily or pick cool neutrals in Rexene or Canvas material slip-ons to ooze some irresistible vacay vibes!
Styling tip – Go for a slip on sneakers outfit that spells ease & comfort. Pair it up with denims or a relaxed pair of chino-shorts to add on some good-boy charm!
If you've been wondering how to wear sneakers to work then pairing you kicks with cool coordinates in shades of brown, black and blue is the answer to your question.
3. Classically Real With All Stars Converse Sneakers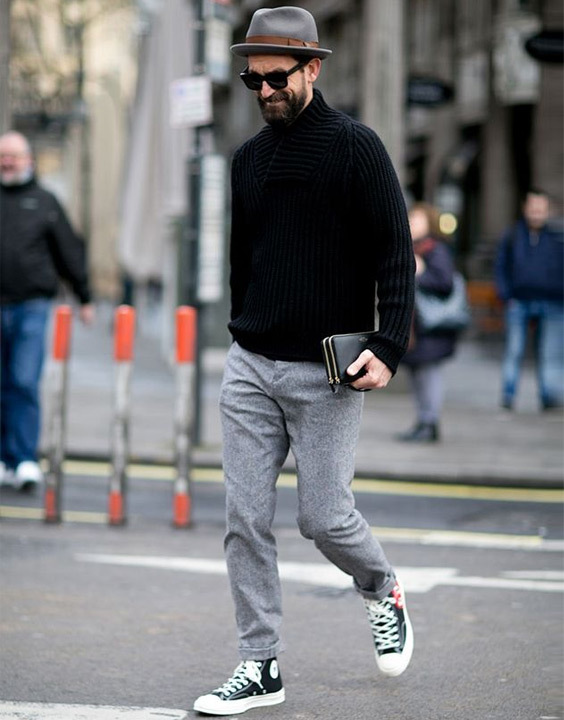 Casual plaid shirt over a plain T, a coordinated formal suit, a rocker chic all black ensemble all things cool can be  outfits to wear with converse . Anything that complements your converse is an absolute yes!
Starred sneakers are the ultimate symbol of youth and make it atop the list of  best summer sneakers.
Styling tip – Dare to pick a bright colour like the classic red, bold pink or green. Choose any from the vast variety of colours they come in make sure you have complimenting  outfits to wear with converse.
Outfits With Sneakers – Read On For How To Wear Sneakers Fashionably Rocking All Colors!
Whether we pick formal or casual outfits with sneakers, it is essential to understand how to style them in a plethora of colours and designs.
4. Rocker-boy Cool In Black Sneakers Outfit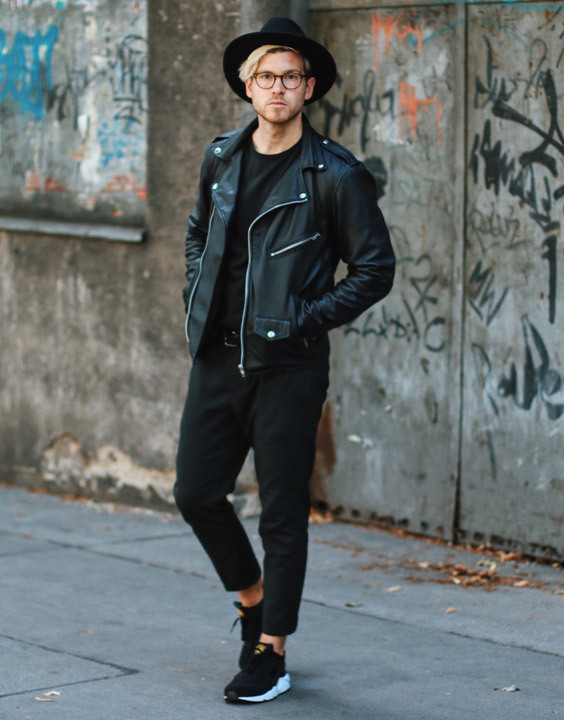 Attractive on men everywhere and the classic casual outfits with sneakers for all the city boys, Black is a colour that gives off the right attitude and the coolest vibe!
While great with an all-black t-shirt and denim combo or a leather-vest pairing; its true appeal comes from understanding what to wear with black sneakers at work.
How To Wear Sneakers At Work – Doing Away With An Ancient Dilemma!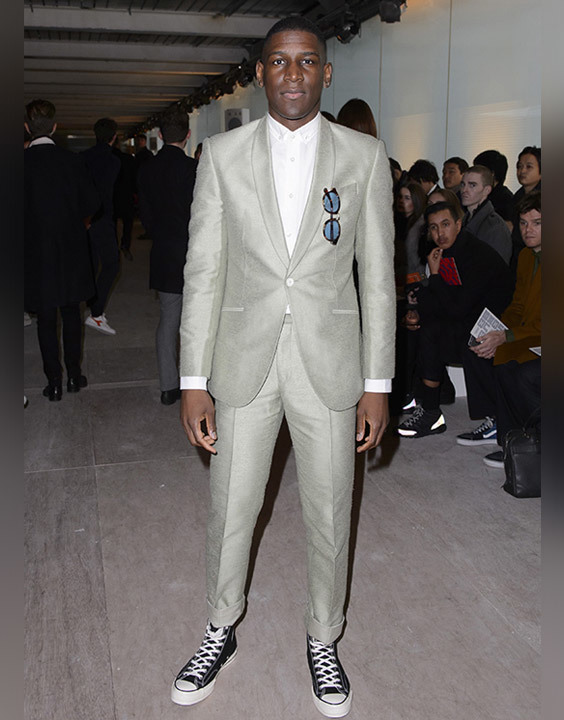 And learning how to wear black sneakers is the key to that answer!
Mens black fashion sneakers are all the rage currently, especially with the millennial generation that wants to look smooth and suave at work but also wants to be super-relaxed and comfy.
You don't have to read GQ religiously to figure out how to wear sneakers at work, just team your business casuals with a good-old pair of black all-stars and half the battle is won!
5. Read On To Know What To Wear With Red Sneakers For Maximum Impact!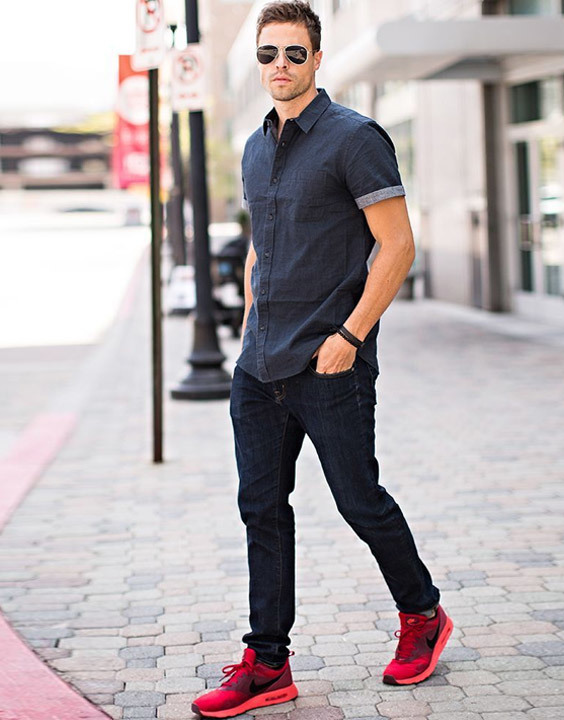 Learn what to wear with red sneakers for a fiery and fearless vibe! A sexy denim on denim ensemble complete with dark sunglasses and red sneakers would make for an ultimate handsome look.
If you're into the whole Hip-Hop artist style go for a slip-on pair in leather or Rexine to ensure that the swag shines with this type of sneakers!
6. High-street Chic In Pink Sneakers Outfit!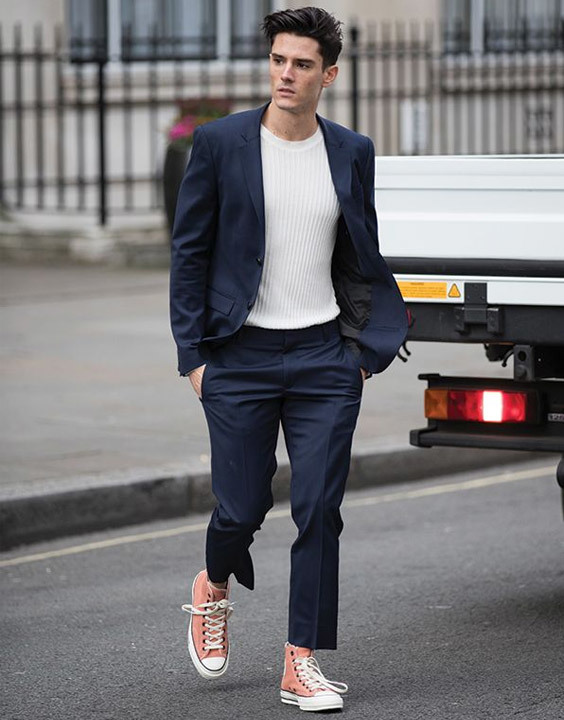 Pink sneakers are an undeniably charming and a subtle choice for a man. Whether you choose to go bold in barbie pink or whether you like to keep it chilled in a powdery pink pair – this is an unconventional option either way and it is essential to understand what to wear with pink sneakers for men!
A nude or white coloured shirt and a pair of chinos to give off a back-to-school preppy vibe that will have you feeling ten years younger or be a gentleman in a solid blue suit worn over a sexy white T…both equating to super hot pink sneakers outfit.
7. Runway Ready In A White Sneakers Outfit!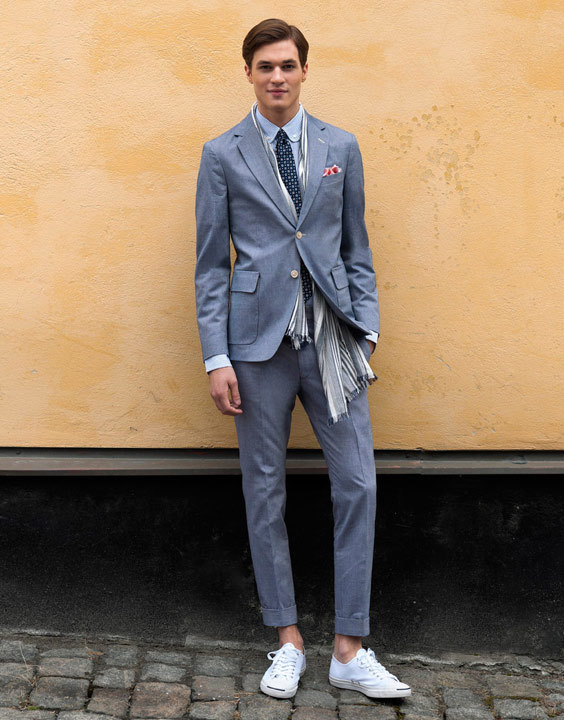 Go hard or go home in a white sneakers outfit for men. Pair up literally any casual outfit with this colour and watch the sparks fly!
Mix it up a little and watch white sneakers give you the all star look, a combination of formal and casual or go all out in an english suit with scarf.
*Not suitable for trekking through the muddy country-side though!
8. Jazz It Up With Metallic Sneakers For Your Next Soiree!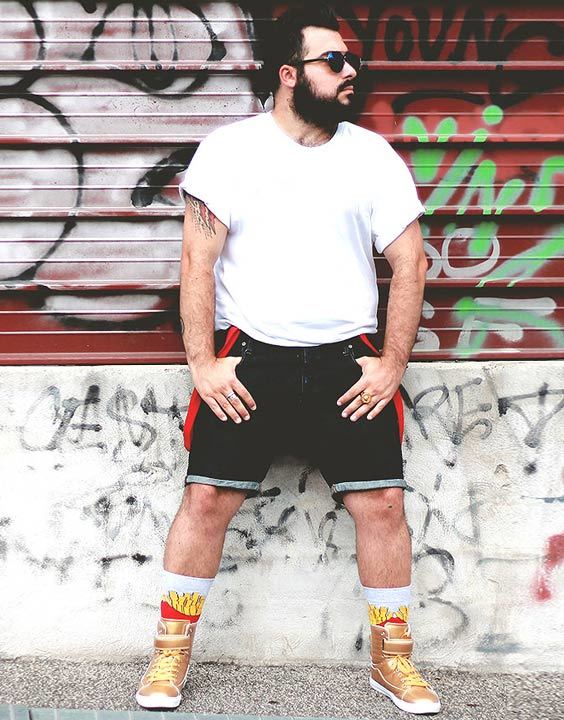 Men sneakers fashion has never been the same since major designer houses like Gucci, Off-white, Yeezy and Vans have started to take over the market with their bold holographic themes and futuristic designs.
Wear a dark metallic pair with a blazer for all those events where you would love to show everyone up with your suave and mature style or stay true to your unique style…total whack but super cool!
"We hope you enjoyed our low-down of different types of sneakers and got some amazing tips on how to wear sneakers fashionably!
Scroll though out listing of types of sneakers and let us know your what your personal fave is – until then, next time!"
Image credits: The copyrights of the images used in this post belong to their respective owners. The credits where known are specified under the image - if you're the owner of an image and want it removed, please contact us.