If you've bought a new scarf and are completely unaware of the latest scarf style, then you definitely need to go through this blog post!  We have compiled a guide on different scarf styles and how to wear these, step by step for you to ace the winter look.
Learn how to wear a scarf for men in these ingenious styles!
Different Men Scarf Styles You Should Check Out This Season!
Try to learn a few different loops. A casual loop and wrap-and-tuck loops are the very basic that you should definitely know about.
1.Draped Scarf- Simple fall, simple grace!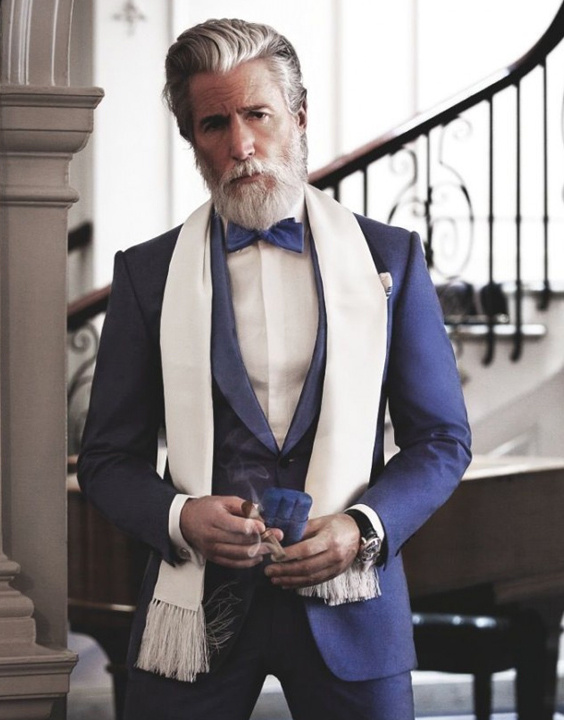 The draped scarf is super easy to carry off! It can be a superb add-on to your formals. It's not hard to imagine! Take the old classic- the timeless blue suit! Underneath that crisp blue suit, you could wear a white shirt. To contrast perfectly with the suit, simply drape the scarf over shoulders so that the scarf looks neat prominent as an accessory.
2. Reverse Drape- let it flow at the back!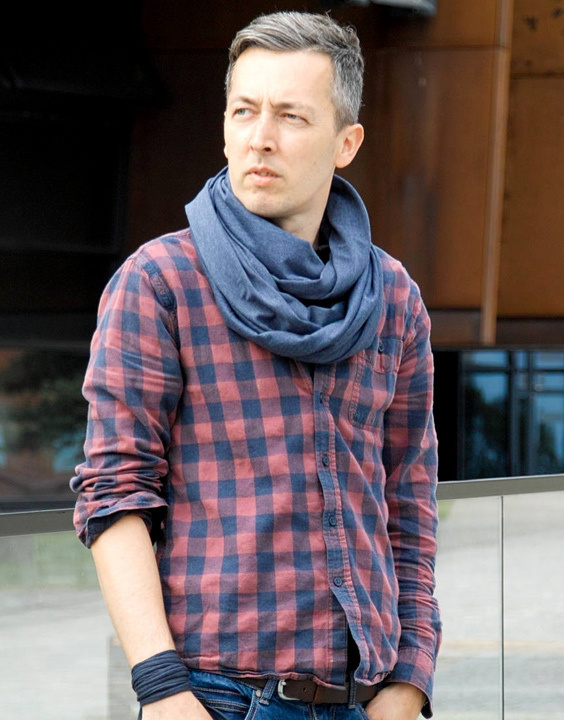 The reverse drape is a more casual style that you could adopt for the winters. You could simply wear this scarf with your checkered shirts and jeans and be winter-ready! The scarf style resembles the loop style on the front, only the ends of the scarf are not tucked into the scarf, and are draped over the back.
3. Neck scarf- try the centre knot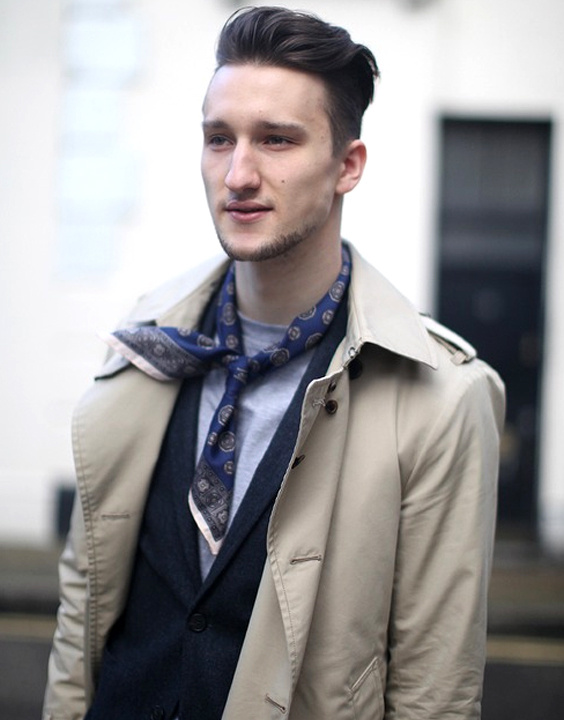 Among different ways to tie a scarf, there are so many styles that you would be partial to.
For some, the shorter the better! Neck scarves can be bothersome if bulky! Try a short scarf style with a knot at the centre. From the knot, the two short ends should ideally be of equal length. This scarf style can look great when combined with your trench coat or blazers.
4. Tie Scarf- A Sophisticated Choice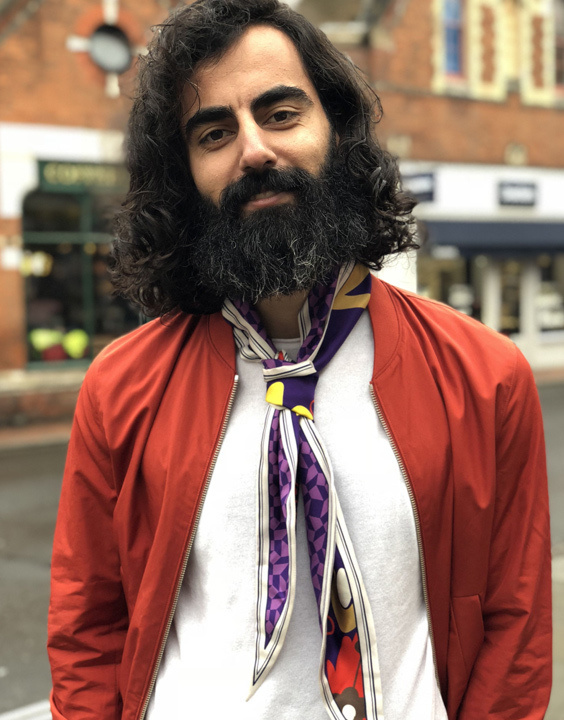 The tie scarf can a be a playful choice, and it's not exactly boring when you know how to style it with your casual wear. You can go about tying it as you would for your formal ties; the only difference being that the fall is way different from your formal tie style! It's more experimental and fun!
5. Cowl scarf- bunched at the neck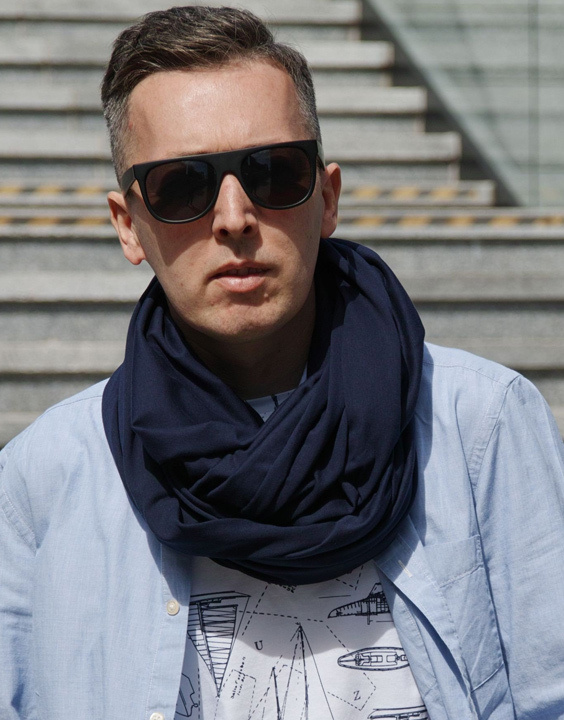 Usually the cowl neck is spoken of with regard to dresses and sweaters, but we call this style affectionately 'Cowl'. It's got its name because it looks pretty as a neck adornment. Not just that! It's a warm and fashionable add-on!
All you've got to do is loop the scarf around your neck twice, so that it looks bunched up and pretty! Another great tip on how to wear a scarf for men, isn't it?
6.Twice Around- doubly sure, doubly secure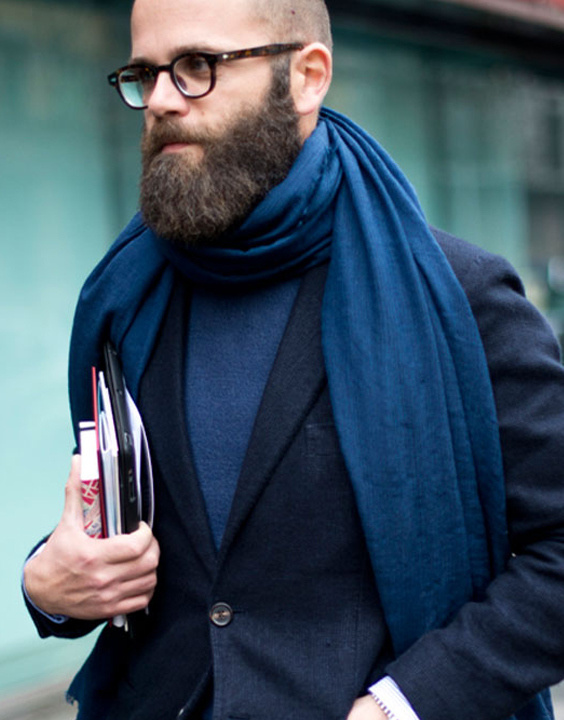 This one will keep you super-warm and cozy this winter. If you're wearing a thick scarf then it can go around your neck twice and the ends could be draped over the sides of the coat. This is a great style for those who want to show off their scarves and yet wear it for protection from the chills!
Also, this is a great one for those who are wondering how to wear scarf on face, because you could easily lift the scarf a little chin upwards to cover the nose and still be fashionable!
You need to get your hands on a long scarf first, though!
7.The Loose Loop- hangin' there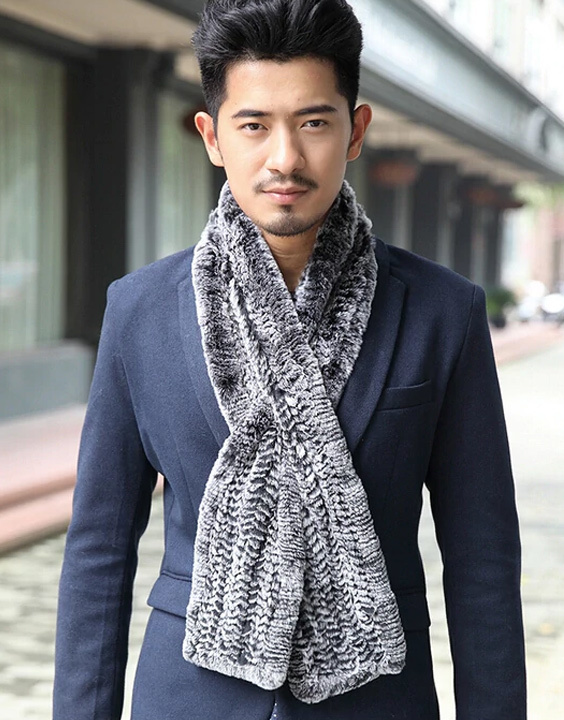 If you're looking for easy and effective ways to wear a scarf, the loose loop style is really hassle-free! For this one, all you need to do is make a big enough loop and pull the other end of the scarf through it. Not entirely! Just a little, so that the scarf drapes your shoulders in a criss-cross style. If the material of the scarf is a little heavy, then the drape will be way more sophisticated!
This one is definitely a style you should be taking to the parties!
8. The Front Knot- keeps you warm, neat and stylish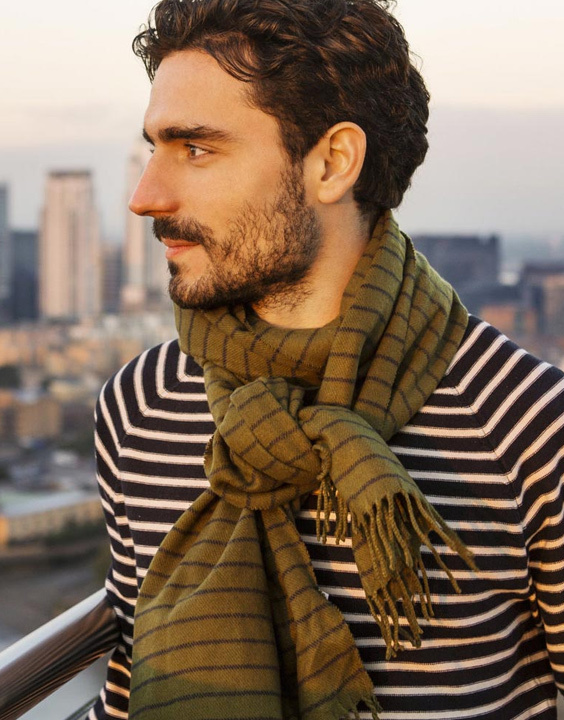 The one is put together, and you needn't worry about the neatness of this style. Wrap it around your neck once, and the next time it goes around your neck you could just fix the ends in a loose knot. Wear this scarf over your sweaters, full-sleeve tees, on a chilly winter day and you'll be good to go!
9. Reverse Drape Cross- the waterfall scarf style!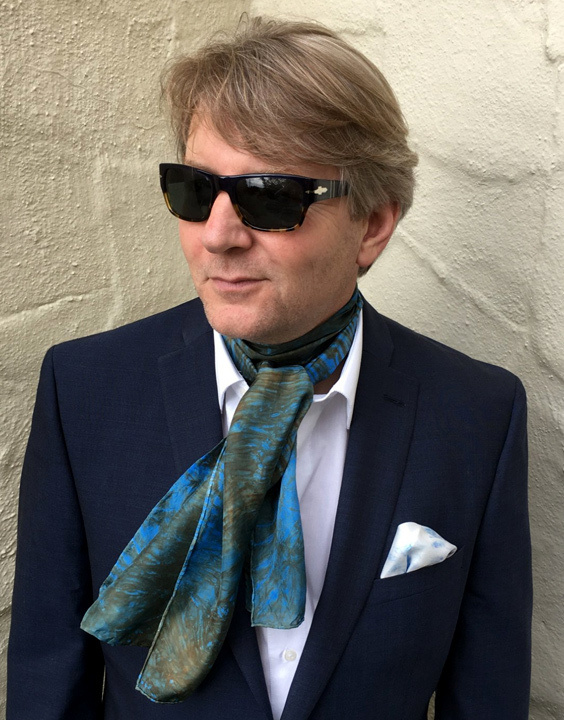 The blue blazer is such a hit these days! Do you know what would go best with it? This style that we're going to tell you about! Take a thin scarf, wrap it once securely around the neck. Once you're wrapping it for the second time make sure the loop is slightly loose so that ends of the scarf can be pulled out it. The finished result is that of a waterfall scarf style!
Looks damn good with the blue blazer! Try it out!
10. Parisian knot- Involves simply looping!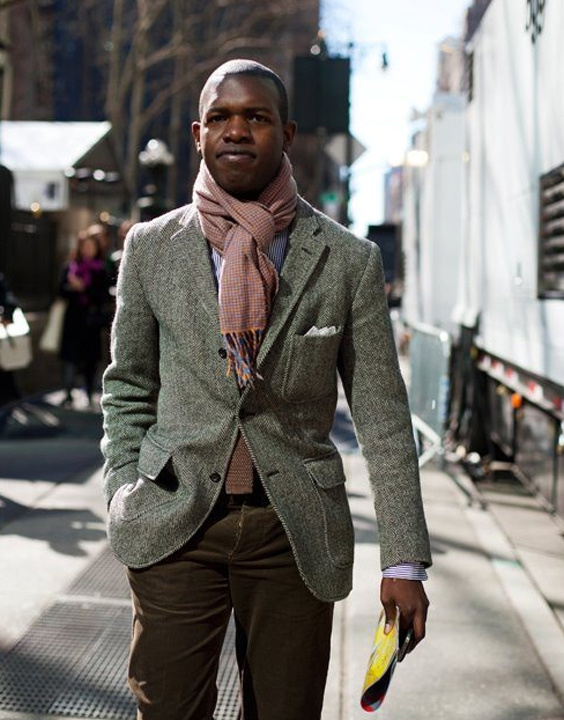 This scarf style is utterly classy! This can be worn literally with every coat, sweater or jacket! Basically, you are saved this winter! Try the Parisian knot, which is the classic loop style. Through the loop, you can pull the scarf through. The scarf could be of silk or cotton material, whichever you prefer!
Smart Ways To Wear A Scarf With Different Outfits- Essential Winter Looks For Men
1. Wear a scarf with a blazer or coat- Play your layer game right!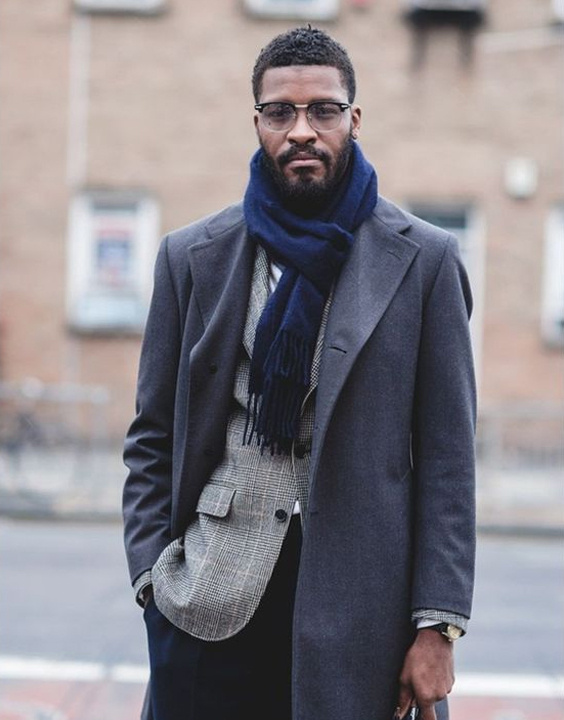 Interested to learn about how to wear a scarf with blazer? Your peacoat might be the best-ever winter staple, but you still need to protect your neck from the bitter cold. So, fix this predicament and grab yourself a thick scarf. Loop the scarf, pull the other end through the loop and it'll fall stylishly over your favorite winter coat or blazer.
2.  Scarf with jacket- Leather is the best stuff ever!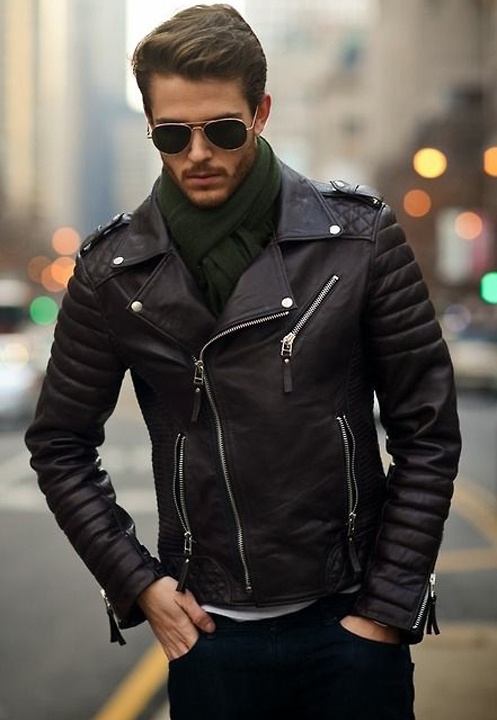 Can you imagine winter without a leather jacket! Don't think so! Wear a scarf that you can easily tuck inside your leather jacket. You wouldn't want your scarf to overshadow the jacket, rather it would be better for you to choose a scarf style that compliments your jacket.
3. Scarf with sweater- Warm up, kid!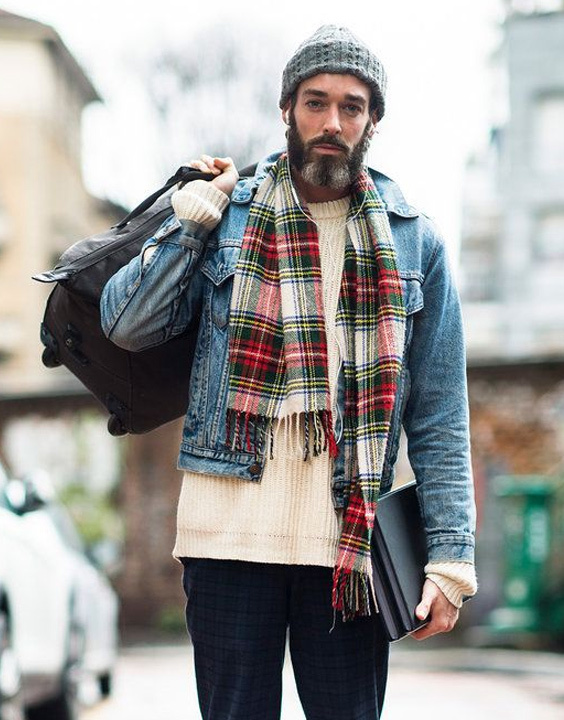 Your sweaters are already out, we bet! With your warm sweaters, if you need that extra coverage, all you need is a great scarf. Pick an eye-catching muffler that can fall carelessly over your shoulder.
This muffler would be a thick protective material that could save you from the chills.  
This could be worn with a denim jacket over your entire attire.
4. Scarf With T shirt- Great Add-on To Your Favorite Casual Staple!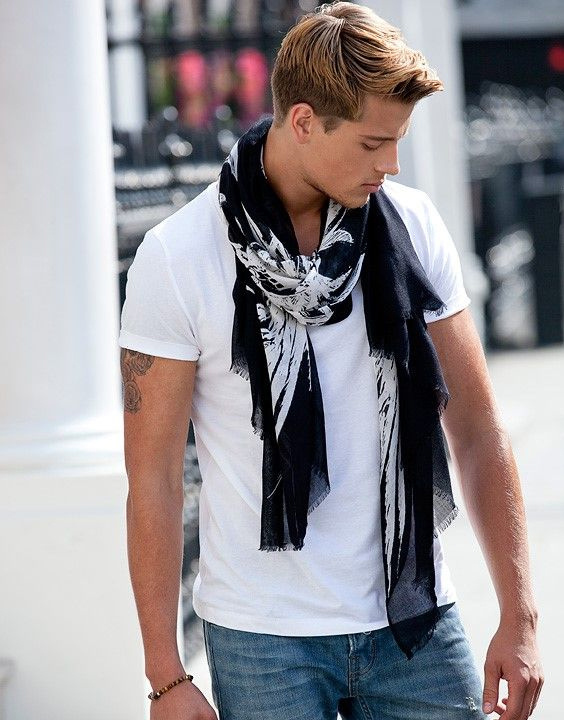 A t-shirt is a constant in your closet, right! But, what if, you could add a great-looking scarf to your casual look? Just loop the scarf casually around the neck and wear your favorite pair of jeans and bag!
How to wear muffler for men-  Double Loop It!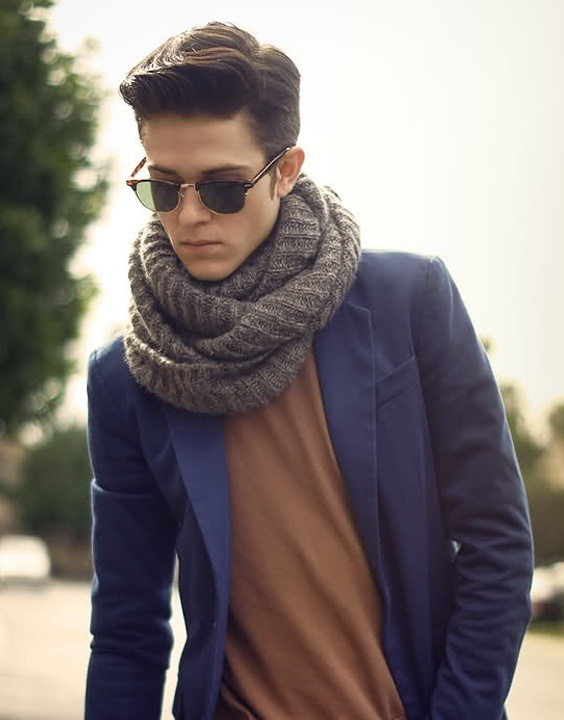 Wondering how to tie a muffler? Fret not! We won't disappoint you this winter!
Protect yourself from the chills this season by experimenting with the coolest muffler styles ever!
Mufflers are generally thick and super-effective in winters, especially if we're talking thick knits! All you need to do is tie the muffler in the infinity scarf style. Loop it twice around the neck, so that it can fall fashionably on your shoulders.
Image credits: The copyrights of the images used in this post belong to their respective owners. The credits where known are specified under the image - if you're the owner of an image and want it removed, please contact us.