If you've ever found yourself dreaming about a sharara, it's time you rocked one! Read on, check out what sharara design is getting the most love and find the perfect sharara style for you.
The 2000's called they want their lehengas back! Trends are changing in the ethnic fashion scene – Umrao Jaan's Sharara is making a grand comeback & we couldn't be any happier!
About time long and bulky lehengas took a backseat! It's the era of the 'Sassy Sharara" and why not? Comfortable, classy and chic, Shararas are a clever choice for weddings & wedding parties. They come in different colors, patterns and styles. There's a unique  Sharara design for everyone.
A sharara with its vintage royal visage can oomph up your desi style and turn you into a headturner! Choosing a sharara style that's right for you may seem difficult but why worry when you got us?
Read on, Relax & throw your hands up – sing, "Sharara Sharara"! :p
Do You Know What Is Sharara?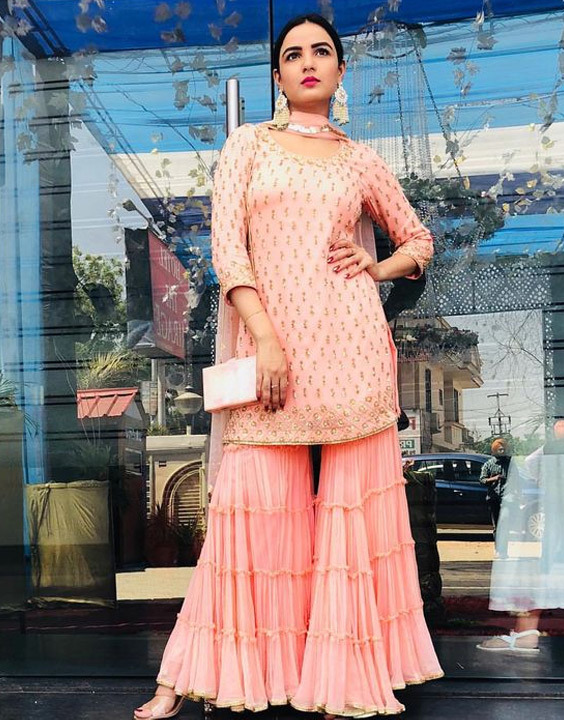 Sharara is a wide legged, flared pant with intricate designs and embellishments. It creates the illusion of a lehenga, and can be paired with long or short kurta, or even a crop jacket! It is the perfect mix of lehenga skirts & pants.
Shararas are a lot like ghararas yet totally different!
Can You Tell The Difference Between Sharara and Gharara?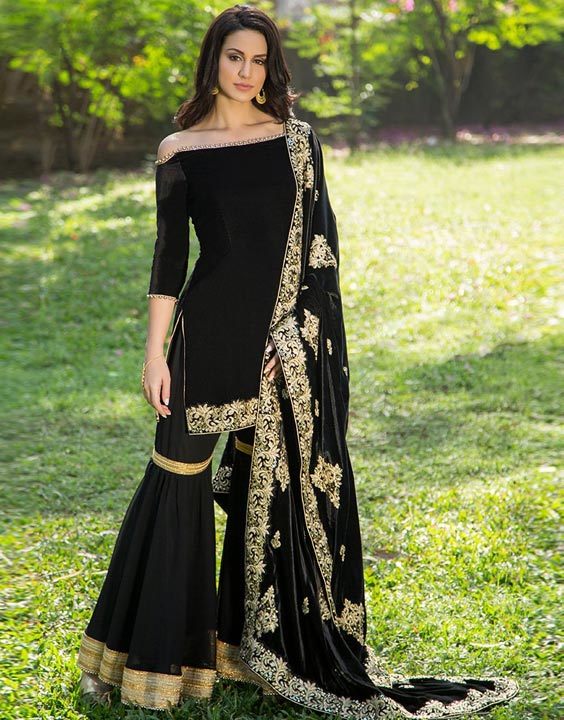 The two are like cousins only difference between sharara and gharara being their vastly different silhouettes. While both resemble flared pants, gharara's silhouette is fitted from the waist to the knee, just above the knees sits a band (traditionally, a gota), where the cloth is ruched or gathered to create a breath-taking flare till the toes.
Nevertheless both have their patrons and are adorned by women widely during wedding season. However due to lack of knowledge the two have become synonymous of each other!
Sharara Dresses- Latest Sharara Suits You Should Totally Try!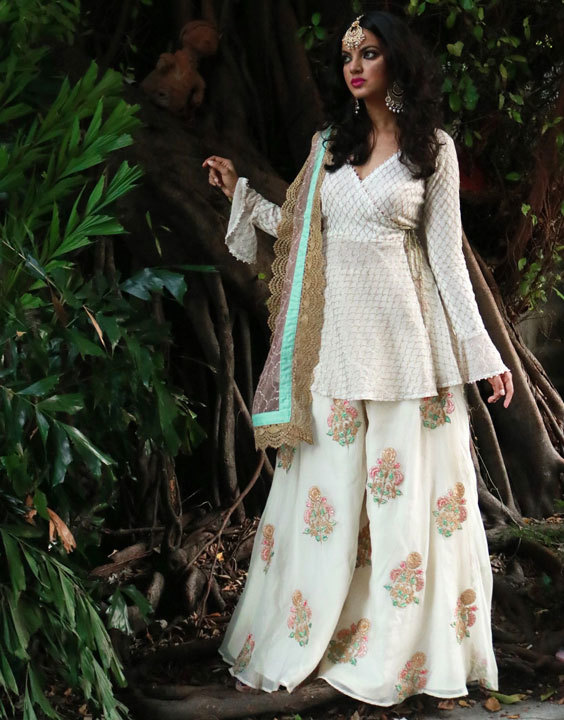 "Women love a sexy sharara and with a huge variety in sharara style, the options are endless!"
Are you perhaps looking for sharara designs for mehendi or maybe a wedding reception ?With flared bottoms paired with supercut kurtas, fine embroidery jackets, studded short dresses and what not! The beautifully diverse, latest sharara suits  will have you spoilt for choice.
Short Frock with Sharara – A Chic Pair!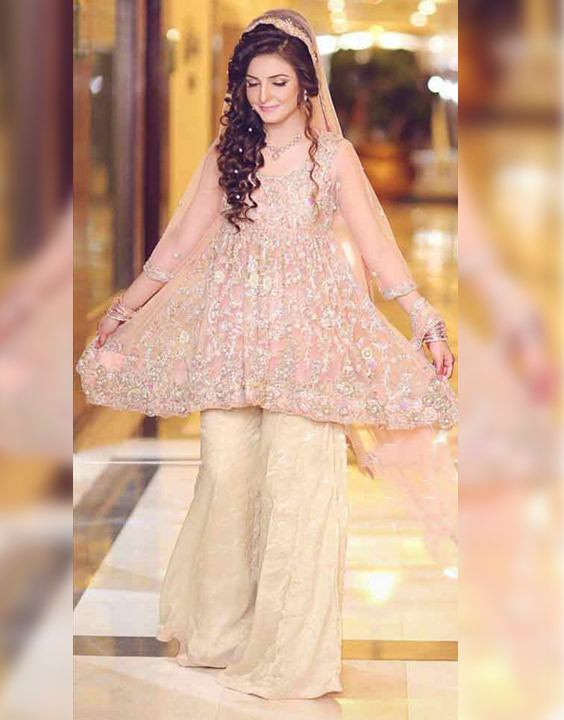 Sharara dresses most commonly come with A line long kurtas but pairing your sharara with an embroidered short frock can completely turn you into a pretty, feminine lady and will give ample room for your sharara to shine through!  
Short frock with sharara is one of the most popular combinations today.
Styling tip: Choose a body hugging embroidered short frock for maximum glam. Create a subtle contrast by pairing solid with soft colours. Gold & Pink work best for a wedding sharara.
Sharara Suits With Long Kameez Guarantee Comfort & Style!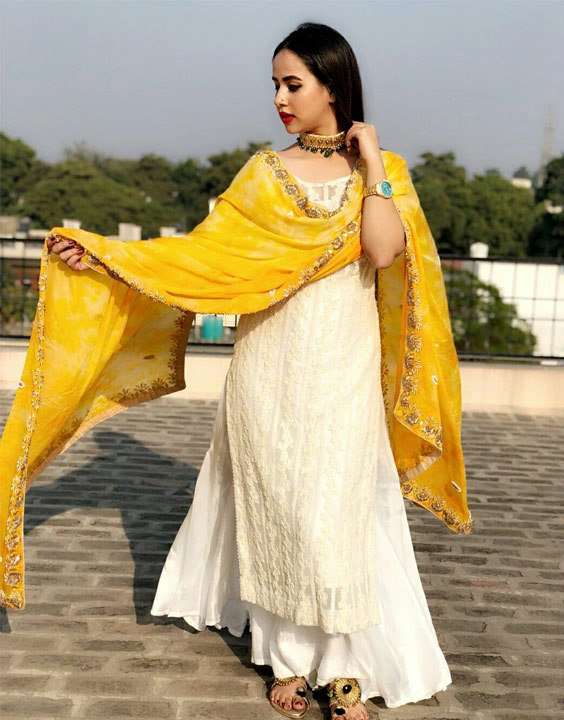 Gorgeous long embroidered shirts or kameez (kurti) paired with sharara pants make for the most comfortable yet fancy ensemble. Wanna hide holiday weight? This outfit is all about covering it up yet you'll be astonishingly beautiful!
Sharara suits with long kameez are a classic combo worth investing in!
Styling tip: Color blocking adds glamour to your look so grab a hot pink sharara and throw on an embroidered black kurta!
Sharara With Backless Kurta For The Unapologetically Bold!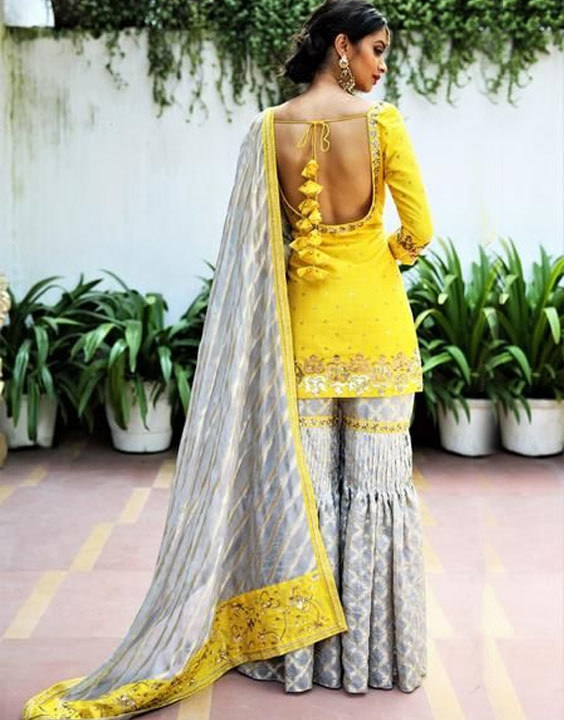 I bet you have enough backless dresses in your wardrobe, but have you thought of pairing a Sharara with backless kurta? – This combination is pretty popular out of the latest bridal sharara designs.  Fit for the show stopping beauty!
For a more sexy & curvy look replace the sharara with a tight gharara.
Styling tip: Flaunt that tan and strike a beautiful balance between showing off some skin and keeping it classy. Keeping the entire ensemble in one colour or pattern is highly recommended.
Pair A Sharara With Flared Kurta For A Little Bit Of Drama!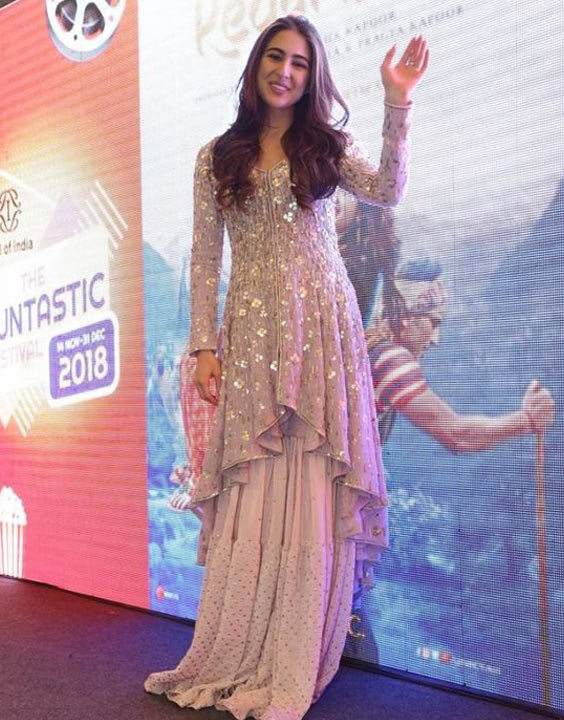 Voguish but so comfortable! All those extra inches at the bottom make for a beautifully dramatic spectacle. Sharara with flared kurta can be your saviour during all the laborious desi events. If drama is what you need, perhaps sharara designs by manish malhotra or another b-town designer will do the job!
If you can't afford an original, make do with a copy!
Styling tip: Make light hues like coral, beige and champagne your go to favourites to add an extra bit of class and poise. Bell sleeves or ruffles will only continue the whole mood. A heavily sequined dupatta to finish the bollywood look.
Pakistani Sharara – A Fit For Royalty!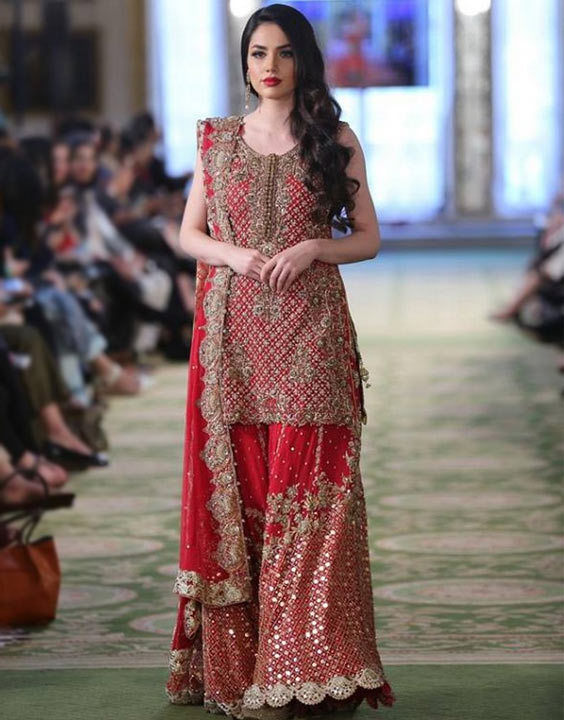 Heavily embroidered Pakistani sharara are the best to twirl in. Pakistani sharara can rarely fall short of embellishments and unique designs. It makes for a great wedding sharara cause a desi wedding can never have enough bling & theatrics!
Styling tip: Keep the jewellery and makeup subtle to balance out the look!
Gharara Suit  Has Nawabi Nazakat Written All Over!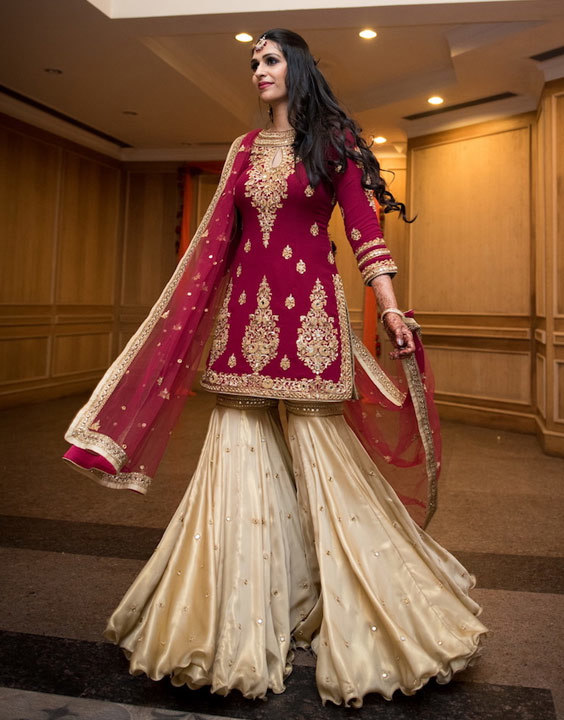 It is a popular trend, dating back to the era of Nawabs. It's a popular Lucknowi outfit. The silhouette of the Gharara suit is very flexible.
Traditional gharara designs comprise of a zari/zardozi gota and are paired with short kameez and long embroidered dupattas. Today there are a variety of gharara designs populating the market and the gota is no longer just a zari gota, studs, laces, velvet belts and mesh gotas are taking over.
Gharara is also making a name for itself across the border where it might just be a little more popular than the sharara. Pakistani gharara although equally beautiful is a lot more heavier with intricate, detailed rhinestone and glitter work.
When compared, both sharara and gharara suit are equally captivating but when you talk about comfort, the sharara takes it home. The gota can be a little uncomfortable especially when it's not tailored to size.
Styling tip: Maang tikkas complement a gharara like nothing else and a gharara is incomplete without a statement maang tikka.
Everything said and done, you've certainly learnt one thing – "Ghararas and Shararas will never disappoint you! With flattering silhouettes and feminine hems, this fashion duo will always steal hearts."
Today they are taking ethnic fashion to a chic- peak. They are glamorous and dreamy- a match for a fashion queen.
So stay with the trend and get yourself a sharara right now!
Image credits: The copyrights of the images used in this post belong to their respective owners. The credits where known are specified under the image - if you're the owner of an image and want it removed, please contact us.