Summer is here! If you live in the tropics you know how cruel summers can be around here. So pair up your sneakers with dresses and stay sun safe, comfortable and always stylish! Girls, this is one trend you should not overlook!!
"She wears high heels I wear sneakers…!"
New age – woke icons like Selena Gomez, Kendall & Kylie Jenner, Haylie Baldwin and Gigi Hadi  have shown us time and again 'comfortable is pretty ' too! They've time and again picked sneakers to wear with dresses even over Louboutin.
Sneakers With Dresses seems like an oddball combination & would've caused many raised brows in the past but…Finally – Finally this is every 'It' girl's favourite now!
"Repeat after us Sneakers are the best shoes to wear with dresses!"
Decode How To Wear Sneakers With A Dress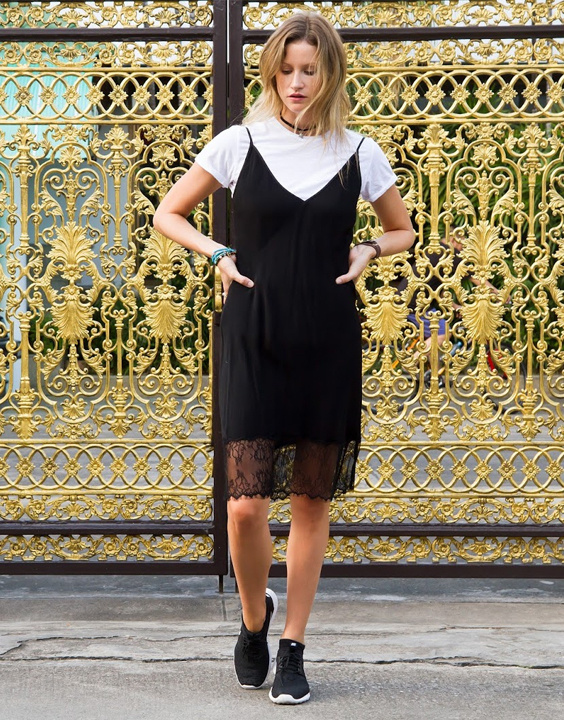 With celebrities and influencers stuck up in a constant rut to find the perfect sneakers to wear with dresses, it isn't too difficult to take inspiration from the endless lot.
Be it a need to look adorable or an urge to stand out being edgy, the market of shoes to wear with dresses is wide open and comes with a style anecdote that caters to all.
Keep scrolling to find how to wear sneakers with a dress keeping in toe with your personality, and prep your summer wardrobe to make a style statement whilst being comfortable.
1.T shirt Dress With Sneakers For The Cute Girl Next Door!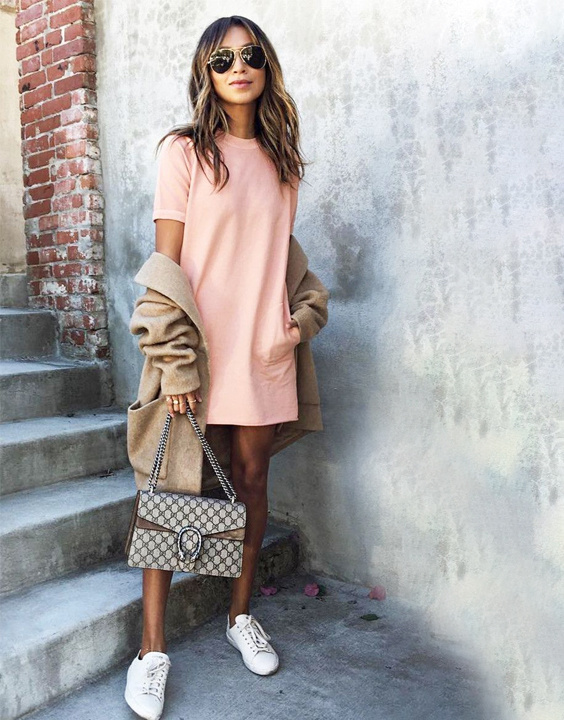 Teaming a T shirt dress with sneakers is the easiest way to morph from dressy to casual.
Wearing a black dress with sneakers can be the baby step you take before diving deep into this trend.
With summers approaching, ditch the t-shirt and make t-shirt dresses your BFF's. Try pairing a soft pink t-shirt dress with the classic All-stars and add in a light layered black metal neckpiece as an accent.
And if nothing works…you'll always have a 'black dress sneakers' net to fall on!
Don't miss to check our women's white sneakers
2. Make A Statement, Pair A Feminine Wrap Dress With Sneakers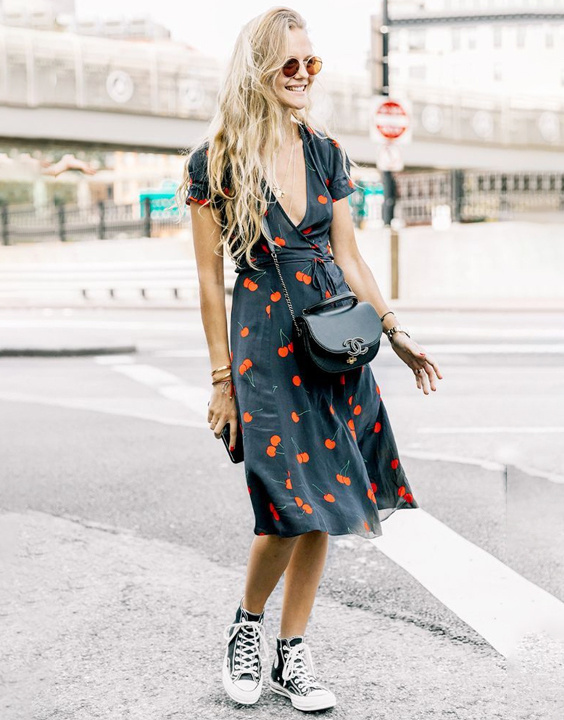 You don't necessarily need kitten heels and tight pencil skirts to be taken seriously. The doors to fashion are opening in the world of corporate and it is time to make that empire yours. Believe it or not but 'casual dress sneakers' are now an emerging sight at corporate meetings.
Style a floral printed light blue wrap dress with a semi-formal coat and pair it with a grey or beige platform sneakers.
3. Slip Dress And Sneakers – Put Your Ace Game Forward!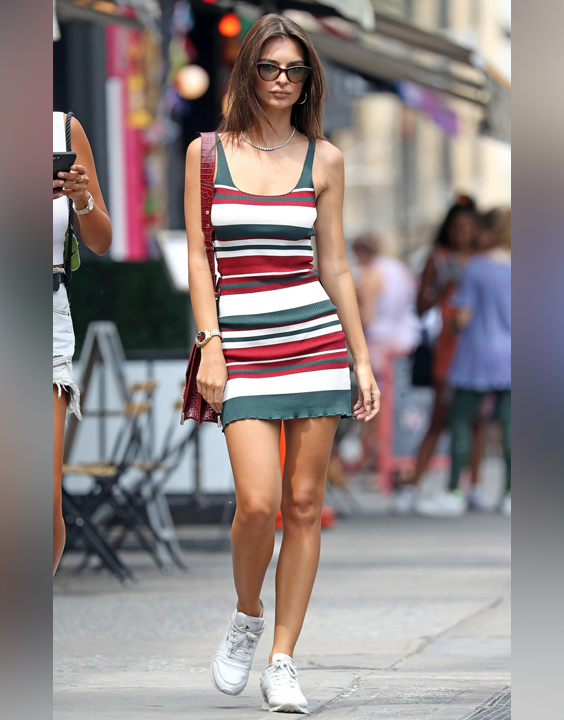 Imagine any possible slip dress from the sultry satins, to the vibrant velvets or even comfortable cotton, sneakers have the power to set an entirely different vibe with each one of them.
If the worry of how to dress up sneaker is not letting you sleep, all you have to do is add a black leather jacket to a black satin or velvet dress and then there is no stopping you from looking swell.
If sultry is what you're opting for, then go with a satin maroon low cut slip dress with black sneakers for a casual vibe just stick to multi-color or florals.
4. Beat The Heat In Maxi Dress With Sneakers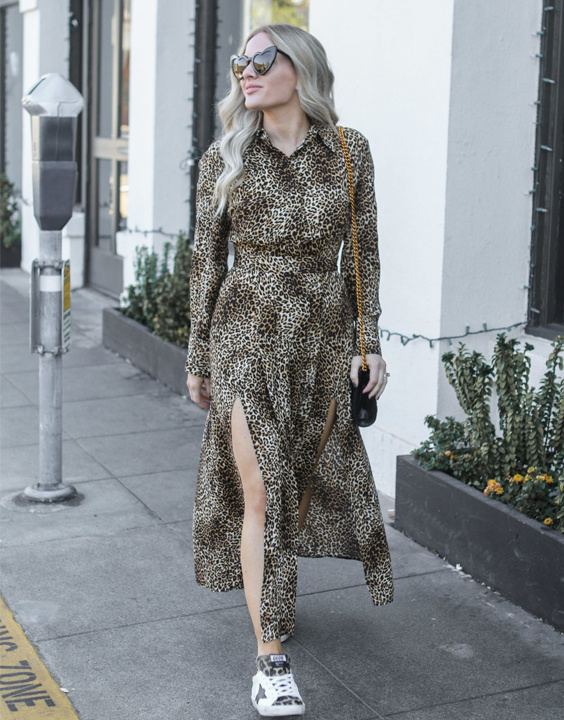 Thank god for this trend, now you can ditch the strappy sandals that took forever to wear.
Maxi dress with sneaker is the trickiest of the lot, and the best way to carry this trend is to go all out.
Pair up a floral maxi dress with a  matching color sneakers and don that shrug that you have been wanting to wear since forever & Voila! You have a perfect dress with sneakers outfit.
5. Cute Over Sassy With Mini Dress And Sneakers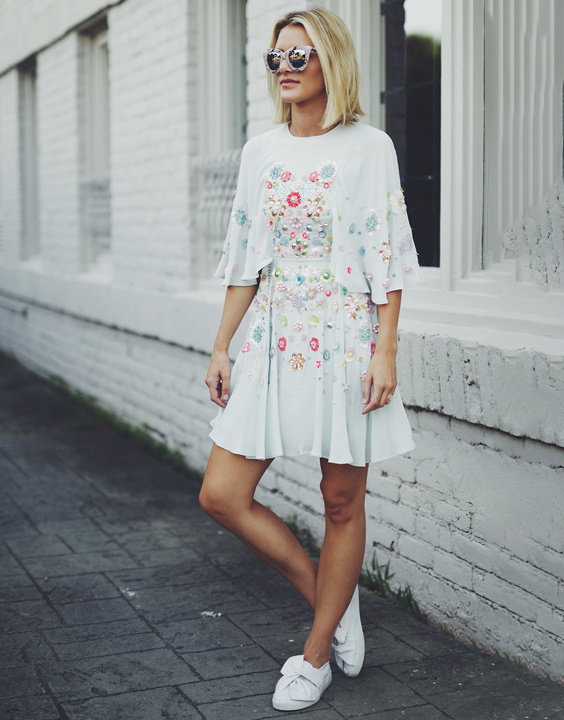 A mini dress paired with sneakers is the perfect outfit to make you look cute and desirable.
Opt for pastel coloured V neck dress and pair it with matching sneakers. Tie your hair into a messy bun and add a little colour to your lips.
A unique sequined summer mini with sneakers is a pretty good option for a day out!
Now that we have established that dresses and sneakers  are a mean deal, it is time to take your share of the dose and comfortably walk your way through summer.
And whenever you find yourself lurking to find the best sneakers for dresses, you know where to fetch!
We hope this was helpful and you don't have to ever wonder how to dress up sneakers
Image credits: The copyrights of the images used in this post belong to their respective owners. The credits where known are specified under the image - if you're the owner of an image and want it removed, please contact us.