Learn about the seemingly easy yet confusing question of what is jumpsuit right from the basics. Read along for a comprehensive guide on fashion tips for how to wear a jumpsuit and what goes best with it.
What is Jumpsuit: Get familiar with the fashion staple you love!
The main questions that strikes one's mind is what is jumpsuit even before on ways to style a jumpsuit. Not many people are aware of the how jumpsuits actually originated. Originally, jumpsuits were worn by skydivers as a one-piece convenience garment, but now jumpsuits are a part of the women's fashion collection.
Jumpsuit fashion keep on becoming the hot topic of fashion every few years. A jumpsuit in today's date is basically the primary money maker for fashion. You can dress up smart and chic by merely donning on a jumpsuit for women. As they are worn from top to bottom, it gives designers a lot of scopes to show their creativity. Also, they can be made to be really flattering on different body types as it can be skin tight as well as loose.
What to wear with jumpsuits? Learn the basics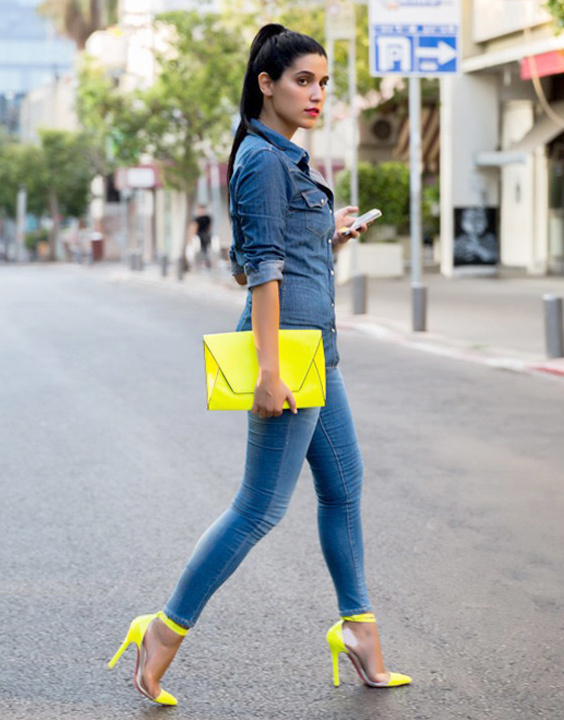 Now that we know what is jumpsuit, the main question is how to wear a jumpsuit.Wearing something along with your jumpsuit style  will add the oomph factor to your outfit. A jumpsuit can be great individually, but by adding a shrug or a jacket or even a belt you can style up your jumpsuit.Just like you try to accessorise something or the other with different types of one piece dresses, the same has to be done with these jumpsuits as well. You can wear it with a jacket, a shrug, a belt, palazzo pants and so much more! If you are not confident on how to pair them up, read on and style up your jumpsuit.
JUMPSUITS WITH A JACKET- Look like perfection with an interesting add-on!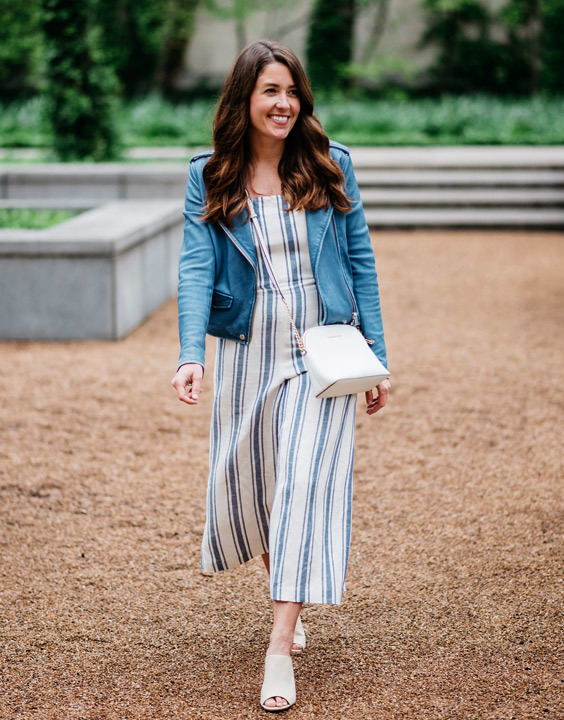 One of questions that pops in the mind is how to wear a jumpsuit with jacket. Pairing jumpsuit with a jacket is probably one of the best ways to style your outfit. Paired with a jacket, your jumpsuit gives an effortless yet a chic look. You need to be very careful while deciding how you are going to accessorise your jumpsuit styles. The right accessory could get your outfit declared as chic whereas the wrong accessory can make it look unstylish. The accessory should complement your jumpsuit jacket style and break the monotony that it creates so that overall there is a balanced yet fashionable outcome.
If it is a formal occasion, you can pair your formal jumpsuit with jacket. Whereas for an informal setting you can go for a leather jacket or a bomber jacket or even go for a jumpsuit with a denim jacket. If you have never styled your jumpsuit with jacket or a jumpsuit with shrug before, you must give it a try! They make your outfit look better by adding a layer to your outfit, hence making it more appealing and stylish.
JUMPSUITS WITH SHRUGS- Fun layering options!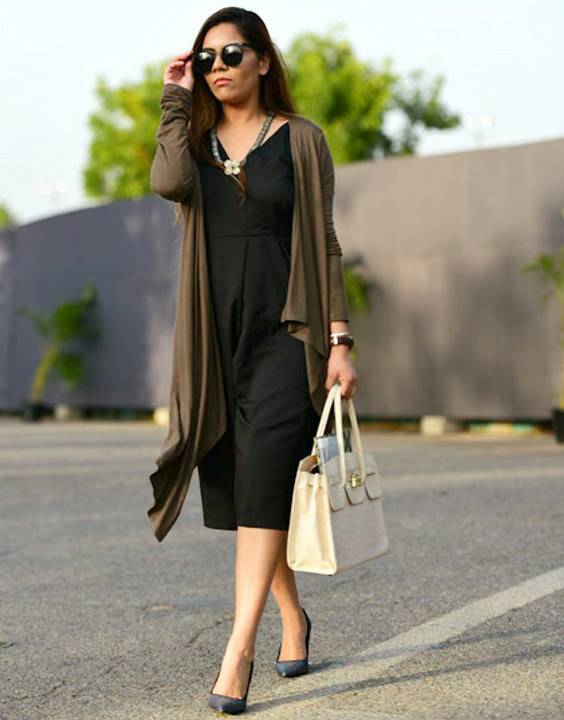 Just like jackets compliment your jumpsuit, so do shrugs with jumpsuits. Though they are definitely more suitable for a casual occasion. If you are wearing a plain jumpsuit, you can oomph it up with a coloured or a printed shrug or pair the jumpsuit with a long shrug. If you are wearing a printed jumpsuit, you can go for a black or a plain coloured shrug that adds depth to your whole outfit. Make sure to wear the right type of heel as that can make your outfit look a whole lot better.
JUMPSUITS WITH PALAZZO PANTS- The power of Flare!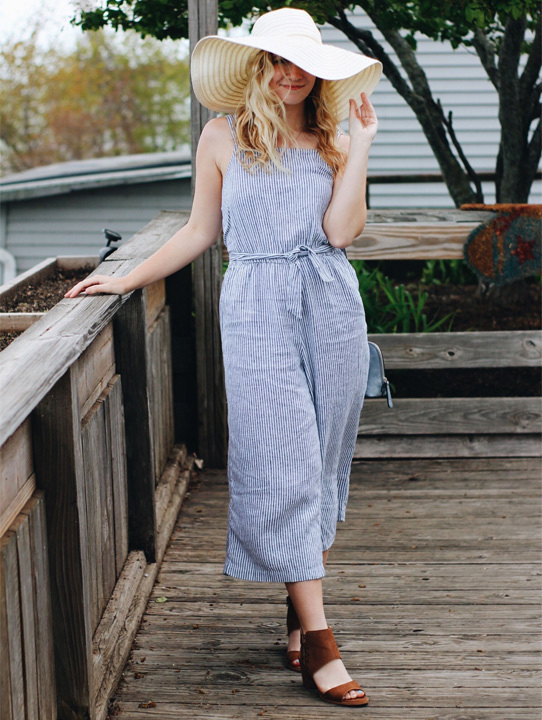 Jumpsuits with Palazzo pants are quite famous in today's date. Every mom who is tired because of looking for a million different types of dresses for girls can be seen shopping for jumpsuit with palazzo pants combination. These jump suits are loose on the ends and give a comfortable and breezy vibe. One huge benefit of wearing these is that they are not only pretty to look at but delightful to be in these palazzo jumpsuit outfits. Even though skin fit jumpsuits might seem appealing to a few people, they are not very comfortable to be in especially when you are in for a hot day.
JUMPSUITS FOR WOMEN WITH BELTS- Accessorize to complete your overall look!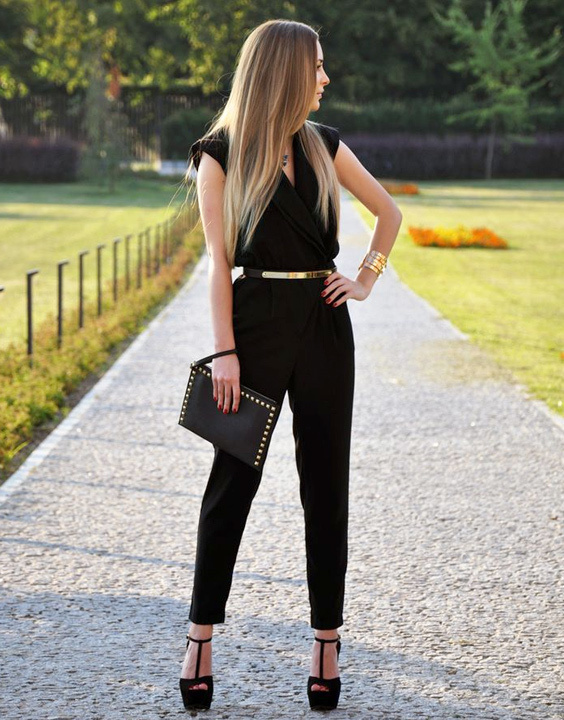 No matter how formal or casual the occasion, how dull or extra your outfit, a belt is the ultimate solution to all your jumpsuit women problems. Not only does a belt add a layer to your outfit, but it also clinches your outfit at the waist. This defines your waist and helps you appear more curvy and feminine. You can go for a thick or a thin belt. You could also go for a cloth belt that is in contrast with your jumpsuit. People often tend to go for a neutral shade to complement the jumpsuit designs, but you can let your inner fashionista shine and bump up your outfit a little.
Learn how to wear Jumpsuits for various body types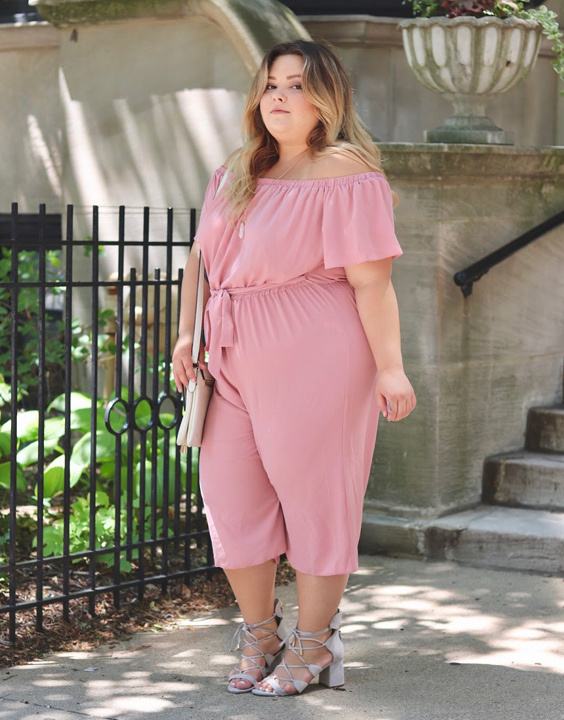 Now that we know how to wear your jumpsuits with, the next question is what jumpsuit goes for the various types of body types. If you are tall, prefer to go for a wide-leg jumpsuit as it will help define your legs. If you are short, try going for a cropped and sleek style as it will compliment your figure. If you want a casual look, go for a loose jumpsuit with strings around the waist. For a formal look, remember to choose a jumpsuit that has been well tailored and flatters your body shape.
A jumpsuit for women is the most versatile piece of clothing as you can wear it for any occasion. Though one tip that you must follow is that go for jumpsuit styles that flatters your body. If it is too loose, you will end up looking sloppy, and if it is too tight, you will end up looking weird. Though there is no harm in dressing one size up or down, make sure that you don't go for four sizes up as that won't be a fashion statement. Though a loose cut is more flattering. If you want to look slimmer, go for an all-black jumpsuit preferably with a wide leg cut. All you have to do is play around with your accessories and your heels, and you will be the centre of attention every party! You can get hundreds of different types of jumpsuits everywhere that differ in colour, length, size, print, etc. Your job is to go out and experiment. Every person has their unique style, go and try to find out your own. So ahead and start experimenting!
Image credits: The copyrights of the images used in this post belong to their respective owners. The credits where known are specified under the image - if you're the owner of an image and want it removed, please contact us.