Among the various fashion trends this season, long skirts with tops is a combination you need to watch out for! There are so many interesting tops to wear with skirts you'll probably never run out of options. However, we've tried to shift the focus on the four trending long skirt outfits for women options for our female followers.
Maxi skirts, more commonly known as long skirts made their comeback a few years ago. And this is a comeback that is here to stay for quite a few runways. Maxi skirts made summer styles easy, breezy and super dressy. Actually scrap that, long skirts made dressing up for any season smart and chic. And we're here to answer the post pertaining question when it comes to long skirts – what kind of tops to wear with long skirts? The long skirts with tops combination suit pretty much any body type, as long as you have the right tops to wear with long skirts! A right top can consist of a wide range of clothing items like the amazing collection of Campus Sutra women tops and Kurtis go absolutely awesome with maxi skirts. Let's get this list started.
Long Skirt Outfits For Women:
Different tops to wear with a long skirt! Which is your favourite look?
1. Crop Tops and Maxi Skirt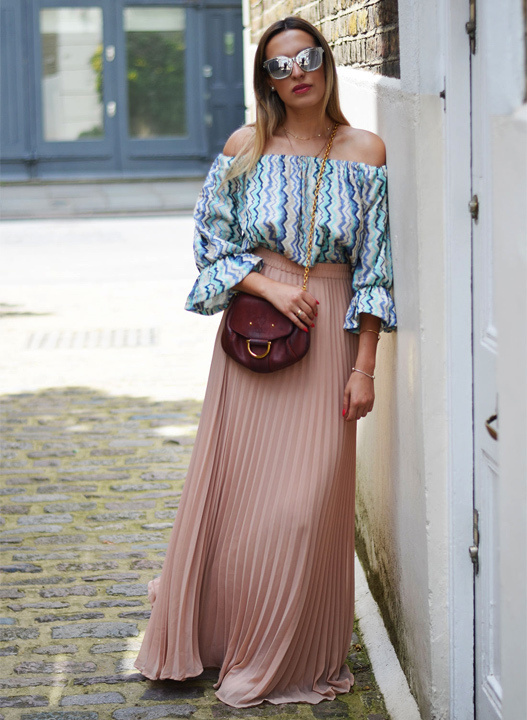 Long skirts come in all shapes, sizes, colours and prints. We're going to tell you how to wear maxi skirt to make sure you're pulling it off better than ever! The golden rule when it comes to dressing casually while wearing a long skirt outfit is 'less is more'. Always opt for a solid round neck or tops to wear with long skirts which are floral or patterned. This allows your maxi to stand out. Team this up with a statement necklace or an embellished sling bag. If you're planning on wearing a basic solid skirt, choose a graphic tee or a net top with long skirt, whatever suits your personality type.
Currently, long chiffon voluminous maxis are considered the fashionable long skirts. These look great with fitted plunging V necks or crop tops. If you've got a mid-rift that you'd like to show off without showing too much skin, then opt for crop tops on long skirts – a combination of classy and sexy! If you're planning on wearing a long skirt in winter, team it with knits and ankle high boots – smart, chic and warm! Then we have the two classic combinations: pairing your long skirts with crop top which are black or white.
2. Black Top with Long Skirts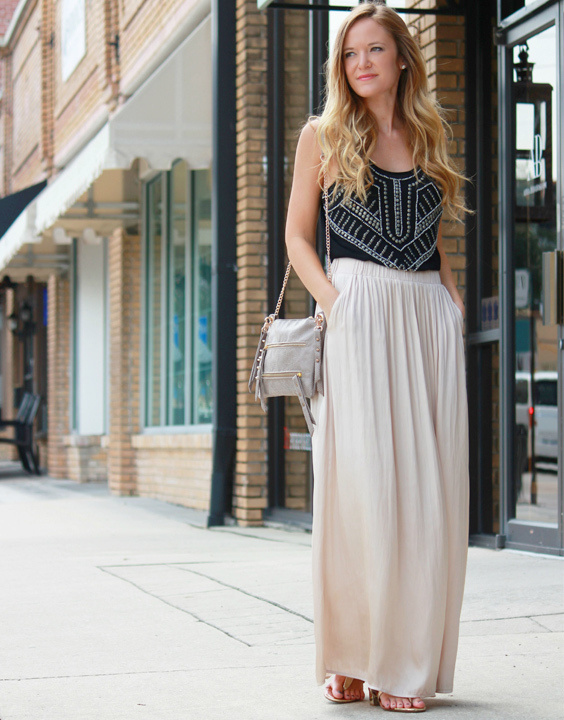 Metallic and sequence long skirt
When you're wearing a long skirt to go out at night, opt for black top with long skirts. Metallic and sequence long skirts always fit in with the nightlife dress code! Of all the long skirt and top combinations, a black fitted crop top paired with a metallic skirt always looks stellar.
Pair a customised T-shirt with your skirt, we offer a personalised T-shirt collection, where we print T-shirts with your favourite print on them, check out now!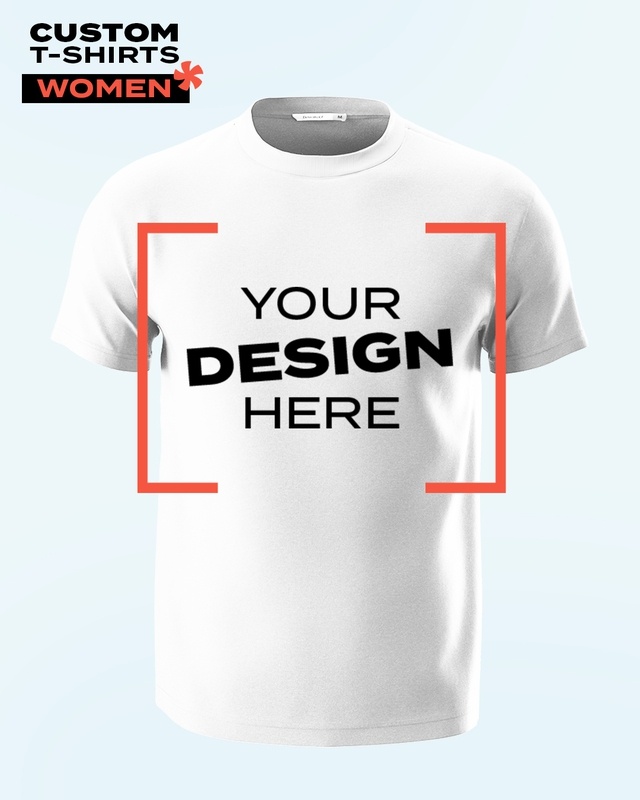 Black maxi long skirt outfits for women
Another classic combination is an all black maxi long skirt outfits for women. Team your favourite black maxi skirt with a black crop top, wear a big pair of hoops and tie your hair up – you'll have all eyes on you. Plus, isn't all black the most slimming outfit ever? Still can't decide what to wear with long skirt? Take some inspiration from Kim. One of the best skirt outfit ideas comes from Kim Kardashian's wardrobe – she pairs tight fitted black maxi skirts with tighter fitted crop tops of the same shade. It looks simple, yet so chic.
3. White Tops for Long Skirt Outfits for Women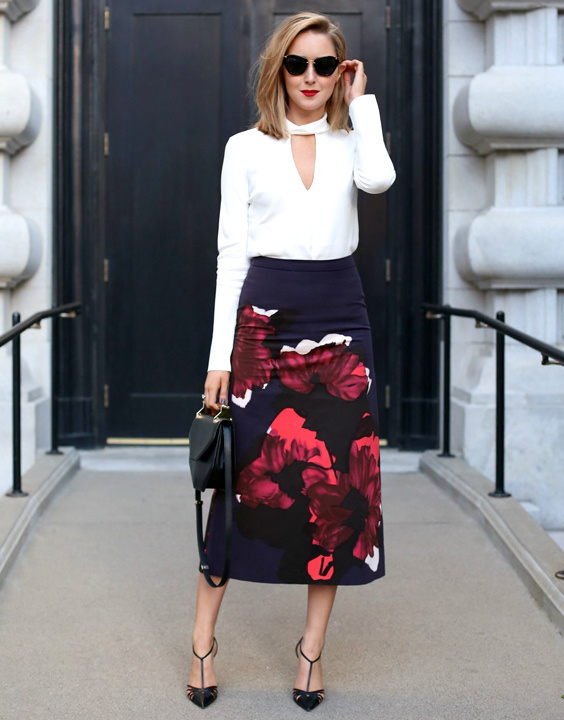 White tops look the best when you're going out during the day – they're casual, summery and always on point.
One of the best day looks is pairing a plain white top with stylish long skirts. By stylish we mean your style – floral, printed, striped… whatever you like.  So from all the white tops you've got lying in your cupboard, how do you choose the best tops for long skirts? It's pretty simple – let the skirt decide!
If you're wearing a solid pastel maxi skirt, pair it up with an off shoulder white tee or a minimal graphic tee.
If you've decided to wear a floral or printed skirt, choose a white crop top or a boxy plain white tee.
And if you can't decide your favourite long skirt outfit, then stick to the classic combination of a white top with a black skirt, or the other way around! Classic colours make for the best tops for  skirts!
Rocked by celebrities and endorsed on many a runway, we have two looks which suit every shape, size and colour. And we believe these looks will never go out of style! And we have the very controversial blouse and long skirt look, rocked by some and ruined by many – we've got some tips to make you own those unconventional long skirts with tops looks.
4. The Long Skirt and Shirt look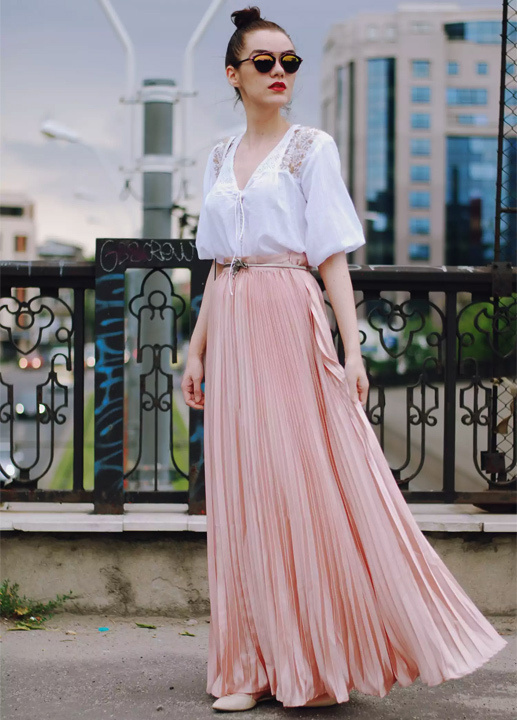 This is one of the most structured and chic long skirt outfit to have ever existed! You could wear this look to work, to an office party, to a high tea or even to meet your in-laws! When you're going for the look, it's all about finding that balance between girly and work wear. The casual white shirt will always look great with any long skirt, be it plain, printed or stripped – the ultimate go-to for long skirt tops.
You can pair this with a studded necklace which will go around your shirt collar, not your neck. Even the basic denim shirt with long a skirt will give off a very happy yet sophisticated vibe. This look looks best when paired with nudes, bright pinks and florals.  But how do I choose shirts and tops to wear with long skirts, when I'm dressing for a meeting?  We knew you'd ask that. You're thinking 'what kind of tops to wear with long skirts which look formal yet smart'?
While dressing for business, choose a shirt which is structured and well fitted, and stick to solid black, grey, white or nude maxi skirts. You can dress this up with a blazer, or wrap a cardigan around you – you'll be meeting ready. And when you want to go out after, just revamp this professional long skirt with shirt outfit by taking off the blazer, opening a few shirt buttons and putting on a pair of heels.
The long skirt outfits with a Jacket look. Reach out for a layer, maybe?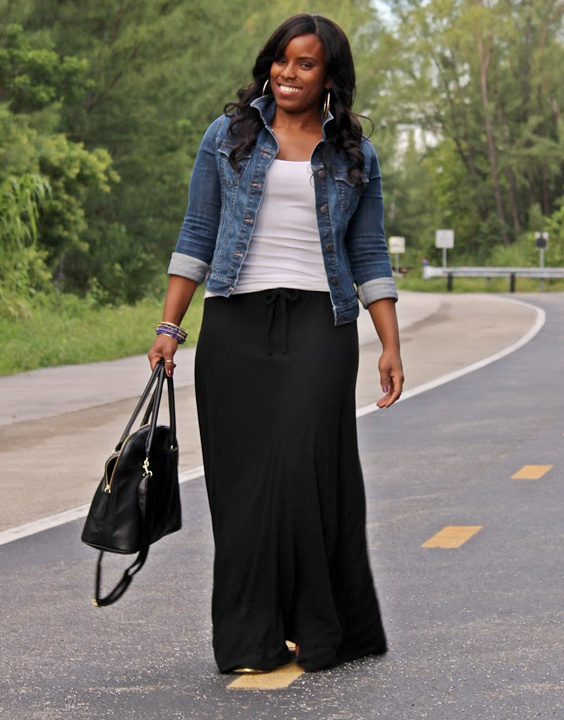 One of the best winter looks is the long skirt with jacket look. If you're opting for a bomber jacket, choose skirt styles which are flowy and girly to create a chic feminine look.  You could even pair a leather jacket with your maxi skirt. Now you don't need to start hunting for tops that go with long skirts and leather jackets, you just need to pull out a well fitted white or black top. Let your leather jacket and maxi skirt steal the show!
The best part about the leather jacket and long skirts outfits? You can pair almost any colour maxi with a black, grey or tan leather jacket. And, you can rock a green, blue or metallic leather jacket with a basic solid maxi skirt – now you don't need to stress about the top for long skirt. Lastly, the ever versatile denim jacket, paired with a maxi skirt and top – evergreen combination. For us, the denim jacket paired with a striped maxi is an all time favourite.
Blouses for Long Skirts Outfits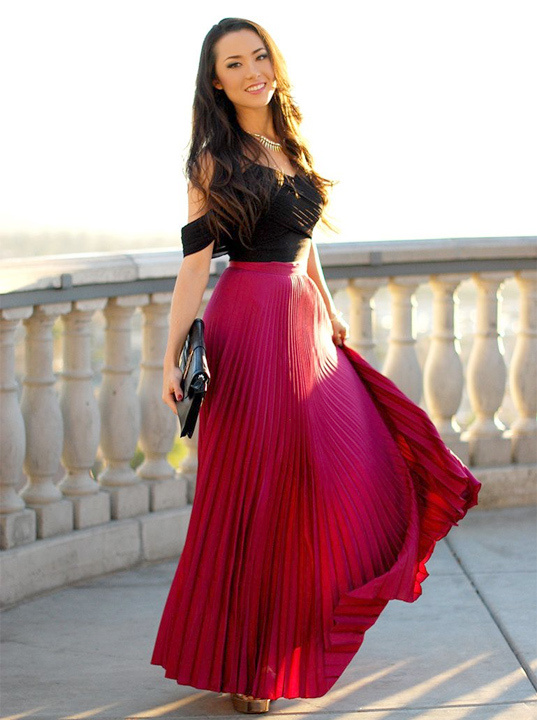 Pairing a blouse with a long skirt is a great look for a high tea or an afternoon kitty party. Now you might have enough   long skirts outfits, but how do you find the right blouse? The trick is to choose a blouse which is well-fitted, simple and not over the top. Mandarin collar blouses and tie up blouses with bows always look good with a maxi. To make your blouse and long skirt outfit looks smart and not shabby, it is best to wear a well fitted maxi skirt. Or you could opt for a long skirt made out of raw silk or a similar material so it gives a very structured look.
And when in doubt, when you just can't decide what kind of tops to wear with long skirts, choose black or white blouses for long skirt outfits for women that are bright solid colours, and tie the look together with one statement piece.
Image credits: The copyrights of the images used in this post belong to their respective owners. The credits where known are specified under the image - if you're the owner of an image and want it removed, please contact us.