Celebrated at the end of the 9 day fest that is Navratri, Dussehra is one of the most diverse and versatile celebrations in India. Everyone has their own versions – many celebrate this day by the effigy bonfires and reenacting Ramayan in song & performance; some make it a point to give thanks to their prized possessions and their opportunities for education. In some regions it is notable for large parades, and some celebrate this day by charitable giving.
A Dussehra celebration can be seen as low-key or bombastic, and the festival deserves a dedicated ethnic garb that matches its multifaceted nature. Match your celebration and sparkle in ethnic attire ranging from sparkling lehengas to swishing sharara designs as you say goodbye to Navratri season & gear up for Diwali.
Of-course this year is not going to be the normal kind of celebration, however, this just makes your OOTD that much more important! Wondering if you should sparkle in a sequined kurta, a light muslin set, or a vibrant gharara silhouette? Set the holiday vibes right this year – scroll on for a glimpse into 9 unique and trending outfit ideas for Dussehra 2020!
1) Pretty in a pastel sharara set:
It's no secret that pastels are in this season. From fresh mint shades to soft blues and lilac tones, donning anything pastel this season is a sign that you're in with the times. The good news? Pastels are the epitome of sophistication when it comes to Indian festive wear. Exude a soft and gentle sparkle with a touch of ethnic flair by opting for pretty pastel sharara designs this Dussehra.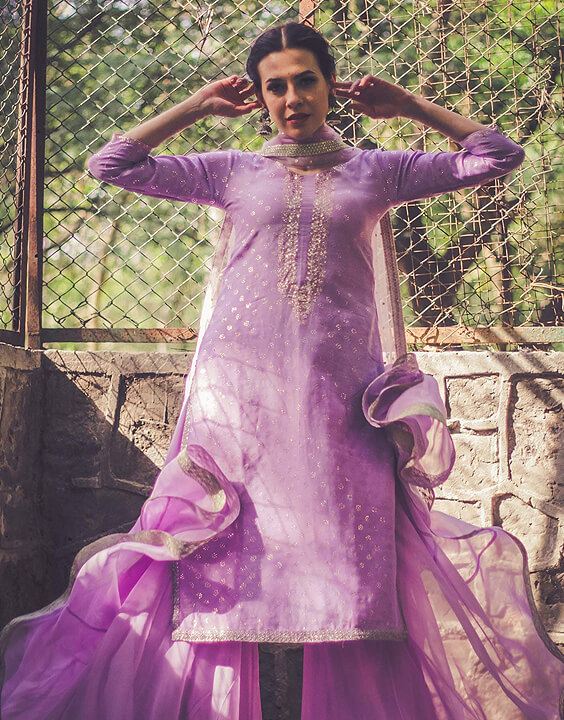 Here's why we love this outfit combination:
A cross between a lehenga & and a pant, the Sharara or Gharara is the best of both worlds – it gives you the movement and comfort of a pant without compromising on the dramatic flair a lehenga brings.
Modern-chic yet traditional, a pastel sharara is not only in this season, but the options for colors are endless – from blush pinks to powder blues.
These come in a variety of embellishment styles – what we love is a soft textured glimmer with gota patti or sequinned work that is sure to add those soft glam vibes.
Classic jadau jewellery is an elegant and charming addition to this enchanting festive look.
Recommendations: Check out this powder blue beauty with gota patti detailing from Aanchho or if you're looking to go all out in pricing, you can try this lilac hued stunner from Megha & Jigar.
2) Neo-ethnic in an asymmetric kurta & dhoti pants combo:
Grungy ethnic – a little bit of traditional charm paired with a bite of rock 'n' roll – this combo oozes that modern and fashion forward elegance. Originally made popular by designers like Anamika Khanna and Tarun Tahliani, this is a combination that is sure to have heads turning. Make a statement on the gram with this unique ethnic silhouette.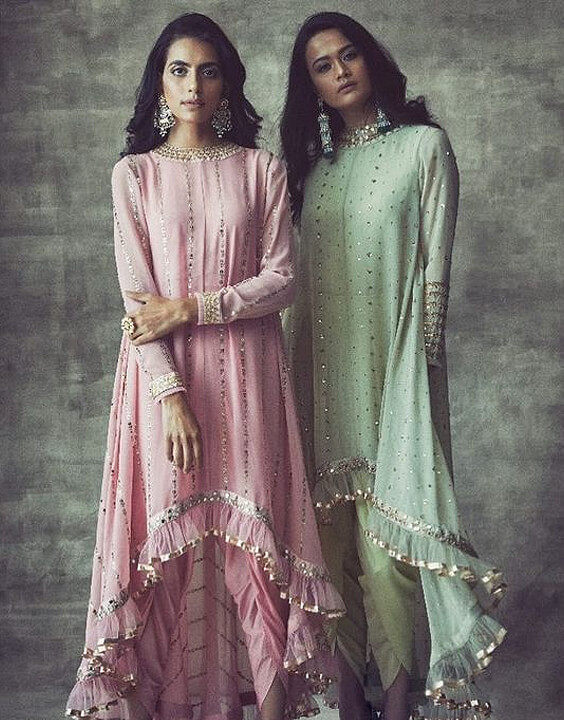 Here's how to style this elegant outfit:
One of the most comfortable choices out there; go for a loose, oversize kurta with a well-fitted dhoti and ditch the dupatta for good measure.
Big earrings are your friend when styling a look with this unique silhouette. Go bold with silver or gold jhumkas that frame your face so magnificently that there is little need for any other accessory!
Wear pointed and embellished jootis to go with this look and finish your dhoti bottoms in a sleek profile.
Recommendations: Go for this uber sleek and affordable asymmetric kurta + dhoti pant set from Shree or opt for this glamorous designer ensemble by Vani Vats.
3) Tie-dye cool in a shibori sari:
Just like the pastel trend for sharara designs – Tie-dye and shibori printed sarees are one of the most enduring Indian wear trends of 2020. Super trendy, on-spot with the current zeitgeist and a wonderful way to channel a traditional, coveted craft through ethnic wear; a shibori saree is an easy choice this season!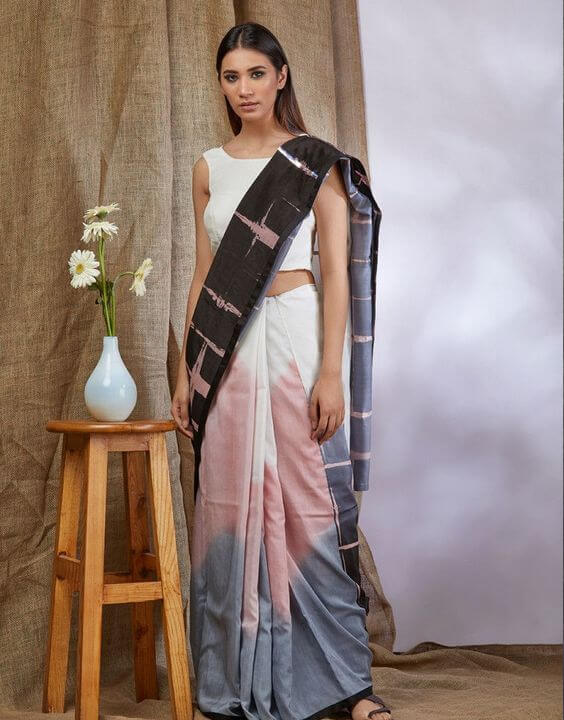 Here's why this one's THE Dussehra look for 2020:
Beautiful in both – soft pastels and vibrant hues, this trend is varied, versatile and on-point for festive celebrations.
A shibori sari is a stunning companion to your hand-me-down pearl, jadau or stone jewellery. Express your love for family in 2020 by donning your heirlooms with this look.
Match your lip and eye colors to go with the color palette of your tie-dye sari to give yourself that coordinated appeal!
Recommendations: We love this super affordable Bhagalpuri pure cotton sari for its soft-glam elegance and this vibrant look from 'The Loom' if you want to go bold with color.
4) Breezy & festive in a hand block-printed kurta:
If you are looking for luxe and traditional types of ethnic Kurti that channel a well-loved Indian craft, look no further than a hand-block printed kurta set. Featuring beautiful floral and mughal motifs, there is a wide variety of this outfit available in the domestic market.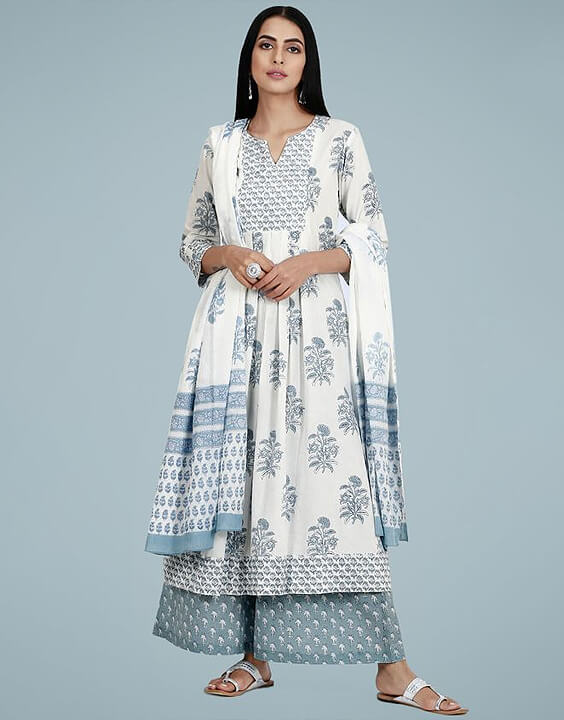 Here's how to wear this eternal fave:
Go for more sober color schemes with slated hues block printed on a neutral black or offwhite base, or opt for more foiled gold prints on jewel toned hues.
This look is incomplete without silver or gold jewellery – a good tip is to match the color of your jewellery with the pigment of the block print to curate a put-together Dussehera look!
Embellished or traditional brown Kolhapuri chappals are a classic pairing with this type of kurta set.
Recommendations: This classy sage-green set from The Secret Label is sure to score you some brownie points at your family festivities. If you're looking for something ultra-easy and low price, go for this elegant burgundy option from Amazon.
5) Twirl away in a modern lehenga set:
Simply sober looks are not for us all – some of us revel in the dramatic bold flair of a lehenga set! However, for a festival like Dussehra, you can go off-beat and experiment a little with this flamboyant outfit.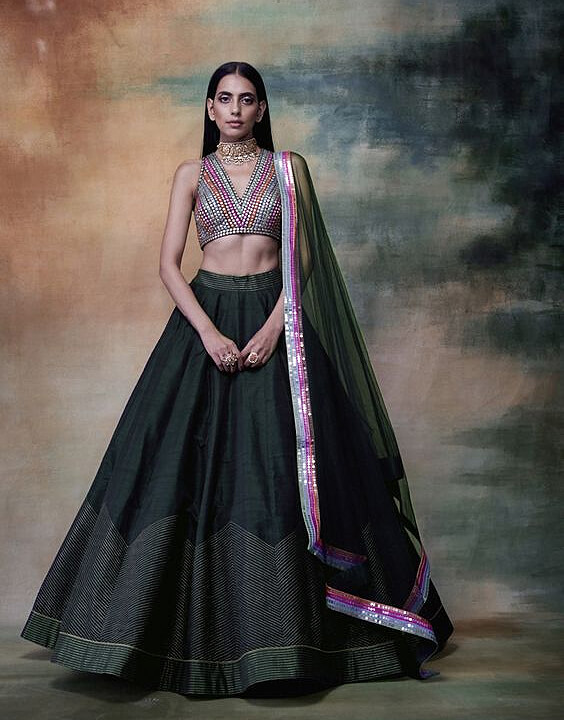 Go minimal on the skirt embellishments to exude a more modern appeal. Opt for a lehenga in a solid color with just one or two statement details like a stitch pattern or a gota trim.
Choosing a sleek and modern blouse cut is the best way to give a contemporary twist to your lehenga set. Choose a modern cut and avoid half-sleeved or 3/4th sleeved blouses with sweetheart necklines at all costs!
A diaphanous net dupatta or a jacket worn instead of a dupatta is a modern spin to this otherwise traditional look. Pair this with nude and glowy makeup for maximum sophistication.
Recommendations: We love this classic Biba set this Dussehra, or go for this chic designer one from Aakansha Singh in pristine off-white for a style statement like no other.
6) Get millennial festive in a crop top and skirt:
A crop-top and skirt combination is a no-brainer when it comes to staying youthful and stylish for Dussehra festivities. A chic and easy-to-execute look, this is one ethnic outfit that every woman should have in her closet!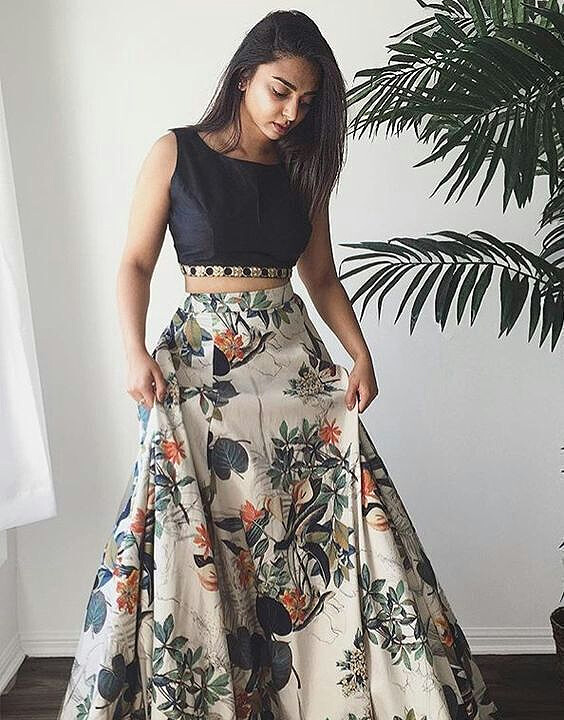 Here are the options we love the most in this combo:
Full printed skirts with minimally embellished or solid colored crop tops for women in contrasting colors is a charming, easy-going way to pull off this look.
Pick contemporary statement jewellery to go with this chill festive pairing.
Keeping hair and eye-makeup simple with a bold lip is a fun and simple way to take this look up a notch. Go on – add a flair of flowers in your hair and fearlessly ride this stunning ethinc wave.
Recommendations: Go chic and stylish with this contemporary crop-top and skirt set from Anita Dongre, or go super affordable and on-trend with this mint green combo at Myntra.
7) Gilded elegance in a sequin kurti:
The gentle glimmer of sequin details and embellishments are unmatched when it comes to creating soft glamor with ethnic wear. Sultry and classy, the gilded appeal of this outfit option for Dussehra cannot be understated. Feel extra pretty in this outfit idea for the festive season.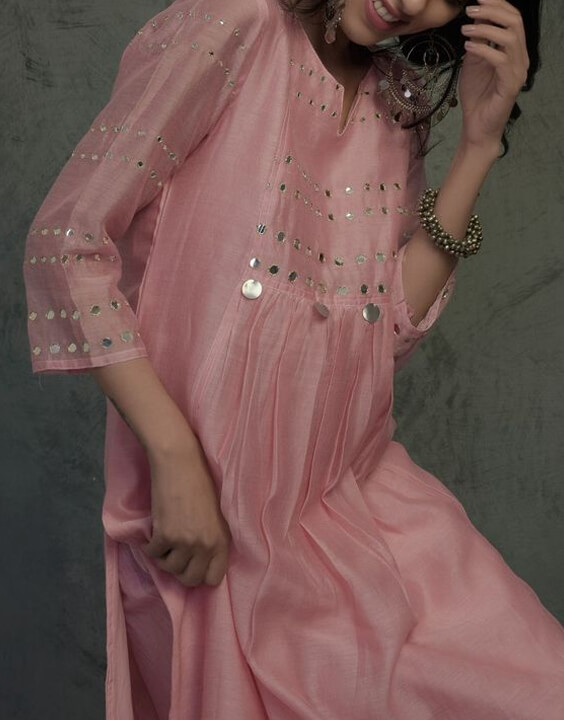 Here are a few ways to update these types of ethnic kurti flawlessly:
Opt for a silvery sparkle over pastels when choosing your sequinned kurta to exude a soft glam vibe.
Pair with shimmery jewellery – gentle charms, small diamante studs and pendants to keep this look gentle and avoid going overboard.
A classic middle parting or braid is a great hair-style option to go with this combo. Stay demure and delicate with your makeup and don't forget to amp up the blush!
Keep the sequin details minimal. Sequins tend to look too gaudy and cheap when overdone – but delicate butis or broder/neckline details can add just the right amount of shine.
Recommendations: We're starry eyed at this sequined suit set from Kashish and this high-end design option from Talking threads for that sophisticated glimmer details.
8) Indo-fusion fun in a dhoti sari:
A modern day hybrid of the Indian designer scene, this type of sari needs no draping and no introduction! A pre-draped dhoti-version with a pallu, go for this indo-fusion garment for a chic, experimental and unique festive outfit.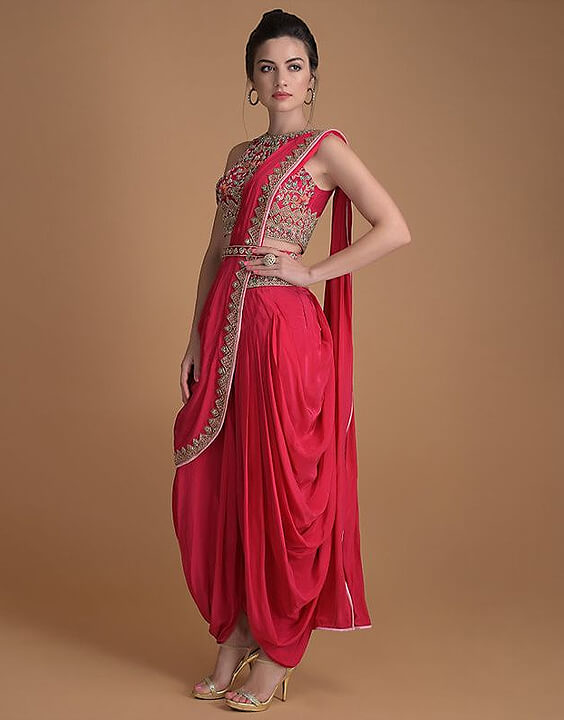 Here's ways to wear this style chameleon:
Belt it up – wear a broad statement belt or a kamarbandh and crop tops for women with this look to give it an experimental twist, while keeping things traditional. Cinch in your waist & your pallu!
This outfit combination is not for the faint hearted. Go for a sleeker, printed version to go lightweight instead of an embroidered or embellished texture.
Either go monotone with the blouse and sari pairing or wear a blouse in a neutral shade like beige, black or white with a more vibrant and complimentary colored dhoti-sari.
Recommendations: For us, printed is the way to go this Dussehra! Opt for this unmissable Payal Singhal Pret style or go for this chic cream-colored beauty from Ishin.
9) Traditional panache in a brocade suit set:
Brocade is a classic Indian wear staple. The landscape of traditional ethnic wear wouldn't be the same without it and no festive season is complete without this eternal style. Bold yet classy, a brocade suit set will have you feeling and looking your best for Dussehra.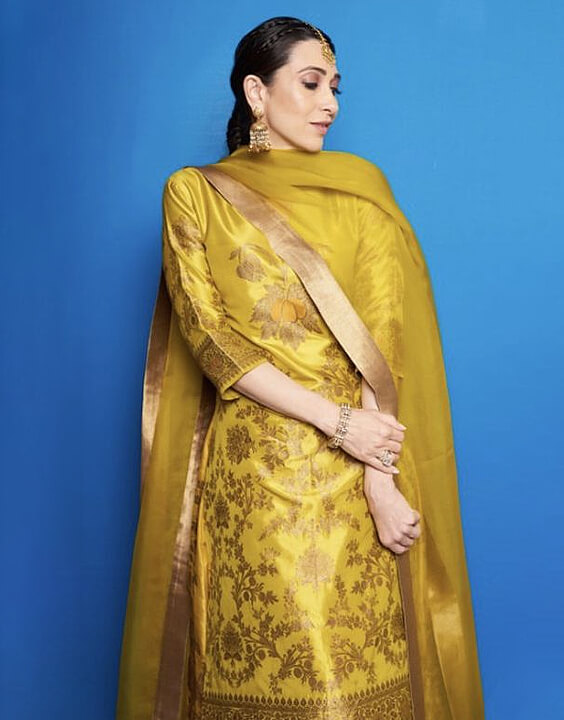 Here's how to take this elegant outfit to the next level:
Pair your brocade kurta set with a pair of stunning heels that compliment your outfit for a sharp and crisp profile.
To add a contemporary spin, wear your suit set with a watch and a set of statements, yet modern earrings.
Monotone is in for this season when it comes to brocade. Go for an impeccably co-ordinated suit set in rich mustard, red or emerald colors to make an impactful impression on your family & friends during celebrations.
Recommendations: Go for this pretty Banarasi cotton-silk brocade suit, or go big and pricey in this high-fashion in this rich maroon ensemble by Label Earthen.
Dussehra is a great opportunity to let loose, celebrate and give thanks – and we would love to see you do so feeling great in these stylish outfit ideas. Gear up – the merriment is just getting started!
Image credits: The copyrights of the images used in this post belong to their respective owners. The credits where known are specified under the image - if you're the owner of an image and want it removed, please contact us.