Tom Ford once said, "Dressing well is a form of good manners!" and who wouldn't agree with one of the most iconic names in fashion? How you dress says a lot about you, even before you've been formally introduced to somebody. It isn't about trends, but about the very first decision, you make when you get out of bed each morning. Don't you think it should be a good one?
While dressing like you own the place is a very important part of corporate life, it is equally important for your college life too. A lot of people think that they can't pull out stuff from their college wardrobe once they're out of it, but that's a myth. There are clothing and accessory items that transcend trends and come with the promise of versatility. Read below to know which ones you need to watch out for, and how to style them to be at your fashionable best!
Rock Those Blue Jeans!
Classic, contemporary and cool – blue jeans for women are undoubtedly a closet must-have. There's nothing you can't love about them. They have been praised in several songs, and have made fashion headlines in tons of movies too! They go with almost everything, and it's acceptable to wear them anywhere – provided you style them well. They aren't just meant to hide away in your college closet if you're a working woman now, but brought out and flaunted endlessly.
How to style Blue Jeans for office: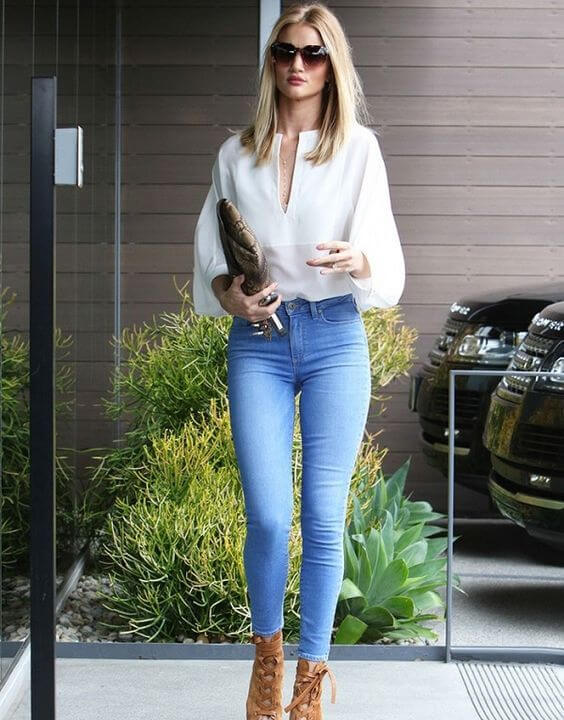 Aren't peplums just the perfect topwear for all casual as well as not-so-casual outings? Let a crisp, white one take over your work wardrobe too. Wear it with those clean blue jeans!
On the more relaxed days when you don't have much on your to-do list and are allowed to take a chill pill, nothing like a nice white blouse to wear with your jeans when you're heading to work.
How to style Blue Jeans for college: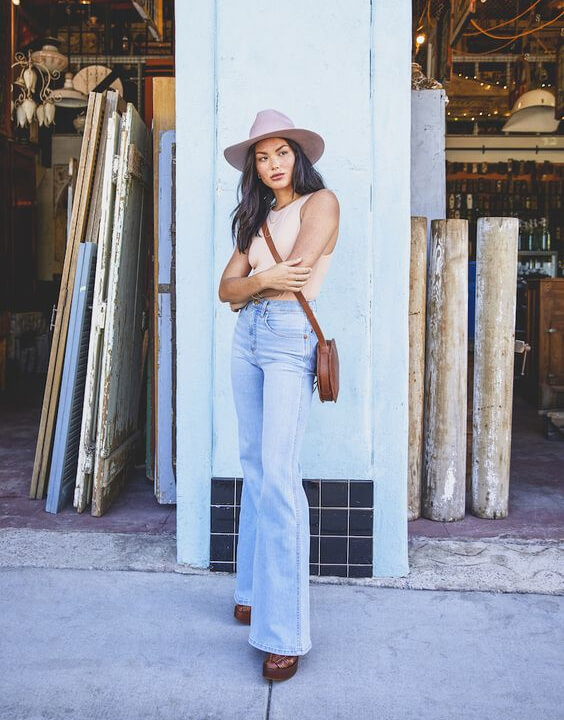 Ditch the skinny jeans for women every once in a while, and let flared blue jeans be your best friend instead. Statement-making and 'cool girl' approved, you will reach for these over and over again.
Get that ripped jeans + white shoes look going, because it'll be worth flaunting! It is very much in trend.
Stay Trendy In T-Shirts!
Whoever said that t shirts for women weren't a good fit for the 9-5s just didn't know how to style them. And whoever said t-shirts are way too 'regular' for college, again, had no idea about their coolness quotient. But you do, or at least now you will. If worn right and picked wisely, t shirts for women can be flaunted with just about everything! If you don't believe us yet, you will soon. After all, they marry comfort with style and what's not to love about that?
How to style T-shirts for office: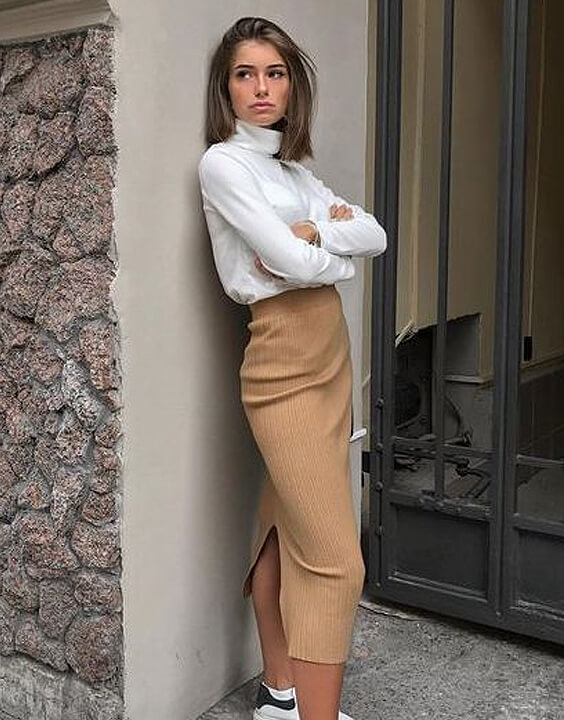 If you have only been pairing those sharp pencil skirts with a blouse, it's time to move on, or at least take a break. Try wearing a clean tee with your pencil skirt instead. Don't be shy with experiments!
Another formal winner that can be worn with the seemingly 'casual' winner aka t-shirt are dress pants! Yes, pair your tees with your dress pants and live life a bit. Top it off with smart sunglasses for your commute.
How to style T-shirts for college:
Unlike your workplace, it's A-OK to wear distressed jeans for women to college! (Just make sure you don't go too far with the 'ripped' bit.) Got a band t-shirt you love? Put it to use over here.
Hoops and t-shirts go together like Adam & Eve! Don't let their love story fade away; wear your tees with oversized hoops and your hair up in a ponytail!
You can even look for personalised tshirt with your favorite print on it, send us your design and we'll print it for you on our premium quality tshirt.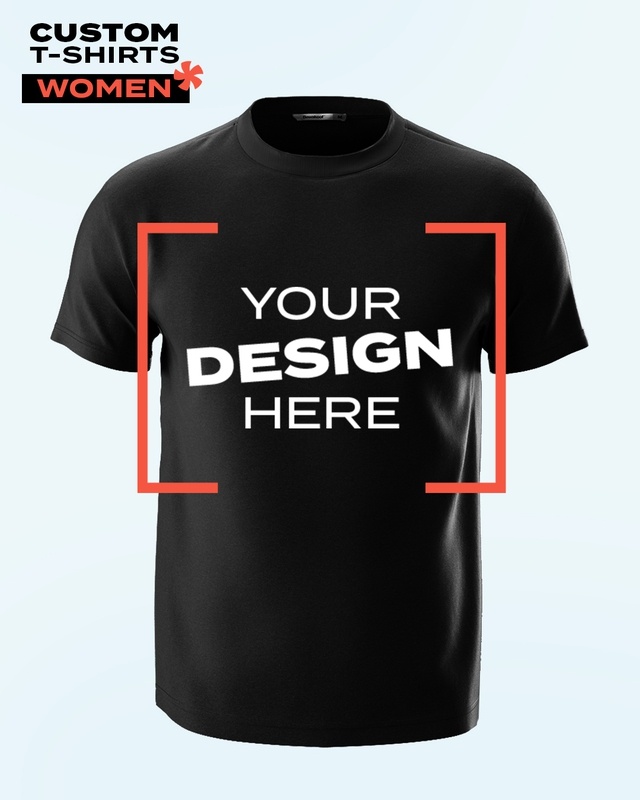 Kurtis Are Forever!
Undoubtedly one of our favourites when it comes to our ethnic wardrobe, Kurtis are a surefire hit. They check off everything on our 'perfect outfit' list – comfort, class, elegance, and style. Just like t shirts for women, various types of Kurtis too can be worn with a variety of things. Whether you love printed or embroidered, plain or embellished, long or short, all types of Kurtis have something new to offer every time you reach for them. Be the best-dressed in a kurti at work, or rock it on campus with these tips.
How to style Kurtis for office: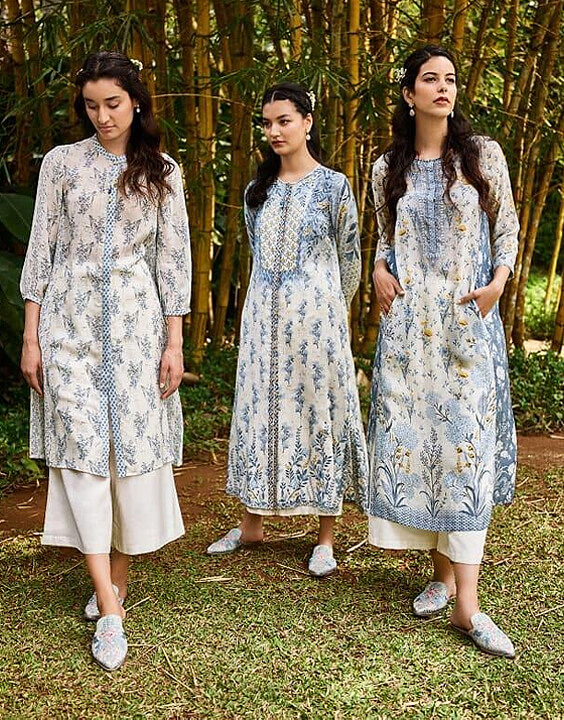 Culottes are on everyone's mind and wardrobe by now, thanks to their casual yet sleek approach. Striking the perfect balance between too flared and too straight, these pants can be worn with different types of kurtis.
Another great way to style your kurtis for work is to wear them with a pair of kurti pants. Top off this look with ear-studs and a sleek hairdo.
How to style Kurtis for college: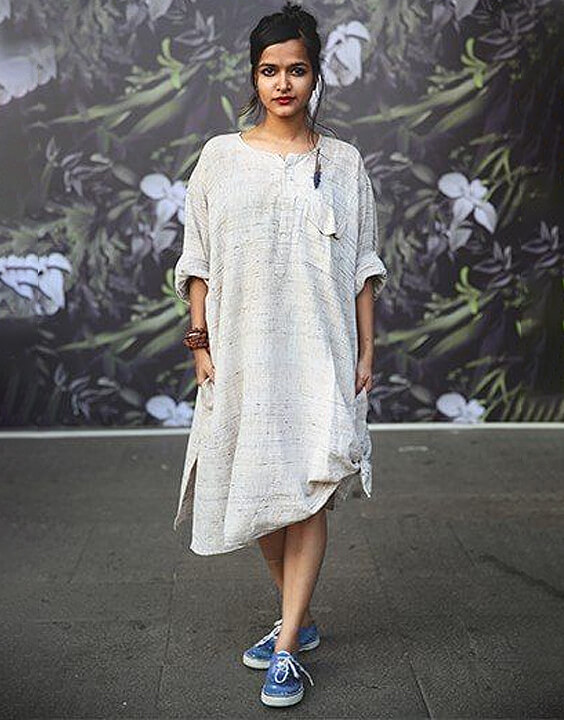 If you haven't tried the jeans + kurti look yet, then this is your cue. Wear a pair of kolhapuris or juttis with this combination and don't miss the jhumkas.
Wear your kurti as a dress! If it's the right length then it can surely double up as a dress. Personally, this one's our favourite and also fashionista-approved!
Leggings For The Win!
Wanna show off the intense leg workout from last evening's session? Leggings for women are the answer! Want to stay comfy throughout the day? Nothing like a pair of leggings. Can't find the right trousers to match the top you've been waiting to flaunt? Again, leggings will be your go-to. If it seems like leggings are all-rounders, you're absolutely right – 'cause they are. Don't believe them when they tell you that leggings aren't 'pants' because it's a lie. You can wear them to work and you can wear them to college too!
How to style Leggings for office: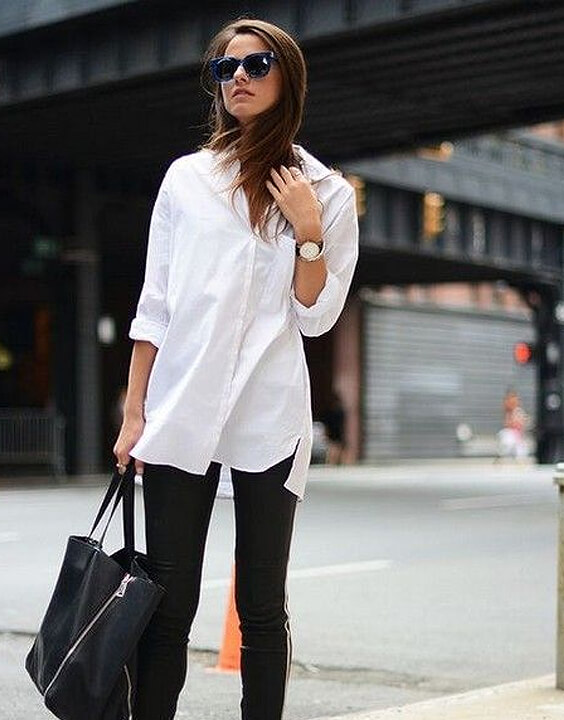 Your white shirt isn't just meant for dress pants or trousers. Wear it with a pair of leggings for women, and don't tuck it in. Make sure the fit is crisp and not baggy, and accessorize with your usual go-to pieces.
If you're not convinced with the shirt + leggings look, then you can replace the topwear with a tunic. Tunics are great no matter the occasion, and even when it comes to your work wardrobe.
How to Wear Leggings for college: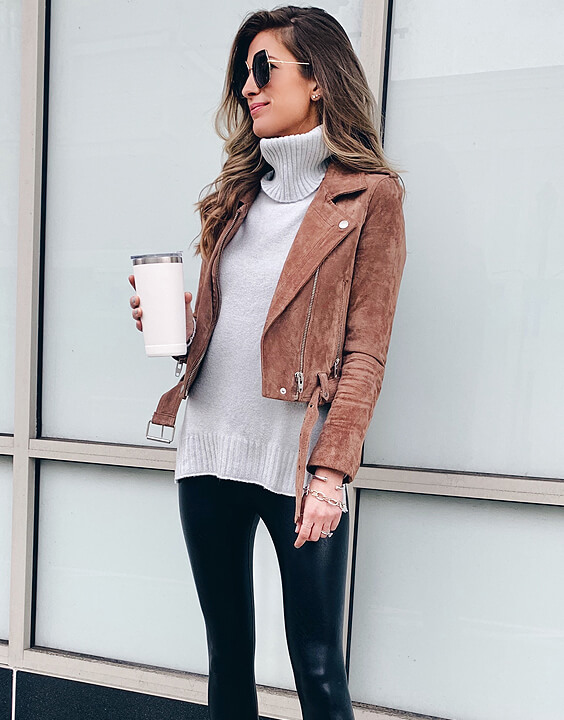 Look blogger-esque in a leggings outfit by slipping into a turtleneck top, layering with a jacket and finishing with a pair of boots.
Add some fun to your college wardrobe with coloured leggings for women. Pair it with a contrasting sweatshirt or top.
The Spacious Tote Bag!
Sling bags are great but nothing beats tote bags for women when it comes to utility AND style, & you have to agree with us on this. They're the perfect companion not just because they go with all our #OOTDs, but because they keep all our daily essentials together. No more forgetting your tiffin bag on the train or losing your stationary because your miniature bag didn't have space. Tote bags for women are the ultimate package and fashionistas of the world are sporting these everywhere!
How to style Tote Bags for office: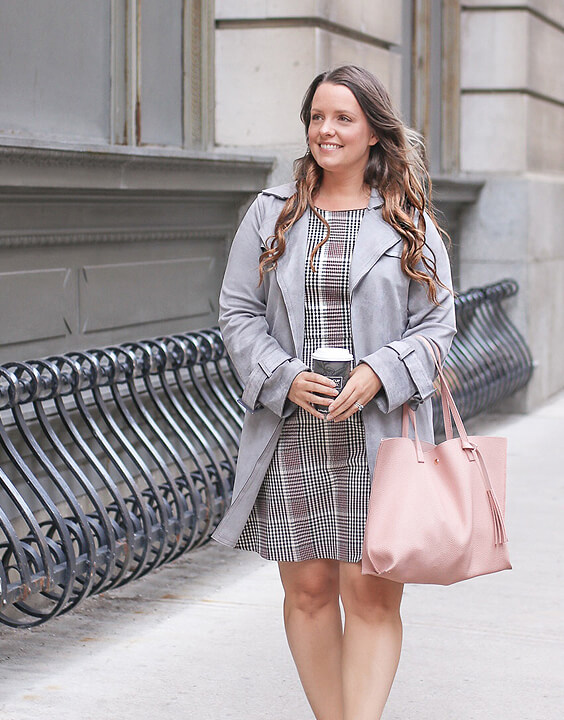 Carry a tote bag with you when you're wearing a dress to the office. Whether it has pockets or not, you're still going to need the extra space. Finish off with sleek, pointed-toe heels in a neutral palette.
Never go for baggy tote options for your work look! Go with well-structured totes so that you look like you mean business, even if you're heading out later.
How to style Tote Bags for college: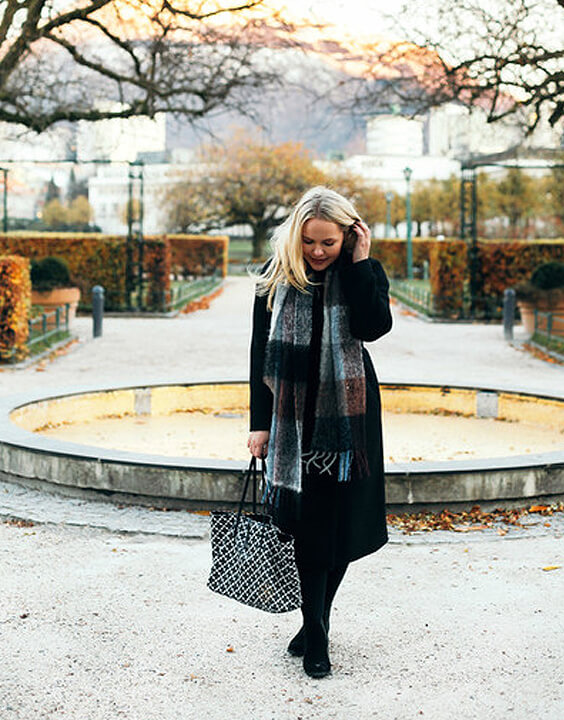 For wintery days, monochrome styling is a great way to get on with the day. Black is a colour that blends in perfectly with the season. You can choose to flaunt a tote in a contrasting shade, or even a patterned one for extra effect.
Skater dresses for women + tote bags = a look your classmates will never forget! Whether you're looking to impress your crush from across the room, or simply get a picture for the 'gram, this pairing will take you places.
Crop Tops For The Cool Girls!
When crop tops hit the runways, they brought with them a wave of 90s nostalgia and we're still wrapped up in it – but with a new approach to the trend. We know that they can be especially tricky to style, but let us rescue you from your dilemma. The number one way to style crops is to know your body type. Second, know where you're headed and the kind of impression you wish to create. Third, experiment and find the right pairing that works for YOU and refrain from following what you see on social media.
How to style Crop Tops for work: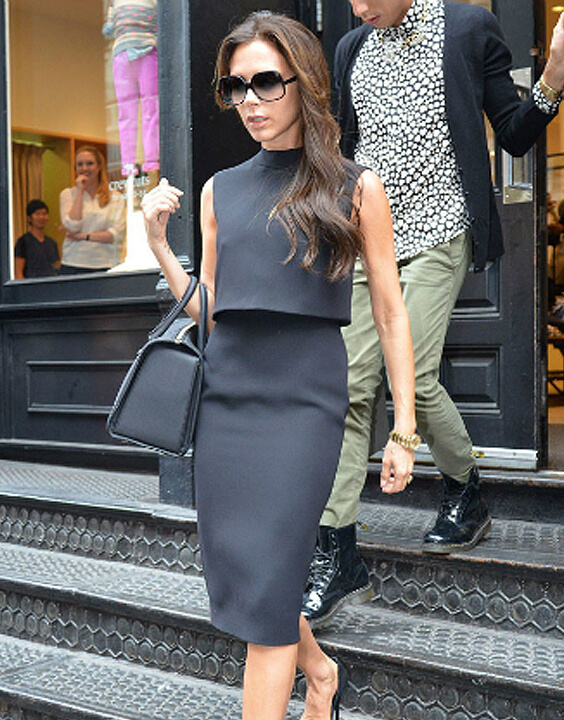 Crop tops to the office? A scary thought, no? Well, with a pair of high-waisted trousers, you'll be set for your 9-5! You can also choose to layer with a long jacket if it puts you at ease.
Pencil skirts have come to your rescue once again but this time, with a crop top. These skirts are anway boardroom winners, and even more when paired with the trendy crop top.
How to style Crop Tops for college: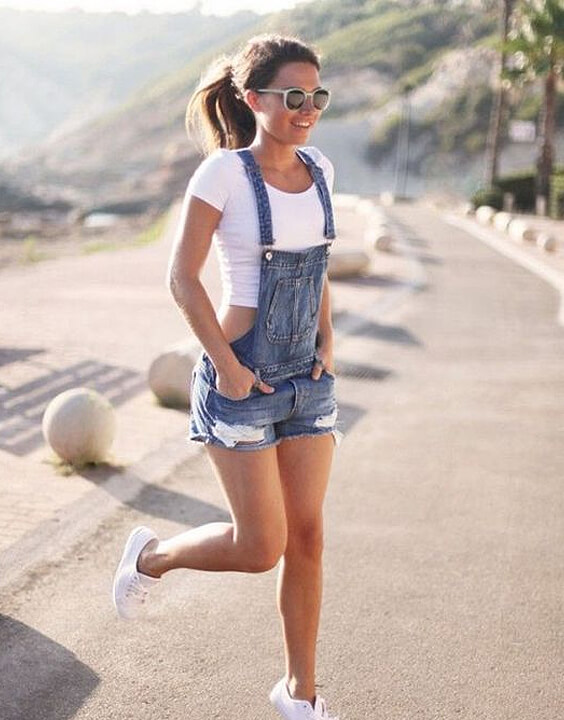 We love pairing our crop tops with dungarees! Two 90s classics put together? It doesn't get better than this. With the addition of white sneakers, you'll be killing it.
Take the denim-on-denim route. Opt for a denim crop top and bottoms of the same fabric and well-matched wash.
Shirts As Smart As You.
A time-tested wardrobe icon, shirts aren't just for important conferences but also for making lasting impressions no matter your destination. You need shirts in a variety of colours and not just the basic blacks & whites in order to have a complete wardrobe. Don't shy away from prints and textures, as they will define your look further while also adding a touch of individuality.
How to style a Shirt for office: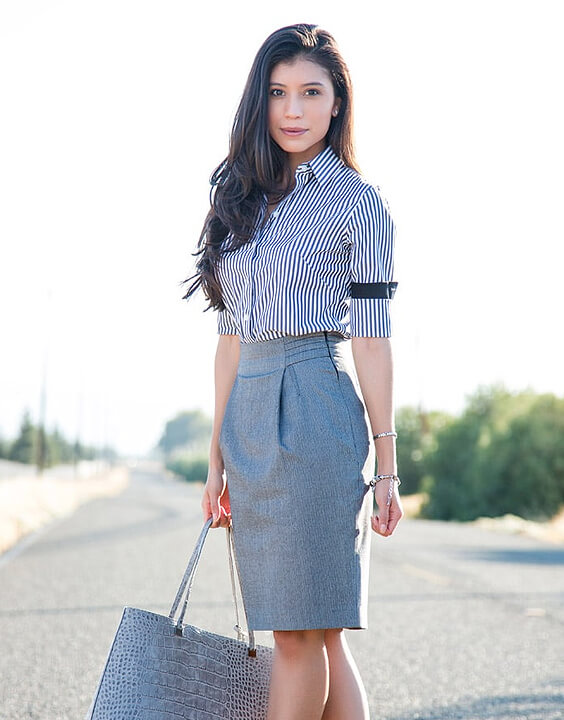 There is nothing better than pencil skirts to go with shirts if you're aiming for a chic look. Slip into a pair of pumps to complete the outfit.
In the winter season, you can slip a sweater over your shirt, ditch the skirt and go for a pair of well-fitted pants instead. This is most definitely a style hack to stay away from the cold while also looking smart as hell.
How to style a Shirt for college: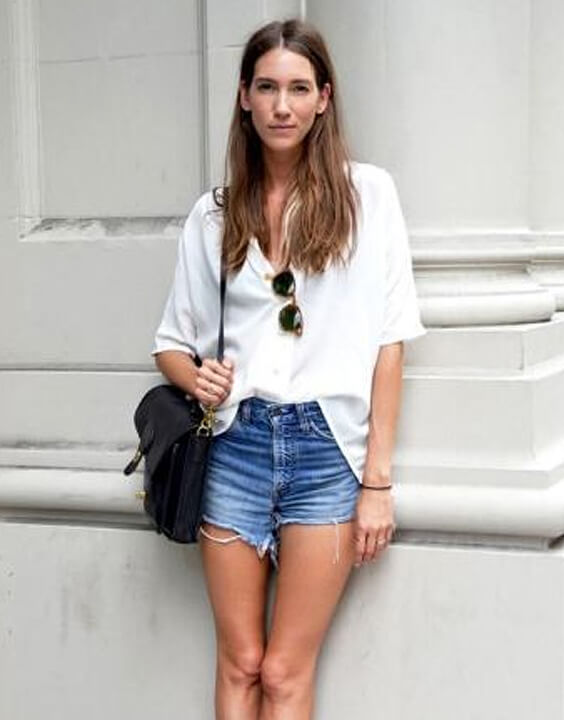 College days are for plaid! There's nothing we don't love about the infamous pattern. For a grunge look, borrow your dad, boyfriend, or brother's shirt and either tie it, or leave it unbuttoned with a tee or tank top underneath.
Shirts and shorts? Always a good idea! Leave it half tucked in to make a cool-casual statement. Don't forget your backpack.
T-shirt Dress To Turn Heads.
Famed for being ultra chill, t-shirt dresses can also do 'put-together' (if you put in just a little bit of effort.) Just like other types of dresses for women can be worn to office and to college as well, t-shirt dresses can also be flaunted in both places. They aren't just a crossover between the t-shirt and the dress, but also a more feminine way to dress-up! These can be best described as a more evolved version of two wardrobe essentials for women.
How to style a T-shirt Dress for office: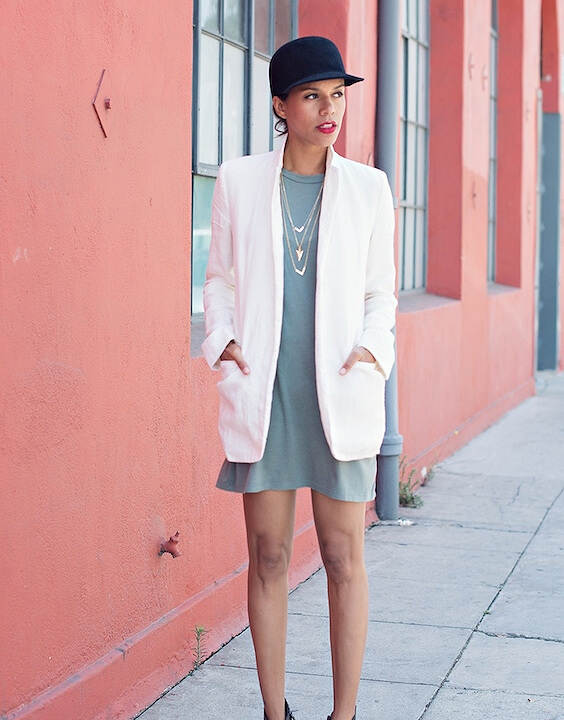 We go by one rule: put a blazer over anything and voila; you will have a work-appropriate outfit.
Another style hack? Belt up your t-shirt dress and you'll be good to go for your busy day.
How to style a T-shirt Dress for college: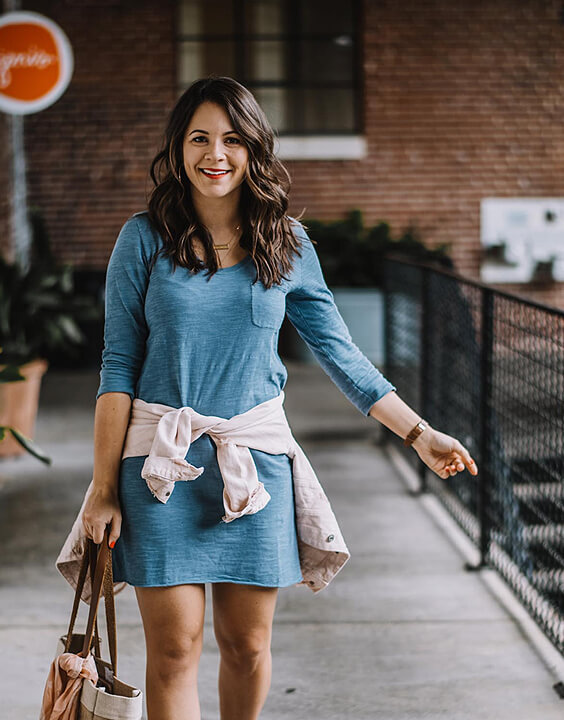 Pair your t-shirt dress with a denim jacket. No, we don't mean wear it. Instead, tie it around your waist like a strategically placed accessory.
Thigh-high boots with t-shirts are a certified way to stun. Give it a shot if you don't believe us!
So, those were our two cents on looking stylish at your desk: work & college both. Although, the most important style tip will always be this – don't forget to have some fun with your outfit!
Image credits: The copyrights of the images used in this post belong to their respective owners. The credits where known are specified under the image - if you're the owner of an image and want it removed, please contact us.