Know the difference between tuxedo and suit in the simplest of terms, to make your next style statement. Find out which one to wear when you have a dilemma with tuxedo vs. suit — know how they're different from one another! "What is tuxedo?" A question that would probably be foremost on your mind, but not to worry! We answer all your queries related to tuxedos and suit styles in this post!  
They say the transition from 'boy' to 'man' is not just distinguished by age, but also by sophisticated and traditional outfit choices. The fashion police agrees to this, like always; your choice of outfit can say a lot about who you are and who you aspire to be. So, let's be real; who doesn't want to be all suited up, ready to take over the world while looking super suave? We can't think of anyone who would disagree!
This brings us to the ultimate fashion choice for real men; suits and tuxedos! Some might wonder why we're using these two clothing terms separately, when there seemingly isn't any difference between suit and tuxedo, right? Nope! Read on to know what exactly are the differences in Tuxedo vs Suit from each other and the message they let out to your audience or near and dear ones!
What is the difference between suit and tuxedo? – A simple answer to a not so simple question!
The physical appearance of the two is what decides the difference between tuxedo and suit. An easy and quick way to pick out the varying factor between the two is to look for satin on the outfit. Satin is present on tuxedo suits in places like the lapels aka the tuxedo collar, pockets, arms, and trousers. There is a satin piping on the trousers, which matches the lapels. Another difference between them is the color they are made in. Suits are versatile and can be transformed from daywear to nightwear and formal to casual real quick. You can't do or say the same for a tuxedo suit design. Wearing a blazer over anything can make for a good outfit, but a tuxedo jacket cannot be paired with anything other than a button-down shirt or vest.
Tuxedo vs. Suit for wedding – Weighing your options!
A suit is more commonly worn in day-to-day life as well as formal events; the latter is usually worn for important occasions. Weddings are all about standing out from the crowd and making that special someone look at you in awe. While suits can be worn to a wedding because of their no-fuss nature, tuxedos are more traditional and scream chivalry. A tuxedo is generally worn with a bowtie, and a suit is worn with a long one but don't be afraid to switch them up though! Black tuxedo suit looks good no matter the skin tone or build. A suit on the other hand can be made, and looks good in a variety of colors and prints.
Tux vs. suit for wedding can be a tough decision, so the answer to this dilemma lies in what you want the people around you to perceive. Therefore, tuxedo meaning is synonymous with easy and the best choice for weddings! Read on to know exactly what is tuxedo.
So, what is a tuxedo?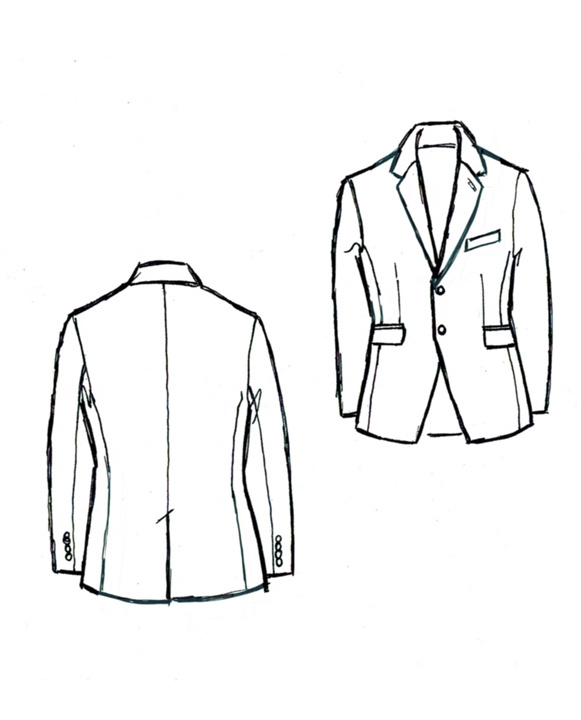 Beside the difference between tuxedo vs suit, we should know what is tuxedo? The main part of tuxedo designs is the inclusion of satin. There is a matching satin piping running down the side of the trousers. Secondly, a tuxedo is generally considered to be more connected to one's roots. The third most important and significant part of a tuxedo is that, it has less buttons. Lesser the buttons, more formal the outfit. It is also usually worn with a bowtie, and a white pocket square.
A tuxedo defines a man in ways suit styles can't. It makes one look important and necessary.
Tuxedo Styles – Types of tuxedos we are drooling over!
Tuxedos have formal as well as semi-formal styles, although which one you choose highly depends on your own comfort zone.
Earlier, the infamous tuxedo outfit was made only in jet black but now it is common to find them in colors like burgundy, grey, navy blue, pastel blue, and white among other shades. You can spot tuxedo styles in these hues on red carpet events, parties, and even weddings.
Alongside colors, there are various tuxedo designs that come into play while dressing as your best self.The designs consist of single breasted tuxedo, double breasted tuxedo and the white dinner jacket. Let's take a closer look at each of the  tuxedo designs below, and maybe one of them will make it to your wardrobe real soon?
Single breasted tuxedo – Everyone's favourite!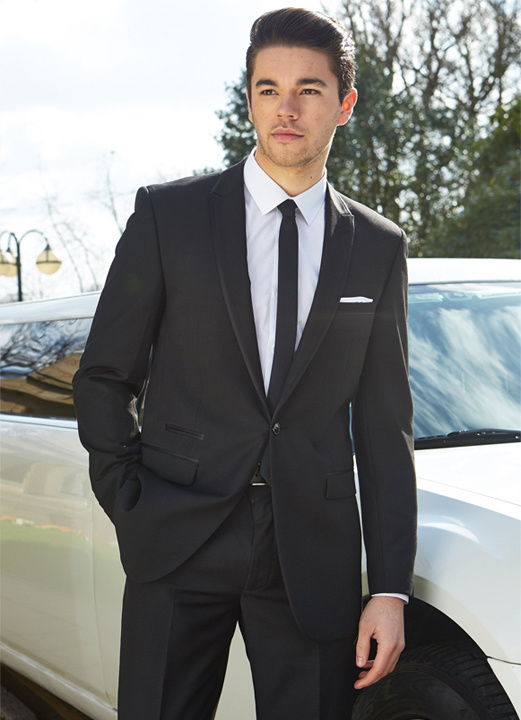 A single breasted tuxedo is a lesser formal, more common type of jacket. It has no more than 1-3 buttons, 2 being the most common number. Coming to lapels, a single breasted tuxedo has notched ones. They can have peaked lapels too but notches are more common in this type.
Double breasted tuxedo – A lesser chosen tuxedo style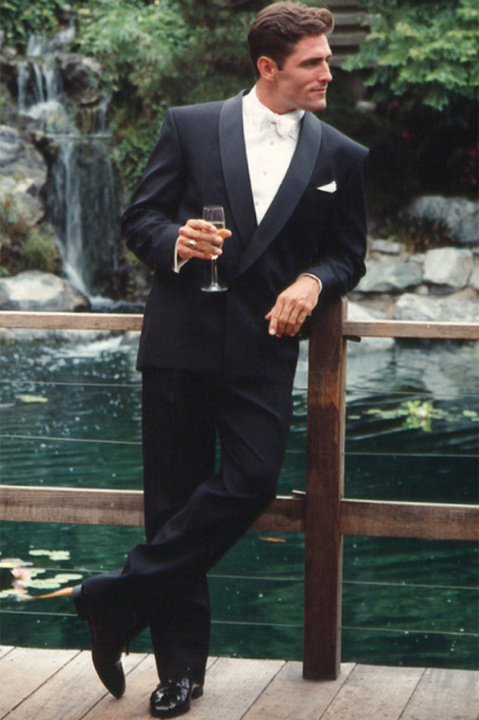 A double breasted tuxedo is more formal, and has more fold-over fabric. The lapels are usually peaked, although there are some made with notches as well. The number of buttons on this one varies largely, ranging from 4 to 8, 6 being the most common number. The reason of having more buttons is that double breasted tuxedos have more fabric to finish off. This makes them a not-so-popular choice amongst men as of late.
The White Dinner Jacket – Timeless pick!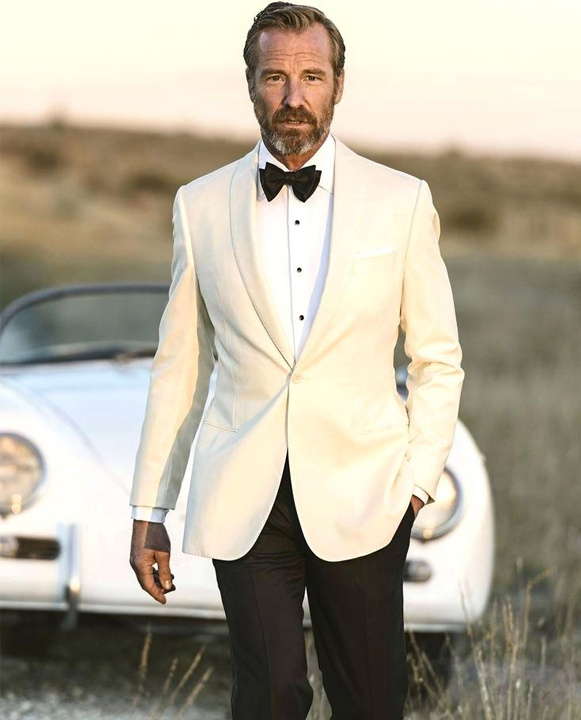 The White Dinner Jacket is a more fancy way to say 'white tuxedo'. Well, maybe not fancy but that is what they call a tuxedo in England. The term 'dinner jacket' goes, this is because a tuxedo is referred to as a dinner jacket. It is usually paired with a black bowtie and black trousers. This style was made famous by James Bond, and can be seen on most of his movie posters. It is now famous amongst other A-list celebrities.
Now, let's understand what is suit?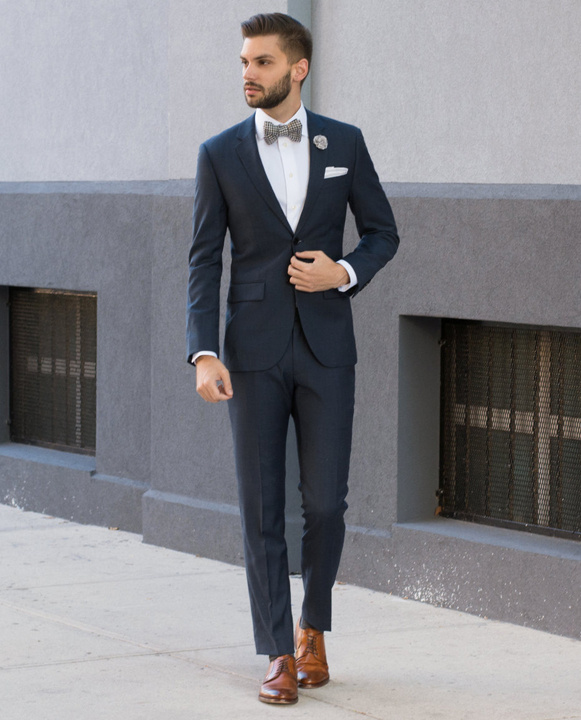 We say, the best way to define a suit would be a garment made to make every man look dapper, sharp and extremely smart! It's a license to get into everyone's eyes, without really having to do much except holding your head high. Men wearing suits are 100 times more appealing than men who stick to their regular t-shirt and denims to look younger. Different styles of suits for men are available in the market to match your personality. You got to pick one that fits the best.
Different styles of suits for men – Know thy outfit!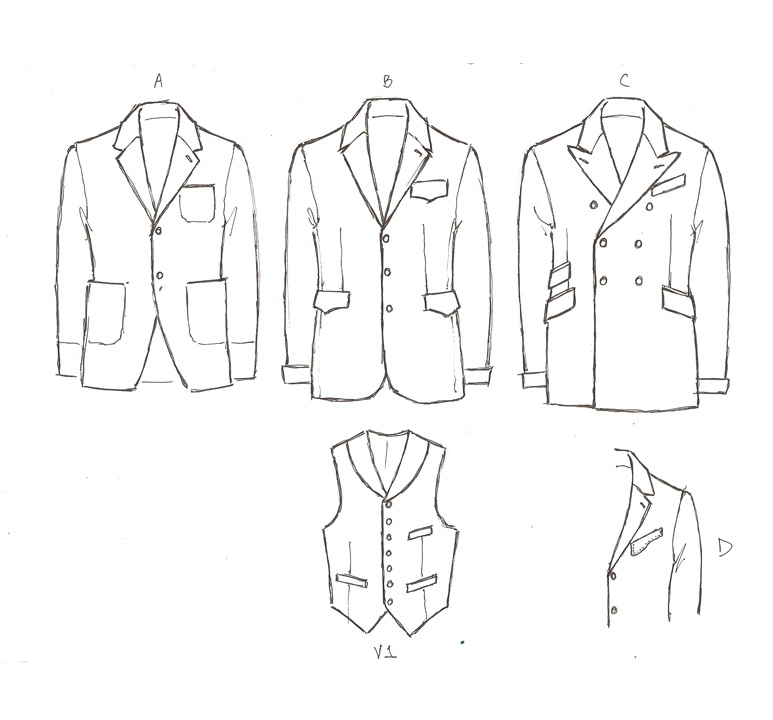 Just like the tuxedo, a suit too has a single breasted and a double breasted jacket. Again, two buttoned jackets are a popular choice when it comes to stylish suits for men. The silhouette of a suit is a major factor when buying or renting one.
Mens suit styles have 3 silhouettes that include sack, structured and fitted. A sack jacket is one that has no padding and takes the shape of your body instantly. Structured suit jackets have heavily padded shoulders and give the wearer an almost hourglass shape due to the narrow waist. Fitted jacket is a slim fit that makes you look lean and toned.
Coming to fabric use, there are three types to consider. First one is an unlined suit which is preferred in warmer temperatures. The second is a semi lined jacket for slightly structured shape and normal temperatures. The final one is a fully lined jacket that should be worn in colder climates only.
Modern suit styles with vents and no vents are available to buy or rent. A double sided vent is perfect for when you have a lot of sitting to do as it prevents the suit from creasing.
Every man should have different suits or a tuxedo in his wardrobe, because these are made to reflect the chivalry in you. We can't name one person who isn't fond of that! The most important rule to remember while choosing your outfit is the difference between suit and tuxedo which will do wonders in the long run. So the next time you're battling between the two, our guide will rescue you from major wardrobe malfunctions. This, we promise you!  
Image credits: The copyrights of the images used in this post belong to their respective owners. The credits where known are specified under the image - if you're the owner of an image and want it removed, please contact us.