If we were to count the number of failed Goa plans on our fingertips, we'd need another hand or two. No kidding, right? The amount of times we've dreamt about going to Goa, only to have it turn into a flop show is surreal. It's always that one friend who messes up last minute, or constant, non permitting parents; there's ALWAYS something that ruins this much awaited trip. But, if you've successfully reached the point where your Goa trip is definitely on, then kudos to that! With everything else in check – from travel routes to hotel/villa bookings, bookmarked restaurants and clubs, the only thing you need to figure out to precision is your wardrobe.
After everything is said and done, you should be focusing on what to wear in Goa; in clubs, on beaches, or while exploring other tourist points. We've got you covered from head to toe in this blog article that will have you reeling with super cool outfit ideas for your trip. Read on to uncover our top picks pertaining to what to wear in Goa!
Goa beach fashion- Time to hit the beach!
Beaches are a great place to chill and unwind. The sound of waves against the shore, or the constant hustle and bustle of people on the beach - everything has its own appeal to it. Planning on spending the day walking around the beach, hand in hand with your SO? Pack up casual beach wear items such as loose fitting shirts for guys, Bermudas, and a pair of flip flops.
Ladies, an asymmetrical hemmed dress is something right out of the movies! Casual clothes for the beach also include nice long kurtis for men with chino shorts and summer dresses for women. If you're camping out on the beach at night, pack something warm like cute knitted items, or a sexy denim jacket. This goes for both men and women for beach vacation outfits. Planning a trip in the hotter months? Don't forget to style yourself up with summer beach wear like ultra sexy bikinis, a hat and some cute flip flops! Sun dresses, hats, and a pair of gladiator sandals make for a really good outfit for a beach! Comfort is everything while you're traveling so your clothes for beach holiday should be breezy and relaxed.
Phew! This article definitely made us want to pack our bags and set out on a solo trip to Goa. Maybe that's exactly what we're gonna do, now that we've successfully made a checklist for you if you've been pondering upon what to wear in Goa! Lastly; no matter what you're wearing, don't forget to have loads of fun and make amazing memories because that's exactly what a Goa trip is about!
Clothes to wear in Goa- Know your beachwear essentials!
Goa is a lot of things, but most importantly it's a place where every culture from around the world is united with the same objectives. With that in mind, your clothes for Goa should make an impact on onlookers and fellow party goers. You should go all out with the clothes to wear in Goa, so that you can look your best while meeting and engaging with new people. It really isn't that difficult to pick out or shop for trendy and appropriate Goa wear, but a specially curated list will make the job easier. Whether you're a guy or a girl, middle aged or young; this list will cover Goa clothes to wear for everyone! So sit back and let this blog take control and act as a checklist for your clothes for Goa trip!
What to wear in Goa for guys!
Men can wear accessories too. Wear a classy chain around your neck and head scarves might be a good idea too. Your vest and shorts combination will look fantastic if topped it off with some cool accessories for men.
December is the peak time for everyone who dreams about partying in Goa. This city hosts one of the best NYE parties and other events all month long. Boys, you absolutely don't need to fret over what to wear in Goa in December as we have all the answers!
Vests with bermuda shorts

Source- Outfittrends

This is an airy combination and super cool to pull off! Couple a colorful, striped vest with a pair of awesome bermuda shorts and top it off with your favorite aviators.

Open shirts!

Source- Pinterest

Goa is not just a perfect opportunity for you to flaunt those abs, it's also one of those limited destinations in India where you can go completely minimal.

Let your body breath, leave open your shirt and team it with a pair of cool watershorts. Five into beach waters and feel salt on your skin in this loosely awesome attire!

Just shorts

Source- thefashionisto

Opting for a bare-chested look is not a bad idea! Especially when you're hitting the beach. Wade into the beach waters in just your water shorts and you'll be good to go. If you're someone who's big on sports, this might just be the perfect statement for you.

Colorful printed shorts

Source - funkytrunks

Colorful printed shorts may come off as looking a tad loud in the city, but when we're talking beach wear, you'll pretty much fall in love with printed shorts. Choose a pair of shorts splashed with color and stay comfortable throughout your stay in Goa.

Beachwear accessories

Source - fashionandfrappes

If you love accessorizing, and you're wondering what to wear in Goa for guys in terms of accessories, then don't forget to carry a scarf or a muffler with you. Other accessories like hats, beaded chains or bracelets, etc can be very good choices when you're confused about what to wear in Goa for mens.

Light Layers

Source - thecoolhour

Light layers would work well for those unexpectedly chilly evenings on the beach.
What to wear in Goa for ladies!
Beach wear for girls can include long skirts or short skirts, sun dresses and cute bandeaus! If you're slightly an elder, and fall under the middle aged category, maxi or mid length dresses are a great choice of beach wears for ladies!
If the fringed shrug is a viable option, you could also try the knitted, lightweight poncho dress. Accessorizing for beach wear is a lot of fun! Get your hands on colorful scarves, boho necklaces and you'll be good-to-go!
Sun dresses

Source - images.yaoota

Sun dresses are a great option if you want to a cool separate for the beach. These can be stylish, off-shoulder dresses as well. A sun dress for Goa is a go-to option for many women because of the kind of comfort and breeziness they offer. Sun dresses for Goa trip are an absolute must for us!

See-Through Layers

Source - vitoricci.ru

A completely see-through separate will probably not be as subtle as a translucent cover-up. Once you're out of the beach waters, you'd probably like to opt for a second layer to keep yourself covered.

Tunic dresses

Source - shopify

We're all well aware that when it comes to females, we have tons of clothing options to choose from. Lucky, eh? We can mix and match and wear something new each day. We know that in spite of so many options, women still find themselves wondering what to wear in Goa for ladies. With so much to choose from, one is bound to get a little confused. Other types of dresses to wear in Goa include tunic dresses and breezy, maxi dresses for a simple day out.

Bikinis- Go Bold!

Source - amazon

Next in line are the much sought out for and also the root of all insecurity; Goa beach bikini. No matter your size or color, a bikini is flattering and super hot as well. Don't shy away from it! Opt for a one-piece or two-piece swimsuit depending on what you want to flaunt!

Fringed Shrugs

Source - fmag

When you're packing in dresses for Goa trip, you can also pack in fringes shrugs as a perfect add-on to your boho look. Fringed shrugs are fashionably fringed at the edges and can also feature the delicate, crochet design.
Things to carry while travelling to Goa!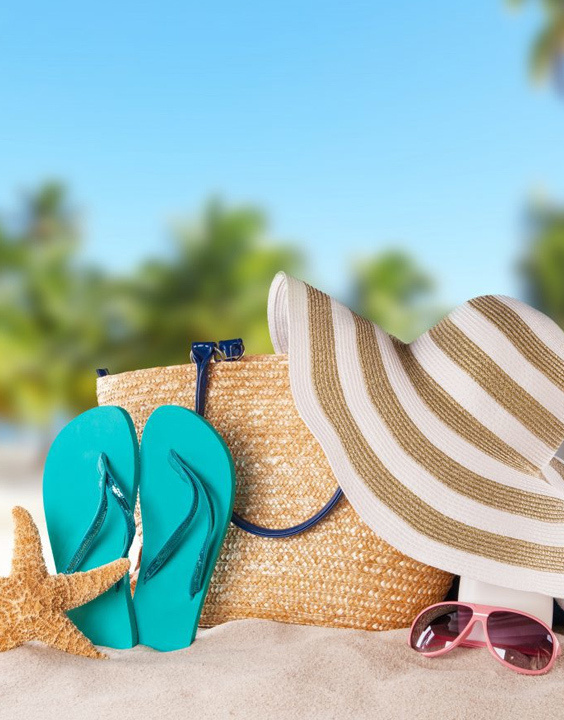 There are a certain set of things that you absolutely can't ignore or forget to carry while going to Goa. Consider these things as Goa essentials or things to pack for Goa, and we all know how significant essentials are. Wanna know what they are? Look no further than right below!
Sunscreen: Sunscreen with at least SPF 30 is the one thing you can't afford to forget, unless you want a beautiful tan or you're planning to spend most of your time indoors. Nobody wants to come back looking like they just got seriously fried on vacay! This should top your list of things to carry to Goa.
UV Protected Sunglasses: Sunrays do more harm than good, and we're well aware of that. Not only do you need to protect your skin, but you also have to protect your eyes. This goes for everyone who's really looking forward to spending most of their days on beaches and shacks!
Extra Clothing: Goa is full of surprises! So make sure you pack backup outfits for your trip before you run out of options.
Compact bag: The best experiences come when you don't have to worry about holding heavy backpacks. As a resolve, carry a fanny pack or sling bag so that you can roam around hands-free! When it comes to things to take to Goa, compact bags are a must have!
Appropriate footwear: The only footwear to wear in Goa should be ones that are comfortable and versatile. Pack sneakers and flip flops among other things to carry while travelling to Goa!