When it comes to Indian culture and tradition, there are several things we love. The endless varieties of food enjoyed by every community, the festivals that are celebrated regardless of one's mother tongue, the age-old traditions and practices that are still considered to be just as essential as they once were; everything is fascinating and deeply treasured! Even our weddings are a 'celebration' in the most literal sense of the term. People from the world over come to our nation to experience its diverse and vibrant nature, and NEVER go back disappointed. Really, what's not to adore?
Just as we hold our ancestral practices close, we also cherish and preserve our heirloom pieces that are passed down over generations. For us, they're the real 'wealth' and certainly shouldn't be taken lightly. From jewellery to clothing, household items to precious kitchenware – everything holds a designated spot in our homes.
But there is one thing that is considered to be an 'essential' by every Indian woman no matter her age and ethnicity, and that's the saree. Considered to be a staple in our country, the saree is a timeless treat! Ask any woman and she'll tell you how true this is, and she might also have a story to tell about one of the drapes in her closet! This simple piece of clothing has established itself as a masterpiece, and that status is never going away – but only getting better.
Sarees age like fine wine! They're not just a top pick for daily wear or office dress codes but are also highly sought-after for festivities and wedding celebrations. We aren't surprised – because the humble saree can do it all and do it well! Even non-Indians have not been immune to its charm. It is sensual yet elegant, free-flowing yet bold. Sounds a lot like a superpower; doesn't it?
Sarees have seen innumerable renditions over the years, and are considered to be one of the oldest surviving clothing items. They have taken the runways by storm, but they still remain true to their roots in every possible way, no matter how many makeovers they have gone through! Broadly, sarees can be classified into 2 very important categories – modern & classic. If you're new to the Saree scene, then this one's for you. After we take a closer look at what each of these categories hold, we'll then see how sarees can be draped for the festivities – so stay with us right till the end.
Modern Sarees – The New-Age Favourites!
We're sure you've seen Priyanka Chopra rock the dance floor in the music video of Desi Girl! (If you haven't then this is your cue!) Her bikini blouse and shimmering drape still sends chills down our spine – not because of how tantalising it was but because many a times, that's exactly how we've pictured our dream outfit to be! Well, this is what an Indo western saree look is all about; it combines a global trend with the traditional number and the result is an outfit that is as timeless as it is current-day. While a lot of these are also inspired by Hollywood movies and the influence of the same on Bollywood, there are many that have had global runway hits pose as the muse.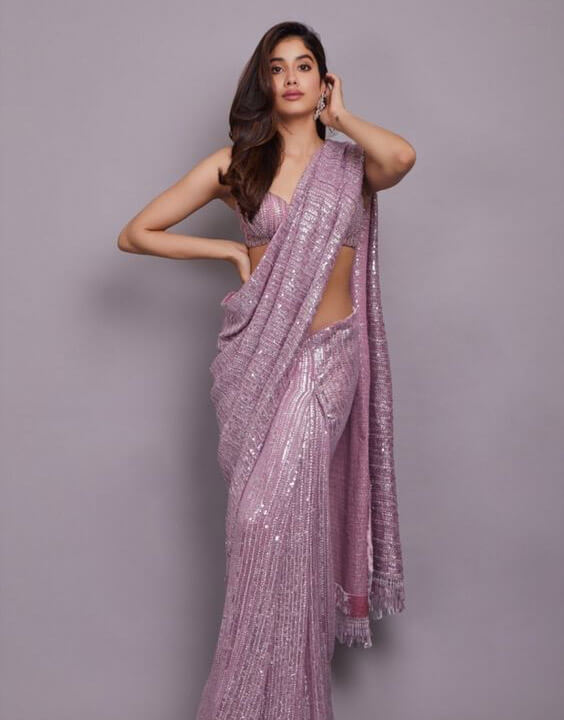 It's not just the pallu that gets transformed into a diva-esque drape, but also the blouse. Dhoti Sarees, Pant Sarees, Gown Sarees, Lehenga Sarees, etc. are all the rage among the women of today, along with crop top blouses, off-shoulder blouses, shirts paired with sarees, etc. Since saree draping can prove to be tedious for some, there are also pre-stitched sarees now that you just have to slip into, without a care in the world!
Classic Sarees – Ageless Stunners!
It is a well-known and widely accepted fact that 'classics' are always a good idea! They're never not relevant, and always just as magical as the first time you laid eyes on them. That's why when we say that classic sarees are THE bomb, we mean it. The appeal of something that has surpassed the test of time and still stands tall will always stay unmatched. The saree is one of them.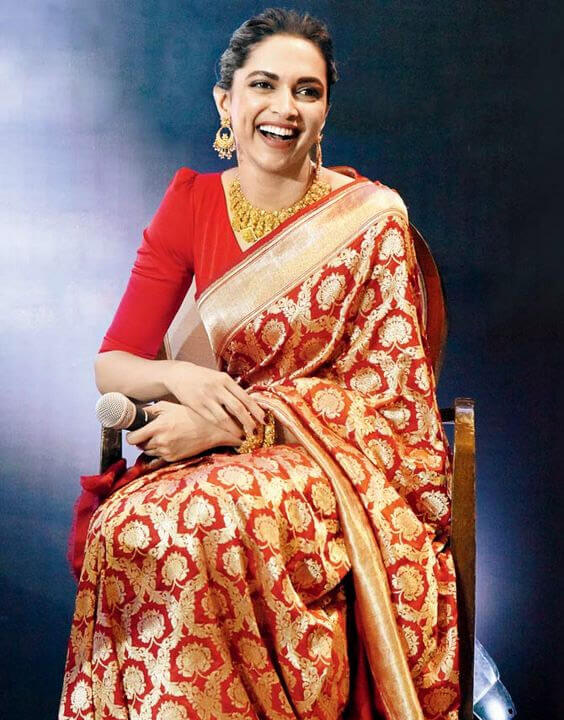 For decades, it has been a dress code for women in India. It started off with just a really long stretch of fabric being draped over one's shoulder – and now it's whatever you want it to be! You must have seen that one Banarasi saree stacked safely in your mom's closet, or a perfectly handwoven and simple saree that your grandmother talks of fondly and finds every occasion to flaunt! These are the epitome of 'classics' and you just can't beat the feeling that comes along with donning them. From the beautiful Parsi Gara to intricately embroidered perfection; there's not a single Classic Saree that isn't worth the hype!
Here are 5 different ways of draping a saree for the festivities. We suggest you take notes!
1) The Glamorous Mumtaz Drape
It's no secret that even today, Mumtaz's iconic orange saree in the retro hit 'Tere Mere Pyaar Ke Charche' remains one of the most admired Indo western saree draping styles! It was designed by the late costume designer Bhanu Athaiya, the first Indian woman to ever win an Oscar. Do you need us to state more reasons or are you convinced yet? (We're hoping it's the latter!)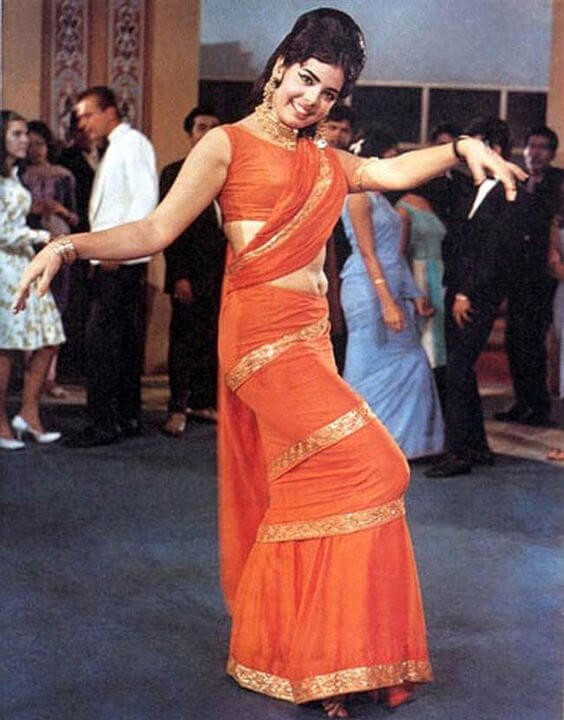 This different style of wearing saree is perfect for cocktail parties and pre-wedding celebrations along with festive occasions. If you're a Bollywood lover at heart, then you NEED to try this drape.
Step 1: Tuck the inner edge of your saree towards the right of your navel, but only slightly. Tuck the rest of the saree into your petticoat but at the left side this time.
Step 2: Make sure the pallu is long enough, measure it roughly with your arm first. Then, take the saree behind your back from the left side, bringing it to the front from the right.
Step 3: Now, fling the pallu over your shoulder to allow more space to work on the draping.
Step 4: Once this is done, begin pleating the rest of the saree into 5 or a maximum of 6-inch pleats. Do this as precisely as you can!
Step 5: In one swift movement, tuck the entire bunch of pleats into your petticoat and don't forget to secure it firmly using a pin or a strong waistband.
Step 6: Now, take your pallu from the left to the right once, eventually wrapping it over your left shoulder!
There are a bunch of YouTube videos you can watch if you're looking to master this look – so don't fret if you don't get it right at once.
2) The Classic Nivi Drape
If you're a true saree lover, then you know that the most famous way of draping a saree is called the Nivi drape. Even though it came from the culturally-rich state of Andhra Pradesh, it's still considered universal. What might further pique your interest is that it's one of the easiest to pull off! Here, we show you how.
Step 1: Slip into a petticoat. Then, go from left to right, tucking the saree into the waistband while also ensuring that it falls around your feet perfectly. You shouldn't tuck away too much or too little fabric; just the right amount.
Step 2: Wrap it once around your lower body completely.
Step 3: Make even pleats out of the short length of the pallu, gather them and fling them over your left shoulder. Secure the pallu on the shoulder with a safety pin or a saree pin. If you don't wish to fasten it at the shoulder, you can just let it fall over your arm.
Step 4: Now, just gather the rest of the saree and again form even pleats. Expect to get around 7 to 8 pleats but that is highly subjective to the fabric length. Secure these pleats with a couple of safety pins.
3) The Elegant Gol Saree
Parsi culture is known for its lip-smacking food, hospitable people and their traditional clothing too! We did mention earlier that we love Parsi Gara for all it is, and here, once again we're exploring this different style of wearing saree. The saree is also an heirloom piece that is passed down in the family through the years, worn on special and festive occasions.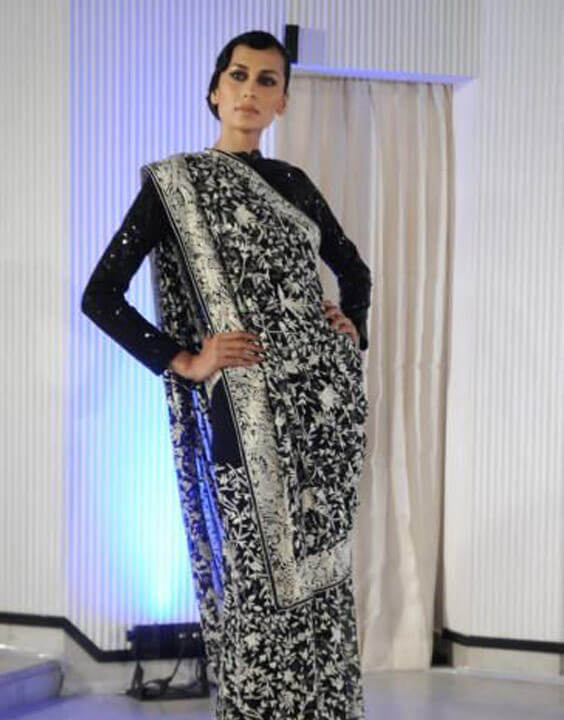 Step 1: Wrap the inner end of the saree around your waist over the petticoat.
Step 2: Tuck it at the right side of your navel, into the waistband of your petticoat.
Step 3: Work anticlockwise, and bring the outer edge of the fabric around your waist. Then, hold firmly with your right hand.
Step 4: Throw the inner edge over your right shoulder but from the back. This should form a V below the knee. Proceed to make pleats of the remaining saree.
Step 5: Tuck the saree at the centre of your waist, leaving some portions untucked at the left. Hold the outer end in place with a brooch pinned on the right shoulder.
4) The Well-Known Bengali Drape
This is one of the most distinguishable and elegant draping styles to exist! It also exhibits power and confidence, two things that every woman already possesses. This way of draping a saree is called Athpourey and has been seen in hit movies like Devdas, Parineeta, etc. It is believed that Bengali women used to tie a bunch of keys at the edge of the pallu to portray themselves as the dominating figures of the household. Follow these steps if you're looking to drape bengali saree.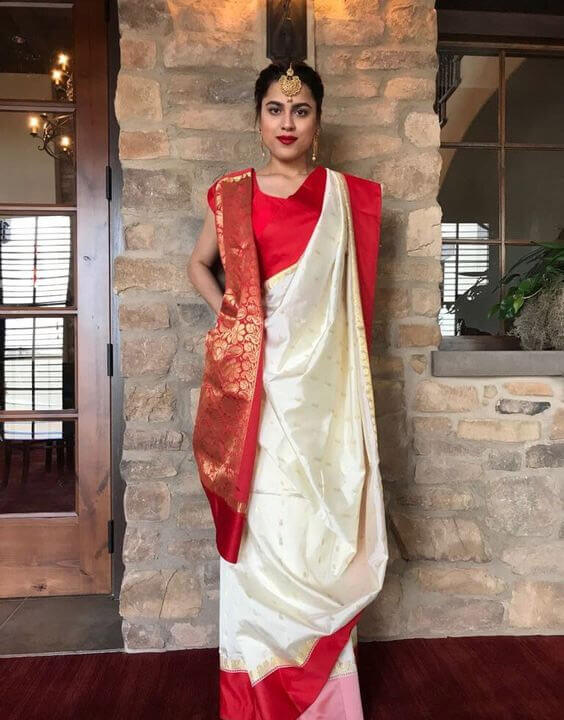 Step 1: Start by tucking the saree slightly above your navel. Then, around your waist in a complete circle, tucking it firmly in the process. From the right, come back to the starting point.
Step 2: Now, simply bring the remaining fabric of the saree towards your left side but this time, you don't have to come back full circle. Just make one fold and tuck the saree near your lower back, towards the left.
Step 3: Make use of both of your hands to hold the box pleats in place, and then go ahead and stiffen the front of your saree ensuring it is flat.
Step 4: The remaining saree can be taken to your right side. Aim at crossing the folds on your front and take the fabric towards your back through the right, finishing by tucking it in near your waist.
5) The Striking Nauvari Saree
While we're still on the topic of tradition, there is no way we wouldn't address the one saree that recently made headlines due to a certain actress duo! The beautiful, vibrant sarees seen on Priyanka Chopra and Deepika Padukone in Padmavati still have our hearts. This saree is the staple drape of Maharashtrians, especially for the festivities and here's how you can give it a try.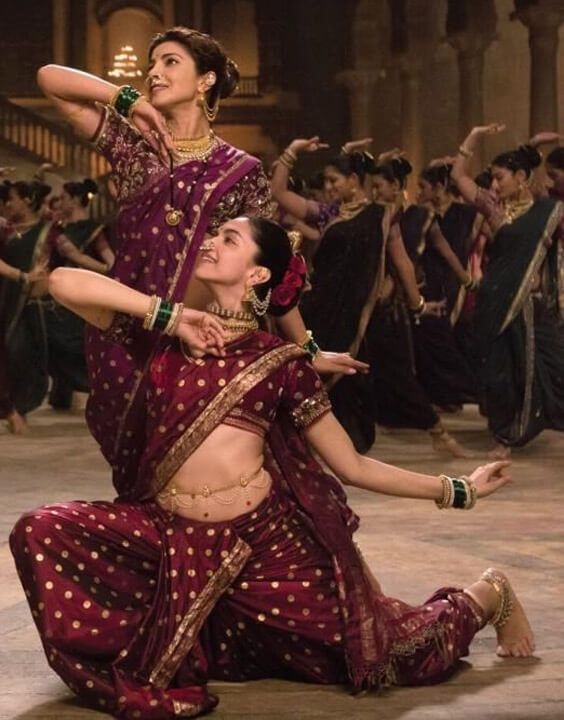 Step 1: Start with making pleats on the pallu and pin them with 1.2m length.
Step 2: With the inner section of the saree wrapped around your waist at the back, bring the other end forward to right the side and tie a firm knot.
Step 4: The Pallu needs to be draped from left to back and once again brought to the front. Place it and pin it at the left shoulder roughly.
Step 5: After having adjusted the front drape border, wrap around and tuck on the left side. This will form a front loop which is for the skirt pleats.
Step 6: Fold the border so it turns up on the right side, and make pleats here. Then, secure and tuck it in the waistband at the back. Now all you have to do is adjust the front pleats where the outer border will be a cowl around the mid-waist section.
Experiment all you want with this timeless masterpiece; there is no wrong or right way to do it. Just make sure your drapes are firm & polished – and you can celebrate without hassle!
Image credits: The copyrights of the images used in this post belong to their respective owners. The credits where known are specified under the image - if you're the owner of an image and want it removed, please contact us.