Sweaters with jeans are not only comfortable but are also easy to style when you know the right way of doing so! It helps you add charm to your outfit without compromising on comfort. We have compiled a list of styling tips to upgrade your wintertime look. Read on for some real fashion inspiration.
Let's begin
1) Off Shoulder Sweater with Cropped Jeans
Off the shoulder clothing trend has been an evergreen one. It not only makes you feel comfortable and look feminine, but also gives you an option where you can flaunt both the shoulders or only one, depending upon your mood and the outing.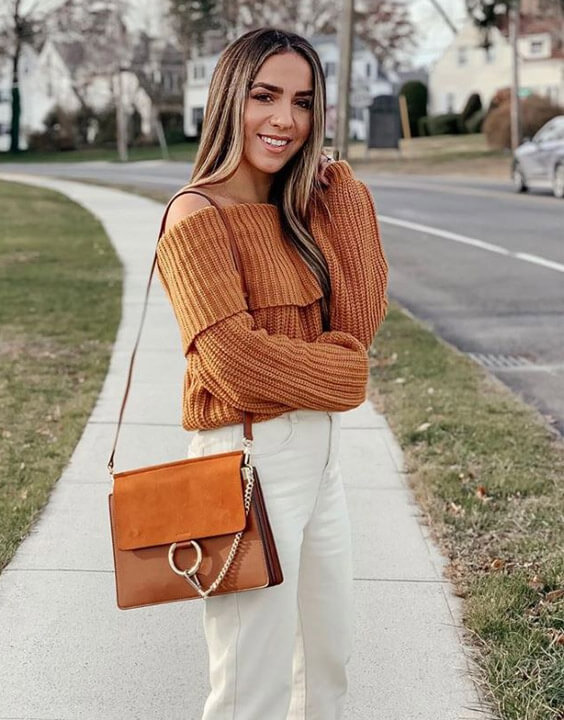 Wear it with trendy cropped denim jeans for a cool yet chic look. You can experiment with the look with multiple colors, for example, white, dark tones, lighter tones, they can be ripped or faded or classic ones. You can accessories it with a neckpiece and heeled boots.
2) Cropped Cable Knit Sweater with Skinny Jeans
The cropped cable knit sweaters for women are a great idea to ace the winter vibes. From all the sweater types out there, nothing seems more pleasing than a cropped cable knit sweater, of course, when it is cool outside.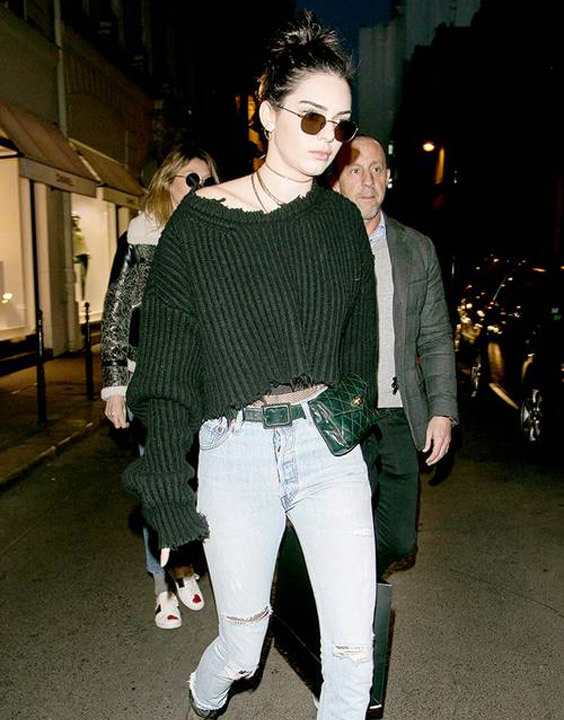 It can be effortlessly styled with a pair of skinny jeans. We suggest you go for darker shades to catch the autumn vibe gracefully. You can also go for a monochromatic look, consisting of a black sweater and black skinny jeans. You can complete the look with a pair of black leather ankle boots.
3) Slouchy Sweater with Ripped Jeans
A slouchy sweater can give you a cool, relaxed look as well as a cozy street look. It all depends on how you style it. For a relaxed look, choose an oversized slouchy sweater and a ripped boyfriend jeans. Remember to keep the colors neutral on top! Complete the look with a pair of sneakers or chunky shoes.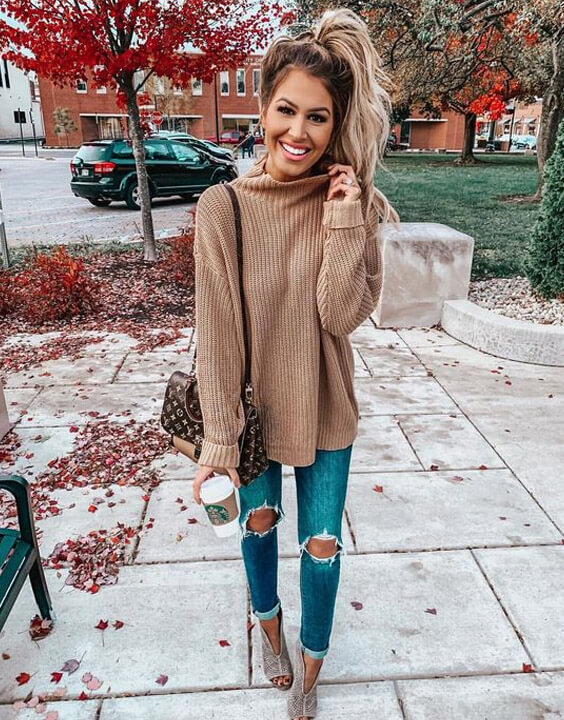 For a cozy, edgy street look, pick a slouchy sweater in the color of your choice with a pair of slim-fit ripped jeans. It not only makes you look edgy but can also make you look taller and lean.
To make the look elegant, wear a pair of strappy heeled sandals and carry a leather handbag. And you are good to go from day to night!
Whereas, to pull a low-key sexy look, wear a cool dark blue sweater with jeans. Pair it up with brown boots to add extra elegance.
Alternatively, you can also go for a black-on-black look. Wear a black sweater with jeans. For footwear, choose a pair of neutral heeled shoes. It will surely add a feminine touch.
4) Turtle Neck Sweater with Distressed Jeans
A turtle neck sweater can up your style game. Whether it is a thin cotton or a chunky woolen made variant, a turtle neck sweater is a fashion staple as the winter settles in.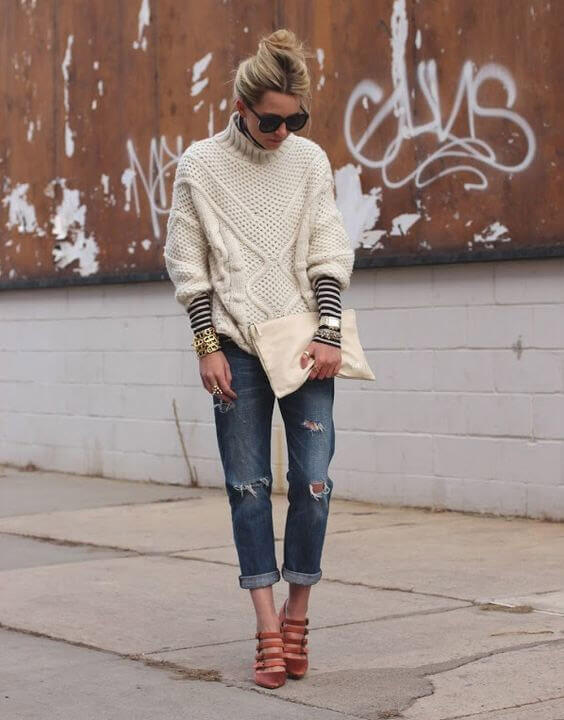 Pick a bright colored turtle neck sweater and pair it up with skinny, distressed jeans. You can also give your outfit a twist by wearing a turtle neck sweater over a long button-down shirt. It not only looks perfect but also keeps you warm on colder days.
For a formal, office look, tuck a turtle neck sweater into straight fit jeans and reach for a pair of pointed-toe flats.
While, for a weekend look, you can pair a black turtleneck sweater with a pair of black jeans and add a layer of a faux leather jacket. Wear black shoes to keep the attire all black, or choose a pair of beige footwear to add a pop of color.
5) Neutral Ribbed Sweater with Dark Coloured Jeans
The ribbed sweater is one of the famous sweater variants. It can come in any form i.e. skinny fit, chunky fit or a turtle neck, and pattern i.e. crew-necked, fold over the shoulder and so on. Again, you can opt to wear jeans of any color, black, blue, white or anything in between. If you want to flaunt your collarbones and shoulders, a one-shoulder neutral ribbed sweater can make you look stylish and sexy.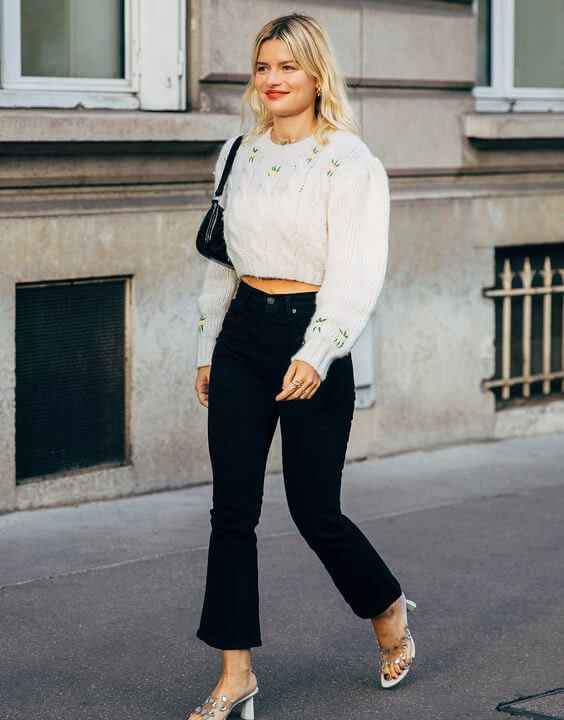 Simply choose a grey sweater with jeans outfit or any other neutral shaded ribbed sweater and pair it up with black jeans. For footwear, choose a pair of black ankle strap heels with open toes to add a touch of elegance to your outfit.
If you want a baggy look, choose an oversized chunky ribbed sweater in a neutral shade and pair it up with wide-legged jeans. To make this ensemble look stylish, wear brown loafers.
Whereas, to create a feminine look, a white sweater with jeans will look perfect. Try a white ribbed sweater with extra-long sleeves with skinny jeans. Complete the look with black open toe heels. Thank us later!
6) Wrapped Sweater with Cropped Jeans
When you are in the mood to wear something finer, lighter and effortlessly feminine, a wrapped sweater becomes a great choice.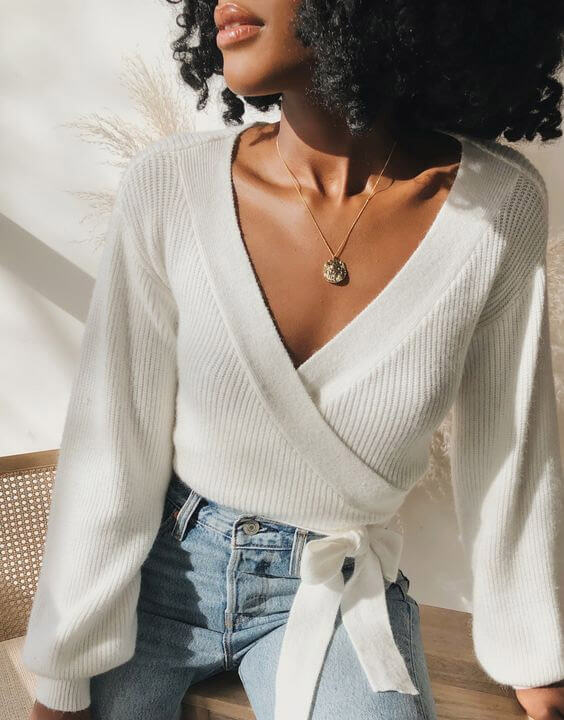 You can go for a plain colored wrapped sweater for a solid look whereas an animal print wrapped sweater for a bold look. Wear it with your favorite cropped jeans in any color. It will create a feminine and flirty look. Add a medium-sized bag in beige color and wear those tan boots to complete the look. It not only keeps you warm but also can give you the much-desired hourglass figure.
You can experiment with prints and patterns to add some fun to your winter look or go head-to-toe neutrals to keep it basic yet classy. Alternatively, you can also try a straight-fit or a pencil-fit jeans and see what works best for you.
For an edgy formal look, wear a chiffon white-collar shirt beneath your wrapped sweater. You can easily build a simple and lovely outfit with a wrapped sweater.
7) Balloon Sleeve Sweater with Jeans
Balloon sleeve sweaters are the hottest trend of the colder season. Balloon sleeves can get you in limelight, however, it can get confusing to pair it up with other clothes the right way. This modern sweater variant not only gets you loads of compliments but also makes you feel uber fashionable. You can create a casual as well as polished look with it.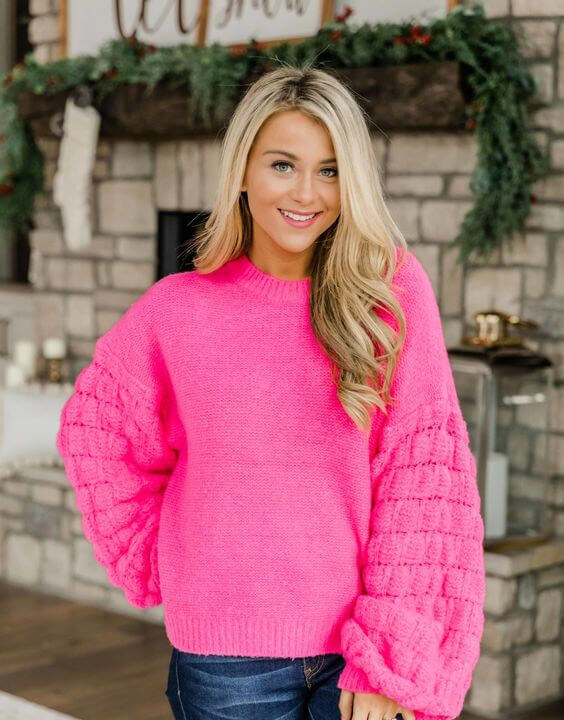 For a formal workday or a dinner with your loved one in the restaurant, choose a bright colored balloon sleeved sweater and pair it up with high waist blue jeans.
For a day out with your girls, choose a sweater in your desired color and pair it up with ripped jeans. Complete the look with a nice pair of sneakers and you are good to go. If you are a jewellery junky, add a chunky bracelet and there you go.
For a formal lunch, choose a sweater in a neutral color and add a neckpiece of your choice. Wear high waist jeans and open toe heels in black. Be ready to receive a bunch of compliments for your fashion choices.
8) Oversized Sweater with Skinny Jeans
If you stay in a colder region, thin fitted sweaters are not going to cut it. You may need an oversized sweater to keep you warm and cozy. It is a perfect piece to wear when it is freezing outside and you want to remain warm and cute. It is important to remember that before wearing an oversized sweater, a good rule of thumb is to keep your bottoms skin-hugging and tailored. This is to avoid the look from going from cool to frumpy.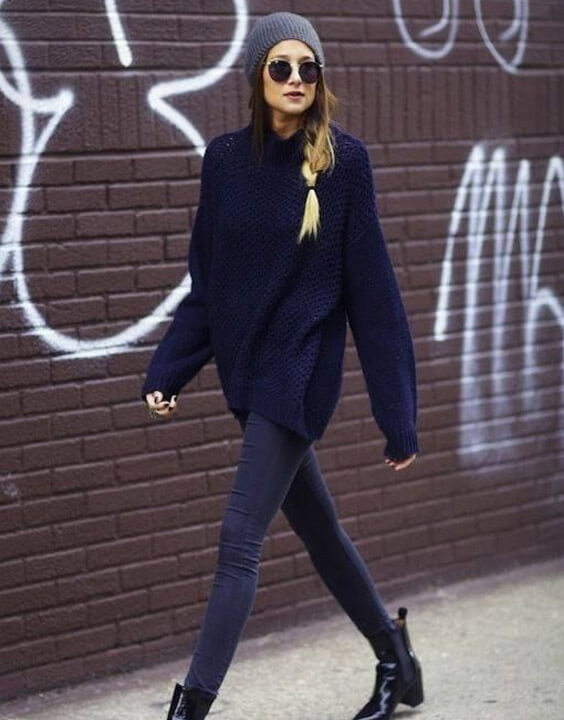 There are 2 types of oversized sweater options, 1 is shorter, boxy and oversized, while the other one is straight and long.
A long sweater with jeans is a good option for taller women. Choose an option to match your height and body type.
To make your oversized sweater look stylish and intentional, tuck it into your jeans. Remember to choose a skinny jeans to give your lower body a structure. It makes for a good evening time look. Heels make for a great footwear choice with oversized sweaters. It helps you elongate your legs and make you look sharper. You can also experiment with a scarf.
If you stay in a warmer region, opt for a scarf made of lighter materials like cotton, rayon or modal fabrics. Whereas, if you stay in a colder region, choose medium to heavy scarves in chunky knits to keep you cozy.
9) Cardigan Sweater with Wide-Legged Jeans
To score yourself a casual, cool outfit, pair cardigans with jeans that are wide-legged. You will be amazed at how easily you can dress up or dress down with a cardigan sweater. Simply wear a black cardigan sweater with blue wide-legged jeans and flat black sandals.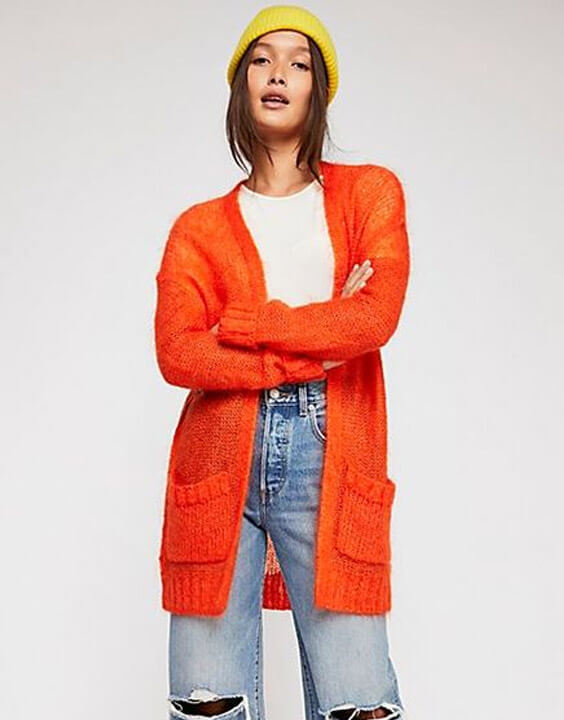 However, if you are looking for a relaxed yet chic look, pair a white cardigan sweater with light blue wide-legged jeans. For a more refined look, introduce a pair of hot pink stilettos to this combination.
For the days when you have no time, simply wear an oversized cardigan sweater and black jeans. Complete the look with a pair of sneakers.
And when you want to dress-down, but still look stylish, here's what you got to do. Wear a cardigan sweater in the color of your choice and any wide-legged jeans. Top it up with a lightweight scarf and heeled block sandals. To ace this look, remember to keep your hair flowing open and straight.
If you are a fashion blogger, we understand what a dreamy combination an oversized cardigan sweater and relaxed fit pants make for. Simply throw on a cardigan in any dark color with white wide-legged jeans, finish the look with white aesthetic shoes. And you are good to go!
10) Basic Cropped Sweater with Jeans
An amazing transitional piece of clothing, a cropped sweater is great for layering over or under all your winter outfits.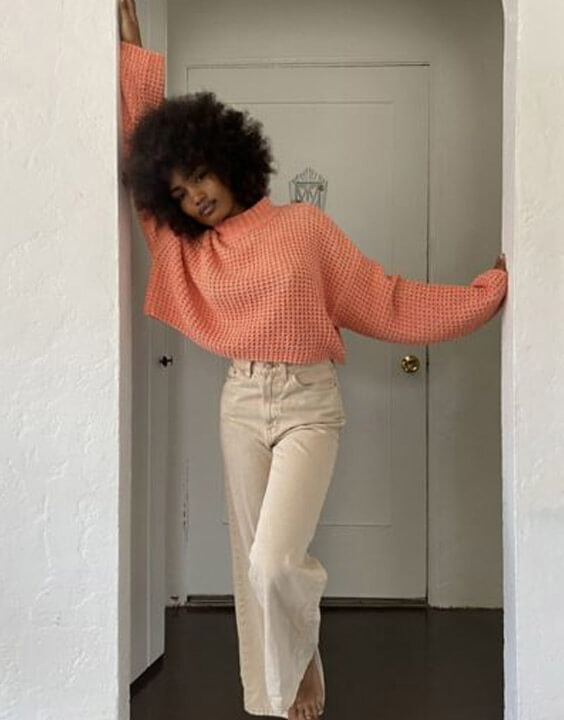 For a daytime look, wear bright colored cropped sweaters with light-colored jeans. And for a night time look, pair your favorite cropped sweater with high rise jeans and strappy boots. You can also try a dark cropped sweater with high-waist paper bag jeans. Just try it out and we bet it will win your heart. You can also add a layer of a cropped jacket for extra glam and warmth. You can also play around with some basic cropped button-down sweaters.
Another great combination to try is a short-sleeved cropped sweater with wide-legged jeans. Wear pointed open toe shoes to complete the look. For an athleisure-inspired look, combine a cropped turtle neck sweater with jeans and sneakers.
Tips to Remember
1. Warm Hues for a Night Out
Warm tones are an incredible sight in winters. As the name itself, they exude a feeling of warmth and inviting. A fancy warm-tone is ideal for a night out. Pair it with your favorite jeans and good high length ankle boots. Remember to keep the accessories minimal and makeup loud. Dark smokey eye makeup with nude lips are a win for this look. Hold your hair down or go for a half top-knot to finish the look!
2. Layer It Up!
Layer up your outfit with a proper length jacket for a sophisticated look. You can try long coats as well as cropped jackets based on your outing type and mood. Also, pay attention to your footwear. When in doubt, wear tan boots. They will never disappoint.
A sweater just makes everything prettier, especially during the winter season. Celebrate the season with your favorite colors, fits and accessories. A clothing app can also come in handy if you want to upgrade your winter wardrobe. Now you are fully equipped to rock the winter season in style!
Image credits: The copyrights of the images used in this post belong to their respective owners. The credits where known are specified under the image - if you're the owner of an image and want it removed, please contact us.