Read about different ways of pairing crop top with skirt. Learn about a few tips on pairing crop tops and skirts for a stylish ensemble. Discover styling ideas and more right here, right now!
Some trends hit the fashion world with a promising future, but after a couple of years, they never see the light of day again. On the other hand, there are trends that live on for as long as you remember and eventually become classics. Today, we'll be talking about the infamous crop top, which isn't a classic (yet) but has definitely seen multiple revivals over decades, and will probably see a lot more in the future. Crop tops have soon become a favourite among the youth, and no matter what anyone says, crop tops can definitely be worn by curvy women as well. They still look as good as ever. We have seen a lot of combinations with crop tops, but crop top with skirt remains the most loved outfit of all time. A number of skirts can be paired with this little bombshell.
Crop tops and skirts are easily one of the most sexy, cute and versatile outfit choices for most occasions. The choice of skirts can range from long skirts, to high waisted skirts and pencil skirts to mini skirts. Some add an eclectic energy to your outfit, some add a sleek factor. Some skirts also add that extra bit of sexiness you need to make sure everyone remembers who you are. Let's explore the kind of styling you can achieve with the crop tops and skirts combination!
1. Crop Tops And Long Skirt Combo – to ace your grace!
They are cute, they are peppy, they are the ones you reach out for when you want to look effortlessly chic. They are quintessential and represent our generations attitude towards fashion in similar ways that dark lips represents makeup.
Crop top and long skirt casual attire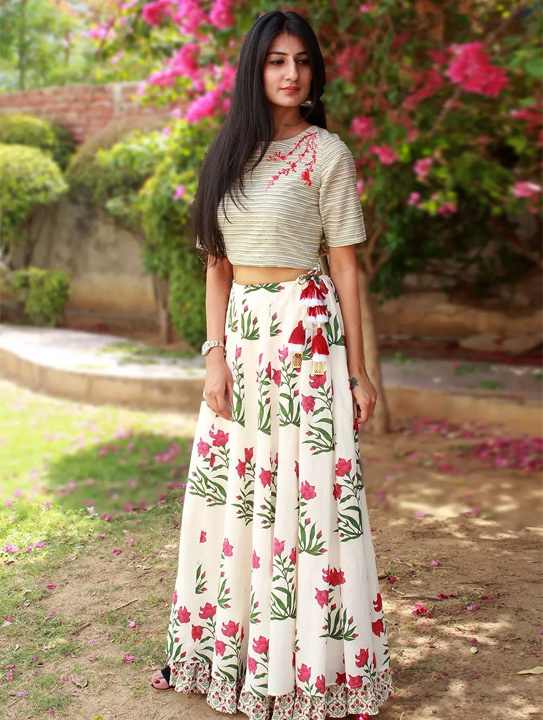 If you're stuck wondering how to achieve a crop top and long skirt combo, then one way to start is by picking a contrasting palette for your ensemble. For example, a peach top and a long red skirt will do wonders as a brunch or evening outfit with just the right pair of accessories. Another great way to wear this combination is by pairing high waist long skirt with crop top. Here, a monochromatic color palette can leave you looking sleek and confident.
Crop top and long skirt formal attire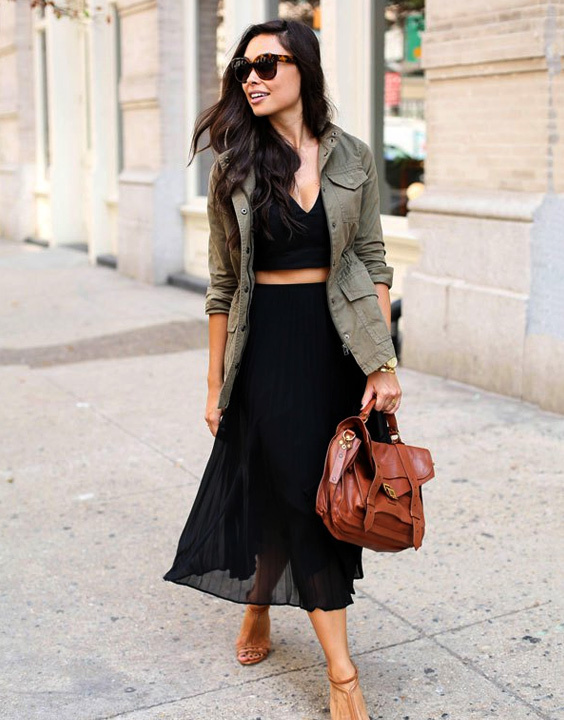 The pairing with this one is tough, but not impossible. By wearing a nice fitted blazer on top, and muted colors, you can create the perfect look for a crop top and long skirt formal outfit. Pumps and pearly accessories add to the sophistication of this long skirt and top combo. You can also add a sleek hairdo to the mix so that you have a look everyone remembers for days! Contrary to popular belief, workwear shouldn't be boring. It can be everything- from playful to sexy to cute, whatever you want it to be. Therefore, there shouldn't be a dilemma about wearing what you want to work or elsewhere.
2. Crop Tops And High Waisted Skirts – wear to feel on top of the world!
This fashion style is good for those who want to wear crop top but do not want to expose their tummy much. Since you only expose a small part of your tummy, you can look sexy in your crop top outfit without being so revealing.
Crop tops paired with high waisted skirts – to up your casual game!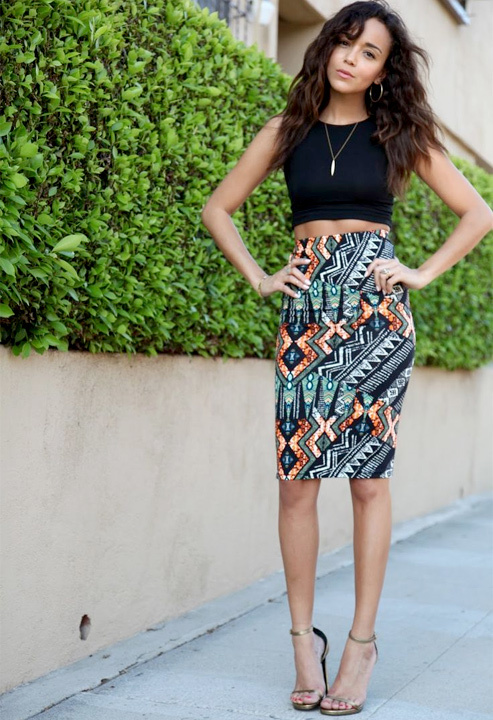 High waisted skirts are a sure fire way to feel confident about that little flab resting on your tummy. Since most crop tops semi reveal one's torso, high waisted skirts with crop tops is an ideal combo. Wearing a bell sleeved crop top can look great on a fitted, high waisted skirt. Crop tops and high waisted pencil skirts can be worn as formal attire. It is a refreshing way to wear a crop top. It also gives you that hourglass shape you have always dreamt about. Don't believe us? Try it for yourself and see your body transform for the day!
Crop tops paired with high waisted skirts – to up your formal game!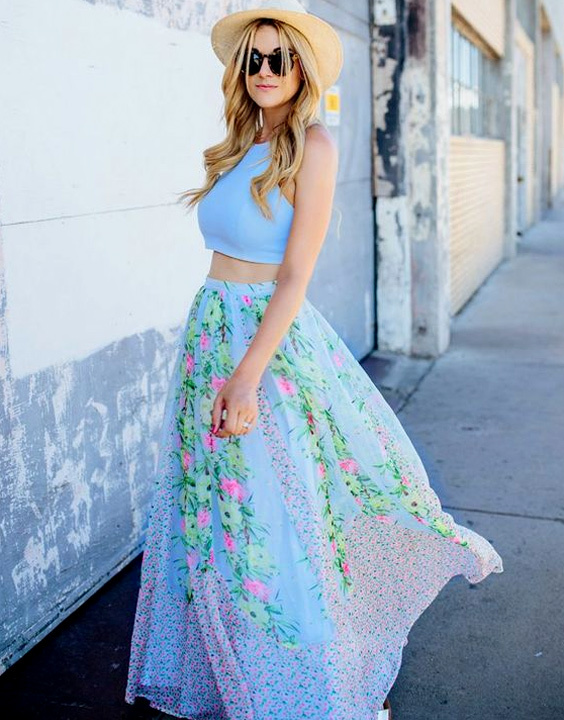 For a free flowing, bohemian inspired look, crop tops and high waisted maxi skirts looks just fine! One thing that never lets you second guess the perfect body shape is crop top outfits with high waisted skirt. Let's segregate these two looks we just talked about; high waisted maxi skirt and crop top is ideal for daywear. Your evening wear outfit is where you can make a lot of heads turn, so  high waisted skirt and crop top that's a little fancier than usual should be your pick! This leaves absolutely no place for confusion to set in.
3. Crop Top And Short Skirt – to unleash the wild in you!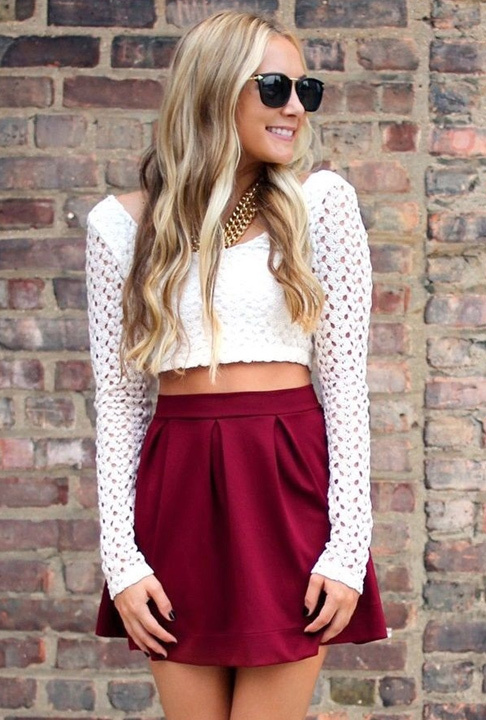 That much awaited club night, the anticipated birthday party where you get to make a statement, or a night out with the girls; all of these demand your wildest side. What better than an outfit comprising of a crop top and short skirt? If dressing cute and sexy is the task in hand, then we'll give you the perfect answer. It's by wearing short skirt with crop top! You can never question the appeal of this attire. It gives you an excuse to be fashionably late when you walk in looking like a goddess wearing crop top with short skirt, so go try it out right away!
4. Pencil Skirt And Crop Top – because normal is boring!
They elongate, they slim yet play up the the curves, they conceal, yet are fitted enough to follow your body line in that very refined sort of way. Styling them is a piece of cake as long as you keep in mind ONE majorly important tip. Always wear heels with them.
Crop tops and high waisted pencil skirts – the most elegant casual outfit!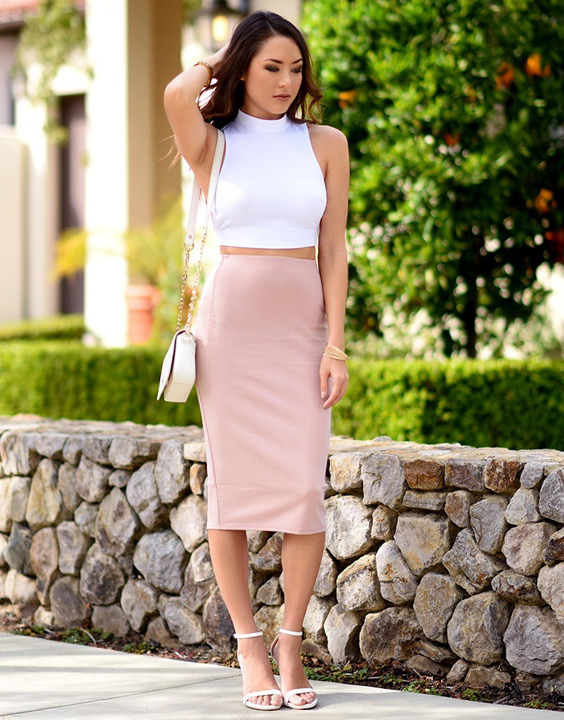 Have someone at work that you want to impress? Ditch the usual shirt and get that crop top out of your wardrobe! To make it more work-appropriate, wear a top in solid colors. The right pairing here would be wearing a crop top with pencil skirt. If a little belly show is not appropriate at your workplace, then wear a sleek but broad belt to cover any skin that's visible. Further on, you can accessorise with small hoops or an anklet. Play around with your hairdo a little, and make sure you break the norms of 'normal'.
Crop tops and high waisted pencil skirts – A simple upgrade to formal work wear.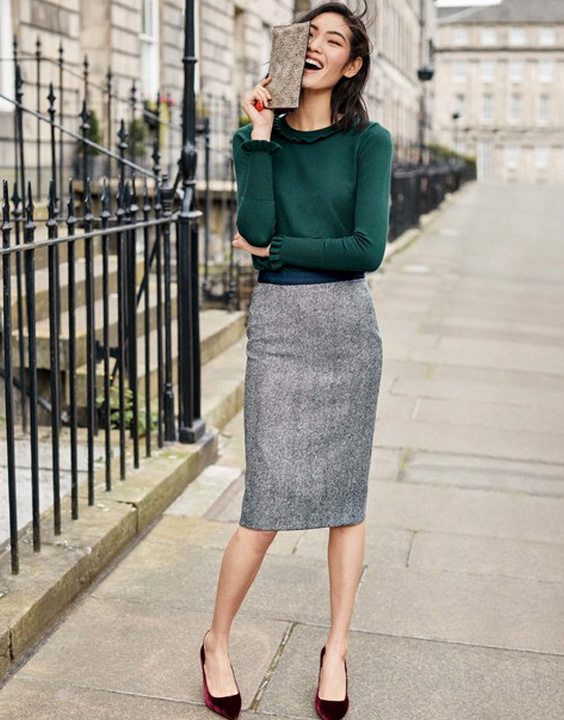 Another great way to completely cover your tummy while still looking sexy is wearing your high waist pencil skirt with crop top! It's completely okay to go off beat with your designated work outfit sometimes. Pencil skirts add to the much needed uniformity and crop tops add a playful factor to your ensemble. To add a little edge, get a pair of black strappy heels to turn this into a night outfit real fast. Black pumps or pencil heels will do great when you need to get through another Monday while also looking fabulous. With a bold lip shade in your purse, this look can be your best friend even on a Friday night straight from work.
We bet the 90s didn't do crop top with skirt the way we do them now. But what we also can't deny is that the 90s gave us a lot of styles to gain inspiration from, even now. Crop tops are a great way to mix up and step up your style game every now and then. The usual crop top with denim combination can get pretty boring, pretty fast; so crop top with skirt is like a breath of fresh air every now and then, when paired with the right skirt type. So get up, get going, and start pairing crop tops and skirts for the ultimate diva-esque look!
You can eve n pair customised tshirt with your skirts, send us your favorite print and we will print it for you. Click on the below image now!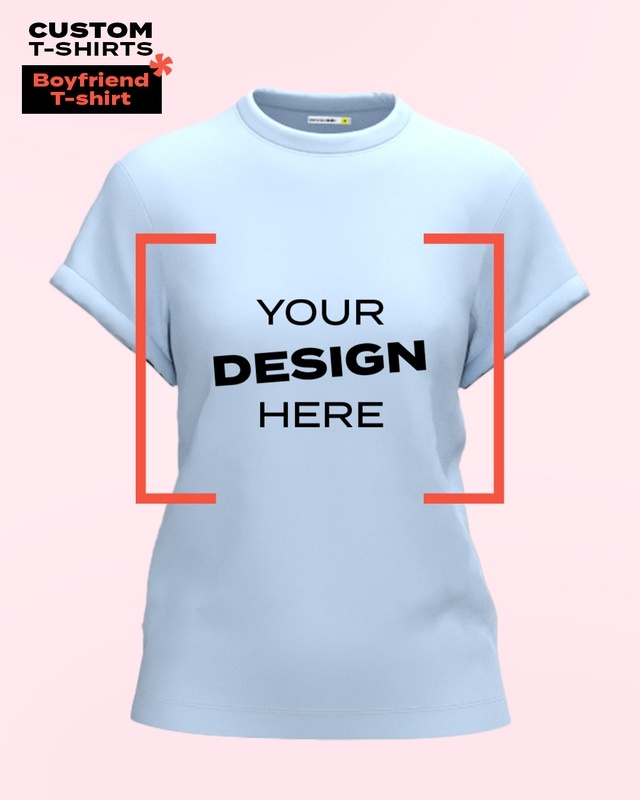 Image credits: The copyrights of the images used in this post belong to their respective owners. The credits where known are specified under the image - if you're the owner of an image and want it removed, please contact us.