Festive season 2020 may not be what we had all eagerly anticipated at the start of the year, but it is here nonetheless. This year, collective gatherings are to be replaced with zoom hangouts and family-time has become more important than ever!
On the fashion scene, with more dependence on the flash of the camera to express festivity, comes a sharper focus on hues and colors for A/W 2020. An eponymous element of every Indian holiday, a flurry and riot of colors are a staple aspect of the festivities.
Colours and Indian festivals are a classic combination – like movies and popcorn or wine and jazz nights. Every hue has a special symbolism attached to it and can be a great inspiration point for festive outfits. This Navratri, we're giving you a lowdown on how to ride that at-home casual t-shirt wave using colors to exude that festive vibe!
So without further ado, here are 9 colors to wear this Navratri for an effortless modern-chic style for a festive flair:
Regally classic in royal blue:
Bold, chic and universally flattering on every single skin tone, this colour is a classic choice for Navratri celebrations. A lighter and brighter version of Navy blue with a slight purple twist, Royal blue is to the festive season, what navy is to workwear – ubiquitous and indispensable. Symbolising regality, wealth, prosperity and community during the Indian holidays, this hue is a favourite in almost every household the nation over!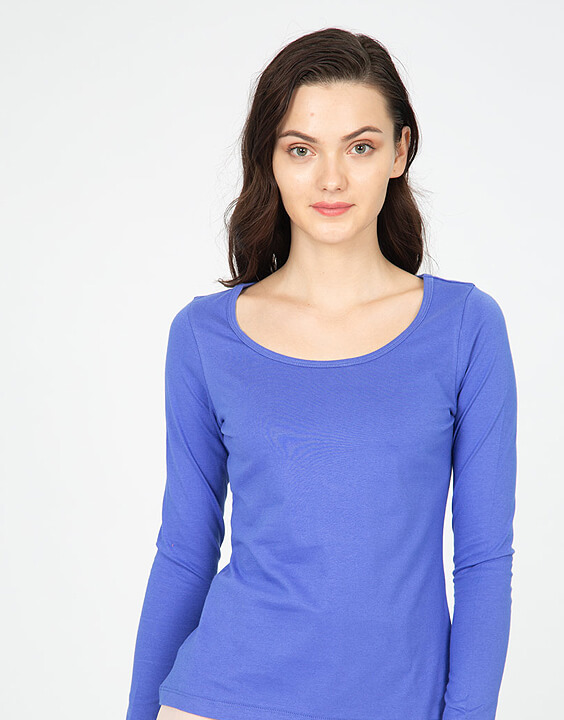 Take it to the next level with a casual-chic spin for 2020 by styling your festive look with t shirts for women and men in this rich hue. Lending a layer of festivities to something as cosy as a t-shirt, this one is sure to be a hit this Navratri!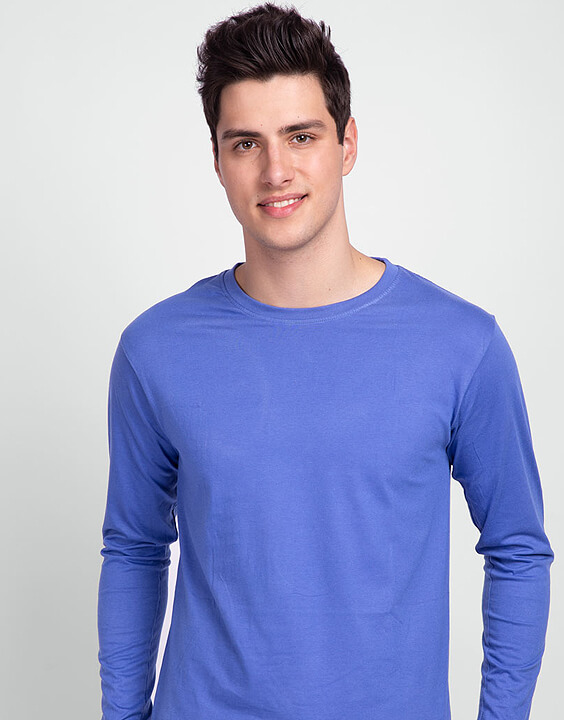 Festive styling cue: Stay home, and go bold with a full sleeve crew neck t-shirt for men or a 3/4 sleeve t shirts for women that is sure to wow on camera and off it – and pair it with black jeans for that classic blue-black combo & for an extra festive twist, layer it with an angrakha jacket or a sherwani vest in a similarly bold hue!
A ray of sunshine in bright and mustard yellow:
Bright, striking and exuding maximum positivity – the color yellow is a symbol of hope, happiness and enlightenment in hindu festivities. Always cheering the room up with its upbeat spirit, this one is a Navratri fave.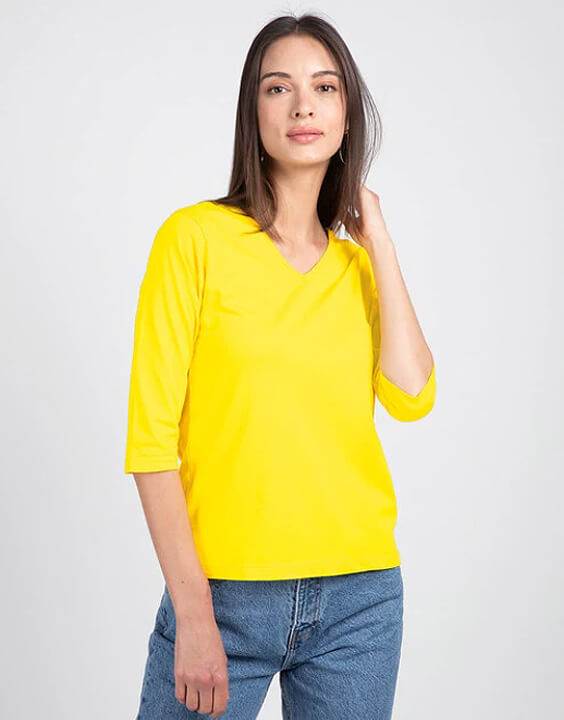 It's so easy to get modern-chic for Navratri with yellow. Even color-blocked boyfriend t-shirts or t-shirts for women tucked into a shimmery skirt or a polo neck t-shirt in yellow worn with a pair of khaki trousers or chinos, can lend maximum brightness and a sense of exuberant joy for your outfit this festive season. Live it up in yellow like no other!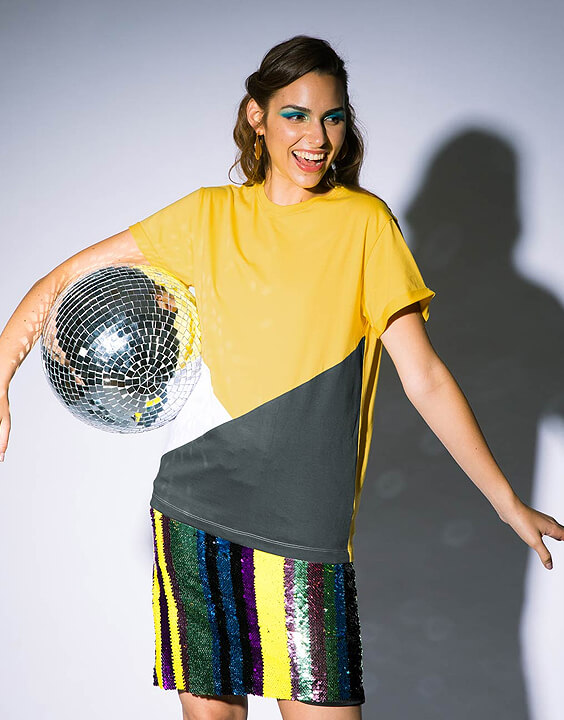 Festive styling cue: Go bold in gold when wearing yellow! A classic shade, you can go cosy-chic this festive season in yellow half or 3/4 sleeve t shirts for women tucked into maxi skirts or a lehenga and accessorized by piling on stacks of golden rings, necklaces at various lengths and golden jewellery. Giving a monochromatic appeal to your yellow outfit, this one is sure to impress!
Auspicious and lush in gentle green:
Green is a colour that is easy on the eyes, heart and mind. As wholesome as ever, this color is a beacon on health, prosperity and good fortune in Indian culture – and a natural choice this Navratri. We're sure nobody would mind that extra dose of good luck and fortune this year!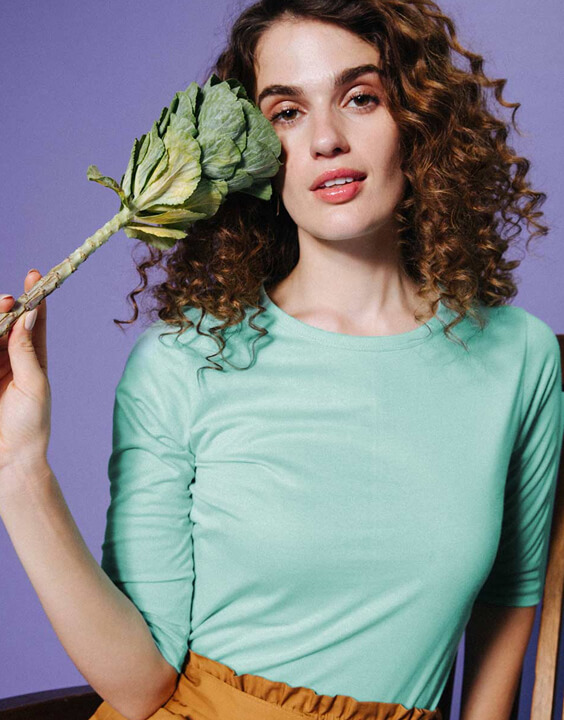 Ranging from a lush forest green to a stylish millennial pastel green, the options for this shade in t shirts for women and men is wide and varied. A color that is as cosy to the eyes as t shirts are on the skin, opt for these soothing shades in printed 3/4 sleeve t shirts for women and sharp but comfortable full sleeved crew-necks for men.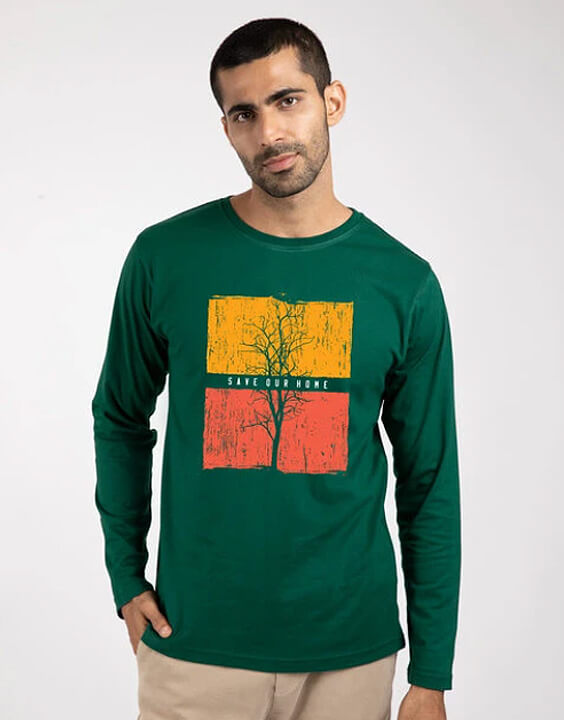 Festive styling cue: Want green to stand out even further and exude that festive brightness? Pair your green t-shirts or shirts with off-white or light neutral separates and bottoms this Navratri to make the green – even it's pastel version – pop like no other!
Sophisticated-chic in classic grey:
Grey is a deeply misunderstood color in Indian culture. While the athleisure and normcore fashion movements have taken this shade in their stride, Indian sensibilities, in many ways are still to catch up to the awesome potential of grey and the classic sophistication its hues can bring to even the festive season.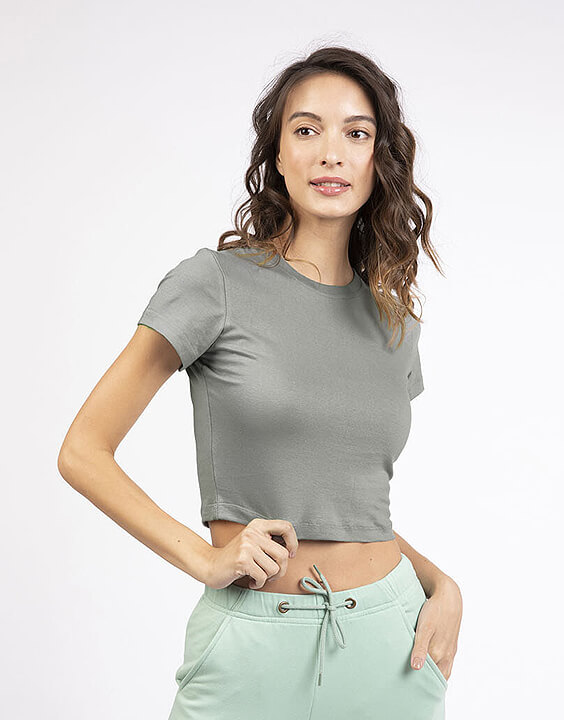 Going monotone is definitely the way this festive season – and may we add the styling, layering and fashion potential that grey crop tops hold? The best thing about this color is that it stands its ground without overpowering any other & that makes it the ideal candidate for mix-match and color blocking color palettes this Navratri!
Festive styling cue: Pair your grey crop tops with absolutely anything and add a bunch of silver jewellery to take it to that cosy-chic and ultra modern level this festive season. We love layering grey with bolder and warmer pastels such as pinks and yellows – you can also try a grey- pastel/ mustard yellow combo for Navratri as you mix and match gold & silver jewellery for a stand-out, memorable 'lewk'!
Orange-you glad it's the festive season already?:
We cannot overstate the power of the colour orange, when it comes to looking chic, bright and exuberant on Indian under-tones. Adding a more controlled, cosier and rich warmth to any festive color palette, orange is fan-fave for Navratri! A traditional, sacred and significant color in Hindu cultures, it symbolises the purity of fire, a quest for light and learning.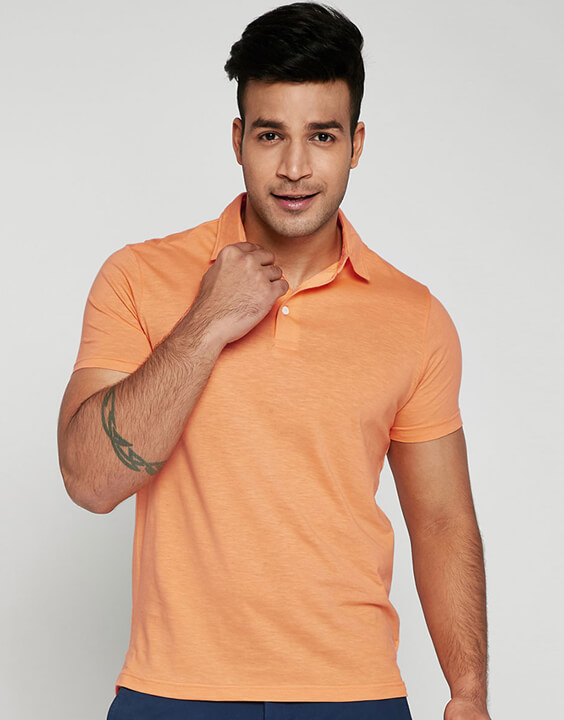 Orange is an easy shade to wear and style for the festive season as the color itself embodies this vibe so effortlessly. You can go ultra-cosy with this one – in seamless boyfriend t shirts for women and cosy polo-neck tees for men that are guaranteed to catch the eye no matter what. Go the extra mile and opt for ones with a pretty one-liner to say something special during Navratri!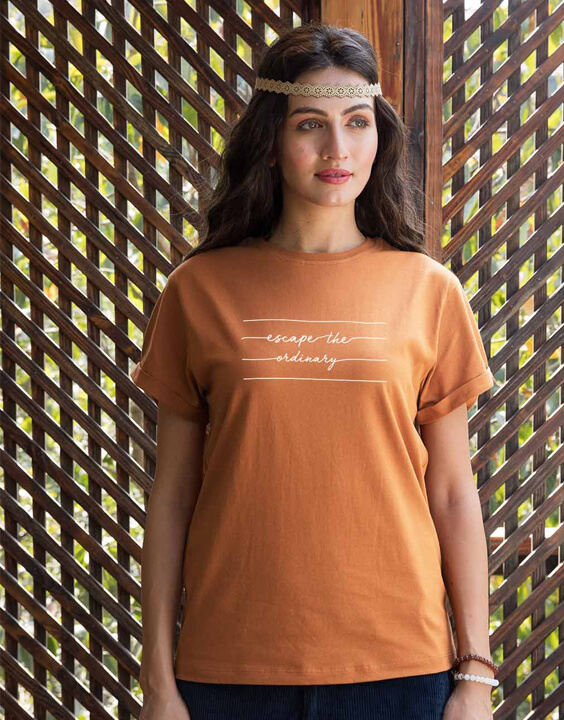 Festive styling cue: All pervasive in its festive appeal for Indian holidays, try styling your orange t-shirts in 2020 with florals. Bring the flower element in either literally by wearing traditional jasmines in your hair, or go for bold floral jewellery, quirky earrings in a flower shape, or simply a bottom in a floral print to complete this look. Fresh AF.
Impeccably crisp and chic in white:
For appearing crisp, classic and chic, look no further than soothing white. Representing peace and knowledge in hindu traditions – look and feel serene in this classic and widely-loved shade. When you mix all the colors that the world offers, you get the purest melting-pot, which is white. Express the special message of unity, calmness, inclusivity and a meditative spirit through this color.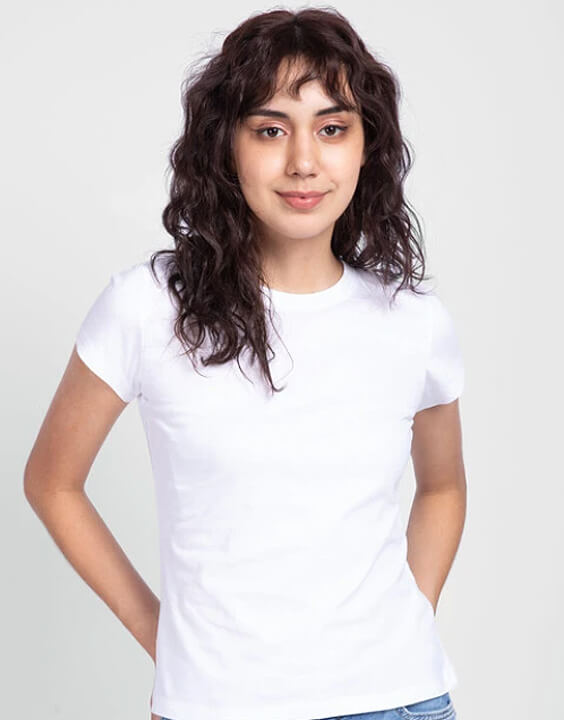 Go for classic shirts with clean lines, or opt for half or long sleeve t shirts for women in white to give yourself a bright and pure canvas for your festive styling!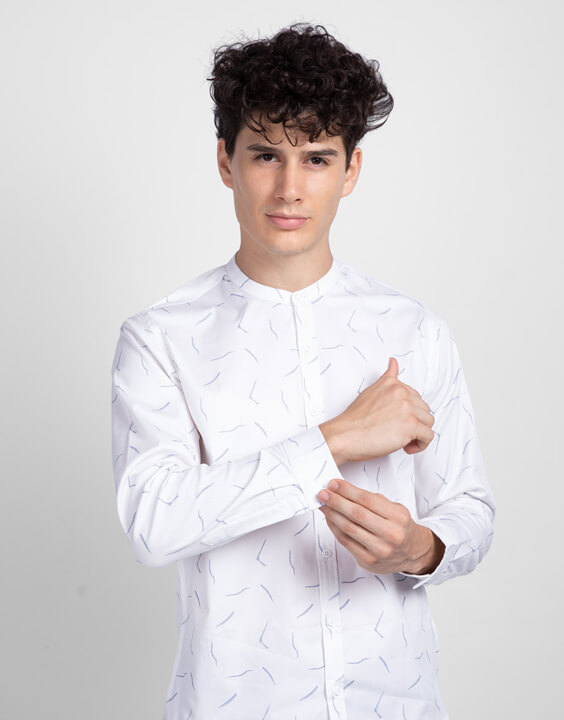 Festive styling cue: Say something new in white and pair it up with silver separates and jewellery for a festive flair that stands out. White also is a great base for bold and bright colors like reds, yellows and orange – go ham with this one!
Passionate and celebratory in red:
The color of 'Shakti', feminine power and sensuality, red is the quintessential color to wear for Navratri and Durga Puja. Going bold and striking is ever so easy in red – this shade is the perfect festive option.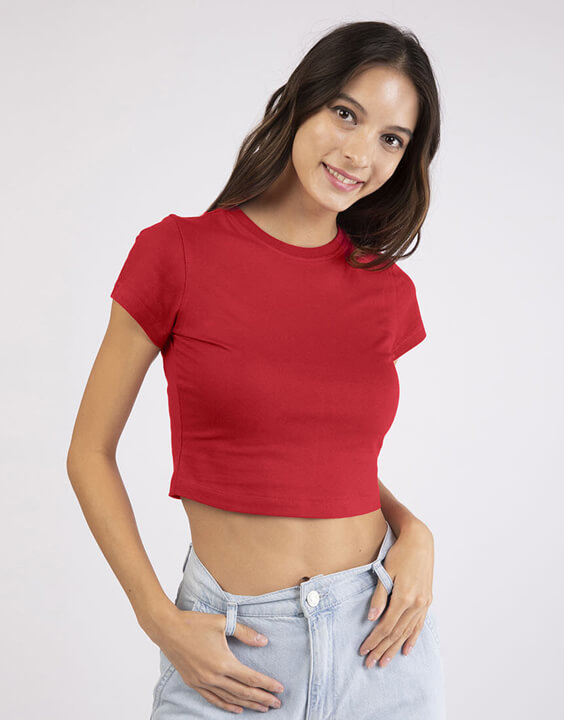 Cosy-chic in 2020 during festivals and Indian holidays is ever so easy in red. For men, classic color-blocked t-shirts hit the mark and there are so many options for the ladies – from crop tops to boyfriend t shirts that can be worn with separates in other jewel tones and darker hues, for that lush and sultry appeal. Stand out for your online Navratri functions and make a statement during your at-home celebrations in this stunning shade.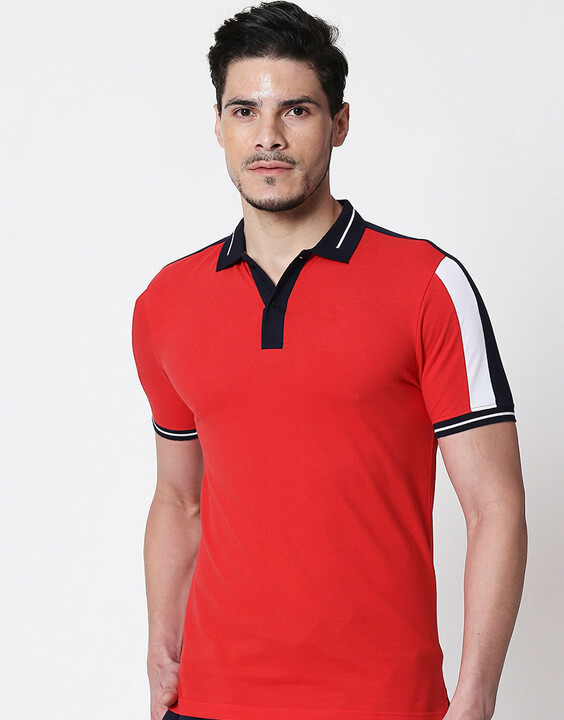 Festive styling cue: Instead of going for a tight and uncomfortable blouse, opt for a crop top in this hue to pair with a traditional red sari & work it up with classic kundan jewelry. Seriously, you can't go wrong with red for Navratri.
Subtle and starry-eyed in sky blue:
Peaceful, soothing to the eye and a modern-chic staple, sky-blue has become a must-have for every millennial's wardrobe, be it festive or otherwise. In hindu cultures, it is said that the creator has given maximum of the color 'blue' to nature – from the lovely skies to the very depths of our oceans.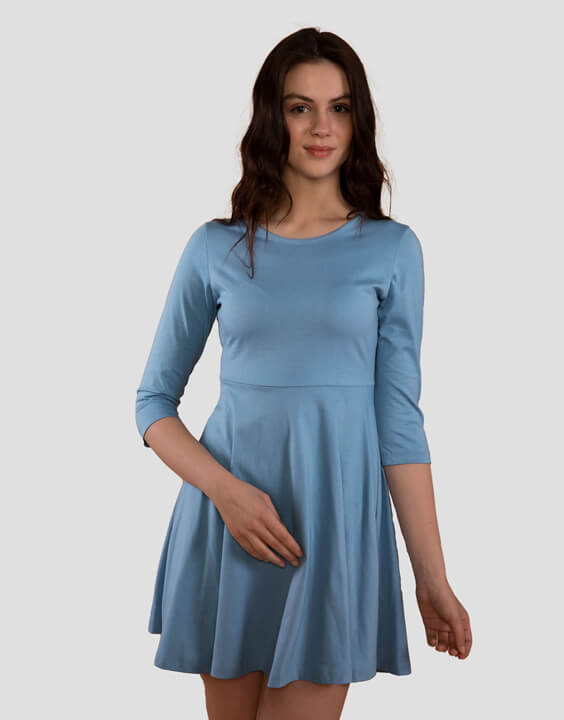 As such, it is a very symbolic and important shade to wear for a festival like Navratri.Get ultra-chic and cosy in a t-shirt dress or t shirts for women that come in this pretty shade.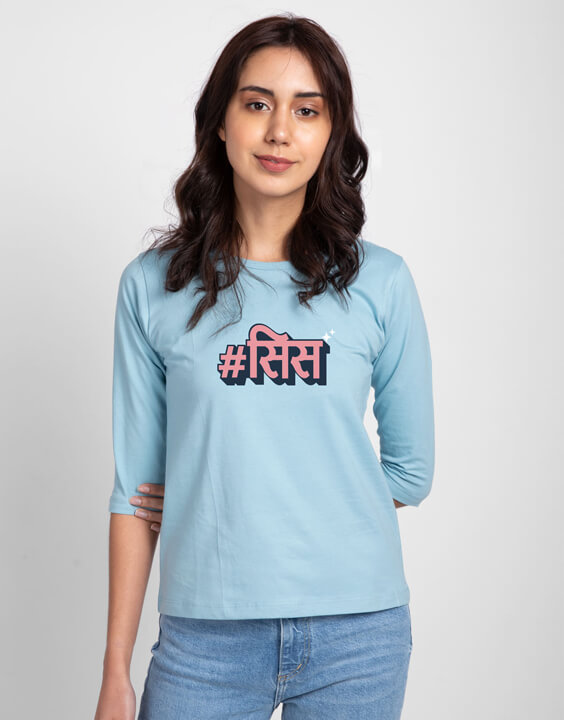 Festive styling cue: You can stay comfortable, warm and feel at home by even wearing a full t-shirt and joggers combination, this Navratri, by dressing it up with an organza dupatta that is draped over your frame and belted at the waist for a chic silhouette!
Precious and pretty in pink:
Pink is one of the prettiest shades of the spectrum. Unapologetically feminine and unabashedly joyful, shades of blush and pink have been well loved colors for all special Indian occasions – be it weddings, functions or festivities.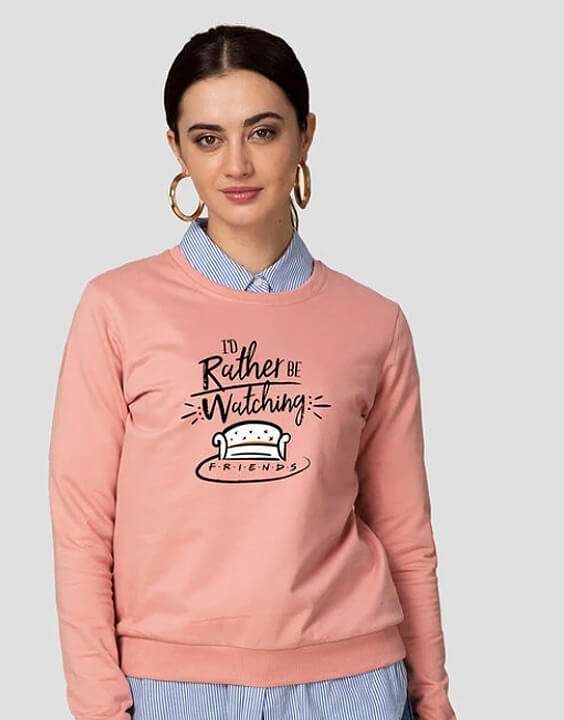 Dress it up in a pink shirt dress and wear the dress with a classic angrakha jacket or a long flowing capelet to give it a modern festive flair. Pink printed shirts are becoming all the rage for men & women – and even long sleeve t shirts for women are a great option to wear on top of a crisp shirt & trouser combination to go for that preppy feel during online family celebrations.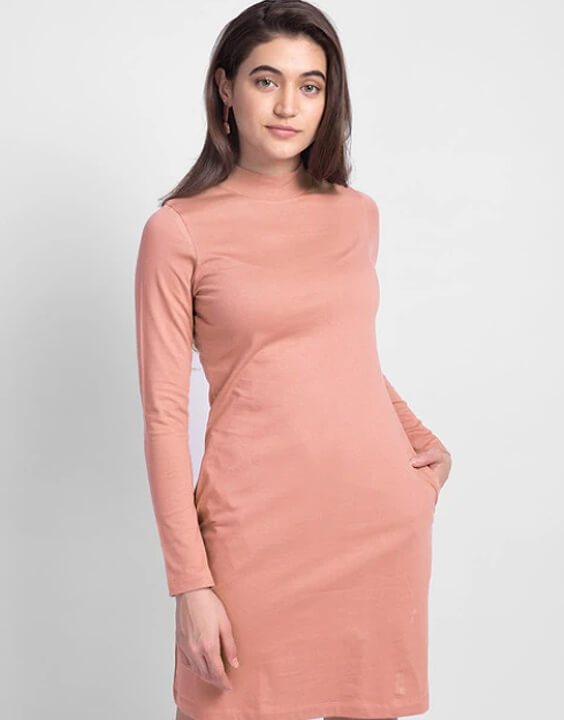 Festive styling cue: Cinch in a pink t-shirt and skirt combo or a cozy pink t-shirt dress with a bejeweled, festive belt and pair the combo with sparkly glittering shoes for a maximum celebratory impact!
We hope you enjoyed our low-down on how you can stay cozy at home in 2020 & still dress it up for the festive season this Navratri! Until next time, stay colorful & stay safe!
Image credits: The copyrights of the images used in this post belong to their respective owners. The credits where known are specified under the image - if you're the owner of an image and want it removed, please contact us.