Sarees are more than just a silhouette; they're a wardrobe icon. For decades now, they have been a crucial part of almost every Indian woman's closet. They're timeless, classy & feminine all at once, which makes them total winners without a doubt. From weddings to festivities and beyond, one can always count on a saree to make a standout statement. Drenched in Indian culture, the fluid drapes are for the ages. Among the sea of sarees, the ones made in silk are considered to be investment pieces. There are various types of silk sarees that one can choose from, and we'll be exploring most of them in this article.
India is a melting pot of culture, so it's not surprising that the attire varies largely from one region to another. It is also a country with stellar craftsmanship and a crafts community that is world-renowned. People from around the globe visit us to take home masterpieces that may be worn only once but will be remembered forever!
Take a look at some of the best types of silk sarees in India:
1) Banarasi Silk Sarees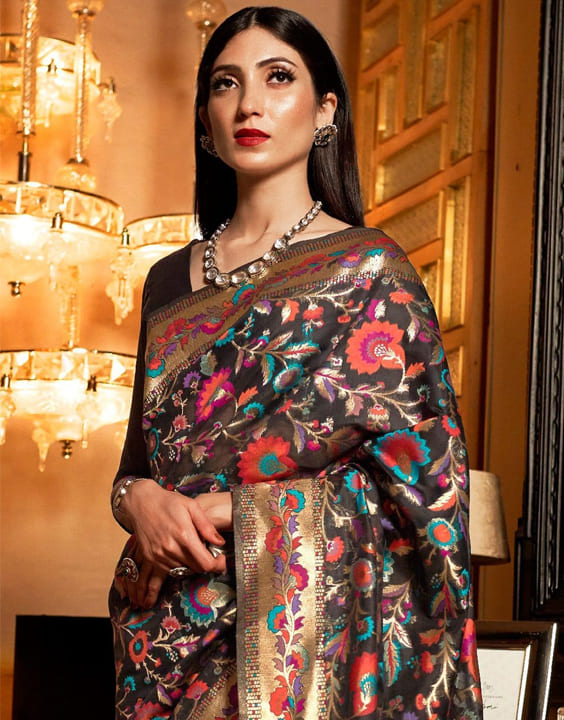 Known to be crafted or made in the culture-rich city of Benaras, the sarees take their name from the tourist destination. Among the different types of silk sarees in India, these stand tall as the finest ones for tons of reasons. These sarees are not for everyday wear but are reserved for special occasions as the fine weave makes them heavier. They're adorned with zari work and that is also where their opulence comes from, although the most expensive ones have patterns woven with gold or silk threads.
Types of Banarasi silk sarees:
i. Katan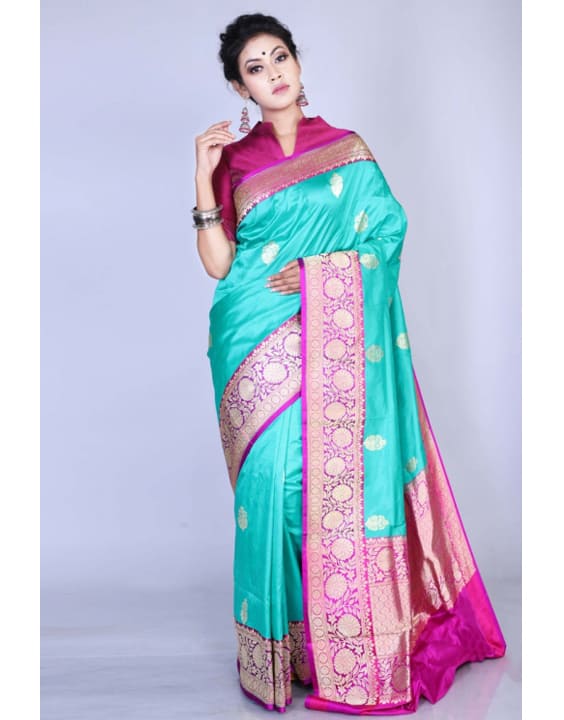 Katan sarees are woven with pure silk. These are considered to be the richest, most opulent ones among all other sarees and that's why they're considered a top pick for weddings and celebrations of any kind. They have immense luster, are durable and are painstakingly made, which also make them quite high priced. If you own a katan saree, you need to preserve it forever! A lot of brides also make these a part of their trousseau, and they're heirloom pieces as well.
ii. Shattir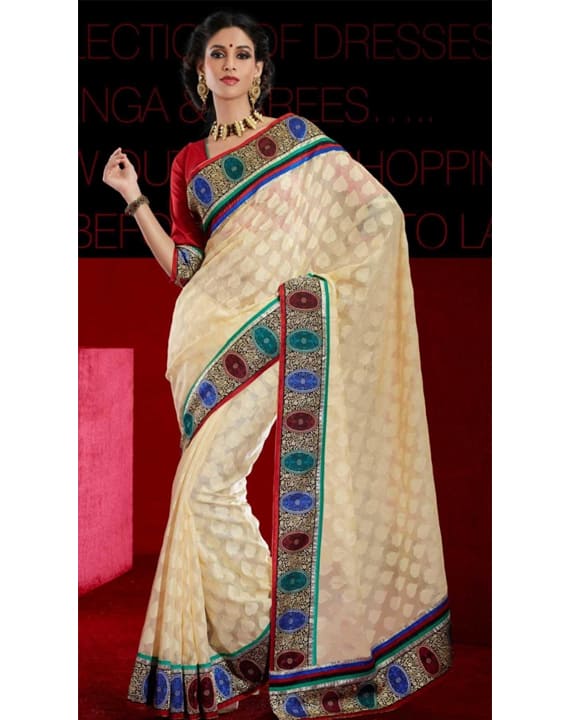 While on one hand, most Banarasi sarees are known to be heavy and well, the opposite of lightweight, Shattir is one variation that weaves the masterpiece into everyday fashion. Its understated appeal is what makes it ideal for low-key events, and the fact that it is a Banarasi saree instantly sets it apart. These sarees also won't burn a hole in your pocket as they are quite affordable to purchase.
iii. Kora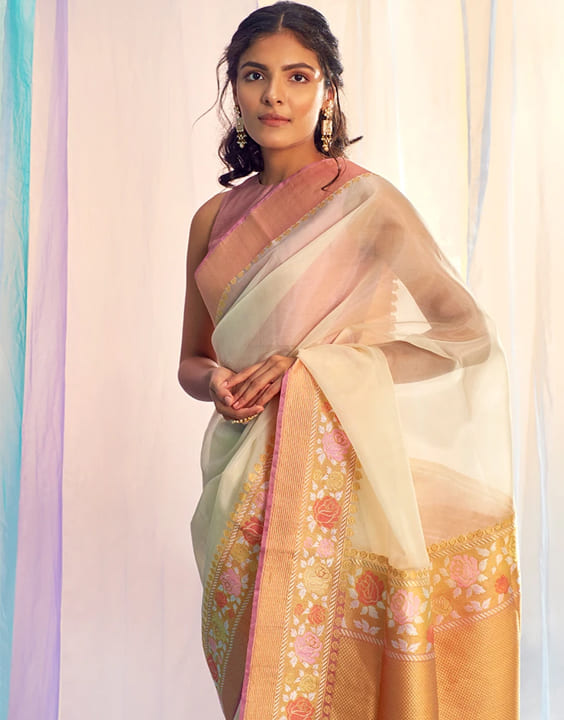 Wondering what type of silk saree is soft? Kora silk sarees are also known as organza silk sarees and are a popular variety. Predominantly, shades of gold and silver are used for zari work on these sarees, which are intricate and very appealing. These types of silk sarees are on the heavier side due to the weight of the fabric itself and the embroidery they feature. They're sheer, opulent, lively, and a must-have for saree lovers!
iv. Kadhwa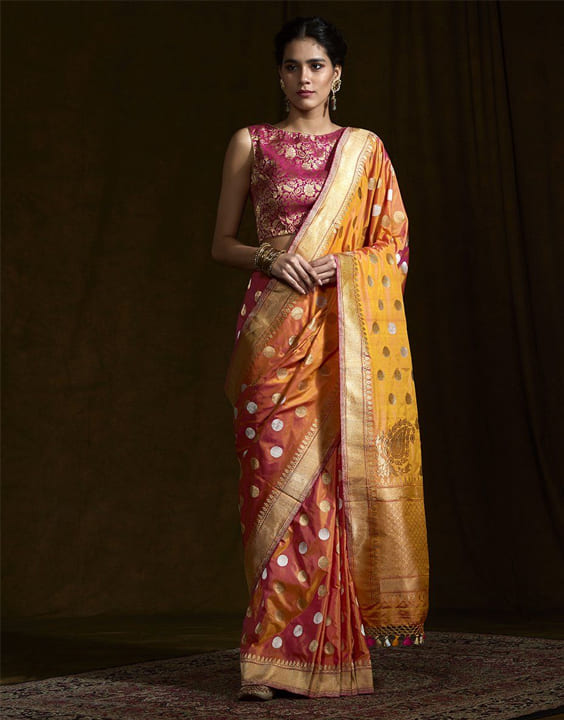 The Kadhwa or Kadhua weave epitomizes extreme finesse! It is almost impossible for a power loom to mimic it, and that sets it apart from a lot of other hand weaving techniques. Even though it is a laborious task, the resulting motifs and fabric seem embroidered & not woven, thus making the saree an absolute masterpiece.
v. Jangla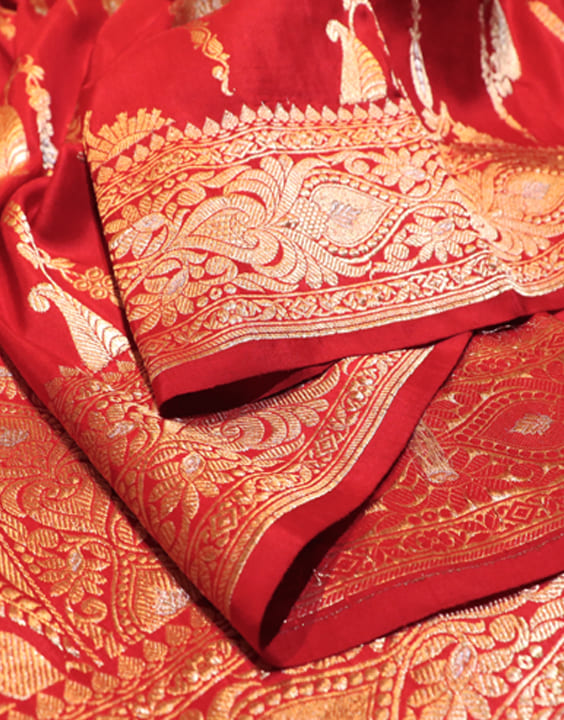 Jangla sarees are easily distinguishable from other different types of silk sarees due to their pronounced patterns. Your grandmother may also own one, just take a peek into her trunk to find out. These sarees comprise an all-over 'jaal' that is woven meticulously on the drapes and features vegetation-based motifs. They are colorful, and are a stellar way to make a standout statement at wedding celebrations!
vi. Shikargarh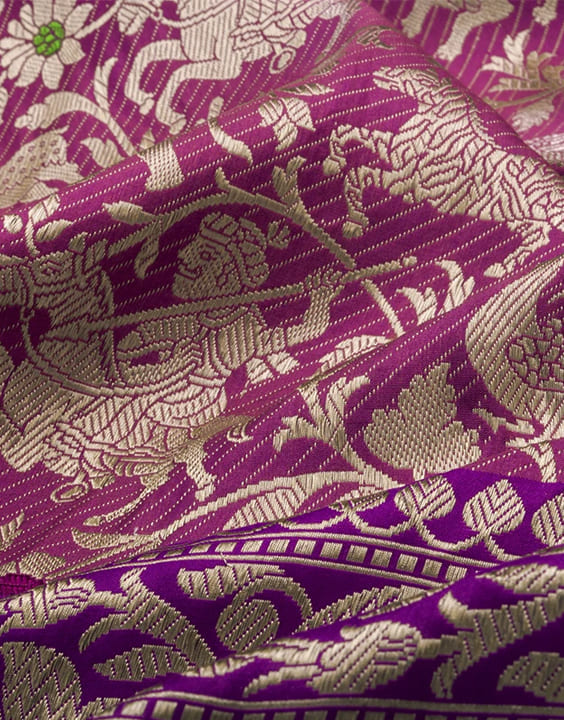 As opposed to the flower, jungle, etc. based motifs on Jangla, Shikargarh sarees feature hunting scenes and wild animals reiterated into stunning patterns. These sarees are perfect for people who love artsy fashion and don't mind experimenting. The detailing on these drapes is what makes them so royal-looking yet so eclectic and full of life, with the use of gold & silver threads as well as colorful threads.
vii. Tanchoi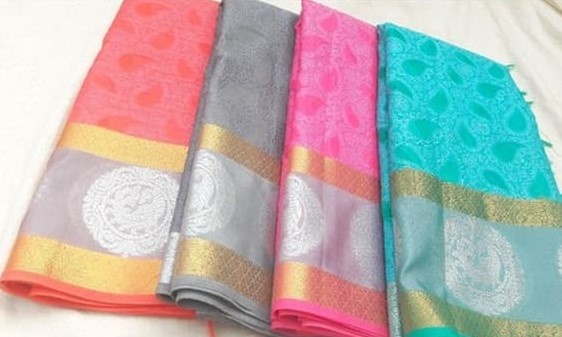 Unlike most other Banarasi types of silk sarees that showcase exquisite zari work, Tanchoi is a brocade that is subtle yet statement-making. They're suited to wardrobes of women of all ages and are a fine addition for the modern divas too. Delicate, lightweight, and ever-appealing, Tanchoi Banarasi sarees have stunning paisley motifs adorning them. They typically have multicolored patterns, but can also feature tone-on-tone designs. You'll love flaunting these for festive occasions, as they are bound to add exuberance to the celebrations!
viii. Tissue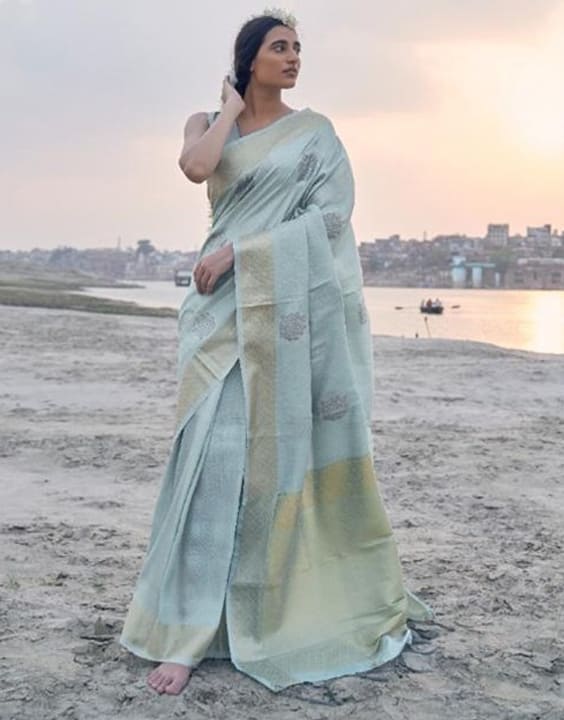 Among the most delicately woven Banarasi sarees, these ones top the list as they are woven with golden zari weft. This brings in sheen and opulence to the sarees which are a wedding favorite. They feature nature-inspired motifs and also cutwork that is extremely precise. These elegant masterpieces deserve to be treasured forever and authentic ones can also be found on a trusted online shopping app.
ix. Butidaar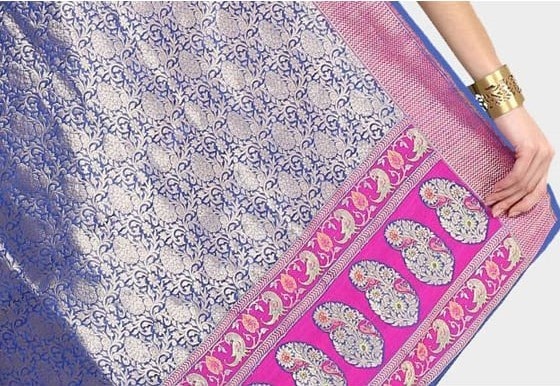 Richly woven and finely brocaded with opulent threads like golden, silver, and silk, Butidaar sarees are known for their dense work. The contrast that the gold threads make with the silver threads is known as the Ganga-Jamuna pattern by the weavers! Other popular motifs and patterns are Angoor Bail, Latiffa Butti, Jhari Butta, Baluchar Butta, and several more.
2) Baluchari Saree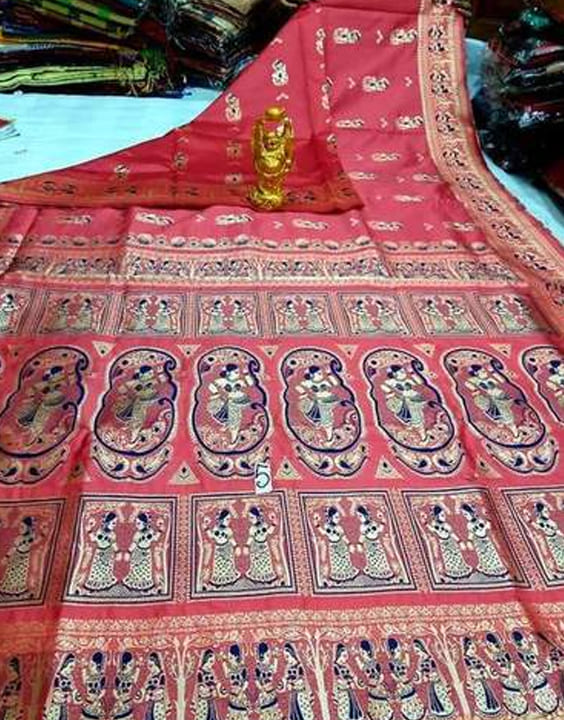 Primarily worn by women in West Bengal, Baluchari sarees are among traditional silk saree varieties that are every bit beautiful and exquisite! They're a cultural masterpiece that women treasure for ages, and feature mythologically inspired motifs. Its origins can be traced back to almost 500 years, and it is steeped in longstanding heritage. They get their name from the village that was woven in first, which is called Baluchar. The dominating characters that can be seen on these sarees are Ramanaya and Mahabharata.
3) Kanjivaram/Kanchipuram Silk Sarees
These silk saree names are derived from a small village called Kanchipuram in Tamil Nadu. They're one of the most coveted types of silk sarees and make up the trousseau of many south Indian brides. They're also a very popular pick for grand events entailing festivities or other kinds of celebrations, not just weddings. There are variations of Kanjeevaram sarees like ones that are plain but have a gold border, modern drapes, traditional sarees, or ones with temple borders.
4) Tussar Silk Sarees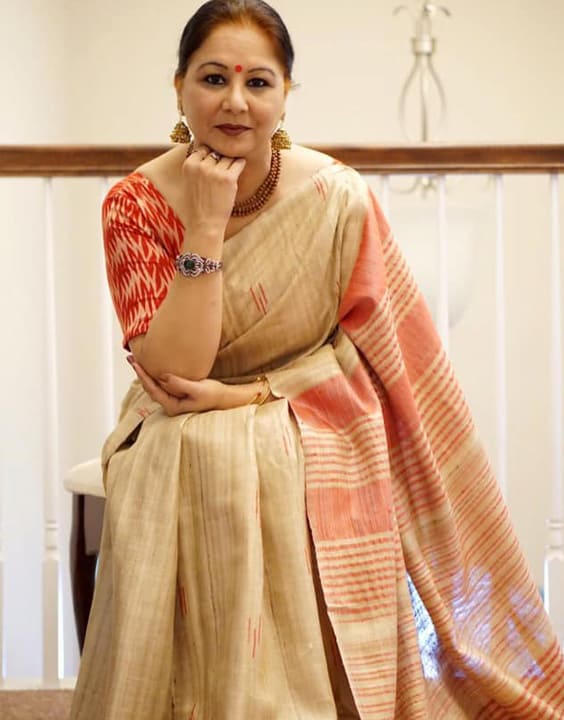 Known mainly for their texture, Tussar silk sarees are made by master weavers! These sarees aren't overstated so they can easily fit into your wardrobe for intimate celebrations as well as other noteworthy occasions. To make these, Tussar silkworms are used and the process of obtaining a single thread can be really time-consuming and painstaking. Tussar Silk sarees can showcase anything from Warli motifs to abstract drawings. They also act as a canvas for Kantha embroidery. Your Tussar silk saree can do wonders, and is already a work of art!
5) Bomkai Silk Sarees
Sonepuri & Bomkai are a couple of silk saree names given to these drapes that originate from western Odisha. The handloom saree features contrasting color palettes and a general opulence much like the Baluchari silk sarees of Bengal. The thread work on these sarees is something that makes them stand out, and also distinguishable from the rest. This is one of the traditional women's clothing in Odisha.
6) Gadwal Silk Sarees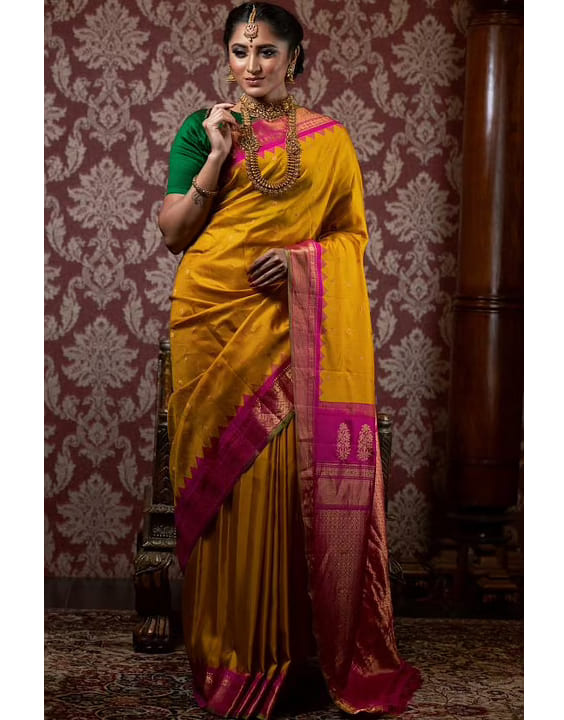 Hailing from Andhra Pradesh, Gadwal silk sarees are another popular type of silk sarees in India. A unique attribute of this saree is that it showcases a single color on the pallu, border, and body. Elaborate work yet simple motifs can be seen on these sarees, which can be either architecture-inspired, floral, nature-driven, or none of these!
What makes these types of silk sarees exceptional is the attention to detail, and the stunning zari woven details. With the body made of cotton weaves and the border made of silk, these sarees bring together both with superiority. The beautiful amalgamation is what makes them a winner, and you can get your hands on them by online shopping in India too.
7) Konrad Silk Sarees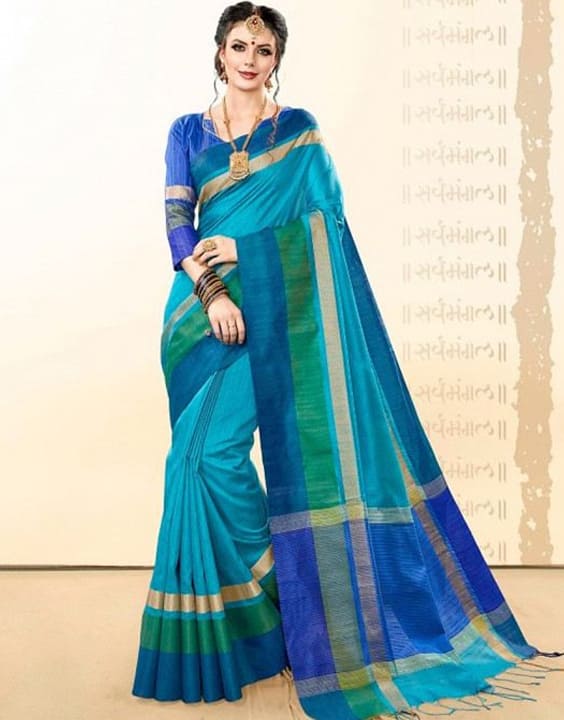 These distinct sarees are rooted in culture and come from the state of Tamil Nadu. They're one of the most well-known sarees among women in the state and can be identified by their wide borders and luster. The borders showcase nature-inspired motifs and can be anywhere between 10-14 cm, or sometimes even more. The intricate work on the border is what makes these so desirable!
8) Mysore Silk Sarees
Adorned by women for festivities and weddings, Mysore Silk Sarees are also a Bollywood favorite. They have been seen on celebrities like Sri Devi, Vidya Balan, etc. on various occasions. The price points for these silk sarees are much higher, and the color palette is often regal. The silk is sourced from the culture-rich city of Mysore in India and made with pure silk and zari work.
9) Patola Silk Saree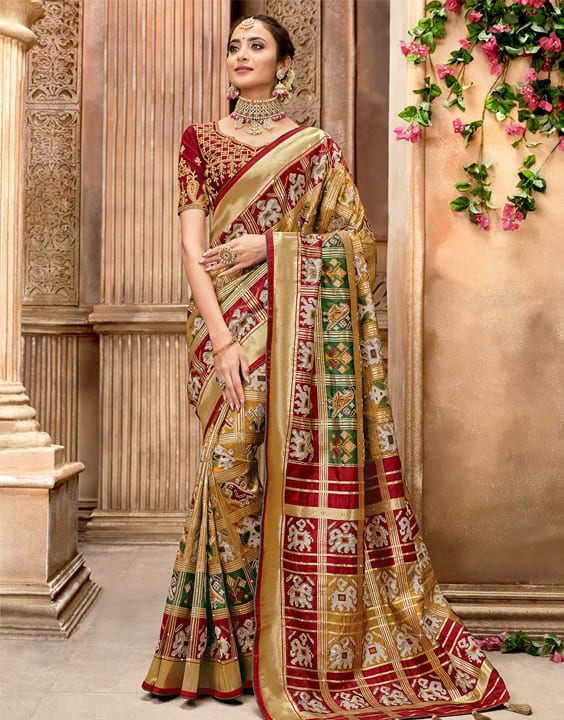 While there are affordable types of silk sarees available to saree lovers, the Patola silk saree just isn't one of them. Typically picked by people with a royal family background or the elite, these sarees originated in Patan, Gujarat, and also get their name from there. You'll be surprised to know that it takes anywhere between 6 months to 1 year to finish a single saree. The weaving process is quite long, and not everyone has the expertise to create a Patola saree.
10) Pochampally Ikat Silk Saree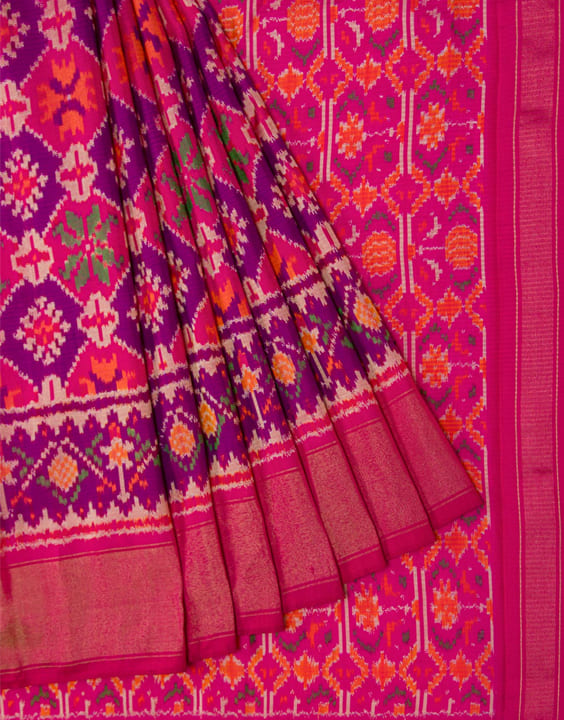 The Ikat weave and patterns on these sarees are what make them so popular! They're made by combining cotton and silk which are woven together and are known for their distinctive geometric designs which are meant to lure onlookers. Upon looking closer, you're going to realize that the Ikat weave looks a lot like the Patola weave but they're poles apart. South Indian brides usually go for this saree for their big day.
11) Banglori Sarees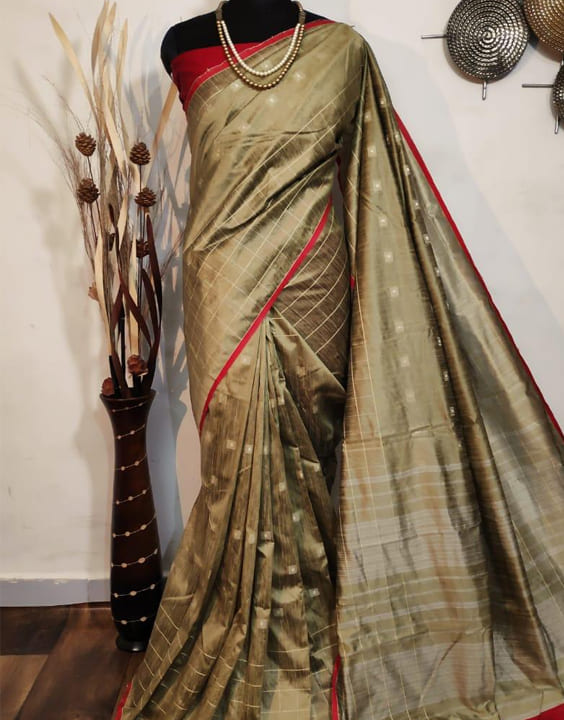 Often featuring zari or brocade borders, Banglori sarees are known for their simple yet elegant appeal and the visible pure silk. It is mainly produced in the southern part of Bangalore in Karnataka. Earlier, one could spot only dark-hued drapes elevated with golden zari pallu but now there are a lot of designs that are more popular among the desi divas! The printed varieties are all the rage among young women who wish to display their love for these types of silk sarees.
12) Dharmavaram Silk Sarees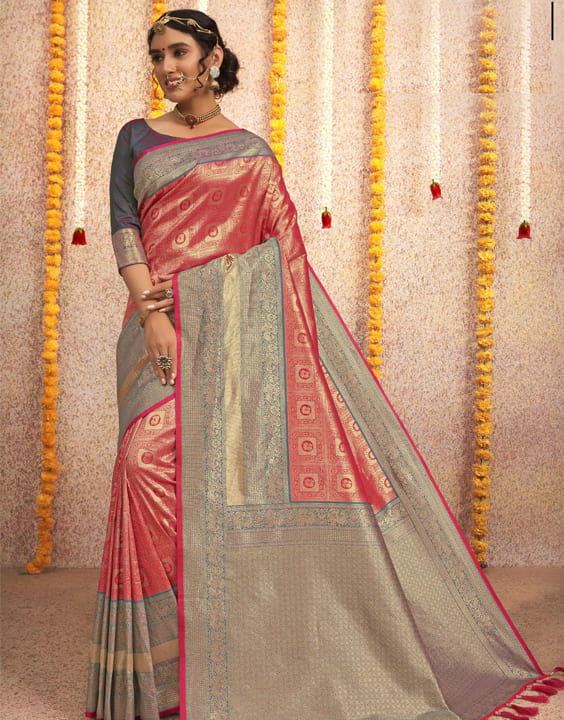 Derived from Anantapur, a district and city in the state of Andhra Pradesh, Dharmavaram sarees are a bridal pick. They can be seen in women who are tying the knot, whether on the big day itself or the celebrations that lead up to it. Dharmavaram Sarees are absolutely magnificent and are rooted in tradition. The gold-plated borders on these sarees as well as the artwork print make them what they are; desired and time-tested.
Now that we've covered our favorite types of silk sarees that are also extremely renowned among saree aficionados, why don't you go ahead and flaunt your most-loved drape?
Similar Articles: 
1. How To Drape Bengali Saree: Acing The Bengali Saree Look
2. How To Wear Saree: Trendy Saree Wearing Styles
3. Latest Saree Blouse Types You Should Totally Checkout
4. 5 Different Ways of Draping a saree this Festive Season
Image credits: The copyrights of the images used in this post belong to their respective owners. The credits where known are specified under the image - if you're the owner of an image and want it removed, please contact us.