Namaste!
If you're someone who loves doing yoga, we're sure you'll agree that a cute workout set is motivating. A yoga dress for women that gives comfort and style at the same time is one of the things each of us looks forward to. You know how it is, right? Both, inner and outer beauty.
We're sure many of you wonder what is the best dress for yoga? or what should girls wear for yoga? And one of the most researched questions is, 'can we wear track pants for yoga?'.
With the sudden burst in health-conscious behavior in the last two years (thanks to the pandemic), we realised that many of you don't really know the options available to explore in yoga dress for women. Athleisure wear or as one normally calls it, a workout dress for women, has a number of options available! That's why we decided to share 15 best yoga dress for women today. And to be honest, you can't ever really have too many leggings and tops.
Why is a yoga outfit necessary?
Did you know, yoga clothes help in absorbing moisture and aid in consistent airflow in the body? Another reason that it's considered ideal to use yoga clothes is because they're made up of polyester, nylon, spandex blends and provide the right balance of flexibility, breathability and comfort.
From solids to mix and match to standout-from-the-crowd print, we're going to talk about everything! The best part? The beautiful designs available today can be teamed up with accessories or layered to be transformed into brunch outfits. Don't believe us? Read along to know how…
Psst, before you go, don't forget to save this blog for later!
Best Yoga Dress For Women in 2021-
1. Cropped hoodie set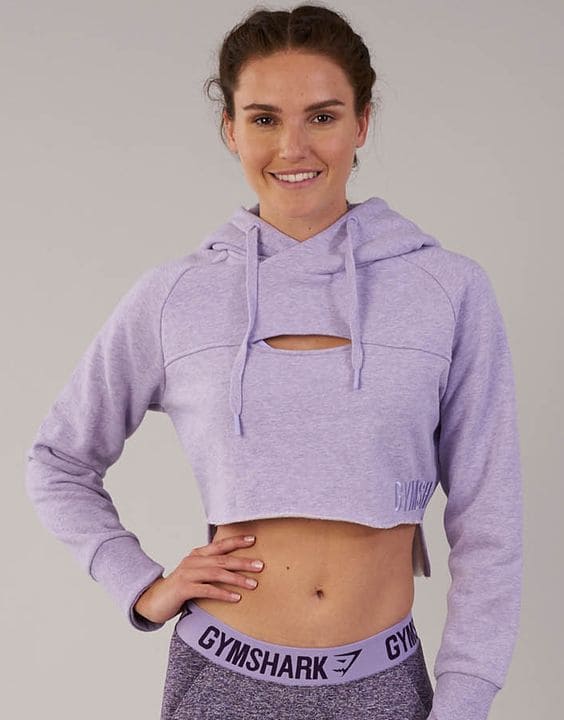 Available in various colours, the cropped hoodie set is one of the most worn among celebrities and influencers. Trending colours and quick-dry material will keep you at the top of your fashion game keeping you fresh all day long! And if you're not into leggings, replace those with women joggers and steal the show. This is an absolute must-have!
2. Style it like the military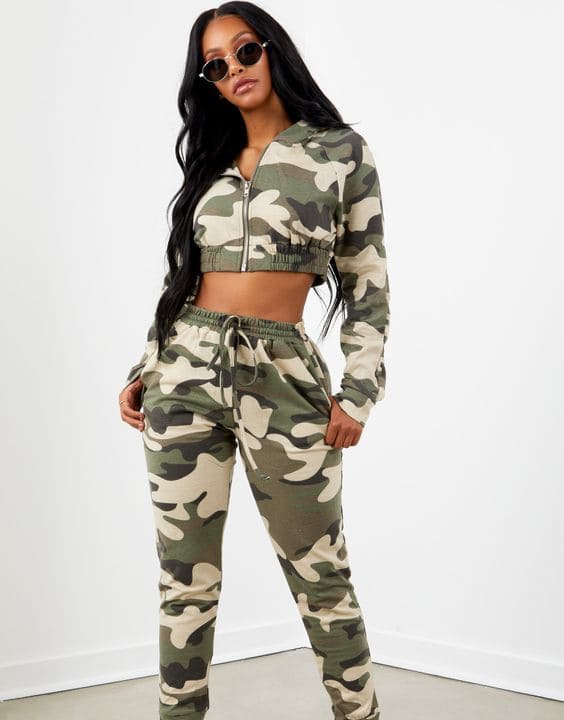 The style, the print and the fit, they all are perfect to fit the bill for a casual day out in the city or sweating it out in the park. Keep it light and simple with this camouflage outfit. Working out has never looked so stylish and comfy at the same time. Pair this with white sneakers and head to the park grabbing eyeballs along the way.
3. Floral Power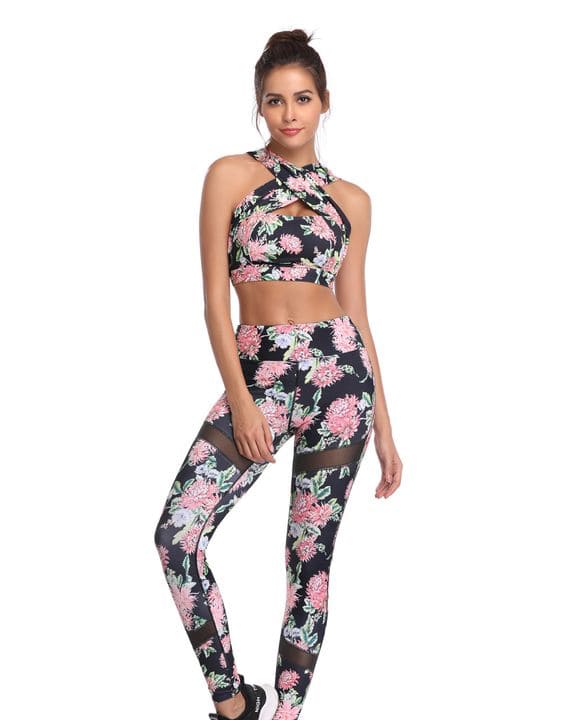 Keep it fashionably classy yet stylish with a criss-cross neckline like this. Flaunt your flexibility and style on social media and we're sure you'll be getting a lot of queries for this outfit. What's more? You can style this top with a solid-colored, contrasting skirt and change the game altogether. It's never a bad deal to use the same pieces of clothing and use them to create new kinds of outfits throughout the week. And, if you're actually this skilled, we suggest you get into the field of fashion and slay the world with your innovative ideas. So, what are you waiting for? Get your hands on this workout dress for women now!
4. Animal Prints To Own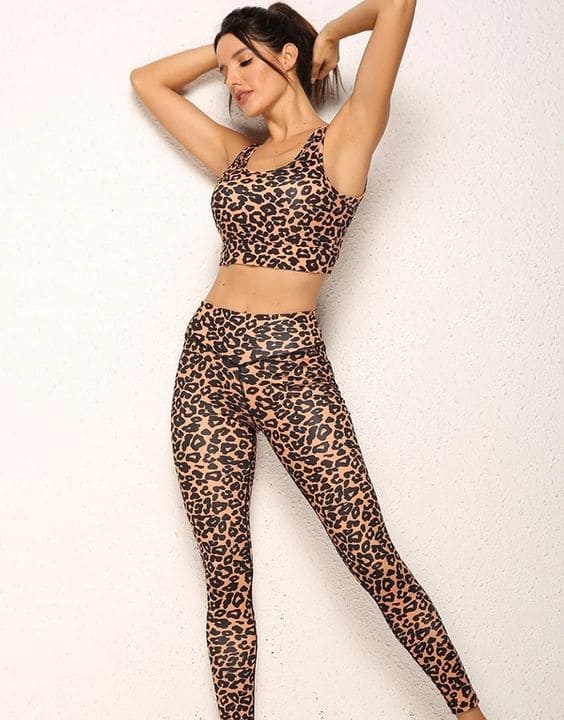 Animal prints have made their way back into our lives in recent times and we're pretty sure they're here to stay. Thankfully, to add a touch of variation to this print, many of these sets are available in various colours. Black and white, blue, green, pink… You'll find them all. Pair these with your favourite shoes or sliders and make your way to the yoga studio for a chill and elegant yoga session. Don't forget to tie a bun that would accentuate your overall look and keep you in the limelight.
5. Polka-dotted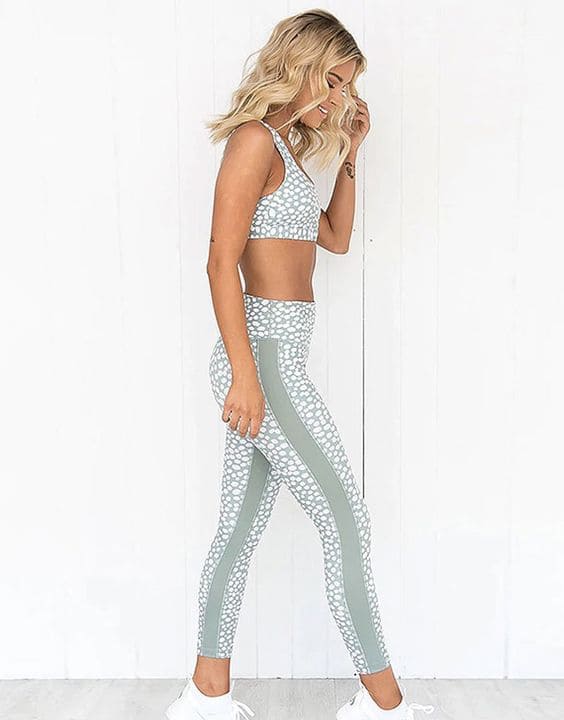 If you thought polka dots are out of fashion, you're wrong! Not only has this design been one of the most popular among women, but it has also evolved over time as well. So, if you've always loved this design, you'll be happy to know that many brands have launched polka-dotted yoga outfit for ladies. These offer so many colour options to choose from that it's actually confusing to select just one. To add to this, the stunning fit it offers and the look of it are just to die for. 
6. Trendy Tie dye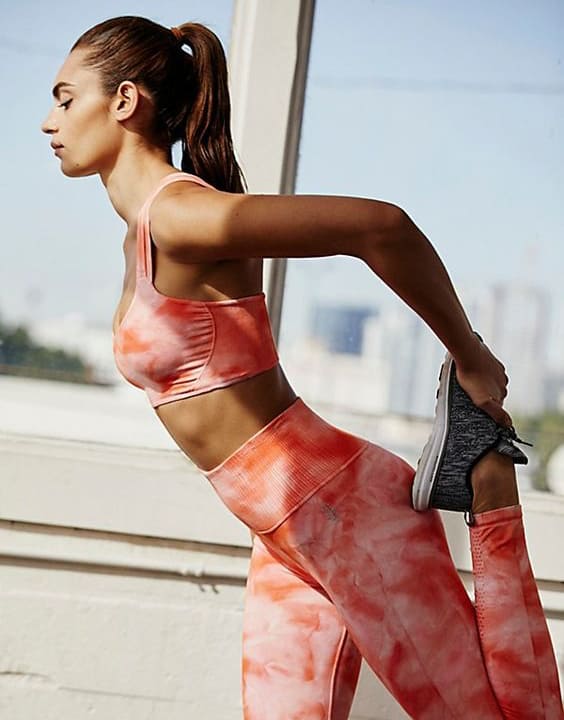 Who said tie-dyed clothes are a thing of the past? You could go matching with your top and leggings both being tie-dyed or mix and match with one of them being a tie-dye while the other being solid-colored apparel. Among all the yoga outfits, this yoga dress for women is the most trending right now. Online shopping in India is growing exponentially and finding one of these is just a click away!
7. Capri set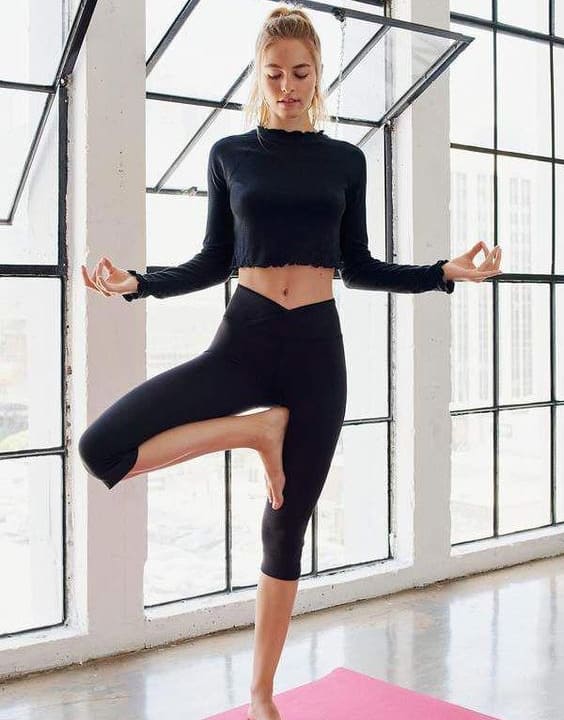 Providing support and comfort, a capri set is one of our favourite yoga sets to opt for during a semi lazy day. Donning one of these has always felt like a relief. These workout sets for women aren't too common today but pretty soon we're sure it'll be one of the first choices you opt for. You could pair this with a women's t-shirt, a pair of trainers, a cap and one of the waist bags for a cool outdoor attire. Don't forget, this also makes for a very comfortable cycling outfit as well!
8. Cut out set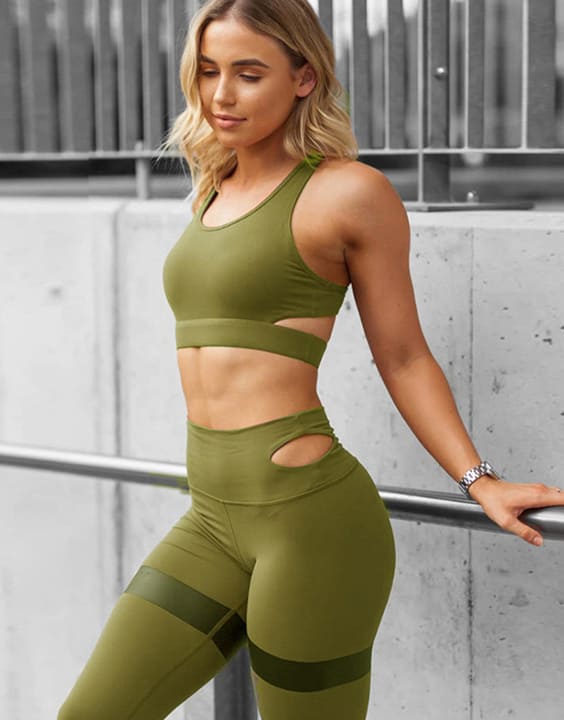 It's time to cut out the old styles from your wardrobe and shine in the latest design – the cut out. Many people are choosing this design and thus it is safe to say that it is one of the most famous styles in the near future. There are different cut out styles – some over the top or the bra top while some have it on the leggings. Nonetheless, we're sure you shall look absolutely ravishing in all of them.
9. Mesh-merizing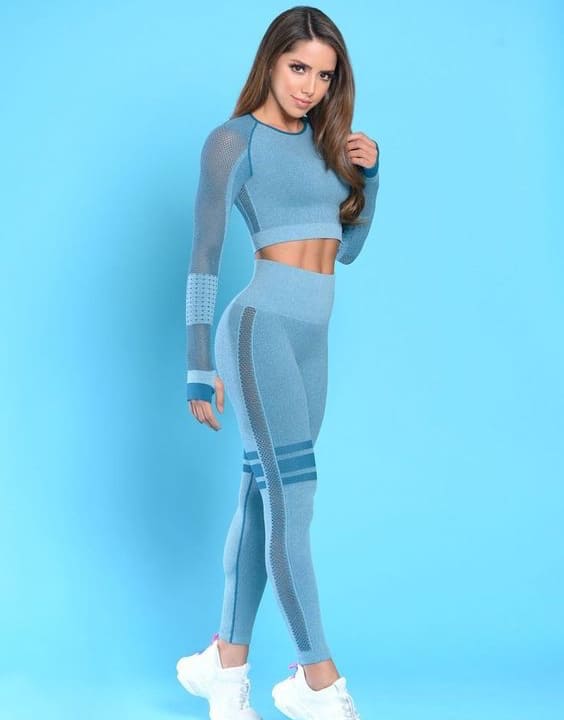 When you talk about yoga clothes for women, the list can never be complete without a mesh outfit. The options are limitless. From the mesh patterns to the density, there are just so many options that you could explore. And not just that, the number of colour options as well can easily put you in a confused state. Whatever your favourite colour may be – black, mint, yellow, red, fluorescent, you'll find a mesh style in all of them! Psst, don't forget that these can be styled for a drive out with friends as well.
10. Sweat it out with sweatshirt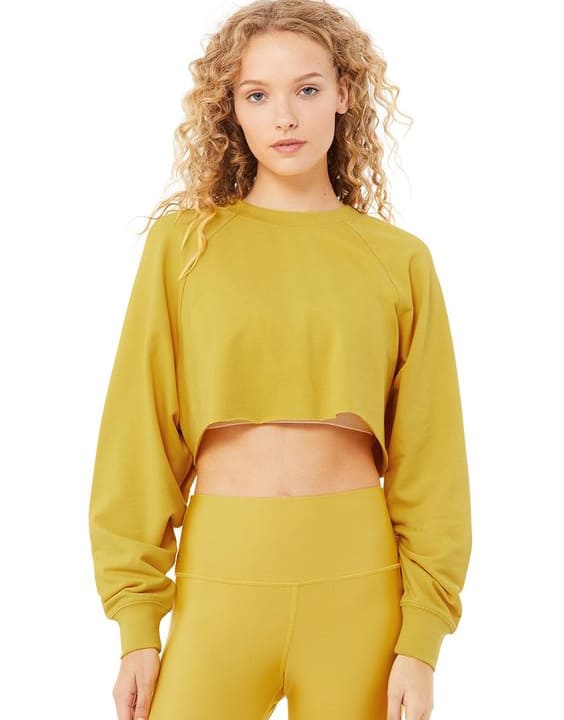 Who said only workout clothes for men could be cool? If you haven't seen or worn this yet, here's introducing the sweatshirt yoga set! Go monochrome and adorn a matching top and leggings to flaunt a classy yet cool look. Imagine working out in a black sweatshirt paired with women shorts, how cute would that be! While moving out, pair this with your coolest sliders and add your sunglasses to complete your look. And, you know, this would be a really cute workout dress for women to lounge at home and binge-watch your favourite tv show.
11. Let's 'short' it out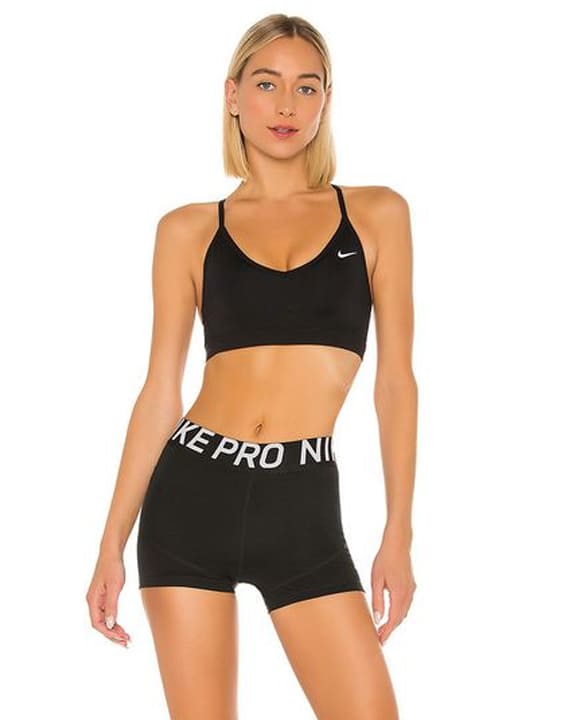 Picking out the perfect clothes for yoga is a task we love to do. With all the options for people who love leggings, this one's for the ones who are a fan of the shorts. Yoga sessions can be quite sweaty and thus wearing something short will be… let's call it, breezy. Consider this outfit as it has good elasticity to provide you with the support you need. With the numerous colour options available, this style is a go-to option for many. And not just that, there are different types of shorts as well that you could choose from. 
12. Loving the bootcuts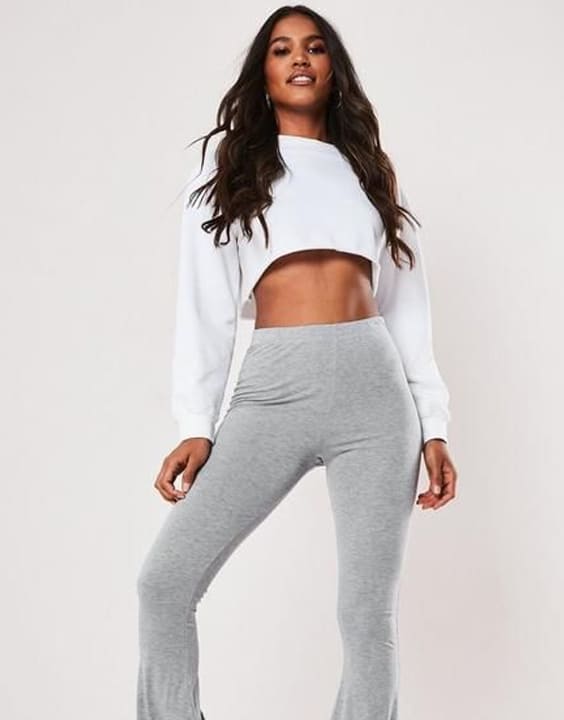 While most people you see choose to wear the traditional tight fit leggings. But there are quite a few who prefer a loose yoga dress for women. If you're one of these, then this bootcut set will be perfect for you! If you're too confused about the combination you should choose, go monochrome or simply choose between white, black and grey. You can always mix and match these colours and have the perfect workout outfit. Boot over dude!
13. The ombre effect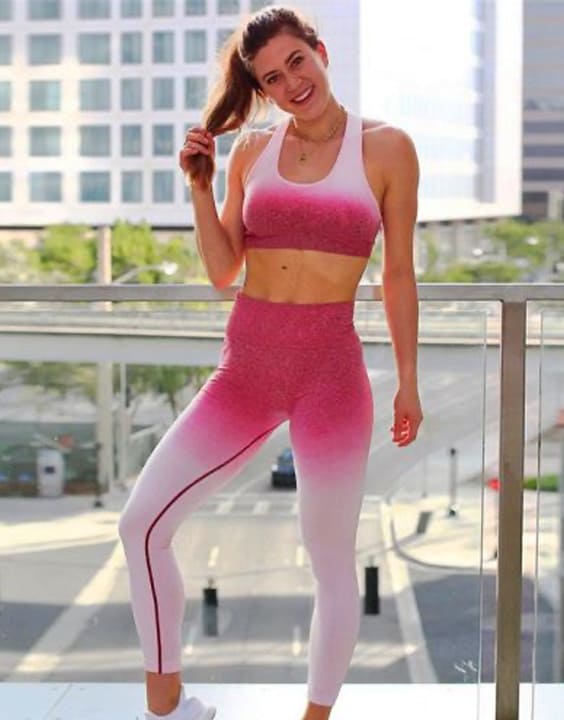 Sometimes, solid colours could be very boring. If you think so too, then choose an ombre coloured outfit that will instantly give a pleasant feel to your presence. Not just for others, you are sure to feel calm and delightful as soon as you wear this yoga dress for women. Get fashion-forward and achieve your target weight!
14. Knotted set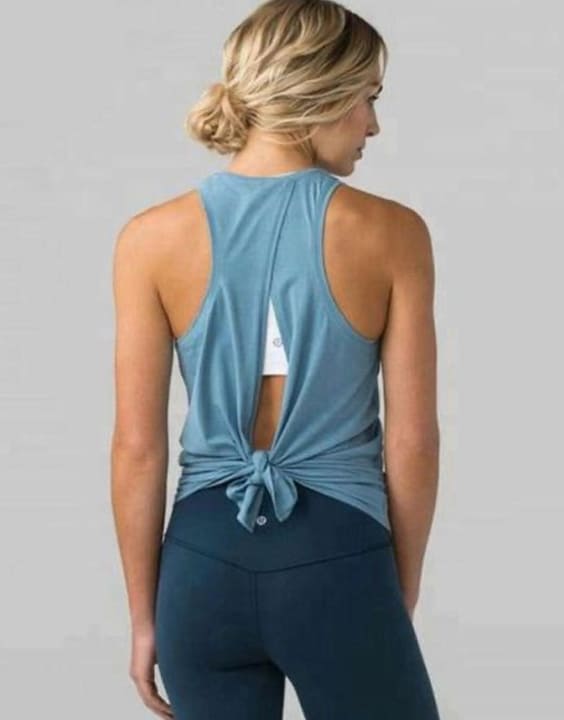 Are you a fan of the knotted t-shirt hack that's been quite popular in the last few years? If yes, you will love the knotted style in athleisure as well. You'll find a t-shirt with a knot in the front, sometimes at the back and sometimes near the shoulders as well. Not just that, there are some legging designs with knot options as well. This workout dress for women is soaring up the fashion chart and it'll be a bad choice to ignore this style. So buck up fellas!
15. Zipper outfit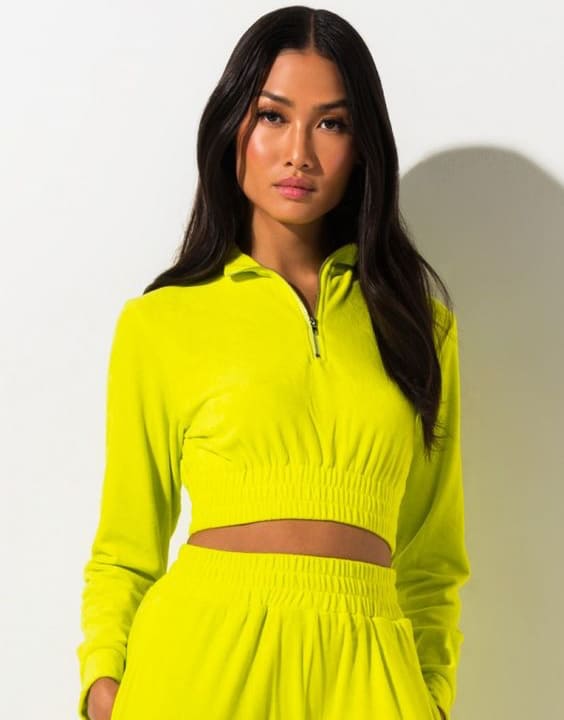 A vibrant color zipper jacket and women's boxer shorts will make this outfit a unique attire. It's trendy, eye-catching and provides complete comfort no matter where you are. Upload a picture in this attire on social media and we bet that you'll get tons of comments complimenting it. Also, feel free to use the zipper top as a jacket when not paired with the shorts. Get your hands on this workout dress for women right away!
Buy a variety of this workout dress for women and get ready to set the stage on fire. No matter where you go, you're sure to grab eyeballs. With the online shopping app at your fingertips, buying one of this yoga dress for women is one of the easiest things to do today. There's never been a better opportunity to stay in fashion while staying in shape. 
Latest Articles- 
Image credits: The copyrights of the images used in this post belong to their respective owners. The credits where known are specified under the image - if you're the owner of an image and want it removed, please contact us.