We're smack dab in the middle of the festive season, and a wardrobe upgrade is mandatory! After all, we've already worn most of our Indian wear on repeat and it's time for a change. This is where Kurtas enter, with their versatile & timeless attributes. These days, there is more than just one option when it comes to kurti neck design. We've rounded up all our favorite ones! You can flaunt them for the festive season or wedding season, and if you wish, even on the regular, if it aligns with your daily dress code of course.
Kurtas are for every woman of every age, every shape and every taste. Find your new favorites from our list below, take a picture in it for the gram with neck design images for detail shots. Don't forget to pair them with the right jewellery & accessories.
15 Latest Kurti Neck Designs:
1) Wrap Kurta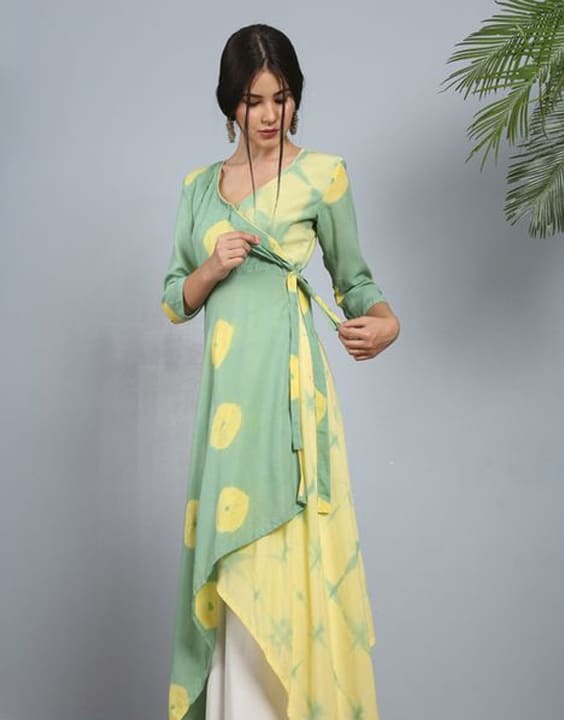 It's no secret that the wrap dress as well as the wrap top, has been making waves among fashion lovers around the world! The fact that it is flattering on every body type is reason enough for its popularity. Indian designers have adapted this standout neckline in their designs, bringing it seamlessly to the kurta too.
Seen on runways as well as various collection showcases, the wrap kurta is a surefire way to earn some compliments this festive season. You can choose to drape a dupatta or not; this kurti neck design looks great regardless! Comprising two flaps that are crossed over and tied together at the side of your body, it can be adjusted and fitted however one pleases.
2) Collared Kurta Neck Design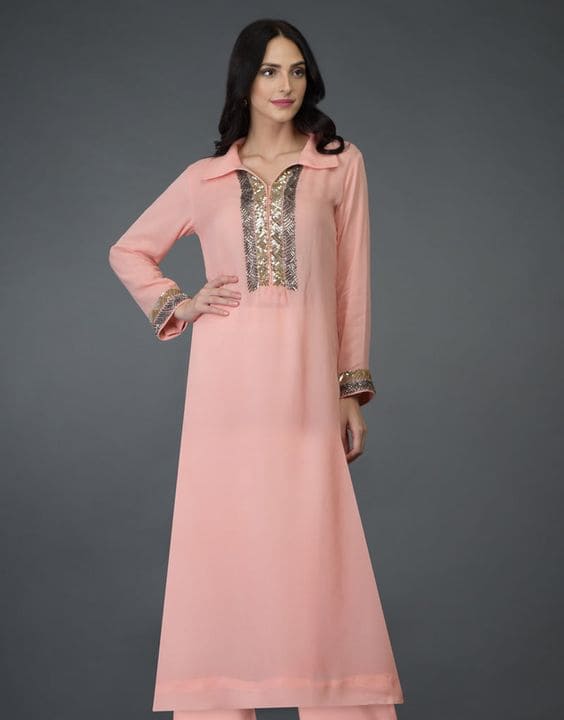 One of the more polished and modest styles has got to be the collared design! Usually, straight and long, this kurti neck design has our votes for more reasons than one.
Firstly, the neck is typically embellished with stunning sequins, beads or stones, and in some cases, even printed to perfection with motifs that are sure to hold you captive. Secondly, the collars add a certain sophistication to the entire look, and for women who are looking at making an elegant statement, it is an easy pick.
Collared kurtas are made to fit into every wardrobe seamlessly, no matter the wearer's size, age or ethnicity. There's a perfect design for all tastes and preferences, so you'll definitely find something for yourself too.
3) Tie Neck Design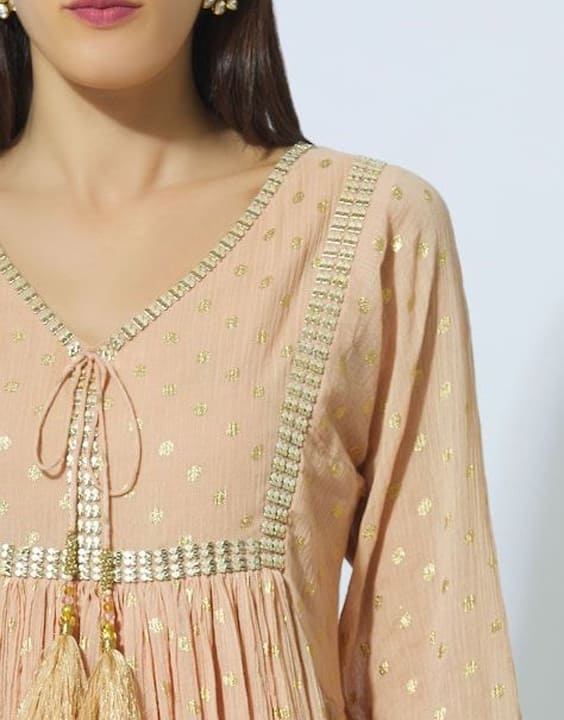 Who doesn't love bohemian fashion, right? It is free-spirited, fun, and on-trend, always! It's also highly versatile no matter what the piece is, from a top to a dress and everything in between. Nowadays, since the demand for the trend has only soared, it has been incorporated into Indian wear too.
All the details that we love about boho can now be spotted in fusion as well as ethnic styles. This makes it easy to flaunt our love for the genre even when we're not completely giving in to it.
Take the tie-up kurti neck design for example; with details like tassels or beads, it takes your outfit up by a notch! It is the subtle additions of these little elements that we absolutely love, and they are what have us sold on the tie neck kurta.
4) Buttoned Kurta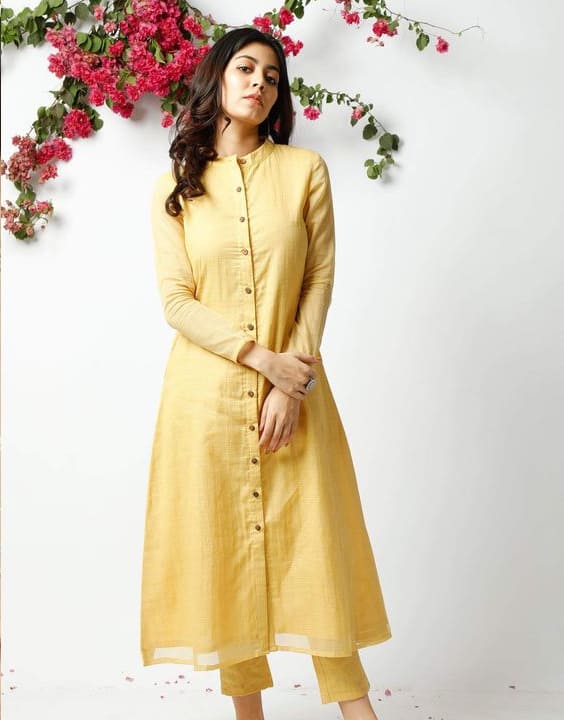 A shirt and jacket hybrid is something we all love, but what about a shirt and kurta hybrid? It's one of our top picks for everyday wear, and we can flaunt it to the office or even while we're just lounging. Usually, in a straight or A-Line cut, it's one of the best-selling kurta styles there are. The buttons typically start at the neck and go all the way to the hem, or just till the bust. Either way, both styles are equally perfect and polished!
We prefer buying buttoned kurtas in solid hues rather than embellished or busy designs, so that the versatility can be upped. But you can get yours however you please, and if you're just going to add it to the closet for festive occasions, then we suggest getting the fancier renditions of this kurti neck design.
5) Halter Neck Kurti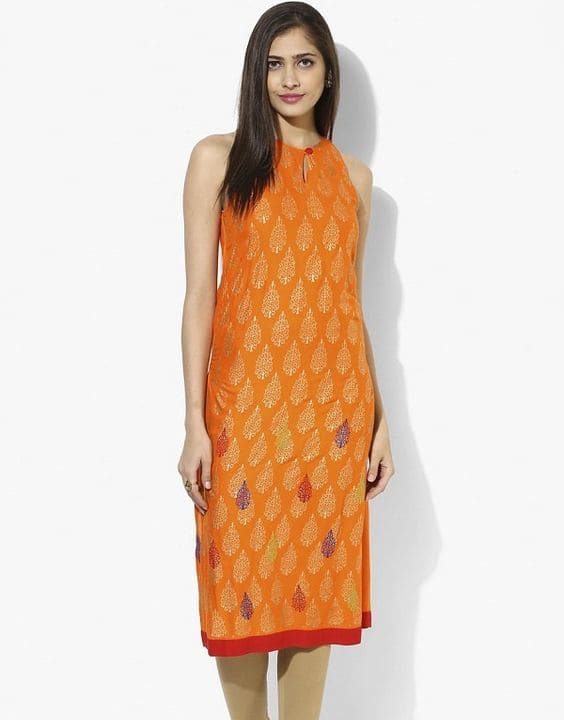 Even though summer's not arriving anytime soon, it's best to save wardrobe inspiration for later too. Topping the charts for the warm weather is the halter neck kurti which strikes the perfect balance between cultural and contemporary. A hit among desi divas, it is absolutely trendsetting and modern! If you're looking to add something to your new-age ethnic wardrobe then this is it.
Bear in mind that this is a sleeveless ensemble. So if that's not your thing, explore shrugs style ideas to know how to layer effectively, and with what. You won't ever regret this fashion decision. Pair it with statement earrings and refrain from wearing a necklace with this one. You can also choose to tie your hair up instead of letting it down for maximum effect, and carry one of your favorite sling bags.
6) Keyhole Neck Kurti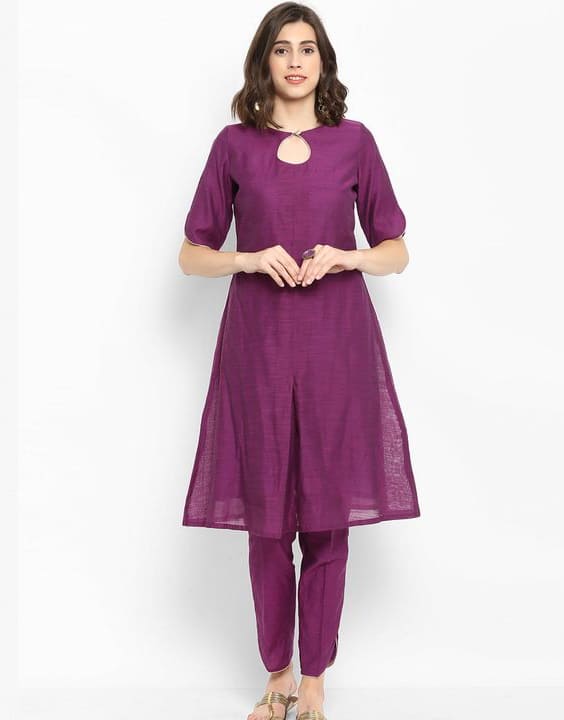 Increasingly popular among young and middle-aged women alike, the keyhole neck kurti is exactly what it sounds like. It's got a small cutaway at the neck that is usually in a teardrop shape but can be in an oval, a leaf or other shapes too.
Leaning away from the regular neckline, this one is more appealing and sometimes also has a button closure. These days, the cutaway doesn't necessarily have to be at the neck but can also be placed right below the collar bone at either side. One can find these easily on sites that offer the best online shopping in India!
7) Plunge Neck Kurti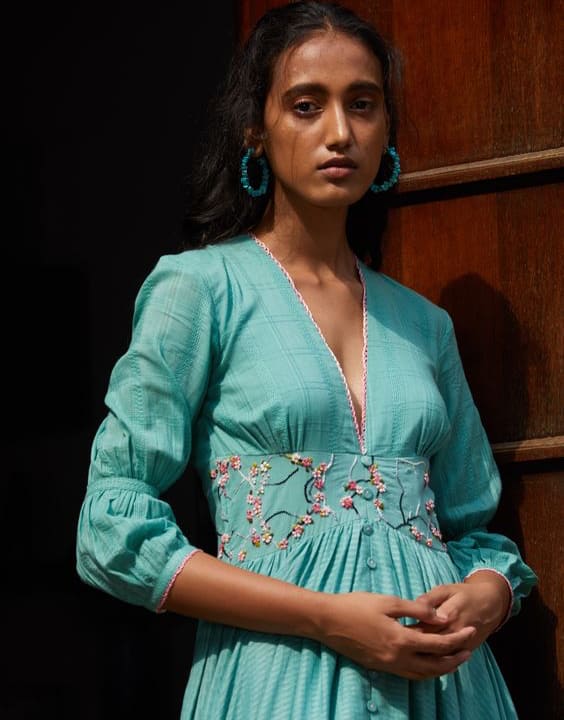 Ever wondered what it would be like if a cultural silhouette such as the kurti was also extremely sexy somehow? It would make for the best flirty outfit at any wedding or celebration, and that's good news for the singles! Luckily, the plunge neck kurti fits this exact description, and just like a plunge neckline top or dress, this too manages to make you look sensual and stunning both at the same time.
We love pairing this kurti neck design with longer chains and pendants, or layered necklaces. You too, can give them a shot. There's no one who can resist the unbeatable charm of this kurti – so we say, take the plunge.
8) High Neck Kurti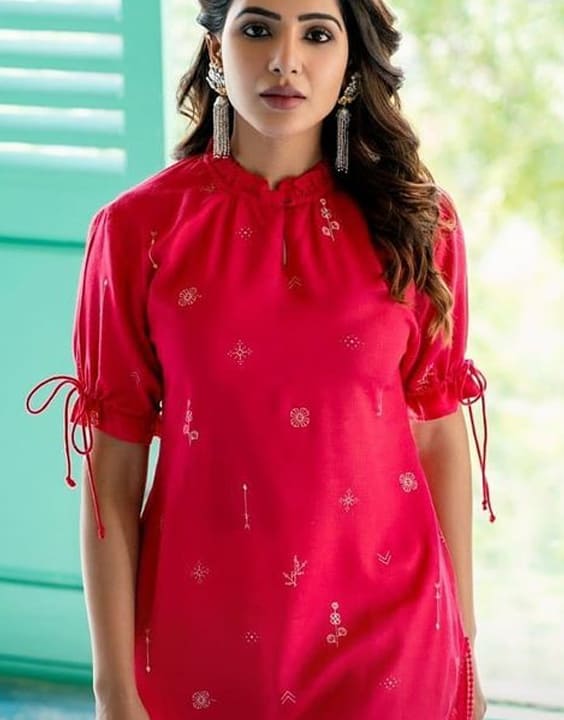 Just as modest as the collared kurti but not even the tiniest bit boring, the high neckline design is a great choice for festive occasions and wedding celebrations as well, depending upon the embellishments on your kurti.
High neck styles are flattering for most body types, in spite of being known as one of the simple kurta neck designs. But if you're on the bustier side, you may be better off avoiding it. This is because high necklines tend to be constricting, and slightly uncomfortable for some people. The typically straight silhouette makes you look leaner, but if you're looking for something to hug your curves then this probably isn't it.
9) Off Shoulder Kurta Neck Designs For Female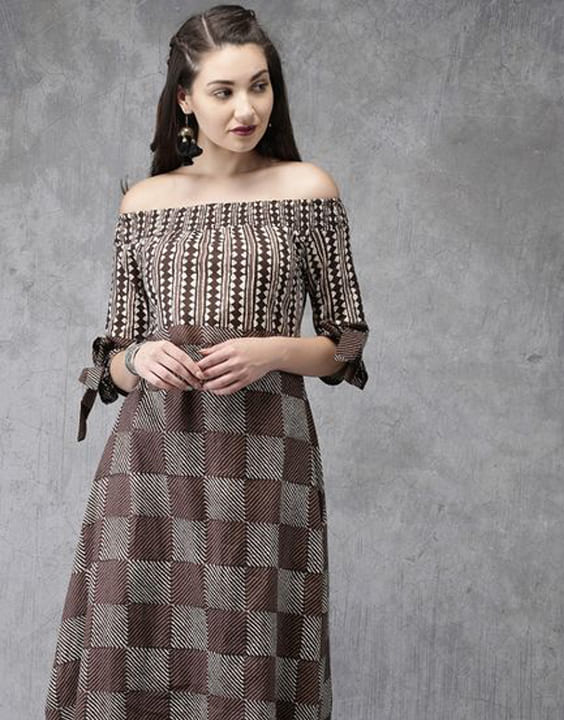 We all know that the off-shoulder trend hasn't died down just yet, and so, it was not surprising that it would make an appearance in the Indian wear genre too. Our favorite part about the off-shoulder kurti neckline is the fact that it is so versatile! On the regular days, we can wear it with shorts and jeans. On the festive days, we can wear it with a dupatta and palazzos, Sharara or churidar.
It's always lovely to own pieces that can do it all and do it well, and the off-shoulder kurti sure does! You can count on it multiple times, and you'll never run out of ways to style it. Remember though, always wear a strapless bra with this one!
10) Round Neck Kurti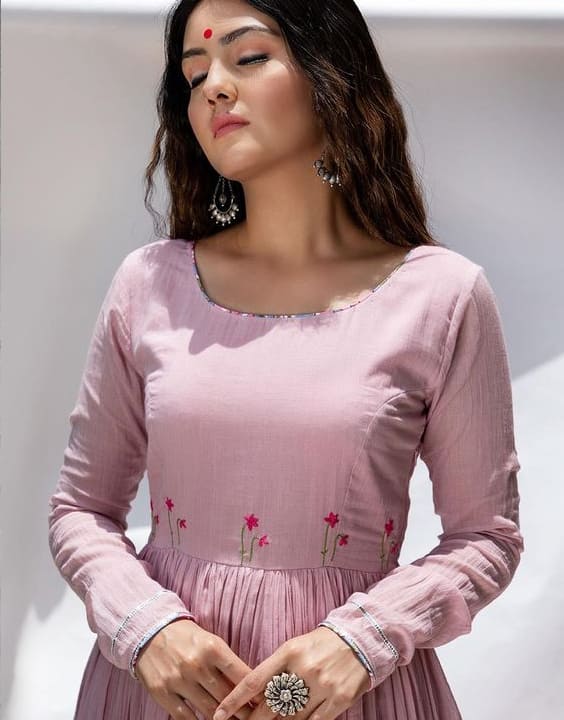 Probably the most classic neckline and the most trusted one too has got to be the round kurti neck design. It's trustworthy and fail-safe while also being endlessly fashionable, which makes it a year-round winner! Round neck kurtis present multiple styling opportunities, with or without a dupatta. In fact, you can also trade your dupatta for a scarf or stole and you'll still be good to go!
Another reason to love this neckline is that it defies trends. So even when other necklines tend to be in and out and maybe in again, this will stand its ground and that's why it needs to be in your wardrobe!
11) Scoop Suit Neck Design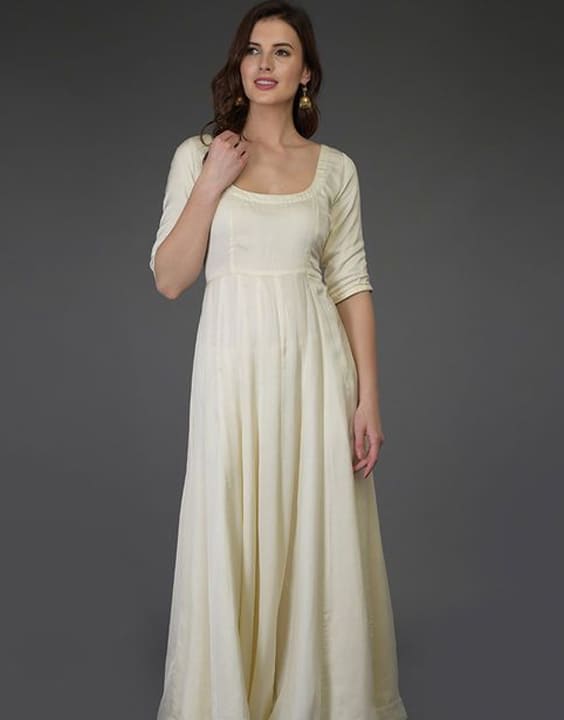 A deeper, more sensual and modern version of the round neck, a scoop neck is as its name suggests – deep, scooping and sexy! Often seen on B-Town divas, the glamour isn't lost on this one. A dupatta that is firmly draped against your neck tends to look absolutely amazing with this type of kurti. People with longer necks should stay away from this though, and people with shorter necks should definitely embrace this.
This kurti neck design also tends to be wider than the quintessential round neck, so if you don't wish to draw attention to your shoulders, then skip this style. According to us, it looks best when worn with leggings or churidaar, but you can experiment as much as you'd like to, and find the right styling for yourself.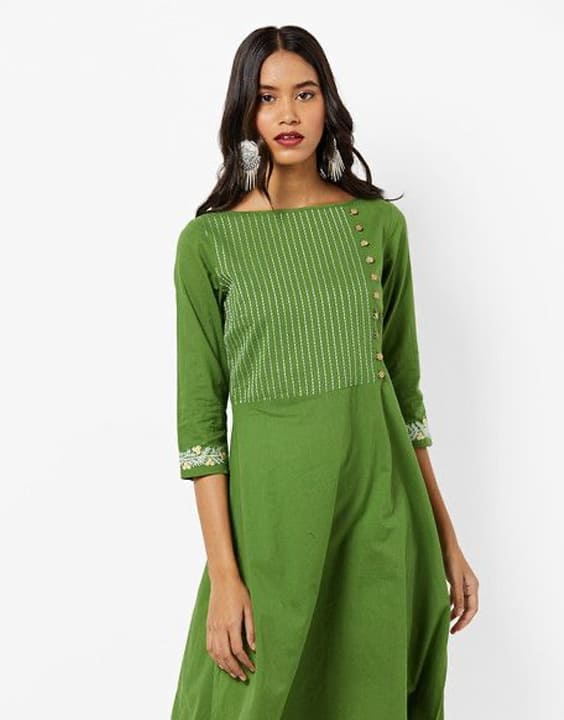 Horizontal from the front as well as the back, the boat neckline settles across your collarbone. It is wide and lends itself to classic cocktail/evening dresses. Boat necklines can be embellished, plain, folded or even printed. With every trend that comes and goes, this one has stood the test of time.
It is derived from western trends but has secured a significant spot for itself in Indian wardrobes. If you have broader shoulders and wish to divert, not attract attention to them, then boat neck kurtis may not be your best bet. Although if you've got a defined jawline, this type of kurta will be all the more flattering for you!
13) Sweetheart Kurti Neck Design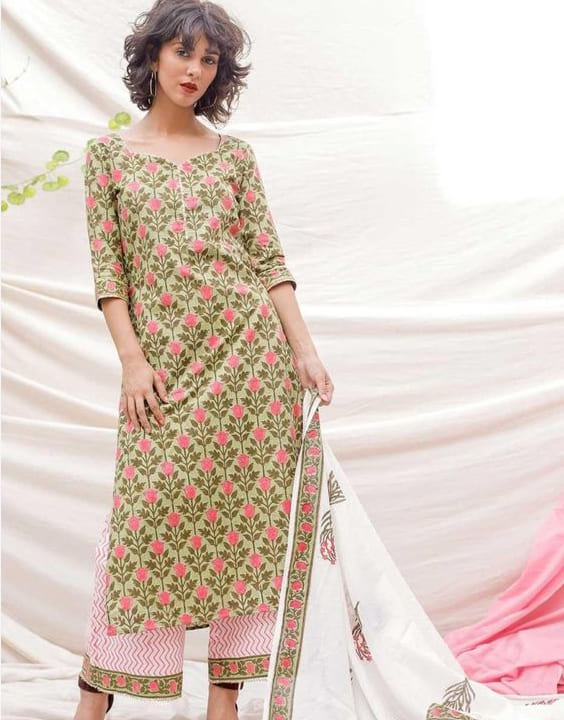 Who doesn't like hearts? One kurta design that is winning ours for sure is the sweetheart neckline, which forms a heart shape at the front of your neck and usually runs slightly deep.
It's an extremely feminine cut and is one of our personal favorites for not just kurtis but also tops and dresses since it is sensual and playful, all without overdoing it! And that's just two of many reasons to love it endlessly. Talking about this suit neck design front and back, the latter can be deep or high, depending upon the overall design of the outfit but if you ask us, we would definitely prefer ours bare.
14) Cold Shoulder Kurta Neck Designs For Ladies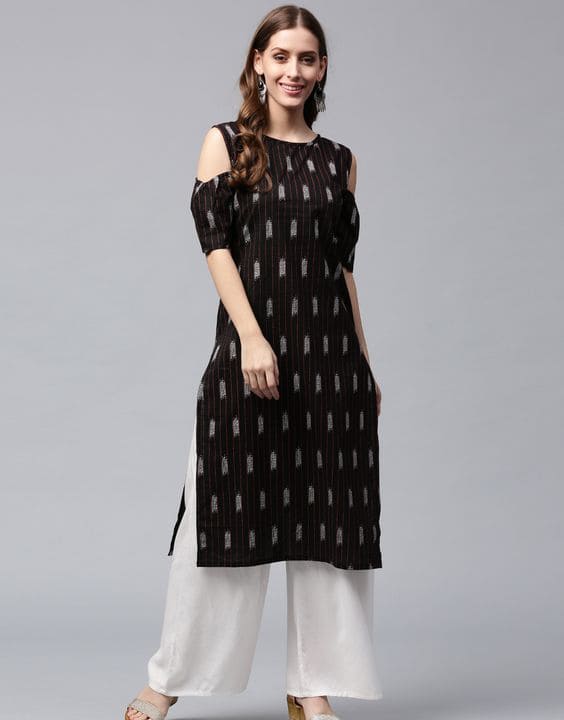 A really close cousin of the off-shoulder kurti, the cold shoulder neckline is for anyone who doesn't like its bare counterpart. Suitable for most body types, cold shoulder styles are a boon. For one, there is no hassle of a strapless bra and two, you don't have to keep making sure your sleeves stay in place every time you lift your arm.
There are a lot of great choices on any fashion app for these types of kurtis, so be sure to find your favorites and add them to your cart. Cold shoulder styles may not be as trendy anymore but they are definitely worth giving a shot if you haven't already.
15) Asymmetric Kurta Neck Design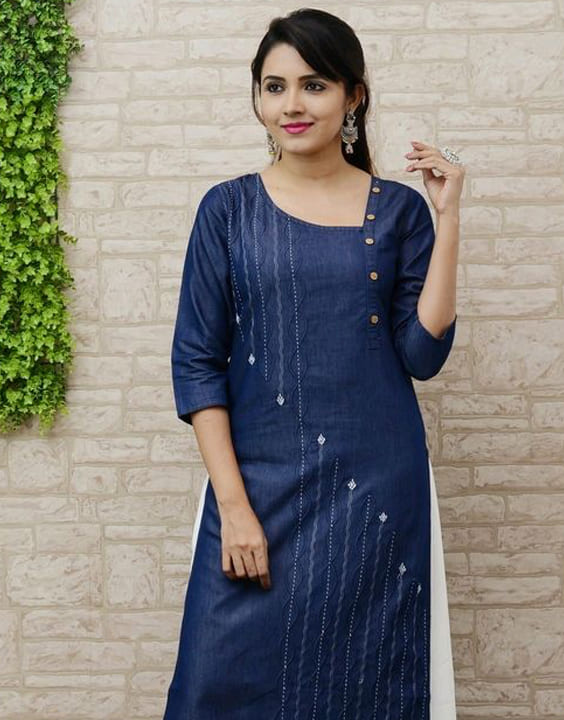 Lastly, for everyone who loves breaking the rules, there is the asymmetric neckline kurta which is all the rage right now! From celebrities to influencers, everyone can be seen flaunting it. While not everyone may be comfortable with the idea of it, there are some who love experimenting and this design will seem like it's made just for them! With various designs coming into the picture, like overlapping flaps on the neck or slant cuts instead of straight, this kurta is not for everyone – but it's made to stand out for sure!
Remember, Kurtis are the easiest silhouettes to flaunt and one of the most statement-making too! So if you're in doubt this festive season, you know these kurti neck design ideas and the silhouette itself will be there to back you up.
Latest Articles-
Image credits: The copyrights of the images used in this post belong to their respective owners. The credits where known are specified under the image - if you're the owner of an image and want it removed, please contact us.