Do you feel the cold winds brush against your face? Can you feel the sweater weather making its entrance into our evenings? Well, winter is coming and that means, so is Christmas! Christmas cheer, Christmas tree decoration ideas, treats, and so many other things to be planned for the big day of the year. Christmas is one of the festivals that is celebrated worldwide. One of the most popular traditions of this festival is to decorate the Christmas tree.
But did you know, decorating the tree is a part of the tradition and if you dig deeper, there is a deeper, more interesting meaning behind it. And even though decorating the tree is a tradition passed down generation after generation, you may not think of the association behind this each year. Here are some examples of the meaning behind them:
Based on the background, the lights on the Christmas tree represent the light of God's spirit, the importance of enlightenment or knowledge, or the warmth of family love
Few modern Christians believe that the red ornaments signify Christ's blood or in other words, his sacrifice
The star or angel at the top of the Christmas tree are both important symbols in the story of the birth of Jesus
The ribbons and garlands that are used signify the ties that bind family members together
Christmas tree ideas and their decorations hold different meanings for different people. For some, it is a sweet childhood memory where the whole family comes together and spends some quality time. For some others, it is more associated with getting gifts and food. Whatever it may be, each tree is different and holds a different meaning for each one.
Whatever the meaning may be, it surely can be associated with happiness and good times. So, without further ado, let's get down to check out some easy,
Christmas Tree Decoration Ideas | DIY:
1. Copper and cones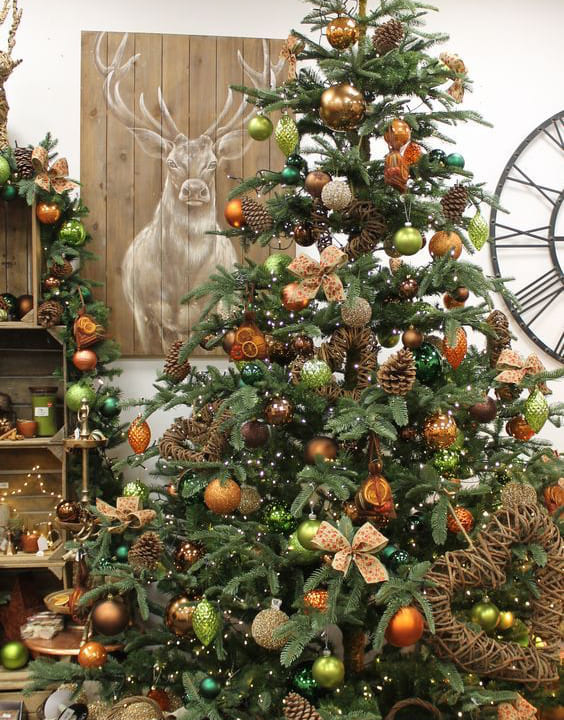 Tree decorating ideas cannot be complete without some copper decorations and pinecones. The metallic and rustic combination of these two ornaments adds elegance to the ambiance and the house in general.
2. Rainbow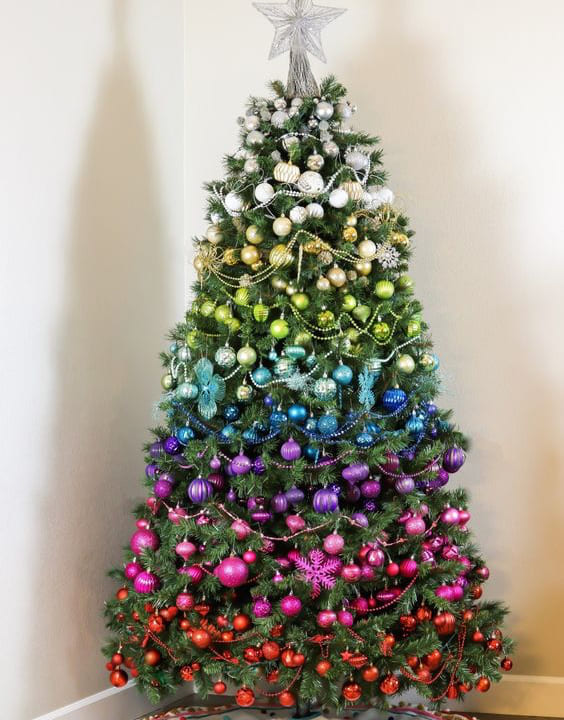 A very visually appealing DIY Christmas tree decorations idea is to add metallic balls from top to bottom in a rainbow effect. All that you actually need for this decoration are colorful balls. These along with the string lights and the snow effect will definitely add a beautiful look to your room.
3. Ice skates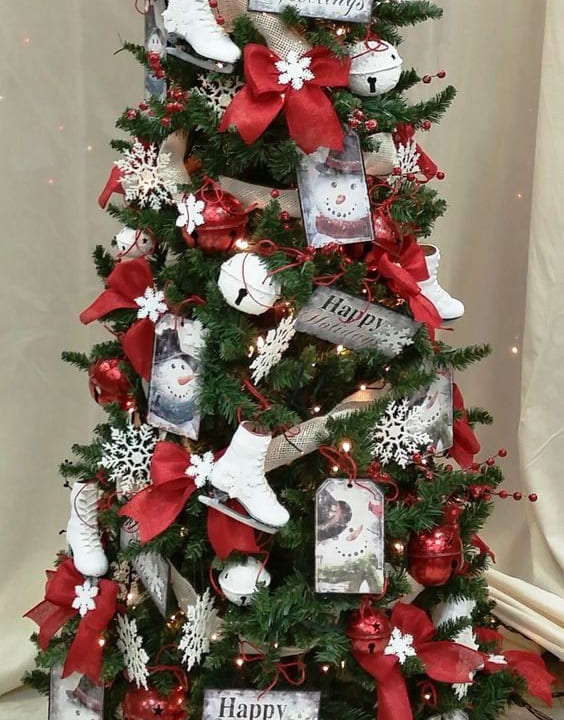 Another simple Christmas tree decorations idea is to add cute ice skates to your Christmas tree. These cute white coloured ornaments would look perfect with the red metallic balls and small white snowflakes that you would add to the tree.
4. Animal inspired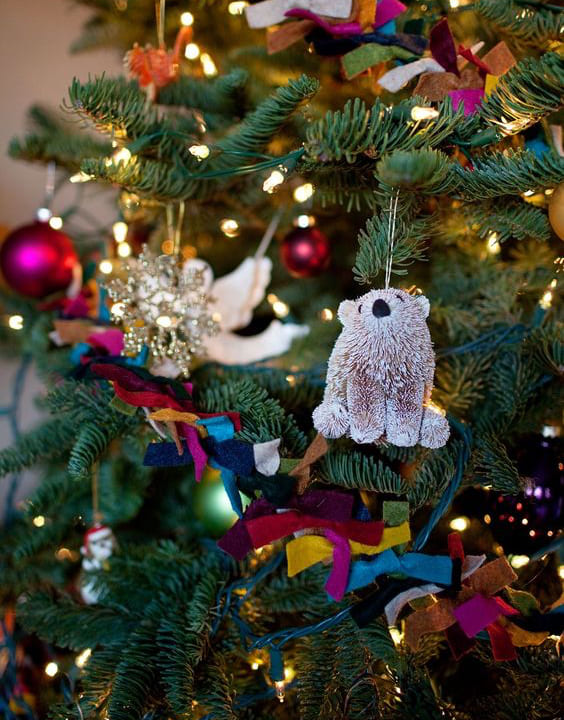 One of the Christmas tree decoration ideas that can help you add a personal touch to your tree and if you like animals add small, cute, felt animal creatures to the tree as a décor. Bears, reindeer, dogs, cats or whatever it is that you want! The options are endless, go crazy and show us what you got.
5. Vintage & pastel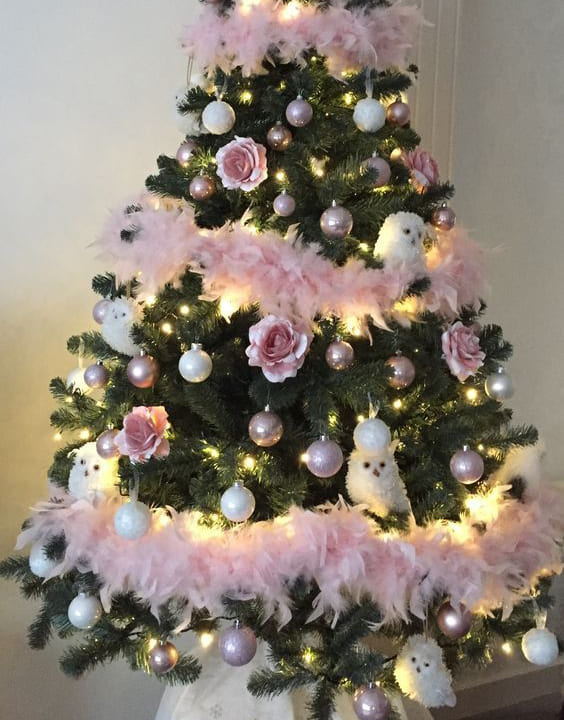 Let your Christmas tree be pretty in pastels when you add pink-hued roses, maybe some pink bows, and some pink metallic balls. You can add a touch of classic white to enhance the overall look and feel of this Christmas tree designs.
6. Lights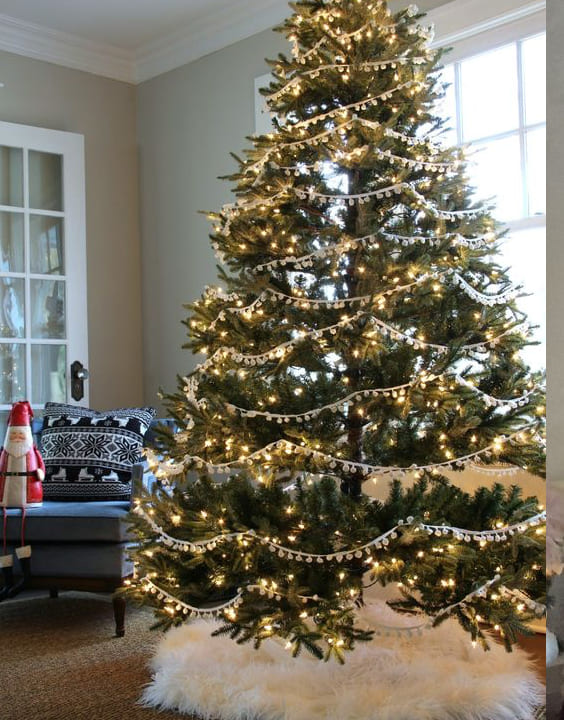 This very simple and elegant Christmas tree idea is one that will instantly give you festive vibes. All that you need to do is, get your Christmas tree, add a long string of lights with a long string of white ornament that is minimal, and voila! What you could also do on the other hand get a Christmas tree that has lights embedded on its edges and you would only need the small white ornament to complete your Christmas tree decoration.
7. Purple beauty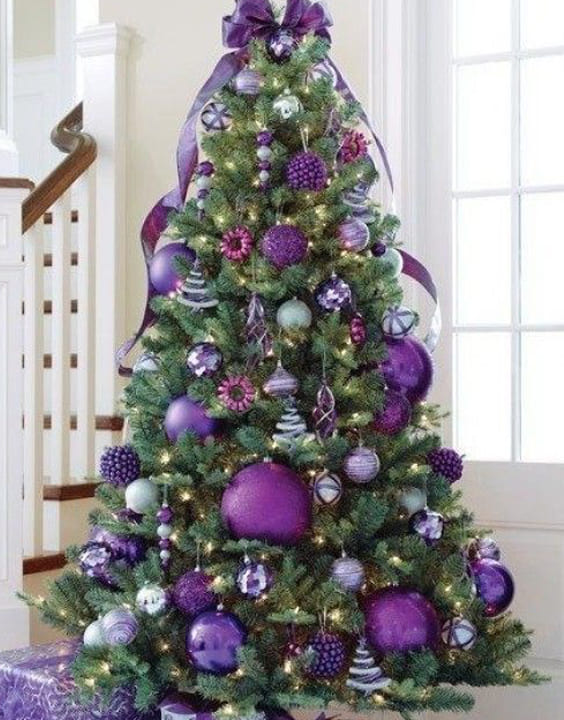 If purple is your favorite color, then this idea is for you! It's a simple Christmas tree decorations idea where you have to add all the ornaments in hues of purple colour. From metallic balls, pinecones, ribbons, miniature Christmas trees and others! Matching the rest of your Christmas décor to the Christmas tree would accentuate the overall look of your room.
8. The classic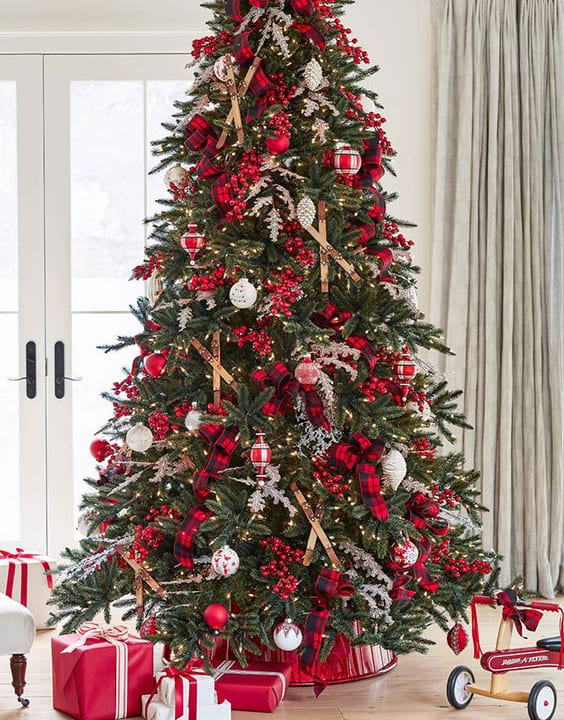 The classic Christmas combination of red and white will never go out of style. Fill up your tree with ornaments of red and white and complete the Christmas tree with amber fairy lights. Psst… make sure to decorate with small gift ornaments for a cute addition.
9. Golden-white frenzy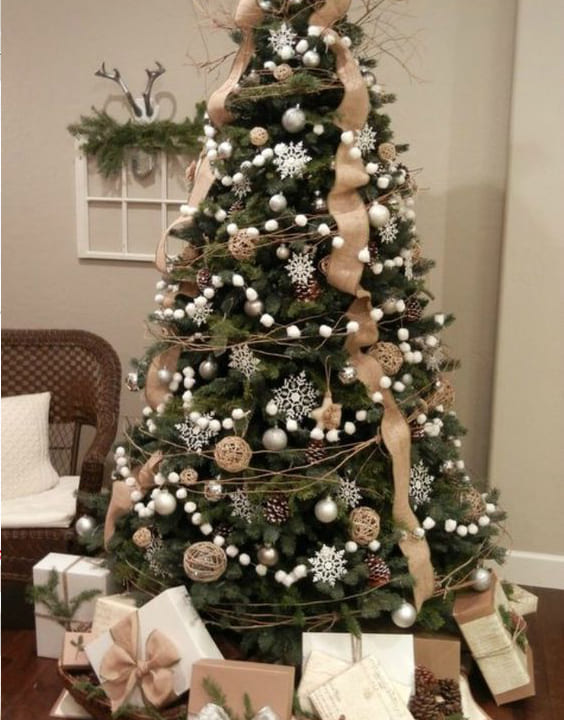 Another Christmas classic is the golden and white combination. From gift wrappers to Christmas tree decoration to home décor, this is another combo that can never go out of style. Add some brown DIY rope balls to enhance the whole look of the tree.
10. Swirls and pearls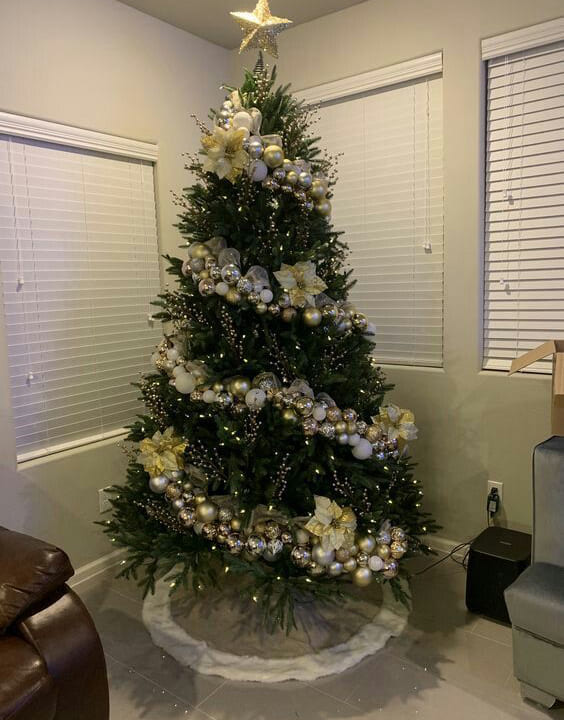 Christmas tree decoration ideas are numerous. One more option is to add decorations in a swirling pattern. You can add the decoration of the colour you like and add as many ornaments as you want. The pattern is essential and will be enough to make your tree pretty.
11. Pastels all over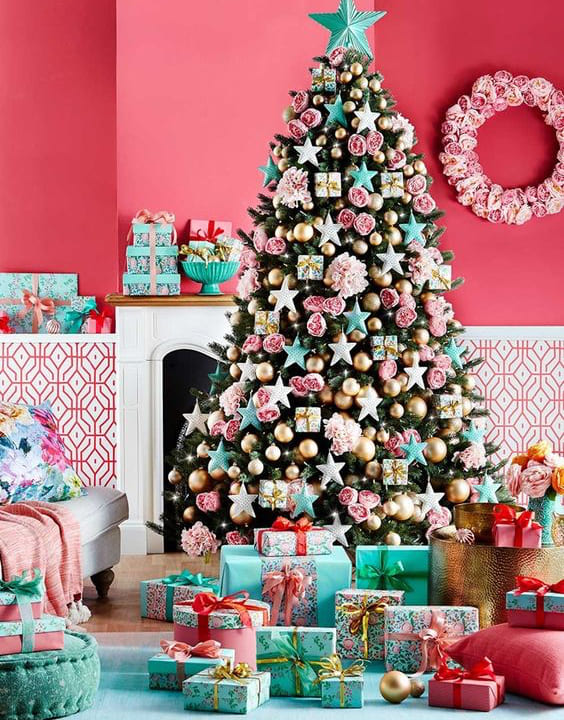 Pastels have been taking over the fashion world. So, how about bringing those colours to life for your Christmas tree and, at least, consider adding them to your Christmas tree decoration ideas.
12. Pretty in pink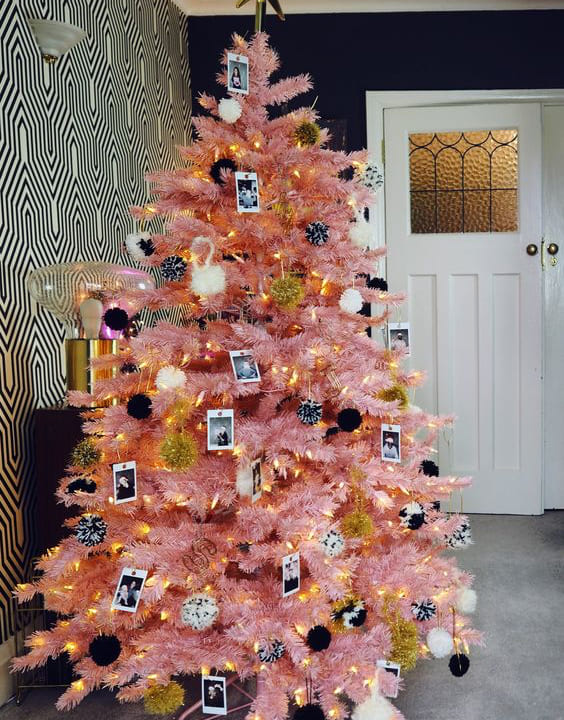 How about making this year's Christmas tree a unique one? If you like this idea, here's what you need to do – buy the tree you want, get a pink colour spray paint and turn the Christmas tree pink! The plus? You'll have a tree that is standing out in the room and add different coloured ornaments that would complement the tree. You can actually paint them in any colour you like!
13. Flowery love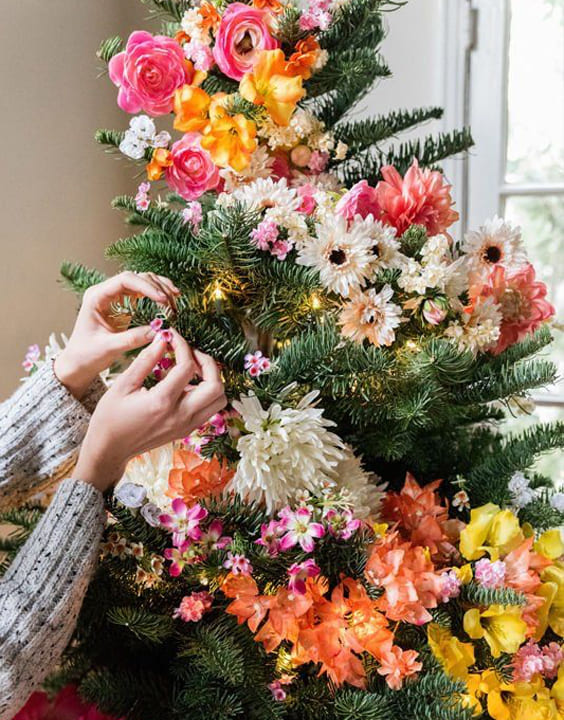 Keep last year's Christmas tree decoration ideas away and decorate your Christmas tree with fresh flowers! Add a variety of flowers of numerous colours to keep a unique and different look to your festivities.
14. The memory tree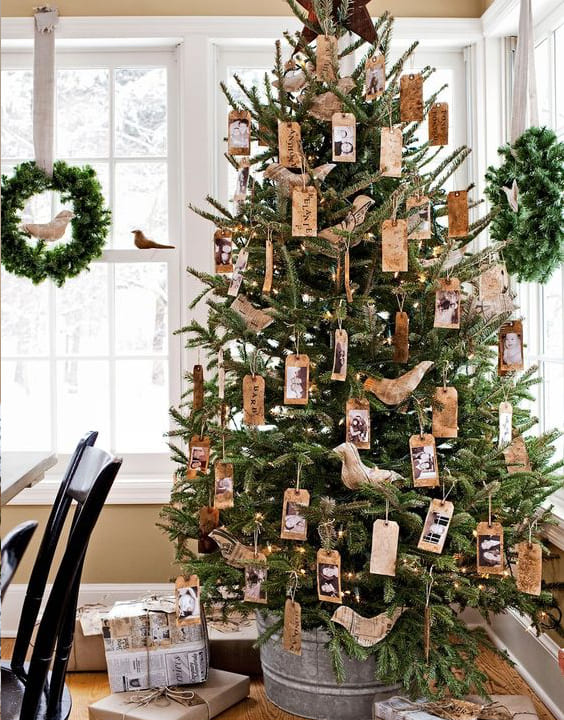 Walk down the memory lane this year as you decorate your tree with photographs of sweet memories. When you have your family over this year for the dinner, you'll be surprised and will love the reactions you'll receive from your loved ones. It's always a wonderful time to revive some old days and childhood memories when everyone's gathered, isn't it?
15. Recycle and reuse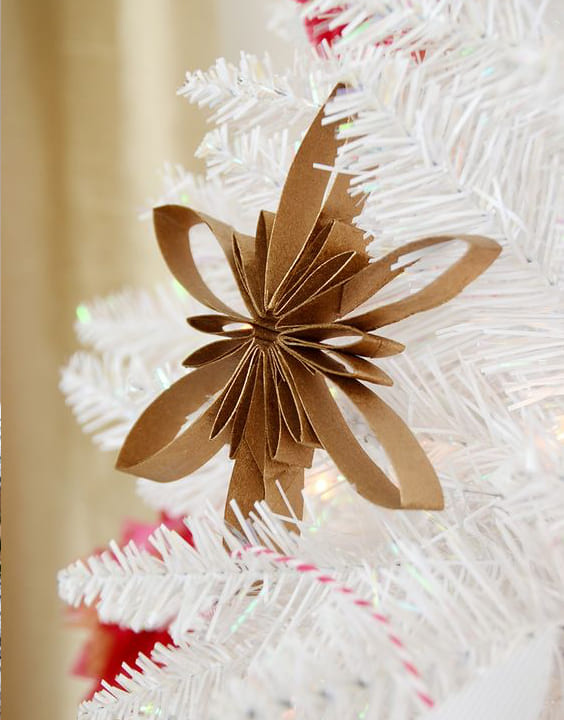 In today's time and age, it's important to keep in mind that we must be environmentally conscious. So, this Christmas, before you go pick any new ornaments, remember that there may be so many items at your house that you can reuse. Let this post be your inspiration to choose eco-friendly options and create ornaments from old cardboard and other items.
16. Choose multicoloured, always!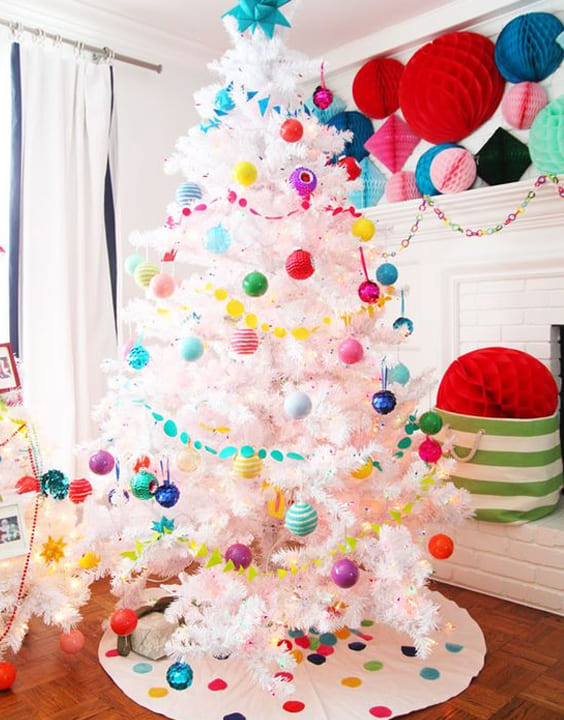 One more Christmas tree decoration idea is to keep your Christmas tree a solid, classic white and cover them in multicolored ornaments. Let your decoration come to life with this décor.
17. Santa is calling!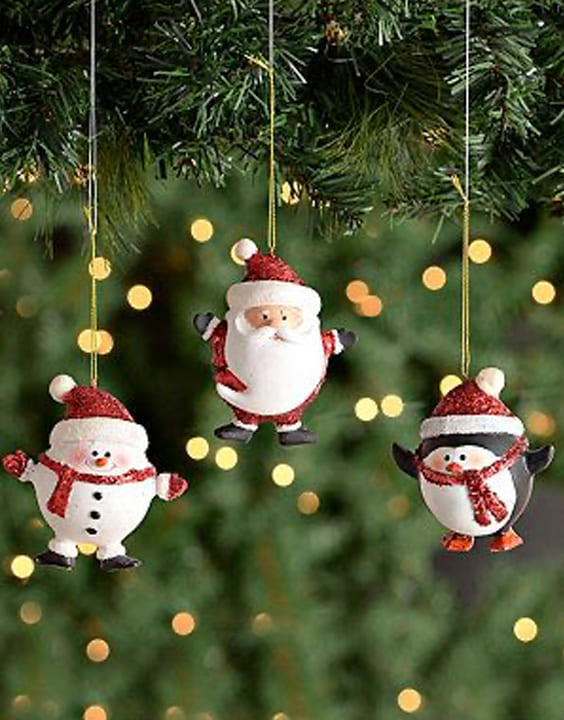 Cuteness never goes out of fashion. Add little Santa, penguin, and reindeer miniatures to your Christmas tree decorations. Believe it or not, out of all your Christmas tree decoration ideas, this one will be a favorite among your loved ones. Do try and tell us what reviews you receive.
18. Sweaters are a must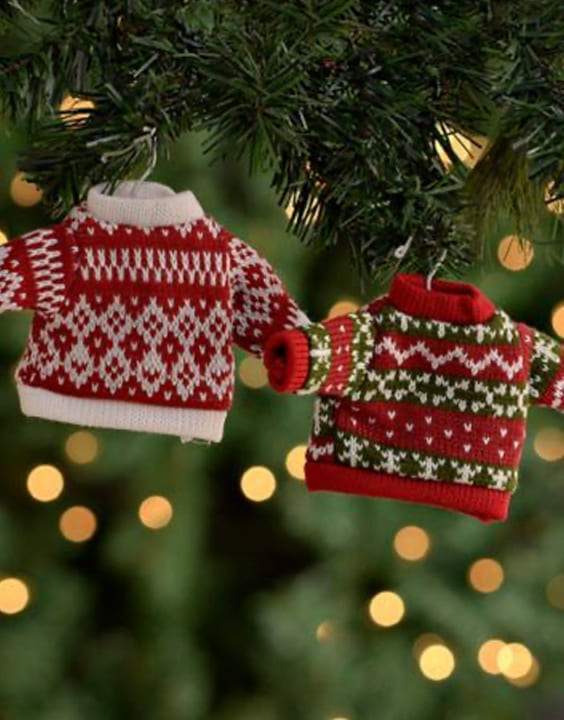 Sweater weather is here and you can add sweater ornaments to your tree and raise the look and feel of your room and your house, overall. Lights, sweaters, good food and love all around. What else do you really need for Christmas?
19. Ribbon ornaments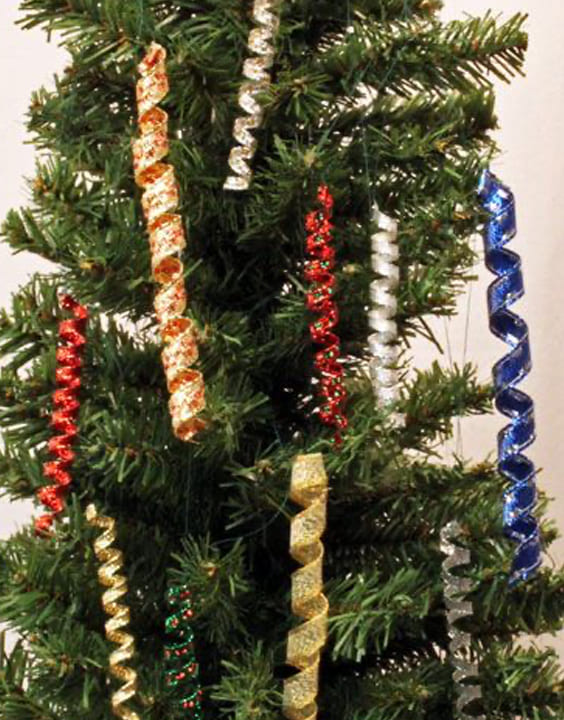 A simple Christmas tree decoration ideas can be to swirl decorated ribbons and add them to your tree as ornaments. Since the ribbons are already decorated or designed, you'll only need to add string lights and you're good to go!
20. The Candy tree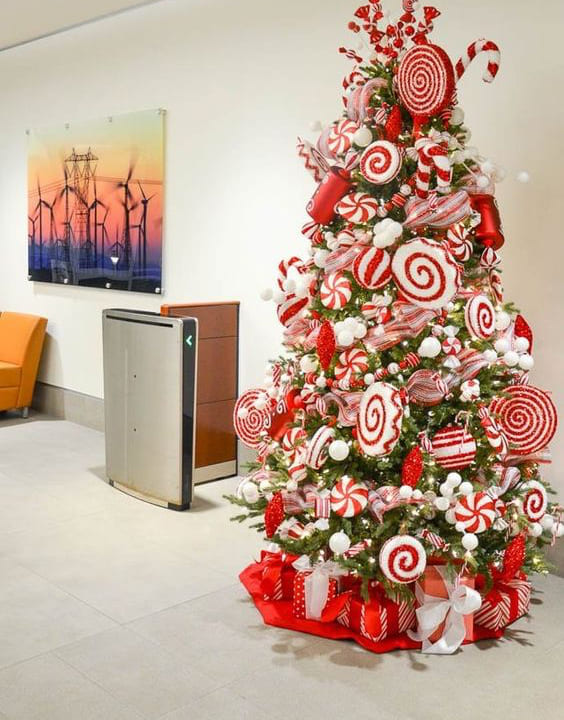 Christmas is all about sweets and sweet memories. So, it will be wonderful if you add the classic red and white candies as your Christmas tree decoration.
Christmas is coming your way and it is time you begin your preparations! Christmas planning is no joke and definitely not an easy task to prepare for. So, before you get on to the Christmas tree décor, here are some tips that might help you prepare:
– Shape the branches of your tree
– Pick a theme for your décor
– Fix your lights first
– Get your decoration
– Balance the décor
– Layer it up
– Ensure you have the perfect tree topper and you're done!
Oh! And don't forget the tree skirt as it definitely will help to complete the whole look of your Christmas home decor. This article was to inspire various Christmas tree decoration ideas and we're sure you would have found some ideas. And, while you're at it, don't forget to scout through the best santa gift ideas for your loved one. After all, what's Christmas without some gifts?
Image credits: The copyrights of the images used in this post belong to their respective owners. The credits where known are specified under the image - if you're the owner of an image and want it removed, please contact us.